About This File
--------------------------------------------------------------
FEMALE BODY
Natural boobs shape.
Compatible with all body textures.
Standalone nude mod.
Defined butthole and vagina.
--------------------------------------------------------------
--------------------------------------------------------------
MALE BODY
No visible seams.

Rigged (flexible) penis : animators can bend it.

Performance-friendly: Far less polygons than other penis models.

Hand-drawn textures.

Optional tattoo overlay for more combinations (e.g. slim sim with muscular textures).

Defined butt with butthole.

Erect and soft (uncut) penis.

3D nipples, belly button and a slight adonis belt.
--------------------------------------------------------------
Rigged penis demo. Animation by Amra72.
Detailed feet
for adults and children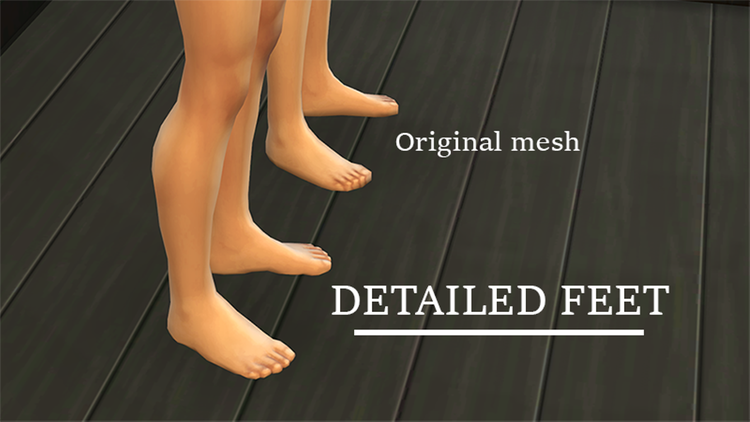 Required files 
The latest version of WickedWhims.

A custom body texture with nipples, or a mod adding tattoo nipples such as:
 Installation 
Extract the Better Body files in your mod folder. You will need 7zip to extract the files.
 To make sure that Better Body is at the top of the load order, I would advise to put all the files in a single folder called !! Better Body !!. That's what I do.
Make sure that you have removed any other default replacement for female and male body parts as well as male default skin.
 Conflicts 
Custom body textures are NOT compatible with Better Body for males. Having another default body texture would result in a grey/black penis.
If you want to use another penis model alongside this one, you MUST use tattoo overlays.
COMMON PROBLEMS / TROUBLESHOOTING
1. FLOATING PENIS. The penis seems to be disconnected from the body. This is caused by a problem with your rig file. Make sure that you have installed the latest version of WickedWhims and deleted the Denton47 file if it exists.
2. DARKENED PENIS. There is a problem with your skin files. You must remove any other default skin replacements from your game.
3. INVISIBLE BODY PART. There is a conflict with another default replacement. In this case for example, the use also had Luumia's TIT-E female top replacement. You must identify and remove the conflicting file.
ADVANCED FILES DESCRIPTION
[BB][Female]Bottom : Default nude bottom for females. Remove any other default nude bottom.
[BB][Female]Top : Default nude top for females. Remove any other default nude top.
[BB][Male]BottomHard : Erect penis.
[BB][Male]BottomSoft : Soft uncut penis. Can be picked in WW while ingame.
[BB][Male]BottomSoftCAS : Soft uncut penis displayed in CAS only. Remove any other similar file.
[BB][Male]SkinAsTattoos : Skin overlays that can be picked in the tattoo section. Use those if you are not using the default male textures or want to try different body combinations.
[BB][Male]SkinDefaultOverlays : This file replaces default skins. It will add the penis textures to all body layers. Remove any other default male skin replacements.
[BB][Male]Top : Default nude top for males.
[BB]Skintones : Those default skintones will only determine the color (tone) of your skin. You can use it with other penis mods too. You must remove any other default skintone replacement.
CHANGELOG
11/15/2017 : Added rigged penis for compatibility with animations containing animated penis. Added wet effect on the penis head.
03/19/2017 : Fixed compatibility problem with WickedWhims. Reworked meshes and textures to avoid texture problems with shoes and tops on male bodies. Added "clothes" versions of erect and soft penises. You must update to WW 2.1.2.095.3.
CREDITS
Luumialover and LunarEclipse for inspiring this mod. Sims4 Studio and Cmar's S4 CAS Tools. Photoshop and Blender. TURBODRIVER's WickedWhims of course! Zheur and Wild_guy for testing my files. Spicy Sausage for helping fix the mod. Amra72 for his animations and Azmodan22 for his penis rigs.
And get a few rewards:
Detailed feet for males and females, children/teens/adults.
Custom-mesh briefs and tanlines for males.
Cut soft penis.
---
What's New in Version
1.6.6
Released
Added Feet for adults and children