About This File

In this MEGA POST you will find everything I've built and released. Releases will always be first on PATREON for supporters and a few days later for the public. If you want to check more photos/screenshots or get individual lot files for full neighborhood releases follow the link on each title. 
Recommended Mods for all builds: 
Download Instructions for all builds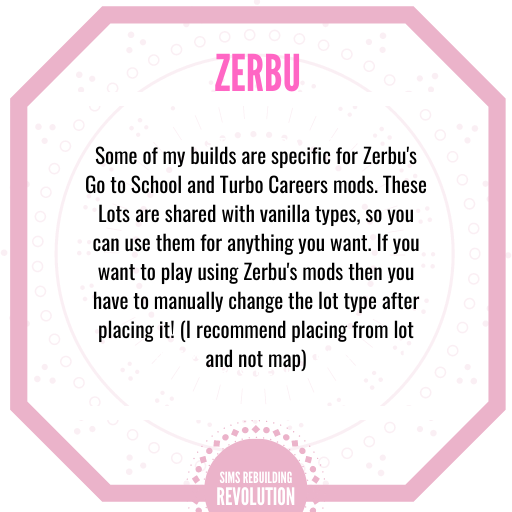 ALL LOTS ARE INTENDED FOR ORIGINAL VERSION OF THE GAME UPDATED TO THE LATEST PATCH
I have ALL the packs, and there are hundreds of objects in every build so it's impossible to keep track which packs I use. You can look that up once you install them to the library and from there it should tell you which packs are in use. If you see missing objects it's because you don't have the pack (or didn't use bb.moveobjects before placing it). You can always replace the missing objects with similar ones from different packs. 
WILLOW CREEK

Liberty Avenue - Complete Neighborhood
OASIS SPRINGS
Abandoned Bedrock - Complete Neighborhood
Acquisition Butte - Complete Neighborhood 
STRANGERVILLE
SAN MYSHUNO
DEL SOL VALLEY
Starlight Boulevard part 1 (NEW RELEASE!)
Honeydew Nightclub
Nice little celebrity hangout at the start of the Starlight Boulevard. Two gorgeous dancefloors, two bars and a karaoke room! One wonders how everything got built in this tiny lot.
Lot Type: Nightclub (could also be used as a bar)
The Fountainview
This one is a bit special. This build was created with Zerbu's Turbo Careers mod in mind to serve as a Comedy and Music studio. BUUT this lot can also work as a lounge or a bar. The build is quite straightforward. On the ground floor you have a bar and a theater stage and on the top floor we have the recording studios. 
Lot Type: Comedy and Music Studio (or Lounge/Bar)
Casbah Gallery
High above the rest, the Casbah gallery offers a beautiful selection of selvadoran objects! This lot can be used as an Arts Center, or a Museum! 
Lot type: Arts Center (or Museum)
SIMS
INSTALLATION: 
Inside the Zip file for any SIMS I share here you will find a folder called "Mods". Paste that folder on the Mods folder, the other files outside the folder go into the TRAY. 
The NIGHT TERRORS
This is an exclusive release for LoversLab only, as I like to keep my Patreon PG13. This is a household of three mean, mischievous demons you can use to have fun with. I use them by making a group (called the Night Terrors), include only them and then choose where they hang (parks for these). I use Kinky Whims (amazing mod) to have them assault people and boom, rapist demon monsters. Nothing says beautiful night like getting plowed by a demon. 
---
What's New in Version
2.0.0
See changelog
Released
08/08/20
-Added first part of Starlight Boulevard builds
07/26/20
-Added The Old Train Station
07/22/20
-Exclusive LoversLab release, the Night Terrors
07/19/20
-Added Final Versions of everything. For individual files in full neighborhood releases head over to PATREON
07/17/20 
-Added The Night District
07/09/20
- Added Liberty Avenue & Abandoned Bedrock to files here 
- NEW RELEASE: The SLUMS