III. The Fine Art of Lurking
---
At any given time, most of the people on LL have not posted even once. (For you into mathematics this means that both the median and mode are zero.) I can not prove that statement but I can show you how I came to it. Let's go back to the Browse button first introduced in the first post, "Introduction."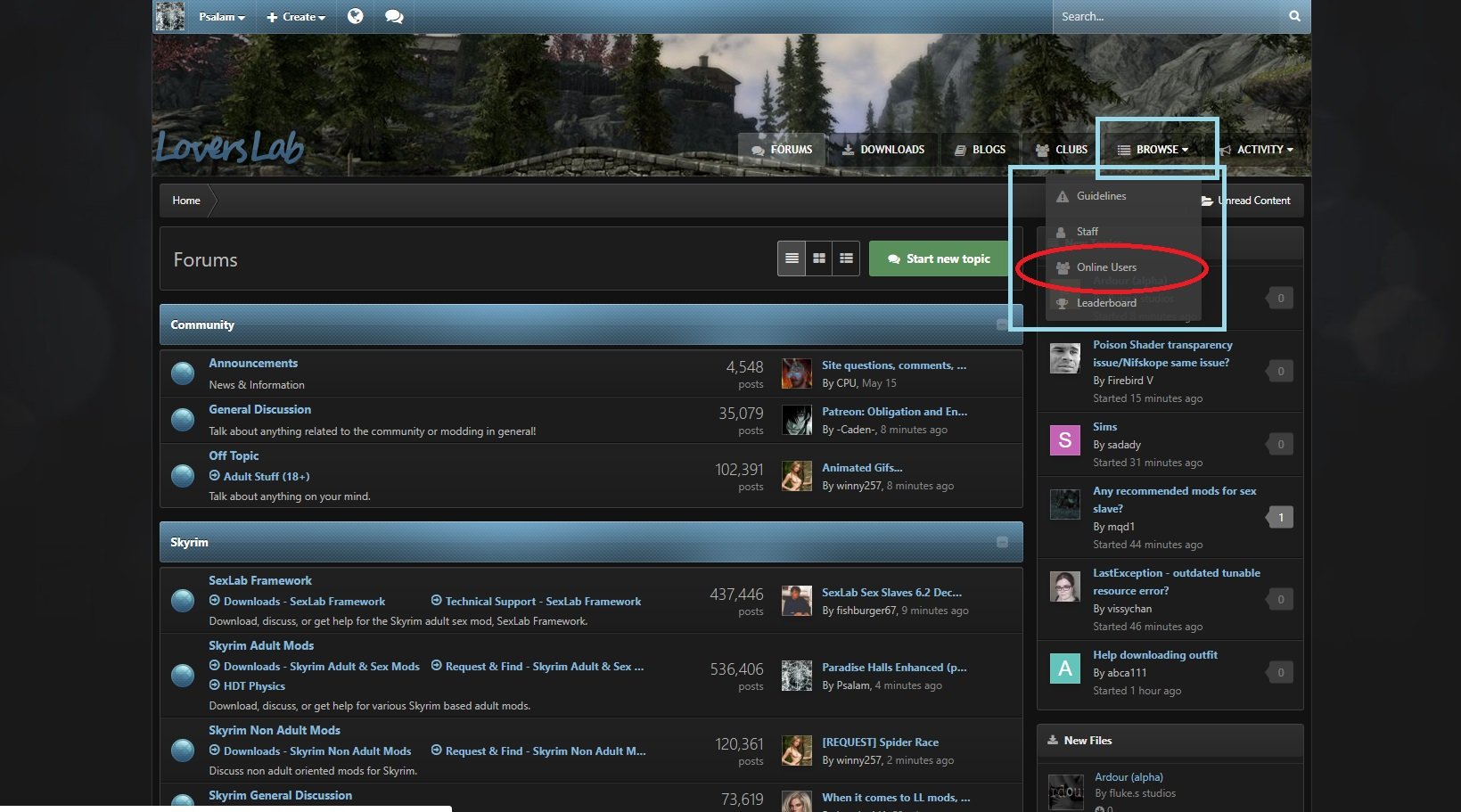 There are two blue rectangles highlighted. On the top is the browse button itself. Underneath it is the dropdown box you get when you hit the browse box. Unlike in the first post, however, I want to look at the third option, "Online Users" (which is highlighted in red). If you click on it you should get something that looks a lot like this: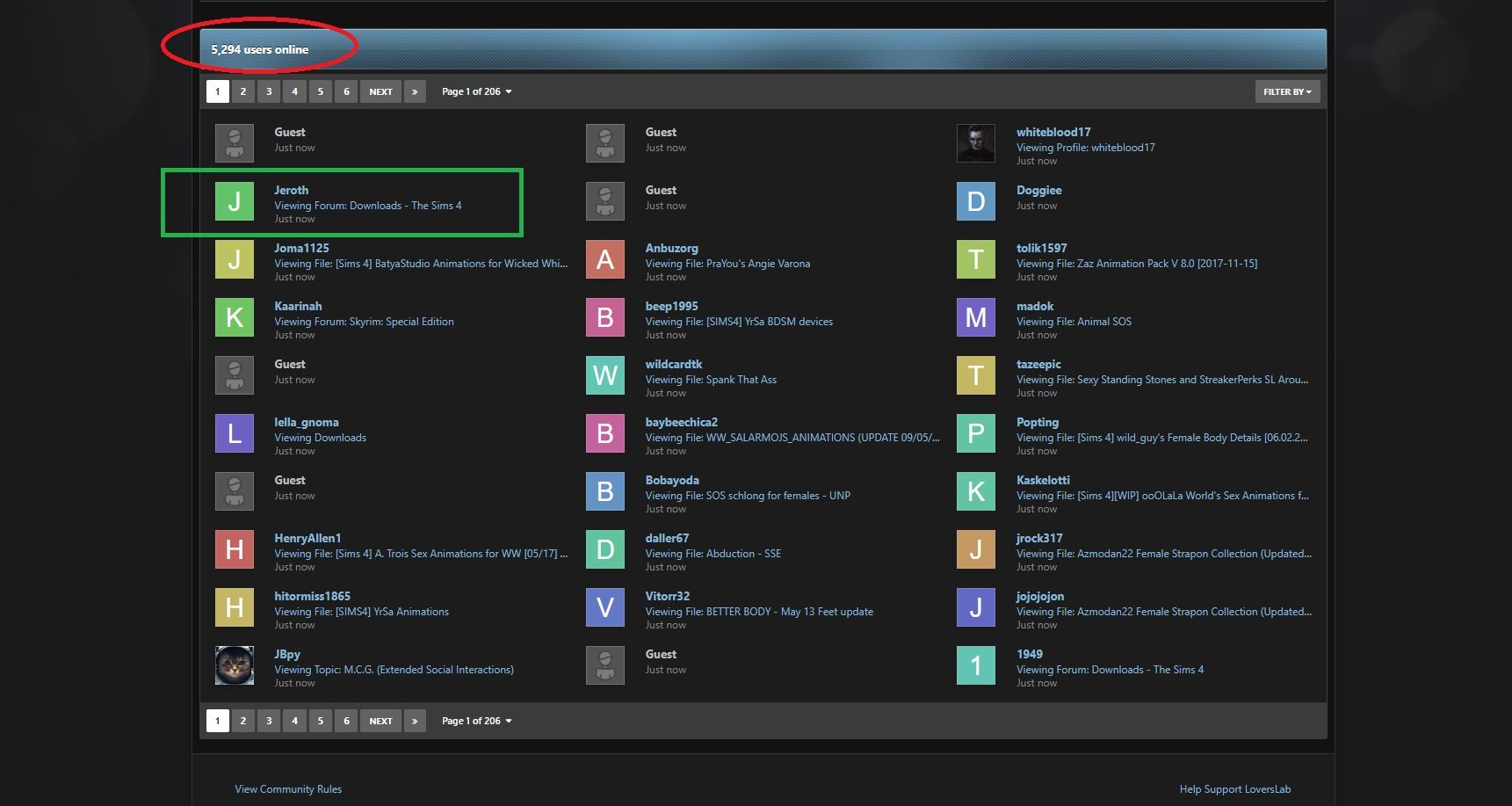 At the moment the screenshot was taken there were 5,294 people on LoversLab (see the red oval). To choose one at random (Jeroth - highlighted in green), we can see that he has not yet chosen an avatar (the first letter of your name on a colored background is the default assigned by LL). With that in mind we can see that most of the people on this page have not yet chosen an avatar. And, while I'm on this page I want to point out some other things that can be seen doing this. Under his name is the information about what he was viewing at the time (Forum - Downloads - the Sims 4). It also tells us when he got there ("just now"). I only point out these last two because there is often a wealth of information that you CAN get from a page of LL if you know how to sift through it. But back to my original point.
To get this next picture I went up in the screen above and pulled down the menu under "Filter." Specifically I chose "Supporters" because I wanted a page that held my avatar to show the next piece of information: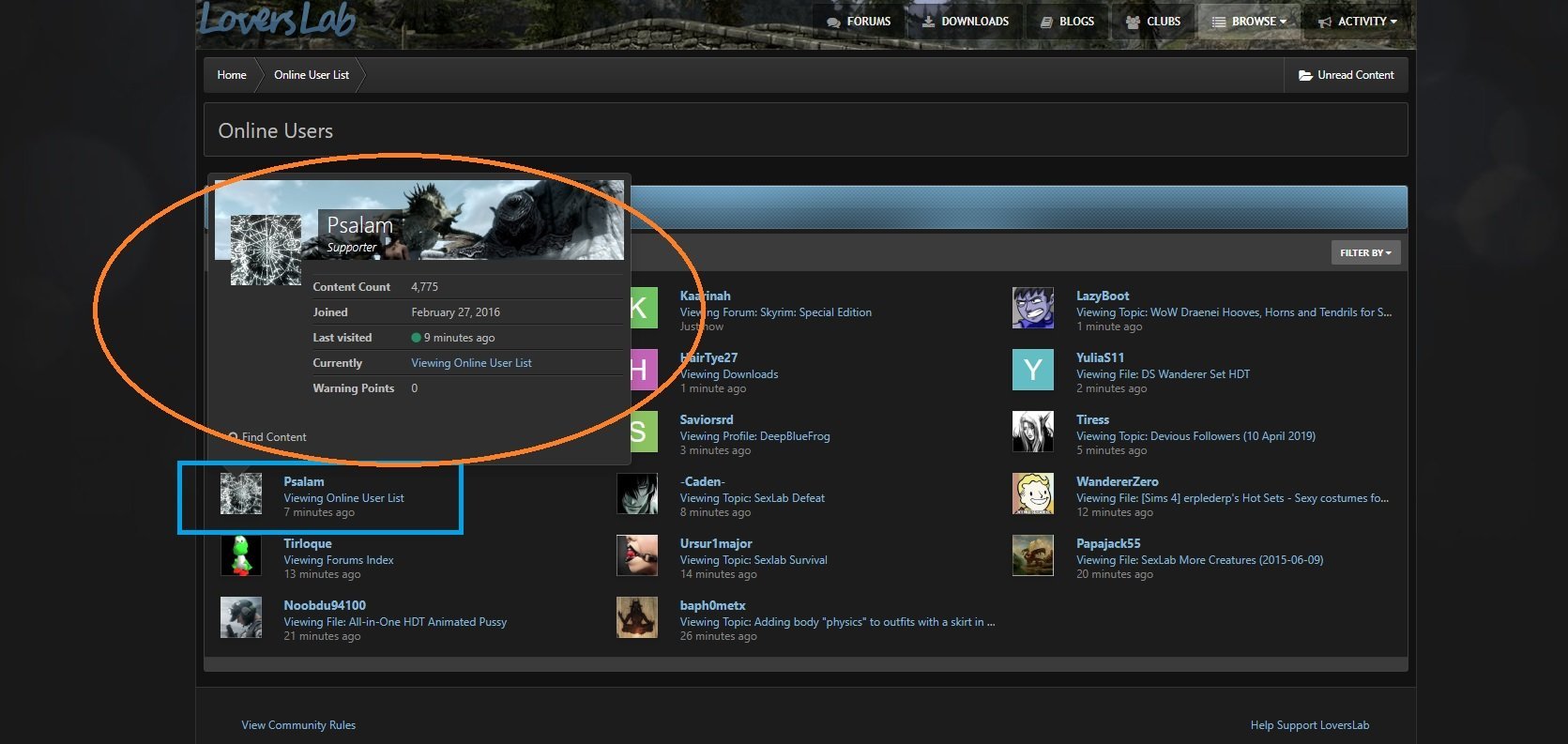 You can see in the blue rectangle that I was on the site when I took this screenshot (Duh!) You can also see that I was looking at the Online User List (as I've already mentioned). Finally you can see that, by this point I had been in this location for 7 minutes. But, what I want to point out is that if I hover over that information a larger box appears. In that box, under my name and designation as a "Supporter" is my content count (4,775 at that time). All of that is relevant because, if you go back to the previous screen and hover over people at random you will find that the vast majority will say "Content Count 0." I have done this experiment on multiple occasions getting the same results, So, I have come to the conclusion I stated above, at any given time most of the people on LL have not posted a single time. This is called lurking. You look around the site to find what interests you. There is absolutely nothing wrong with this, it's just what it's called. Even those of us who have posted more than once have spent time lurking. So, this post is designed to walk you through some of the things that you can find on LL while lurking in the hopes that it will make you more comfortable with the site and more willing to dip your toes into the water later. I will also mentioned a couple of ways that you can interact with the site without officially getting anything added to your Content Count.
Every page of LL is composed of 3 parts: a header, a footer and the distinctive part of the page (what makes that page different from every other page). I've mentioned things in the header and footer already and will cover them in more detail later in this post but I want to focus on actively lurking and these have little use. EXCEPT, if you get lost on LL there are several ways to get back to LL's home page.
The main page is also the Forums page. As a result, when you are on the main page you should note that the Forums button is highlighted. If you are on any other page and want to get back there (or just feel lost and are looking for a familiar place) you can hit the Forums button (highlighted in red below):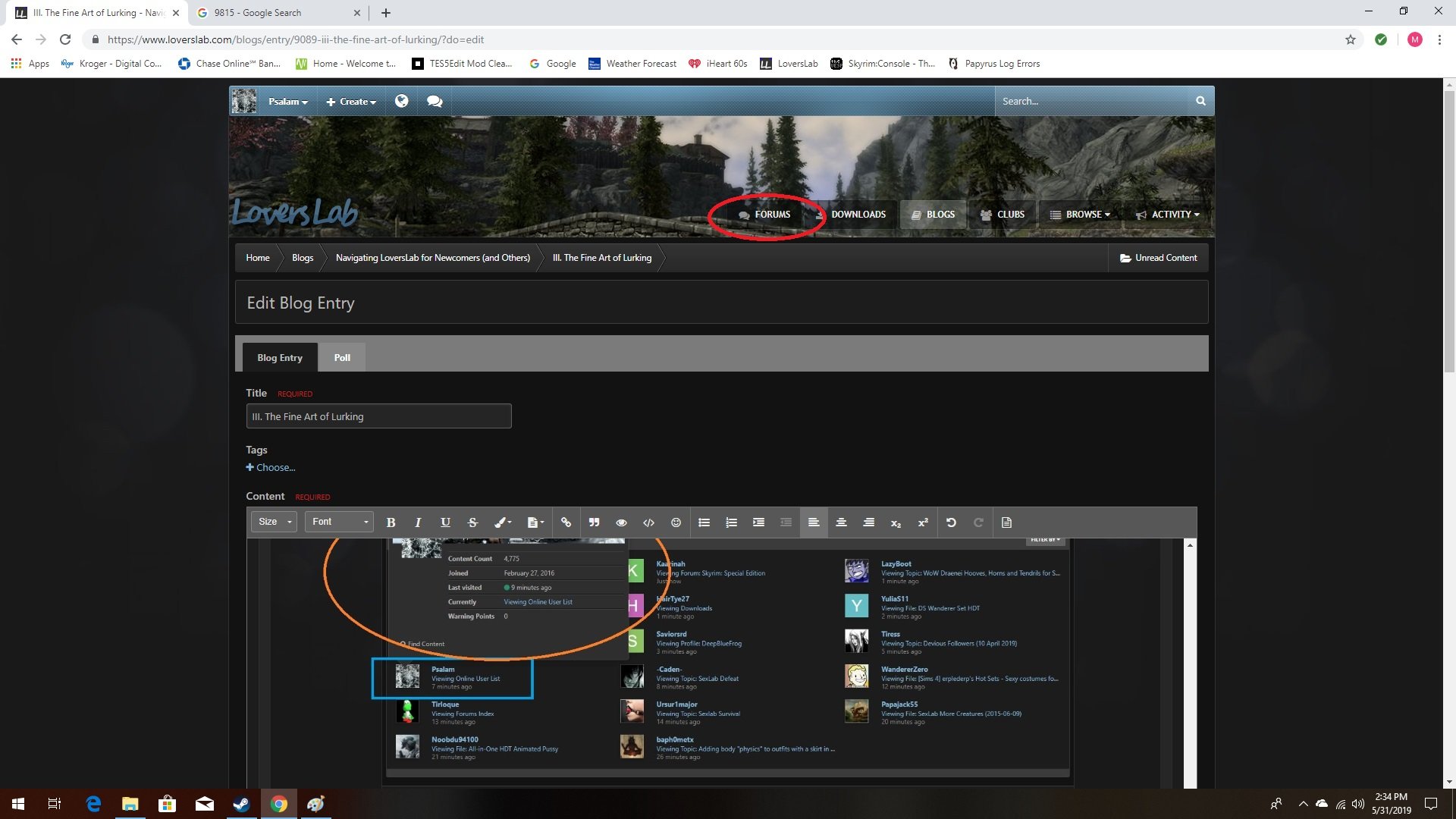 I took this screenshot while working on this post. You can see the highlight in the upper right hand quadrant. As I've mentioned previously there are always several ways to do things. While I don't intend to do this with every topic I do want to point out other ways to achieve the same thing.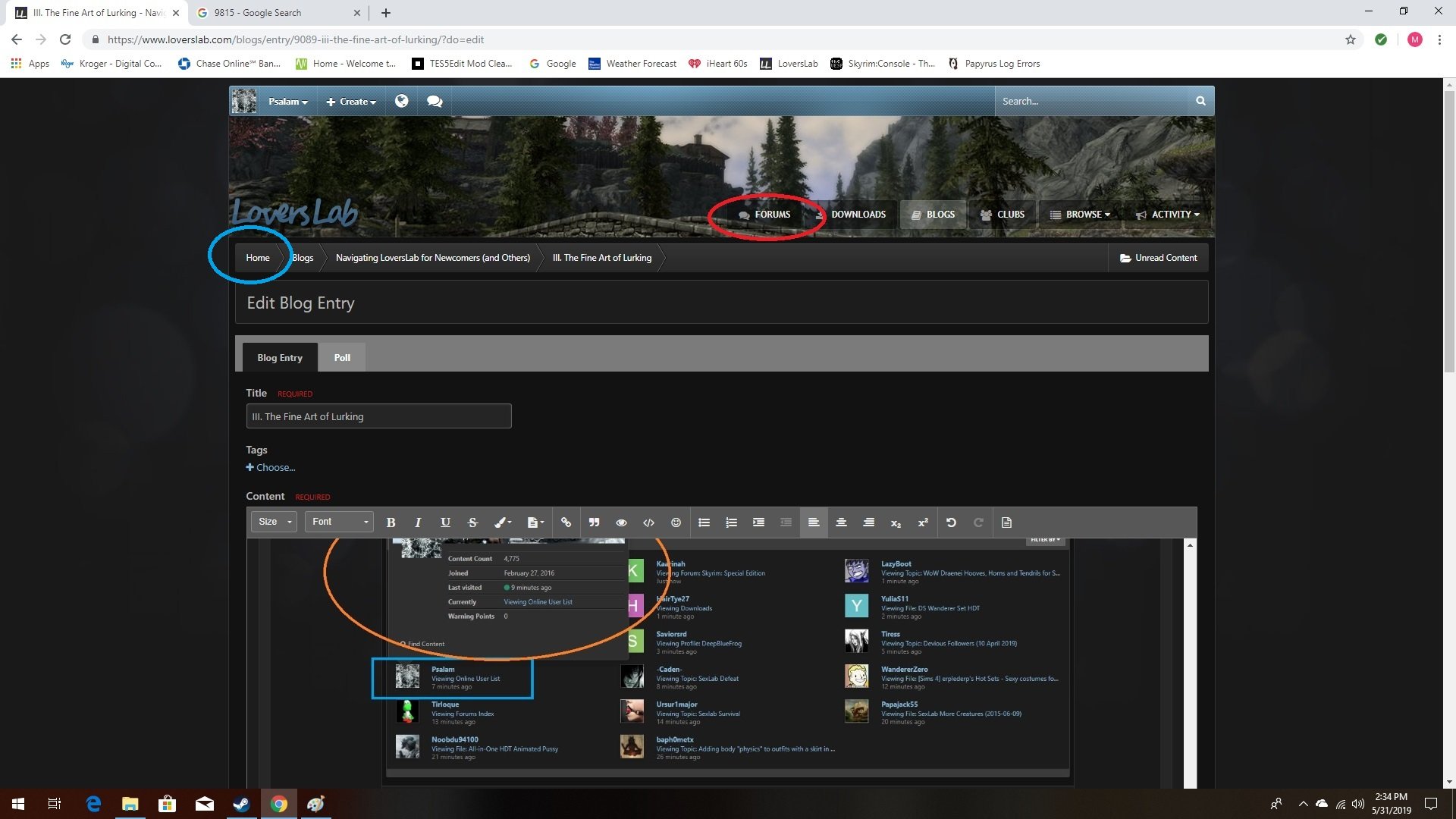 Highlighted in blue, on the left side of the screen, near the top is LL's description of where I am (Home>Blogs>etc,). That description is also fully functional. If you click on Home button (the part I highlighted in blue) you will go back to the home page.
And, while this list is not comprehensive. a third way, particularly for computer geeks.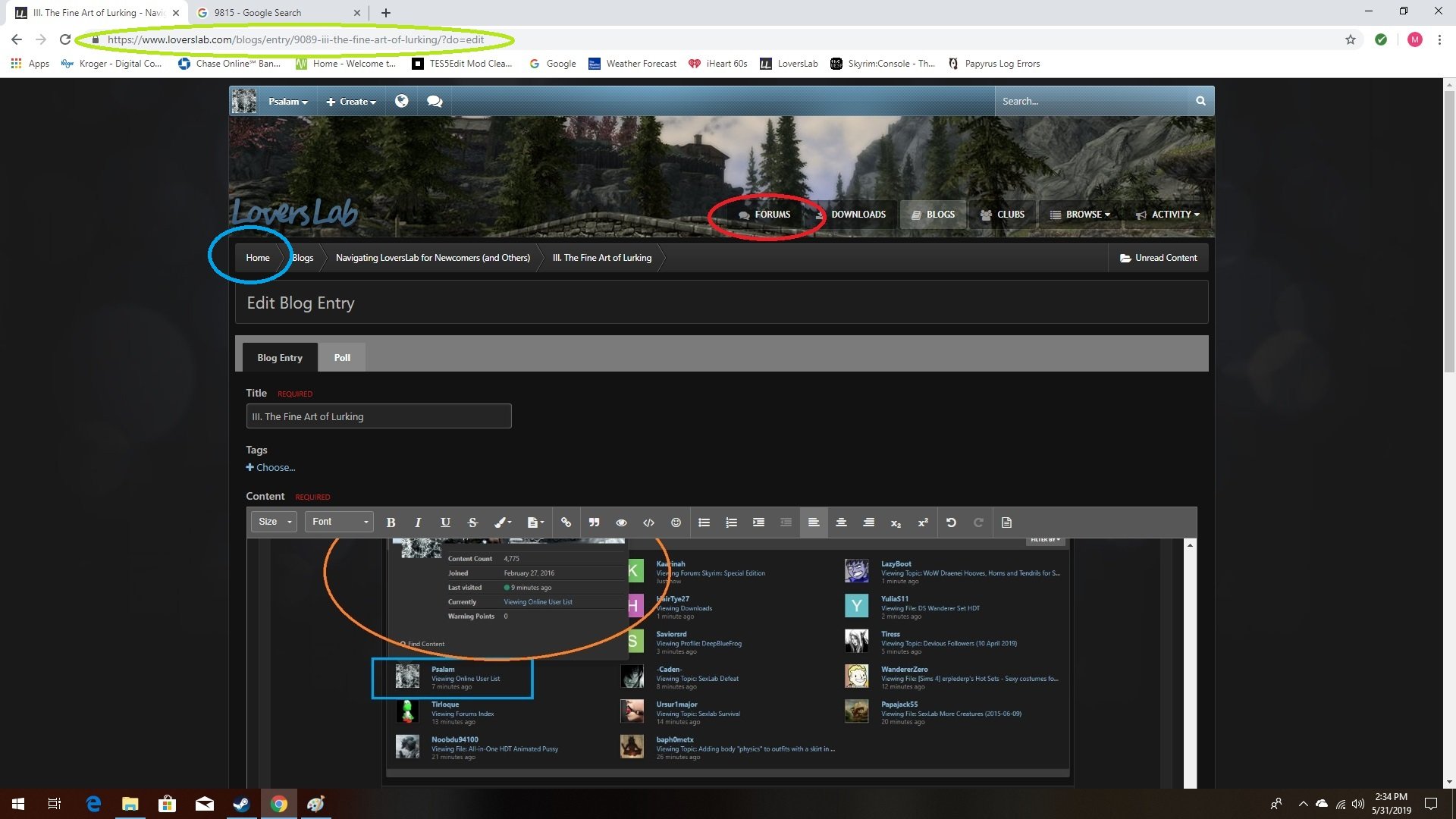 You can also go back to the web address and remove everything after "https://www.loverslab.com". This will also get you back to the main page.
Now that you can "rescue" yourself should you get lost I think I will move on to describing the unique material on the Forums page so that we can start some serious lurking.
The Forums page has its own header. It says "Forums" on the left. The 3 buttons to the right allow you to change the layout if you like. Finally, the last button, allows you to post. Since we are not yet ready to do that and this is, in my opinion, an inefficient method of posting anyway, we're going to skip it.
On the right side of the page (using the default format) are 3 boxes arranged vertically. They are "new topics", "new files" and "blog entries. During a great deal of my period of exclusive lurking I spent a lot of time on the "new files" section. After all, I felt, that's what I came to LL for - mods. This is still a good place to lurk, as far as I'm concerned. So let's look at what you can find when you look there.
This is the panel when I took a screenshot: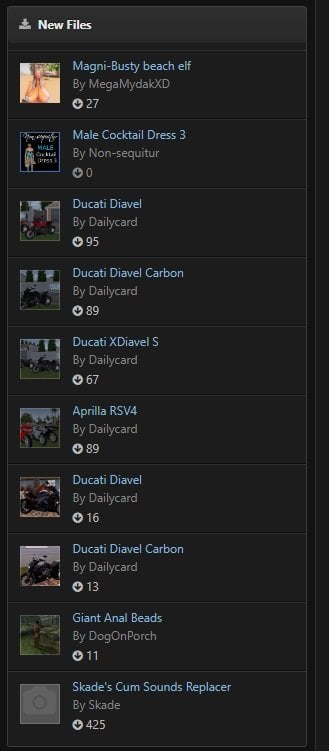 I am going to use the first mod listed as an example. If you use your mouse and hover over the title you can see the rest of the title if it has been cut off. In this case, it has not. If you click on the title it will take you to the mod - unfortunately, this is the only sure way of knowing which game the mod is designed for. If you hover over the author's name (MegaMydakXD) you will get information about them just as you saw above when we hovered over my avatar in the "Online Users" section (I will post a picture of this below for reference-please note the orange highlight is mine). If you click on the author's name in the panel, it will take you to the author's profile page. I will be talking about profile pages in a later post. Last is a downward pointing arrow followed by a number. That is the number of downloads the mod has already had at the time I took the screenshot.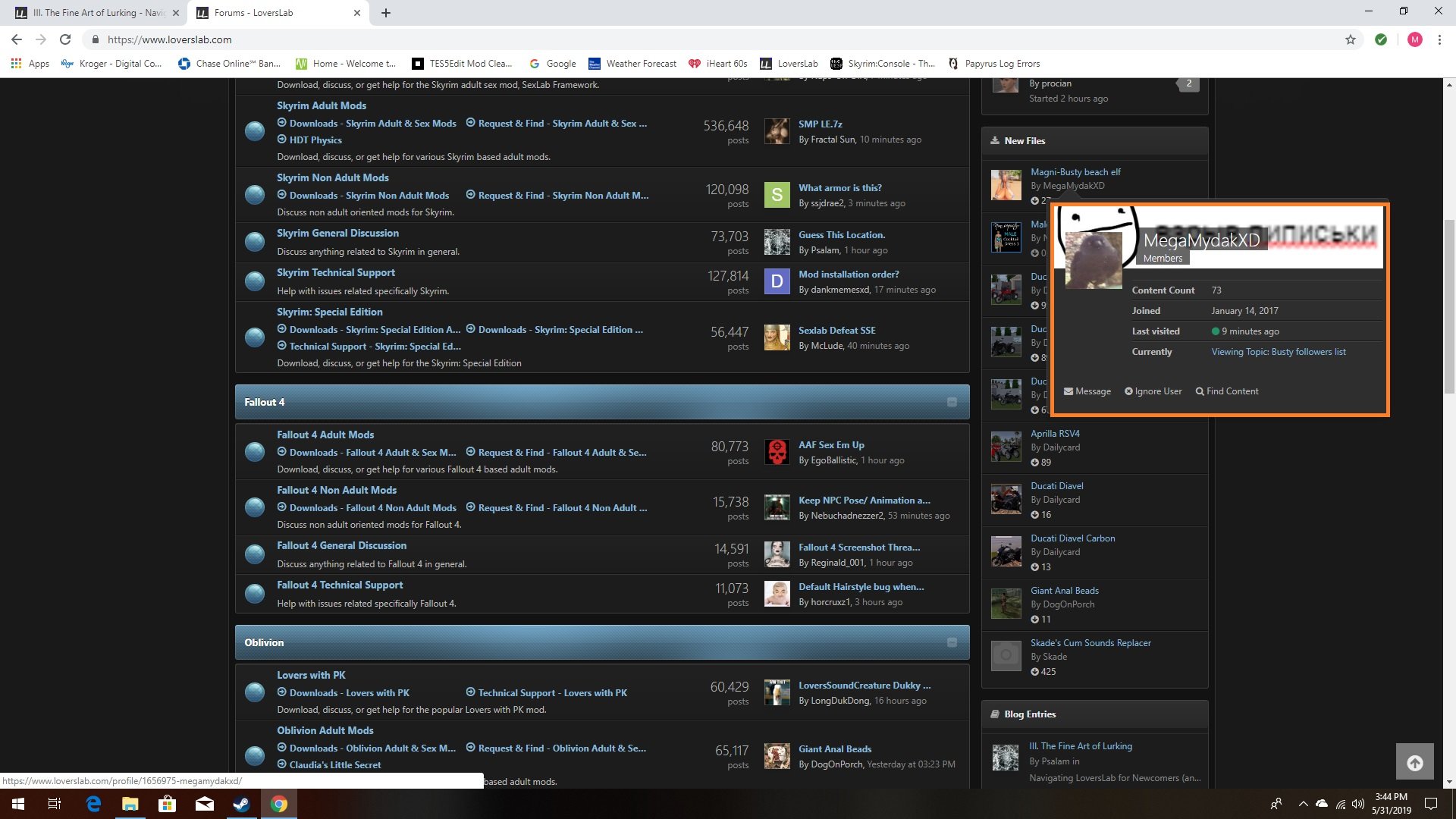 That is all I have to say about the panels. Let's get into the meat of the page - the Forums.
There are 9 groups of forums on this page and I will talk about them in 3 sections: the community forums, the forums associated with the seven game sections and the General Discussions section. Where you will want to spend most of your time lurking will depend on your interests. Now I will go into some depth about navigating what you find when you get into a forum. At the risk of being repetitive, what I show you on this forum will be true for any forum although applying it might be a little different between the game oriented forums and the discussion oriented ones. Anyway, for my purpose I have chosen to use the Community Forum, "Off Topic" for my example.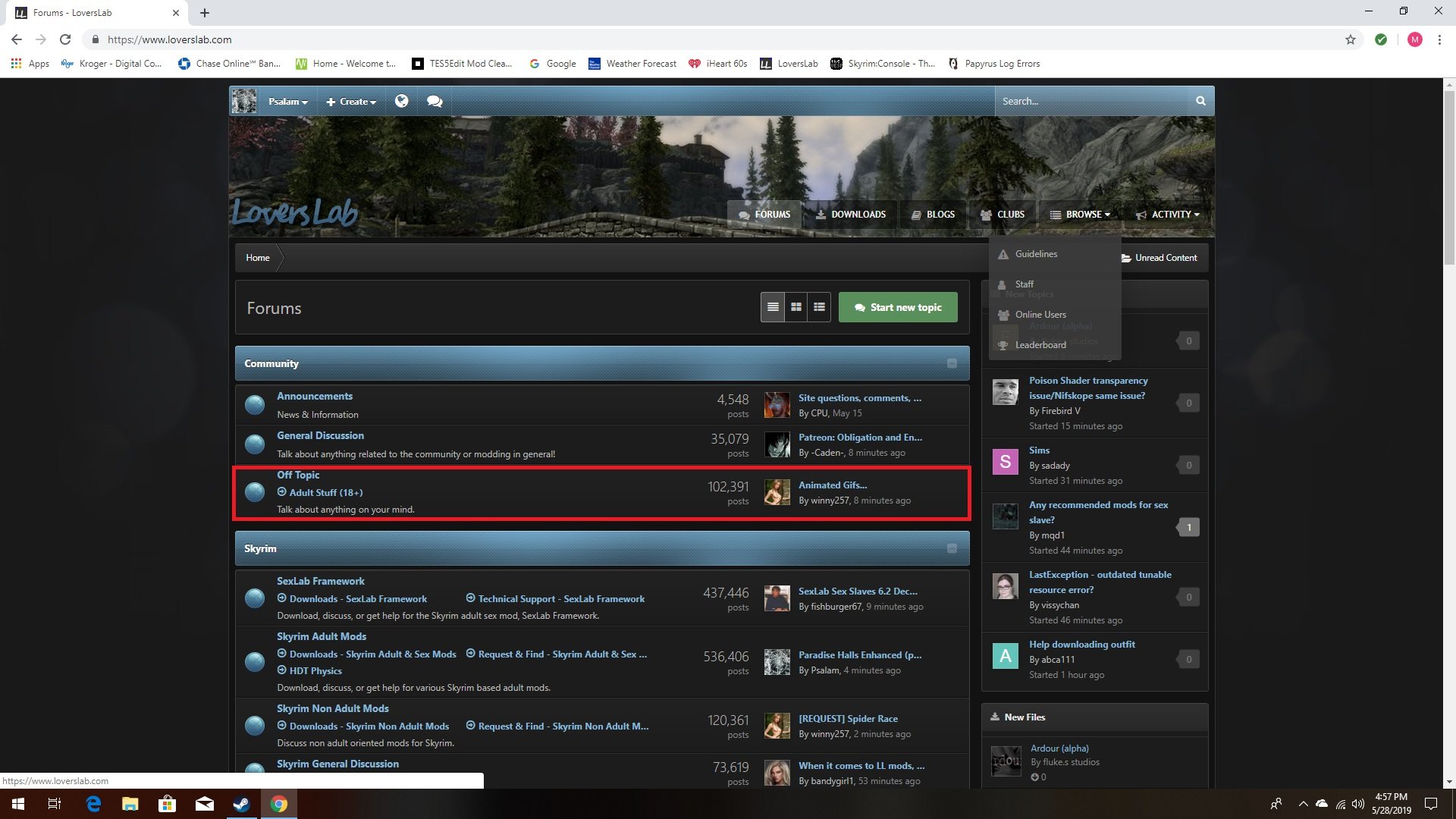 Most of what is listed on this red highlighted section of this page can be interacted with. The blue dot on the left will mark the forum as read (don't ask me why you might find that a food idea). If you click on the words "Off Topic" it will take you to the location of the threads (or topics, the terms will be used here interchangeably). Before I do that, though, I want to mention the rest of the material to be found here. Underneath the title is an arrow which points at "Adult Stuff (18+)." This arrow marks a subforum. When I take you to the Off Topic page I will show you the subforum again and explain its relevance in lurking. Underneath the subforum is a description of the forum. That, and the number of posts are the only things here that can not be clicked on. Next is listed the total number of posts from all threads in a forum. At the time I took this screenshot there were 102,391 posts. On the right is someone's avatar, in this case winny257. If you click on that avatar or on the name winny257 you will go to his (yes, his) profile page. As already mentioned, profiles are for a future post. The blue title is a link to the most recently accessed thread, in this case "Animated Gifs...". If you click on the title you will find yourself at the beginning of that thread. On the other hand, if you click on the time next to winny257's name it will take you to his post, which, as I mentioned, is the most recent post.
Now that you've seen the five separate places to which you can link from here it's time to click on "Off Topic".
If you clicked carefully you should find yourself on a page that looks something like this. Please note, this screenshot was taken much later than the previous one. If I had taken this immediately after the other one "Animated Gifs..." would be listed in the "Adult Stuff" subforum instead of "Post your desktop".
Note that like all other LL pages the header and the footer are present (more about them later). After the title "Off Topic" with its description below it, there is a button/counter off to your right which I highlighted in red. As it says this is the follow button. If you find a forum (or more likely a thread) of particular interest such that you might want to receive a notification whenever there is a new post, you click on the word follow. If you do there will be a self-explanatory dropdown box to basically confirm your selection. Once done with that the counter will go up by one and the word "follow" will be replaced by "following". Repeat the procedure (click on "following") and answer the questions to quit following. If you hover over the counter on a "follow" or "following" box you will get a pop up that will show you everyone who is currently following the forum or thread (including mods). Finally, and back to the header, when you receive a notification a number will appear next to the globe at the top of the page (which I highlighted with a red square). If you click on the globe you will then be given the information that someone (say winny257) has just posted in this forum. It will give you a quick link to go to that new post as well.
Next down on the screen is the title "Subforums." Below that is the "Adult Stuff" Subforum. Everything here behaves in the same manner as it did on the main page. This includes that the "Adult Stuff" subforum has it's own subforum entitled "Erotic Writing/Fiction." The next bar includes the "Mark Forum as Read" button (like the blue dots on the main page) and another button entitled "Start new topic." That one will have to wait until I have time to get around to doing a post on posting.
We're almost to the good stuff, hang in there. The next bar starts with a bunch of numbers. If you look at the end of those numbers you will see that I am on page 1 of 83 pages. Therefore, there are a lot of pages, each with a lot of threads just in this main part of the forum. Looking at this kind of thing on a one-by-one basis would take a LOT of time. Luckily for you I'm going to show you a shortcut prior to ending the post on Lurking. Each of the individual numbers are links to that page (1,2,3,4,5, and 6). "Next" will take you to the next page and ">>" will take you to the last page. Similarly, when you are on a page higher than one you will have a "previous" button to take you to the page before the one that you are on and a "<<" button that will take you back to the first page. Last button here is "Sort by." It will give you a dropdown menu so that you can choose what order you want the threads listed in. The default is first, all the pinned threads and then threads are listed in the order in which something has been posted, most recent to least.
The next line is a thread (finally). Once again let me walk you through what everything is (although much of this will be a repeat.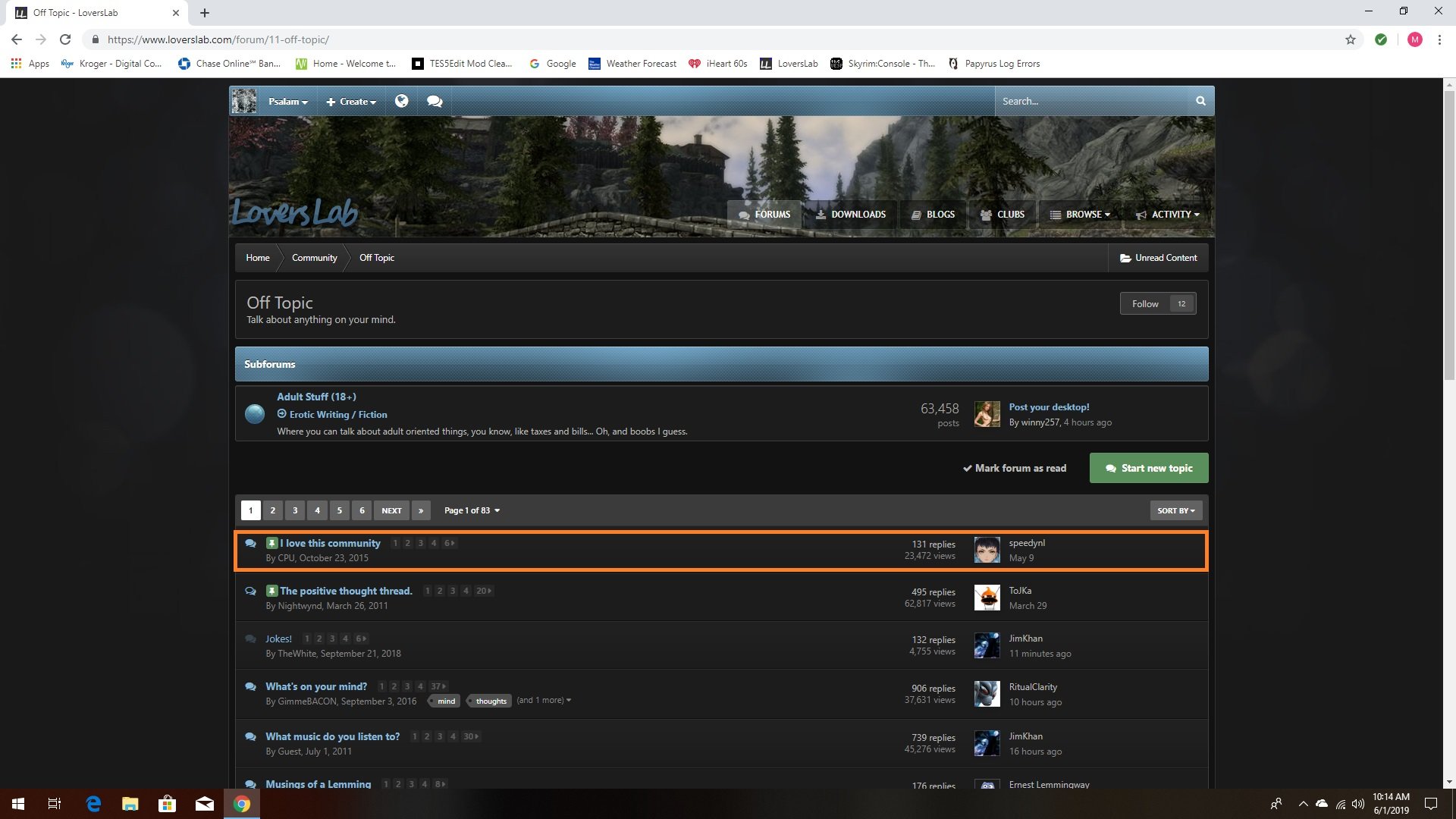 First listed is an icon that looks like a "talking balloon" from a comic strip. If it is still light (as it is on this thread) clicking on it will take you to the first post on that thread that you have not already read. It will do that if looks like it does for the first thread or for the second one (which I did not highlight). However, if you have read the most recent post for this thread (as I have for the third thread "Jokes") it will be grayed out and can not be used.
Next is the green "pinned" icon. This is a status given by the moderators so that a thread will remain at the beginning of a forum. It means, in their opinion, that the thread is important and this helps draw attention to it. On technical threads on games the pinned threads often serve as FAQs (frequently asked questions) threads.
Following this is the name (which is a link to the actual thread). If you hover over the numbers following the name they will highlight and you can choose a specific page to go to. Usually that will be the last page in my experience. Underneath that is the name of the author of the thread (remember the "Start new topic" button above?) and the date on which the thread was started. Off to the right are the total number of posts on this thread (131 as of this screenshot). Finally, the avatar and name of the person who posted last and the date and time that they posted. As elsewhere, if you click on the avatar or the name of the poster it will take you to their profile. If you click on the date/time it will take you to that last post. I keep saying this because it is easy to go somewhere other than where you want to go by not being careful WHERE you click.
One other note on this before I move on. You may see something that looks like a padlock icon on a thread. This means that the moderators have locked the thread and no new posts are allowed. You can, however, read what posts remain on the thread if you have an interest. Bear in mind that, since a common reason to lock a thread is a rules violation, those posts that broke the rules are likely to be hidden (often mistakenly said to be deleted). If you find an apparent "hole" in a conversation on a thread that may be the reason. A little bit more on that in a moment.
So let's look at an actual thread since that is what you actually do when lurking (or at least I did).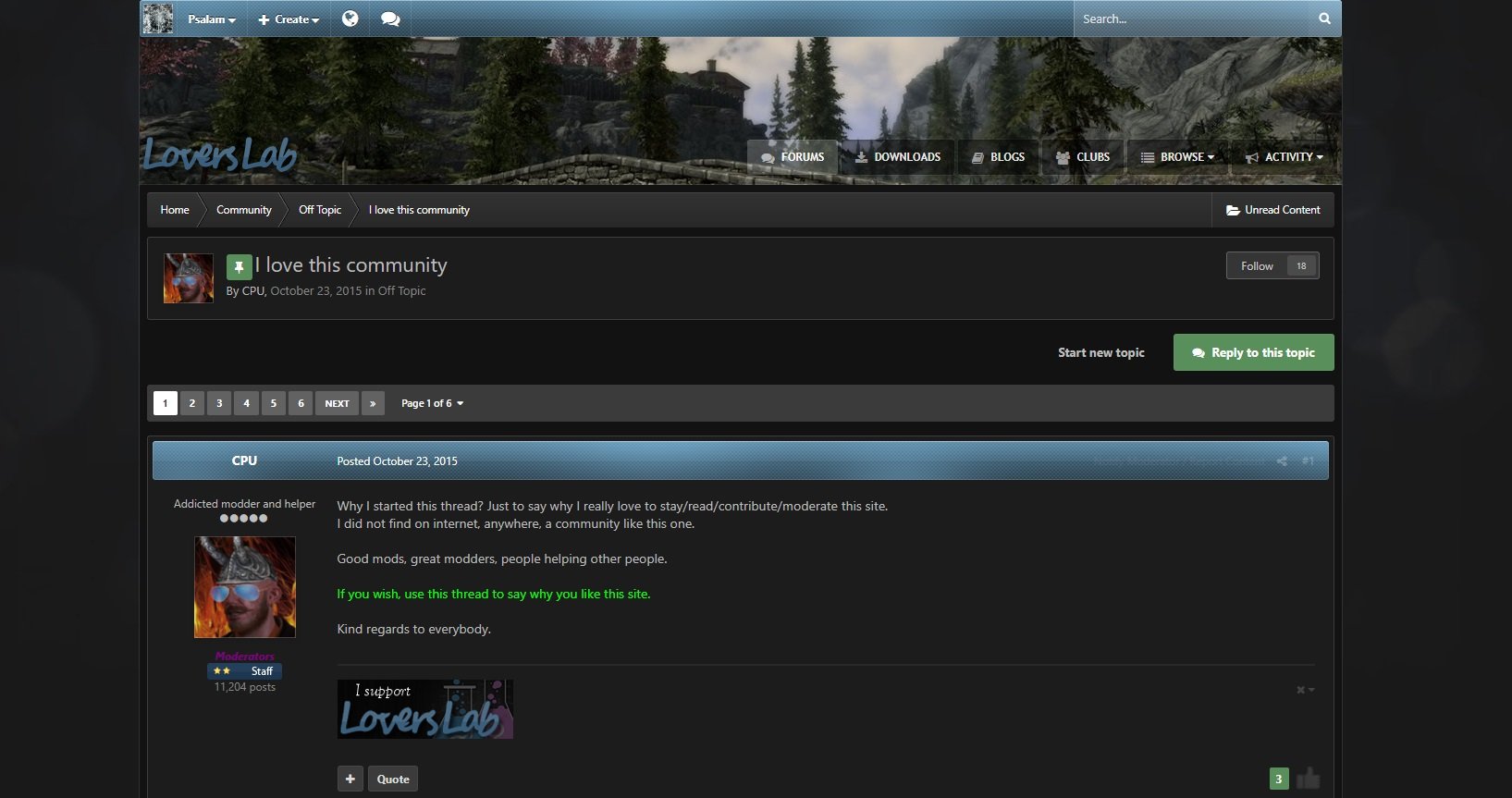 Let's look at the actual post. I'm not going to mention the contents at all. That's what you're here to lurk at. Rather let's look at what else is on the post. The heading of the post gives the name of the author of the post (CPU) and the date and time at which this post was put up (October 23, 2015). Additionally at the very end is the number of the post in this thread. This one, clearly, is number one. Just before that is an icon that allows you to "share this post." That is, it will give you a link to this post if you choose to share it.
The left side is dominated by the author's avatar. That is the picture that they selected for themselves on their profile. The phrase above the avatar ("Addicted modder and helper") is the Member Title that he chose on his profile page. The circles in between are a representation of the number of posts he has (member, senior member, etc.) and is assigned by the site. Beneath his name you will see that he is identified as a moderator with the blue epaulet with the term "Staff" displayed prominently. Most of us will be identified as a junior member, etc. as identified by the site (which also reflects the number of circles you have and all of which is determined by the number of posts you have. You may also see Contributor (someone who's placed a mod on-site) or supporter (financial supporter of the site through Patreon). Last on the left is the total number of posts this author has written (you can expect higher numbers from moderators and contributors generally).
On the bottom of the page is the author's "signature". This too was determined by this author on his profile page. On the right side, just below the line separating the main post from the signature is an "x" with a downward pointing arrow next to it. If you hover over this you will get a dropdown menu. Using this you can suppress this author's signature (not just here but everywhere - that is, YOU will no longer see their signature, everyone else will) or suppress all signatures. This will eliminate the signature section of ALL posts for ALL authors on YOUR computer. Some people feel this looks cleaner. Like many other people I have information in mine which I sometimes refer to (as in, you can find the link to my blogs in my signature). What you choose to do is strictly up to you. 
On the bottom line are the "multi-quote" and "quote" buttons which I will talk about when I do a post on Posting. On the far right hand bottom of the screen is the like icon. It looks like a thumbs-up emoji and is grayed out until you hover over it an click it. Each time someone clicks it the green counter will go up by one. If no one has clicked it there will not be a visible counter. If you click the like button the counter will go up by one and an "x" will appear on part of the icon. That let's you know that you've already liked this post. If you click it again the counter will go down by one and the "x" will disappear. You will have "unliked" the post. The like icon is used in many ways. It may be that you like a post simply because you liked the post - you found it entertaining. You may like a post because you agree with what the author said. This makes it a great tool for lurkers. You have the opportunity to express your opinion about a post without having to type in a single word. It also does not add to your content total so you can like all you want and still have your "Content count" be 0. Also, and close to my heart, mods count as posts. If you like a mod here on LL go back to the modpage and find the bottom right hand corner of that post. It will likely have a counter next to it which should make it easy. Give it a like. Remember that none of these mod authors are paid. The least any of us who enjoy their mods can do is to go back and like them on their modpage.
You move up and down the list of posts by scrolling. Once you scroll down a few lines an upwards pointing arrow will appear on the bottom right of your screen. Clicking on this will take you to the top of the page. As mentioned, there are buttons which will allow you to move from one page to another.
Before I leave the post I want to mention the other thing that you can do on a post that does not count as posting anything. That is, notifying the moderators of a rules violation.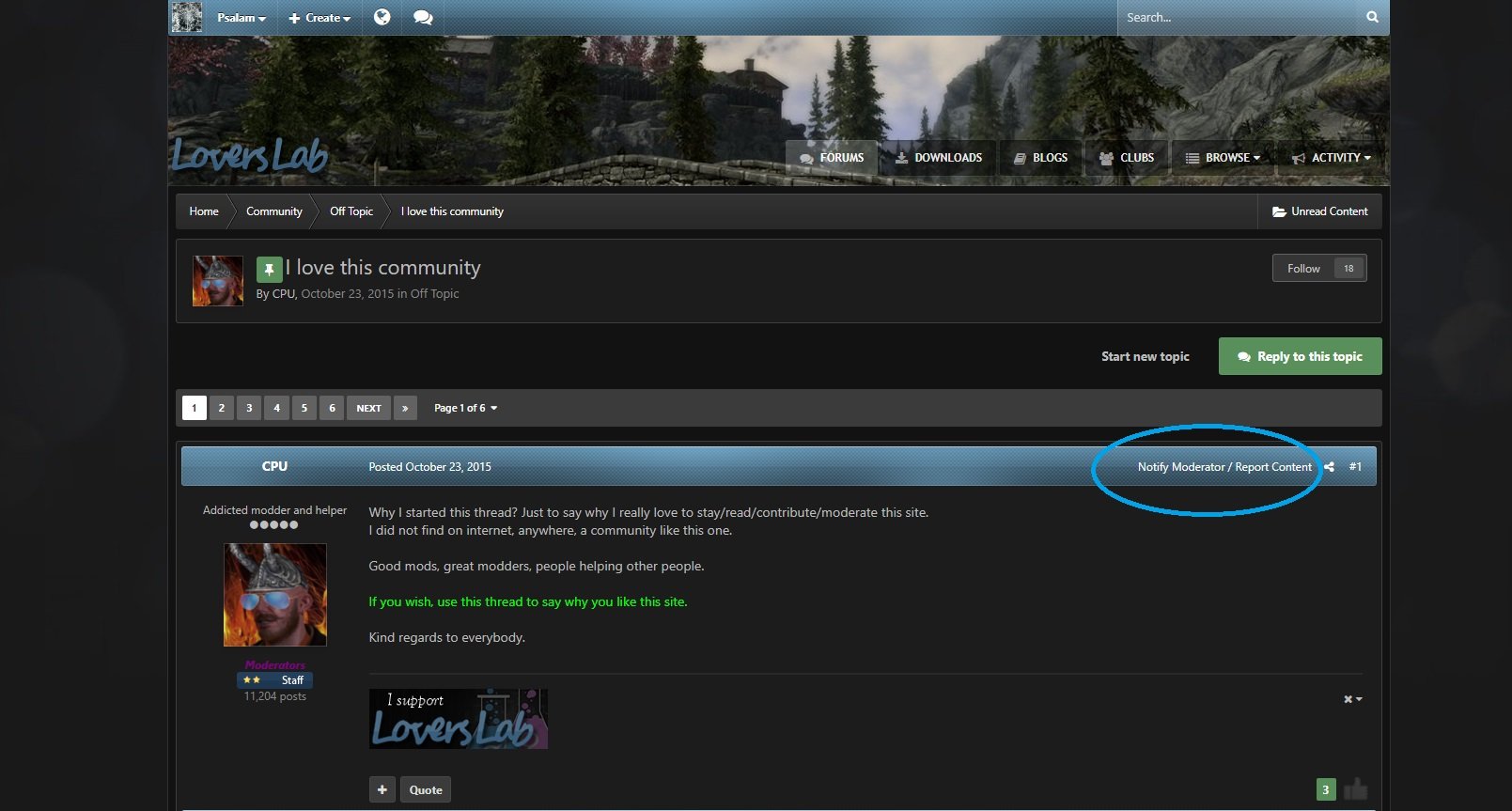 If you are paying attention you will see that this is the same post as in the last spoiler. This time, however, there is additional material on the blue bar. This only becomes visible if you hover over what appears to be the empty space on the bar. If you click this it will give you a form to complete in which you can notify a moderator of something that you feel is a violation of the site's rules (I covered this in the first post, remember?). Because the moderators can not be everywhere we are something of a self-regulating community. Issues on threads will be handled more quickly and efficiently if we all give the moderators a "heads up". (If you see something, say something). Honestly, I understand as a lurker that you probably don't want to get involved with this - and that certainly is your right. I didn't when I was just lurking. However, let me encourage you especially to report any of these three specific issues:
Content that is clearly trolling or spam. Having said that, I also recommend that you only report it if it has been posted in the last 5 minutes (remember that the blue bar has the time of posting on it). These morons are likely to be reported by everyone. If the thousands of people on the site at any given time are all reporting the same thing to the moderators at the same time they will be so overwhelmed by the reports that they won't be able to deal with the issue in a timely manner. So, if you see this and think no one else may yet have noted it - report it.
Anything that strikes you as pedophilia. While the site's standards for what constitutes pedophilia may be different from yours the site still has a zero tolerance policy for pedophilia. So, if you see it, report it, because if it's there the moderators will want it down just as quickly as possible.
This last one is a particular issue of mine. If you read, on a mod's support thread, someone disrespecting the mod's author, please report it. Not only is it a violation of the site's first rule. it is harmful to the rest of us. We all came here for the mods (some more, some less). Anything which frustrates mod authors should be dealt with promptly and, as I've said, the moderators can't be everywhere.
These are by no means a comprehensive list. Other things like plagiarism, political and/or religious diatribes, etc. have not even been mentioned. This list is the ones I find most egregious. If you see any clear rules violation please report it.
Next, I want to cover the often mentioned, but not yet detailed, header and footer.
Rather than reinventing the wheel let's use the picture in the spoiler above to describe the header. Let's look across the blue bar at the top. Starting from the left you see my avatar. On your screen when you are lurking you'll see your avatar. Click on it to go to your profile. To the right of the avatar is my name in the picture, you screen name when you're lurking. This has a dropdown menu. Most of this is currently irrelevant but you now know about following. Halfway down that list is "Manage followed content." If you choose that option it will take you to a screen that contains all the threads/forums that you are currently following. From here you can choose to alter your choices about them. This is a good place to go if you start collecting a LOT of notifications and want to prioritize what you want to see and what you don't.
Next is the image of the globe, This is where you will receive notifications as already mentioned. The "balloon" next to it is to notify you about PMs (personal messages). Then there is a long empty stretch with the search engine at the end. I intend to come back to the seearch engine later because, in my opinion, mastering the search engine is a lurker's best tool.
Below the blue bar is LL's cover photo and the bar with 6 buttons. Hopefully by now you know about the Forum button. The Downloads button will take you to the downloads page. This can be useful to help scan for mods. You're welcome to use it but I've found scanning the forum for my game far more useful for suggestions. People here will often talk about what a particular mod does and what, if any, issues they've had with it. Since I've already shown you how to find and download a mod once you have the name there is every reason to believe that you won't need to spend much time there. The third button is blogs. There are all sorts of interesting blogs if you're looking for something to read. Most of them tell stories (unlike mine). If you're interested just follow the links. The fourth button is clubs. These are groups of people with unique interests mostly centered around a particular fetish or a particular language. Again, if it sounds interesting - take a look. (If you can't tell I've not spent a lot of time in either of these last two categories.) The fifth button is the Browse button. I have incidentally covered this as I've gone along.
The last button is Activity - and it has a dropdown menu. It has 4 choices. The last (bottom) one is another way to access the search engine. The one above that is "Content I started." Since I haven't gotten to Posting yet this is currently irrelevant but I want to mention that it can be a handy place to come to if you have started one or more threads yourself. Above that is "Unread Content." This will be coming up twice more in the next few paragraphs. It is a list of posts on the site that haven't been read. It is actually a good place to go for lurkers. You can read the first part of the post and, if it catches your interest, you can click the link and read the entire thing. As I say, this is especially handy if you're not sure what it is that you're looking for.
The top choice entitled "My Activity Streams" is another dropdown menu. Once you've started posting I expect that you will find this as useful as I have although it's usefulness is limited for lurkers. First listed is "Unread Content" again. Then, in order, are "Content I started." "Content I follow," "Members I follow" and "Content I posted in." At the end is a button that allows you to make a different stream to follow if you so choose. As of right now these are things that you aren't doing (cause you're not posting) or you have easier access to in another place.
The next bar is worth noting. I alluded to this earlier. Those places listed at the beginning (Home>Community>Off Topic>I love this community) are not just telling you where you are and how you got here. They are links. If you click where it says "Home" you will go back to the main page. If you click on "Community" You will go to another screen (which I show below since it shows the footer well) which lists only the Community forums. If you click "Off Topic" it will take you back to the list of threads found in the "Off Topic" forum (including the subforum). Finally, if you click on "I love this community" ...  nothing happens. You're already there. At the end of the black bar is a third way to access "Unread Content." I did warn you at the beginning that there were often more than one way to attain the same end.
Now for the footer: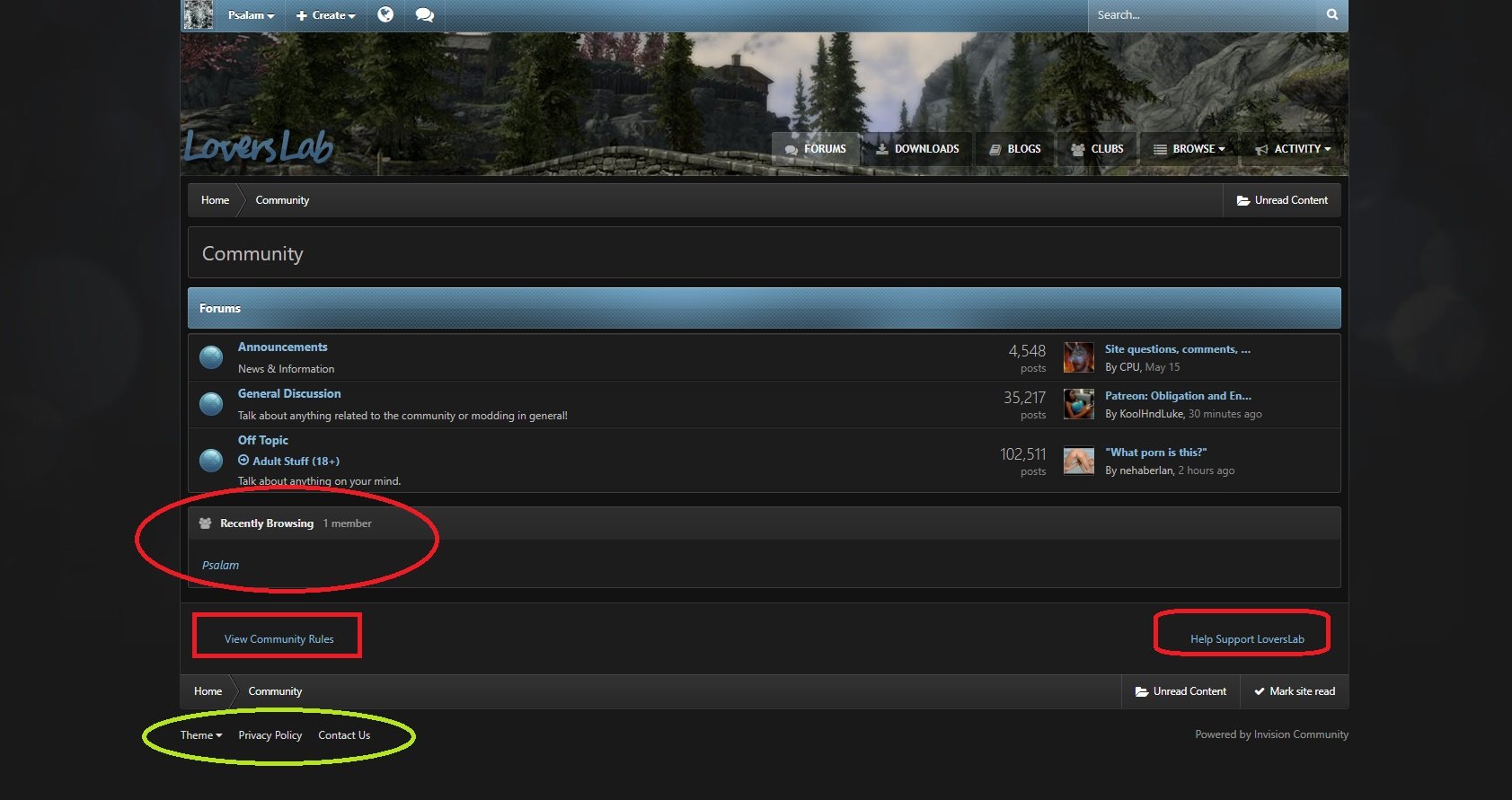 The red ellipse shows members who have also been recently browsing. As you can see, at the time I took this screenshot I was the only person on this page. If you go to a "busier" page you may find as many as a dozen names here at any given time.
The red rectangle is the link to the rules. If you've forgotten it go back and read the first post over again.
The red rectangle with curved corners on the right says "Help Support LoversLab." If you click this you will find yourself on Patreon. You can then, if you so choose, make a donation to support the site. Two things you should know about this before I drop it. One, this is the ONLY method to financially support LoversLab. While the issue is often raised in threads I have seen no movement towards making another pathway available. Two, this is the only way to get rid of the ads on LL. You may have wondered why my screenshots are blessedly empty of the ads you see on your screen. It is because I am a supporter. If you want to get rid of them too - sign up now!
The next bar is simply a reflection of the one I discussed earlier that's on the top. It is nice to know that you can access some of this stuff on the bottom (and yes, that makes the fourth way to access "Unread Content").
In the green circle at the bottom are three innocuous things to note. The leftmost one is actually a dropdown menu that gives you three choices for how the pages on LL are displayed. You can play with these at your leisure but I've found the default one to not just be adequate but to be the best choice. The middle selection will take you to the site's Privacy Policy should you like to read it. Finally the "Contact Us" selection will give you a form to complete should you have questions that you feel, for whatever reason, can not be well addressed on a thread. Honestly, I've never used it but mention it for completeness.
Now I intend to go into what I believe is the most important tool in the Lurking toolbox - the Search engine. I am going to give you some examples of how to use it and then try to explain why this can be so useful.
I have taken a screenshot of the Off Topic forum: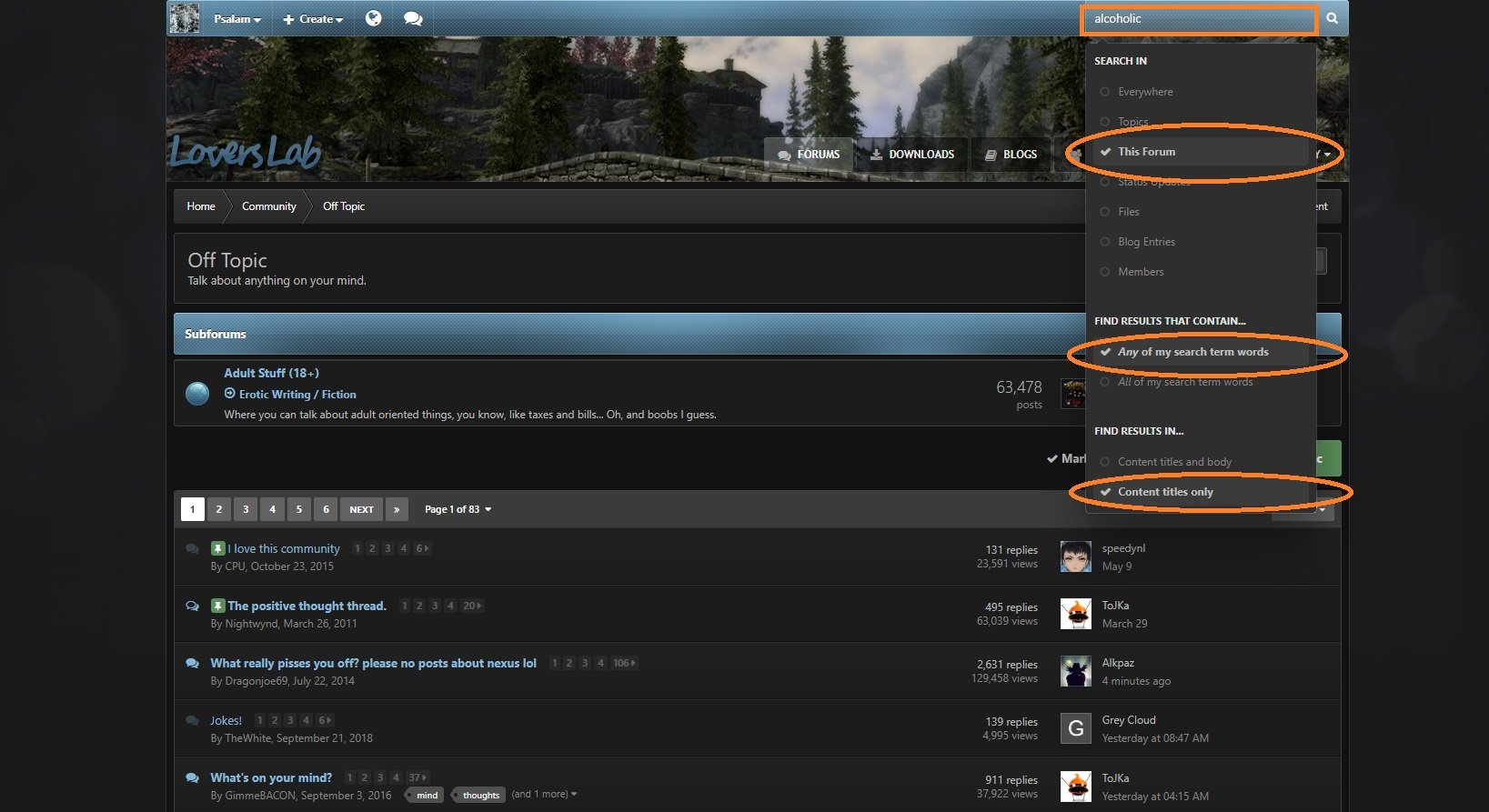 Now that I am in a forum I can limit my search to just this area. In this case please note that I have chosen "alcoholic" for my search term. It's probably not one that you would want to choose necessarily but it serves well for this illustration. If, before I search, I tell the engine to limit the search to "this forum" and "content titles" only (as I mentioned before since I am using a single word to search "any" works as well as "all" - this was in the previous post) I will get only one hit: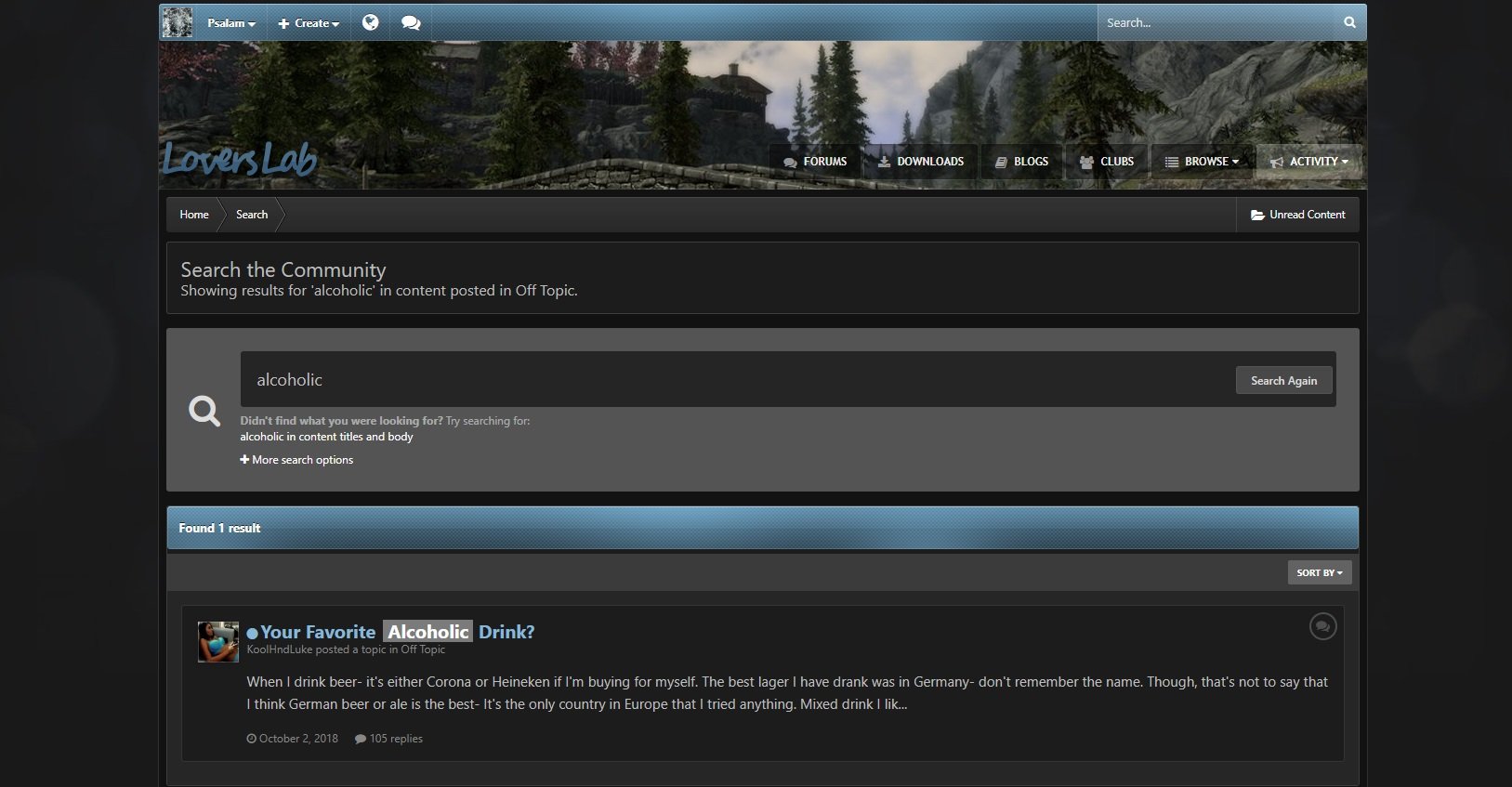 If you try it you will get the same result. If you choose to just type "alcoholic" into search and leave the default settings you will get almost 1,400 hits - you may as well have used Google search. The beauty of the LL search engine is that it cuts surgically. Rather than spraying out a ton of information which may, or may not, be relevant it limits itself to what YOU think is important. If you click on the title you will find yourself on the thread. If you now do another search choosing "this topic" for "Pabst" you will again get a single hit: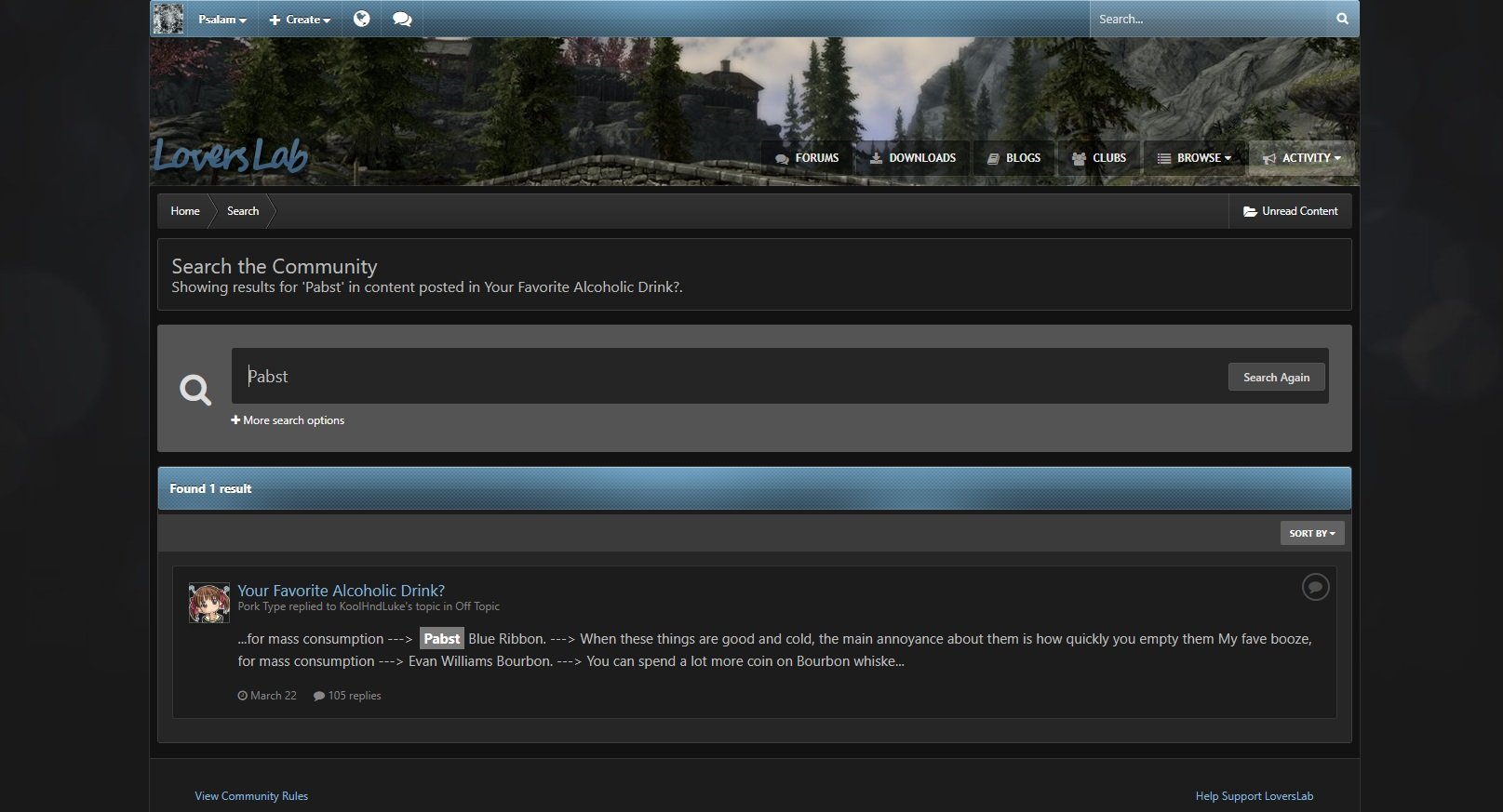 You can then click on this and go right to the post that mentions "Pabst", or, in this case, read it right off the search engine results.
So what, you say. Well, let's say you are having an issue with your game of choice. You could try typing in the problem and hitting search but I expect you would find yourself with information overload. If, on the other hand, you went to the forum that dealt with your game and did the same search limiting yourself to that forum you would get only a limited number of hits which you could then search further with the "this topic" should it be needed. Most of the games have [Search] threads that will allow you to look for particular equipment/clothing/weapons. What you are looking for may very well already be listed - and you didn't have to write a single post. The search engine can also be used to search "blog entries" if you are looking for a blog to read that would have something that you might find interesting. Do recall (from the last post) that not all those options may appear at any one time. You may have to hit the more options choice on the dropdpwn box to get the selection you want. Also remember (from the last post) that if the dropdown box does not appear when you have typed in your search term(s) just click in the empty space next to them and this will make it appear.
If you take advantage of the search engine you can make your lurking much more efficient. Whether you are trying to find out about mods, about issues with your game or just about some topic in general, the search engine, properly used, can be your best friend.
So, what do you do if there is an issue with LLs search engine? Despite the lack of specificity you fall back on using other search engines, such as (but hardly limited to) Google:

Please note the format. First the word or phrase for which you are searching. Then you need a colon(:) followed by "loverslab.com" It is possible to get to forums and even topics by typing enough after loverslab.com such as "loverslab.com/downloads" but the returns diminish quickly.
I hope that this post helps you with your lurking. I hope even more that it helps you navigate LL more easily and gives you the tools you need to find all those things in which you are interested.