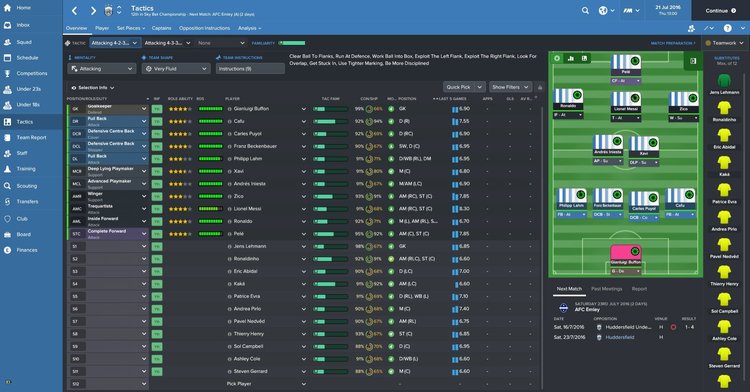 Thought I'd show you guys this, it's my current game with Huddersfield in FM 2017 where I decided to add a ton of legendary players (btw the Ronaldo on the left is CR7, not R9 I hadn't edited the name in when I took this screenshot) to the game via FM mods and create a team of them. You may be asking why Huddersfield when I'm an Arsenal and Lyon fan? Because I don't like doing this with players I know/like so I choose a team I don't really know too much about and have no attachment to, it's actually Millwall I do this with (to the point I'm starting to get a bit attached to Millwall) but I could not be fucked with the hassle of all the good teams in Europe trying to poach my players when I start doing well which results in the players/team getting pissed off when I don't sell them to Real Madrid or Manchester United. This screen is also before squad numbers, hence why all the shirts are blank
But anyway the team I decided to go for a mix of players that were/are legendary during my time watching football (I only got properly interested in it around 2009/2010) as well as some proper legends with a few players considered legendary (or at least great) for their respective clubs. So the team selection starting with the starting XI
GK - Buffon, was originally supposed to be Iker Casillas (who I still think is one of the greatest keepers of all time) but something fucked up and Casillas wasn't appearing in game so Buffon got in instead but that isn't a bad thing Buffon was initially going to be in the team anyway.
DR - Cafu, He's a little before my time but whenever the topic of amazing Right Backs comes up he's always mentioned, also Vice captain.
DCR - Carles Puyol, if you asked me to name my top 3 defenders this man is at the top I used to joke that his hair counted as an additional player. He's no nonsense and is all in all an amazing defender. Also 3rd captain
DCL - Franz Beckenbauer, the Kaiser and captain of this team if Pele's the best attacking player ever then this man is surely the best defensive player ever. Another one from before my time but from what I've heard (mostly from my mum too be fair but also from the old FIFA games' classic XIs) he fully deserves a place in this team and to be its captain.
DL - Philip Lahm, 4th captain and playing out of position (somewhat, the editor gives him the max ranking as a left back) world cup winner (entire defense consists of world cup winners) and one of the greates full backs of all time (in my opinion) so fully deserves a place in the starting lineup of this team.
So that's the defense pretty good right? Well the midfield and attack is just pure filth.
CMR + CML - Xavi & Iniesta, the greatest midfield partnership I've ever seen and if you have one you have to have the other. These two are what made both Barcelona and Spain the forces they where and neither team did well without both of them on the pitch and they deserve their place as my starting midfield pairing.
AMR - Zico, another player that I mostly know about from the classic XI in the FIFA games I playe dbut he got to wear Brazil's no. 10 shirt and that must mean he's pretty damn good.
CAM - Lionel Messi, You had to know this man would be in the team he's one of the greatest players of all time and certainly one of the best in the world right now. Plays in a sort of triangle with his Barcelona team mates.
AML - CR7, he has to be in the team if Messi's in it as well and he's part of why the attack is so filthy alongside Messi and the striker (I'll be getting onto my striker in a moment) he's also part of a bit of a fantasy: what would happen if these two greats played with each other rather than against each other?
ST - Pele, the greatest attacking player of all time won back to back world cups and is the third reason why the attack for this team is pure filth.
That's the starting XI, pretty good right? Well the subs are just as good I won't explain all of them just some of the highlights.
GK - Jens Lehmann, invincibles keeper and taking the place of the bugged Iker Casillas.
Sol Campbell, Ashley Cole and Steven Gerrard - form an English core that I felt I might need with Huddersfield. Consists of two invincibles and the greates English Midfielder of recent times (that might be my bias towards Liverpool showing though) mostly to get around registration shite in the game.
Ronaldhino and Kaka, two of the best modern Brazilian players and probably shows the quality fo the starting attack that these two are just substitutes.
Thierry Henry, Patrice Evra and Eric Abidal - one invincible, one of the greatest left backs ever (who I had to edit into a right back due to needing backup for Cafu) and a product of Lyon's youth setup (what? You think I'd leave out a player from my faovurite club? You mad?) I felt like I needed a bit of French presence in the team and I consider Henry to be one of the best striekrs the modern game produced.
So that's the ultimate XI I'm messing about with. I'll probably add updates to this game from time to time but my question to you is what changes (if any) would you make to this team? I know I've missed a few players (Zinedine Zidane being a big one) but I think I managed to create an amazing team regardless.