Secrets like Tentacles, Ever Deeper
---
Be sure to check out the semi-related posts in the Counterparts and Sex Screenshot threads!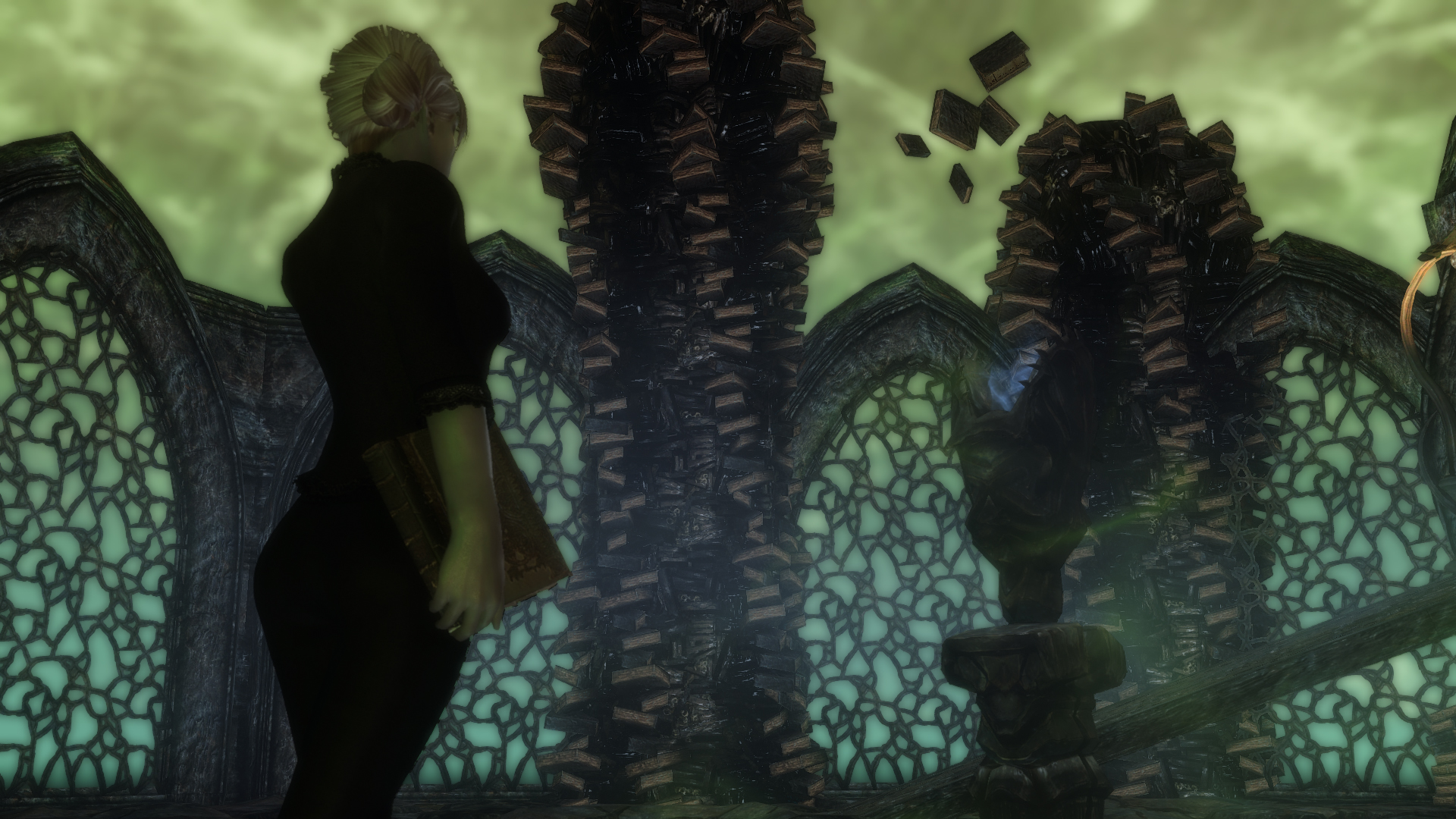 Selune gingerly plucked a book from a writhing spiral of tomes and flipped open its cover.  She frowned.  Apocrypha may be a realm rich in the lost and forgotten, but when one makes enough trips into Hermaeus Mora's realm, one comes to realize that most lost secrets are either wholly mundane, uninteresting, irrelevant, or, most commonly, some combination of the three.  This particular tome seemed to plot out the lineage, in excruciating detail, of a controversial but very minor noble in the mid-Second era.  Evidently, their bloodline held some dirty little secret that would have shamed them.  Selune tucked it under her arm.  It was useless to her, but she wasn't above a bit of sordid reading.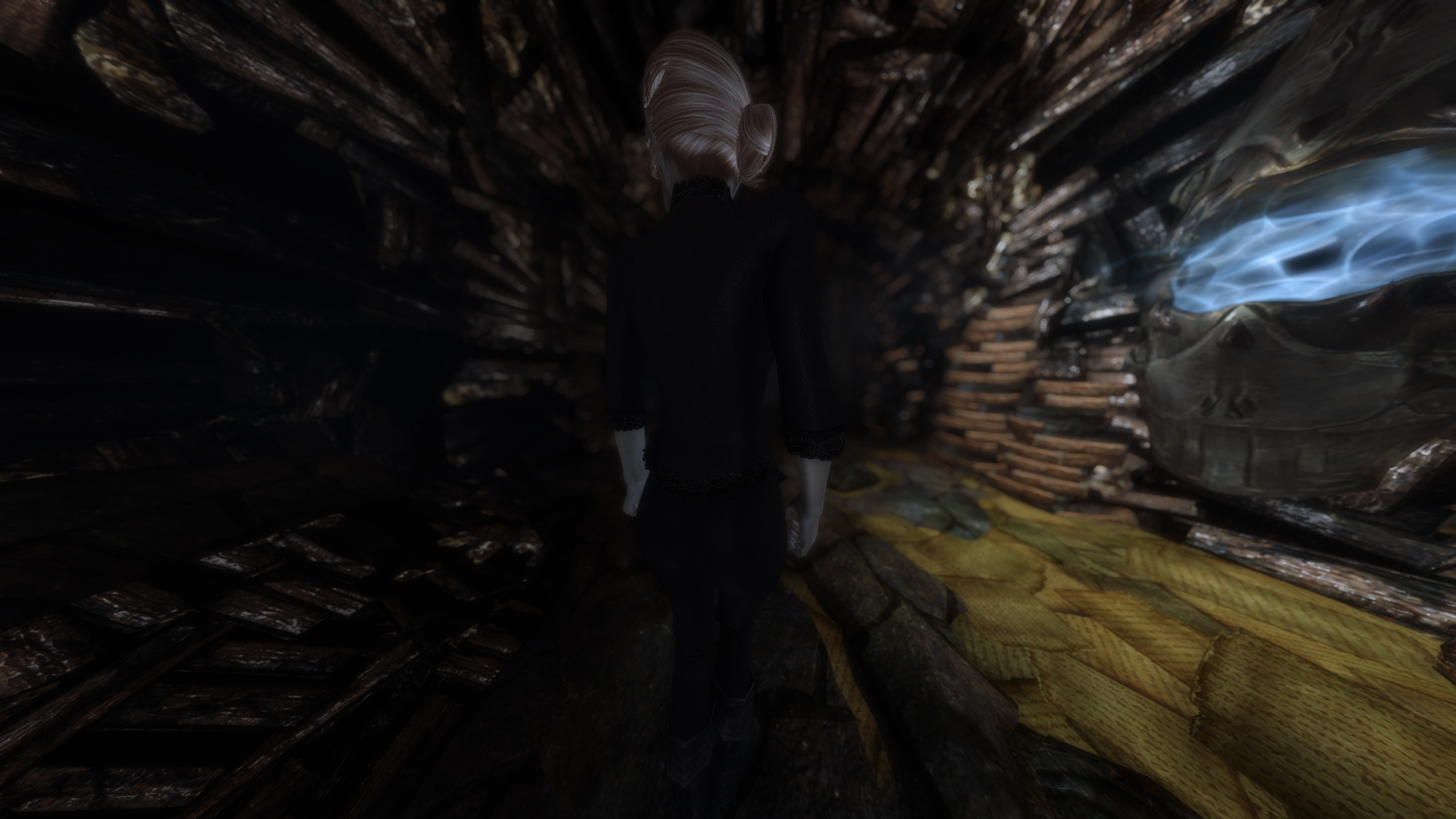 Selune grew increasingly anxious.  The feeling seemed to set in faster with every trip she made here.  For as useless as these secrets could be, they held a sick sort of pleasure, an addicting aura that made her wish to stay here forever and just... know.  Here, the unknown and unknowable seemed tangible.  Perhaps she could even, with enough time, discover the secrets about herself she never dared ask.  Her bloodline, her real parents... it was secret to here, so it must be here.  Somewhere.
A chill ran up her spine.  She felt the unmistakable feeling of being watched... no.  Followed.  No footsteps.  How close?  After so many peaceful trips, she'd forgotten her caution and left her knives in Mundus.  A spell may work, but without time to prepare, it would be weak.  No time.  Keep moving.  May be nothing.  May be-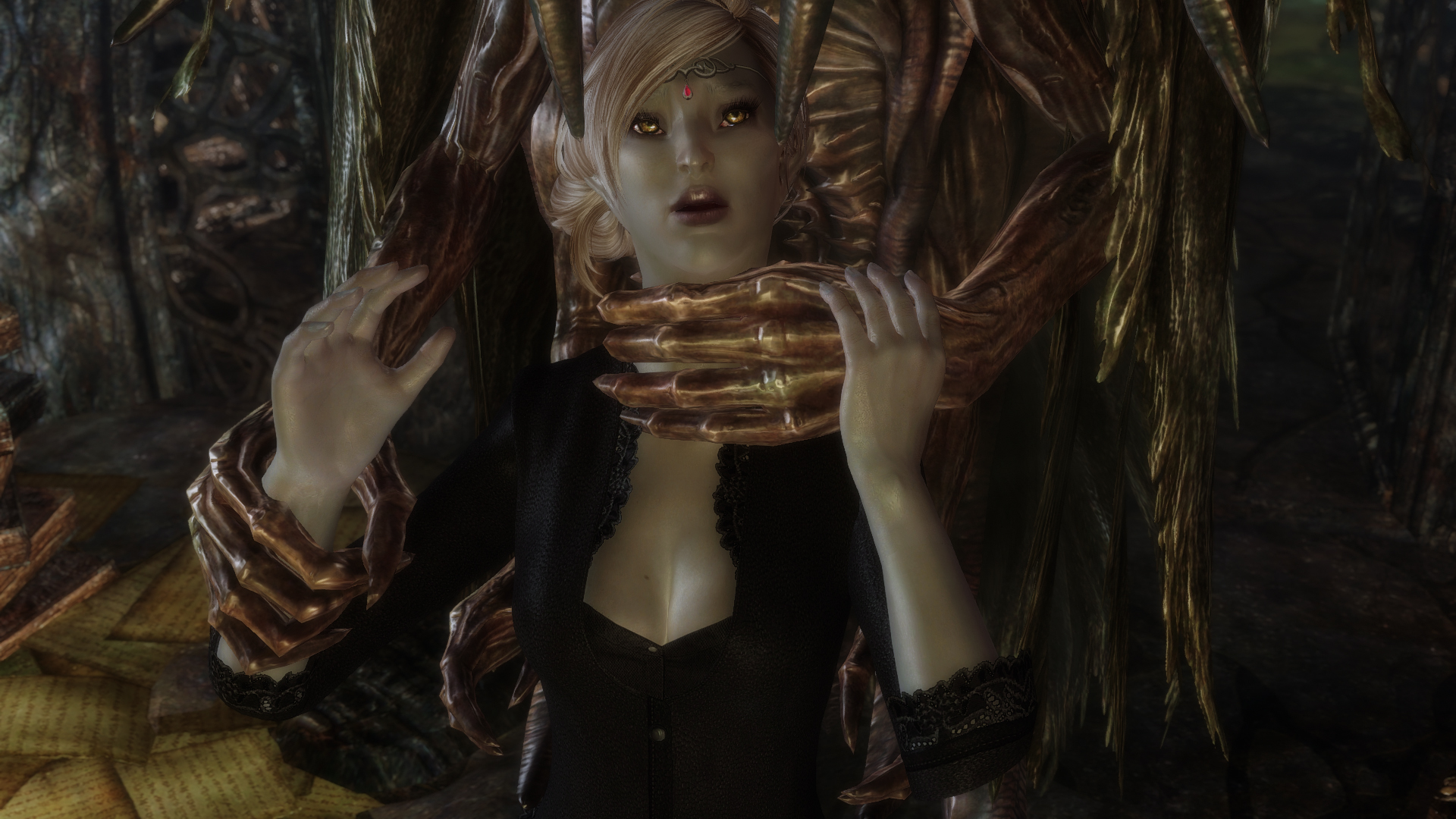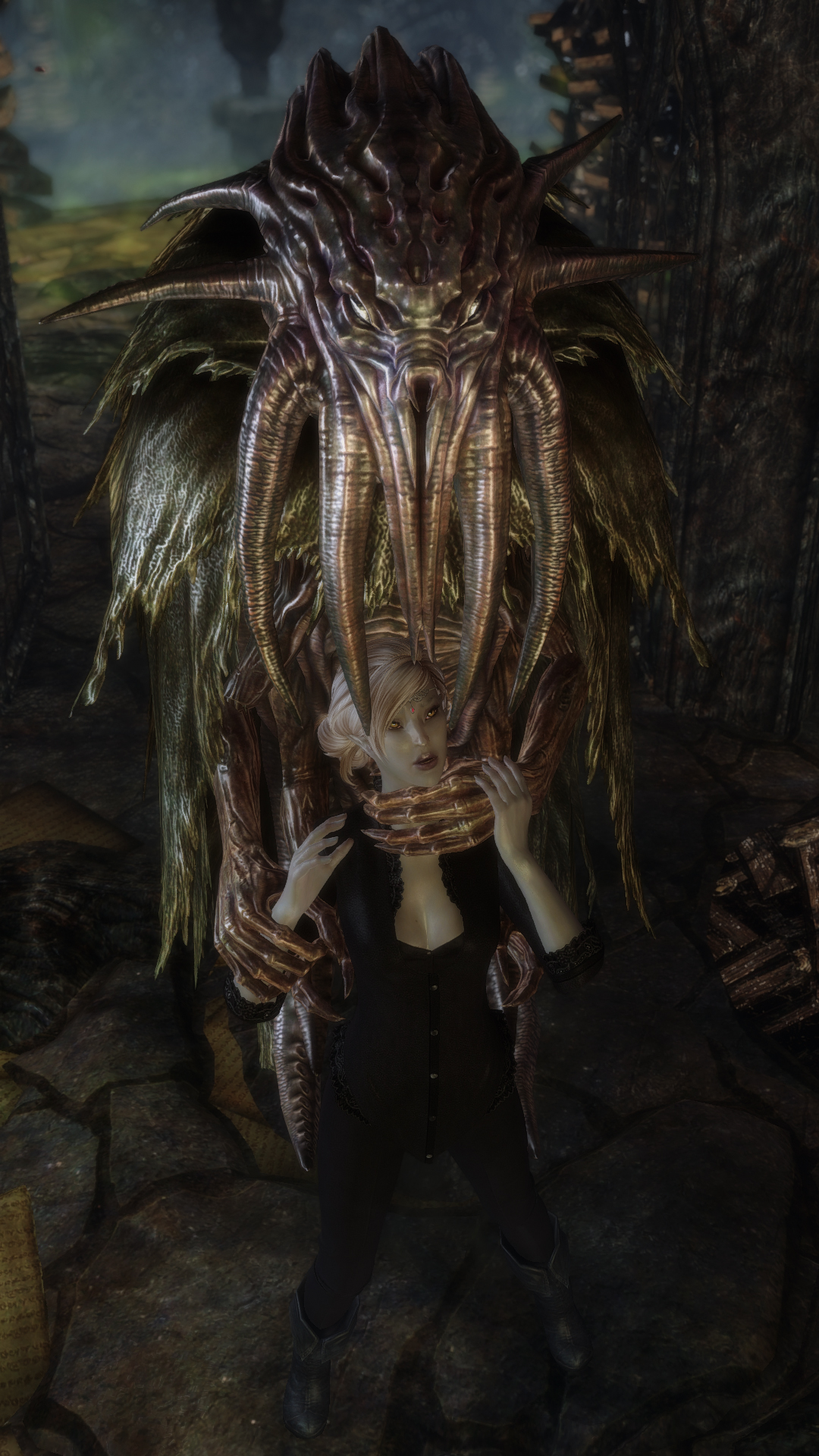 Long, cold fingers wrapped around her throat from behind.  She recoiled, but before she can raise her hand to bring a spell to bear, a second hand griped her forearm.  Two more, smaller hands grabbed the trunk of her body, just under her chest.  She yelped in surprise as she felt something brush the top of her head.
Seeker.  No wonder she didn't hear footsteps.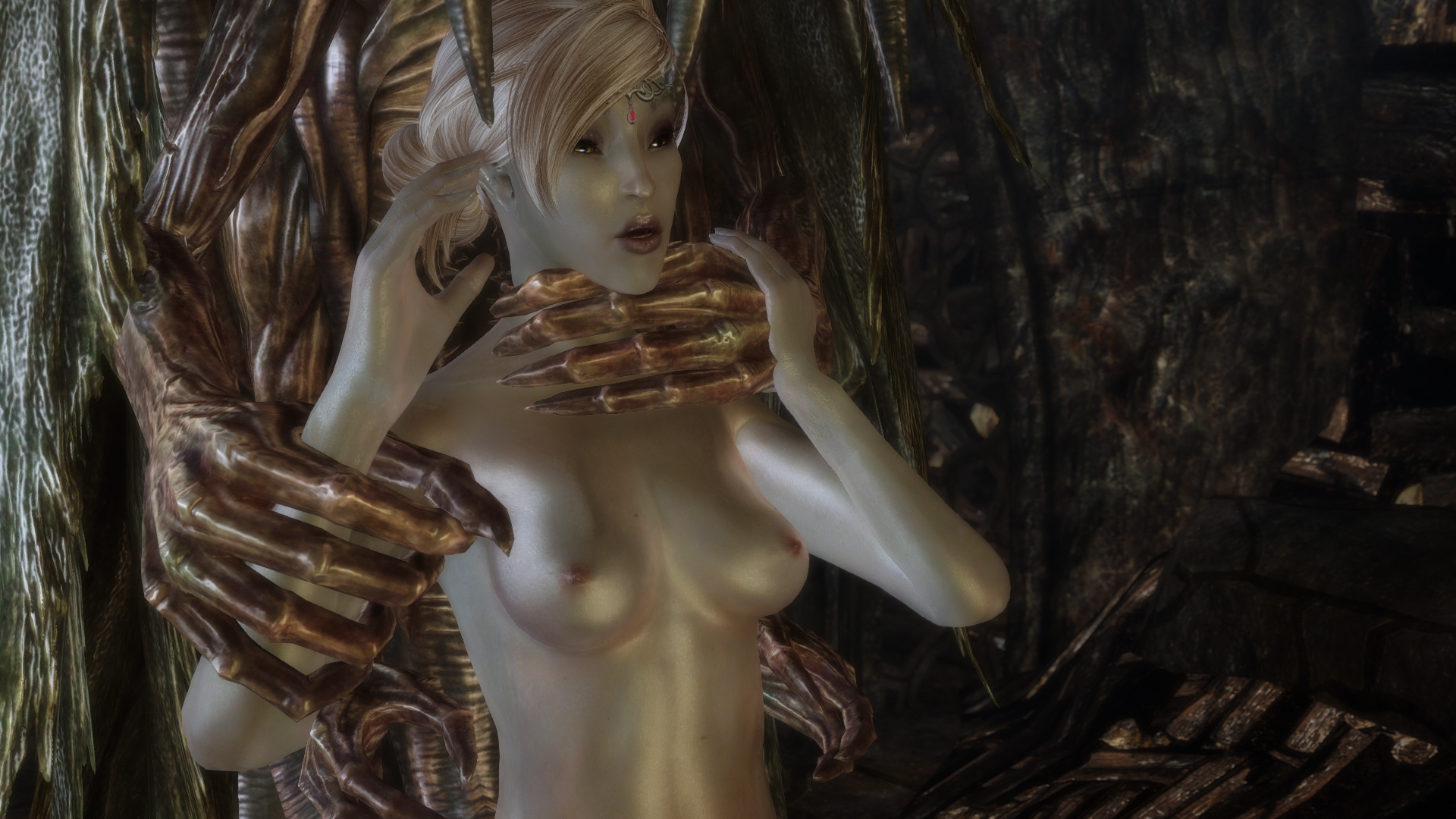 A magic she was unfamiliar with began to ooze from its small hands.  They began to rub her leather clothing in an almost sensual way.  The spell was viscous, like slime, and seemed to break down the leather, causing it to crumble away.  Her soft cloth undergarments crumbled even faster, and before long she was left naked in the beasts's clutches.
Her voice shook as she tried to ask what it wanted.  The creature responded neither verbally nor psychically, but rather made its intentions known more directly.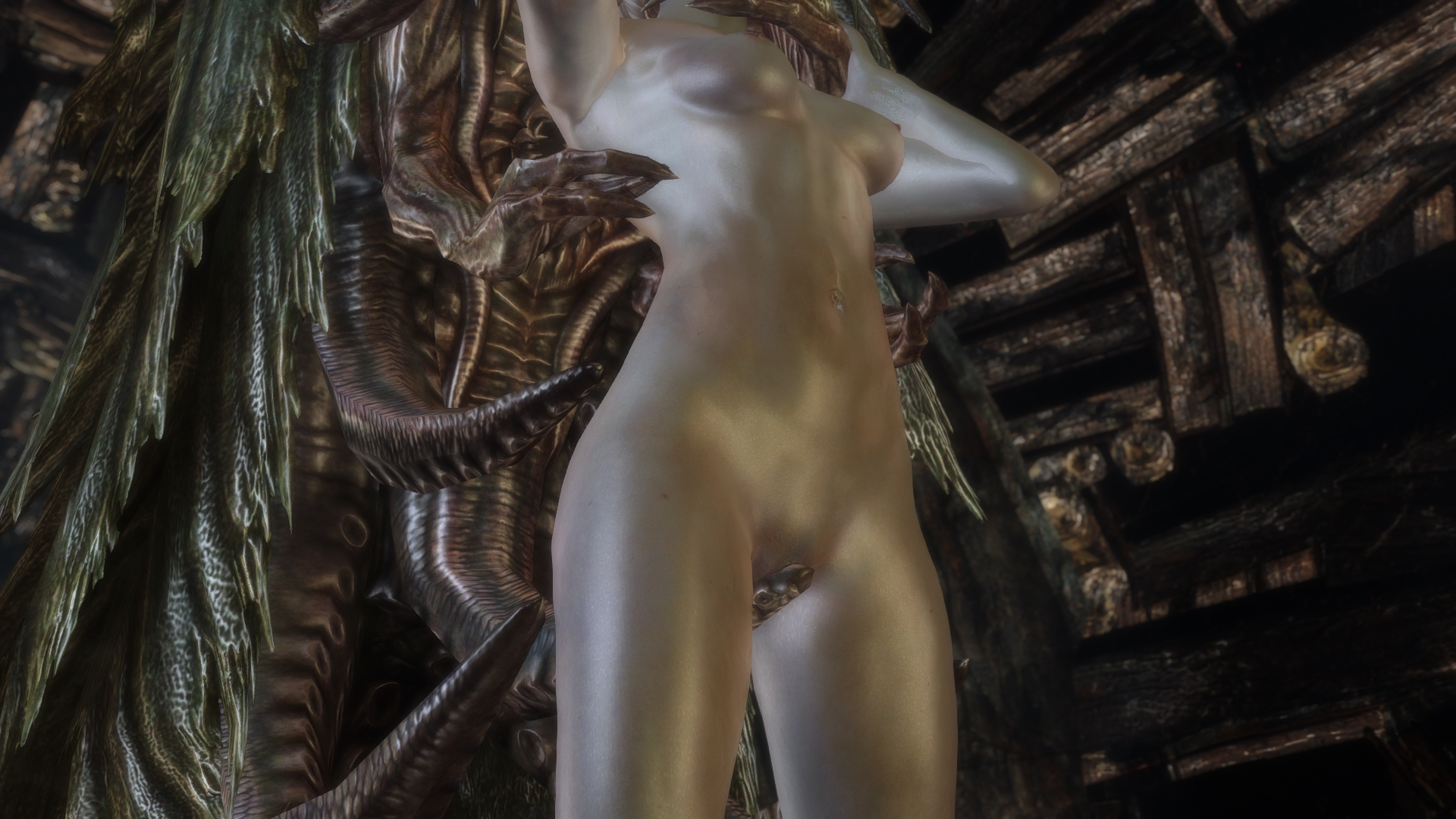 Selune gasped as a slimy tentacle introduced itself to her nethers.  The fluid was warm and tingly.  It brushed against her clit, sending lightning shooting through her core.  It wasn't long before her own less-than-willing excitement began to mix with the slime.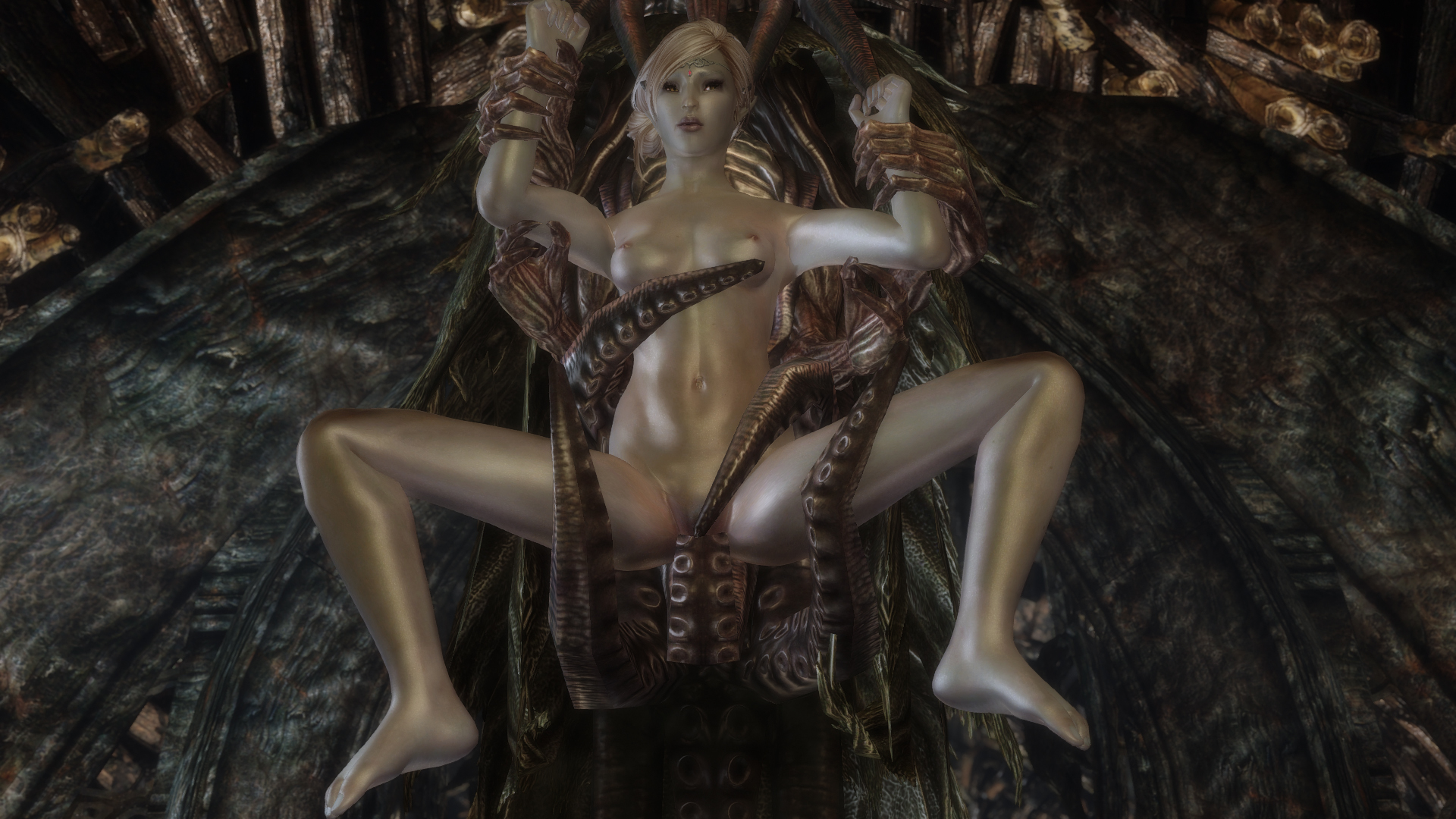 Two more powerful tentacles wrapped under her legs, leaving trails of the tingly slime along her inner thighs.  The Seeker lifted her off the ground and carefully slid its largest tentacles into her sex.  Slowly.  Agonizingly slowly.  The slime felt unreal inside her.  She wished it would either let her go or just fill her already.  This reluctance was intolerable.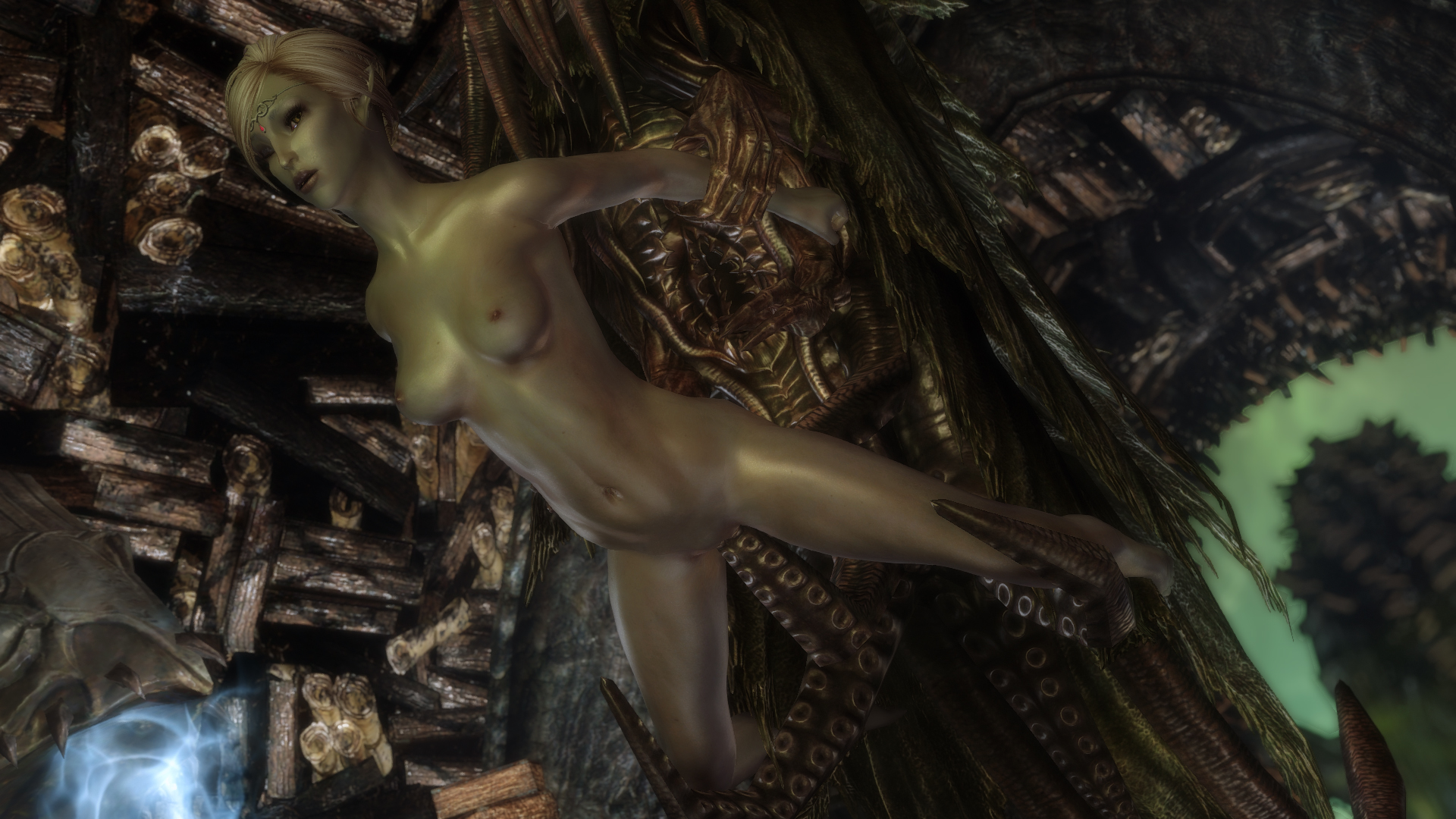 Once it had probed her, it began to pump at a much more satisfying pace.  The sucker-like structures on the underside of the tentacle ran against the roof of her passage, pleasuring her g-spot in a way no cock ever had.  It was a singular sensation, punctuated by the Seeker unceremoniously dropping her forward, letting her snap to a stop by her forearms.  It quickened its pace, causing Selune to moan.  Her voice seemed to be absorbed by the mountains of paper and leather in the walls.  The sounds of her pleasure would reach no further than this hall.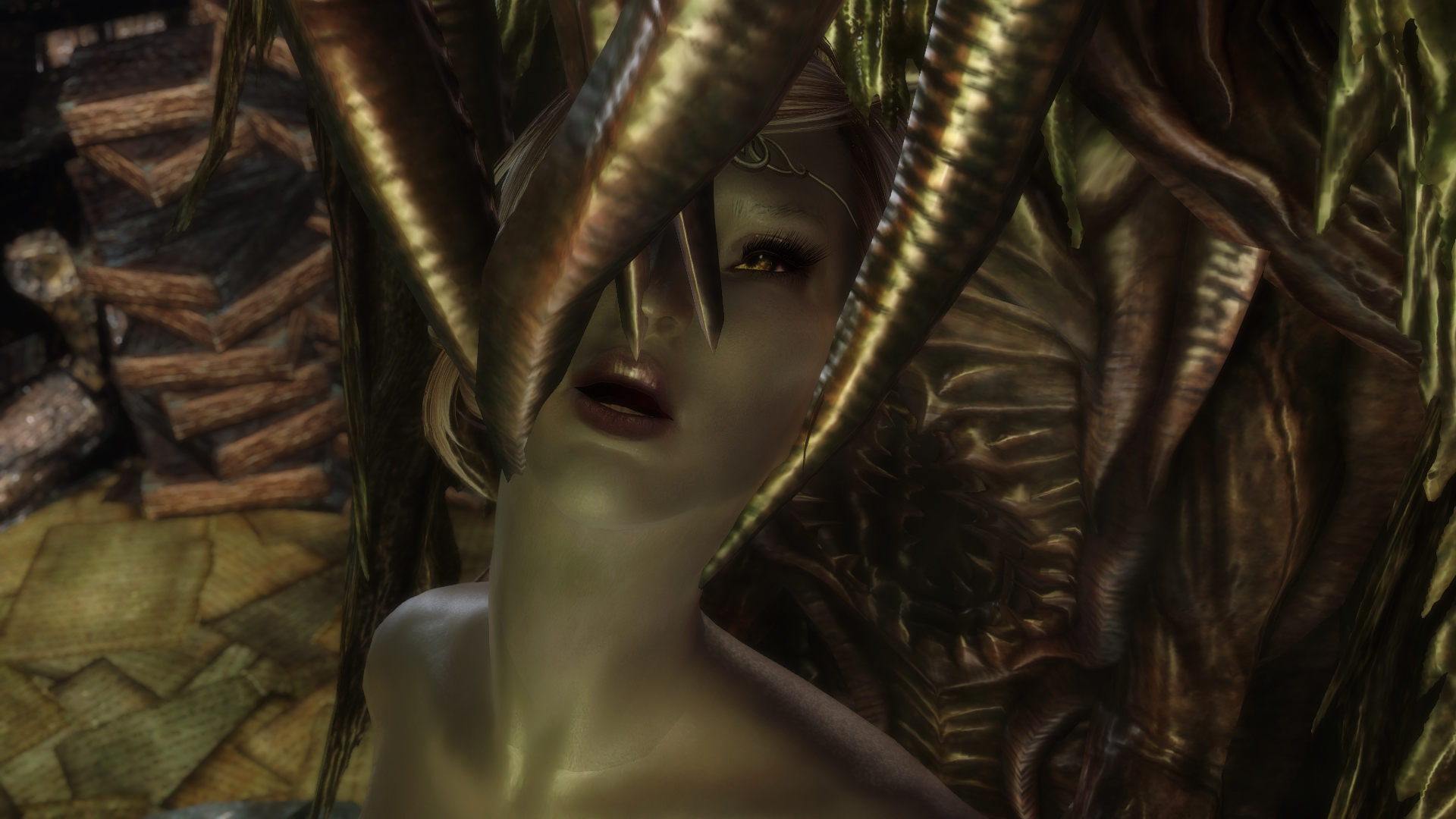 It yanked her back up against its stomach.  Its mouth tentacles began to slide across her face, probing, leaving trails of the slime.  One contacted her lips, lighting a fire in her mouth like it lit one in her loins.  She had no desire to let it fuck her face, but she couldn't stop her mouth from opening as a particularly powerful thrust hit a particularly sensitive spot.  The creature did not waste this opportunity.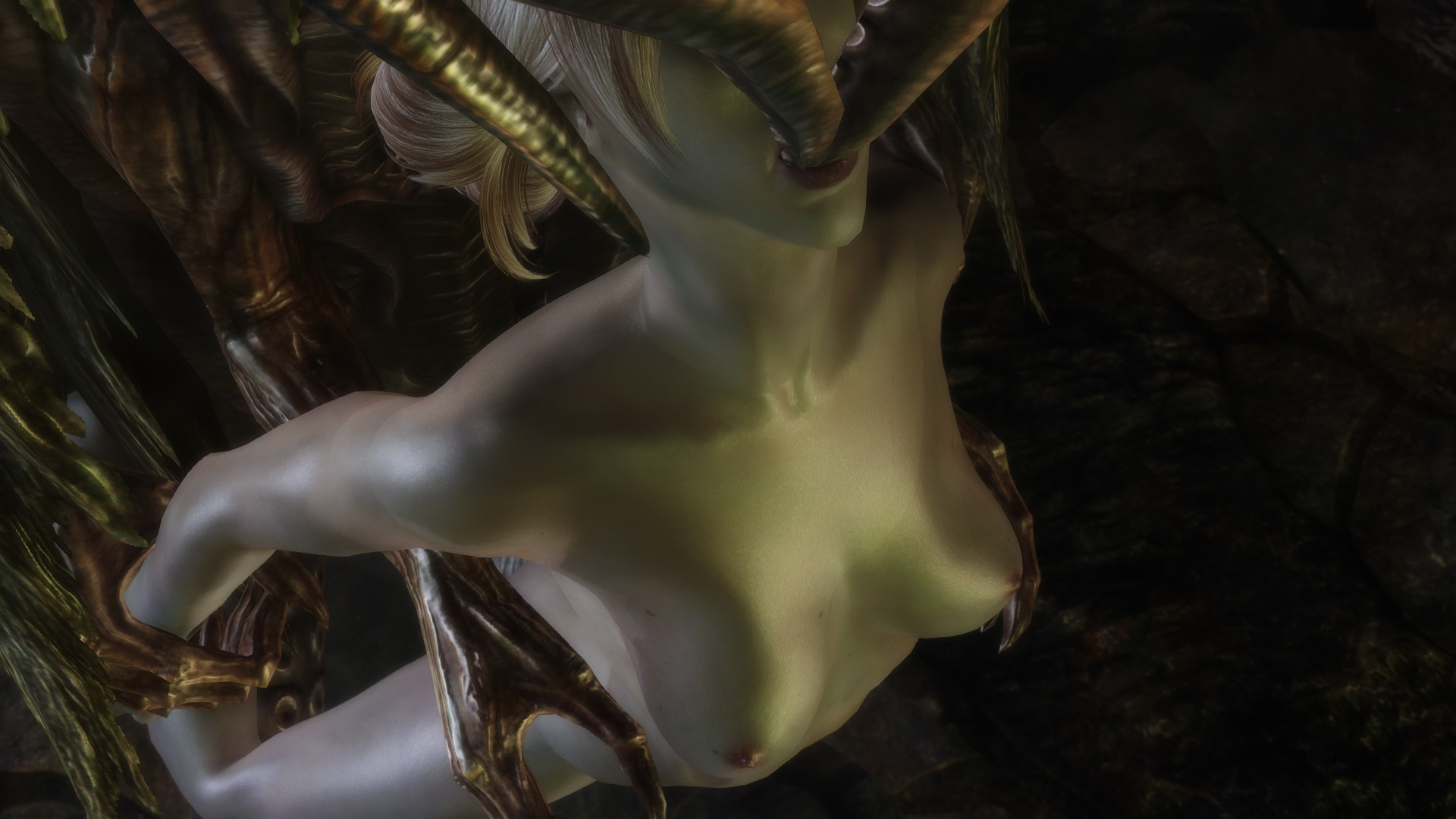 The taste of salt, fish, and stagnancy filled her mouth as two tentacles found their way in.  She groaned in protest around them, but to no avail.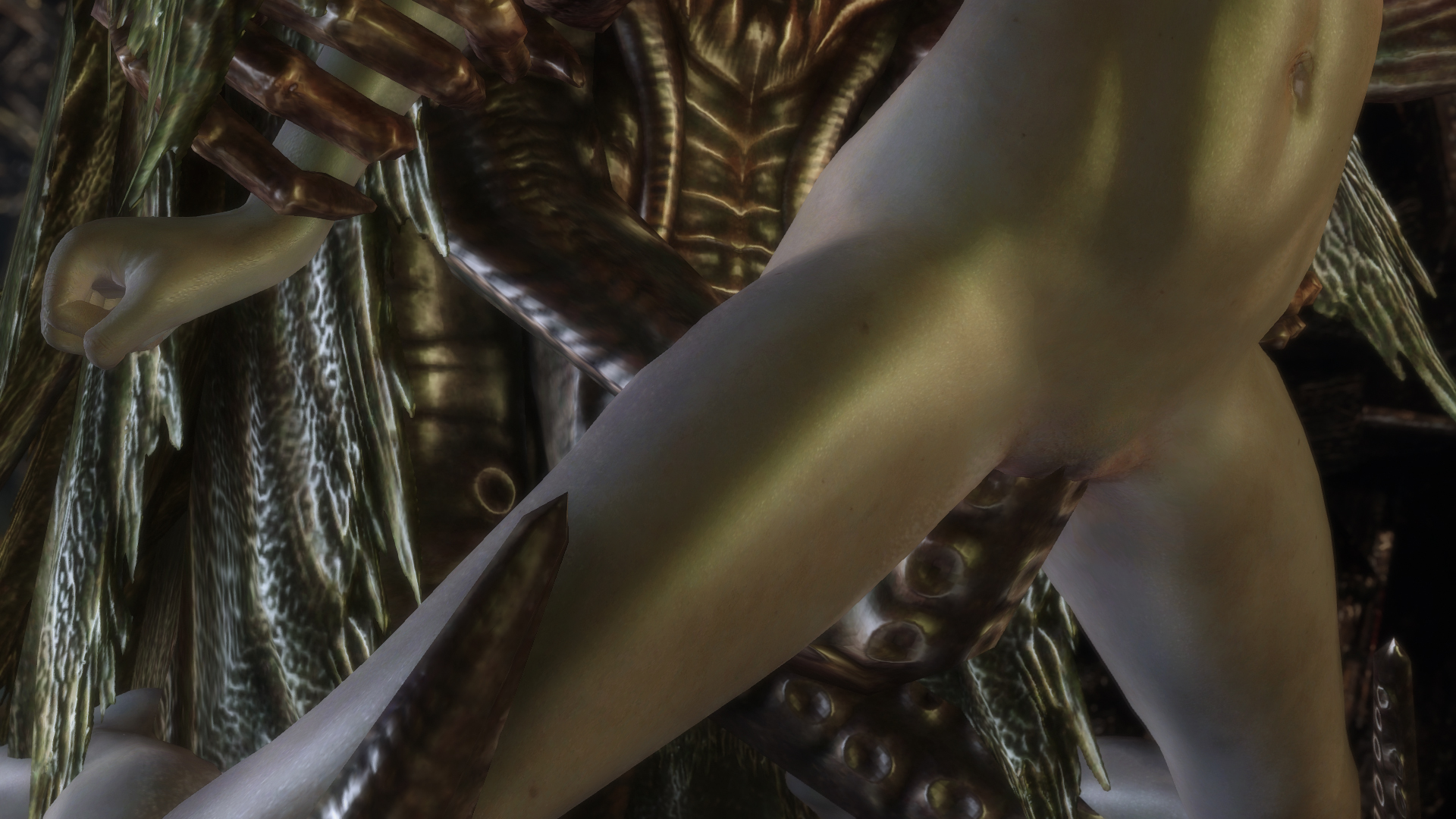 To make matters worse, another tentacle had discovered yet another untrodden hole.  It spent a few agonizing minutes sliming up her asshole before slipping in.
Gods.  Three holes all filled with tentacles.  Selune had fully given up, closing her mind to anger and frustration and letting what good could come from this to take precedence.  For as much as she disliked being used against her will, at least her violator was thoroughly pleasing her.  So much so, in fact...
An orgasm rips through her body.  She feels the creature shiver all over, its muscular tentacles squirming and spiraling in her holes before slipping out, limp.  Slime and another unidentified fluid dribbled from each hole, spitting out as much as she could.  Disgusting.  It dropped her to the ground.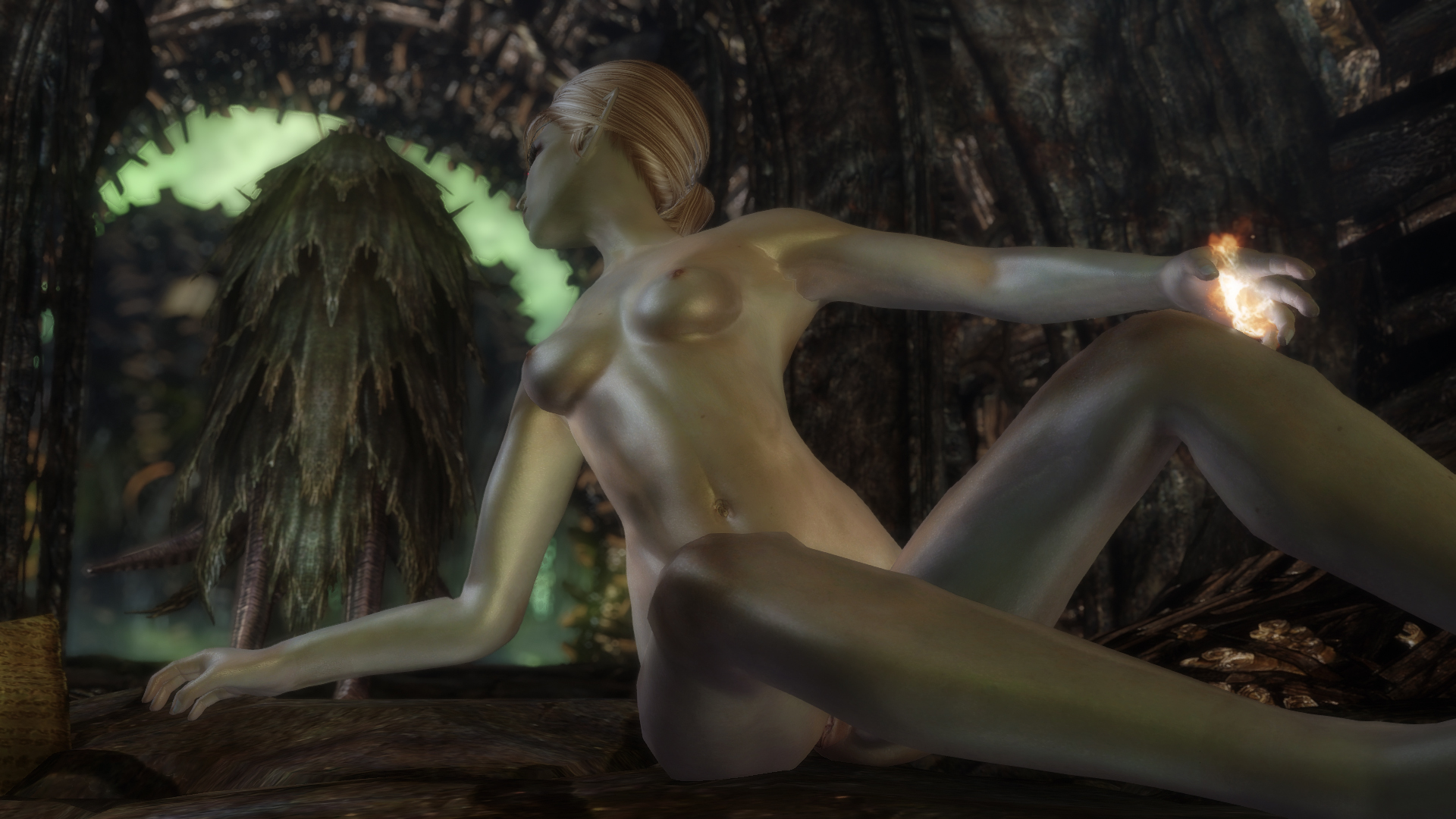 Weak, Selune rolled over as best she could.  She channeled fire, intending to incinerate the creature while it was also in its post-orgasm torpor, but to her surprise, the beast was silently floating away.  When it was gone, she dispelled the flame.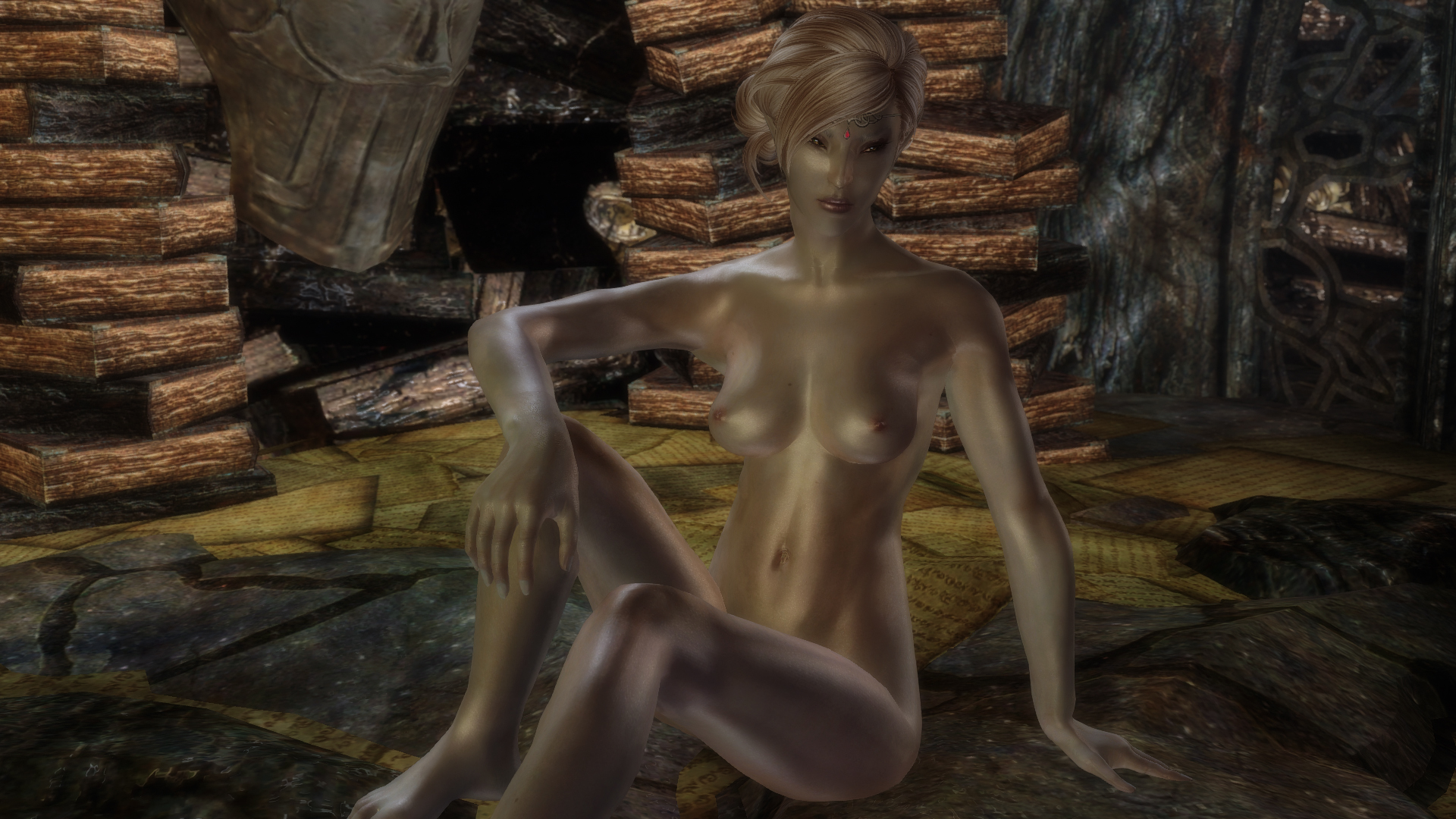 Selune sat, naked, sweaty, weak, and smelling of slime.  She took a long moment to collect her thoughts.  Finally, she decided what she felt was more irritation than anything else.
She wondered how she would explain her state of undress when she returned home...