I've been basically gone for like 2 months or something. I am not dead tho. I am just not internet.
Homewer skimpy armor mashups are still life and I still make new ones! I was pretty proud of this one and apparently I've already made 71 pieces so that's nice. I'll just leave a pic, whenever I get my inet back I'll upload this shit for like the 2 whole guys that like my mods. Thanks guys.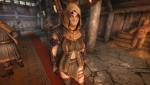 ps: The skirt has no back !!