Flashback - Riverwood Fun
---
More will be added to this, at some point, but I swung by and took a few pictures to re-create the events of a few nights back.
First was a meeting with Camilla the lonely, sophisticated lady drug from the city life to this backwater town where the night life eats you, literally, and not in the way I'm about to.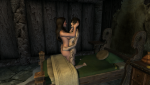 Next, I talk ladylike Sigrid into a little girl on girl with Camilla. If its all girls, it must be ladylike, right? Maybe she won't bug Alvor about spending so much time with Dorthe or yell at her daughter for wanting to make swords.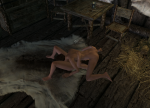 Sigrid sated for the moment and Camilla's drought just ended, we do a little role play with Alvor "the bandit burglar" and what could have happened the other night.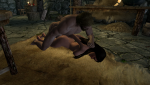 Last, we pile onto the bed for a three girl toy test and really give it to Camilla.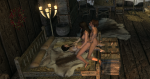 Flashback to a party or crash a party or On to Riften