Part 1: This is the way the world ends...
---
Part 1: This is the way the world ends...
Previous: TOC
Hello, gentle reader. I am... uh... hmm. To be honest, I'm not quite sure how to start.
At this point in any respectable narrative, the narrator (that's me) is generally supposed to tell you their name. Call me Ishmael, There was me, that is Alex, I am Jacob Horner, My name is Bruce... all the classics have the main character introduce themselves, if not in the very first sentence, then at least somewhere in the beginning.
The problem here is, I don't really have a name. I am identified by my form and my function, not by some arbitrary label pasted onto me by my parents or the people around me. I am an invisible man, lover of the hummingbird, I am an inmate in a mental hospital. My name is, in fact, written quite clearly on my body, for all the world to see, assuming they stand at the appropriate angle. Or a bit of my name, anyway. My surname, if you will.
But, as one of the greatest authors ever once said, "either I shall turn out to be the hero of my own life, or whether that station will be held by anybody else, these pages must show." Introducing myself may well be something a waste of time, but even though I am not the protagonist of this story, I am in fact the narrator, so an introduction is in order after all.
I am a Vault Suit.
I know, I know. A certain level of silence, save for possibly the rustle of cloth or (God forbid) the tearing of a seam, is generally expected of what you might term an inanimate object like me. Actual words, dare I say loquaciousness, is entirely unexpected. Frightening, in a way, for the questions it poses. Questions like, if your clothing starts talking, how long until it begins plotting revenge for all the spilled food and drink? Does it feel despair when you accidentally put it into the wash with bleach? Is sewing painful or pleasurable? How long until it becomes abusive about the way your shameful body looks?
Pretty damn long, actually. Why should I complain about how you look? I am a blue and yellow bit of cloth, one of the stupidest color combinations in the entire world. I'm also hardly likely to say "that outfit makes you look fat" now, am I? And it's not like I can plot revenge for getting spilled on. Well, plot revenge, yes I can, in fact, but carry it out? Not possible, no hands. But I digress.
I am a Vault Suit, from Vault 111, and this story is not about me, but is, in fact, about my wearer. So I suppose it behooves me to introduce said wearer, the actual protagonist of this story. Stately, plump Buck Mulligan came from the stairhead, see. He was an old man who fished alone in a skiff, style of thing.
Her name is Clara, she's a relatively petite, dark-skinned lady, age unknown but probably mid-twenties to thirties, with a kind face and an ever-present smile. Oh, and she's the most bloodthirsty, violent lawyer you'll never hope to meet.
I don't know how she got that way. By all accounts, she was a mild-mannered mother in her earlier life, content to spend her days doing traditional housewife stuff until her husband came home from The War. Even her law degree was merely a piece of paper on the shelf; I'm not sure she ever practiced. The truth is, I met her only after a tragic, traumatic experience. What she was like before this horrible event, I do not know, nor does anyone else, really. Well, except a mobile, talking tin can, but I make it a habit not to trust anything said by an inanimate object, and so should you.
I suppose she isn't actually bloodthirsty, in fact. She only kills those people who try to kill her first, or at least only those people who look like they may try to kill her first, which I guess is an improvement over your typical garden-variety psycho. And she generally tries to help the weak and powerless, the downtrodden huddled masses yearning to breathe free, if you will, often going quite out of her way to do little favors for elderly farmers and the like. I suppose her penchant for violence is a factor of the world she lives in now, rather than any innate personality trait. As I said, she only kills those who try to kill her first, but boy are there a lot of them.
I'm really getting ahead of myself, aren't I? The point is, she's a violent person, but only in response to other violence directed at her or the people around her. She's also supposed to be quite bright and personable, but to be honest she's actually not that bright. Personable, perhaps, but very, very dim. Not the plumpest berry in the bunch. Not the sharpest tool in the shed. And other aphorisms appropriate to her status as a low-watt bulb. I don't know why; she made it through law school and has a high intelligence score according to Vault-Tec's dossier. It seems inconceivable that she'd continue to make such stupid choices and say such idiotic things, but here we are. And I say "we" very deliberately. We're inseparable, apparently, because she absolutely refuses to change her clothing, giving further proof of her substandard intellect. In a land of brown scrub and brown wooden buildings and brown dirt and brown rusty metal buildings and brown rocks, filled with hostile entities (often brown) bent on either robbing her cold corpse or consuming her warm flesh (brown too, as a matter of fact), here she walks in her blue and yellow jumpsuit with which she cannot bear to part. Camouflage does not appear to be a word in her lexicon. I mean, can't she see how she stands out? She has eyes, right? Brown ones, now that I think about it. It wouldn't bother me except for all the unsightly bullet perforations that mar my own corpus due to her inability to keep hidden in any sort of combat situation. I don't mean to say that they hurt, because I lack the capacity to feel pain, but it's the principle of the thing, you know? The world is a dangerous (and brown) place, she really should be more careful.
Anyway, our story begins on October 23rd, in the year 2077. At least, this part does. My story begins some time before that, in the factory where I was made, but it's all fairly dull until that day in October. I mean, what can you say about being loaded into a box, sandwiched between a dozen other Vault Suits, bound for your eponymous final (or rather, penultimate) resting place?
I suppose Clara's story begins before that too, but as I have previously vouchsafed, I was not present at that time.
The first thing I see when I'm picked up out of my box is... well, not much. A couple of people standing around, the lady holding me out, and... there she is. Clara, her husband, and infant son. She grabs me and walks down the hall after the doctor, who completely ignores every other new resident, dedicating his time expressly to Clara, Nate, and Shaun for some reason.
Once we reach the end of the corridor, the doctor exhorts Clara to get out of her clothes and put me on, which she does with a commendable turn of speed and lack of nudity concern. She then hops into the seat presented her, despite the fact that any rational person would have a question or two about sitting in something that gives the appearance of an execution chamber. I can appreciate her enthusiasm, if not her poor sense of self preservation.
Hubby does the same across the way, with sonny in his arms. We hear a countdown, it starts to get a little chilly, and then...
And then?
All this happened, more or less.
Next: Part 2: In streams of light I clearly saw...
Go to TOC
Author's note:
You might think it's a barrel of fun, being a skintight piece of clothing, tightly wrapping to the curves of an attractive woman or man. Guess again. My appreciation of the human form is wholly intellectual. If you are a bit of cloth, you don't have any sex drive, so all you really think of when clinging to the hills and valleys of someone's body is: "why hasn't this person bathed recently?"
Image (click to expand): This is me. There's also a human in the screenshot too. She's the one who wears me. At least, she will be until she ends up in a Super Mutant's stewpot.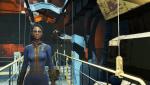 Have a question or comment for Vault Suit? Leave it in the comments below, and Vault Suit will answer!