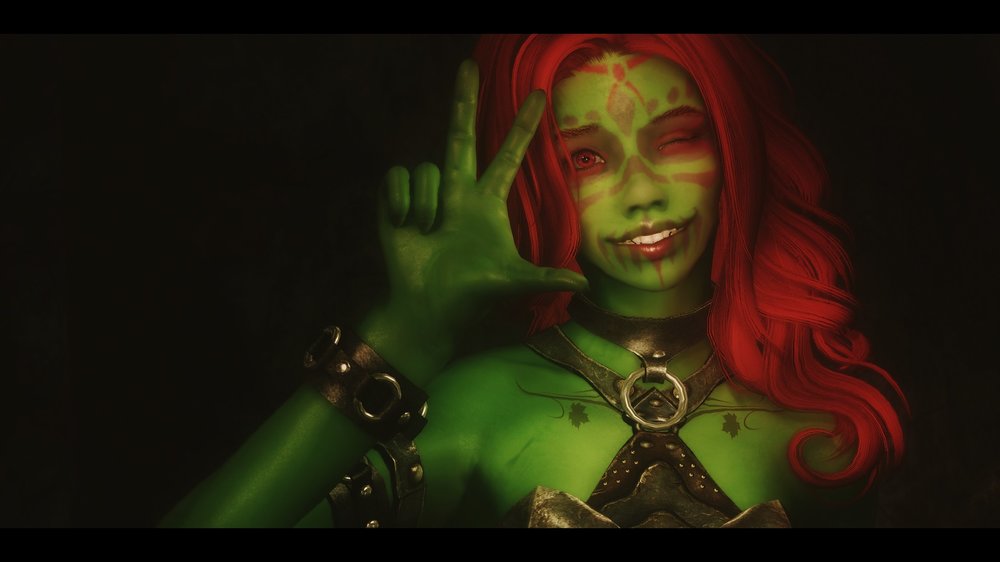 Greetings, reader. I`ll write my blog in english, only for you and because nobody wants to learn german
(what in my opinion is comprehensible). So please enjoy this blog!

In the following entries I will show you some characters that I've come up with.
They do not necessarily fit the lore, some I will try to involve, others not.
This is a work in progress, I don`t know were this is going and I`ve only just a general direction.
The focus, however, is mainly the optics. I'm not a good writer, but can claim to own a good eye for aesthetics.
I have already postet my first entry about the character fyora. More about her and some other characters will follow soon.
I've done that work mostly for myself, but came to the conclusion that it`s time to show you guys
some of that stuff cause well, I think you will enjoy this too and I wanted to give something back to this community
which gave me so much stuff to have fun with.

An important content Warning for future posts: The content of this blog will contain nudity, sexuality, violence and sex with monsters and animals. You have been warned and have now the opportunity to leave this blog in time.
I have long tinkered with my Skyrimbuild and in advance want to disclose what mods I use for optics. If there is any question about that, I can refer to the list at the bottom of this entry. In addition, I use a photo studio that i`ve made in CreationKit with various dungeon settings to play with and some treasurechests with all the armor and clothes you can find in the vanilla game. I`m going to upload it as soon as I think it`s ready for release.
ENB Preset:
Grim and Somber Azura
+
Grim and Somber ENB Data Files
Grafics:
Face Light
Remove Interior Fog
Enhanced Lights and FX
The Ruffled Feather
Skyrim Flora Overhaul
SMIM Meshes
Static Mesh Improvement Mod
Ultimate HD Fire Effects -Medium Resolution-
Ruins Clutter Improved 2
Detailed Rugs v1
Book Covers Skyrim 3 4 LEGENDARY - Original
aMidianBorn farmhouse addon 2k
aMidianBorn landscape with terrain parallax 2k
aMidianBorn amb forts 2k
aMidianBorn Whiterun 2k hires
aMidianBorn Farmhouse 2k hires
aMidianBorn Book of Silence - Dragonborn DLC
aMidianBorn Caves and Mines 2k
aMidianBorn Book of Silence - Creatures
aMidianBorn Book of Silence - Weapons
aMidianBorn Book of Silence - Armors
HighResTexturePack
Player Model/Textures/Skeleton:
RaceMenu
UNP BASE Main body
CITRUS Head - Standalone
XP32 Maximum Skeleton Extended
b3lisario s UNP Pregnant Body
FairSkinComplexion
Adorable Face
THEHAGs Private Tatoos for UNP - UNPB
Eye Normal Map Fix
Eyes of Aber
SG Female Eyebrows
ApachiiSkyHair
KS Hairdos - HDT Physics
SOS
SlaveTats
Feminine Argonian Textures for CBBE-UNP (Chameleon and Lizard)
Feminine Khajiit Textures for CBBE-UNP (Grey Cat and Leopard)
Camera:
Customizable Camera
Clothes/Armor:
Immersive Armors
K2 HDT Boots
Summer Dress Sets by Yurica
UNP High Heels
Skimpy Adult Glass Female Armor
HighHeels
Dark Lillith for UNPB-BBP
A. Merta Assassin Armor High Heels UNP
SexyVest - UNPB BBP
Elewin Pumps
Elewin Pumps 2
Default Outfits for Females Elder NPCs with UNP body
Latex Corset - UNPB TBBP
Zipsuit v1 0 - UNPB Body with TBBP
UNPSpiceGearCollection UNP BBP
UNPMinidressesCollection UNP BBP
DeviousDevicesIntegration
Devious Devices Expansion
Devious Devices Assets
NPC:
Bijin NPC
Bijin Wives UNP
Bijin Warmaidens
Beautyfull Followers
Dames of Skyrim Series 2 UNP
Beautiful Bandits UNP
Animation:
FNIS
Female Facial Animation
display-model
OdenPoseSeeker
OdenPoseDog
FNIS EIS - Oden
FNIS EIS - Miscellaneous
FNIS EIS - Brainsperm
Larmir
GomaperoPose
kinokopose
Aloe
Shocky Creature Sex Poses
Halo
SexLabFramework
ZazAnimationPack
MoreNastyCritters
Devious Devices - Equip
Pretty Female Idles
HDT Physics Extensions
hdtHighHeel
Realistic Force
No Spinning Death Animation