The Sabers tooth (Chapter ll)
---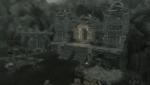 "I've got plenty of fresh meat, bloodiest in the reach, and all at a fair price for such a pretty lady." "... Okay" What a grotesque sales pitch, I wish there was somebody else to purchase from, but, Hogni's prices are quite good. "I'll take the venison, five pounds should be enough." "Making something tasty, I can't waste to taste what you're... cooking." A forced chuckle parted my lips, so as to not offend, "I don't think my husband would appreciate you flirting like that." "How a lovely lass like you fell for that Breton I'll never know." All of these narrow-minded, ignorant Nords give the rest of us a bad name, of course he wouldn't understand romance or passion. "How much?" I asked, wishing to end this transaction. "Fourteen septims"
As I reached into my pocket to withdraw my purse, I was bumped into with enough force to scuff my palms into the stone floor. I turned around red-faced to connect eyes with the oaf "Hey watch..."

I didn't even have time to utter out the rest of my comment as I watched the man plunged a dagger into the back of this woman, and the guards kill him. "We'll handle things from here, move along." "B-but, why... why would he..." The guard drew his blade and pointed it directly at me. "I SAID move along." I ran straight home, and drown my unease in cheap wine.
"How could something like that happen? In the main city no less!?" My father was outraged over the attack. "This place isn't safe for my daughters, my Fiona could have been killed!" Quinn stood there silently, the look of dread and anger etched across his face. "I just fell, it wasn't to bad." I pleaded, hoping to quell their anger. I didn't tell anyone about the guard, last thing I wanted was for someone to be imprisoned over this. "Fiona..." Quinn's eyes met mine, as his hand caressed my cheek "... I will protect you, no matter what." It took all I could muster to not burst into tears then and there, as I saw the panic in his eyes. I knew he feared that was a promise he could not keep. "I should trust my family in your hands!? We never should have moved here, this place is terrible; cold, hard, and now murders in the street! We should just..." "That's enough dad!" I barked, cheeks red with anger, "We're here, and we're going to make the best of this, fighting with each other isn't going to make anything better." My father stomped off, most likely to the inn for a drink. "I should have been there, you shouldn't have had to face something like that" "My love... this isn't your fault, and how could you have known?" "Still..." I lay my hand on his chest and kissed him deeply, as his arms engulfed me. "It's been a long day, let's just let it end." He wrapped his arm around my waist, and we went to bed.


The next evening I saw Thongvor Silver-Blood speaking with a few guards, either the guard told him I was there, or he felt my eyes upon him, because next thing I knew he was walking up to me. "I heard what happened yesterday, you have my condolences, to be witness to cold-blooded murder." He shook his head, but his eyes showed nothing of empathy. "It was nothing, don't worry about it." "A shame that you have to live like that, in constant fear, I suppose I was blessed, the Silver-Blood family.... and their spouses, never have to worry about scum like that." That was subtle. "I'll keep that in mind" As I started to walk away he grabbed my arm and turned me to face him again. "I'm just going to be honest, I want you, and I could take care of you and your family better then that boy ever could." I knew this would happen sooner or later. "It's a tempting offer... but I'm happy where I am." He gritted his teeth and scoffed, "I see, well, good night then, Fiona" He turned and walked away, but I couldn't help feel a sense of dread build in my stomach. That same stupid saying ringing in my ears, 'the Silver-Bloods are the law'
Sorry I was a bit late on this entry, but I've been laid up and loopy on pain pills the last few days due to a work related injury

To my readers, I appreciate any feedback, and/or just comments telling me what you think. I hope you guys are liking what I'm doing so far, and hope you all continue to read future chapters.