Give me Rorikstead or give me death . . . no wait!
---
We spent the night in a Nordic ruin  (piss-poor loot ☹️) from Forgotten Dungeons with the intention of crossing the river and making a dash for Rorikstead in daylight.
This is us just at the exit of the ruin. The river is just below the bandit fort and the road is not far behind it with Rorikstead off to the right somewhere.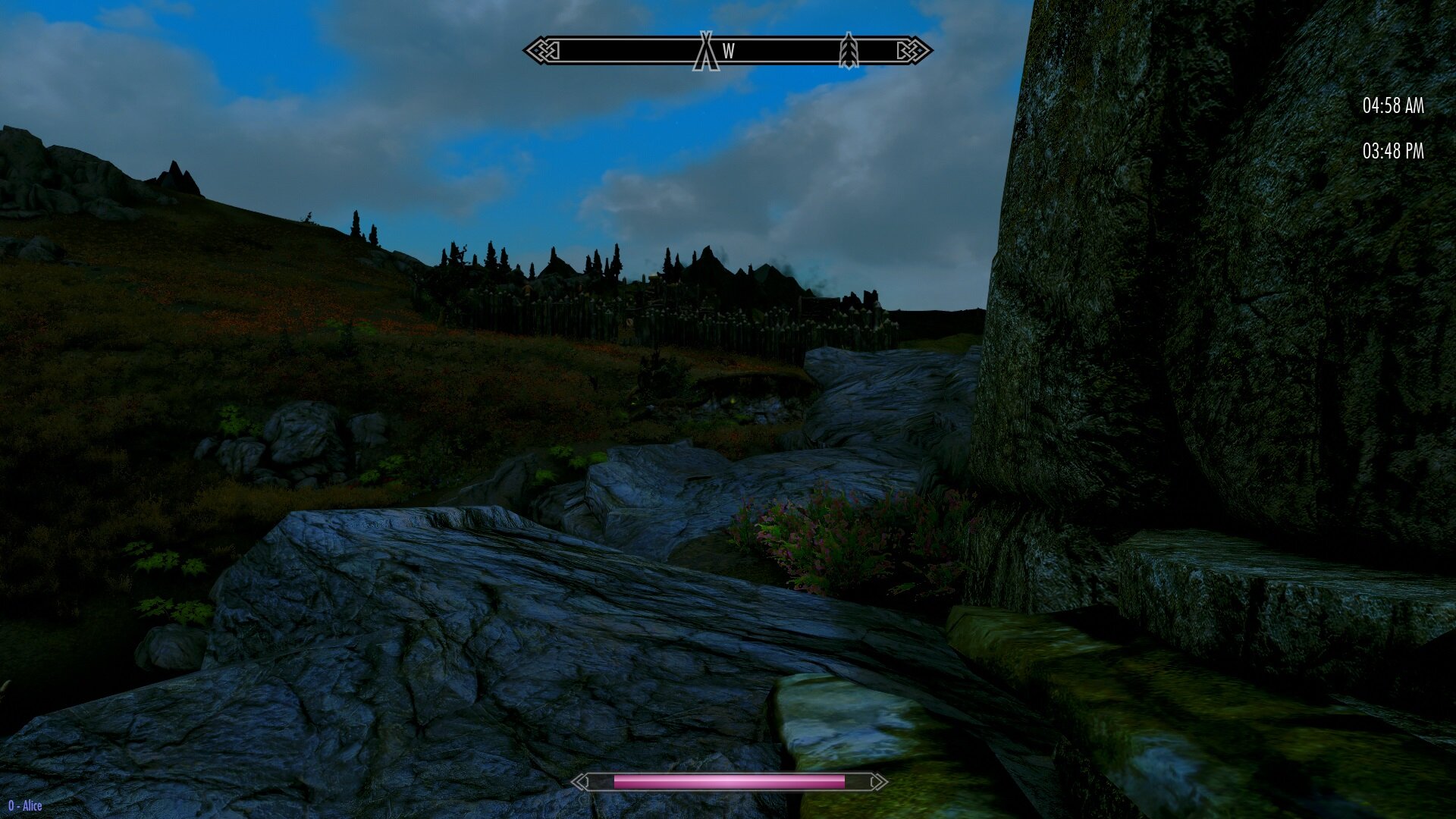 I've not been this way since the beginning of the year but if memory serves, the fort is crowded and there are some other things which get pulled in if you go anywhere near it. So . . . ?
 . . . no thank you. We will try another route.
If we head around the ruin in the other direction we get - Rannveig's Fast. I try to remember where the exit comes out but fail miserably.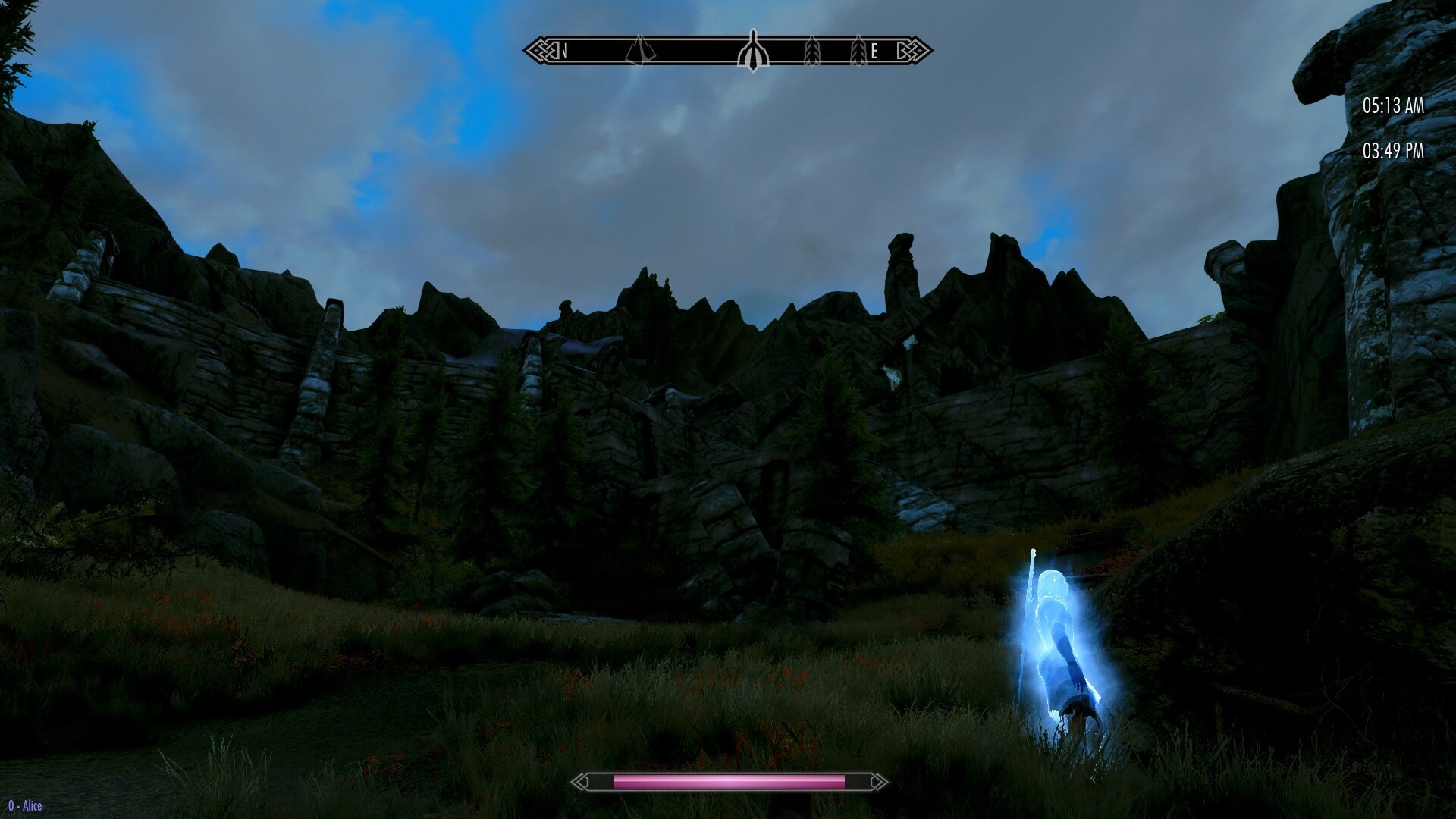 I do remember that an HSO villain turns up in there. I also recall bandits attacking outside the place. Up we go.
We get up there, no sign of any bandits but there are a bunch of Zombie Dogs. There was something I've been wondering about them.
Obviously the answer was in the affirmative. ?
We had a bit of trouble with the HSO villain - it took about three attempts to kill her. I think I've broke Naked Defeat as Ivis no longer seems to be involved in it. When the HSO villain put me down she kept on fighting killed the villain and broke things. Hence the three attempts. I had to make her wait while I did tgm and went in alone.
Not much else in there so we killed Sild, looted and left. (I'm awarding myself an extra point for the alliteration).
On exiting the first thing we see is a troop of goblins taking on a mammoth.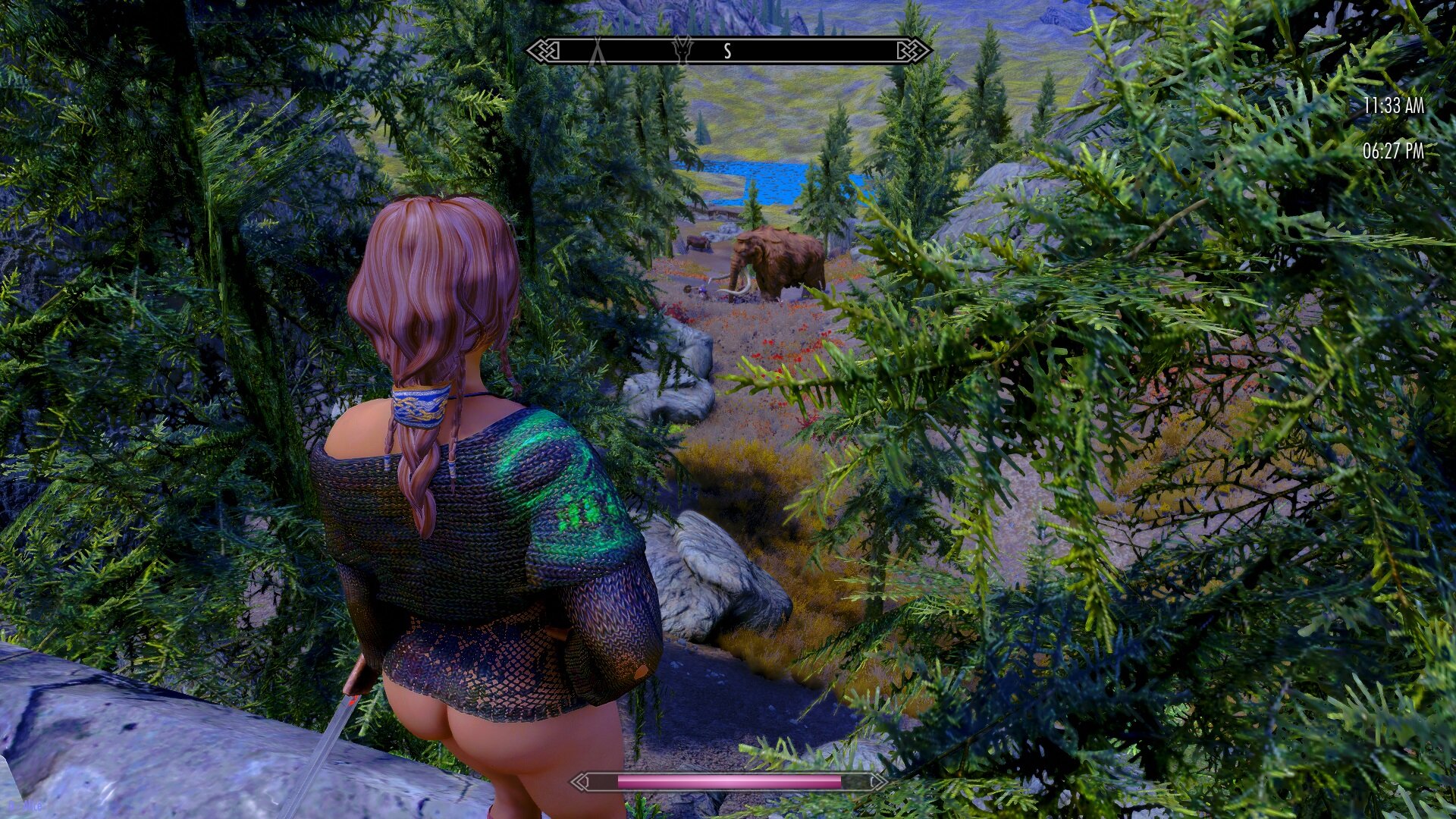 We turn right and head down the hill to a bandit camp. Only three bandits and they went down easily enough. Looks like they had just been fighting Zombie Dogs.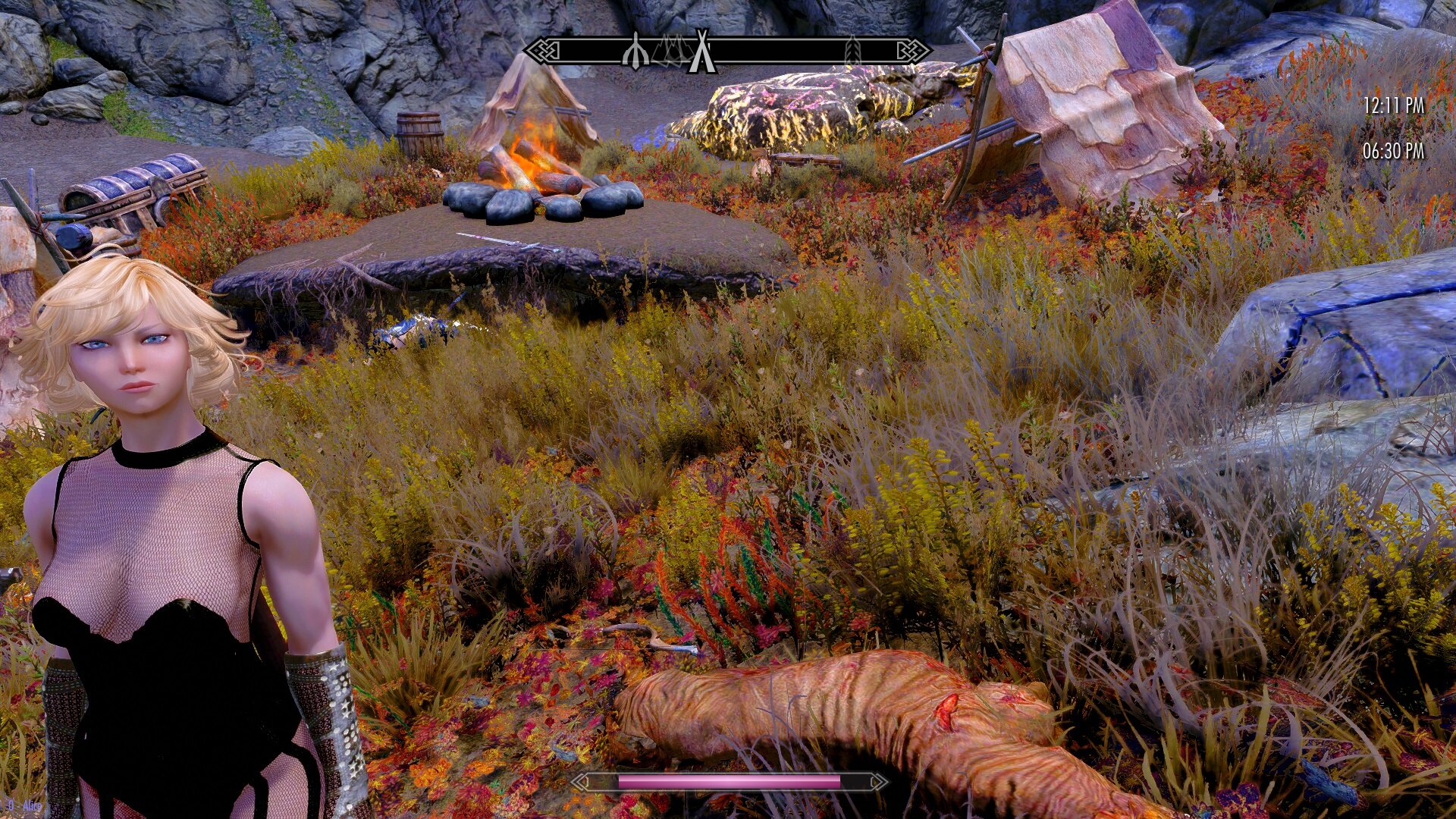 We survey the scene and weigh our options. The scene says my LODs are still not right (LODs hate me) but the issue is can I get down from up here without getting too close to the fort. At this point I'm starting to get unpleasant memories and I'm wondering if crossing the river in broad daylight is such a good idea.
Note the beauty spot and the giant camp markers on the radar.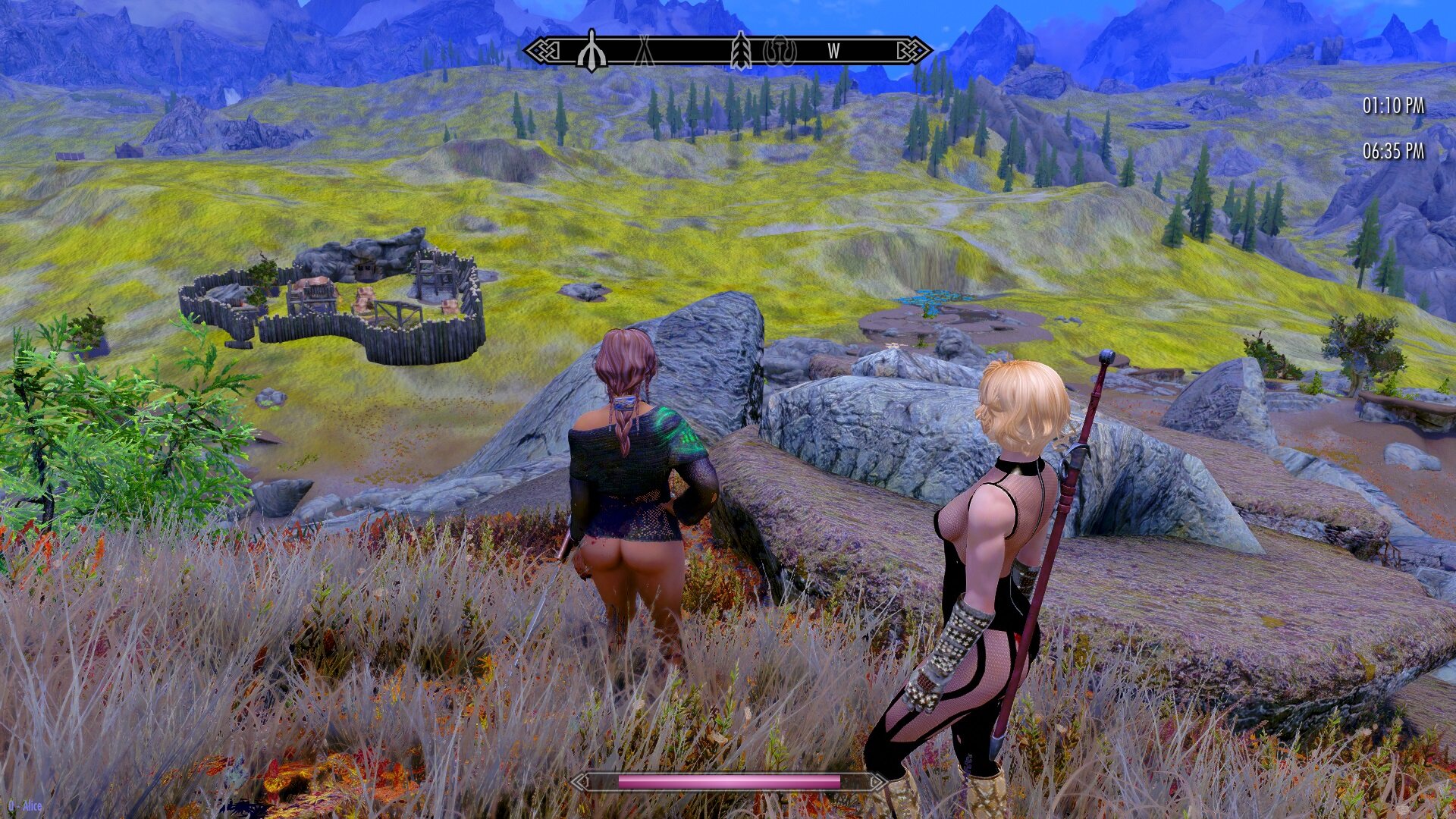 As luck would have it, there is another FD Nordic ruin down there on this side of the river.
We kill some time in there. Huge place but shoddy on the loot front.
We get down to the river and it looks like my memories didn't let me down for once. Note the beauty spot and the giant camp marker to get an idea of where we are relative to the fort.
I'm not liking the look of that level 50 fellow. We offer prayers to the gods of Navmesh and Pathfinding that they can't cross the river. We decide to move to the right and try further downstream. Well I moved downstream while Ivis decided to stay here. ?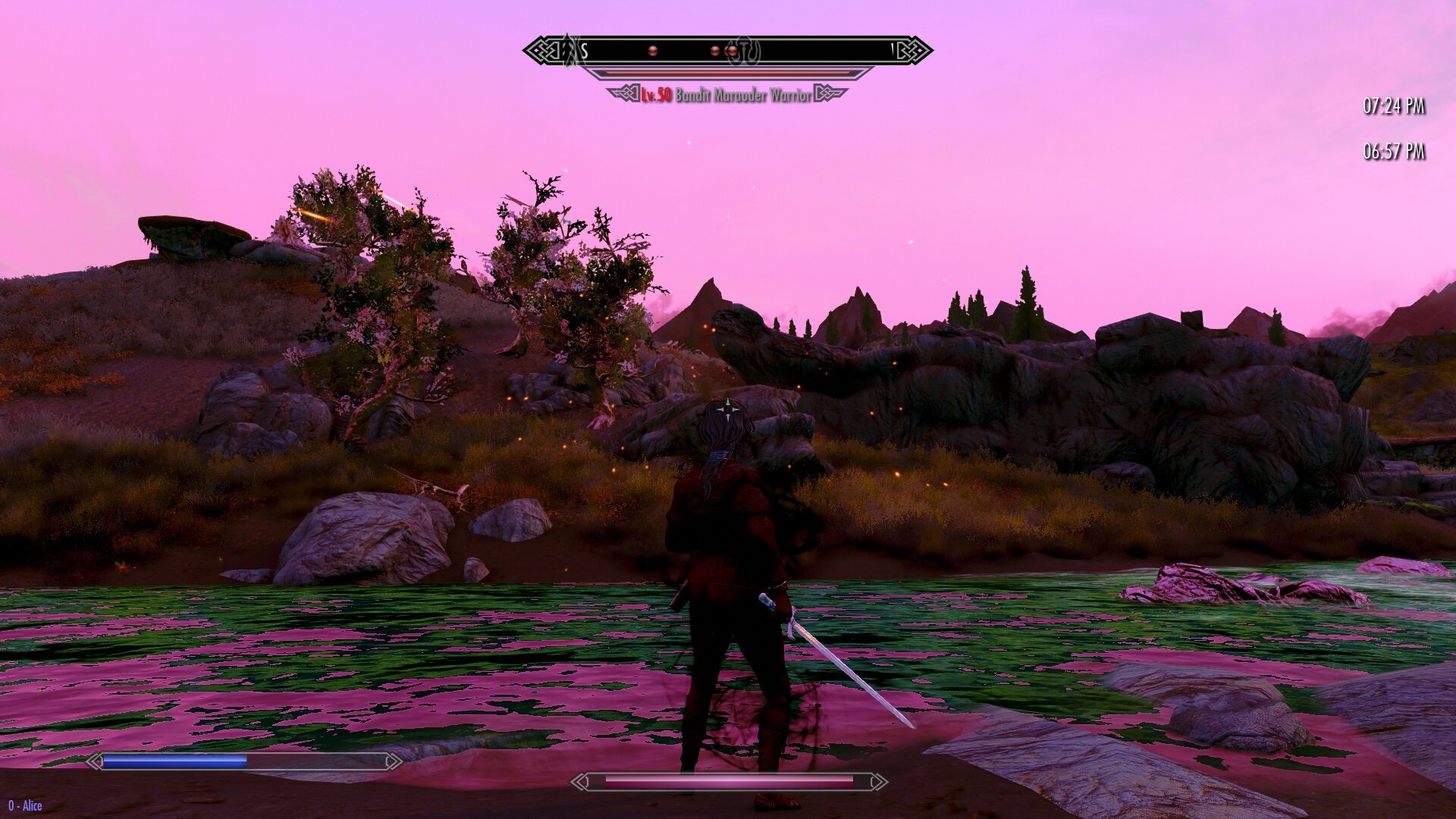 Darkness falls and I decide to make my move. I remember that the giant here is one of the aggressive variety so I run across the river, straight through the camp, turn to see what's happening and stagger forward as I get a power attack to the back of my napper form Pigman, an HSO villain, who has decided to appear out of the blue. Five seconds after this image was taken I'm dead.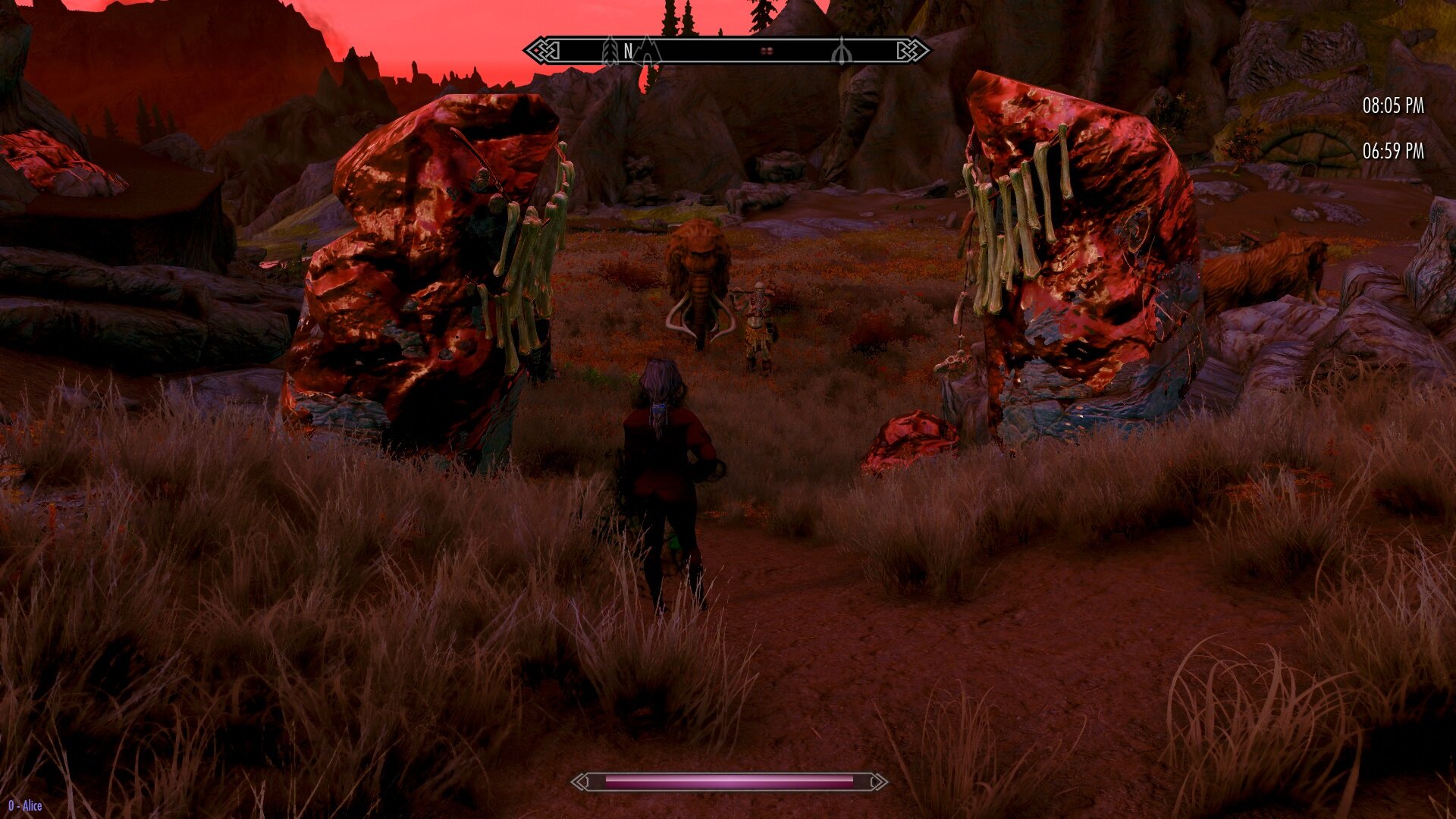 River crossing take 2.
After the reload I decide to move even further downstream before attempting to cross. Ivis is still way upstream aggroing the bandits. Unfortunately there are more bandits here but they are fighting another group of bandits. ?‍♂️
I engage in a bout of sniping with fireballs and get down to the last few bandits who are on my side of the river. Ivis decided to turn up at about this point.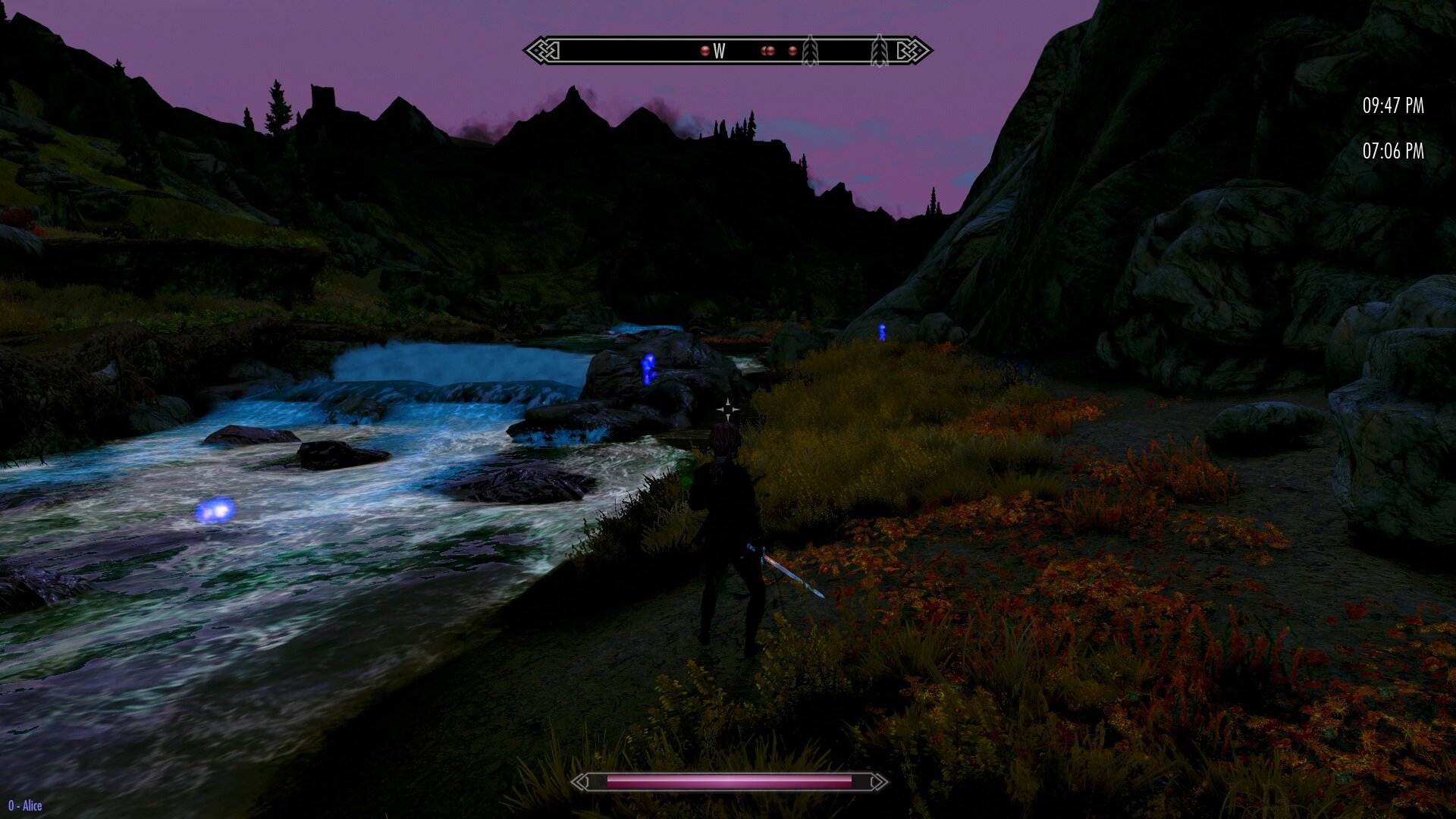 By the time we had chased down the last of the bandits we weren't far from Orotheim so . . .
Eleven bandits and a dog later and Orotheim is ours.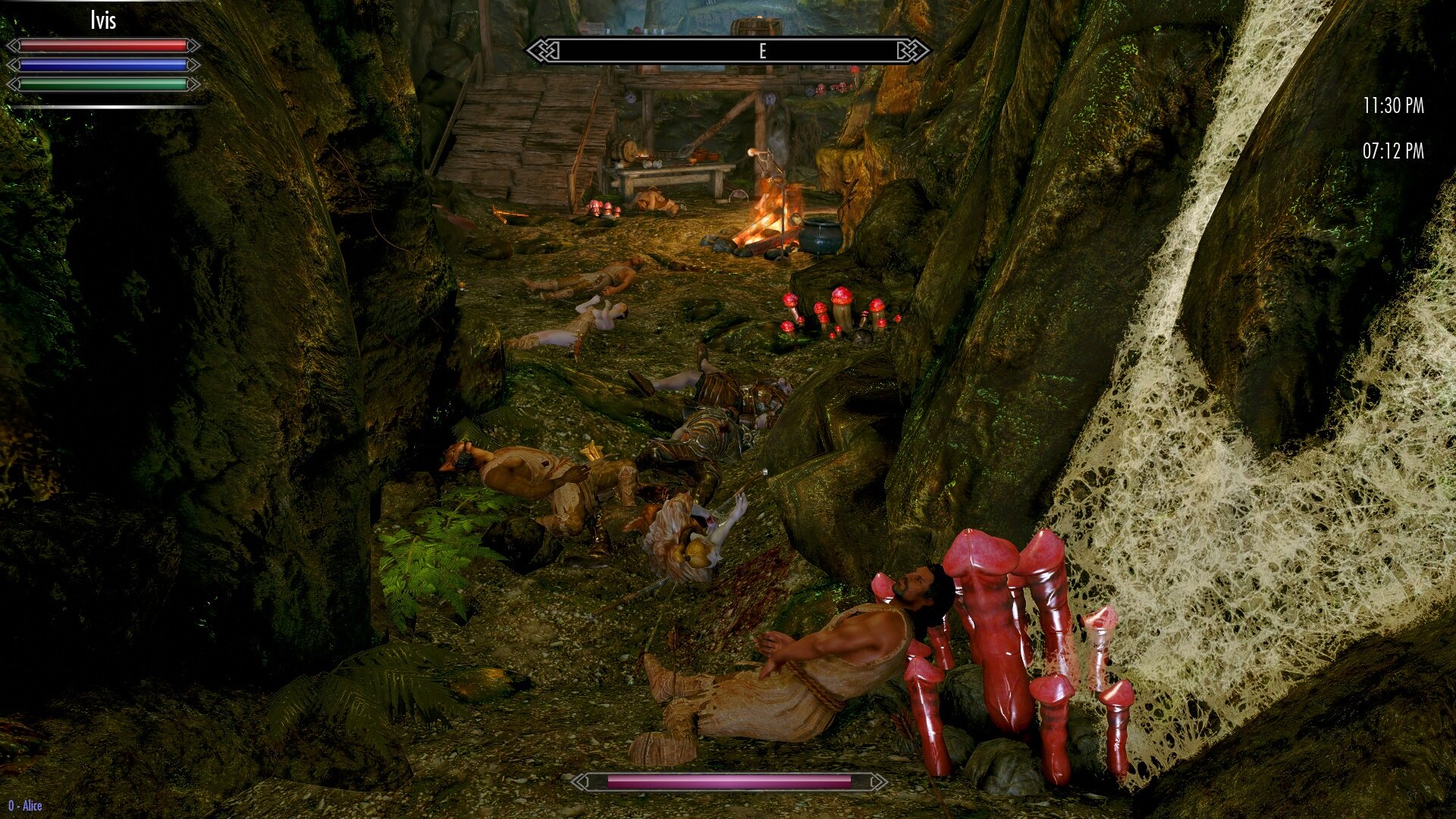 Finally we get across the river and not long after I have completely lost my bearings. I can't reconcile the picture in head of where I think we are with what the radar is saying. Partly that is down to the stream. I can't recall there being running water up here.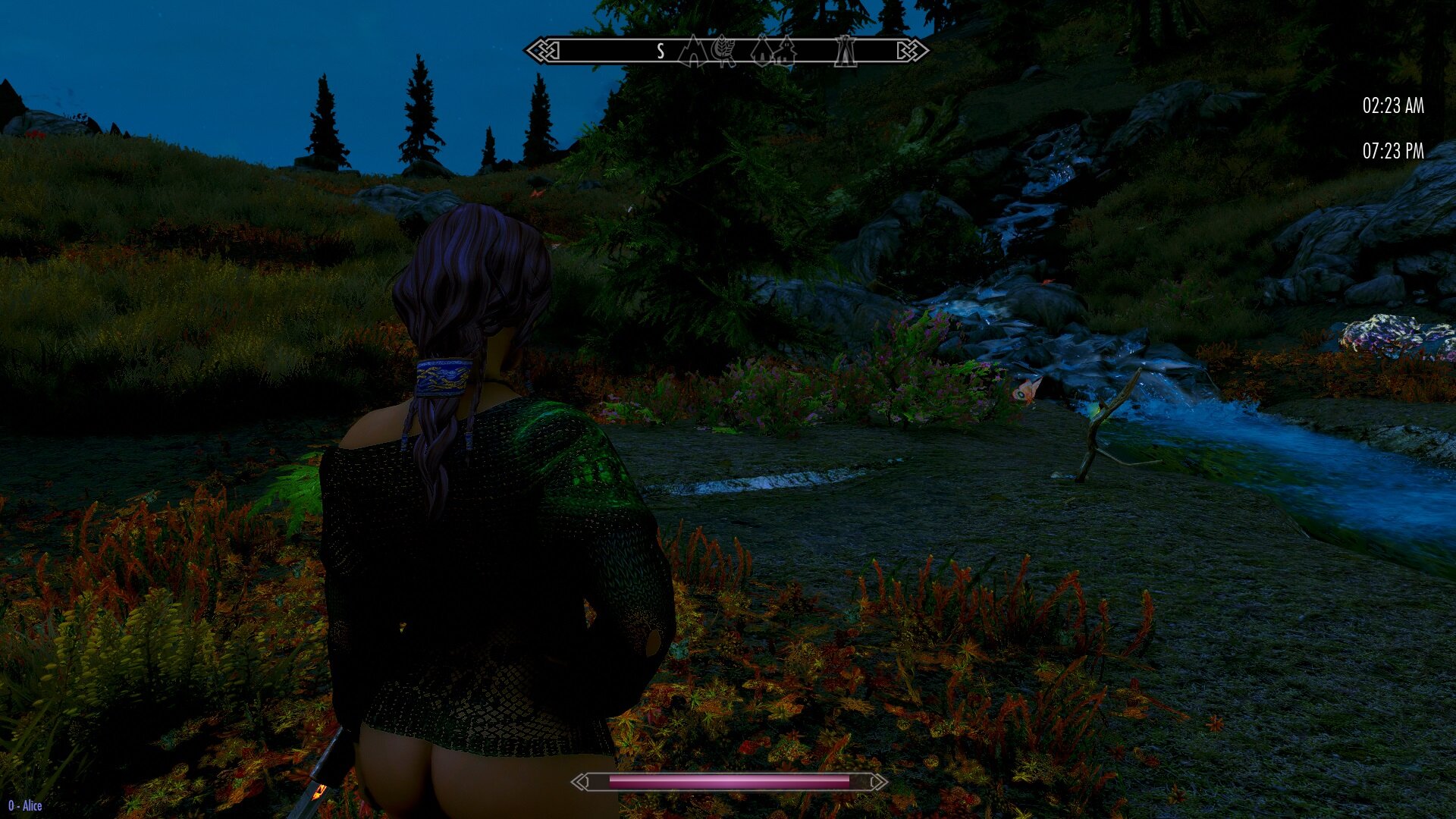 Let's have a look at the map.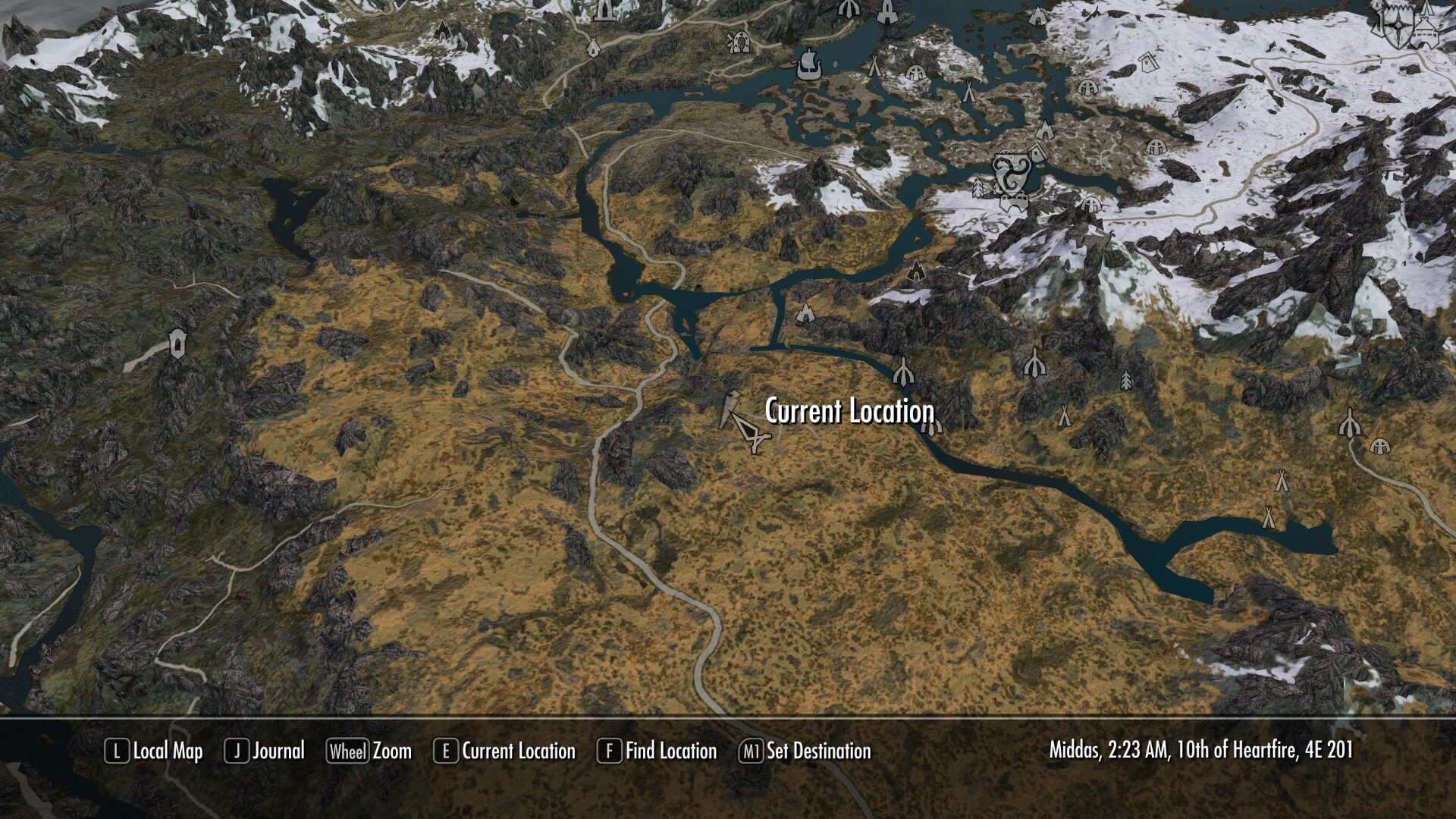 Too far NE, gotcha.
We blunder about for a bit longer until at last I spot somewhere I recognise.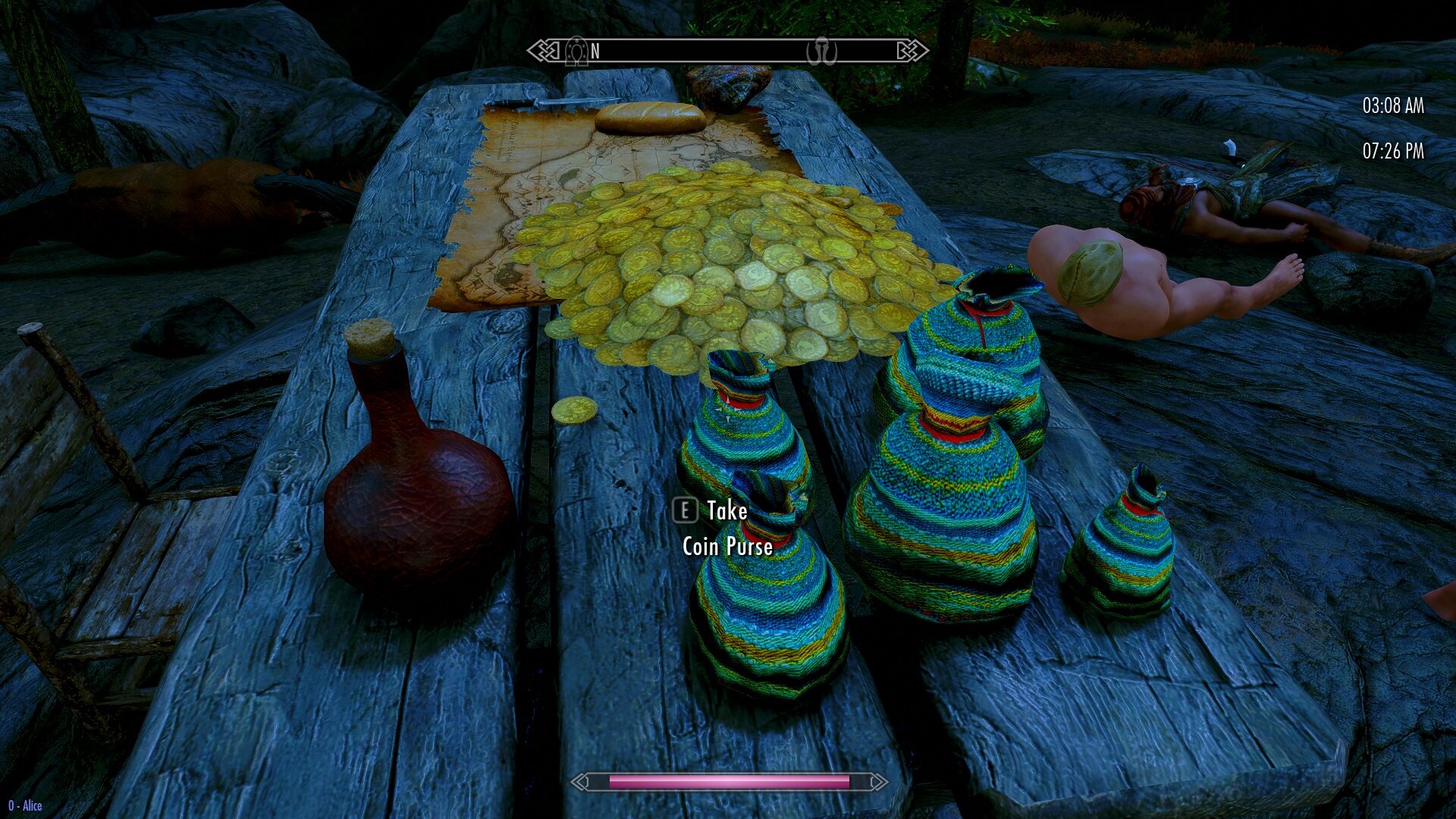 We had to kill a bunch of bandits and Hammerfell bandits but Ivis put in a man of the match performance. After we finished fighting the one surviving slave made of those comments about me not looking well so I checked. ?
Not so clever and I haven't got a potion. Maybe I can get one in Rorikstead if the place still inhabited after all this time.
We start down to the hill on what, hopefully, will be the last leg of the journey. We've not gone 100 yards, let alone 100 metres, when we are attacked by a sabrecat. Not a big deal except . . .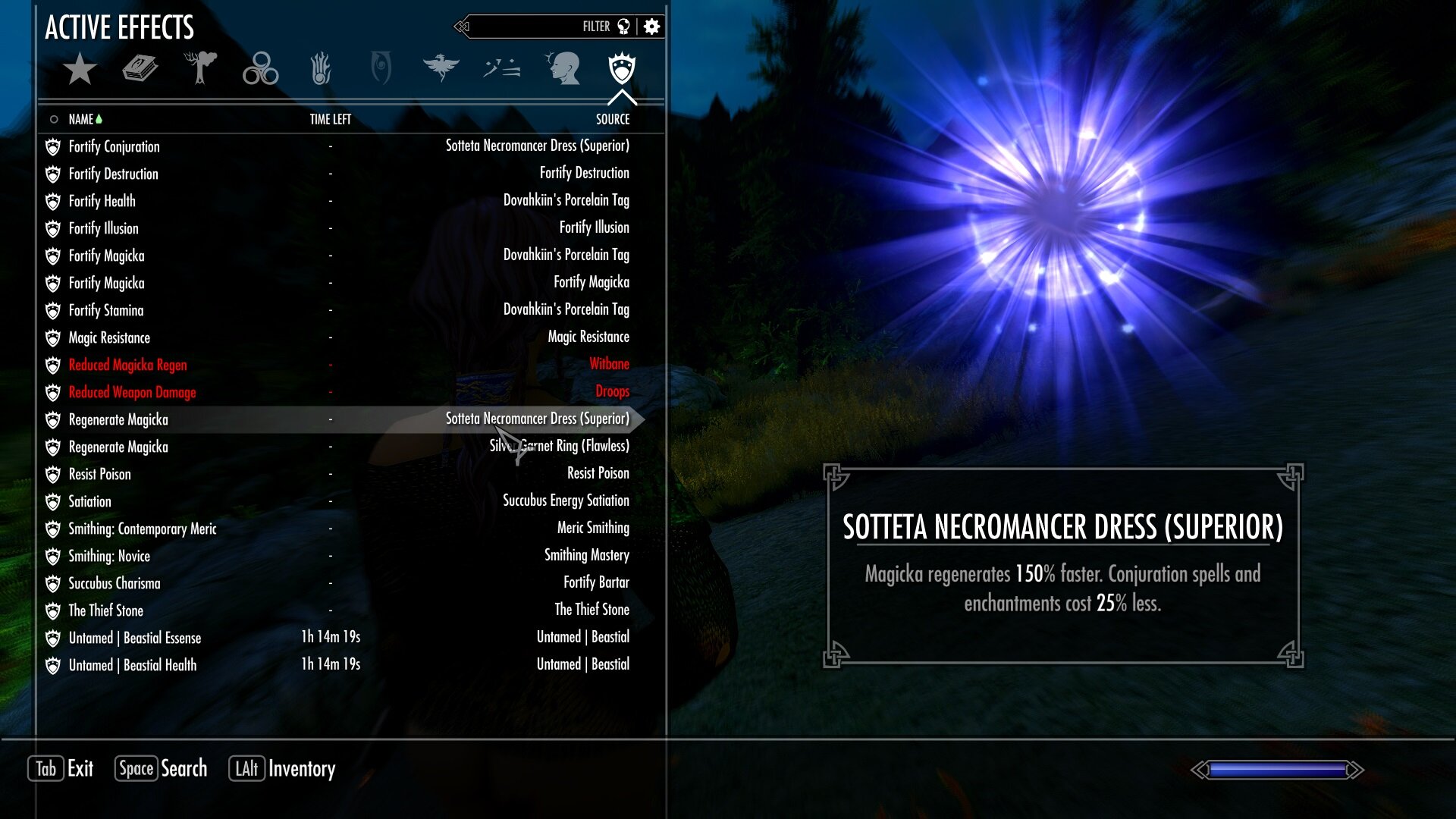 I should check Ivis. She might have caught half-wit bane. ?
Ta-bloody-Da!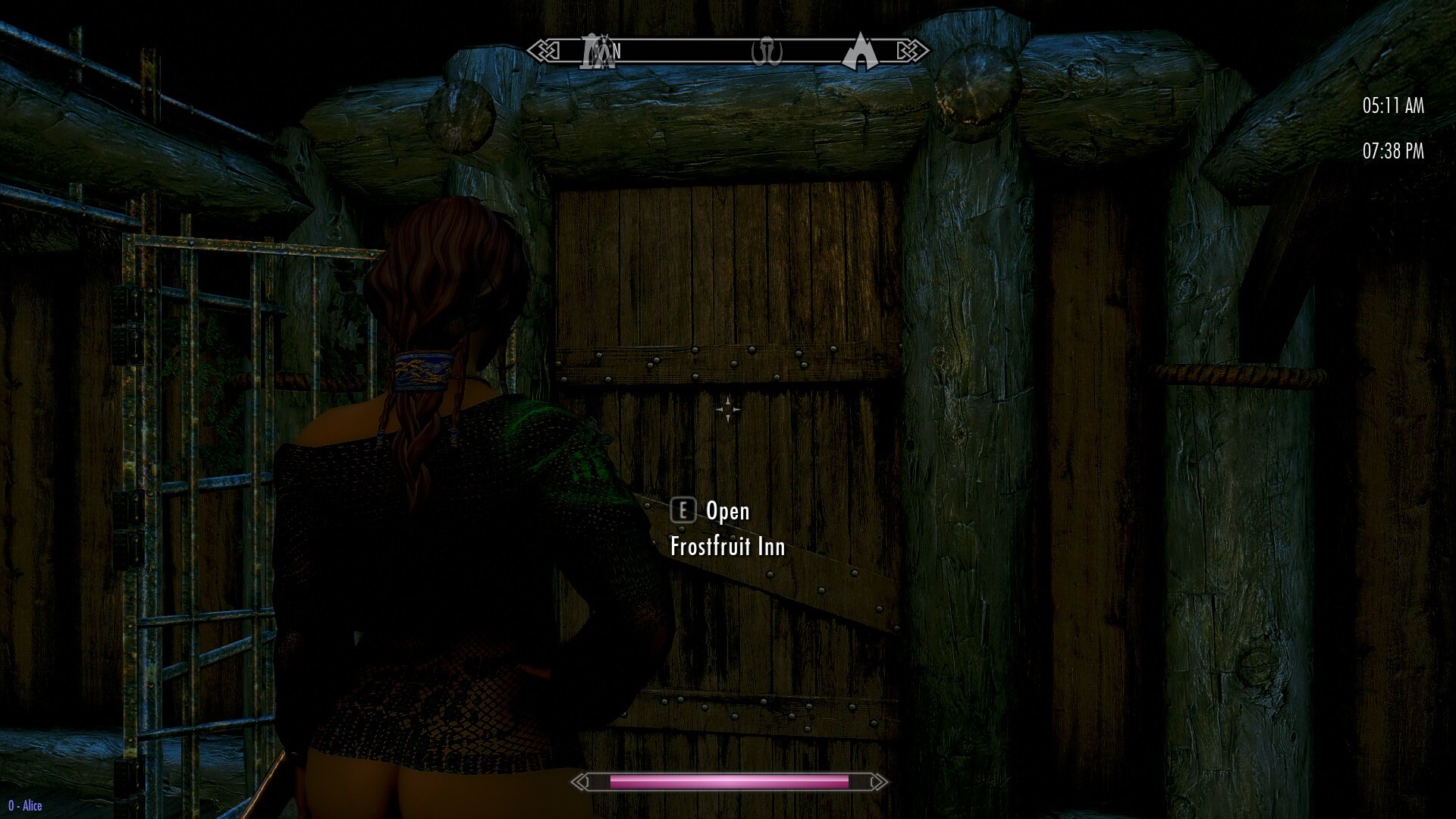 Due to a recent series of unfortunate events involving inns I am ready for anything once I step through the door. Nothing happened initially but it wasn't long before a solo nutter came in from somewhere.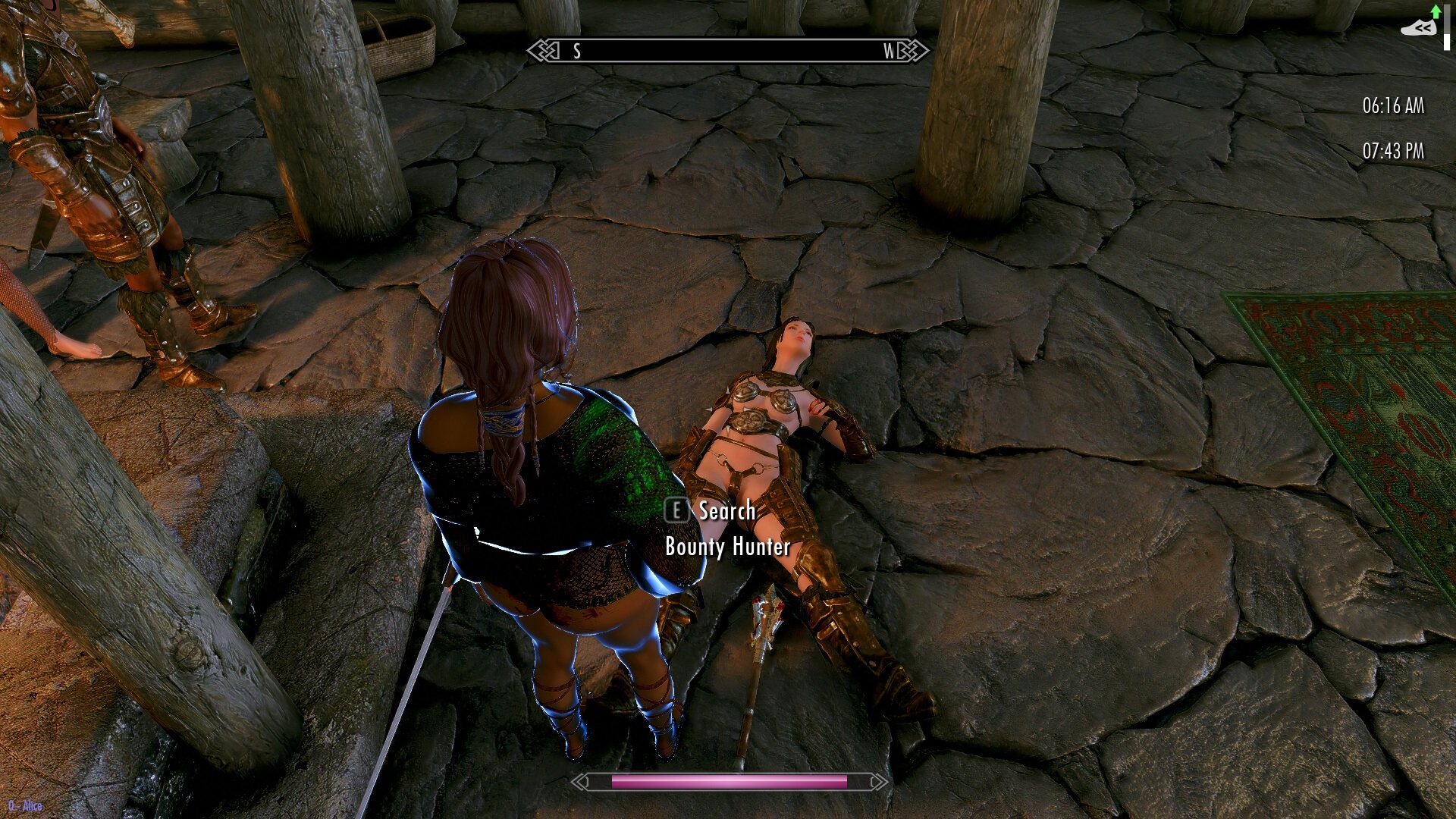 She didn't last long as there are 10 or so followers plus a guy from HSG and some other guy or two from another mod or two.
Next order of business is to sell some loot then head up and over the plateau. I'm going to head straight west to Soljund's Sinkhole. It shouldn't be too bad as although it is violent most of the people up there are friendly, at least until we get to Soljund's.
Edited by Grey Cloud