Maer 10 - Life in Whiterun
---
"Where's the rest of the money?"
"What do you mean?" Maer is confused, she almost forgets to add "Master."
"I gave you some money to hold earlier. It's time to return it."
"But... but... you told me... I spent it on the upgrades to the house...."
"Don't worry," he says with a smile. "We'll just add it to your tally." He reaches out and caresses her breast ever so gently.
The tally is something he instituted back when he was Maer's friend and retainer, not her Master. She paid him to accompany her on adventures, and if she didn't have enough cash he'd add it to her tally of debt. She could pay it back normally, or she could take on "deals." It was a little game they liked to play to relieve boredom while travelling across Skyrim. At least that's what he convinced her off. Somehow, that arrangement  remained after she became his slave.
It hadn't really been an issue for Maer - she'd been bringing in enough septims from her alchemy and the loot they'd found. But then he'd learned about the business and demanded a cut; 1,000 a day. That was harder to manage. At least she thought so. To be honest, it was only in the morning - before the fucking, the spanking, and before the various mindfucks - that she was clear headed enough to try to untangle what she owed. As the day progressed she'd enter into subspace, a wet sore mess of unfocused arousal trying to satisfy her master's whims. But she was pretty sure she was sliding deeper into debt. And now this.
"It's not fair! You didn't... OUCH!"
He pulls the nipple piercing hard enough to stop her short.
"Careful, slave. Listen to your own words." He is smiling, amused. "What were you saying?"
She looks down. "Nothing Master. Please don't punish me."
He eases the tension in the nipple piercing a tiny bit, but grabs the other one pulling it taut. He laughs.
"I won't punish you for your foolish words, but..." he tugs both nipples sharply, forcing her to step closer with a small squeal, "your tally is too high. We'll need a few more deals."
"Yes master," she can't meet his gaze.
"First, you need a gag. That way you'll say less foolish things. I'm sure Leona will appreciate it too. Here, open your mouth..."
Maer complies without further complaint.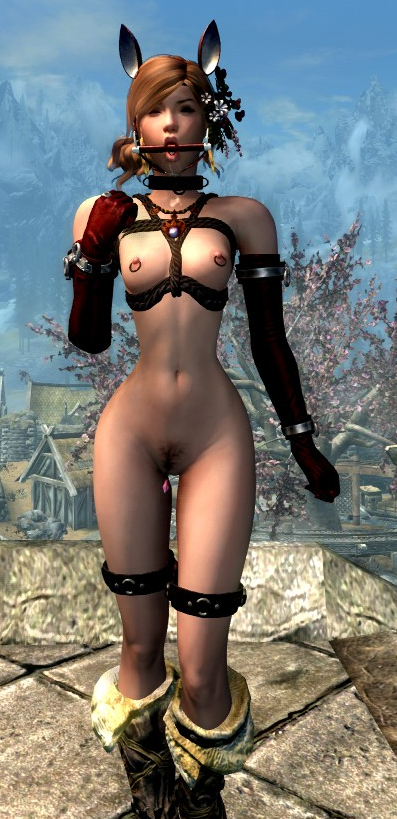 Leona and Lydia mock her for the ears on the gag. Leona especially,
"What are you? An ass? A fuckbunny? Or maybe just a little bitch whore?"
Maer just nods. She can't really say anything. Her jaws are sore.
The little group settle into a routine of sorts. Maer works diligently on her alchemy, but soon the local resources are exhausted and her output shrinks. That doesn't mean her Master's cut is any smaller, so even though some days she comes out ahead, over time the tally still grows.
Maer's Master makes sure to keep her occupied, sending her on various humiliating errands, fucking her, whoring her out, spanking her and so on. In the mornings Maer tries to study her spells a bit and plan for how to reduce her tally, but the moments of clarity get shorter day by day. Each day she slips further into total submission, even if her body has grown more used to the abuse. And the thing is... even though part of her feels sorry for herself because of the way she's treated, at the same time she's in a near continual state of ecstasy. And that feels good.
This is her life now.

Some times, especially when her Master is out, Leona will amuse herself by ordering Maer around and humiliating her in various ways. At this point, Maer knows better than to defy the warrior. So if Leona tells her to bend over, Maer bends over let's her spank her ass. And if Leona tells her to lie on the floor, spread her legs and masturbate, that's what Maer does.
"How many men have fucked you do you think?"
"Mmgm dngnn.'' (I don't know)
"Your master tells me you were virgin when you met him, is that true?"
"Yssss..." (Yes)
"And now look at you. Disgusting."
"Mmmmnnnmmm..." Maer starts to moan quietly as the intensity builds up. Her brow furrows and her eyes roll back. She's getting closer.
"Did you fall in love with him?"
"Ysss... ysss...." It's true. She did. She is also just about to climax.
"You fell in love? That's ridiculous."
"Ysss... ysss.... yyyyyyyyyy...." There it is, she can feel the orgasm just about to wash over her. It's going to be intense. Thinking about what she was before she became this... this....
"That's enough. Stop playing with yourself and go make me something to eat."
Maer obeys, frustrated. Somewhere in the back of her mind she knows she should feel hurt and upset. Dibella knows, Leona used to make her feel like that all the time. But instead she feels happy. Light even. And horny. Always horny.
The days and nights follow one after the other, blurring together. The tally goes up and her Master imposes new deals. She has to wear a corset now. And he says something about a deep debt deal too. Maer doesn't really pay attention to the details, she just accepts. Sometimes he punishes her with a whip. Sometimes he fucks her. He sends her on more degrading errands. Leona continues to be horrible and cruel to her whenever she has a chance. Lydia is sort of nice in her mean way, which is weird, but it's fine.
Her master also tells her to change how she looks. So she does. That is his right.
She knows she should feel miserable, but slowly and by degrees Maer realizes she has accepted her fate and she... she enjoys it. Well, she always enjoyed it though the joy was filtered through self-pity and humiliation and pain. But there's no self-pity now. And the humiliation and pain makes her feel good. She is happy.
There's another dragon attack. Once again Maer's Master and his followers deal with it. Maer, somehow, is able to find some magicka deep within herself and finally cast Pale Shadow on a dragon and... it does nothing. Maybe the dragon resists. Maybe the spell doesn't work on dragons. Who knows? Maer doesn't care. She's not supposed to cast spells and slay dragons.
Her Master tells her to clean the footwear of some of his friends who helped in the fight. It's hard to lick someone's shoes when wearing a gag, but Maer does her best. This is what she's supposed to do.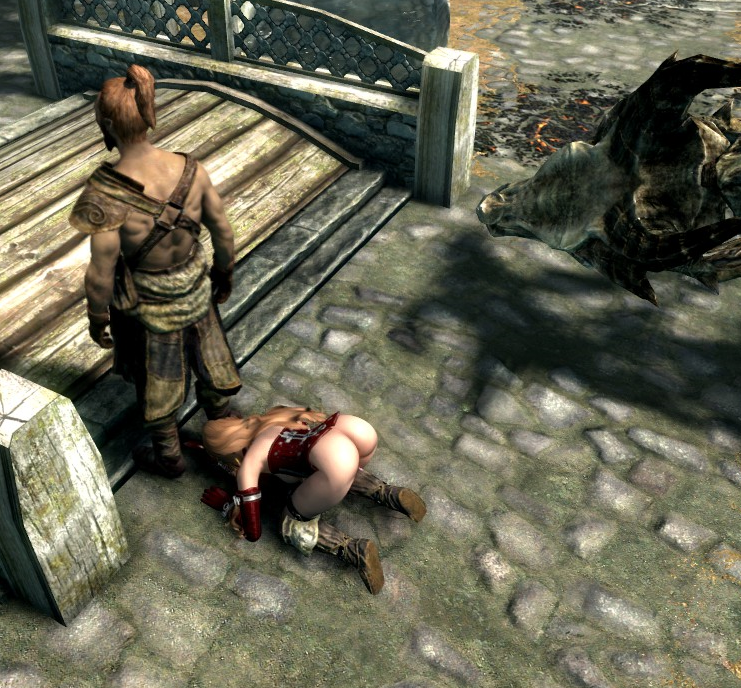 "I think I broke her completely."
Maer's Master is talking about her to Lydia and Leona, even though she's right there (cooking).
"You did. There's nothing left but a very obedient sex slave. I think she's happy like that," says Lydia.
Leona looks sour.
"I have to admit it's getting a bit boring. I'll have to find some way to spice it up... what do you think?"
Leona's face brightens up. "I heard there's a special kennel. She'll be fucked by dogs all night, like the bitch she is. I heard there's a troll too...." She laughs at the thought.
"Would you like that, slave? You'd learn what dog semen tastes like. Wouldn't that be nice?"
Maer smiles genuinely and nods "yssss mssteh," before she returns to her cooking. It wouldn't be nice at all. It would be awful. But awful feels good. And besides, she won't have a say anyhow.
Lydia shakes her head in disbelief, and Leona looks disgusted again. Maer's Master looks disappointed maybe?
"See what I mean. She's broken. It was fun getting her there but now... I don't know. I'll have to think of something...."