Welcome to LoversLab
Register now to gain access to all of our features. Once registered and logged in, you will be able to create topics, post replies to existing threads, give reputation to your fellow members, get your own private messenger, post status updates, manage your profile and so much more. If you already have an account,
login here
- otherwise
create an account
for free today!
Submitter
ApoKrytia
View other files from this member
Latest Version:

1.5

Submitted: Mar 14 2015 02:35 AM
Last Updated: Dec 05 2015 11:06 AM
File Size: 5.1MB
Views: 149135
Downloads: 69,059
Requires: Skyrim





4 Votes
Sound
High Heels

544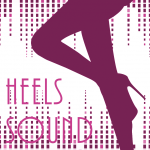 Declaration
This is a reupload with permission. The original author is my friend ybsj520. Here is the original link: http://www.skycitizen.net/post/66517
Description
Ever think that high heels should have their own "click" sound? Now, the dream comes true!
This modder resource let high heels have standalone sound without replacing any vanilla sound files. Sound variants including different surfaces and movements. For now, there is only sounds for pumps.
From now on, I take care of the updates.
If anyone could provide pumps/stilettos/heel boots sounds with good quality, please let me know.
Requirement
Skyrim.
And of course any high heels mod.
Usage
Reassign the foot step set(in AA) of the high heels to "AngelFSTHeelsFootstepSet". The esp you modified will make "Heels Sound.esm" as master.
If you are using TESVEdit, you have to right click the esp to add "Heels Sound.esm" as master, first.
For newbie:
Open TESVEdit, right click and select none.
Check Heels Sound.esm and the esp you want to modify.
Right click the esp and select Add Masters.
Check Heels Sound.esm and click OK.
Expand Heels Sound.esm and expand Footstep Set.
Copy FormID of AngelFSTHeelsFootstepSet.
Now expand Armor Addon branch of esp.
Select the high heels you want to modify. You can see the reference tab at bottom for help. Browse to SNDD – Footstep Sound.
Paste the FormID to this column.
Repeat again with every heels.
Close TESVEdit and click OK with esp checked.
Credit
High Heel Footstep Sounds by Indrisblake - For some sound files.
prm399 for sound resources.
1.5 -
Replaced stonesolid, gravel, wood with new sounds.
Added new sound set for snow surface.
Tweaked some settings.
1.4 - Removed HHS requirement for compatibility with NIO Heels.
Heels Sound