About This File
This is a framework for starting Sexlab animations that align with in-game furniture.
The supported kinds of furniture are:
Walls
Tables
Beds/Double Beds
Chairs, Benches and Thrones
Alchemy Tables
Enchanting Tables
Counters
Requirements
SexLab (1.63 for SE, 1.62 for LE)
Supported SLAL Packs (Original pack required)
Billy (Invisible Furniture + Furniture Pack)
Anub (Human pack only. This for LE, try this conversion if you use SE)
Milky  (This is the LE pack. The SE pack is outdated so you need to convert this to SE yourself)
How to Use
Download and install the main mod and the FurnAnim FOMOD pack.
Register the InvisFurn SLAL packs and update the furniture types in the MCM.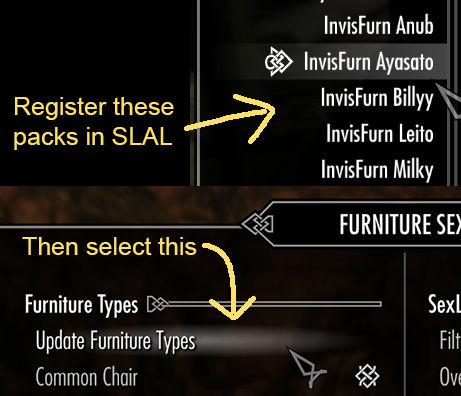 Sexlab can take a while to fully register all its animations, so you might need to wait a while and update furniture types multiple times before it can find them all.
If you installed the aggressive packs, you need to copy some files in your mod folders or the animations won't work.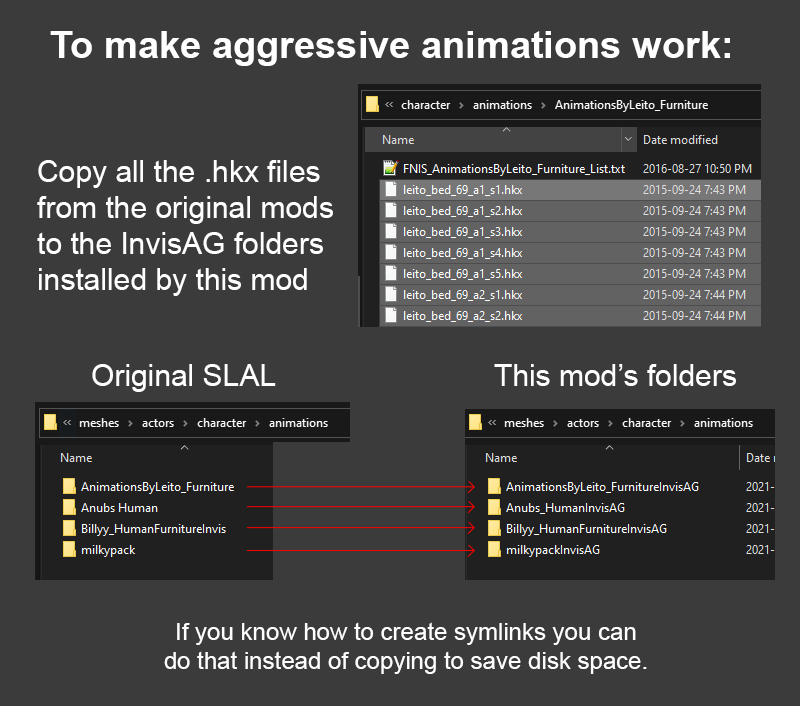 Make sure to rerun FNIS after this step.
Test Spells
Your character will have 2 new spells, Furniture Marker Highlight and Furniture Marker Sex.
The highlight spell will mark the 4 nearest furniture markers with quest arrows. You can only have sex at one of these markers.
Stand next to one of these markers and cast the sex spell at an NPC and a sexlab scene will start on the nearest marker.
If you're sneaking when casting the spell it will look for an aggressive animation.
SexLab Override
In the MCM you can set the chance for normal sex scenes to be replaced with furniture scenes.
Sex scenes will only become furniture scenes if there's furniture nearby and you have animations that fit the scene.
Issues/Incompatibilities
The LE version of this mod cannot be used with any mod that alters sslThreadController.psc, like Sexlab Utility+.
Sexlab Privacy is not compatible with this mod
Updating
Make sure you Rebuild SexLab Animation Registry and Update Furniture Types in the MCM after you update this mod!
Guide to Make Animations Compatible with this Mod
---
What's New in Version
0.11
Released
Split some wall animations into a new tag so that more wall markers can be placed around skyrim without clipping to the baseboard
Fixed fnis issue with the aggressive leito throne animation
Remember to rerun fnis, rebuild slal animation registry and rerun the furniture filter in the mcm.