Prolog?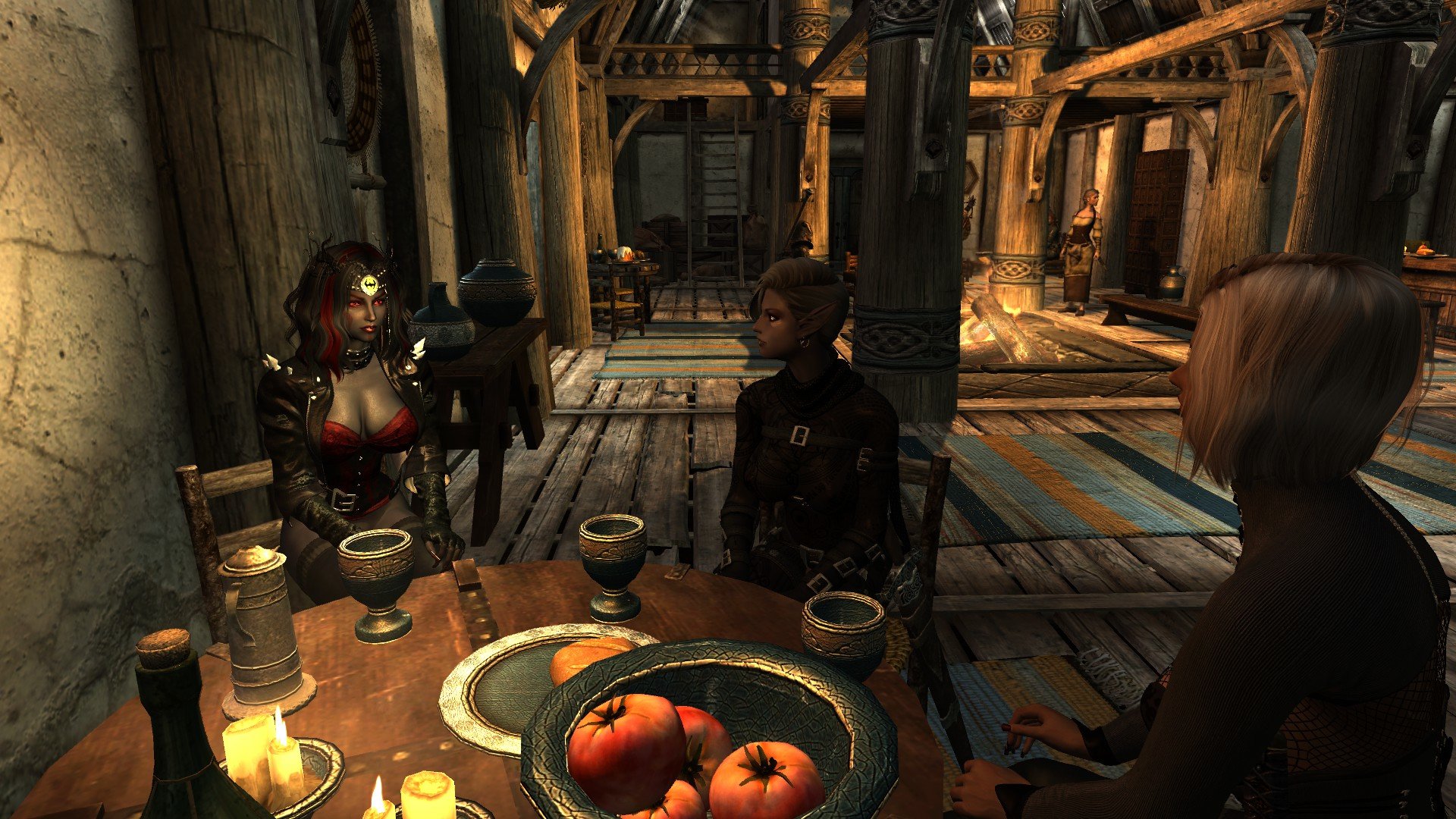 After a long day, Koko, Hel and Dibel meet in the Bannered Mare for food and drink. They all sat down at a table and let themselves be pampered by the delicacies. After everything had been eaten, Koko looked at the two rather unusual women for a longer time, she looked first at Hel and then at Dibel and after a long moment of silence, curiosity exploded out of her.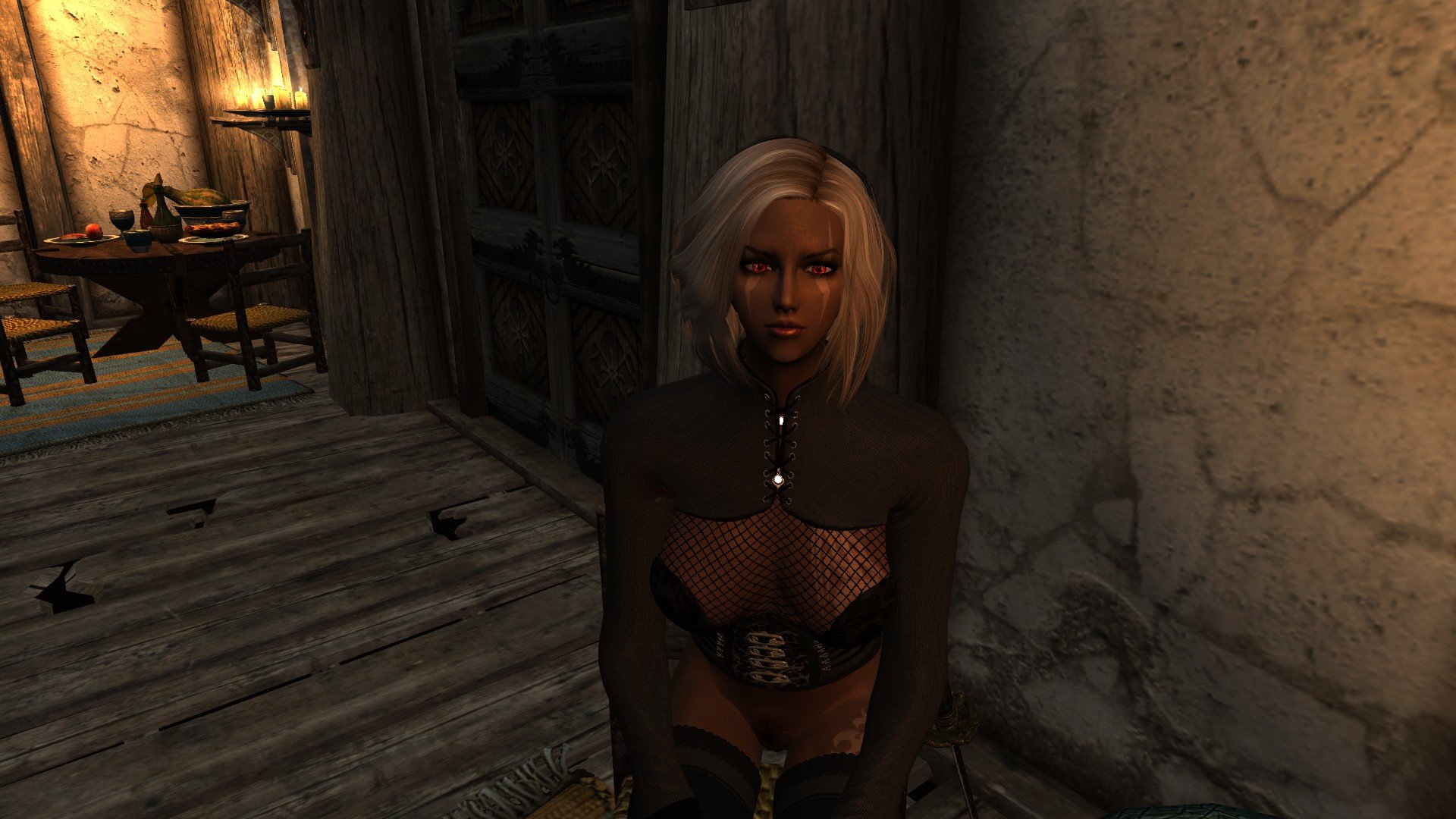 "Say, how did you get to know each other then, especially since it's quite unusual to find two like you, hermaphrodites are not like sand on the sea?" Dibelreth looked wide-eyed at Kokoro before turning her gaze to Hel, smiling in love.
"Well, where do I start, you know, we both come from Vvardenfell, you grew up in Balomora, and I in Vos. We both decided to leave Vvardenfell to get to the academy in Mournhold, after both of us were taken We were both given the same instructor, so we got closer and closer to each other, even though it was not easy for us at the beginning because we saw ourselves as competitors. "

Hel starts to smile and nods to Dibel with each word, then she takes the floor. "Well, it was that hot day after our training and late in the evening, I always preferred to be the last to wash myself to avoid being seen as I am, only very few were privy and knew. But suddenly Dibel was also in the bathroom and got an erection after I saw her, how old were we then? "

Dibel responded after a short while to the consideration "I was 16 and you 17. For me it was no different Actually, I wanted to go in earlier, but the bathroom was always busy, since Hel forgot to close, I was almost naked in front of her. It was strange to see that she also had something between her legs, but in order to lighten the situation, I also took off my panties and showed her my growing extra as a counterbalance. We both looked at each other in fascination, and so it came over us both of us and we began to explore our special bodies, after that it became dirty. "

Hel and Dibel began to giggle, while Koko listened intently to the two, sipping at the Mead with relish. Koko liked the two dark-elves women, especially since they were an eye-catcher, because Koko herself is only interested in such beauties. The blonde Half-elf knew the two for almost 2 years and had with both already one or the other sexual experience with them. She looked at the two women and smiled contentedly, especially in her mind she was playing a refreshing threesome. Although Hel and Dibel had dicks, they also had their pussies, their damn tasty pussies, so Koko did not bother to give them a blowjob, while she herself was spoiled by one of her friends with the tongue. Even though the two were married to each other, she was glad that she herself was often allowed to attend her frivolous games. "Thank you two, you told me that, hmmm, what are you going to do, sweethearts?"

"First we pay, then we leave the tavern together, Hel and I were hoping that you would ask for it, I think we three can all take a luscious dessert - is not it honey?" Helmine nodded her head in smiles, brushing a strand with her long red fingernails out of her face as she reached for Kokoro's hand with anticipation. "Then let's go.", Then she raised her other hand and indicated that she wants to pay and shortly Hulda came to the table and accepted the payment. Shortly thereafter, the three beauties were seen leaving the Mare.
My german original Text
Nach einem Langen Tag, treffen sich Koko, Hel und Dibel in der Bannered Mare, um etwas zu Essen und zu trinken. Sie setzten sich alle an einen Tisch und liessen sich von den Köstlichkeiten verwöhnen. Nachdem alles aufgegessen war, sah Koko die beiden etwas ungewöhnlichen Frauen länger an, sie musterte erst Hel und dann Dibel und nach einem längeren Moment des Schweigen, platzte aus ihr die Neugier heraus.
"Sagt mal, wie habt ihr euch denn damals kennen gelernt? Zumal es recht ungewöhnlich ist, das sich zwei wie ihr es seid, zu finden.
Hermaphroditen gibt es nunmal nicht wie Sand am Meer?" - Dibelreth schaute mit großen Augen zu Kokoro, ehe sie ihren Blick zu Hel wandte und dabei verliebt Lächelte.

"Nun, wo soll ich anfangen? Du weisst ja, das wir beide aus Vvardenfell kommen, Sie wuchs in Balomora auf und ich in Vos. Wir beide entschlossen und Vvardenfell zu verlassen, um auf die Akademie in Mournhold zu kommen. Nachdem wir beide Aufgenommen wurden, hatten wir beide den selben Ausbilder erhalten. So kamen wir uns Nach und Nach immer näher, auch wenn es ganz am Anfang nicht leicht für uns war, da wir uns als Konkurrentinnen sahen." 

Hel beginnt zu schmunzeln und nickte bei jedem Wort zu Dibel, dann übernahm sie das Wort. "Nun, es war dieser besonders heisse Tag nach unserem Training und schon recht Spät am Abend, ich zog es vor immer als letzte mich zu Waschen, um zu vermeiden, das man sah was ich bin, nur die wenigsten waren eingeweiht und wussten bescheid. Doch aufeinmal stand Dibel ebenfalls im Bad und bekam eine Erektion, nachdem ich sie sah. Wie alt waren wir damals?"

Dibel antwortete darauf, nach einer kurzen Weile der Überlegung "Ich war 16 und du 17. Bei mir war es nicht anders. Eigentlich wollte ich früher rein, doch das Bad war immer besetzt, da Hel vergessen hat abzuschliessen, stand ich fast Nackt vor ihr. Es war schon seltsam zu sehen, das ausgerechnet Sie ebenfalls was zwischen Beinen hatte, aber um die Situation aufzulockern, zog ich auch meinen Slip aus und zeigte ihr als Ausgleich mein wachsendes Extra. Fasziniert sahen wir beide uns an, und so überkam es uns beide und wir fingen an unsere besonderen Körper zu erforschen, danach wurde es Schmutzig." 

Hel und Dibel fingen an zu kichern, während Koko den Beiden gespannt zuhörte, während sie genüsslich am Met nippte. Koko mochte die beiden Dunkelelfinnen, zumal sie auch Optisch ein Hingucker waren, da Koko selbst nur auf solche Schönheiten persönlich steht. Die Halbelfe kannte die beiden seit knapp 2 Jahren und hatte mit beiden schon das ein oder andere sexuelle Erlebnis mit ihnen. Sie blickte die beiden Frauen an und lächelte zufrieden, vor allem in Ihren Gedanken spielte sie grad einen Erfrischenden Threesome durch. Auch wenn Hel und Dibel Schwänze hatten, so hatten sie auch ihre Muschis, ihre verdammt leckeren Muschis, daher störte es Koko auch nicht, ihnen einen Blowjob zu geben, während sie selber von einer ihrer Freundinnen mit der Zunge verwöhnt wird. Auch wenn die beiden miteinander Verheiratet waren, so war froh darüber, das sie selber oft zu ihren frivolen Spielen immer teilnehmen durfte. "Danke ihr beiden, das ihr mir das erzählt habt. Hmmm, was habt ihr denn Gleich vor, meine Süssen?"

"Erstmal bezahlen wir, dann werden wir die Taverne gemeinsam verlassen. Hel und ich hatten darauf gehofft, das Du danach fragen wirst. Ich denke wir drei können alle ein Luzsvolles Dessert vertragen - Nicht wahr mein Schatz?" Helmine nickte lächelnt mit dem Kopf, strich sich dabei eine Strähne mit ihren langen roten Fingernägeln aus dem Gesicht, während sie mit Vorfreude nach Kokoro's Hand griff. "Dann lasst uns mal los.", dann hob sie ihre andere Hand und deutete an, das sie Zahlen möchte und kurz daruf kam Hulda an den Tisch und nahm die Bezahlung entgegen. Kurz darauf sah man die drei Schönheiten die Mare verlassen.
NSFW
Some Threesome action