No quote today, just a gif of someone being a dick in Monster Hunter.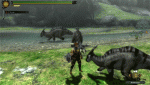 *waterfall in background*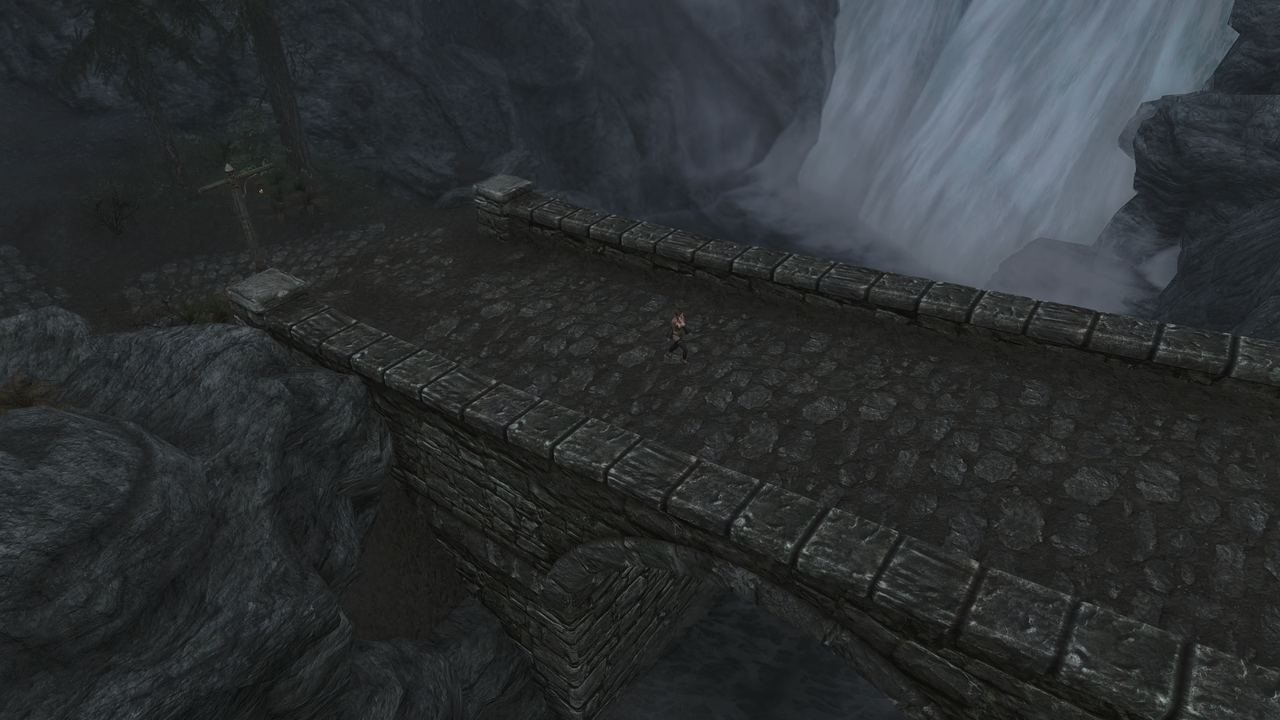 *footsteps*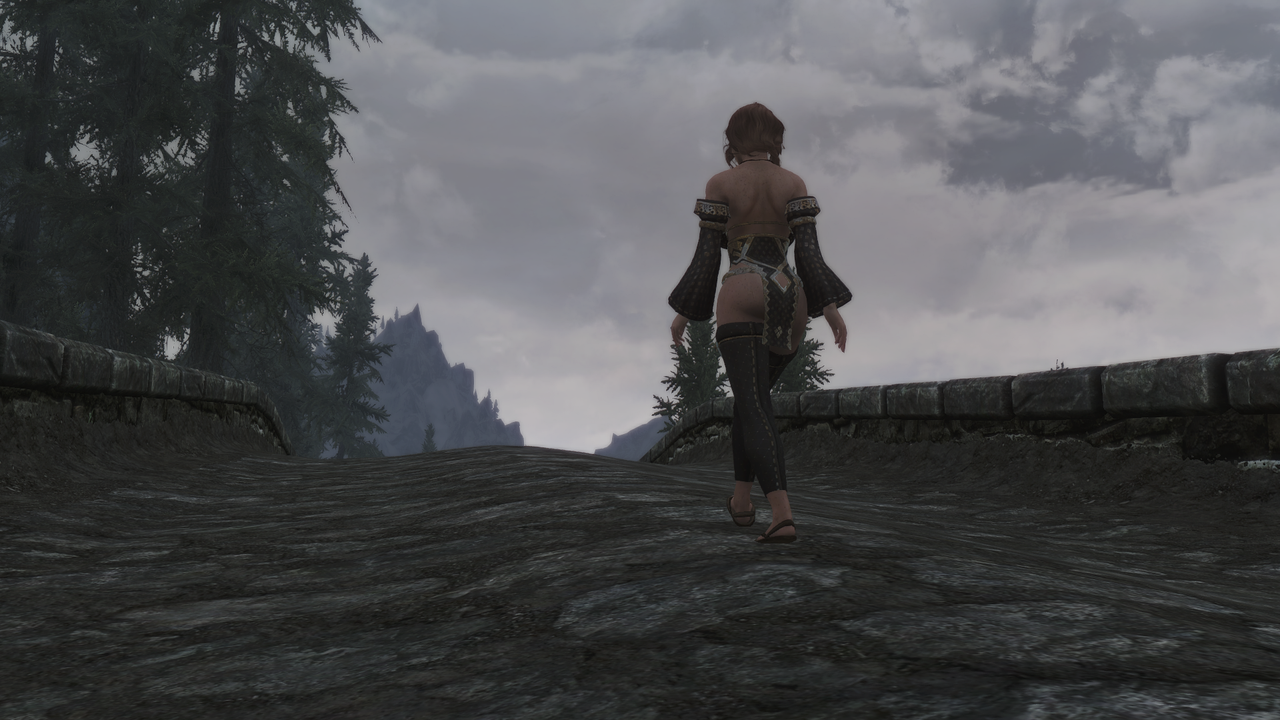 Fiona: .....
"Emily: Okay"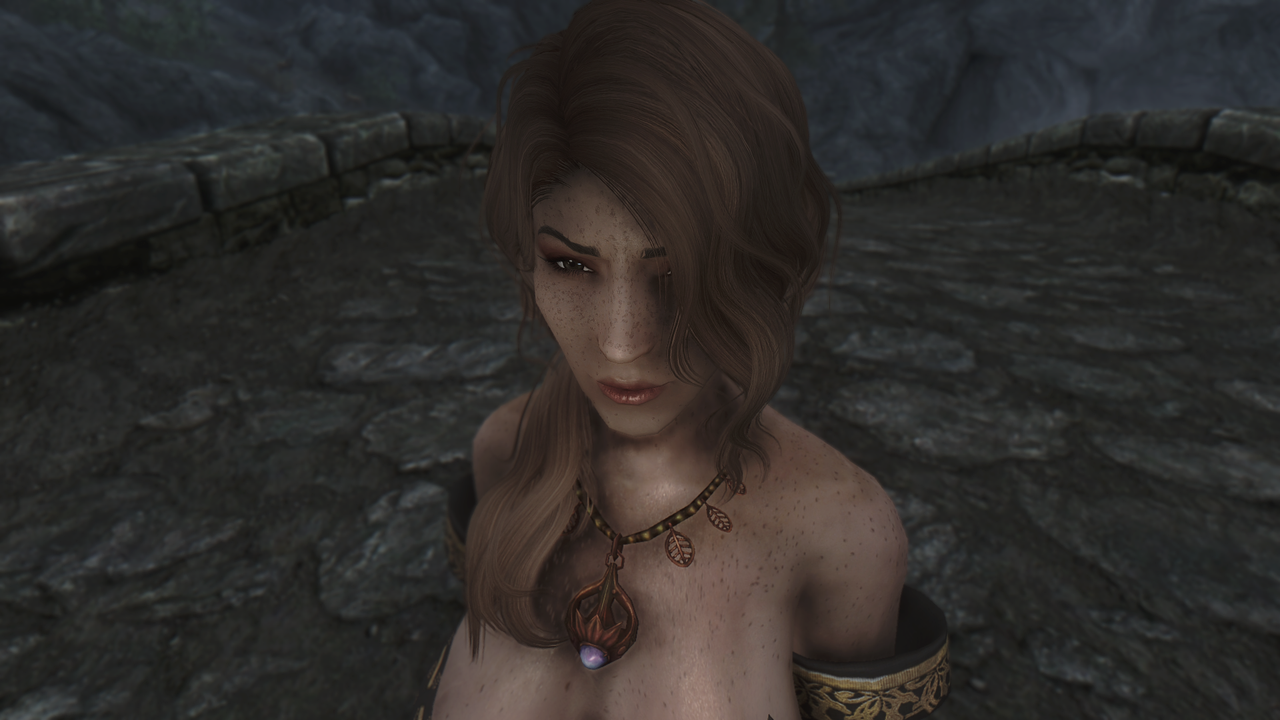 (Last Night)
Emily: So i just wanna make sure i'm clear on this.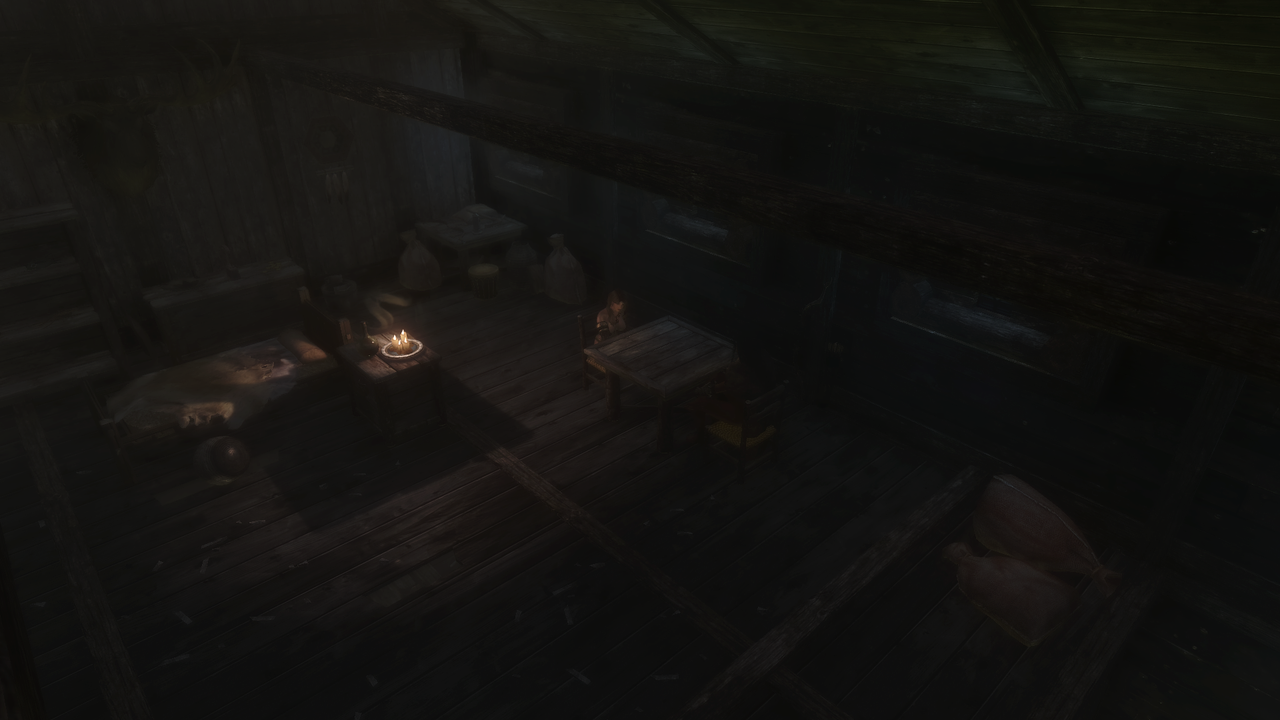 Emily: There are trillions of other Nirns that result from different timelines, realities, and such, and these worlds can be linked through dimensional portals which take the form of actual doors like inns and such that happen at random to let an important person from one dimension into another to meet another important person normally to just to do a small task or fix a problem in that dimension.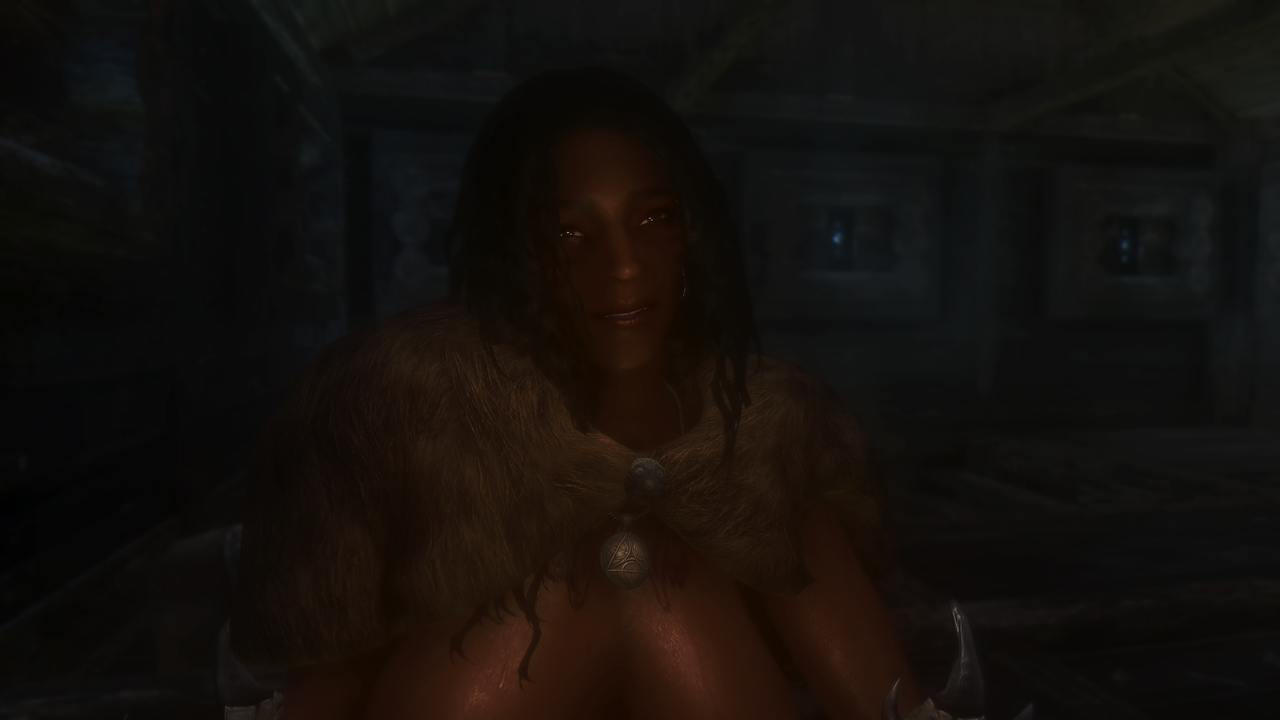 Emily: And between these worlds is a dimension that houses warriors that wish to take over our reality by sending warriors to kill important people in that timeline or reality so that can take over.
Fiona: In a nutshell.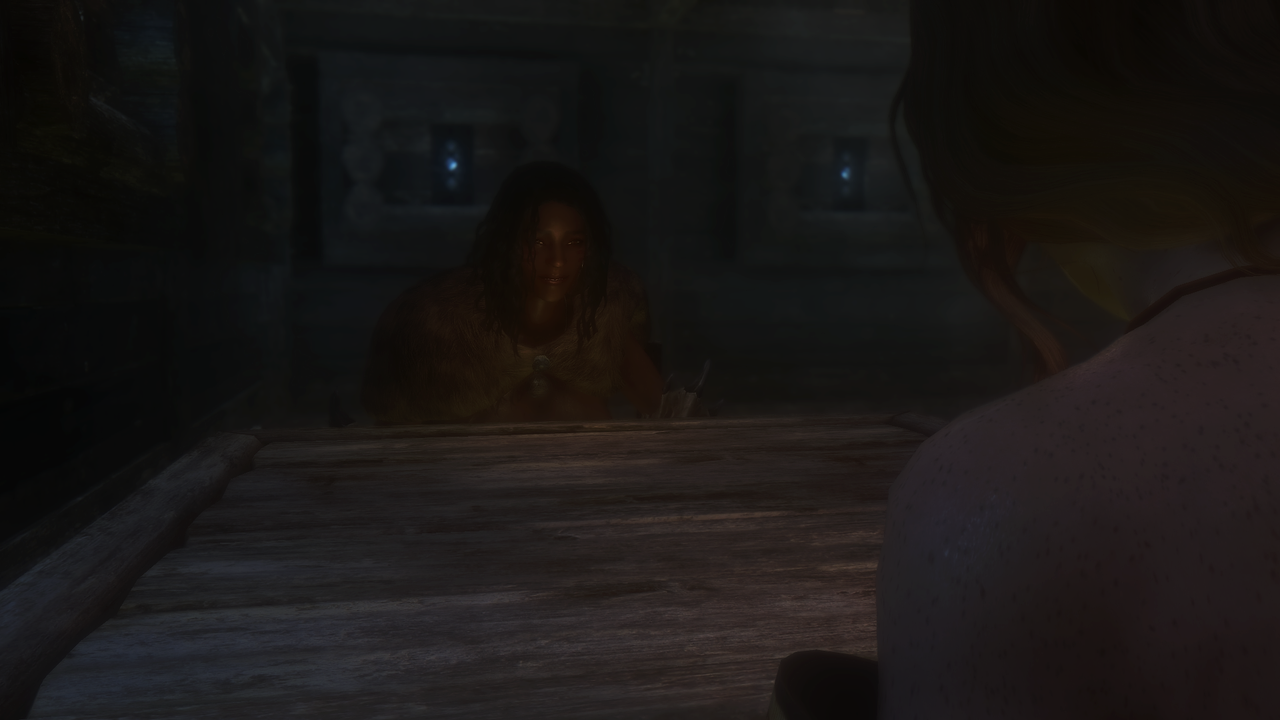 Fiona: Yes.
Emily: Fuck.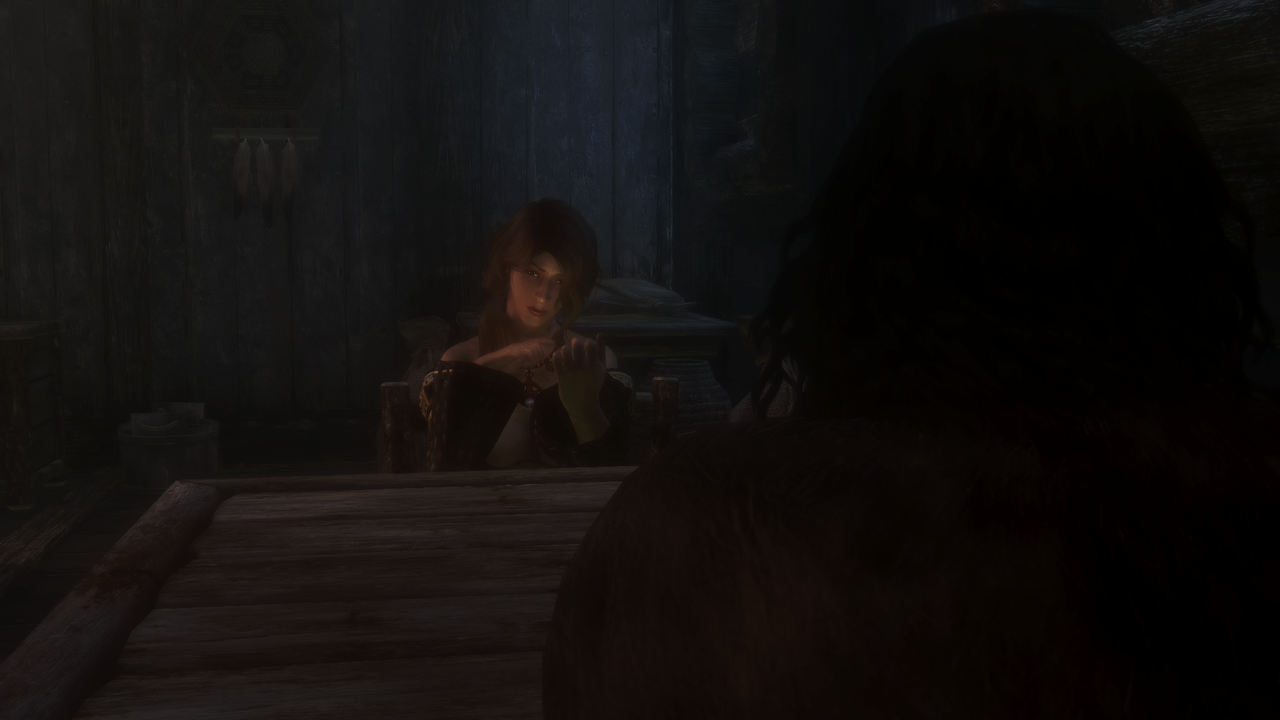 Emily: and i thought the Midas books were complicated.
Fiona: So you understand why i'm telling you this right?
Emily: Of course.


Emily: They've come after me twice now, you're worried they'll try a third time.
Fiona: Yes, so please be careful, i suggest sticking to someone strong right now too.
Emily: I should be fine for the moment, had a bit of training.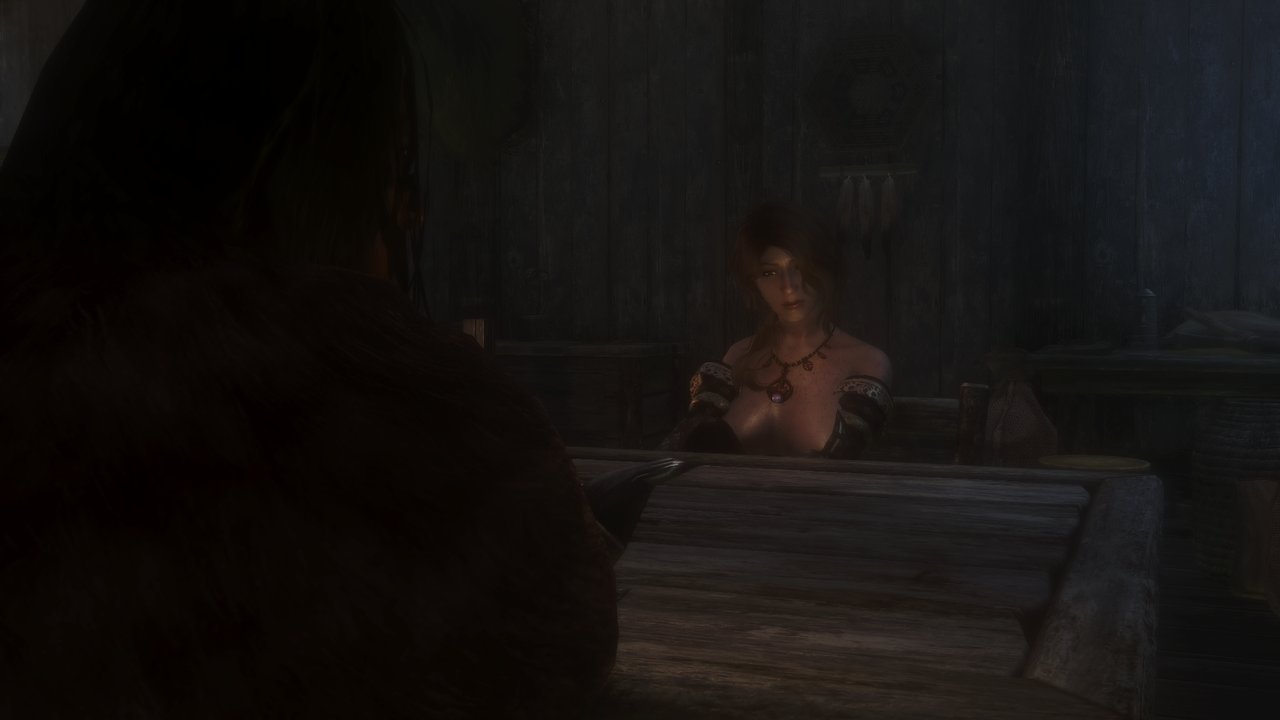 Fiona: Emily.
Emily: I will. I've been training pretty hard with my friend Satsuki.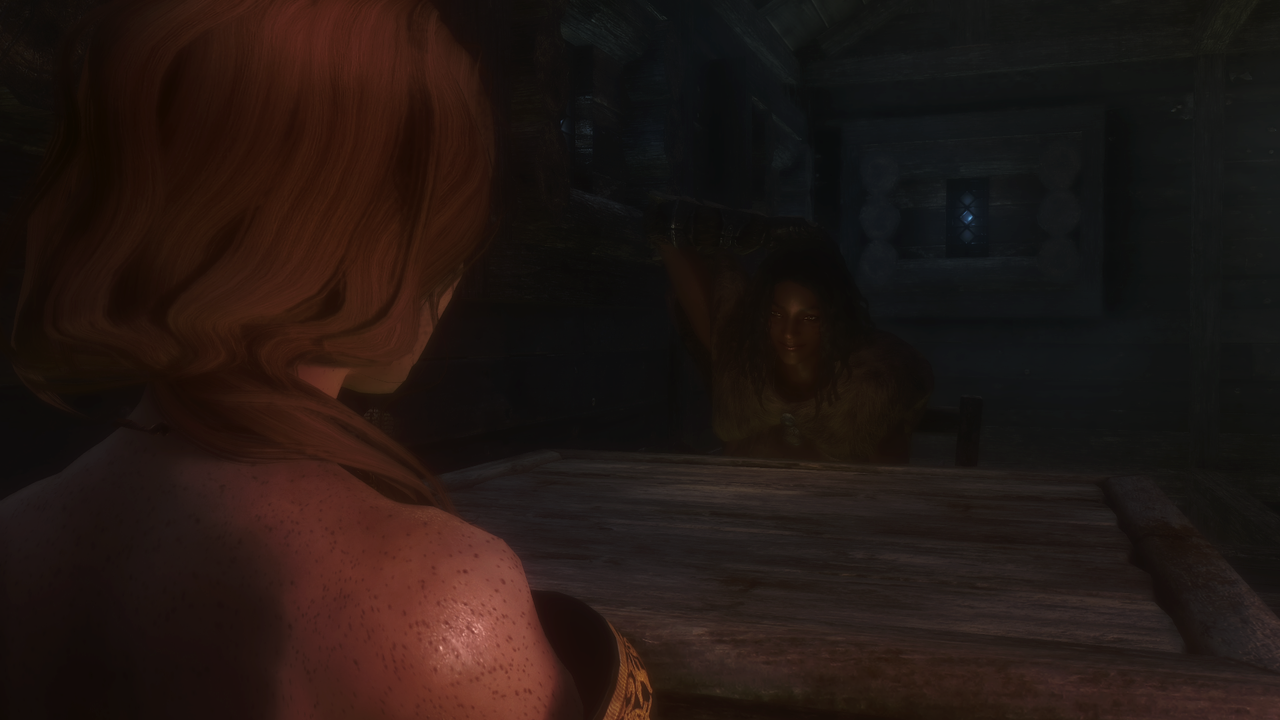 Emily: Though the Midas spells i have don't do as much as i'd like, maybe i should ask that Sweet Roll guy again.
Fiona: i wouldn't.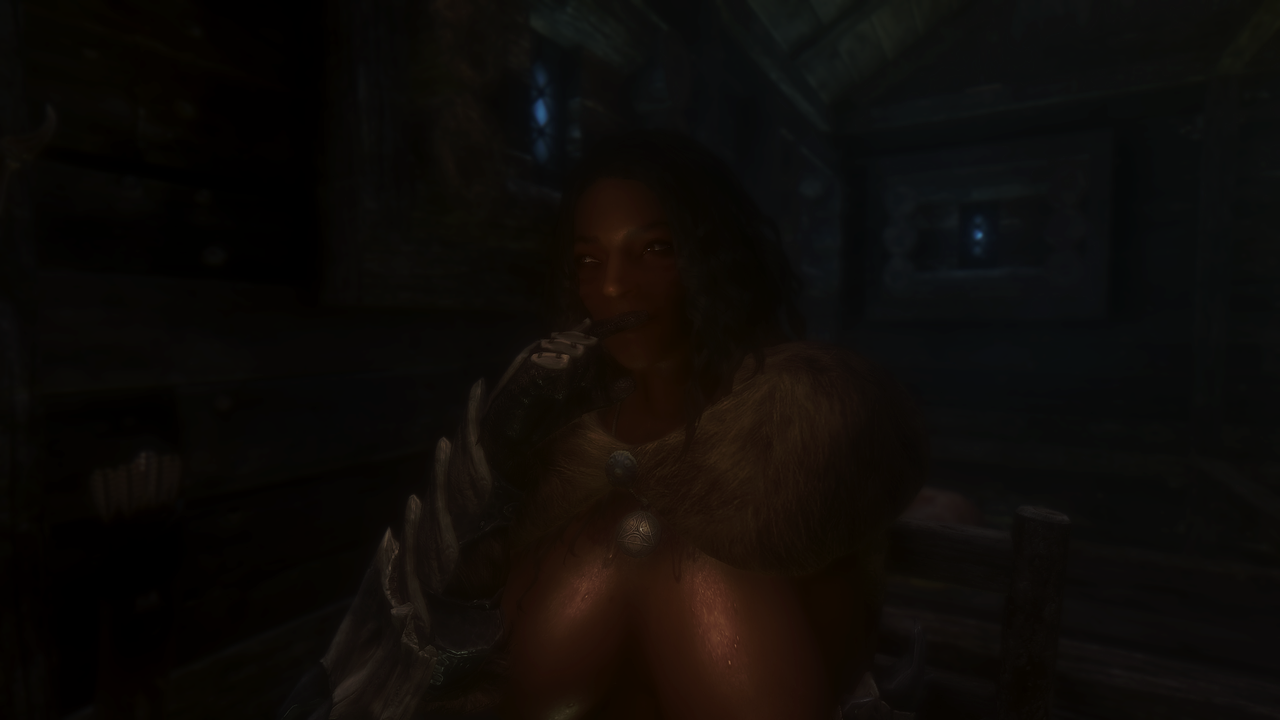 Fiona: he rips you off, last Daedric book i got there was a rape demon, fucked me then after i forced him to submit he was useless in battle.
Emily: Ouch, sorry that happened.
Fiona: Yeah, its fine, i've had worse i-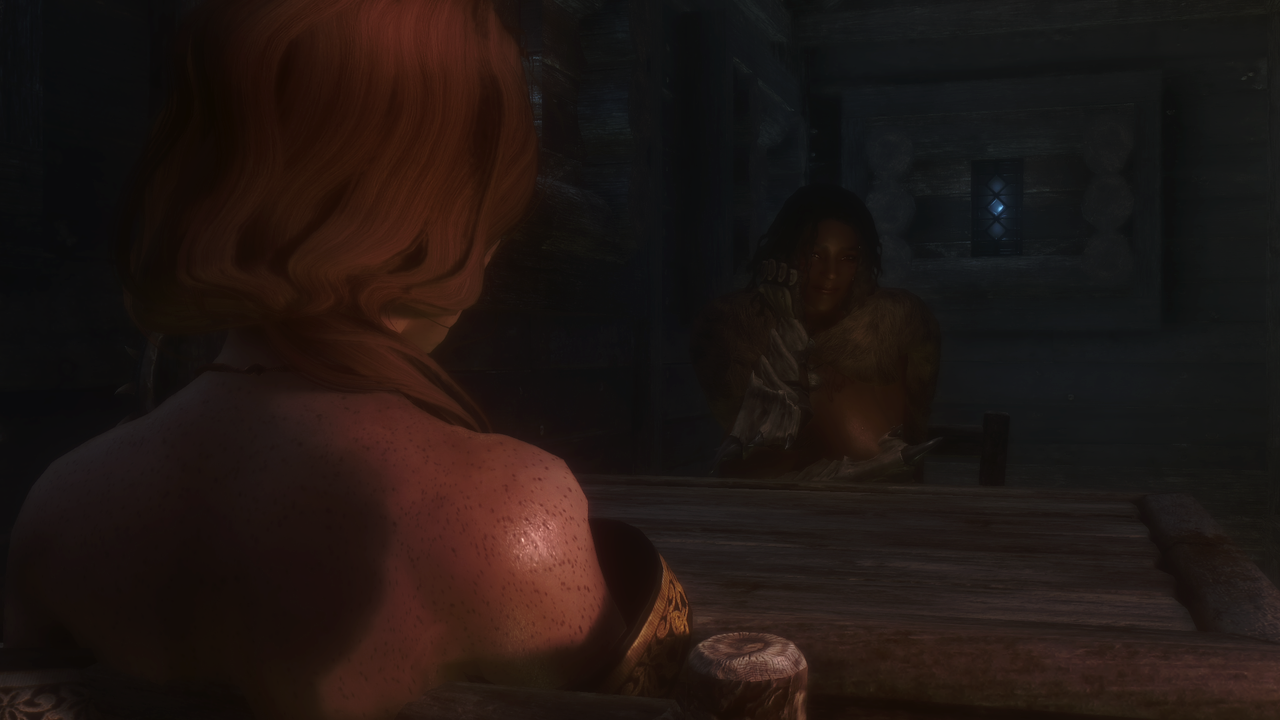 Fiona: Oh! I almost forgot!


Fiona: You have all the Midas books right!
Emily: W-What um.....no i wasn't there as long, Mora only gave me a few due to being there 2 months less than you. Why?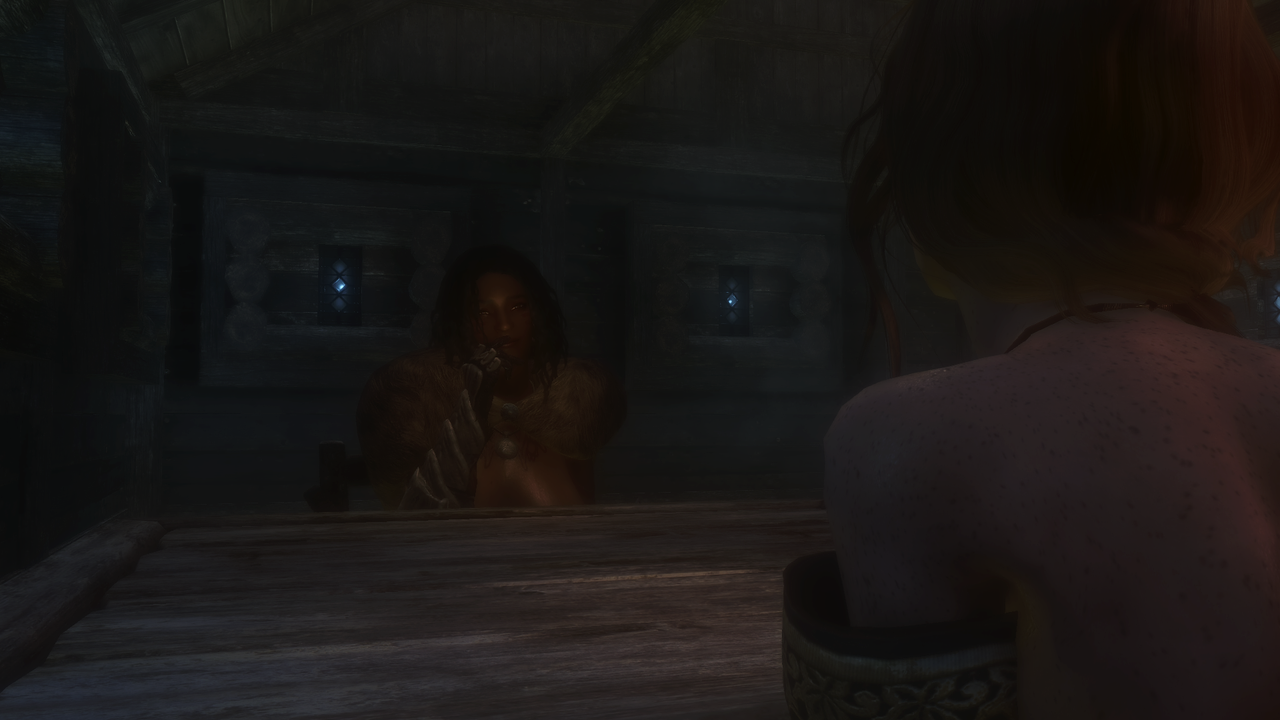 Fiona: Oh um.....i'm looking for a specific book, one that can bring back the dead.
Emily: Just get Dead Thrall it works the same.
Fiona: No i mean.....hold on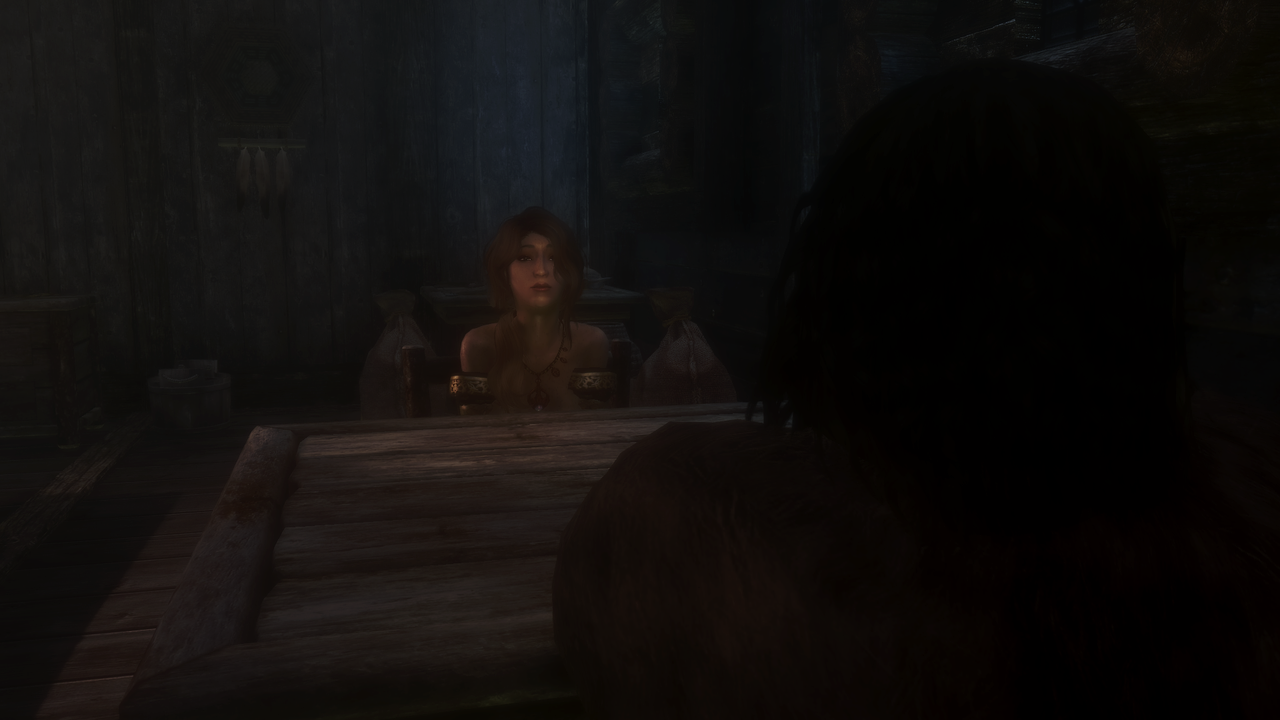 *Leans up*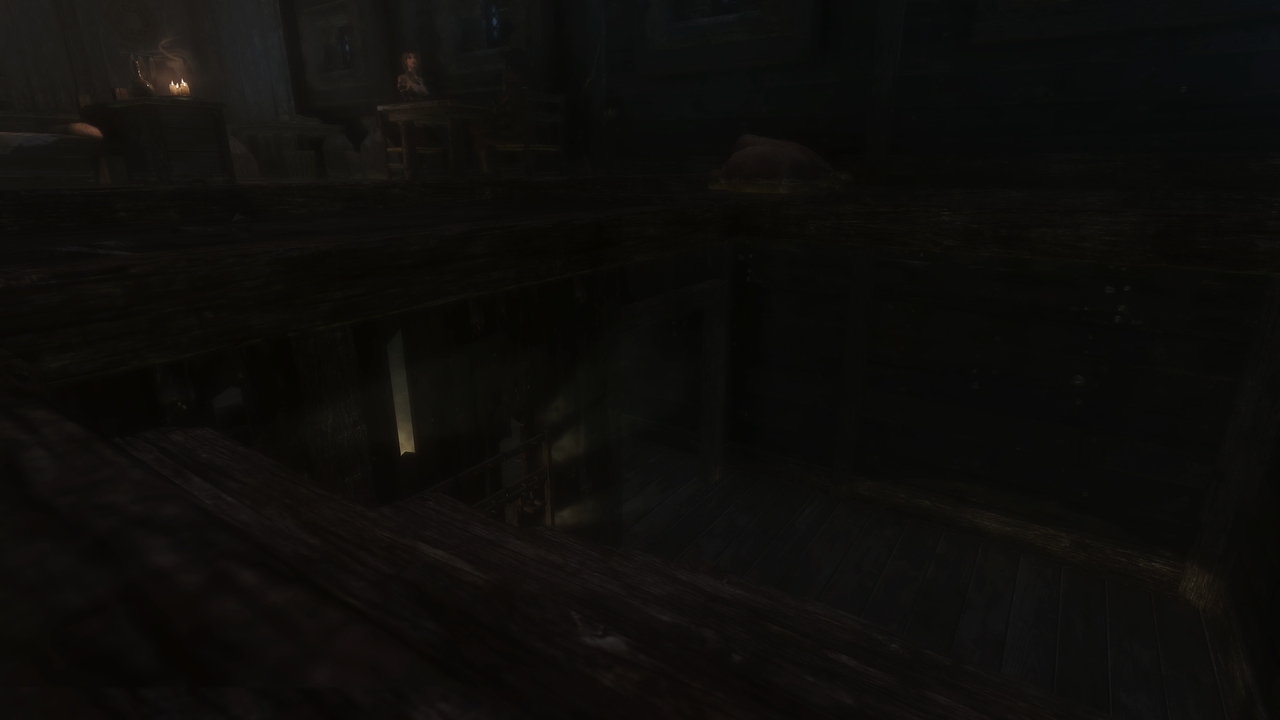 *Leans over*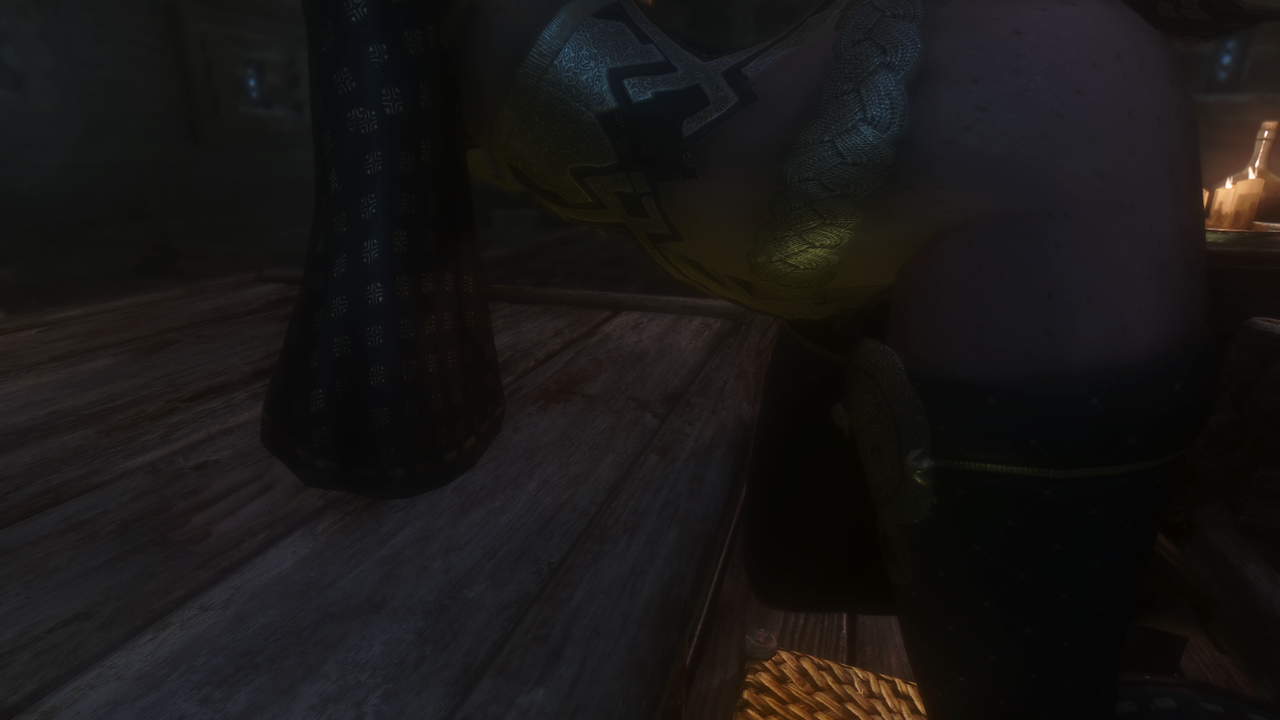 Fiona: *whispering*Returning them fully to life.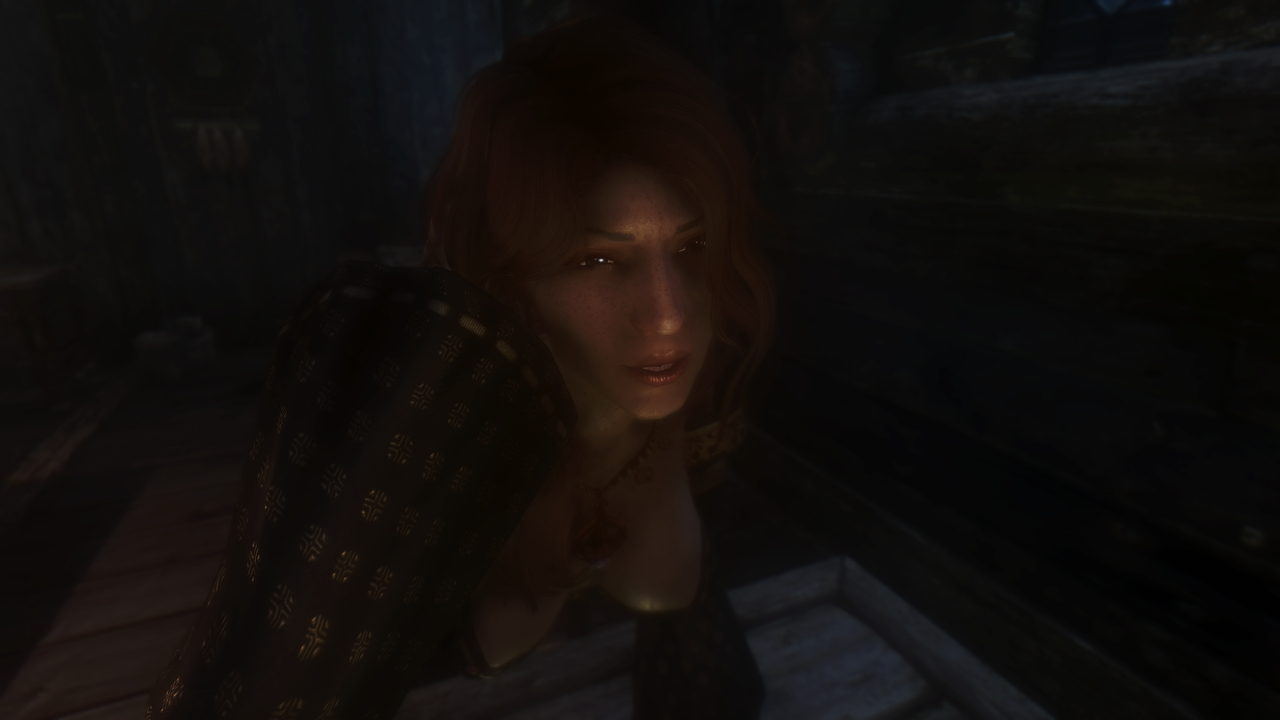 Emily: *whispering*Oh....you must be talking about Midas Resurrect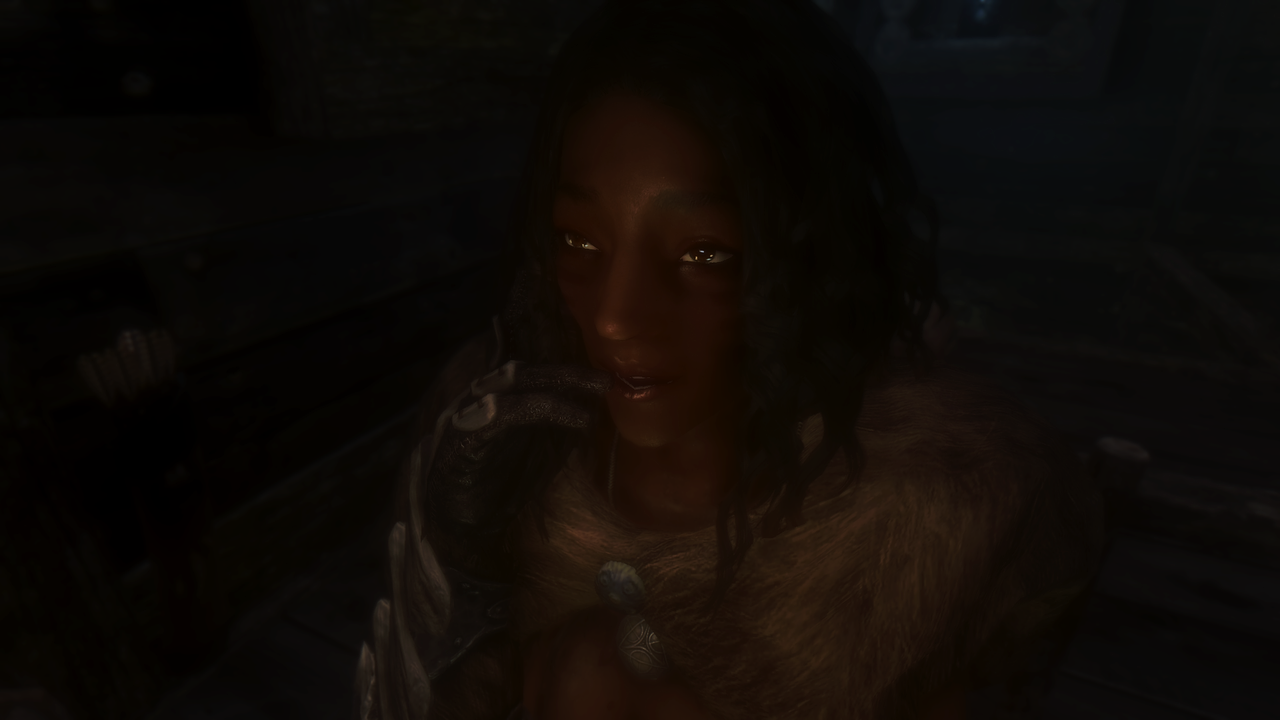 Fiona: Oh, so you have it.
Emily: Yes, doesn't work like other tomes though, you have to chant this one, tome doesn't burn up either.
Fiona: Could i have it, i'd like to try it, i ne-
Emily: it won't work.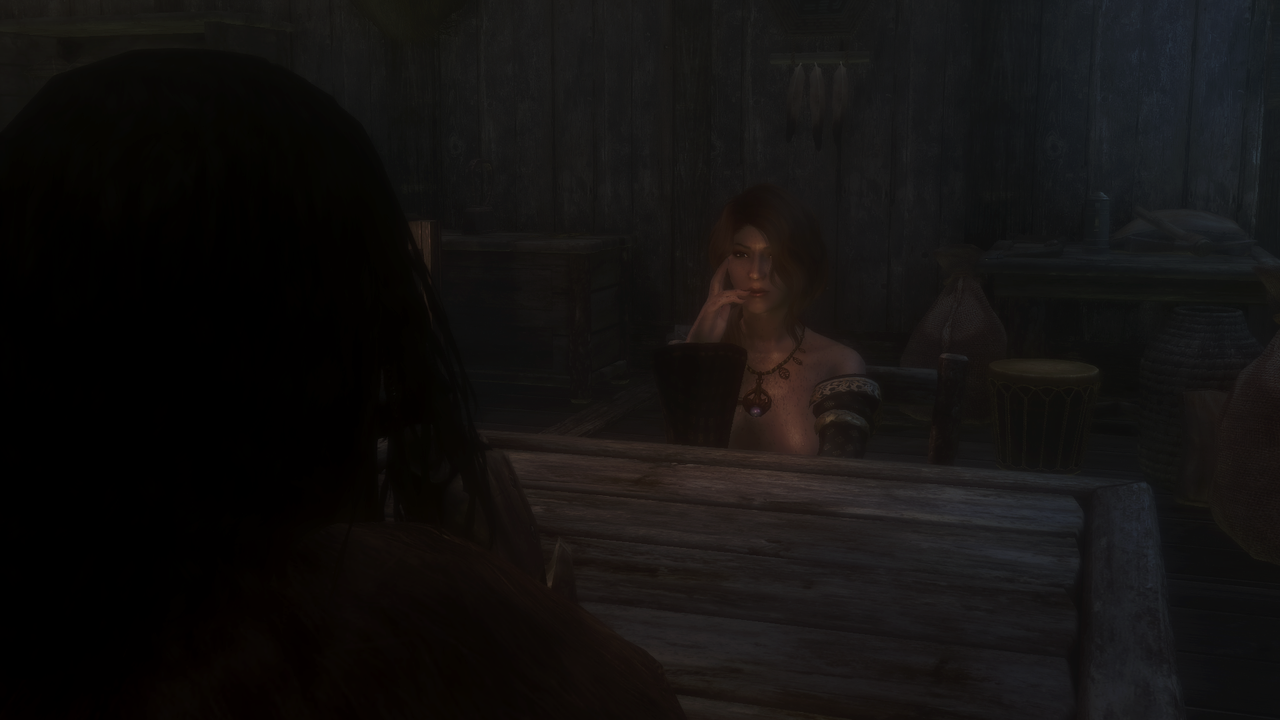 Fiona: Huh?
Emily: whoever you want to bring back, it won't work.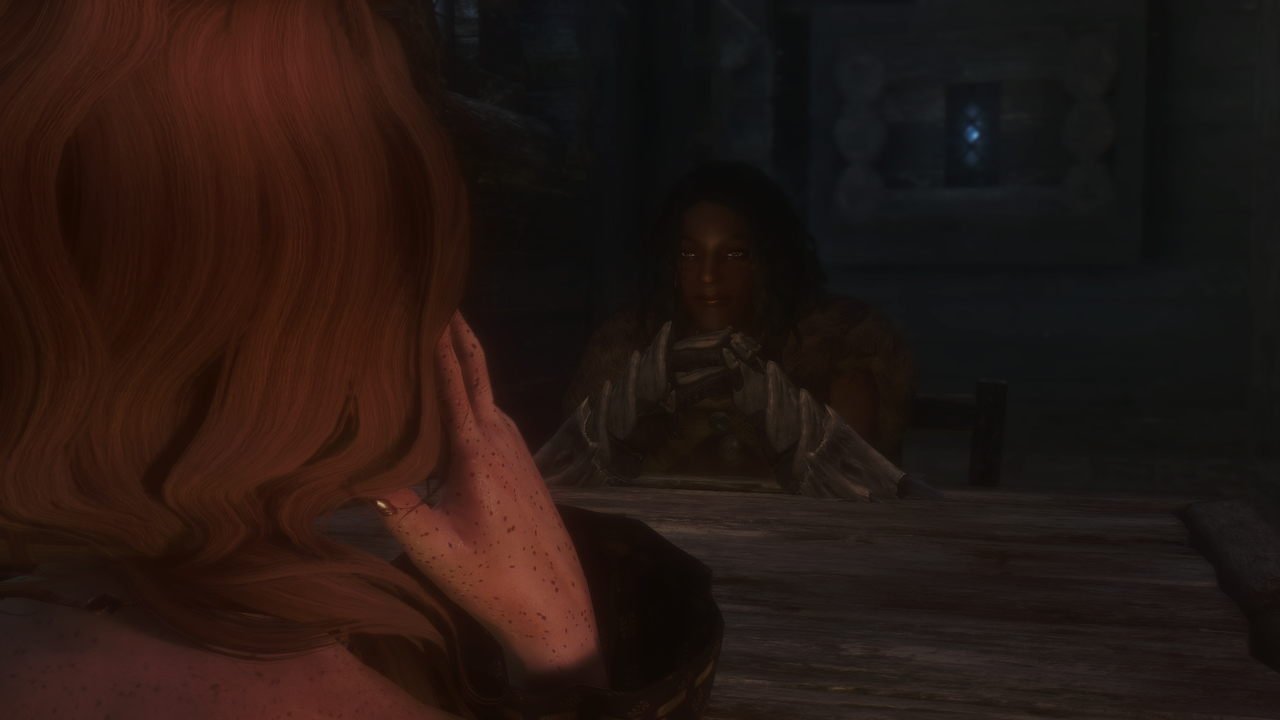 Fiona: W-what why?
Emily: That spell its.......really complicated.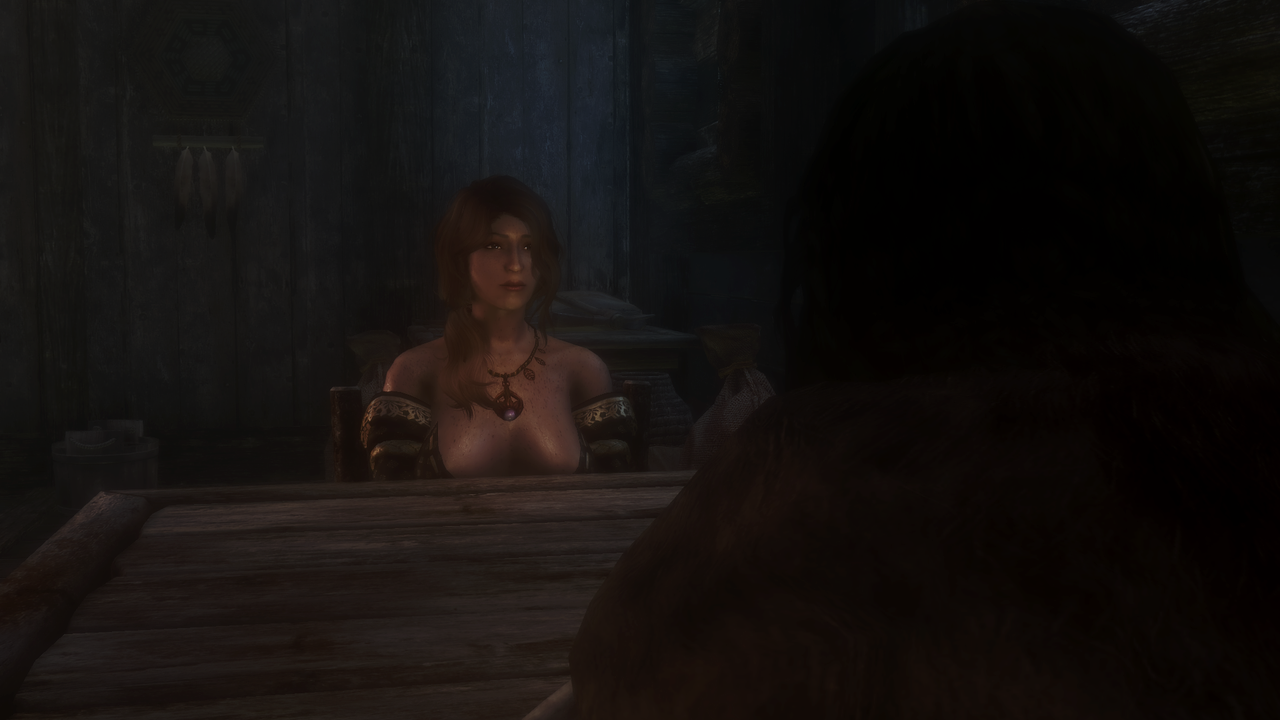 Fiona: What do you mean.
Emily: It sounds like a dream come true. A spell that can revive a person from even a pile of mush, until you see the requirements and rules.


Emily: You need to have a certain magical level, a specific item from a specific type of person, plus its failure rate goes up to 99.5% if you are human and its 88% if mer, i think it was 20% of Daedra.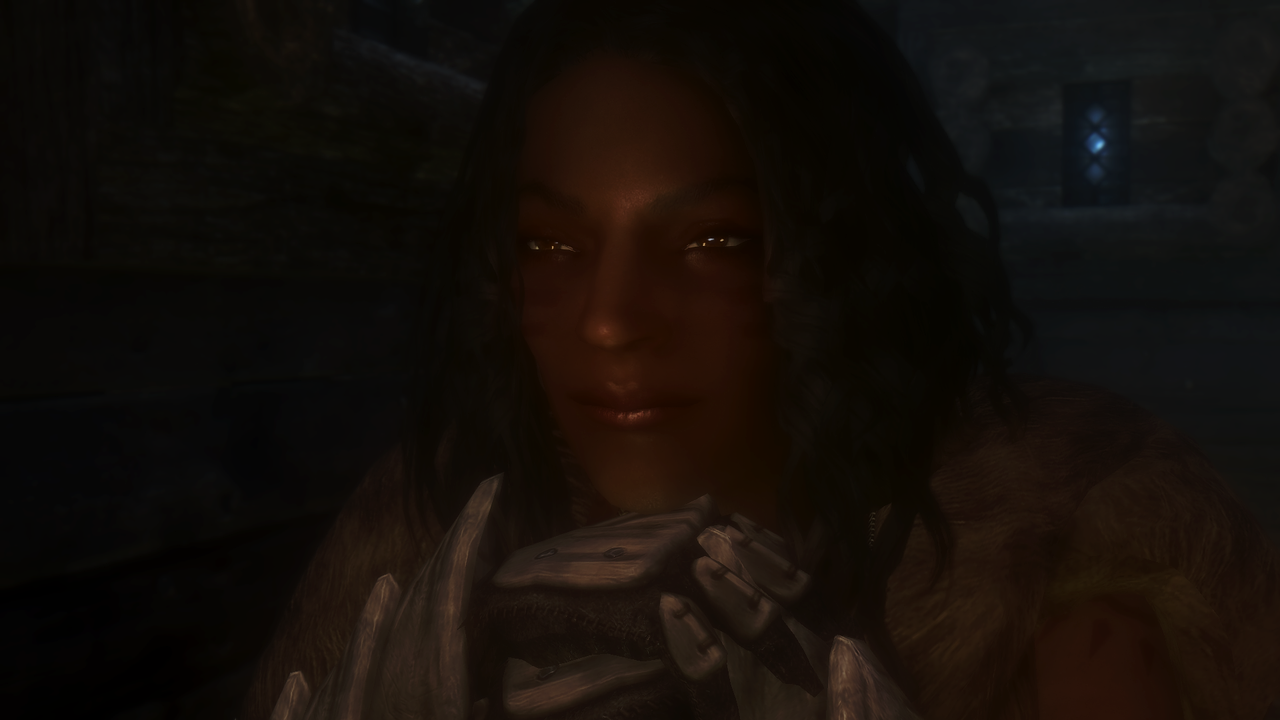 Fiona: that still seems doable, if i make someone else do it after giving them magic th-
Emily: The last rule has kept me from using it all together.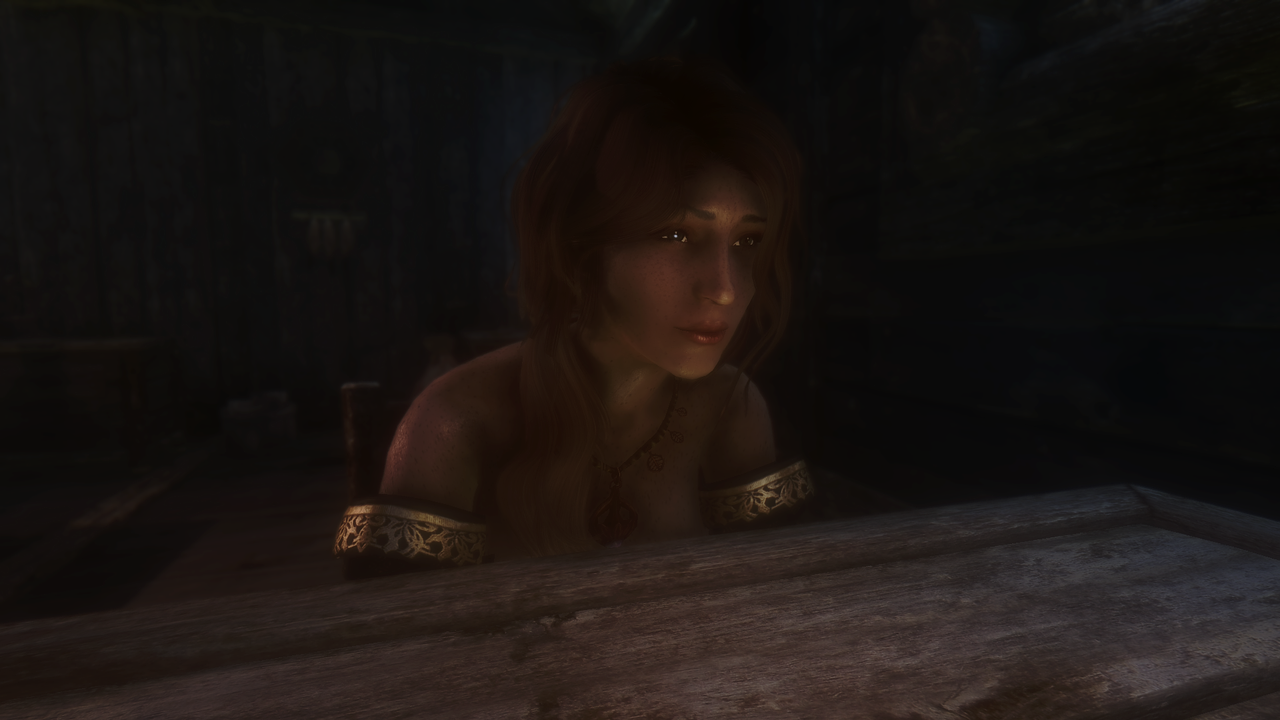 Emily: "This spell will heal all wounds, but it cannot return a person from death if they have been deceased for over 10 minutes. It will also fail if the soul does not wish to come back." w-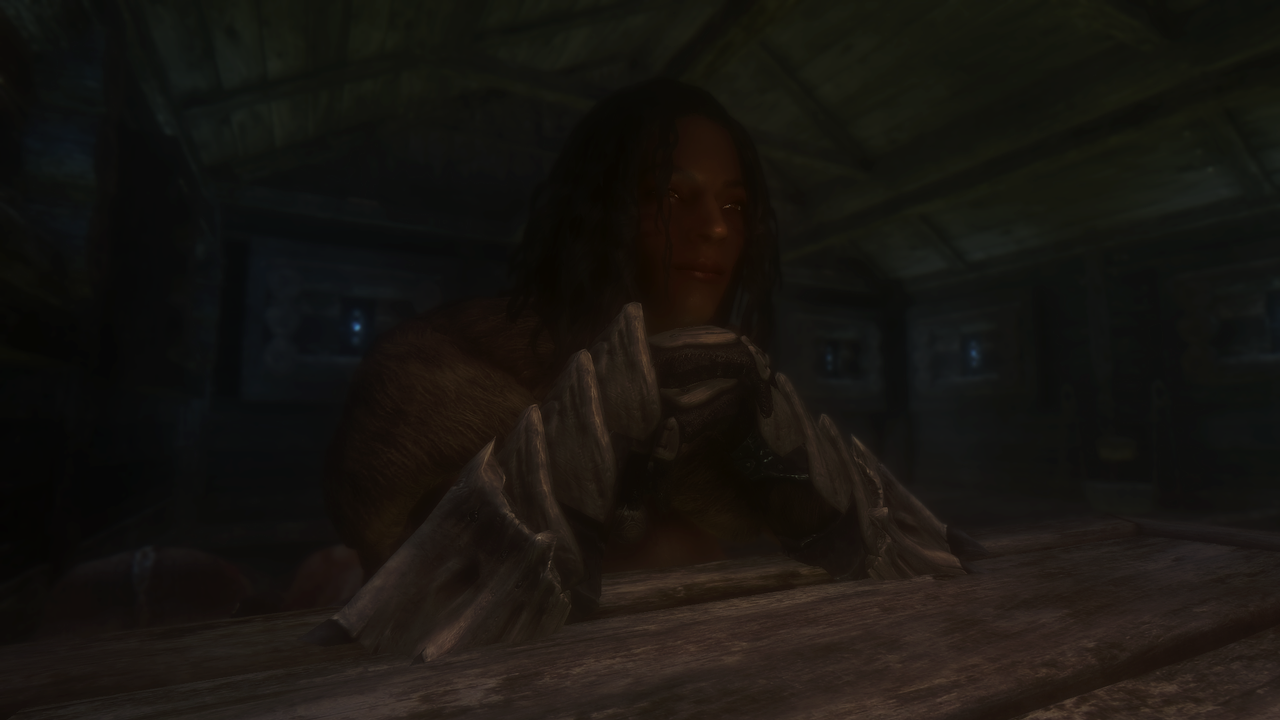 Fiona: that-
Emily: I'm not done.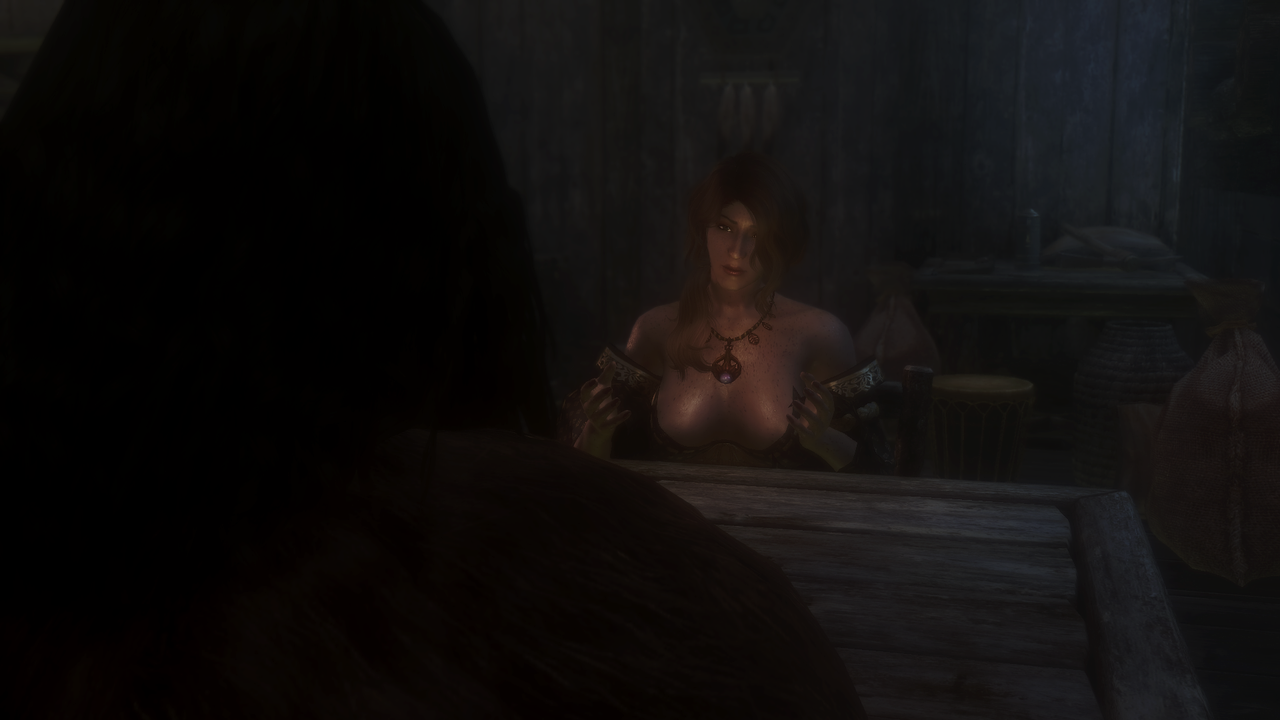 Emily: "Which means Failure to meet any of these requirements including doing the chant wrong will result in death."
Fiona: W-what, a-are you sure.
Emily: I read it over 20 times, i'm 500% sure.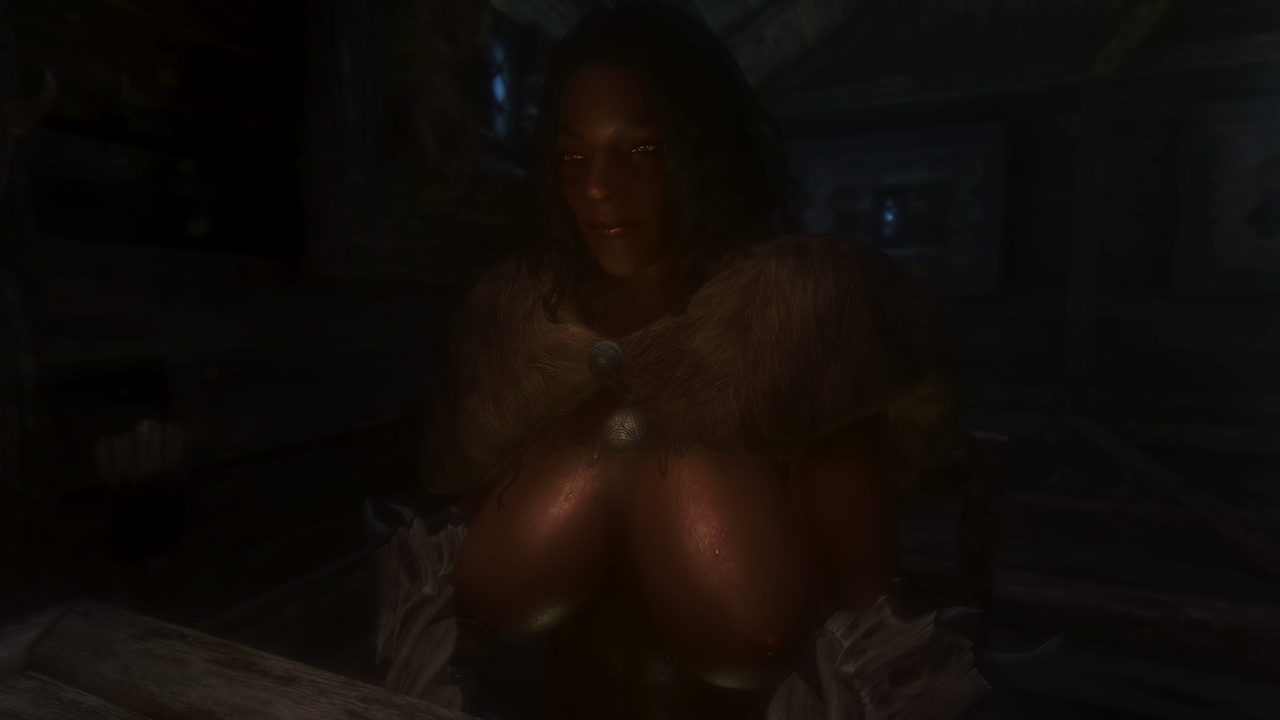 Fiona: Fuck
Emily: Sorry.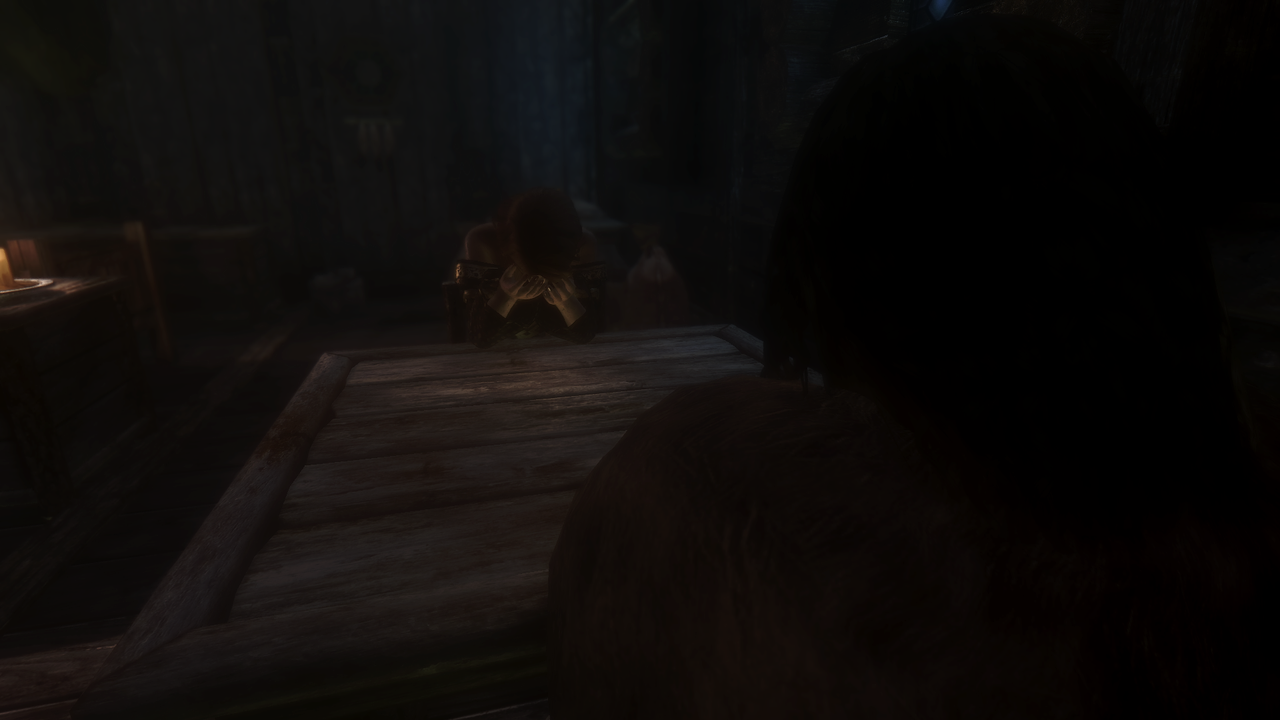 Fiona: I thought.....i could be with her.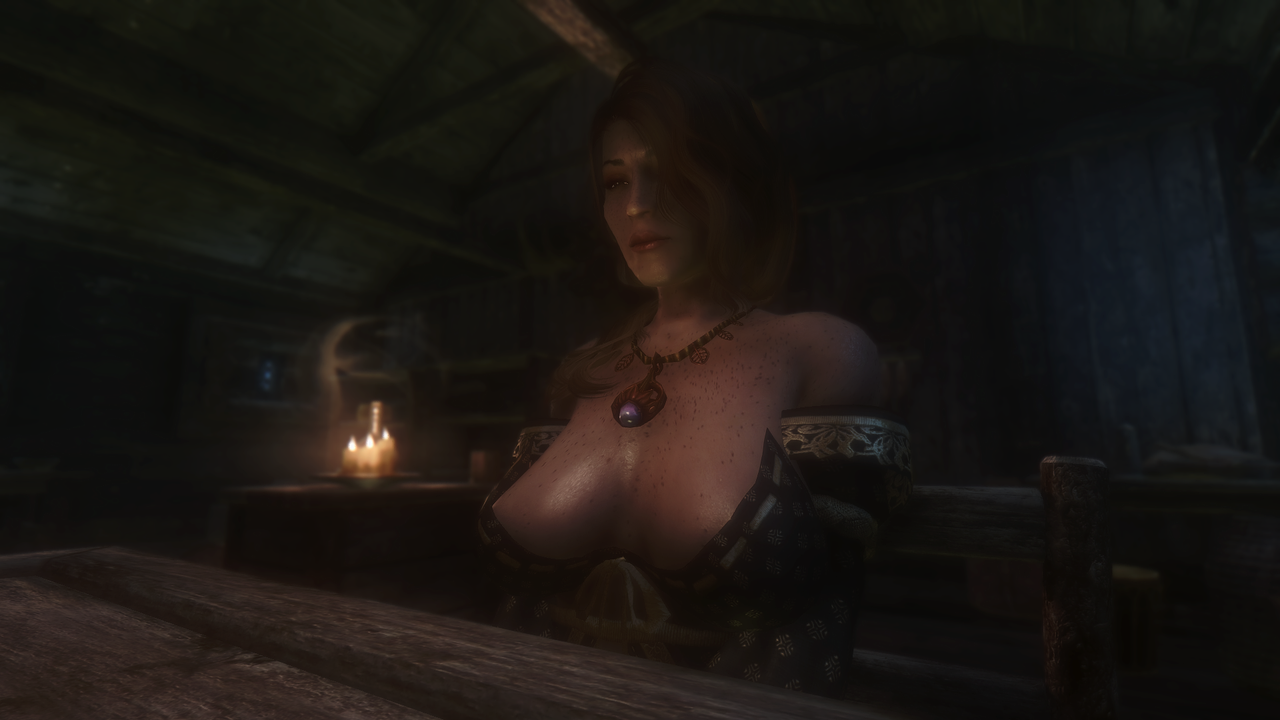 Emily: Sorry
Fiona: No need to apologize, saved me the trouble of looking for this....*sigh* maybe theres another spell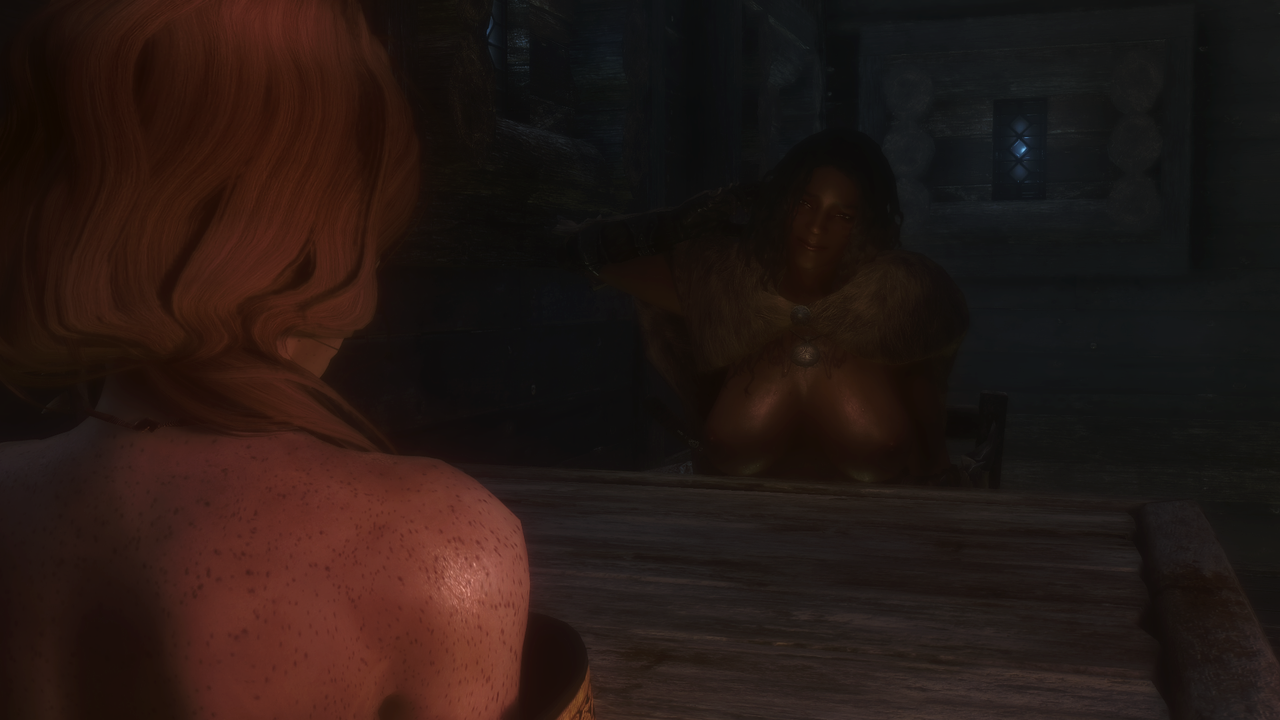 Fiona: Well thanks for the information, thats everything i wanted to talk about.
Emily: Okay.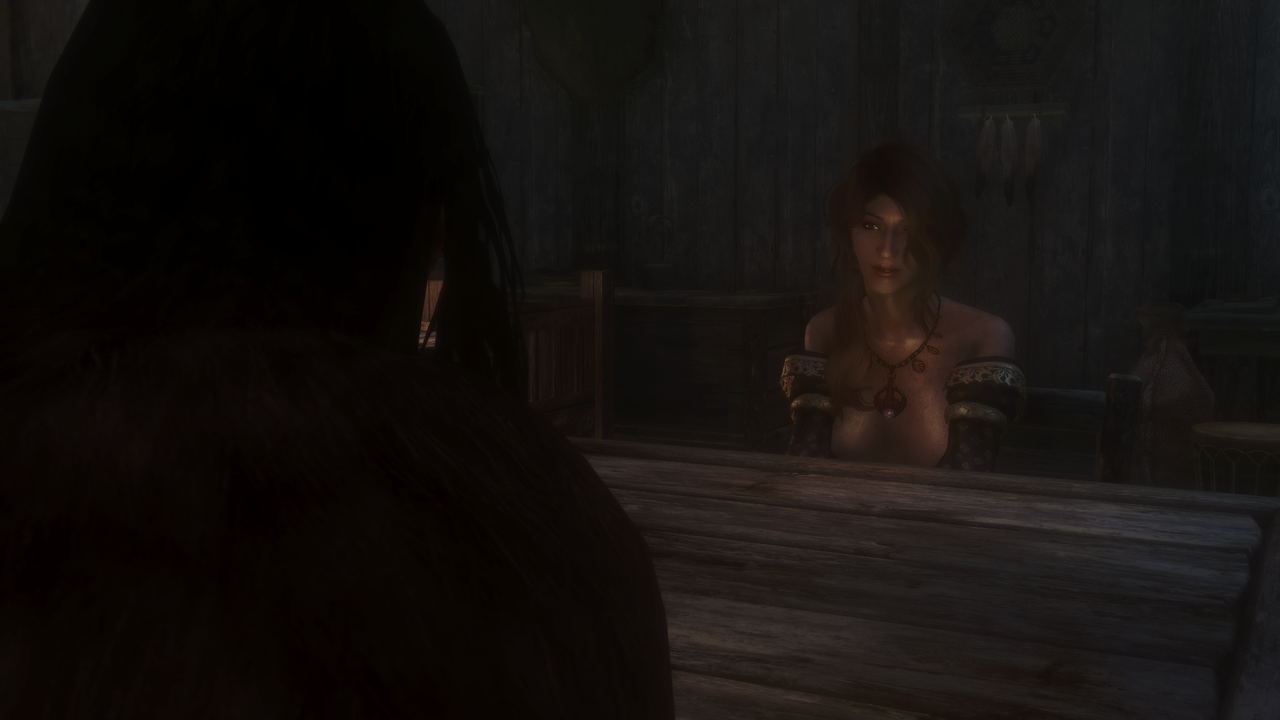 Emily: *stretching*Mmmmm!!! Thanks for telling me about those warriors too, will help me out a lot later if i see one of the others.
Fiona: No problem.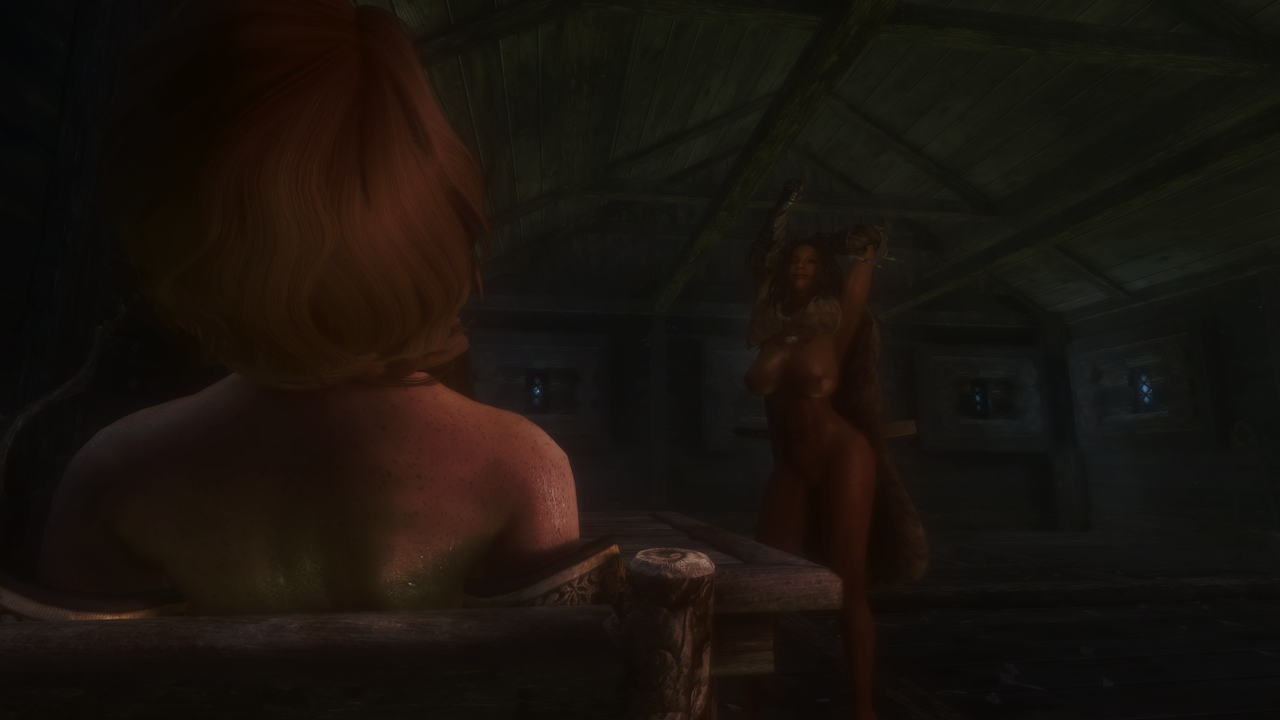 Fiona: Stay safe okay, watch out for those warriors.
Emily: same to you.
Fiona: Huh? Why would i.
Emily: Well its just like you said.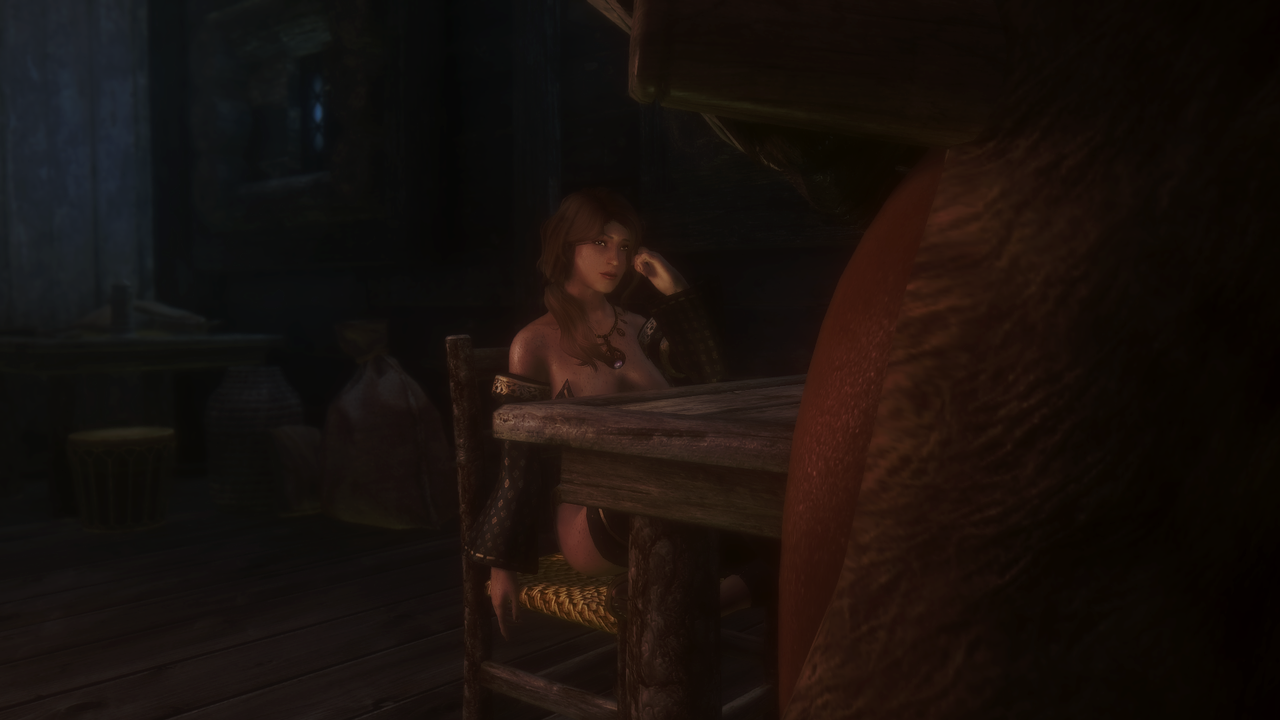 Emily: They go after important people from other Nirns, and those people tend to meet up with important people here. You've met 2 people from another Nirn.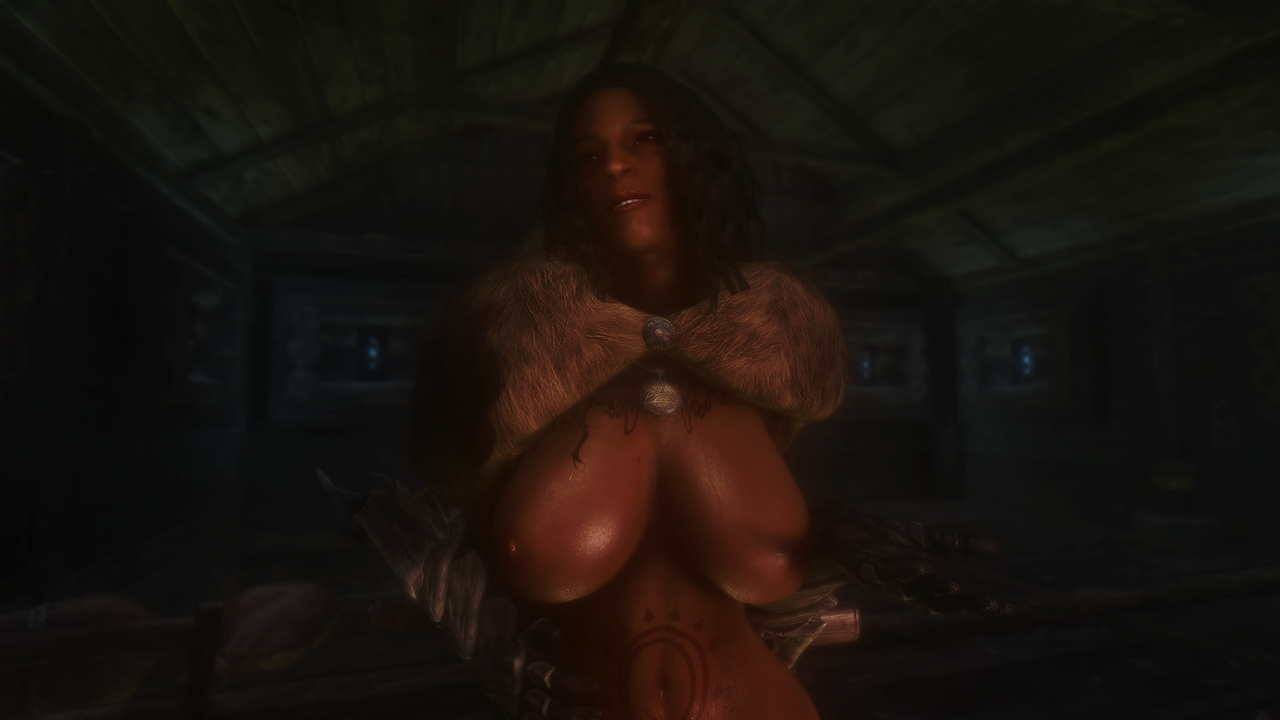 (Present)
Emily: "It wouldn't be odd if the third brother tried going after you or Sylvie next either"
Fiona: Hmmm.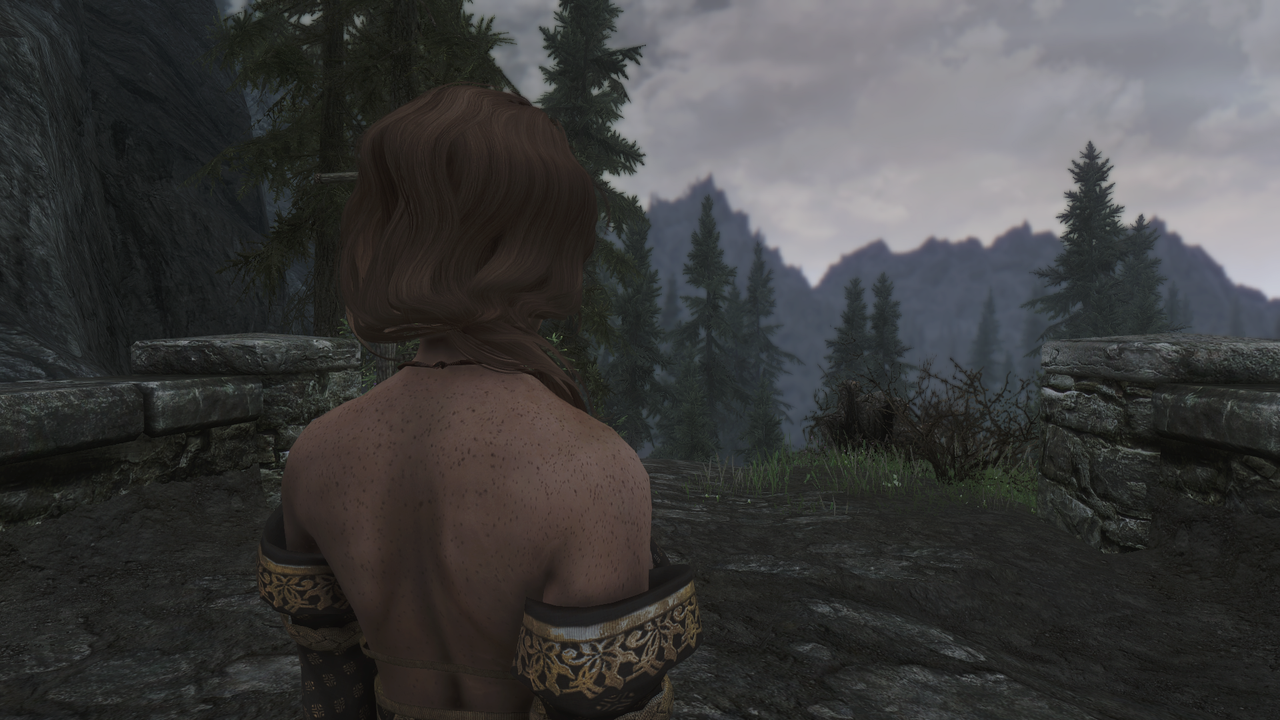 Fiona: I never considered that considering they only went after Emily, but it is possible they could go after me.3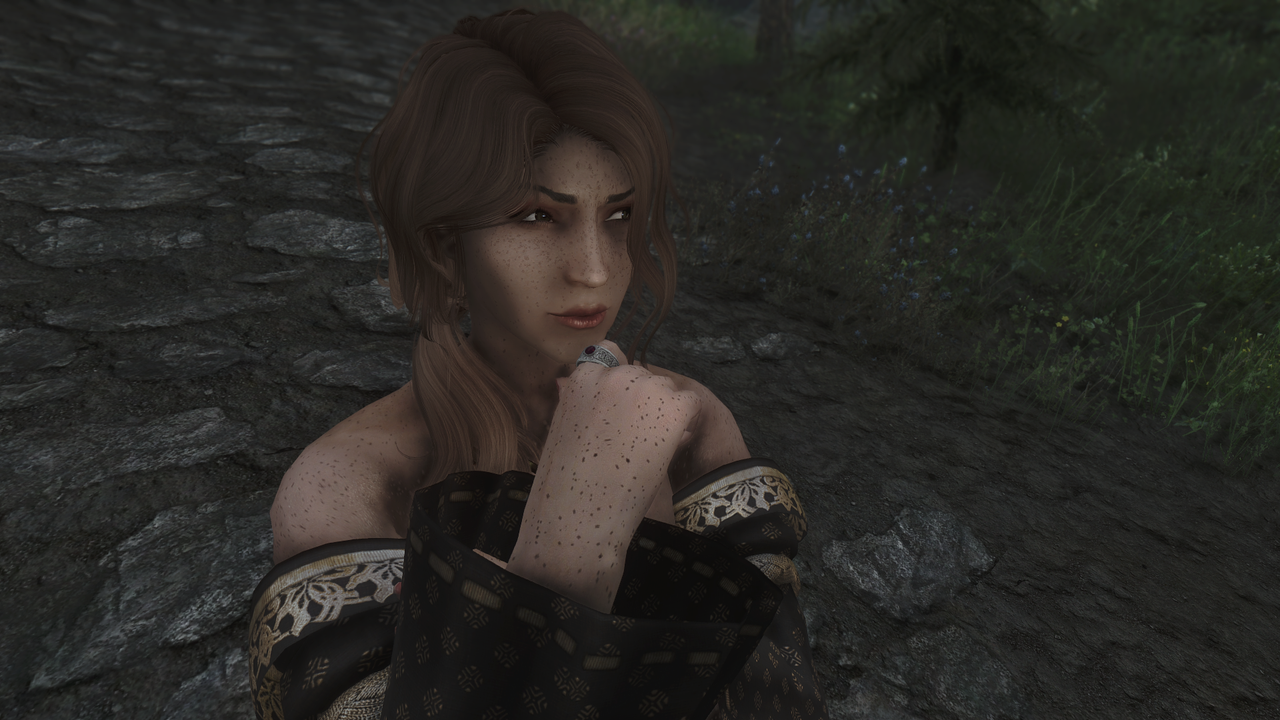 Fiona: i might need to start preparing myself just in case another one shows up.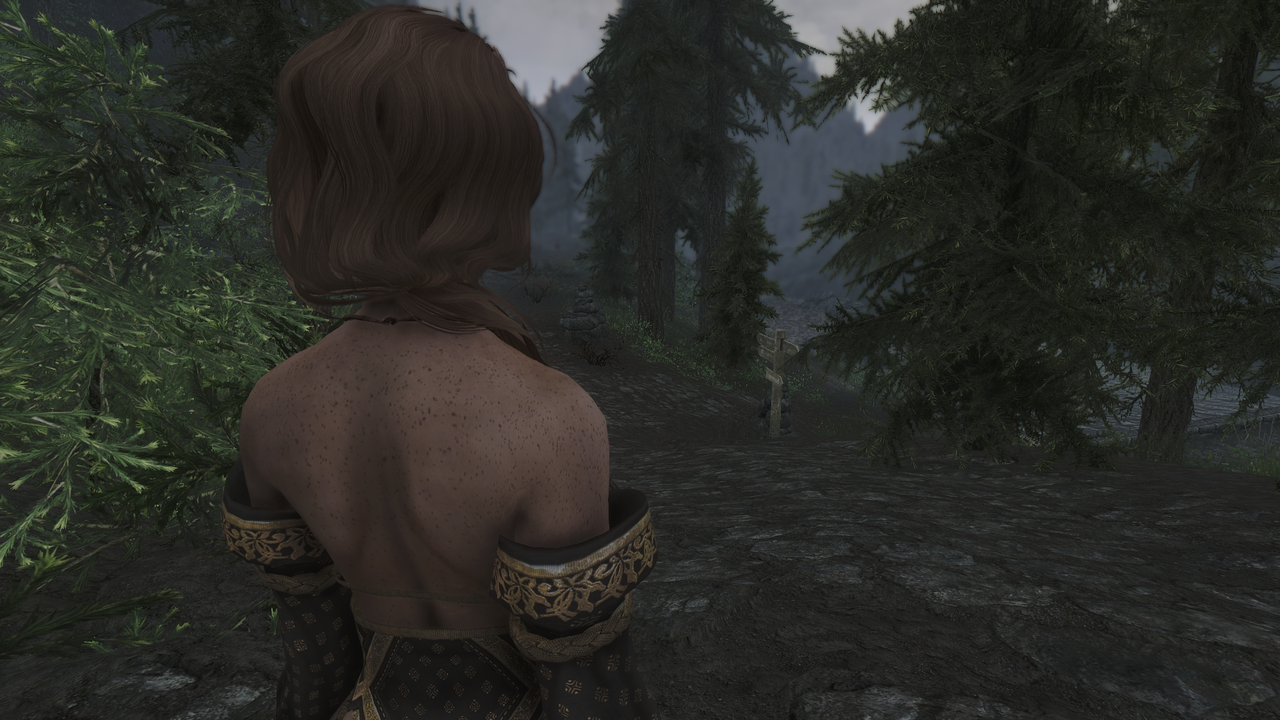 Fiona: Hmmm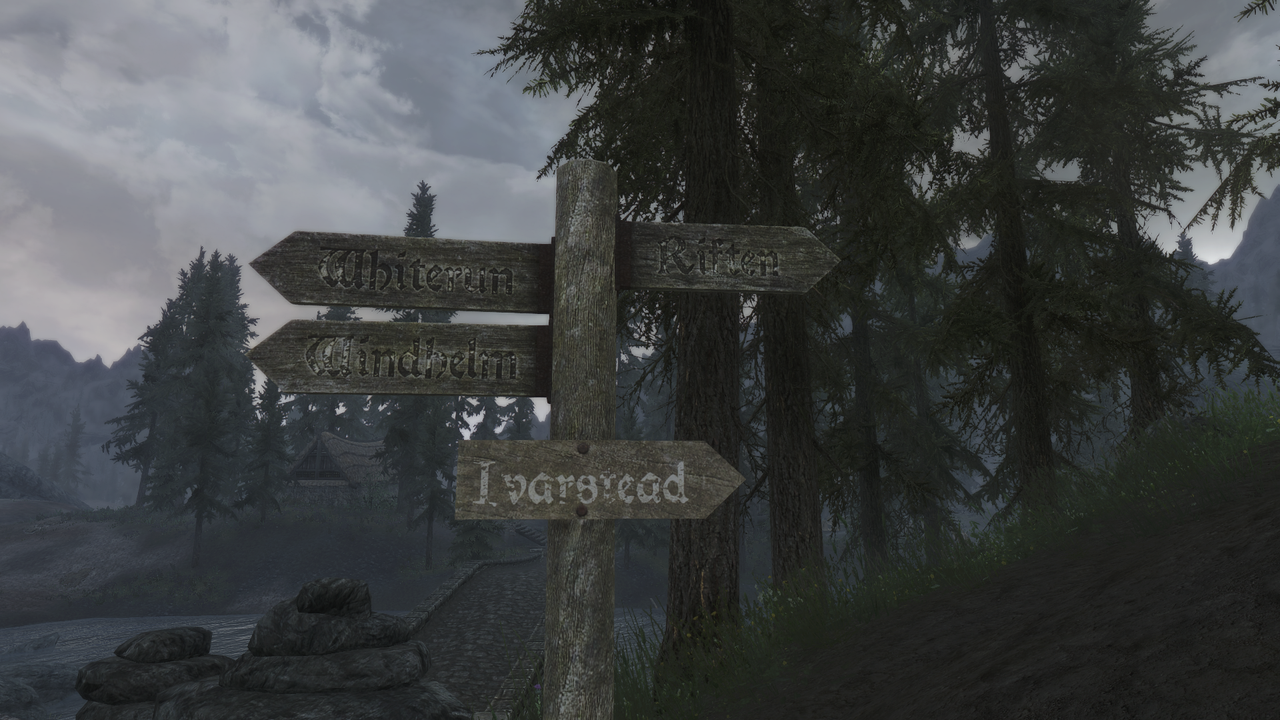 Fiona: Should i rest here or should i just keep going to Whiterun.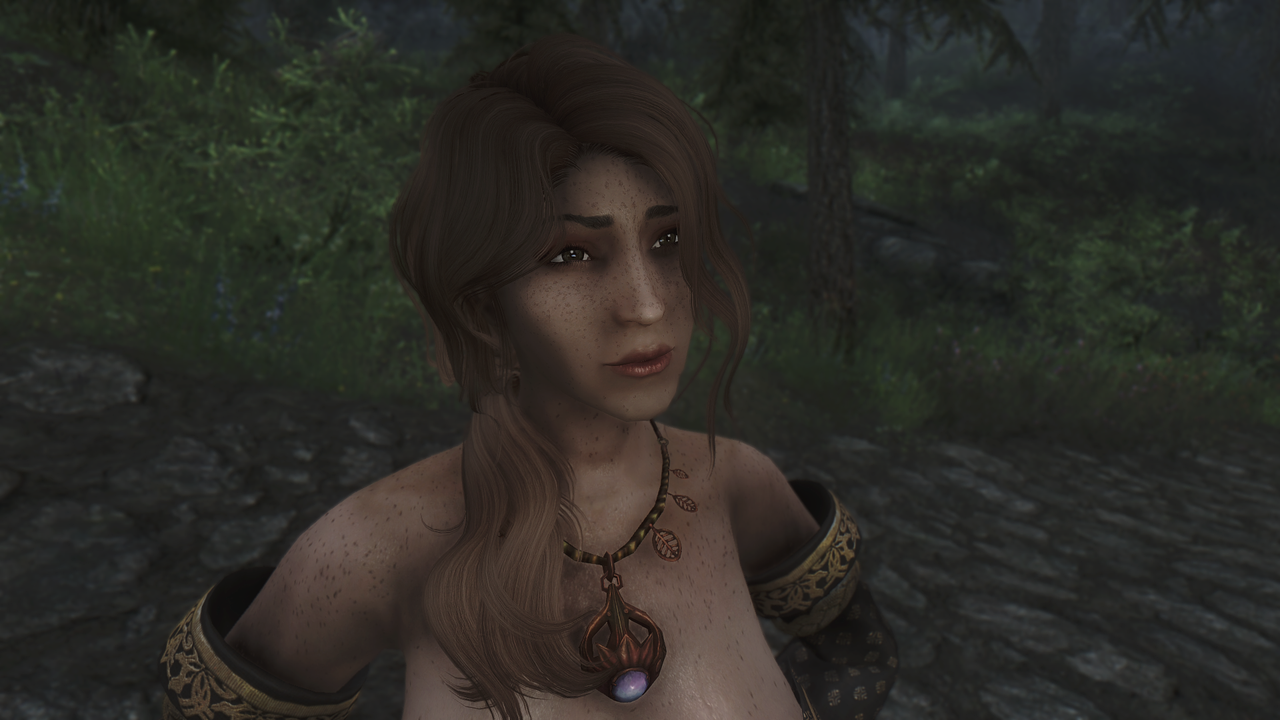 Fiona: I'm pretty sure i carriage should come by.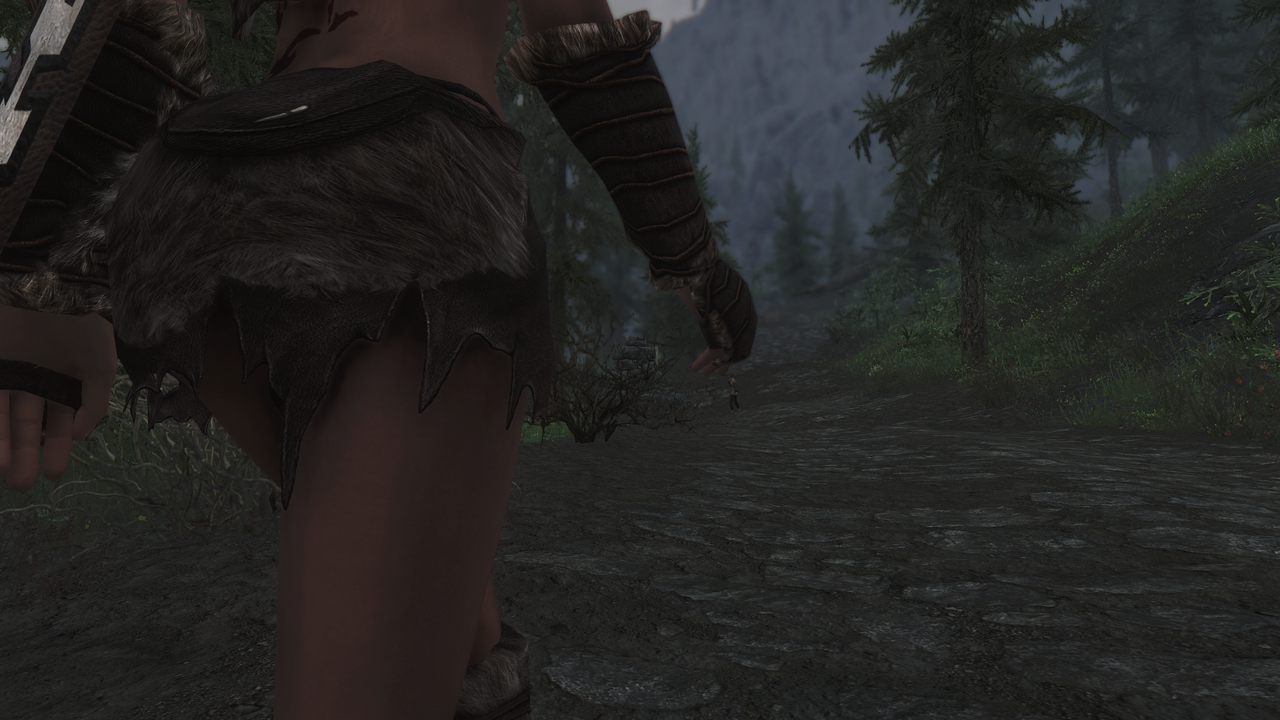 Fiona: Probably would have been smarter to just take on in Windhelm...oh well. Maybe someone nearby kn-
*footsteps*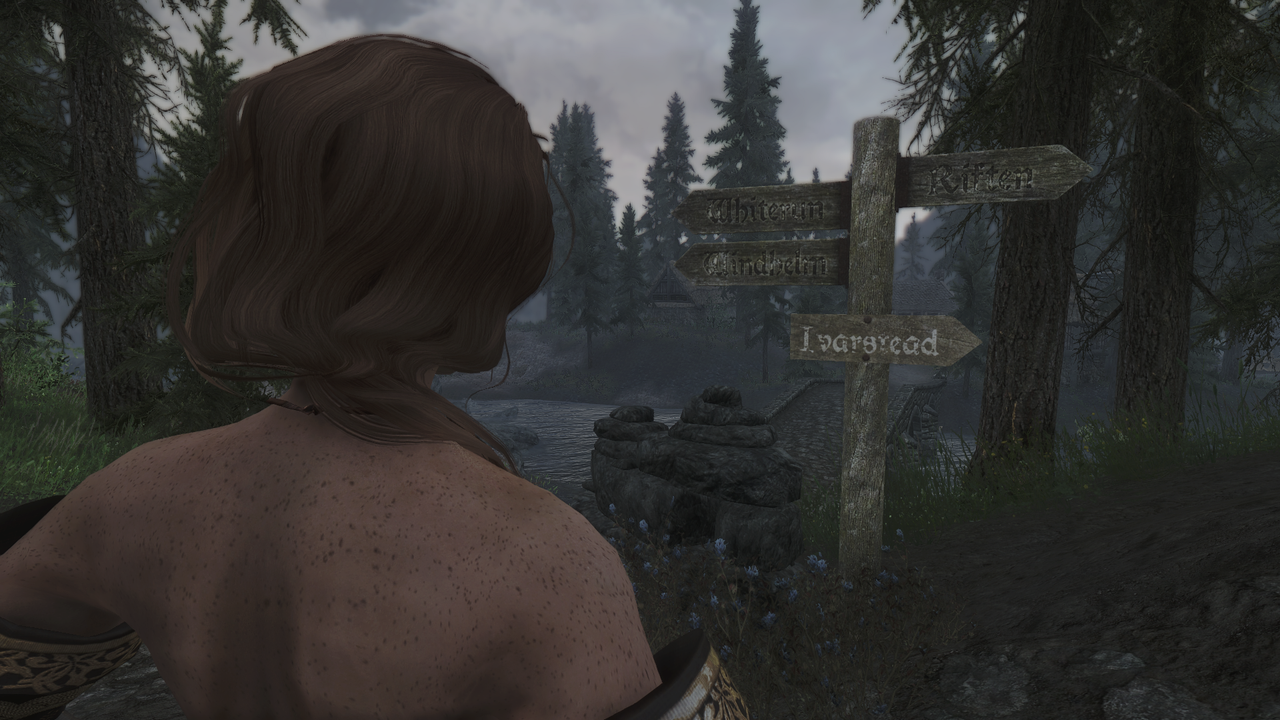 Fiona: Hey, would you happen to know the closest stable or carriage station?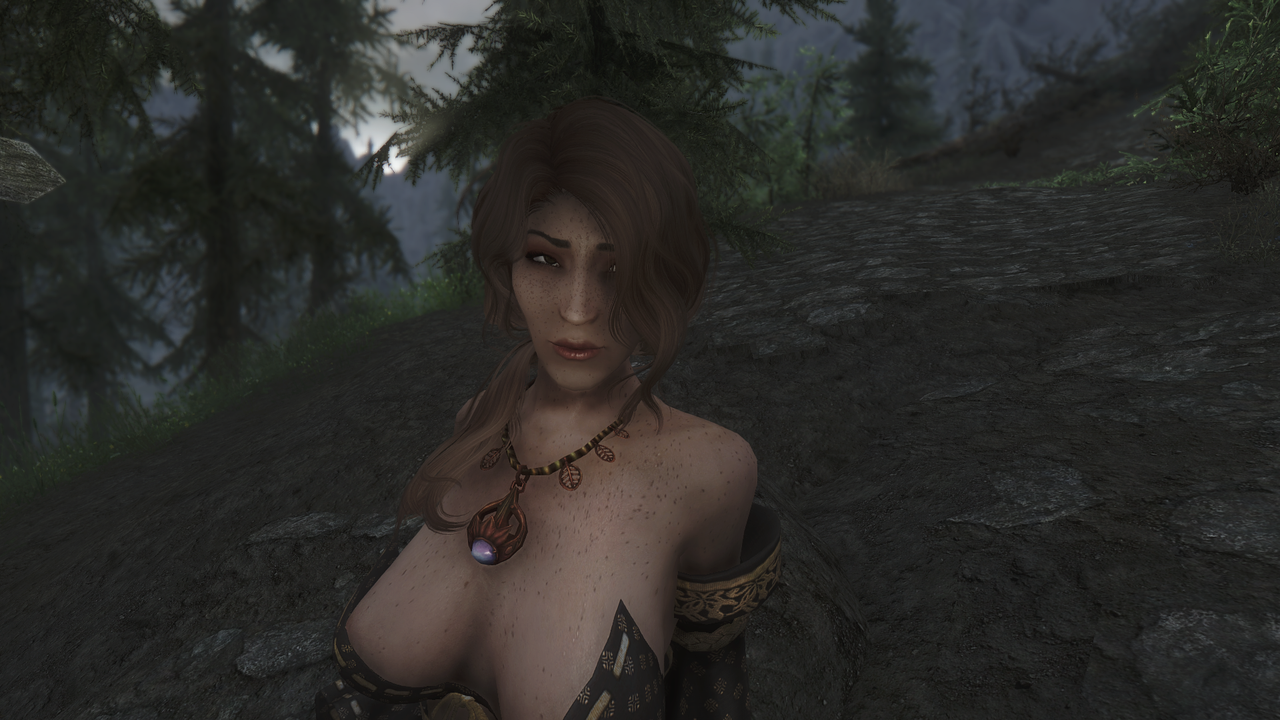 Sylvia: Sure its.....
Fiona: Oh.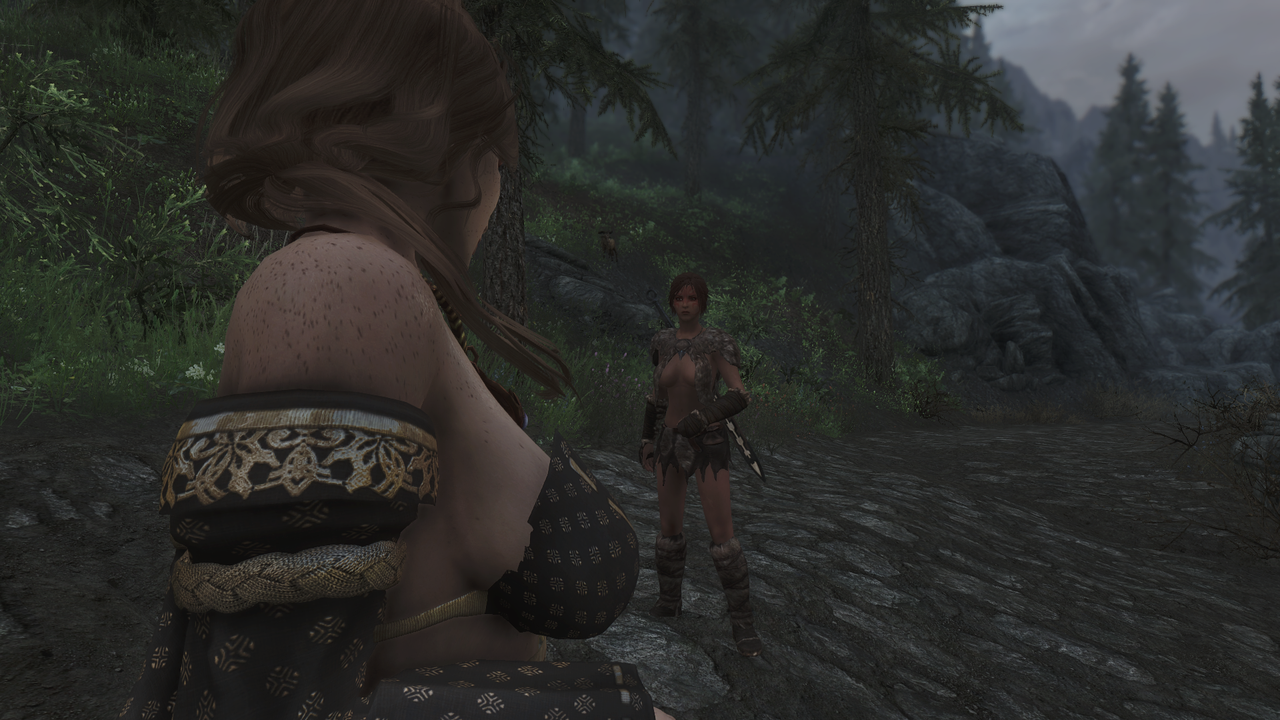 Fiona: Hey there Dog girl.
Sylvia: Fuck....this week keeps getting better and better.


Fiona: How have you been, visited Meeko lately, or did you find another stray to fuck?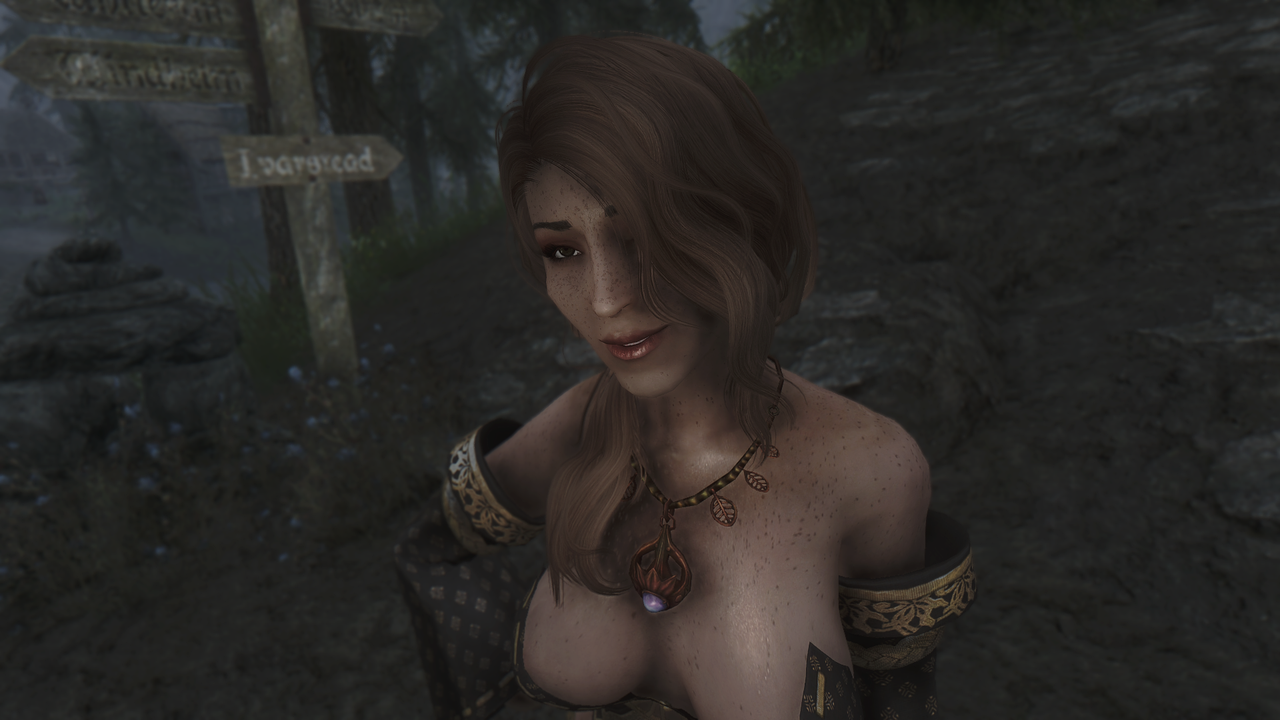 Sylvia: That's none of your business you little midget.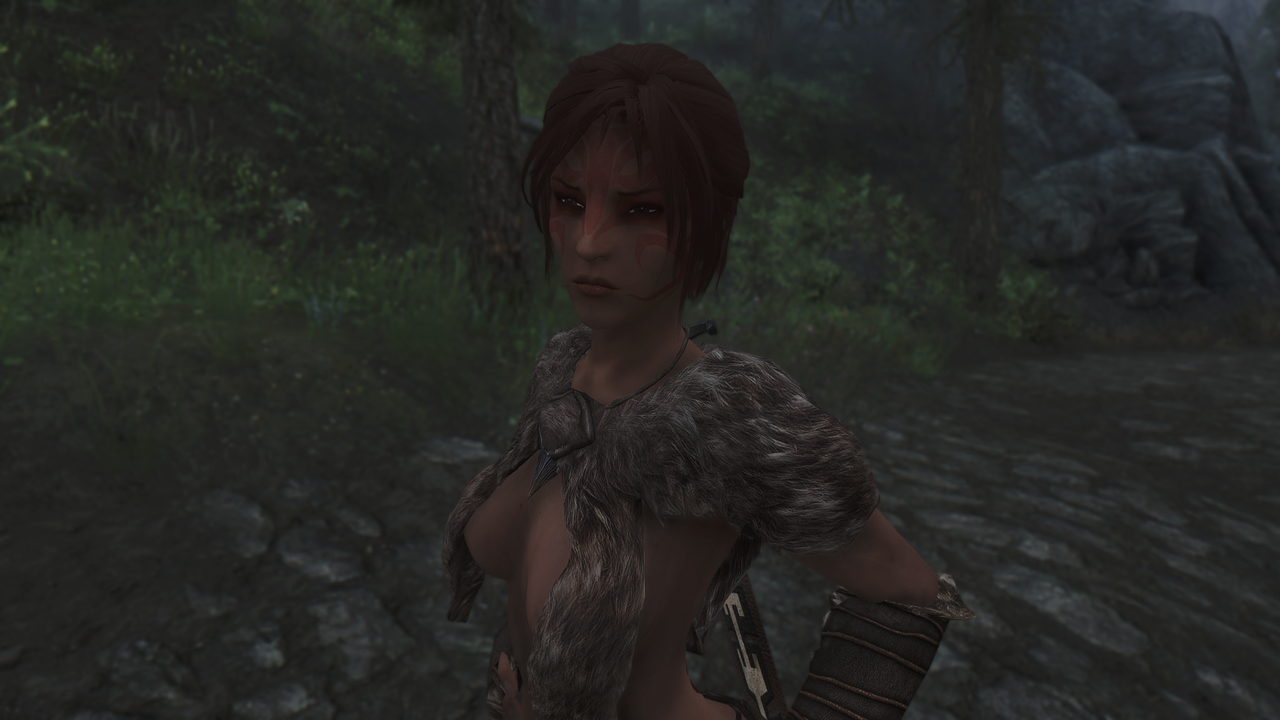 Sylvia: and for your information someone adopted Meeko, now if you'll excuse me.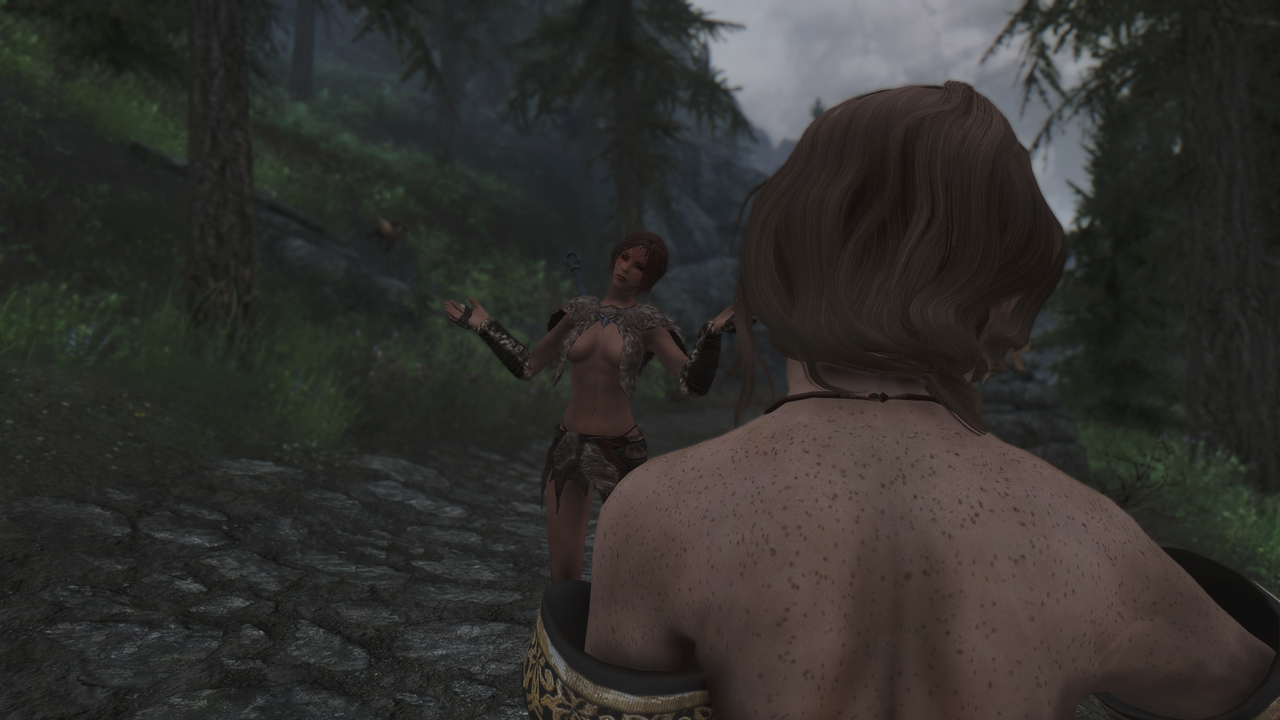 Sylvia: I need a drink.
Fiona: Sure thats fine.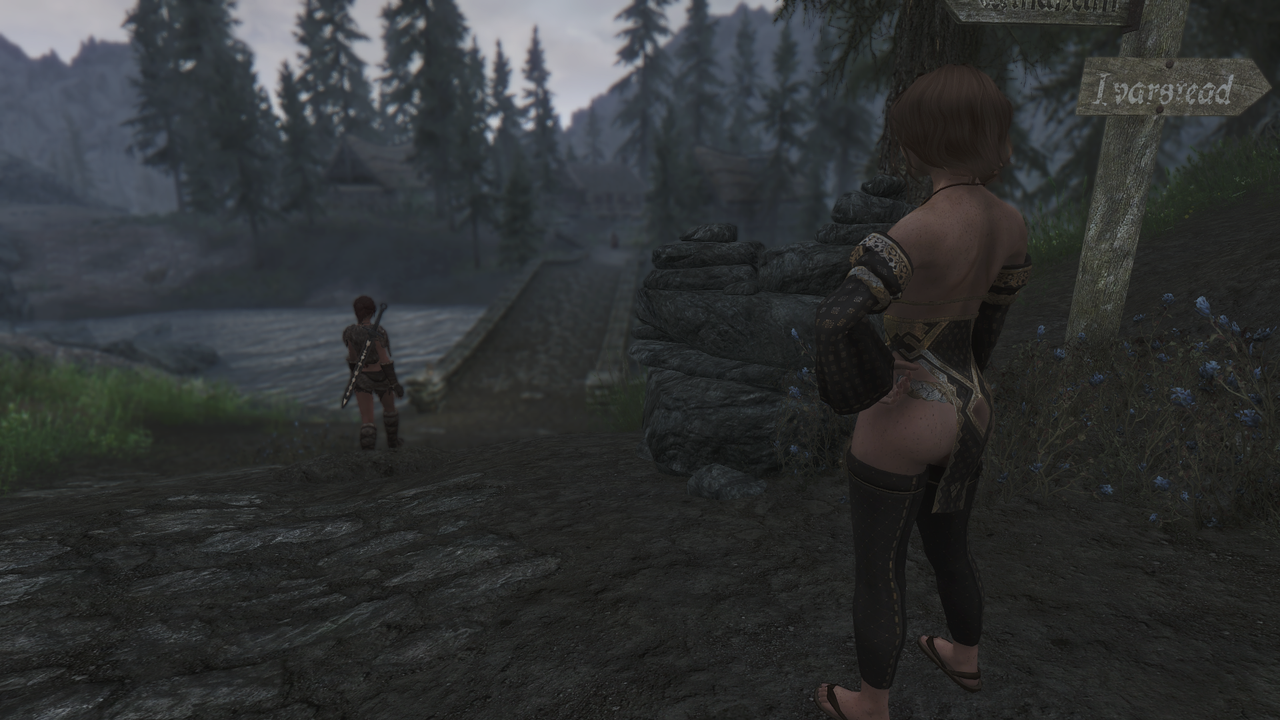 Fiona: Lemme just join you.
Sylvia: Fuck.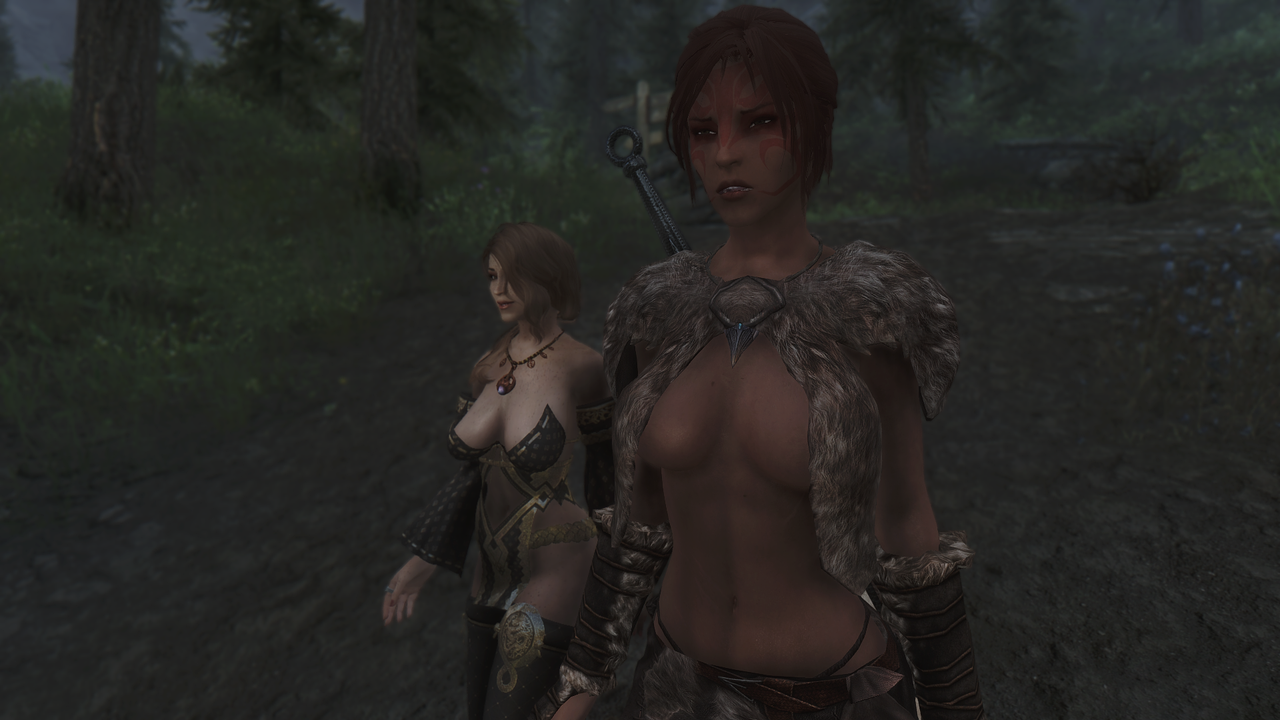 Sylvia: I don't want company, especially from you.
Fiona: Aw don't be like that.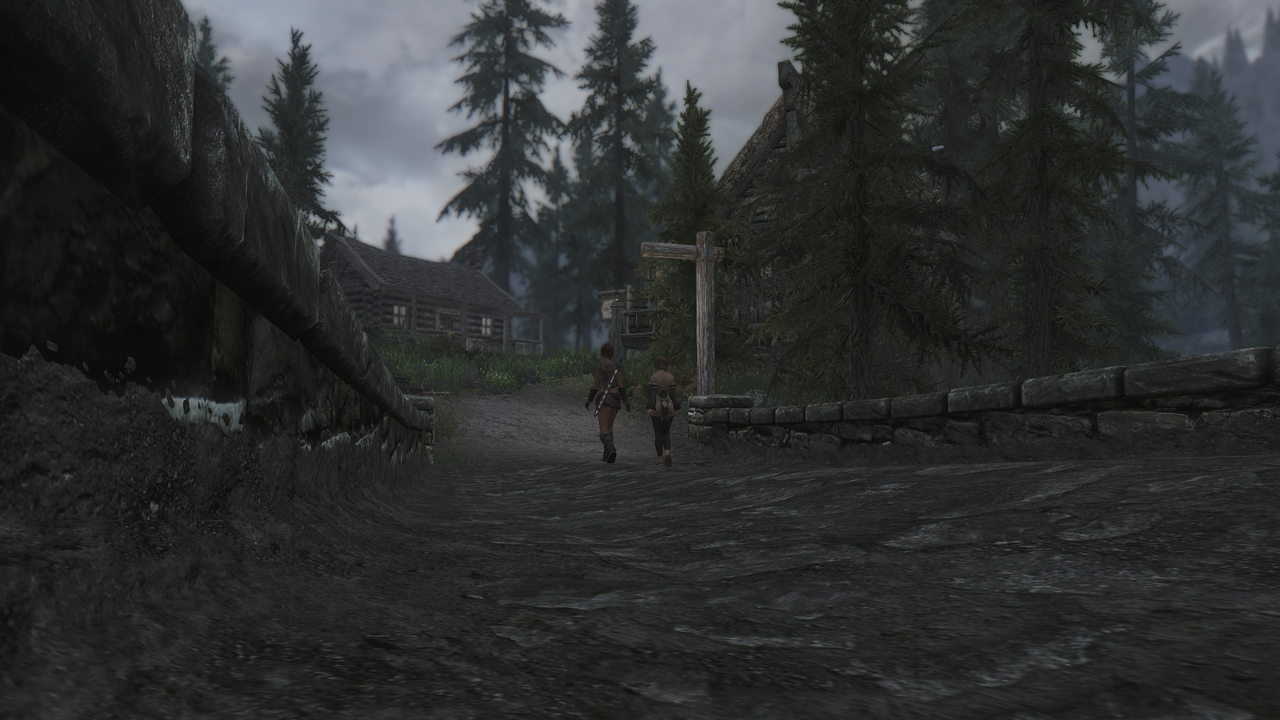 Fiona: After all, you were the one who lead us to that shack. We did have fun right.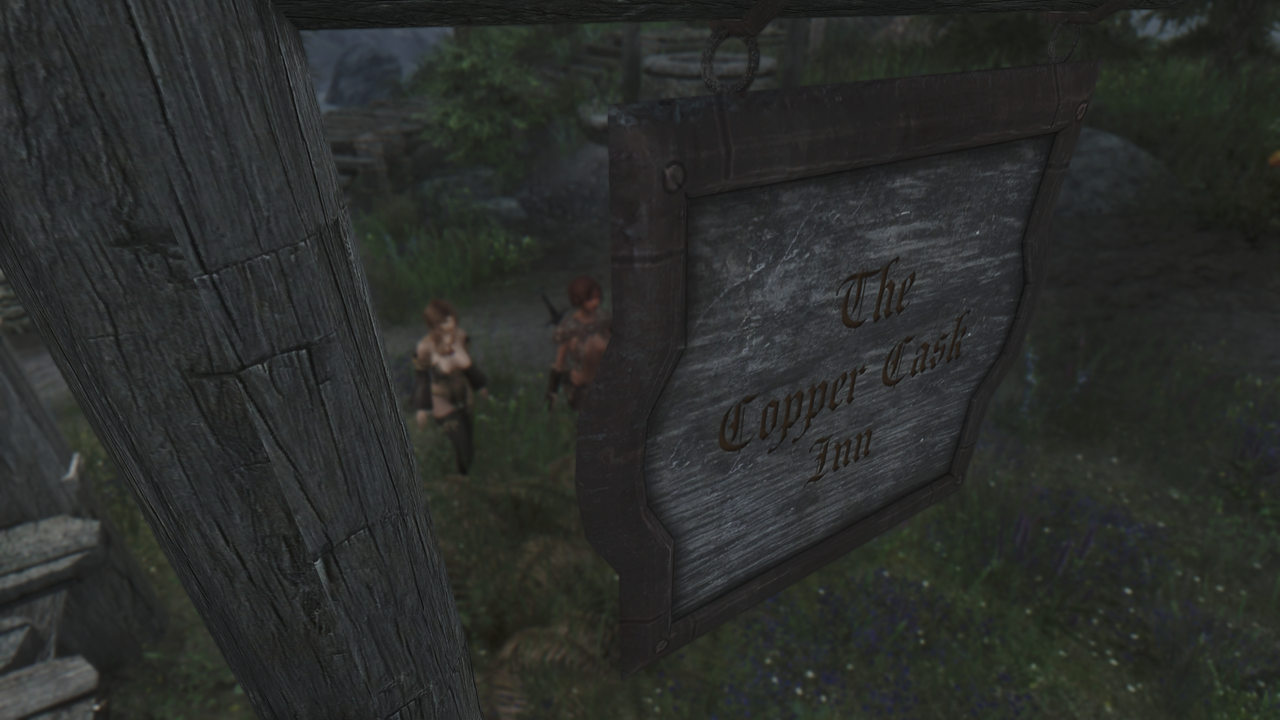 Sylvia: Listen well bitch.
Fiona: Okay i'm listening.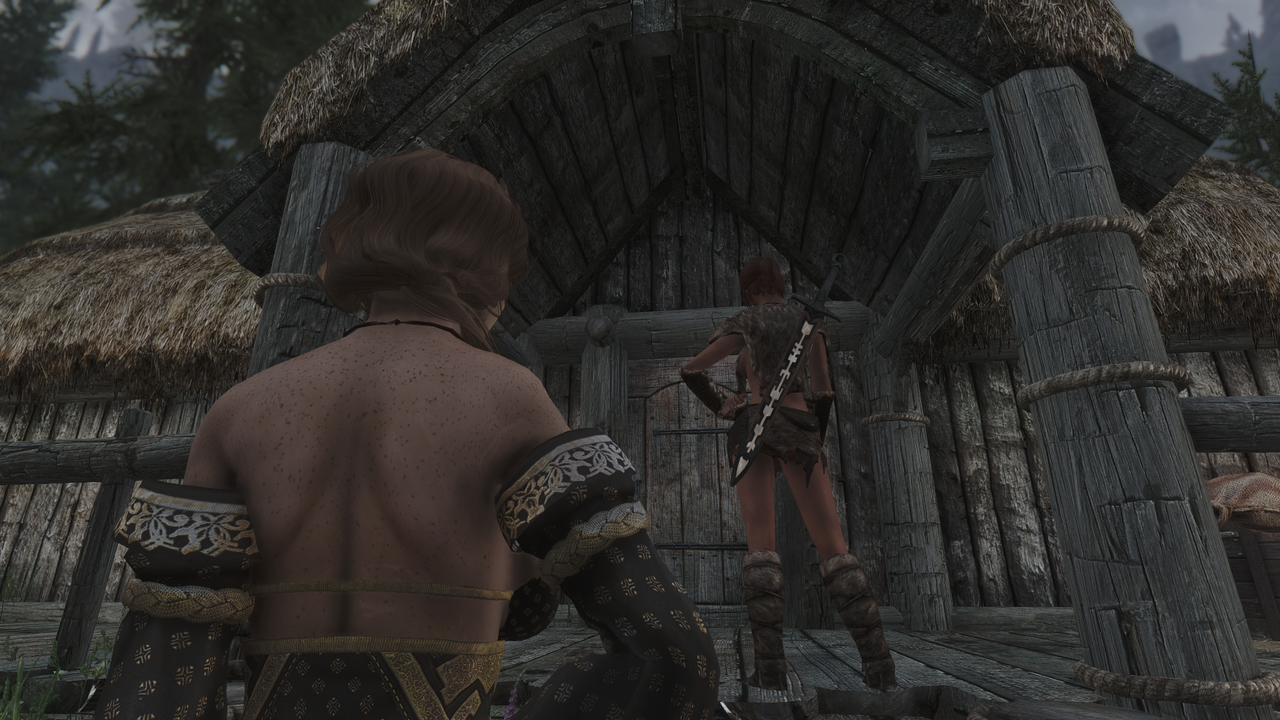 Sylvia: Fuck off, i don't want anything to do with you or your slutty naked friend after that stupid embarrassing night, now leave me the fuck alone.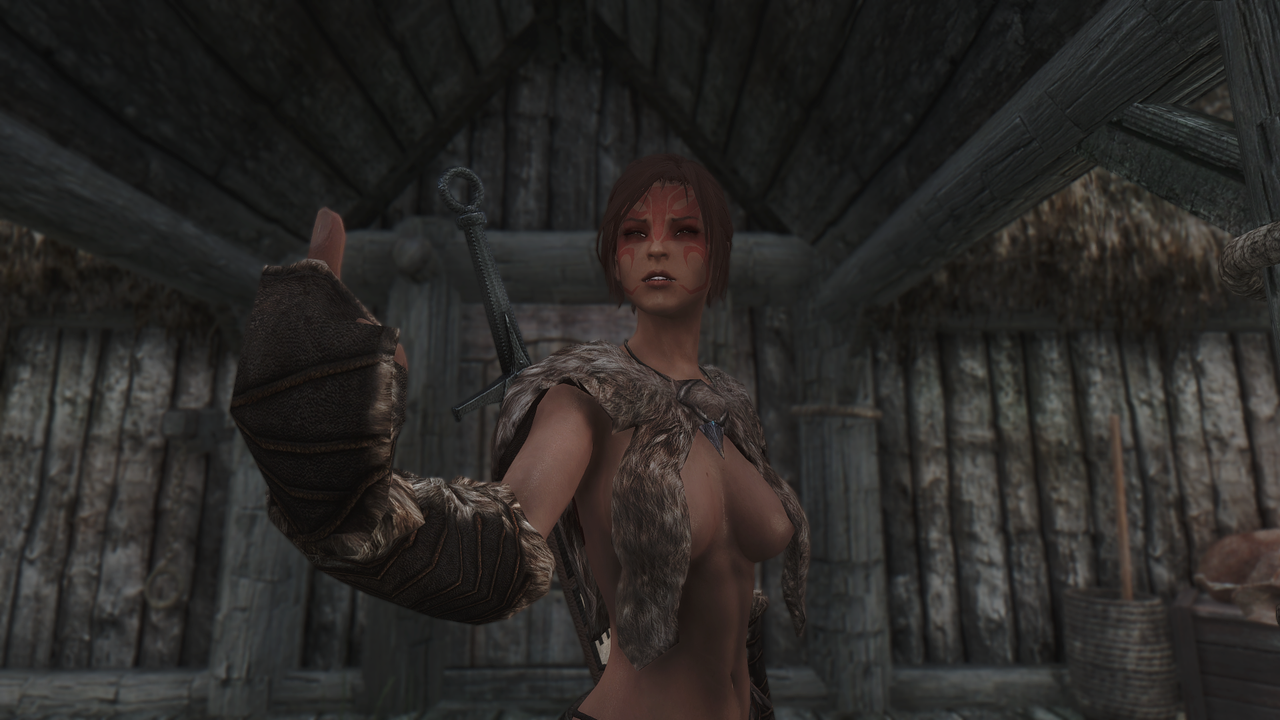 Fiona: I wish i could but i can't, all my joking aside i have something important to talk to you about.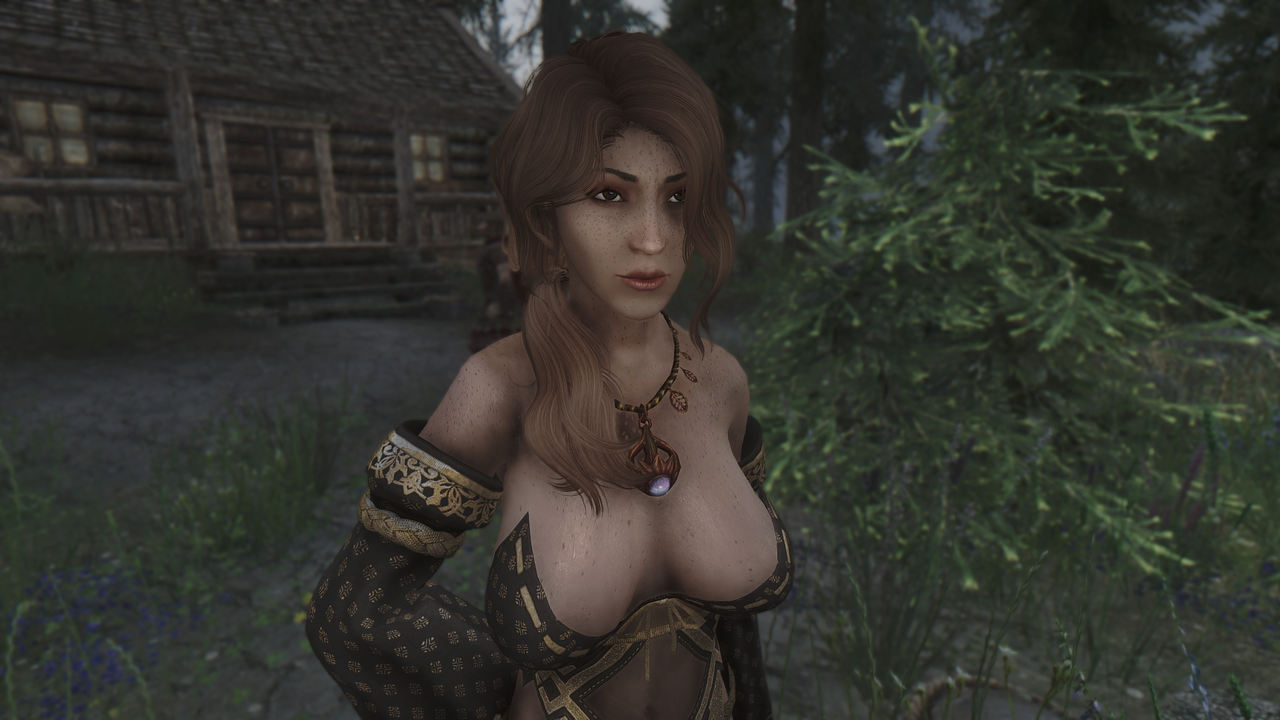 Sylvia: I don't give a fuck.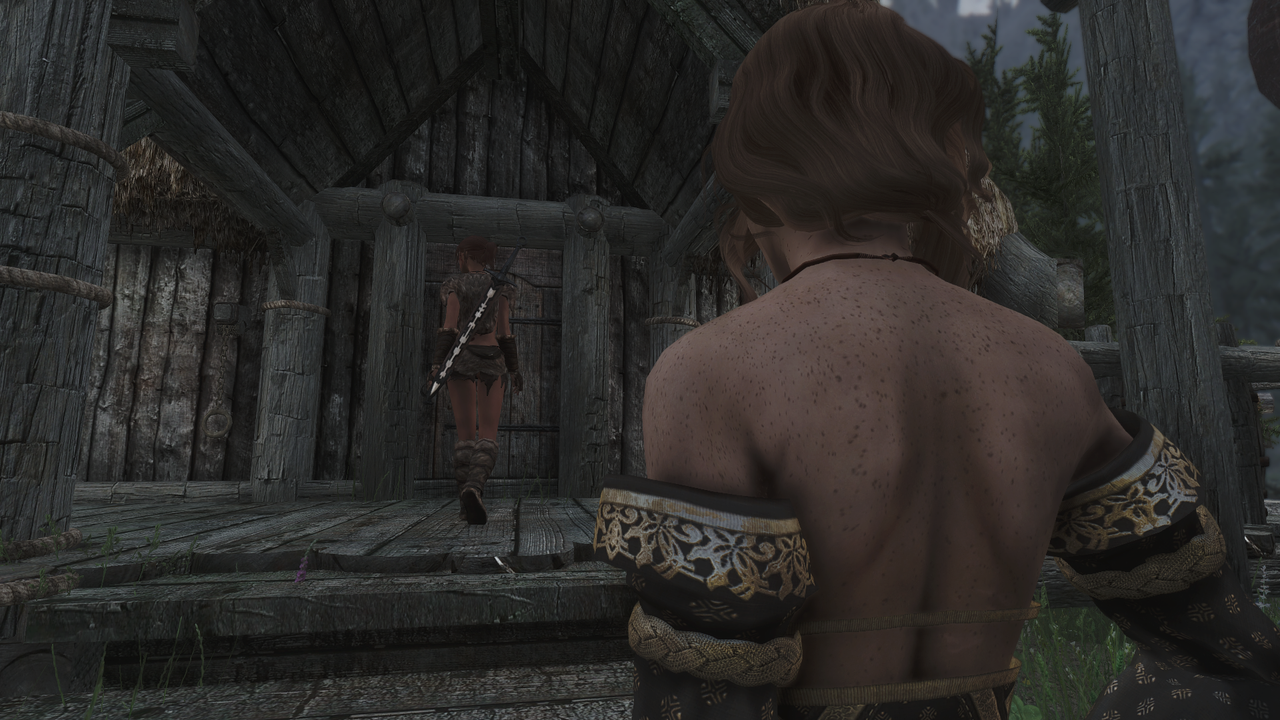 Sylvia: Whatever it is i'm sure i can handle it ea-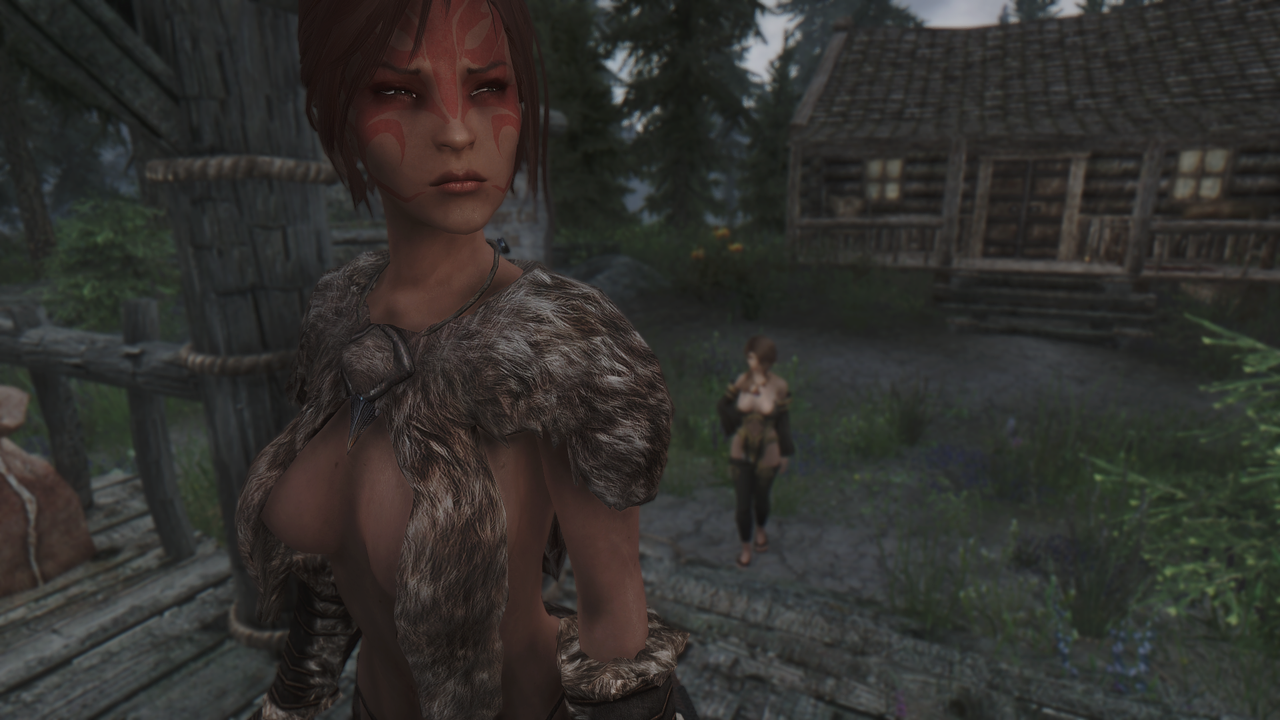 *sound of hitting bone armor*
Sylvia: Oooff!!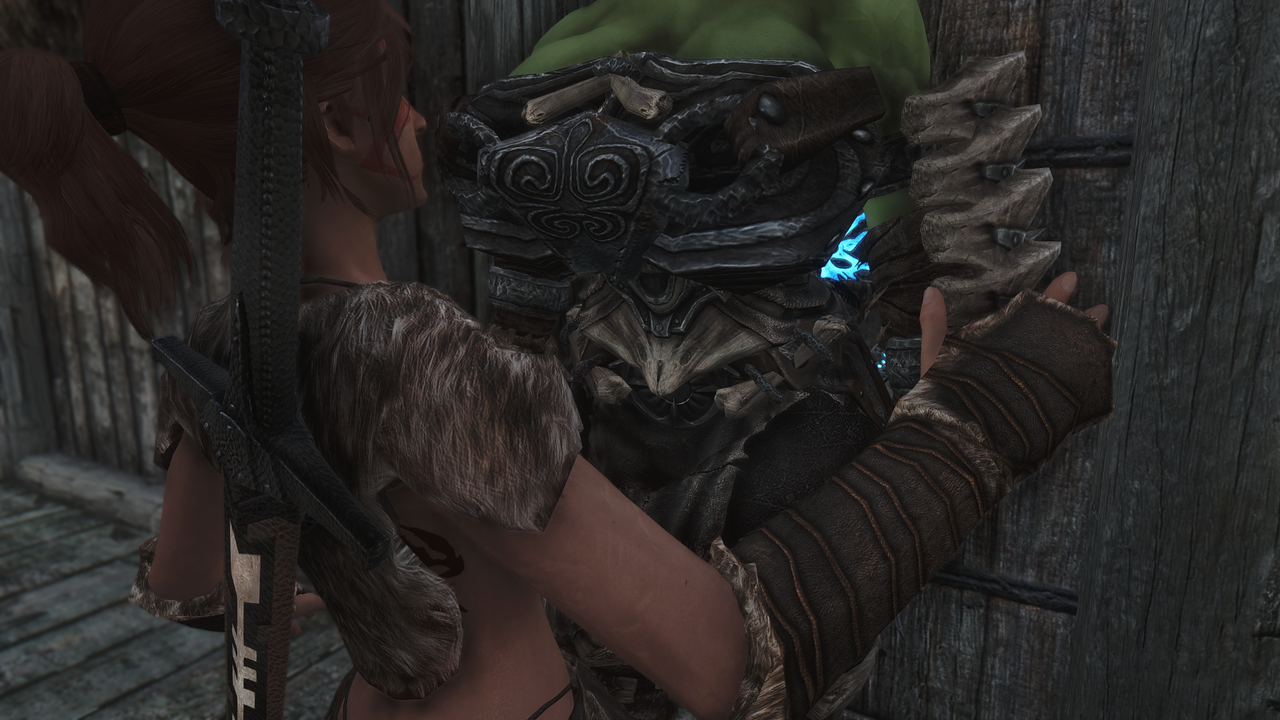 Sylvia: Ow.


Fiona: You say that but you can't even handle walking r-
Sylvia: I swear to the 9 i will stab you in the throat.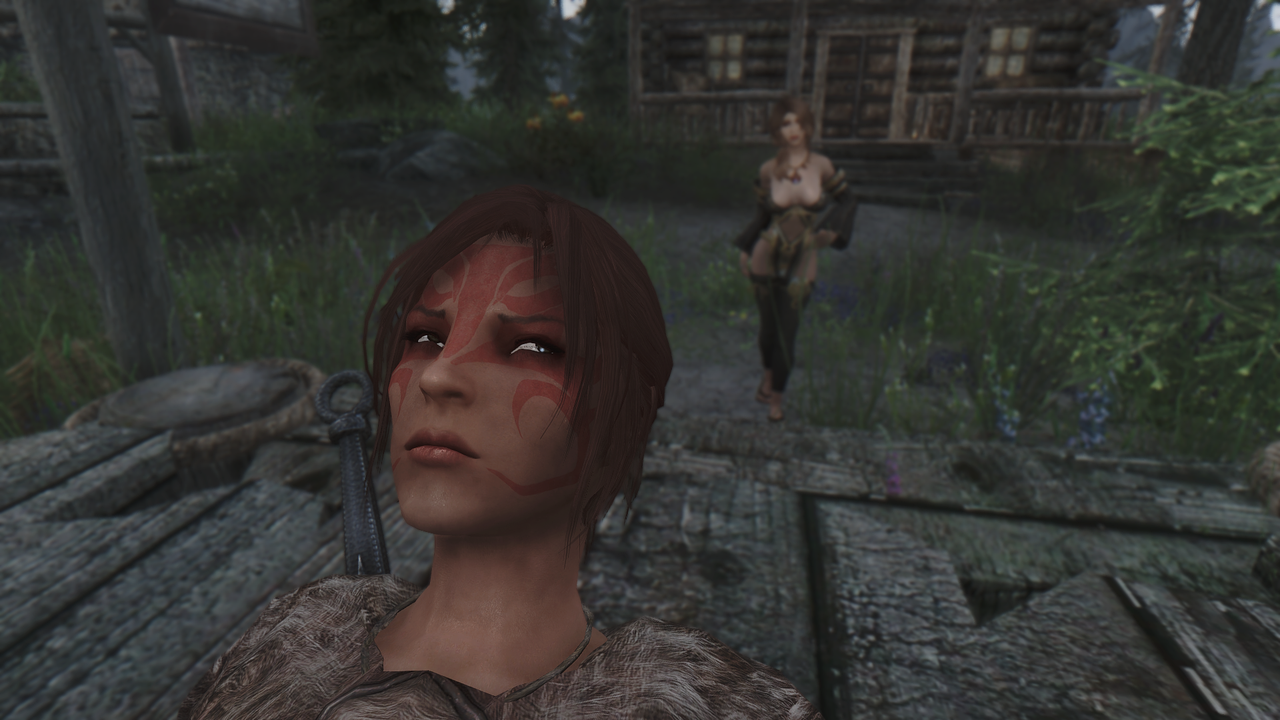 Sylvia: And you, watch where your going.
???: Me, you were the one not paying attention.
Sylvia: Like hell i wasn't bitch.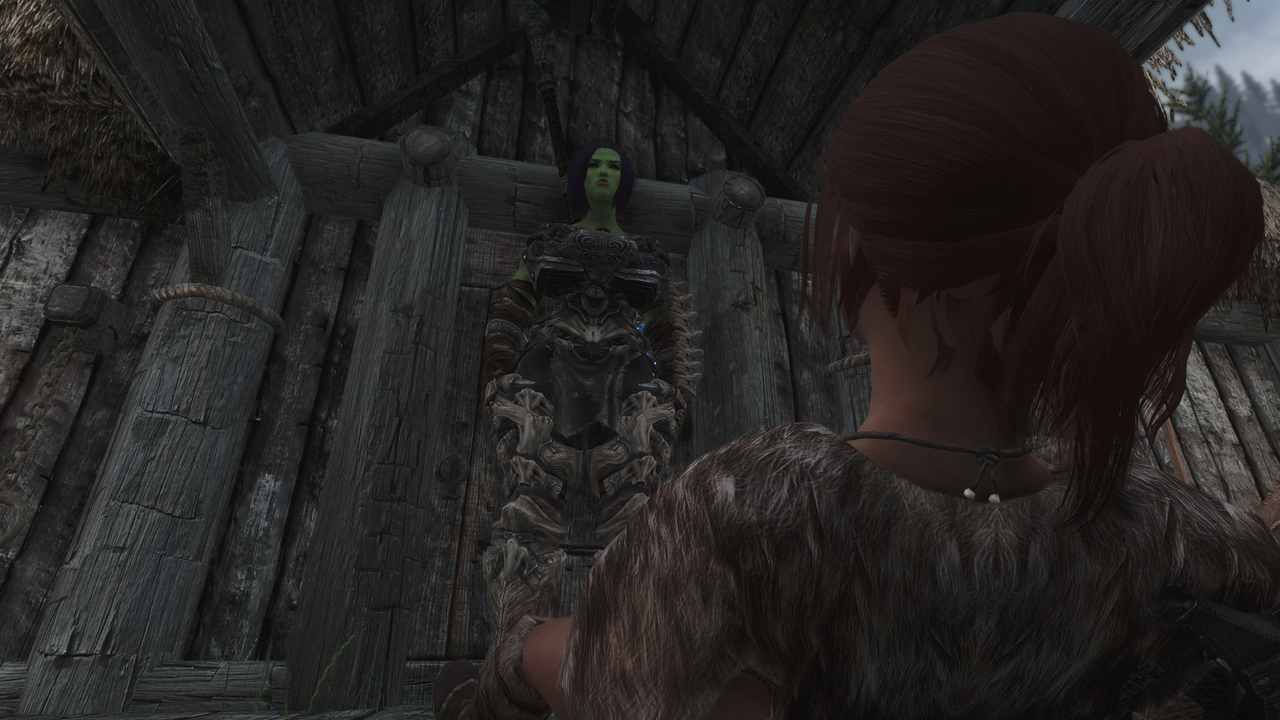 ???: Call me that again and we'll see who's the bitch when you are on the ground


Sylvia: Oh you wanna be like that lets g-
Fiona: Hold on Doggy girl.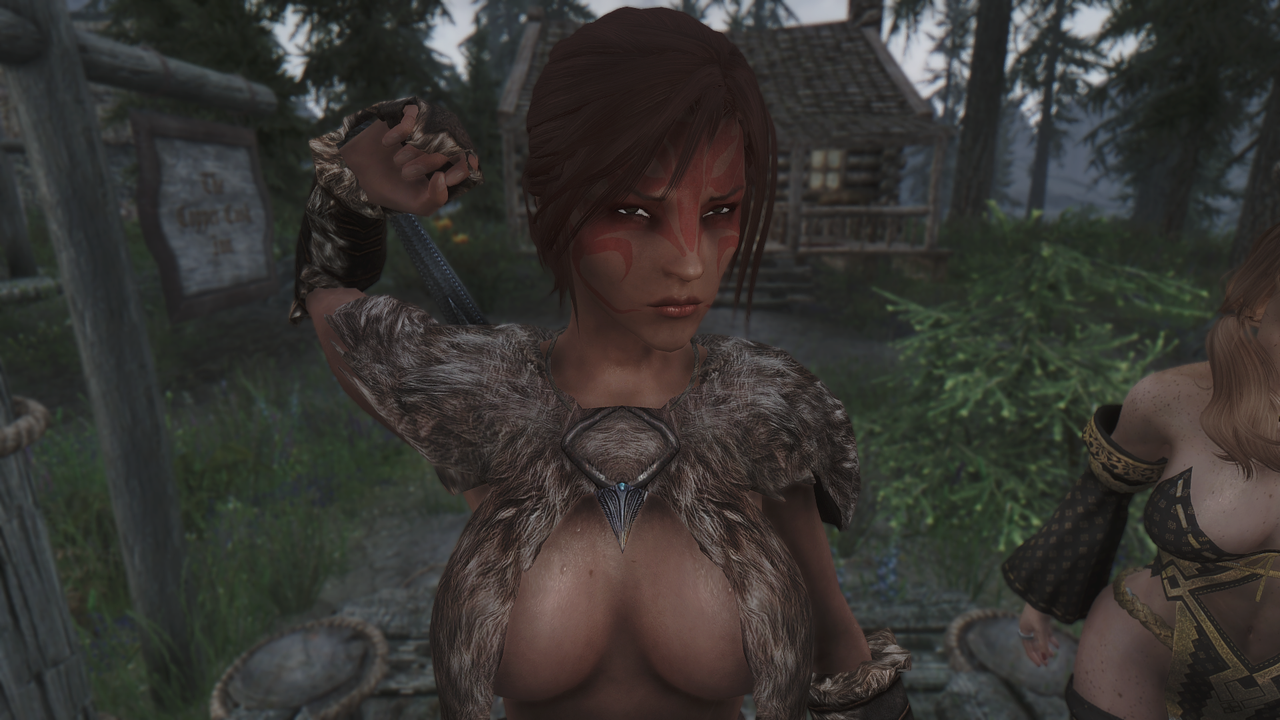 Sylvia: If you call me that one more time i-
Fiona: Shush!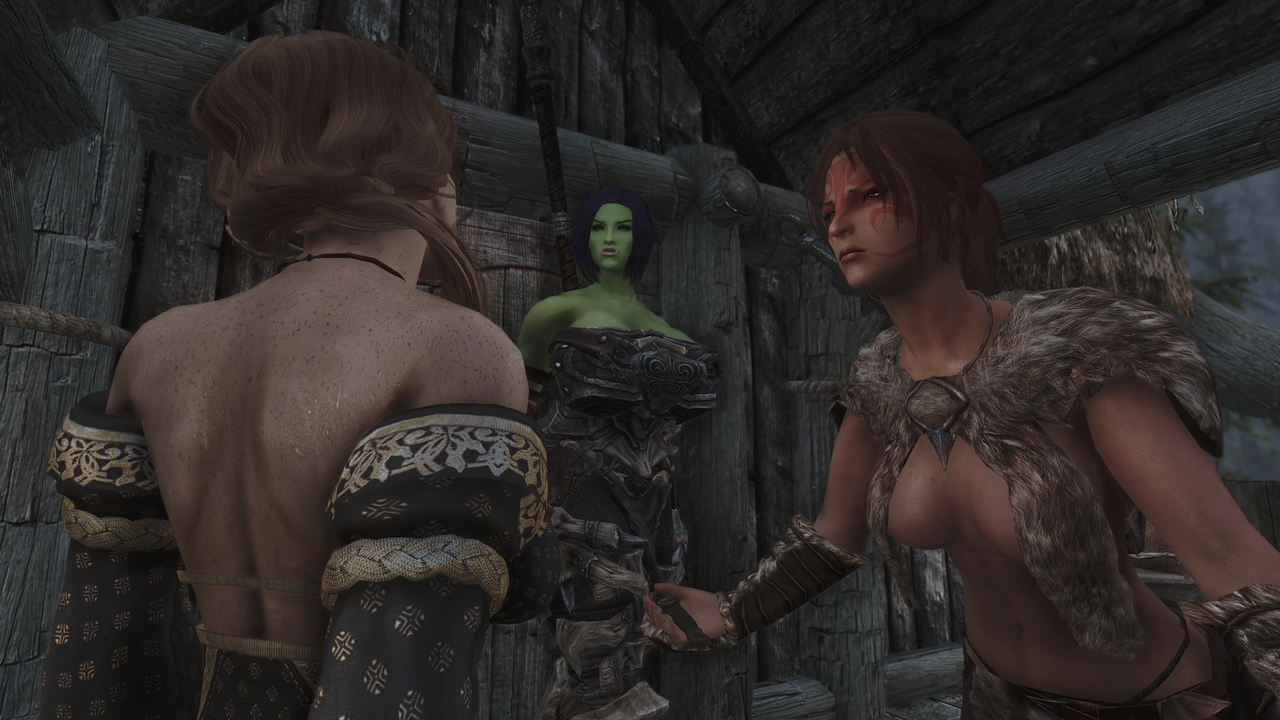 Fiona: Hmmm....massive breasts, bone armor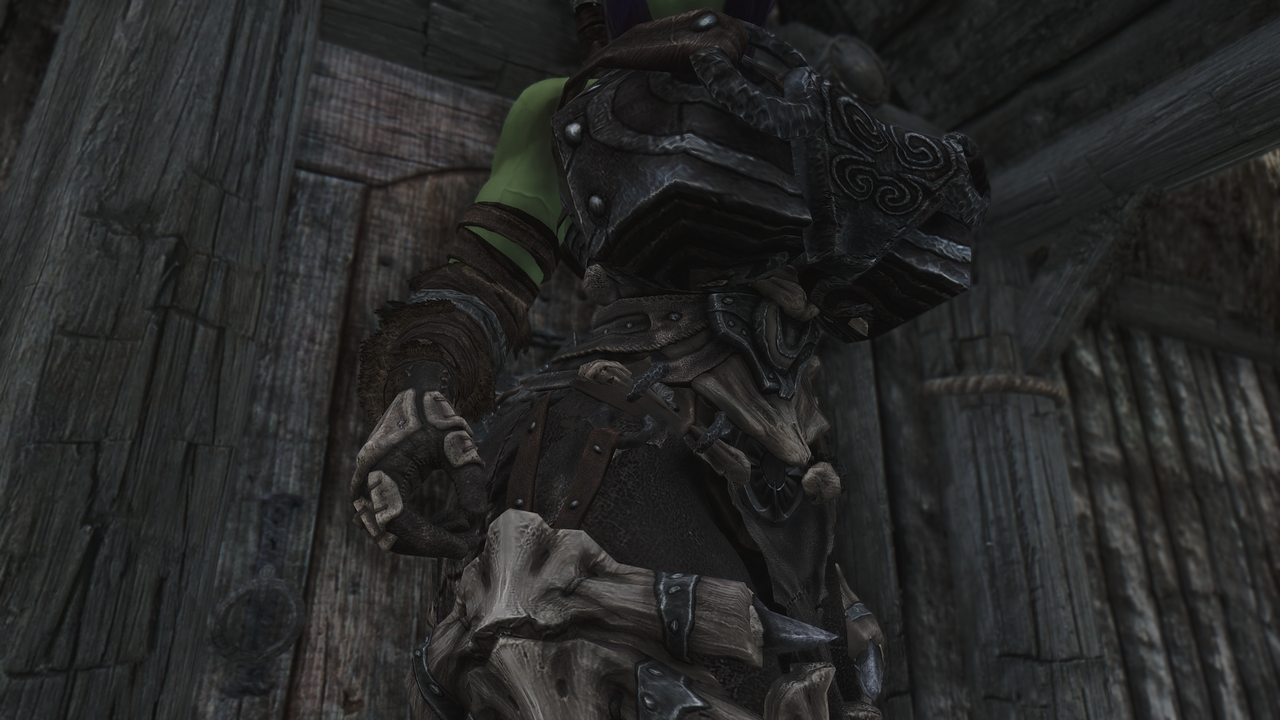 Fiona: purple hair, light green skin, and muscular.
???: What are you on about shorty?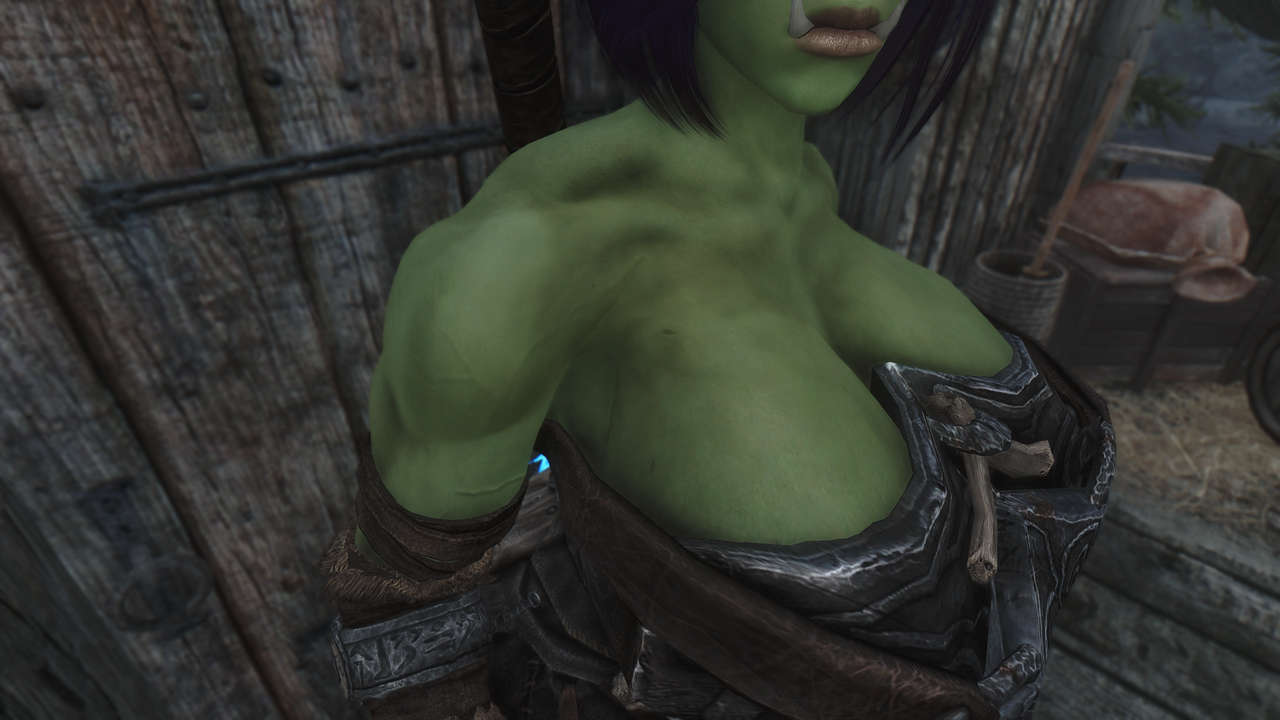 Fiona: You wouldn't happen to be Seline would you?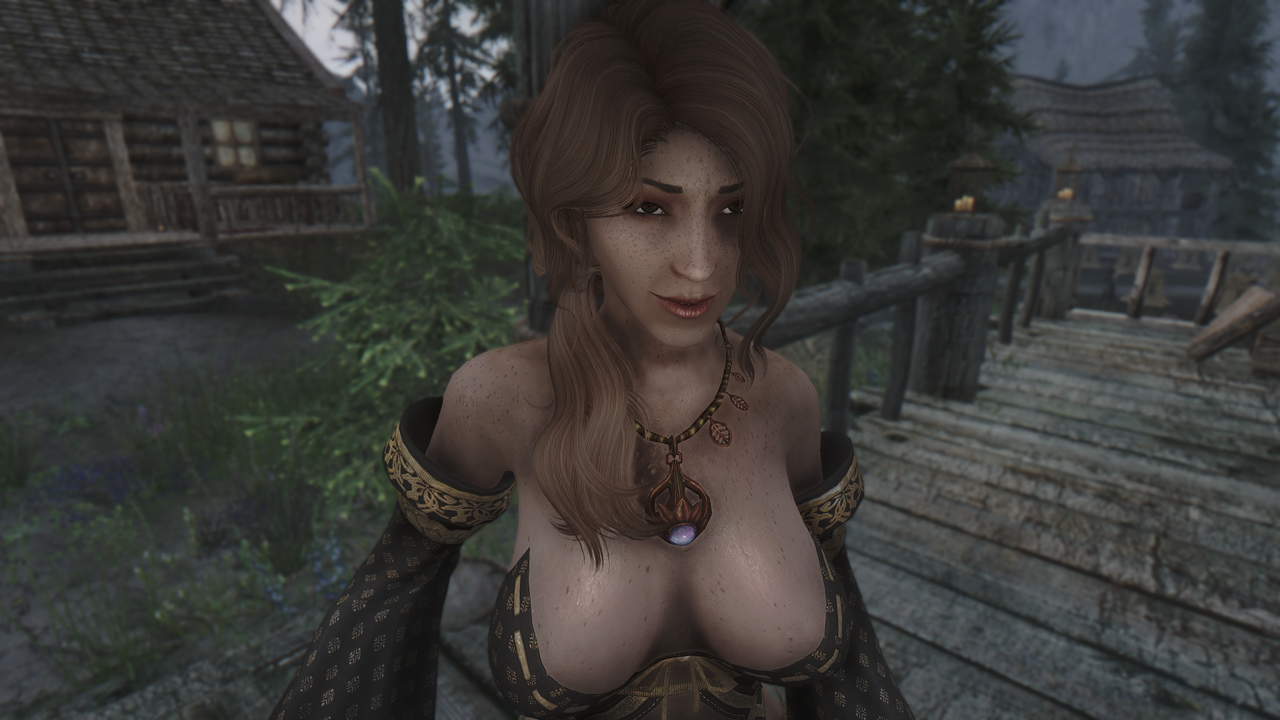 Seline: ......yes, who are you.


Fiona: a friend of Aria and Sera, i'm Fiona Summer and this doggy girl here is Sylvia.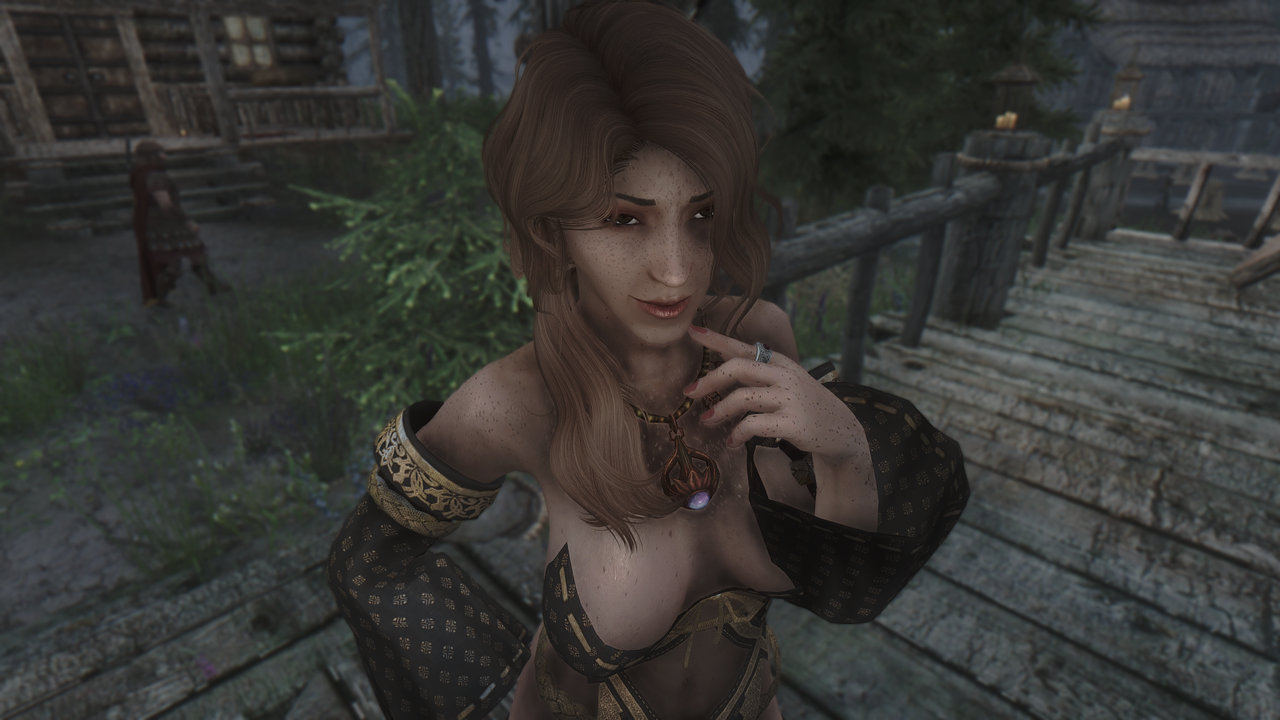 Sylvia: Why are you introducing us to this giant bitch.
Fiona: Well doggy girl
*Sylvia growling*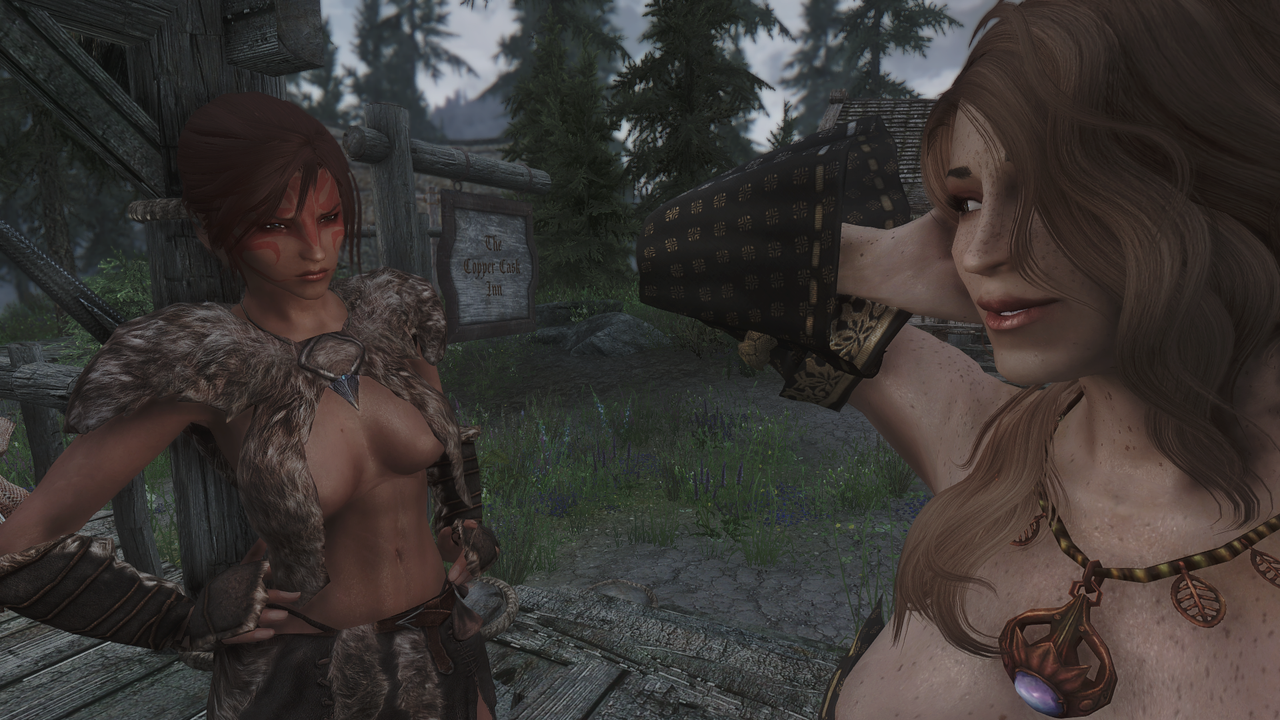 Fiona: This woman's appearance means we might be in trouble, so before that happens.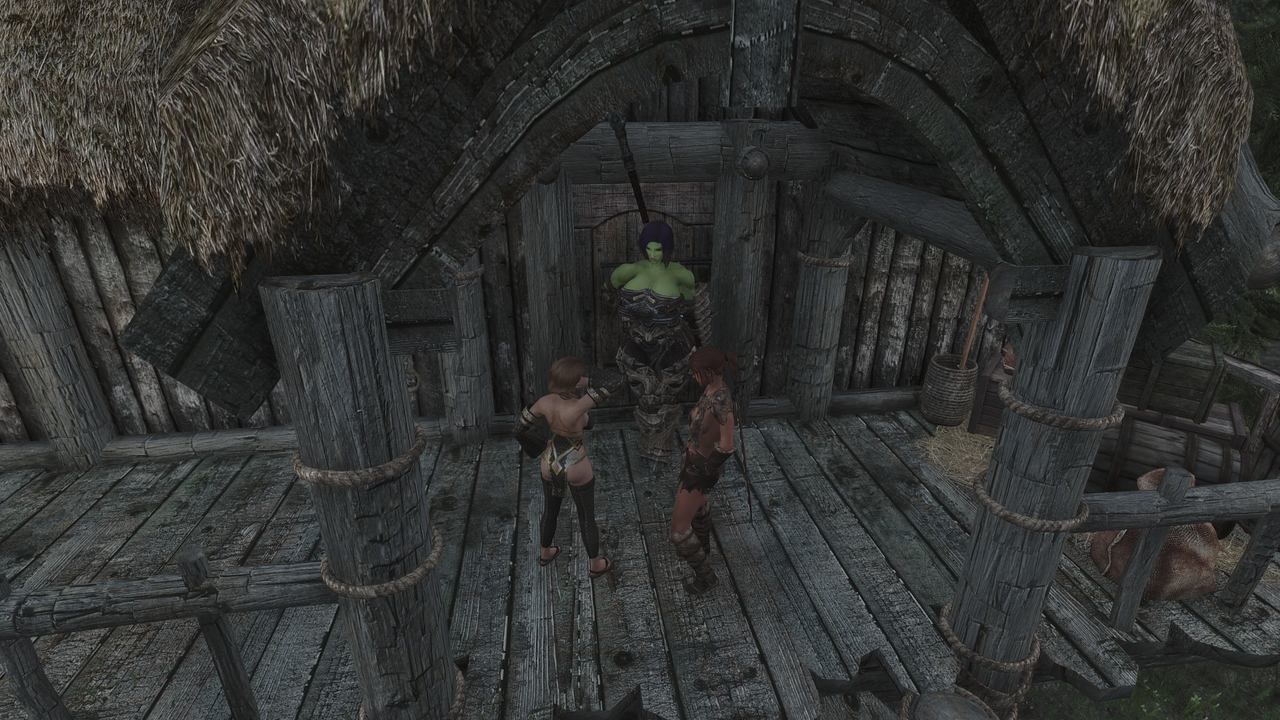 Fiona: Lets find somewhere private to talk for a bit.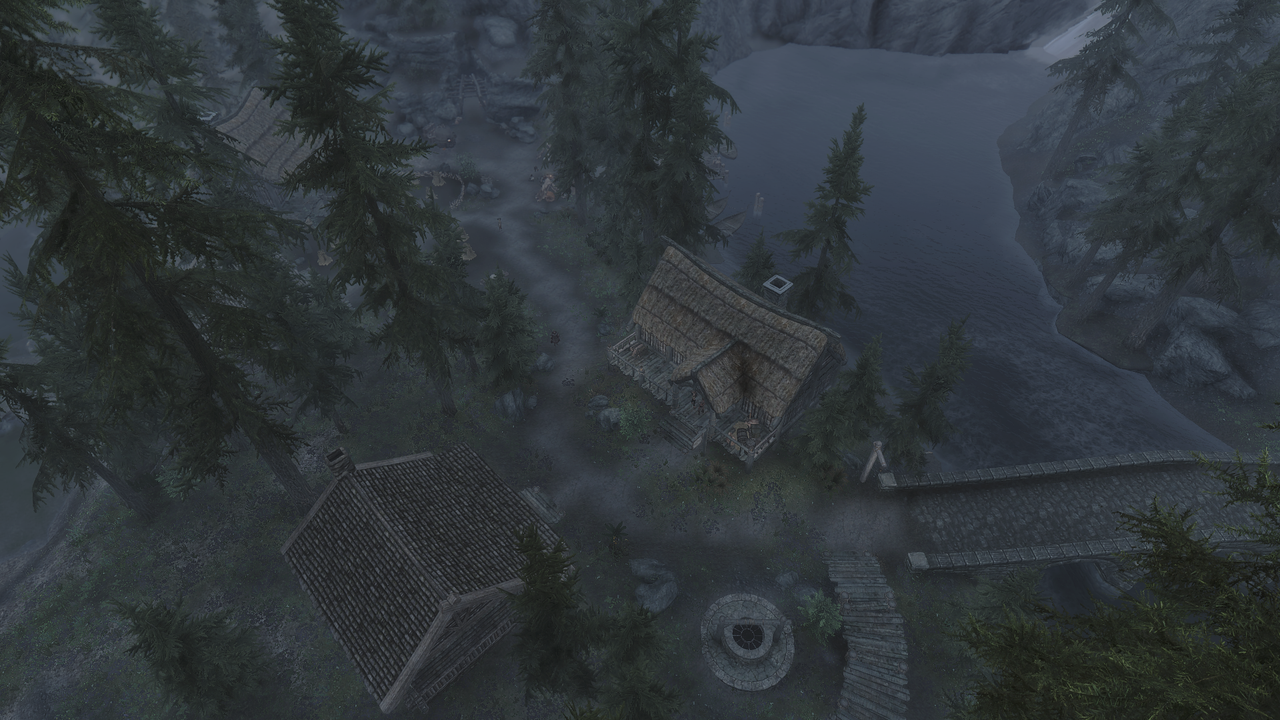 (1 Hour later, in the Eastmarch Hills)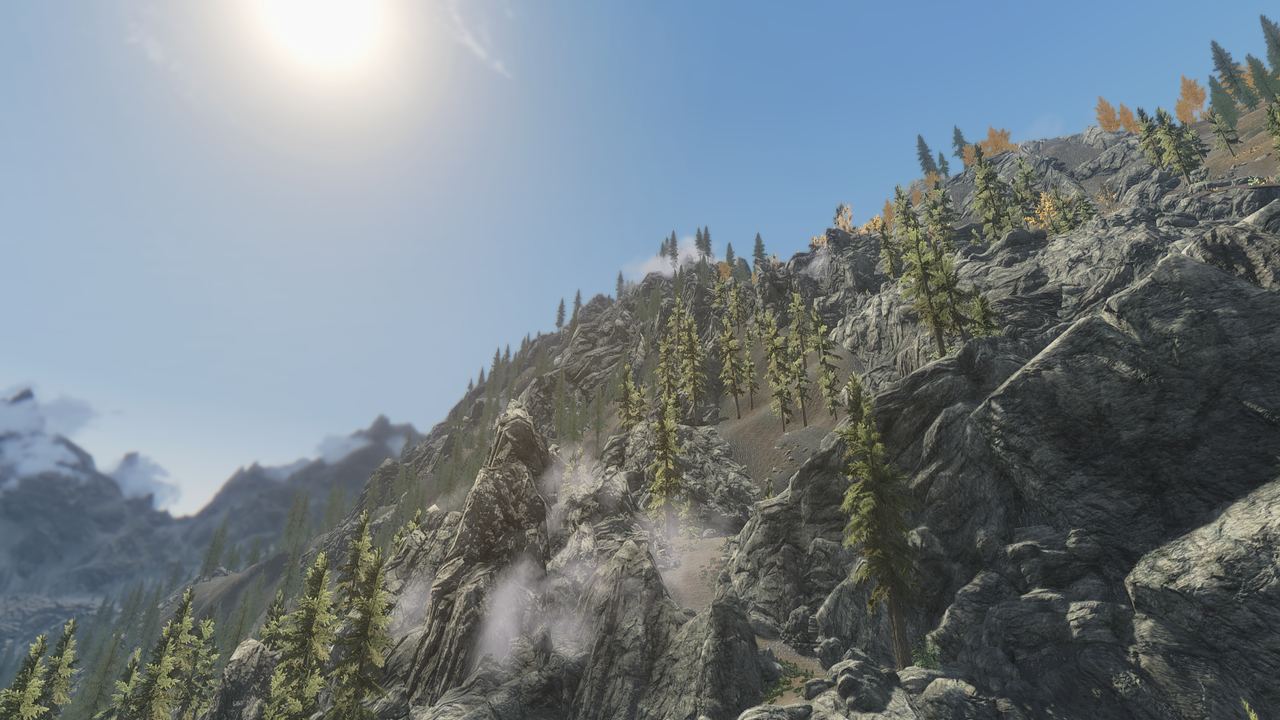 *sound of low wind*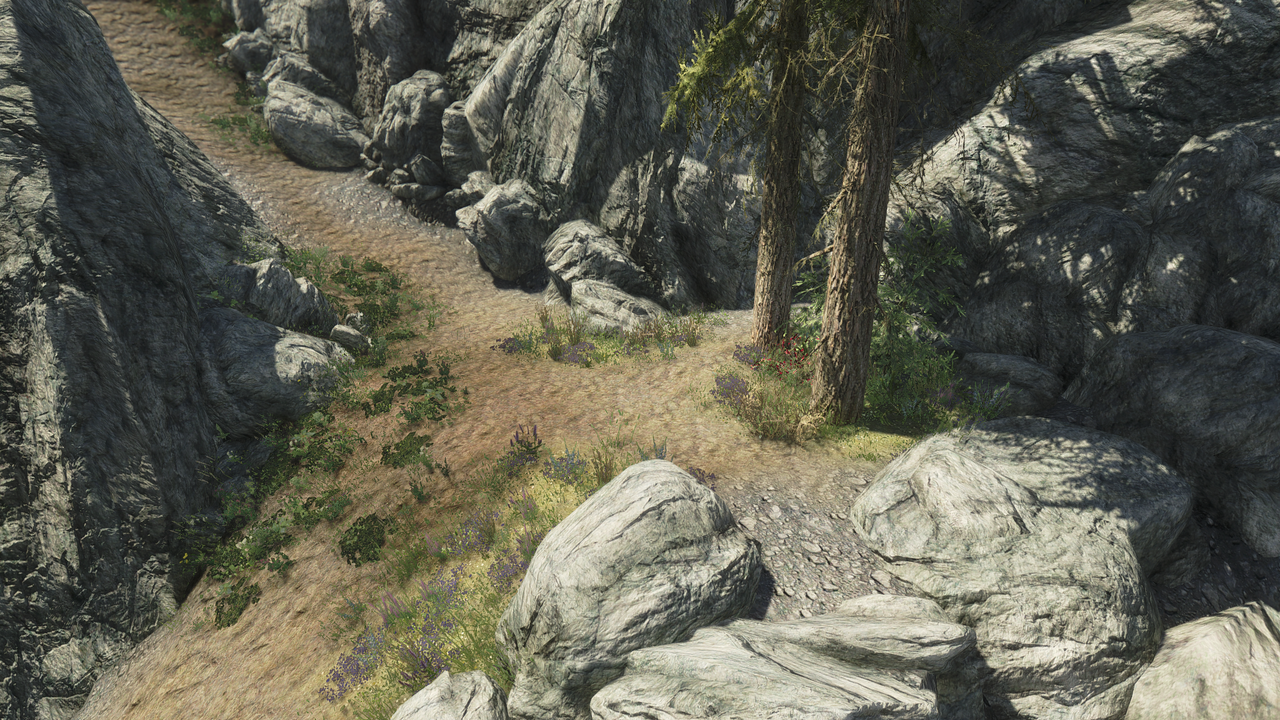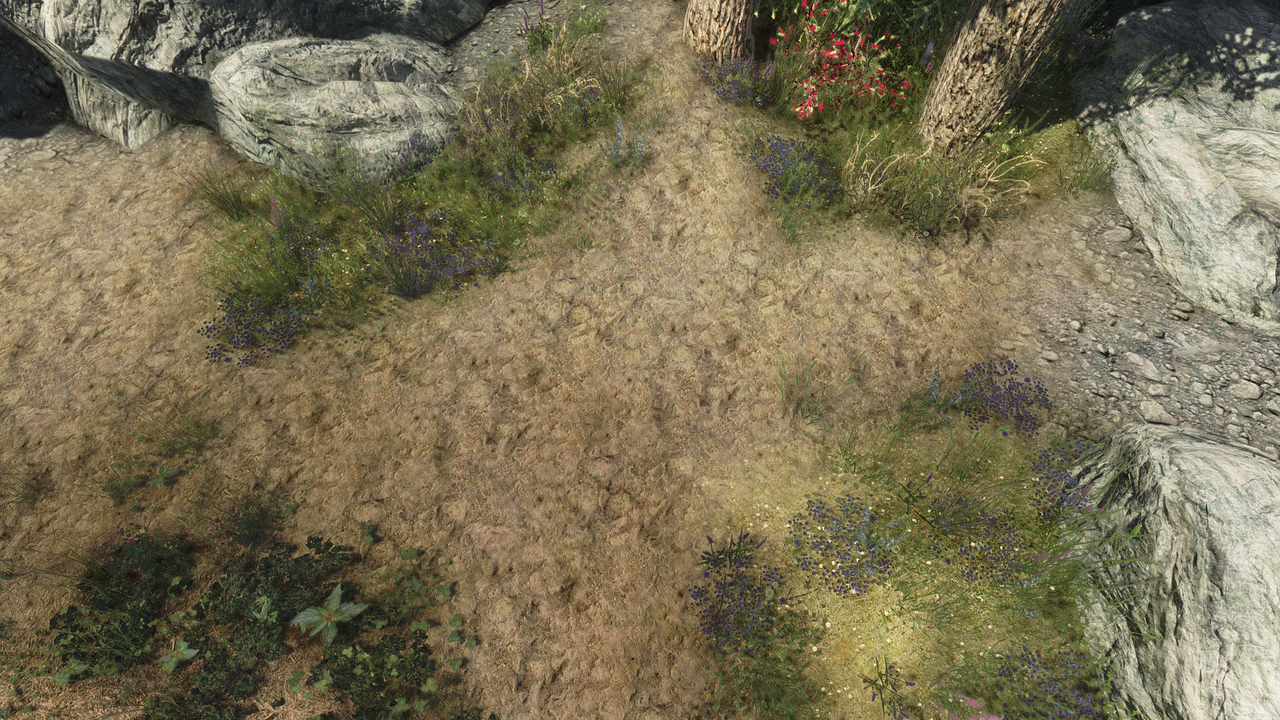 *Sound of rune appearing*
*whirlwind sound*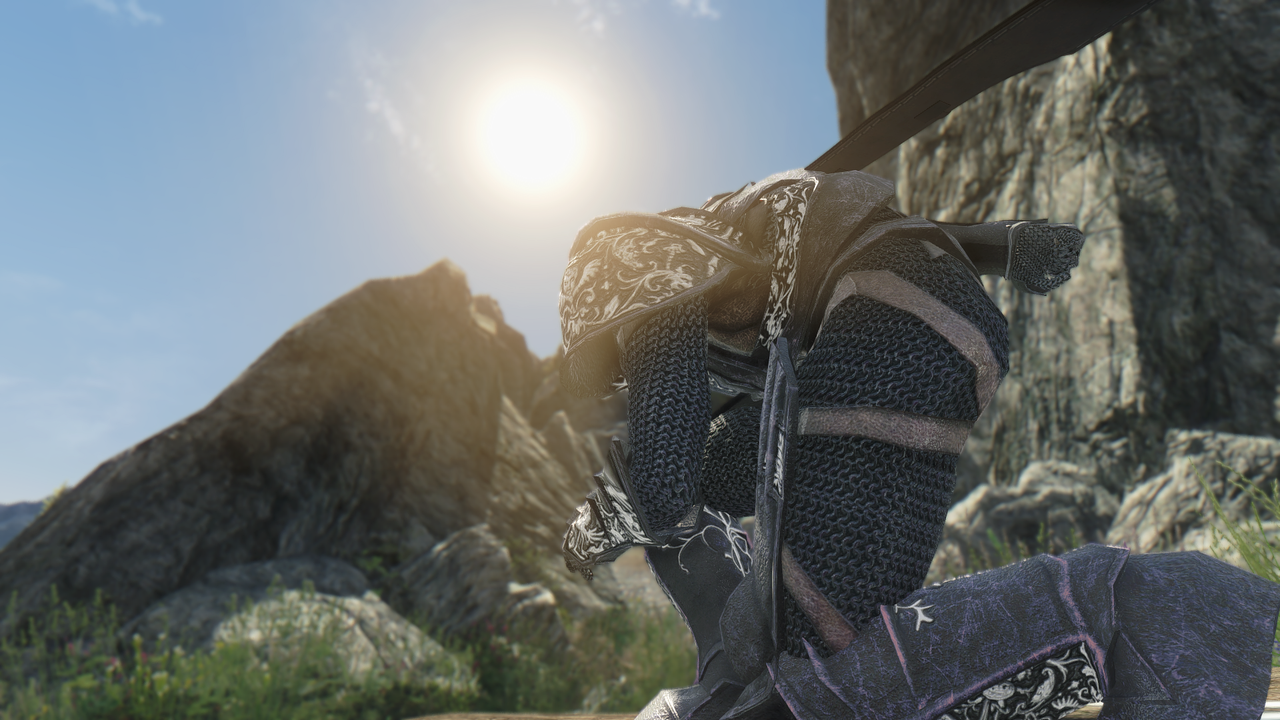 *Sound of Wind rushing*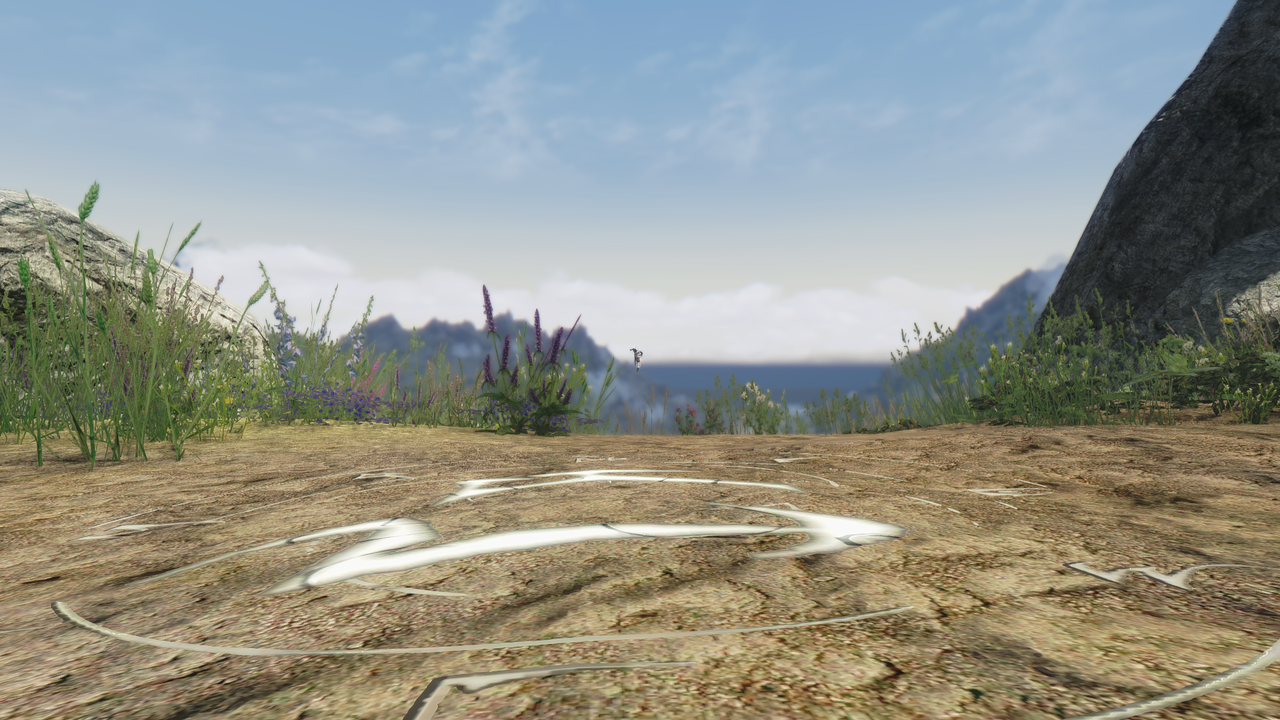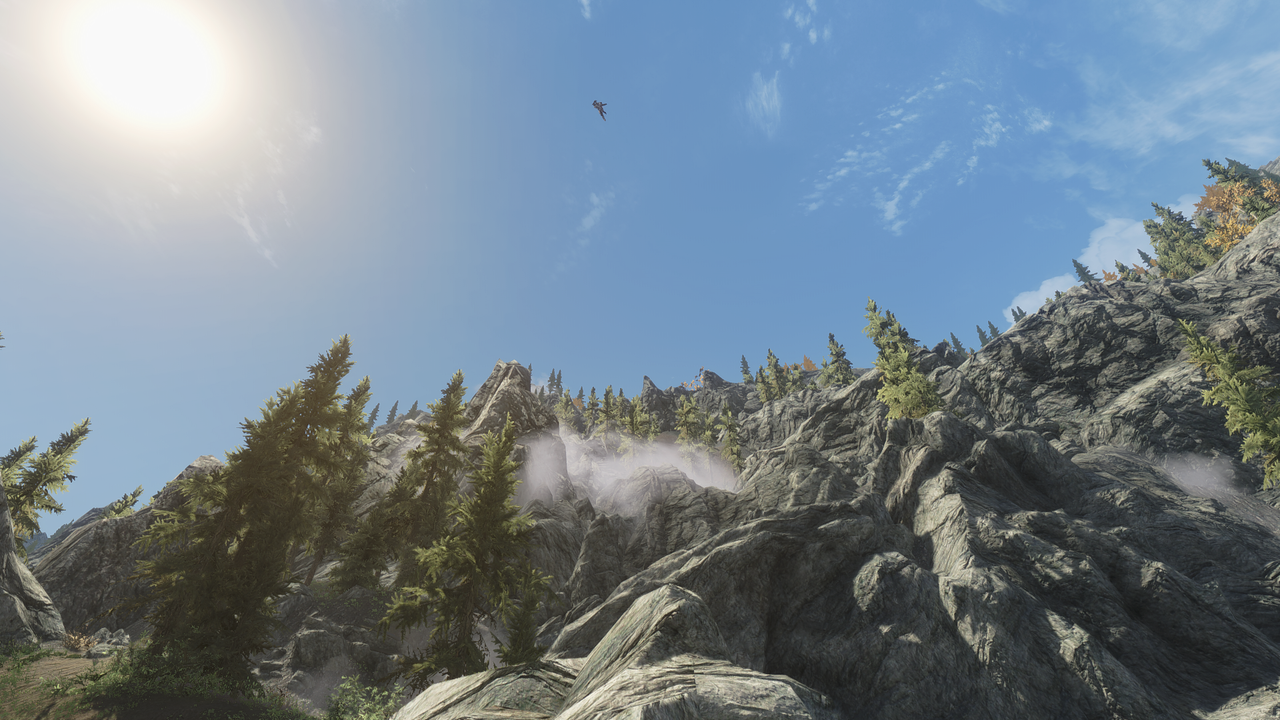 *Wind rushing sound*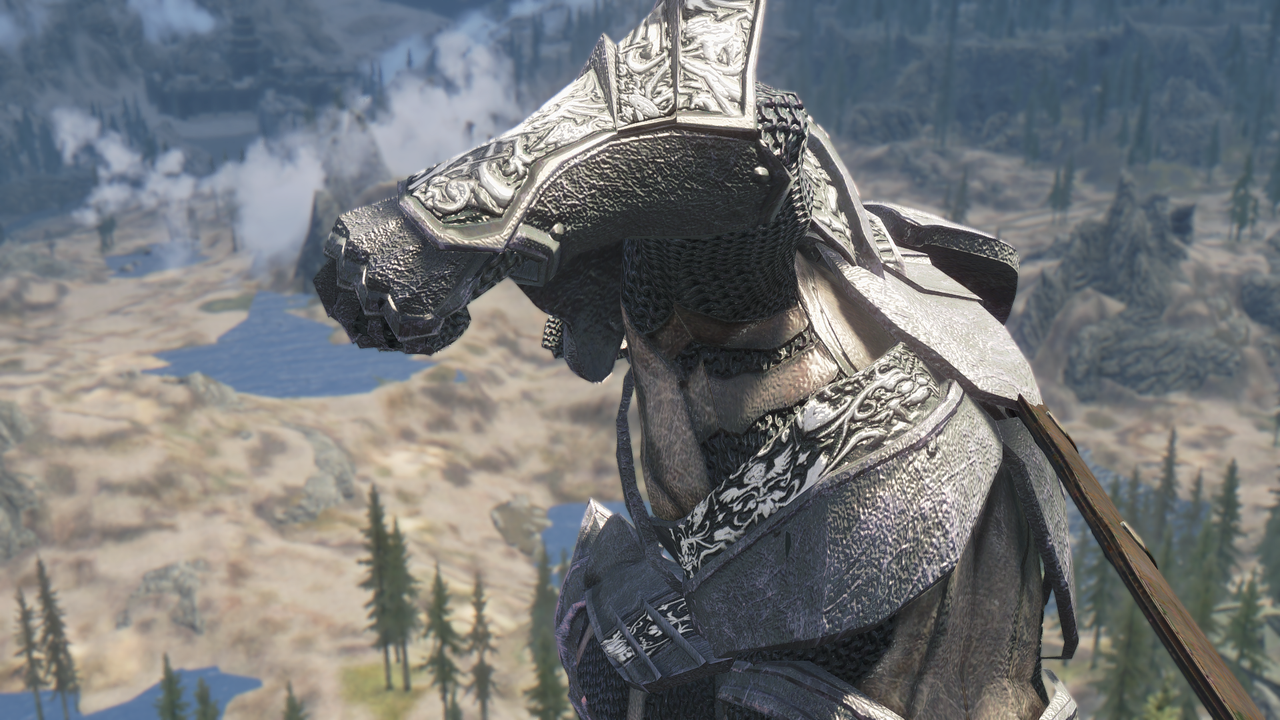 (Eastmarch Hotsprings Area, 3 minutes earlier)
Sylvia: So lets get this straight.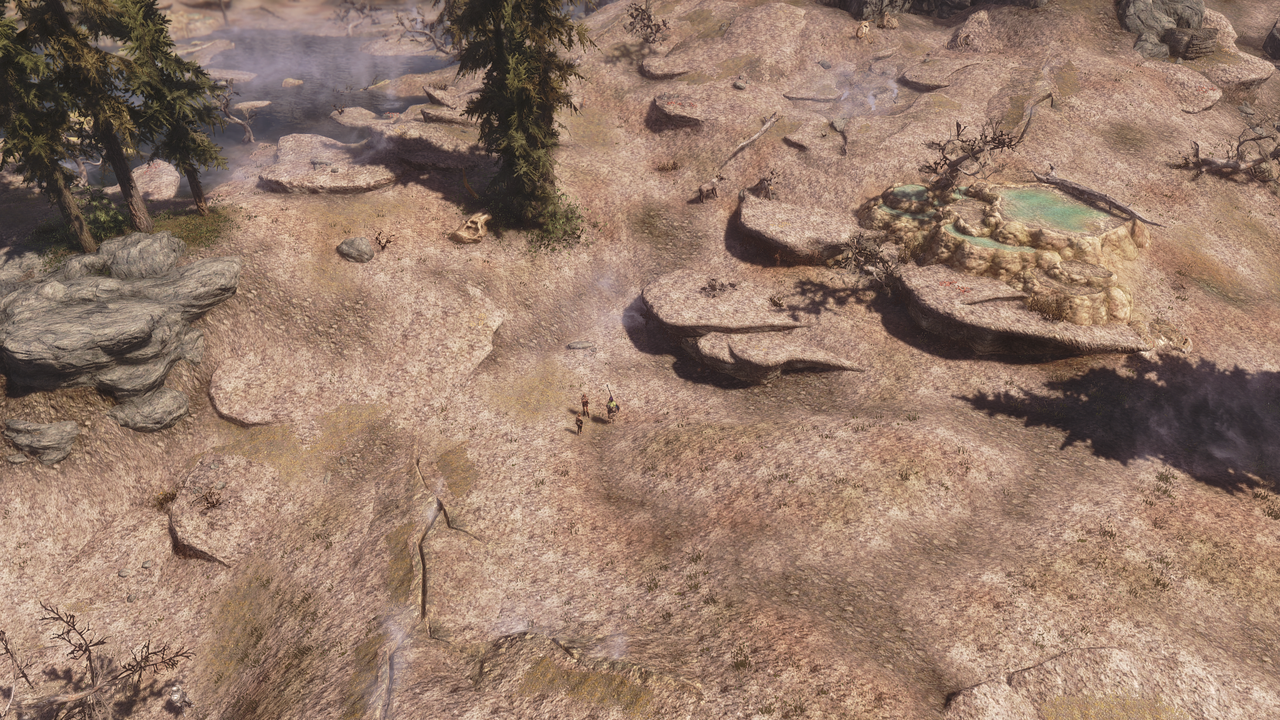 Sylvia: There are multiple skyrims, and Seline here from another Skyrim.
Fiona: Correct.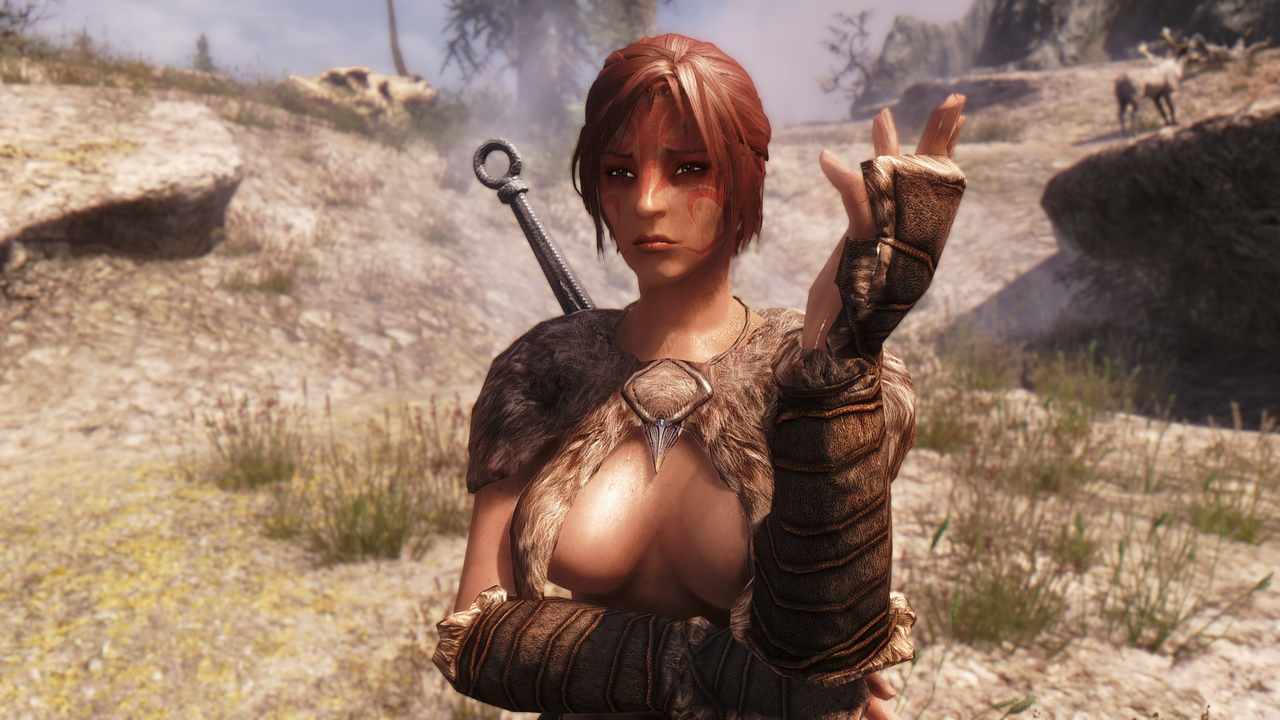 Seline: and some warriors from a dimension between Skyrims are trying to take them over with one more than likely coming to kill us. And according to what you read what that naked girl um....Emily i think, said and the only way for me to return is to defeat this warrior.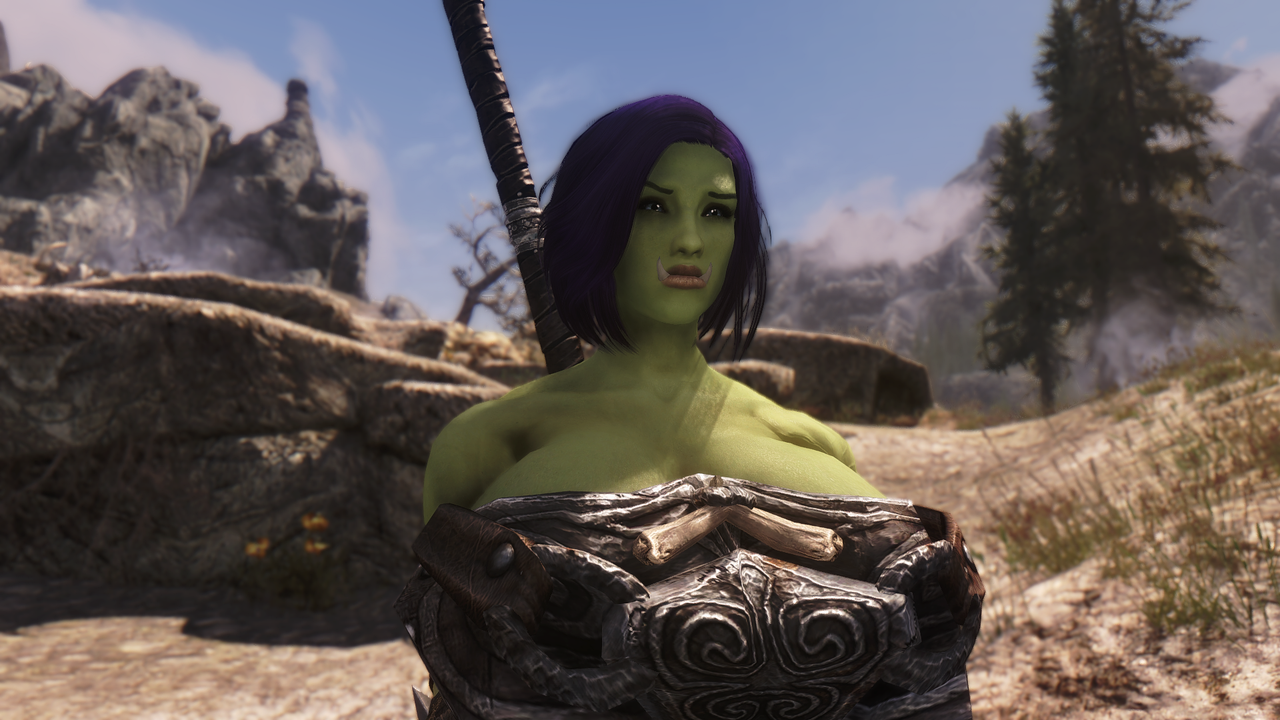 Fiona: That is what i just finished saying yes.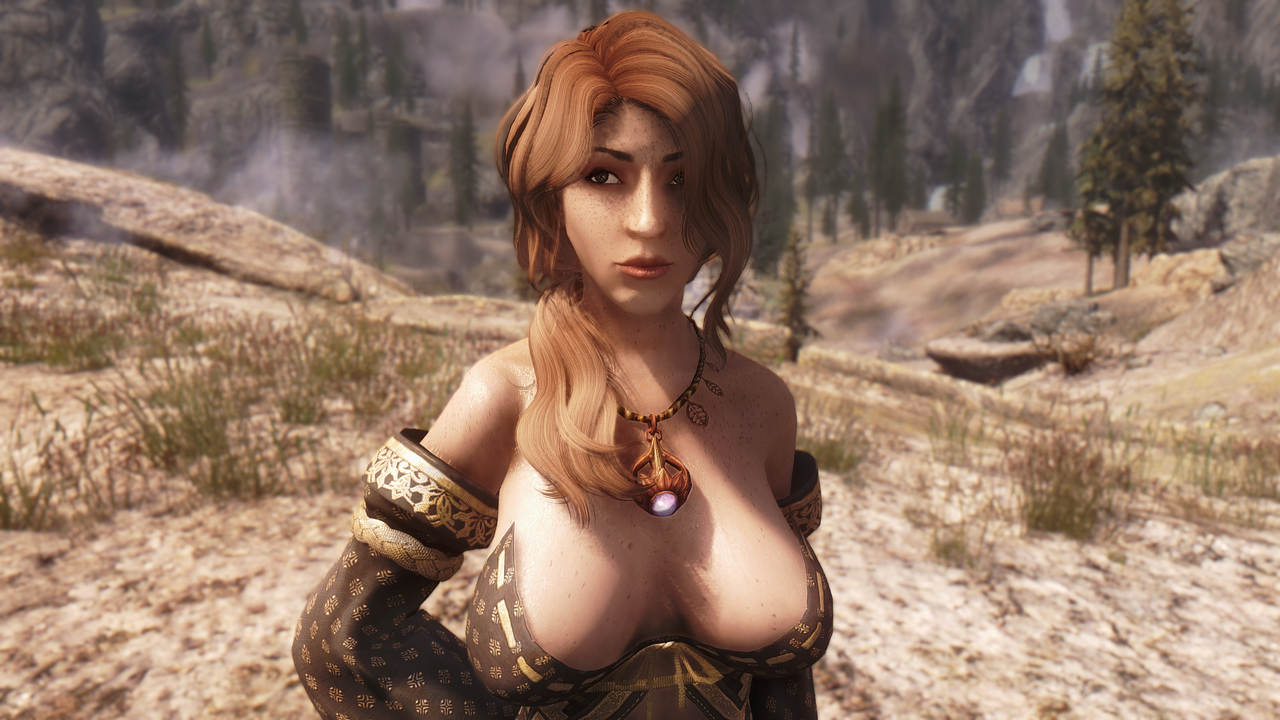 Seline: ...............
Sylvia: ..............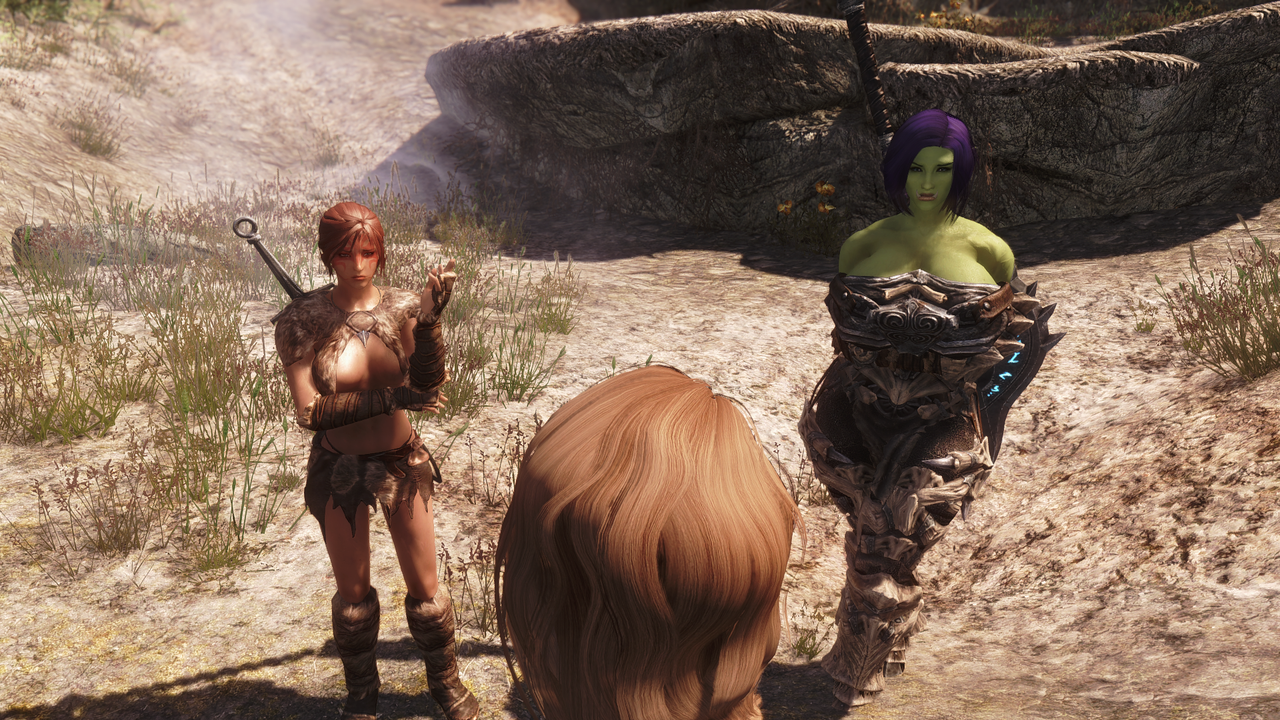 Sylvia: AHAHAHAHAHAHAHAHA!!!!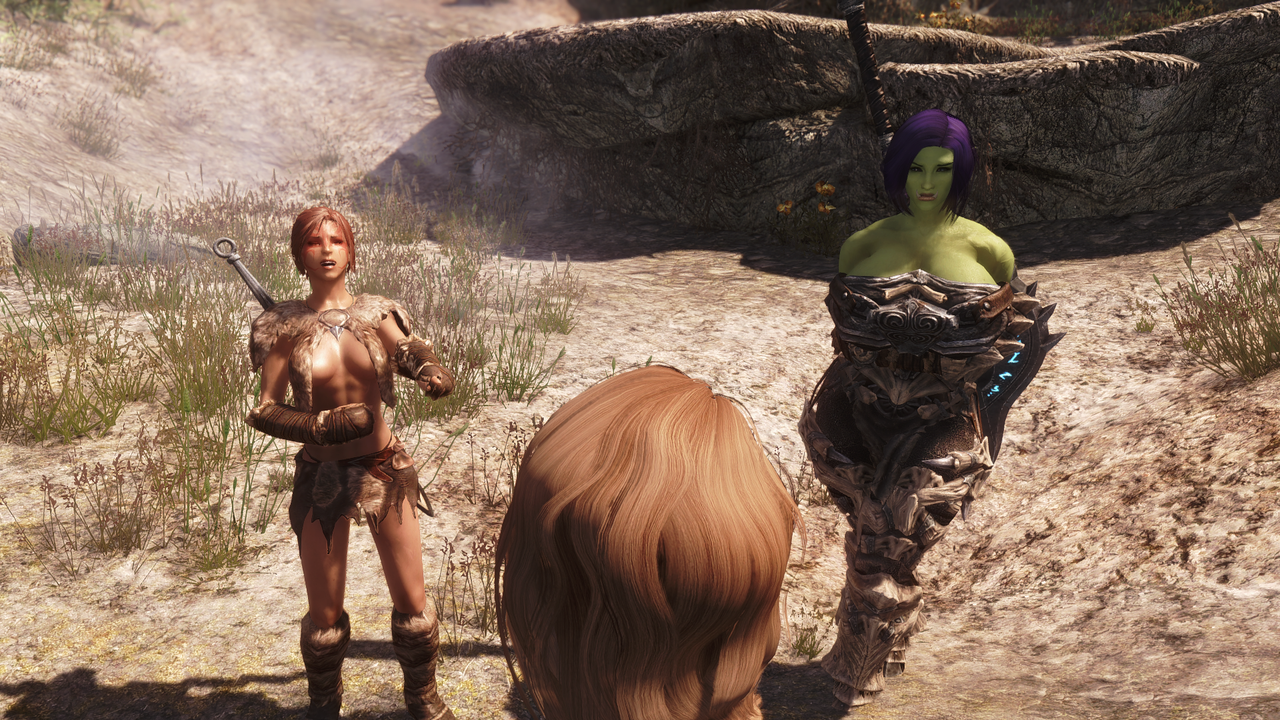 Sylvia: AH HA AHAHAAHAHA!!!
Fiona: ....Its not really funny.
Seline: You gotta admit um.....Fione.
Fiona: Fiona.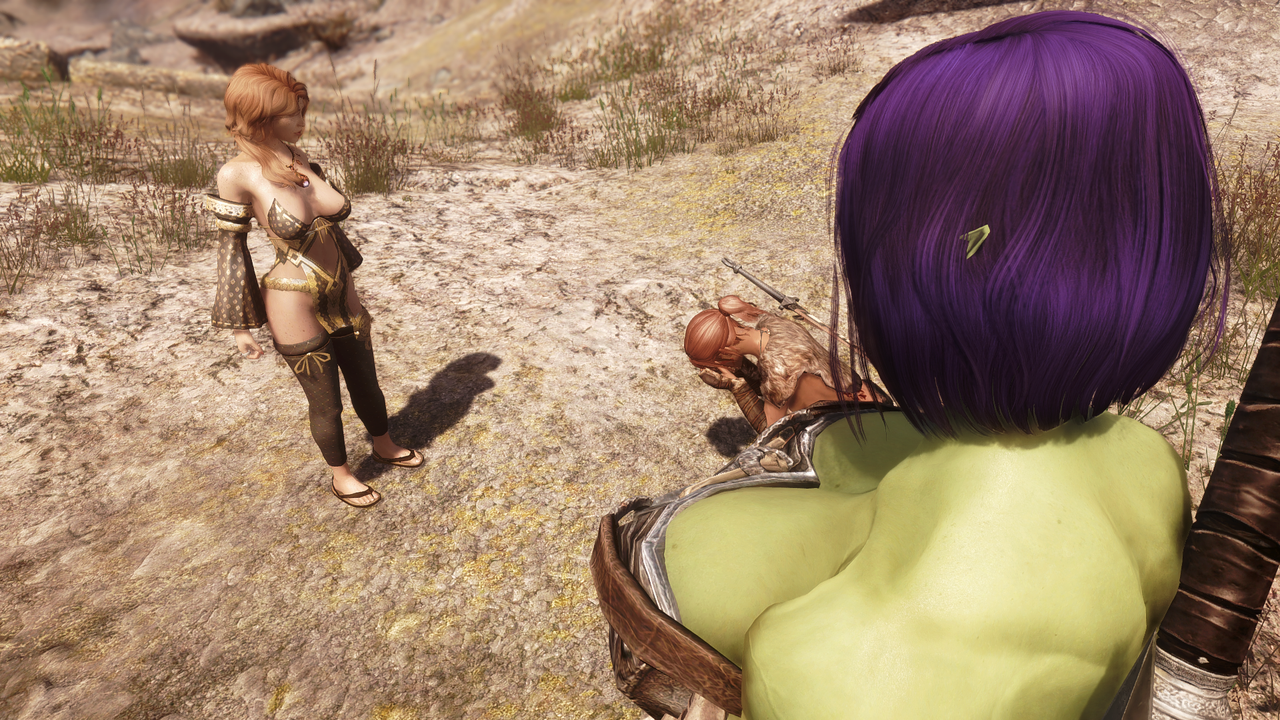 *background*Sylvia: AH HA AHAHAA *coughing* HAHA, I-I CAN'T!!!
Seline: This seems like a really farfetched story, i have a hard time believing such a thing myself, i doubts possible such a-
Fiona: Seline.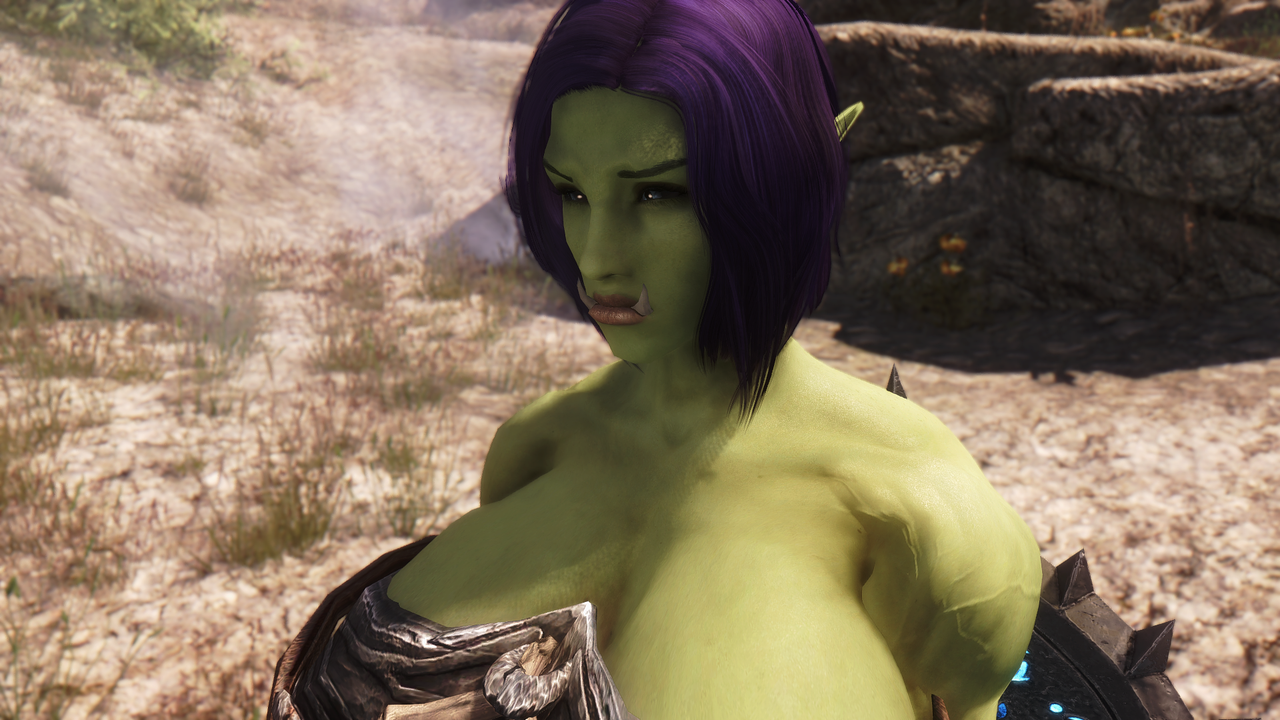 *background* Sylvia: AHA! SO FUCK-AHAA, STUPID!!!
Fiona: We live in a world where Rats can grow up to the size of dogs, dragon sized chickens live in Valenwood, Flying whales that hang around mountains, and Dragons.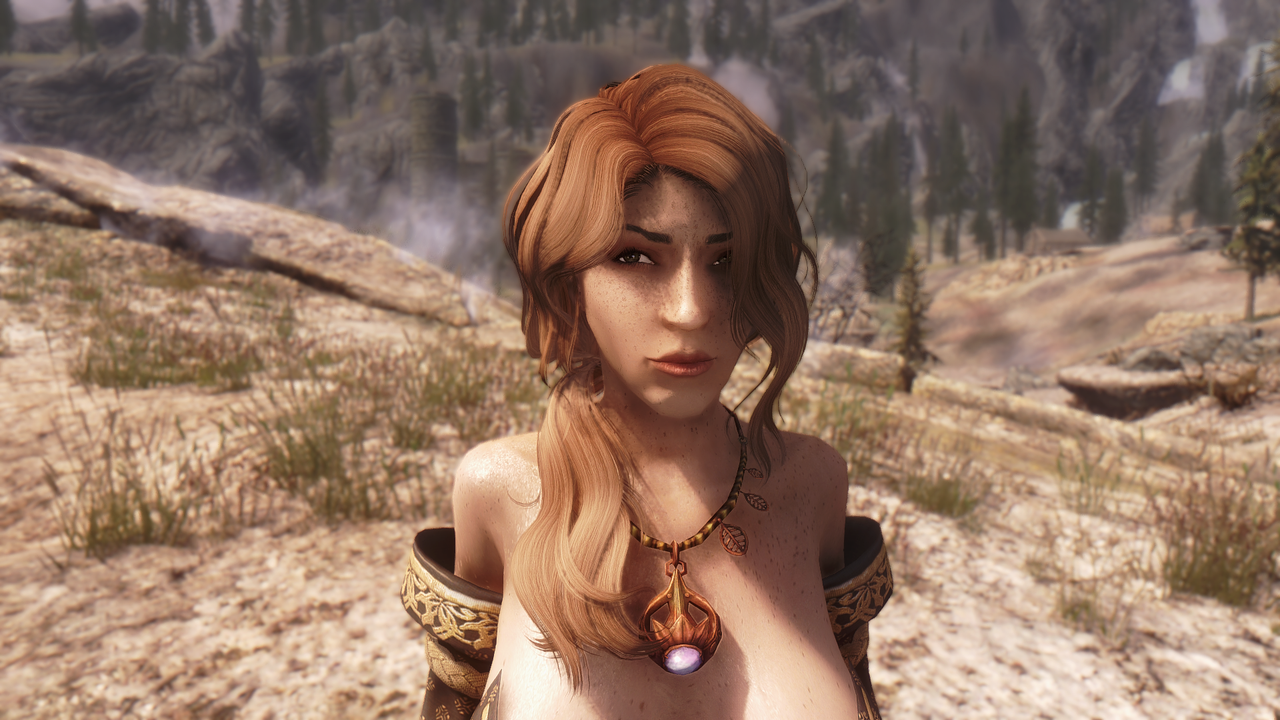 *background*Sylvia: AHAHAAHAHA!!!
Fiona: and i personally have seen many odd things in a daedric realm too. You said it yourself, Darkwater doesn't normally have as many buildings as in your skyrim along with a lot less Fauna apparent-.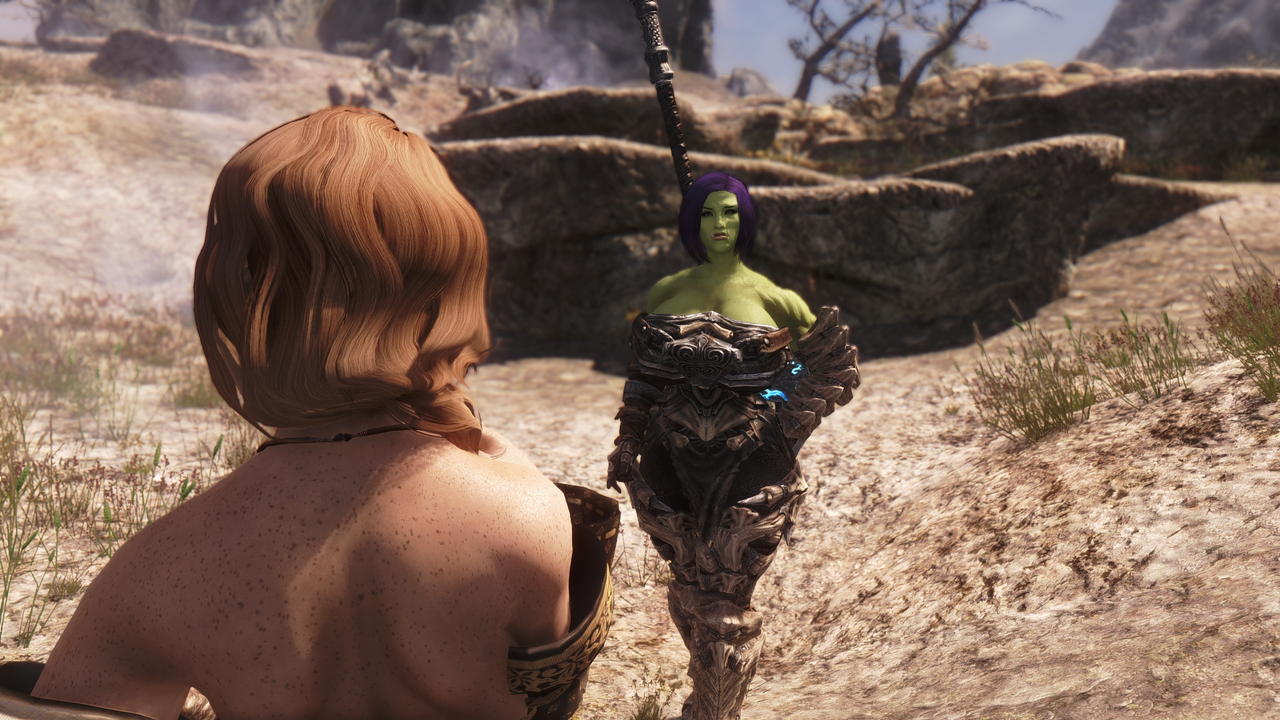 Fiona: Sylvia will you shut the fuck up!!!
Sylvia: HAAHAHA!!! THAT'S THE DUMBEST THING I'VE HE-HAHAHAHA


*Wind rushing sound*
*background* Sylvia: HAHAHAHAH
*background* Fiona: If you don't stop i'm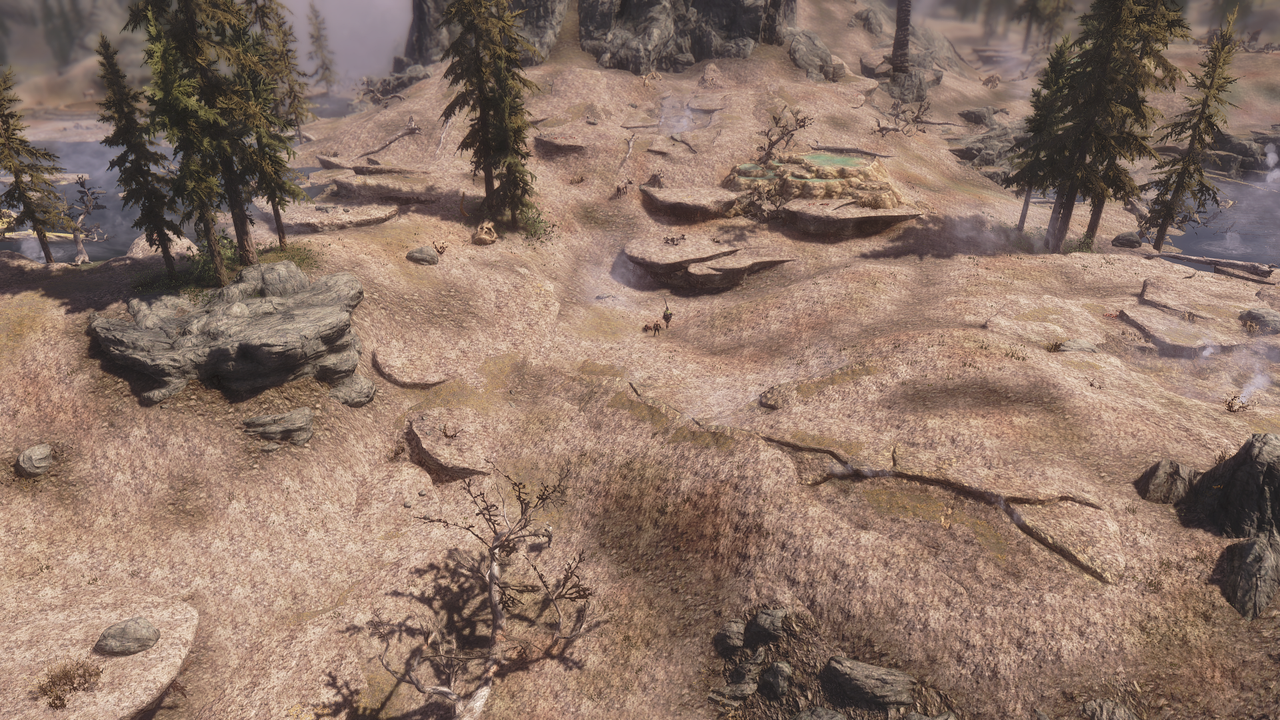 *Loud Wind Rushing sound*
Fiona: gonna send a pack of wolves to f-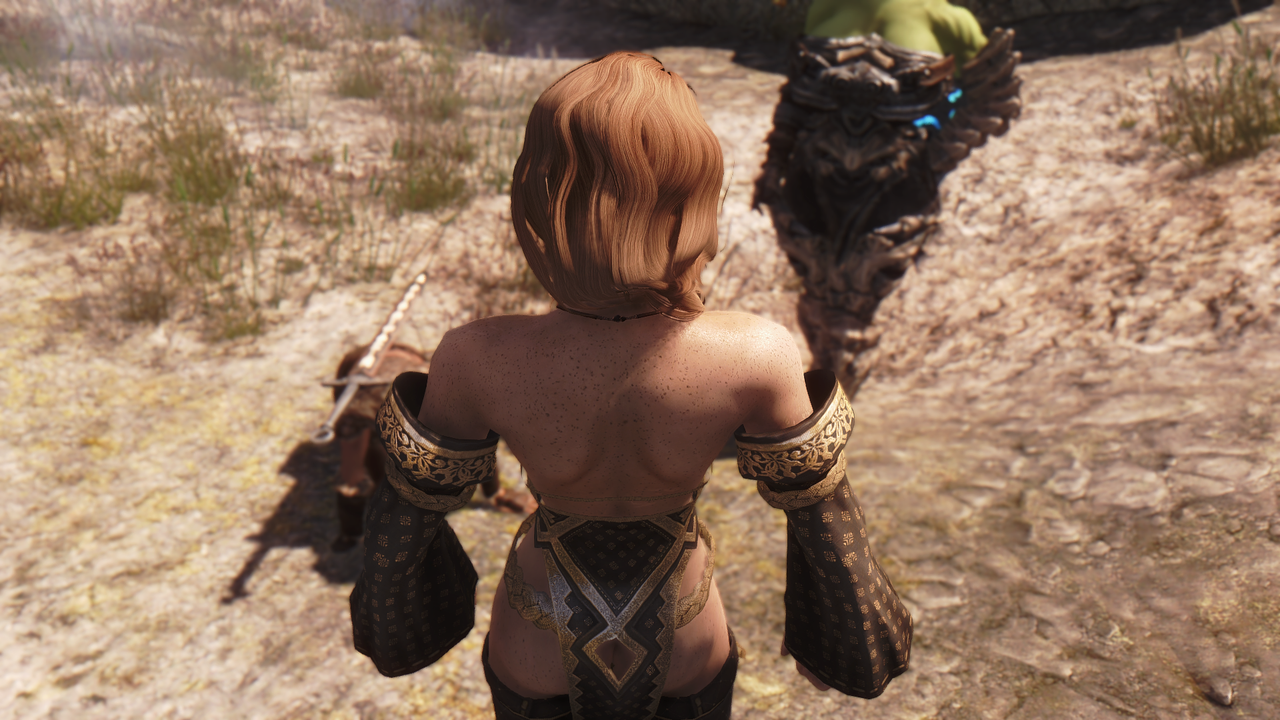 *Sound of armor hitting Fiona's head*
Fiona: GAH!!!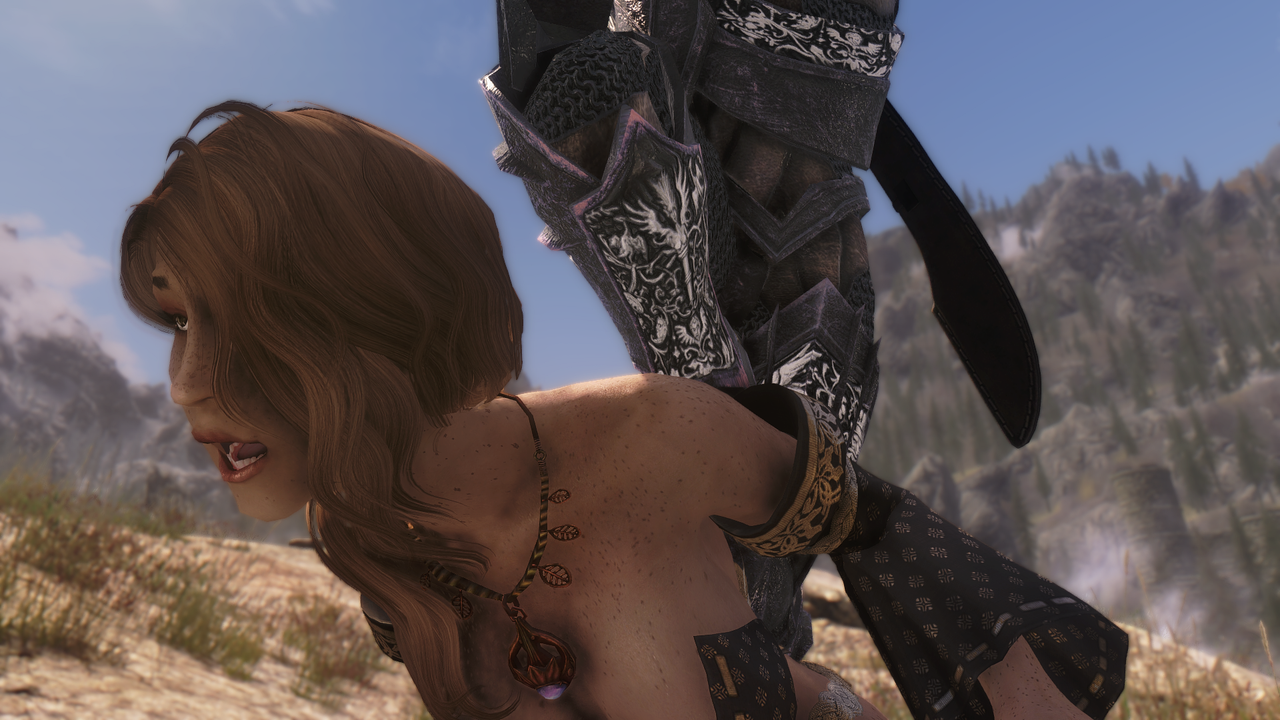 *Sound of Fiona hitting ground*
Sylvia: Oh Fuck!
Seline: Fiona!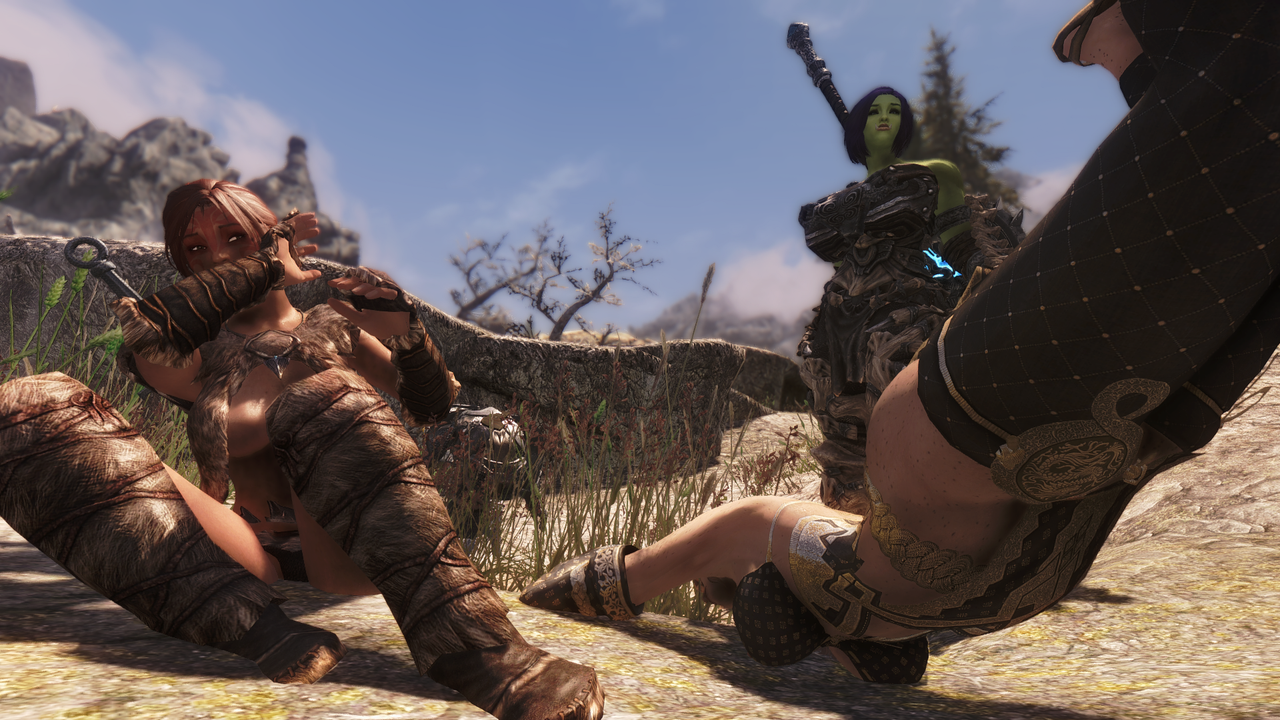 Seline: Is she okay.
Sylvia: Well she's alive, just outcold.
???: Ah, that was a great landing.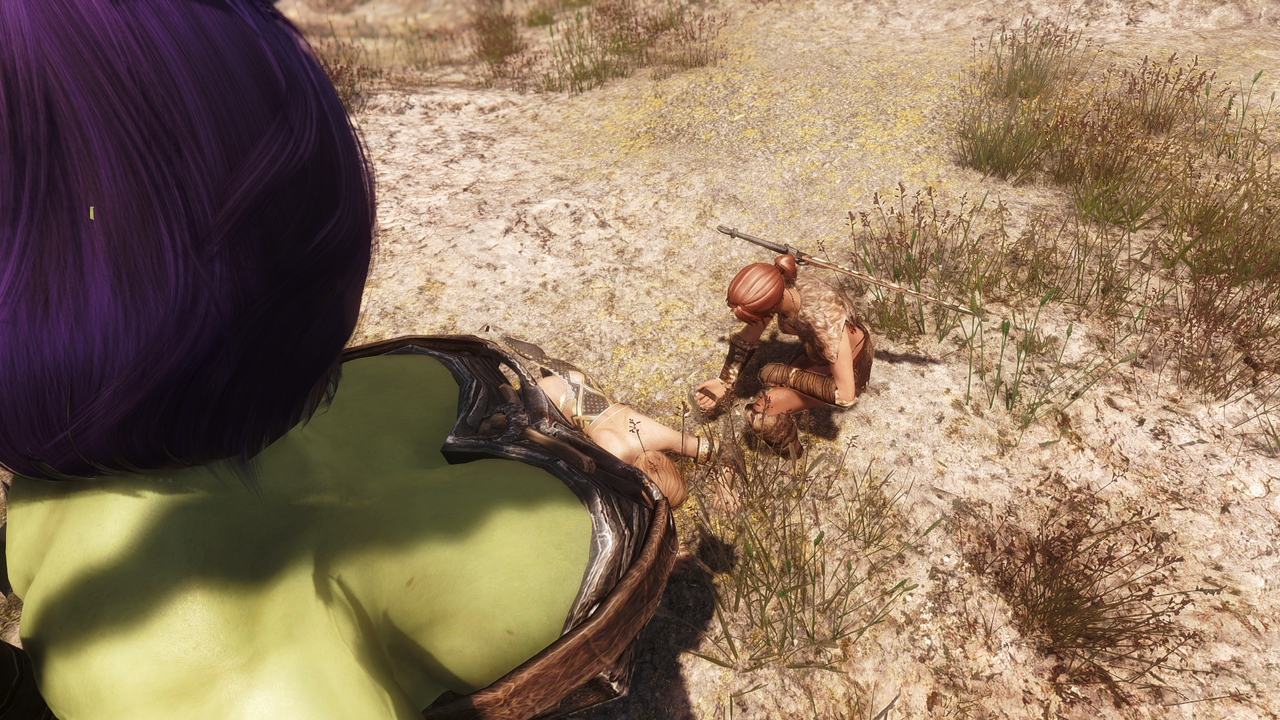 Seline: You son of a bitch.
Sylvia: How dare you do that before me.
Seline: Yea-wait what.
???: Forgive me for my rude entrance.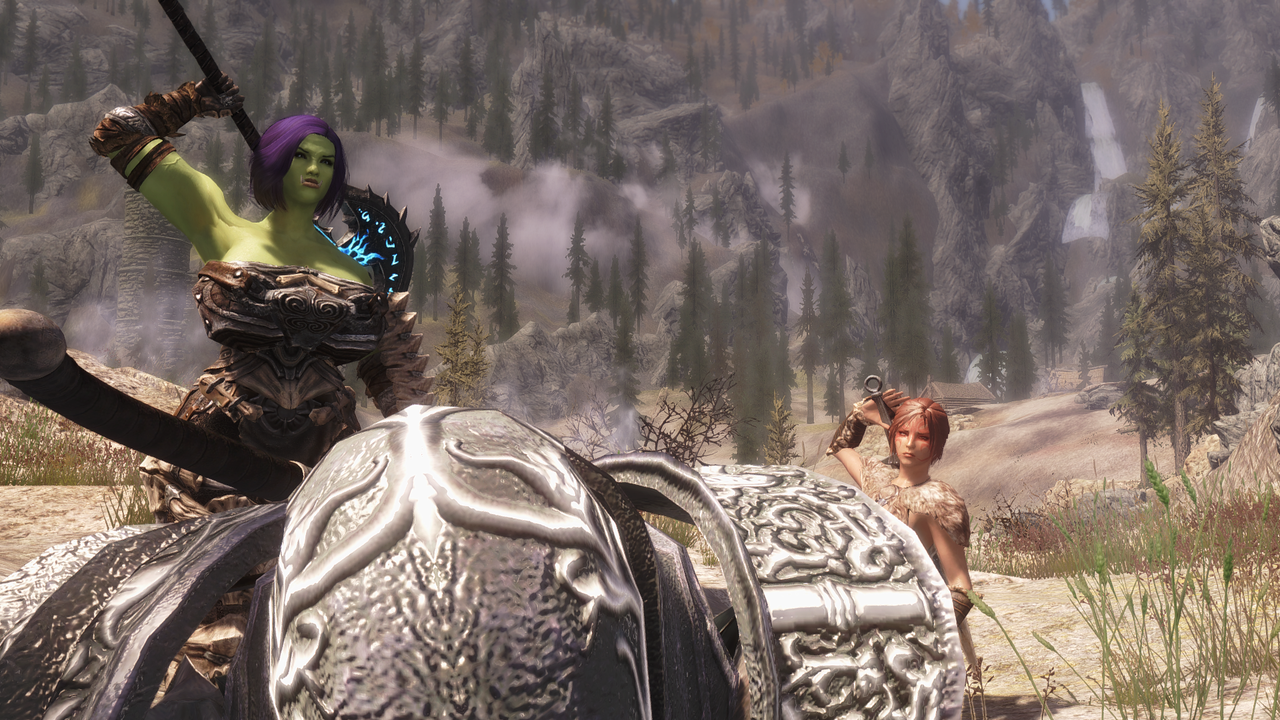 ???: My name is Kaal, i'm here to take this girl, my lords orders.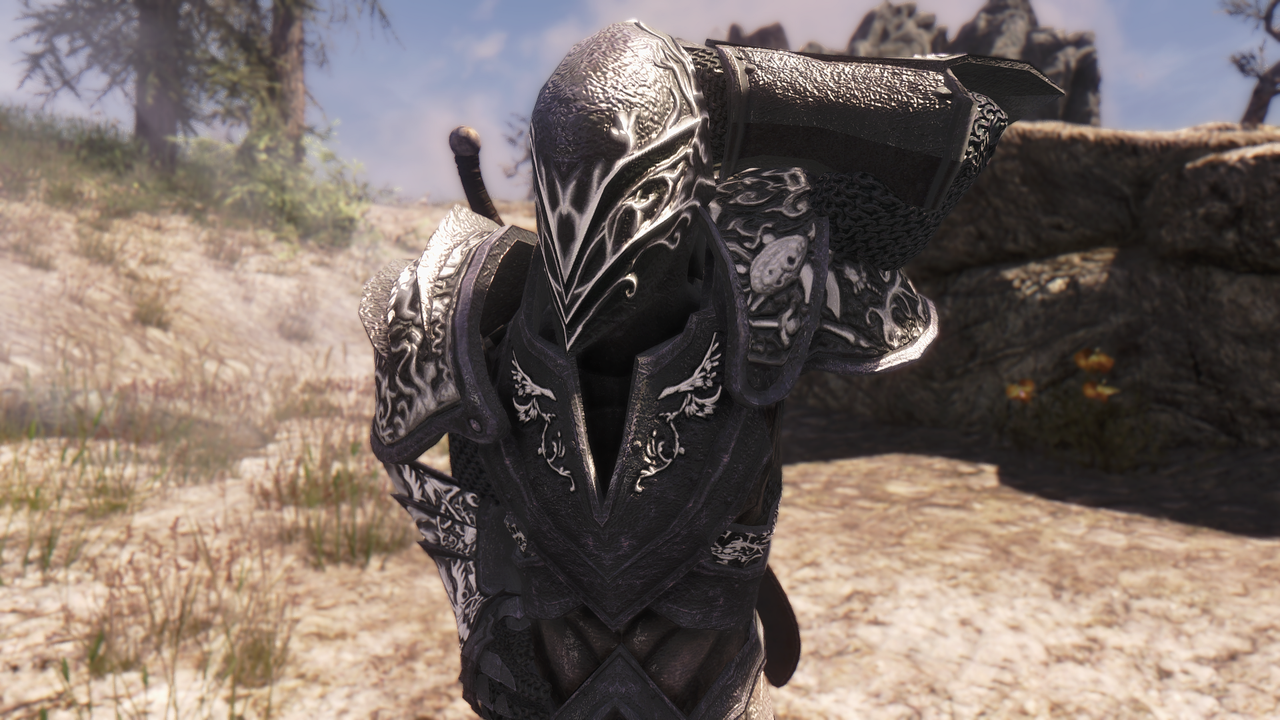 Kaal: Don't get in my way, unless you wish to be destroyed, and i'd rather not kill such cute girls, so if you'll excuse me i'll just take her and be off.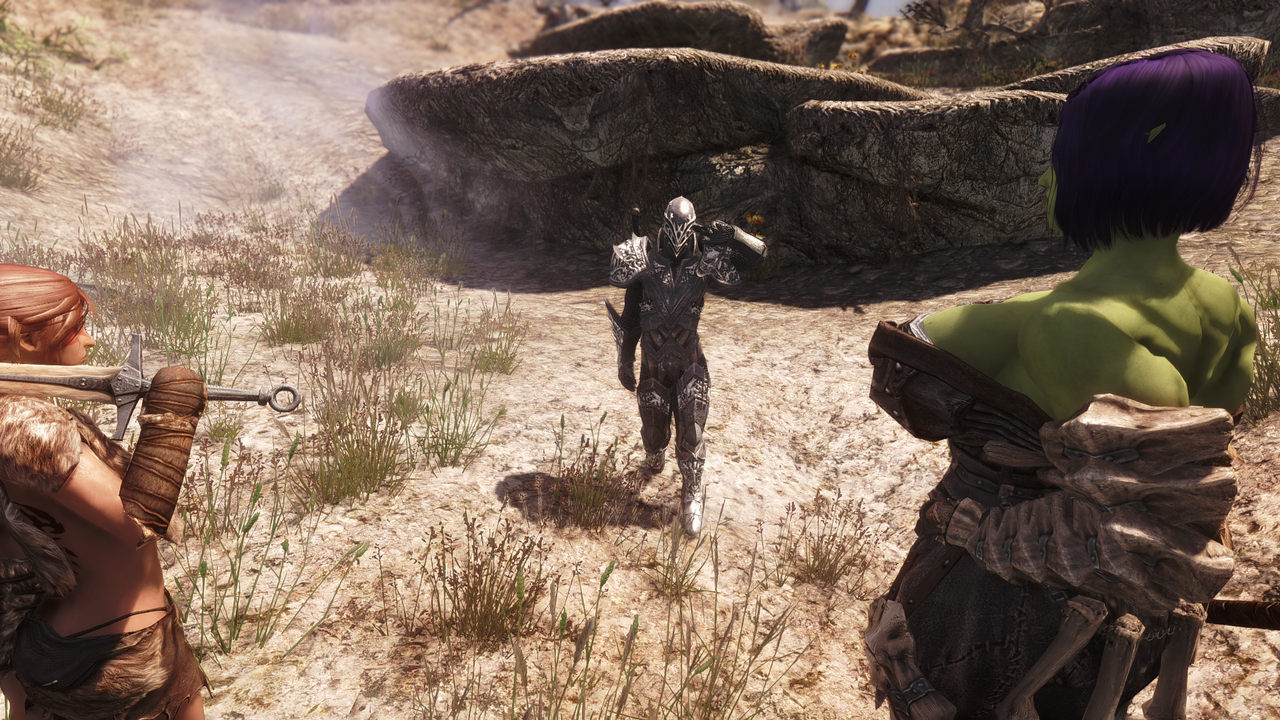 Seline: your not going anywhere.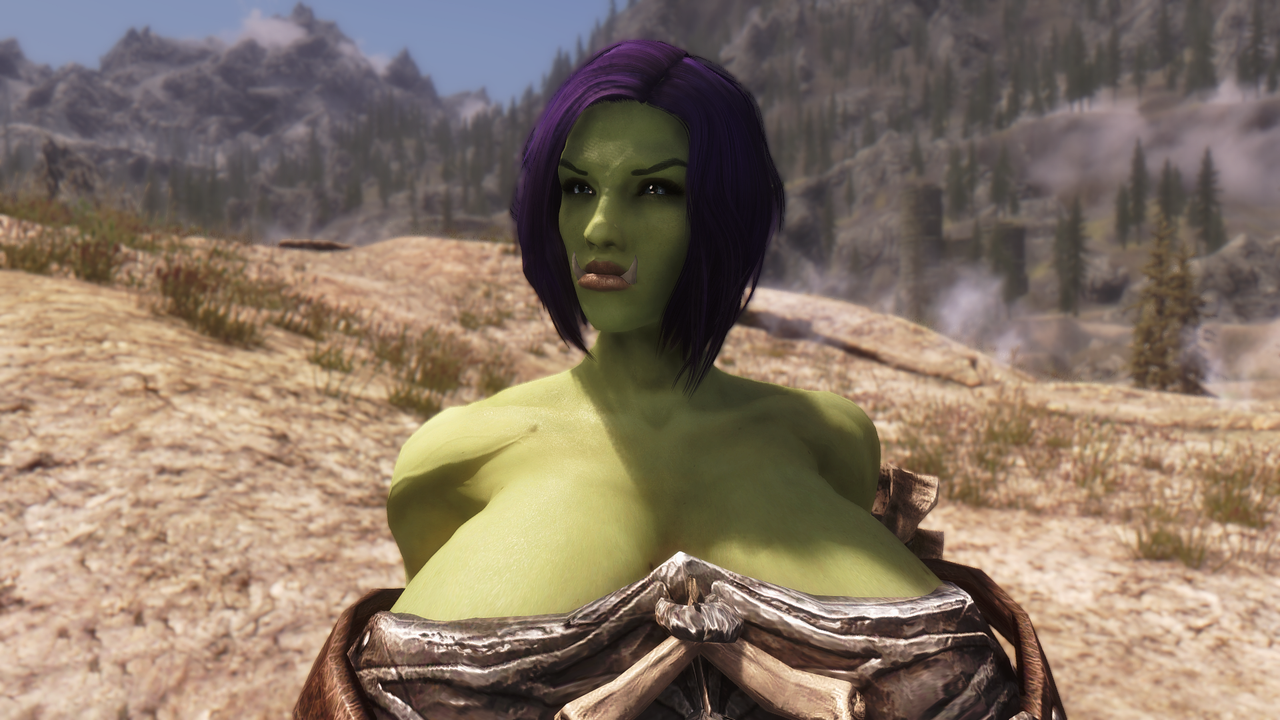 Sylvia: Yeah, not until i get my revenge on this bitch for what she did to me with those guards.
Seline: Stop.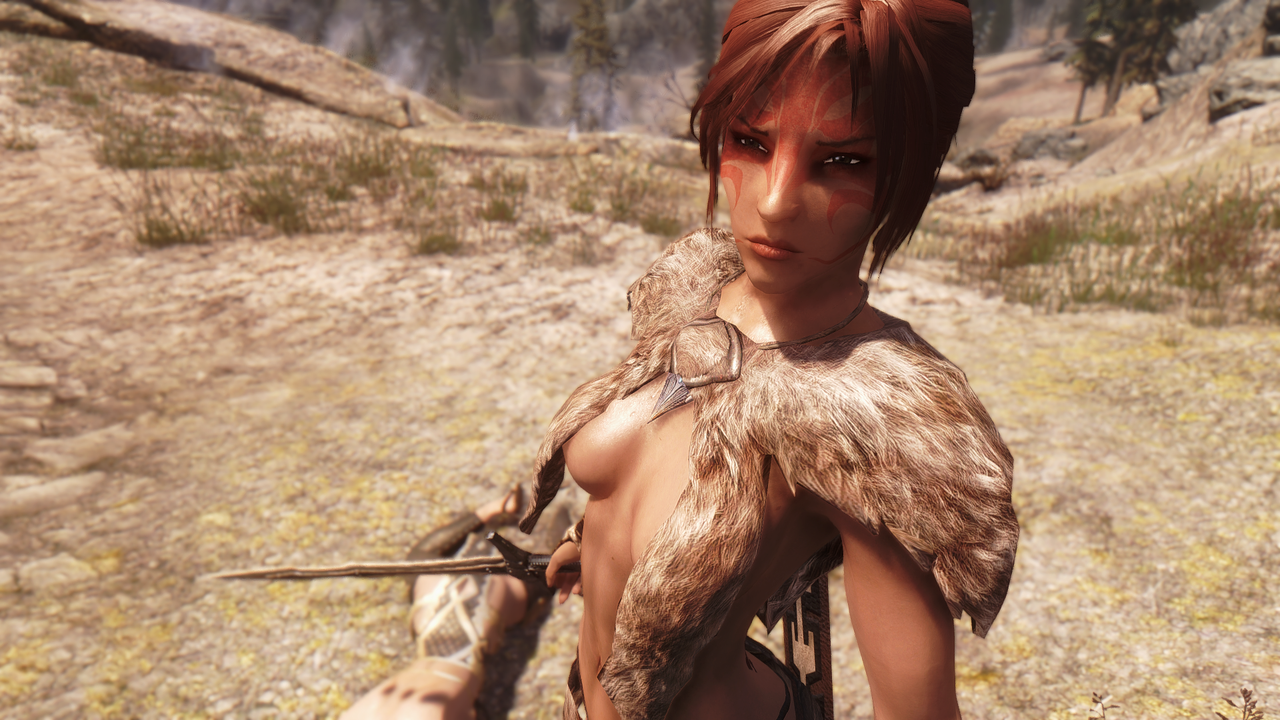 Kaal: I see i see, well then.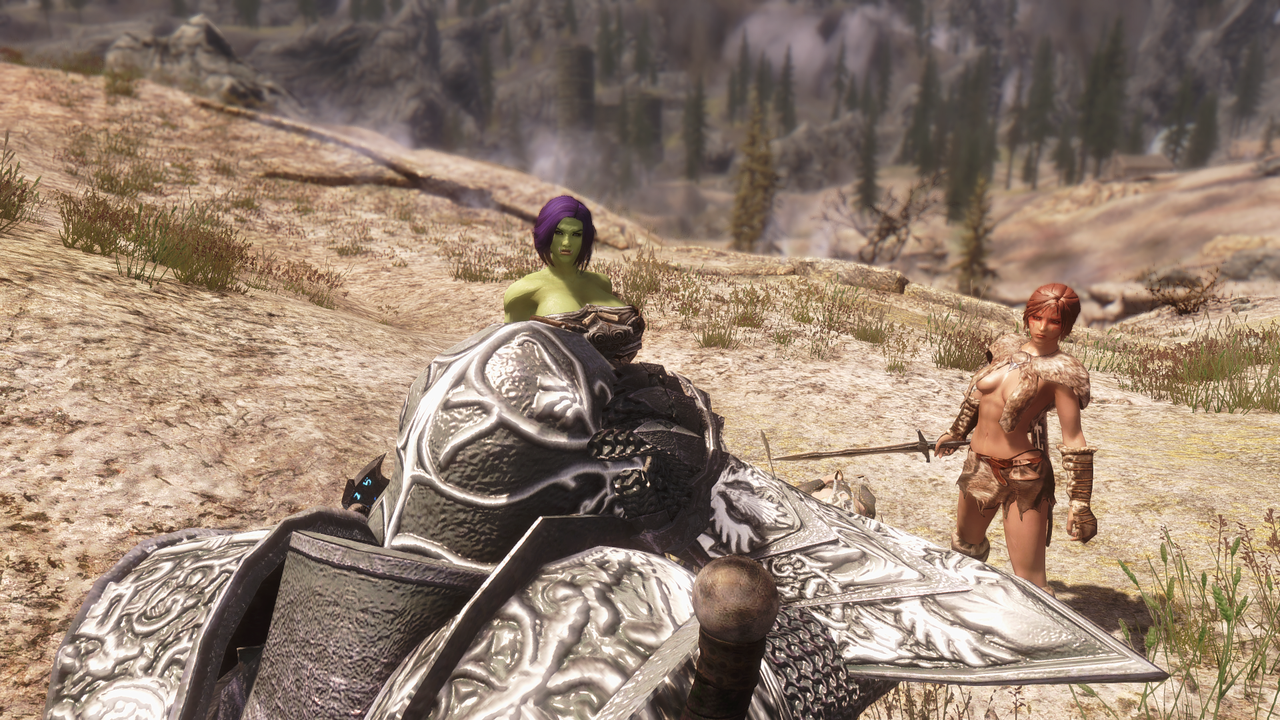 Kaal: I guess I'll have to use force.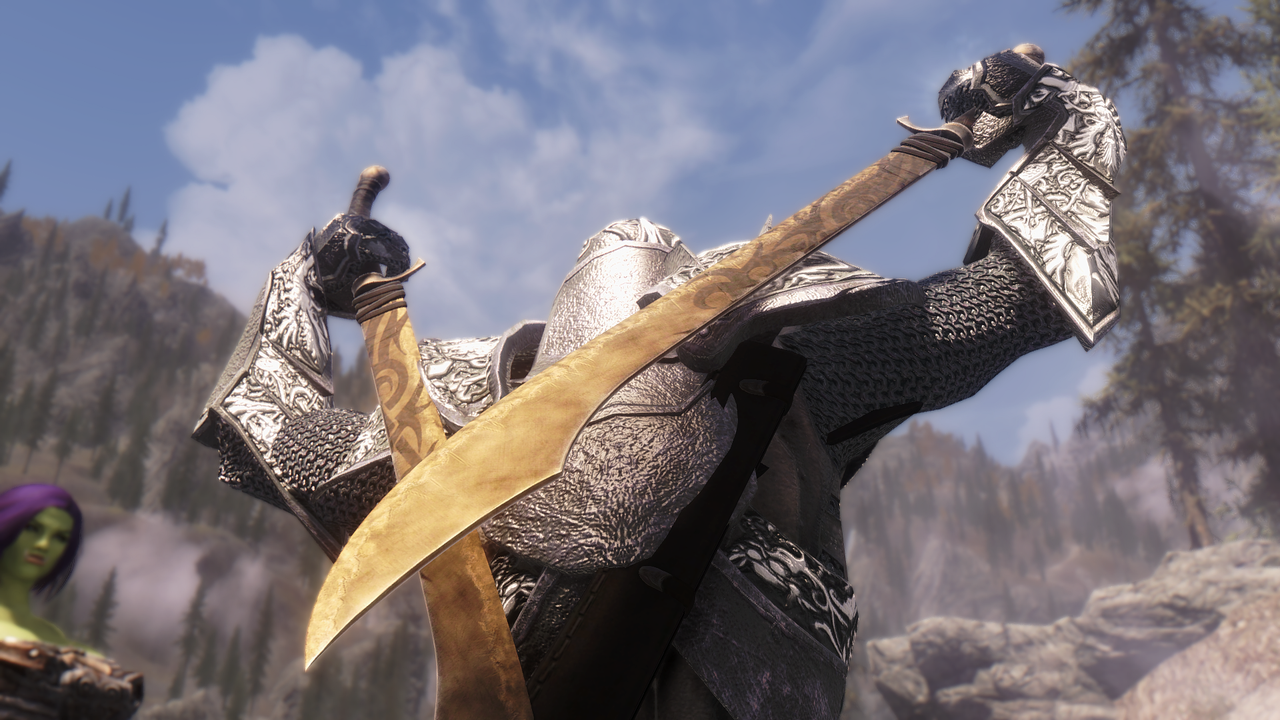 Seline belongs to Donegan
Part 2: http://www.loverslab.com/blog/407/entry-5077-chapter-40-blitzkrieg-23/
Part 3: http://www.loverslab.com/blog/407/entry-5078-chapter-40-blitzkrieg-33/