Enable alpha blending with BGSM+BSLightingShaderProperty
---
You can make transparent without BGEM & BSEffectShaderProperty
This combat armor using a simple BGSM & BSLightingShaderProperty.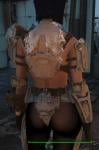 Check the 'Decal' option of the BGSM, set Alpha Blend Mode to the 'Standard' and just do as like skyrim. (appending NiAlphaProperty & using DX5 texture with a alpha channel)
Of course you must append a NiAlphaProperty to the transparent node.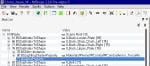 You can control the glossiness with the 'Specular Multiplier'.