So first stop DB then. En route we pass a War Zones battle at the Haafinger Stormcloak camp and Titch passes us.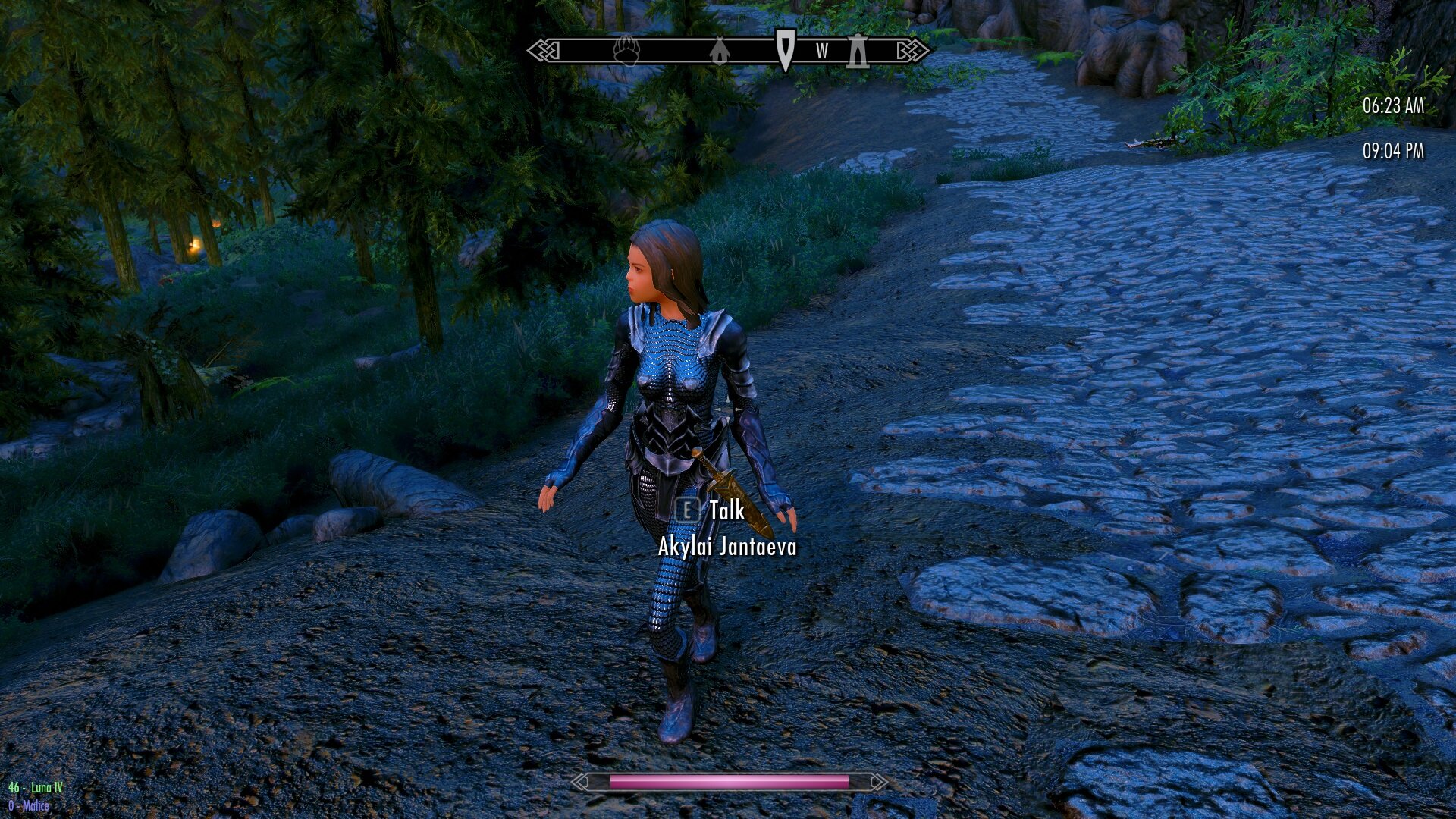 Into DB and the first lone nutter attack of the day. Swiftly dealt with - dead and looted before she knew what had hit her.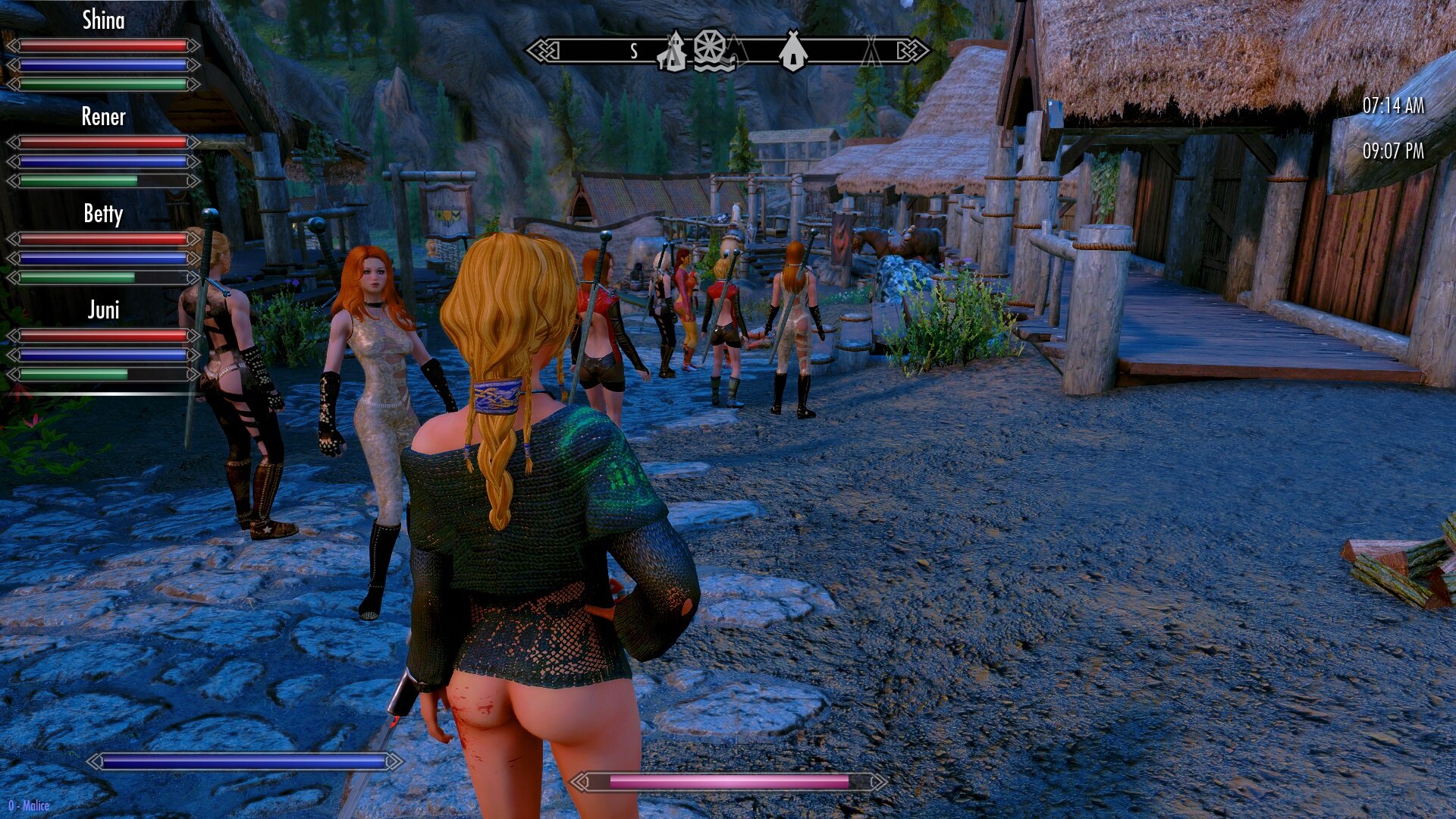 Pillory texture definitely fixed as this was the one I took a screenie of with missing texture. I found a discrepancy of three dds files between the Zaz installed and the Zaz archive.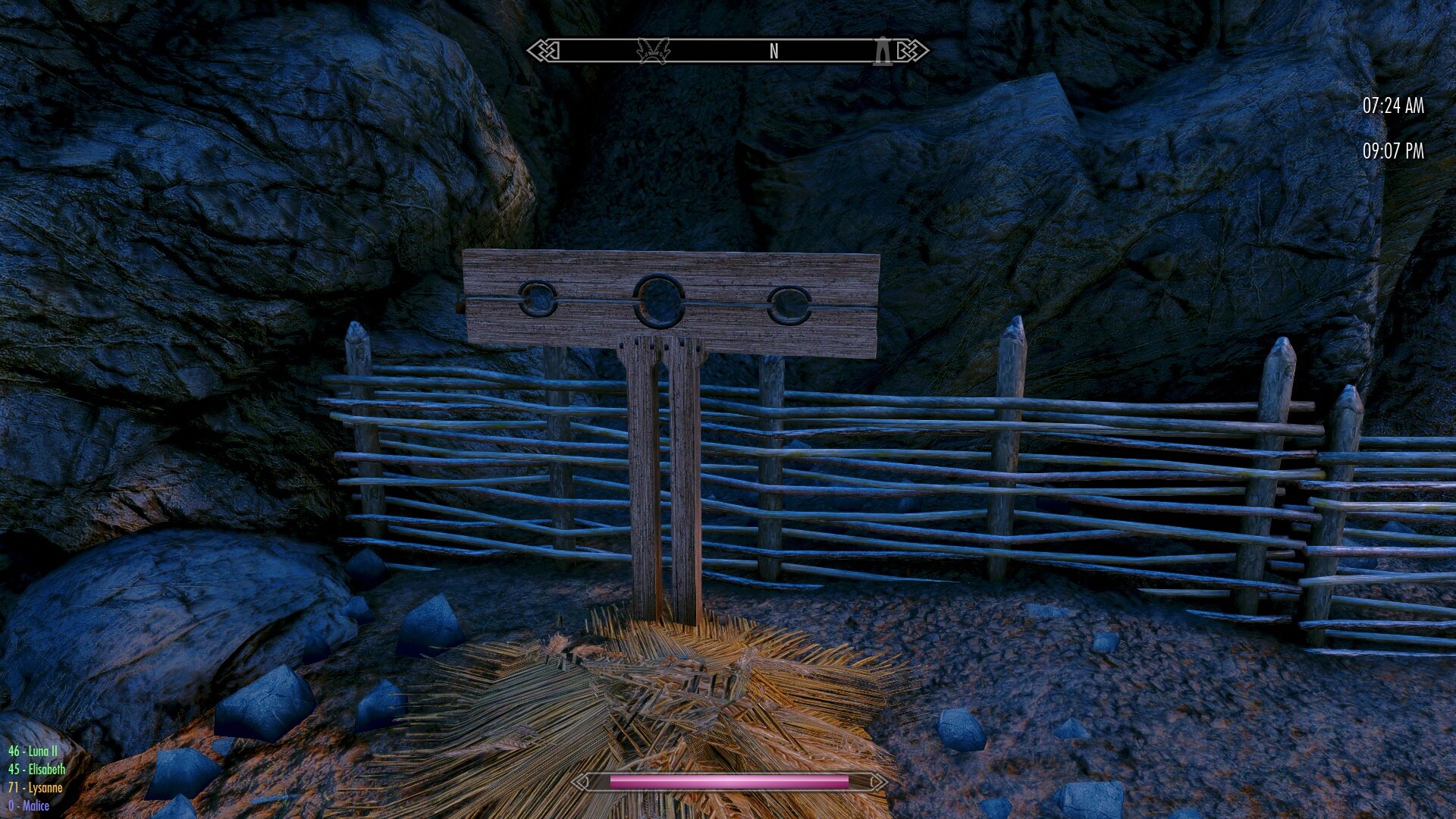 A quick visit to the trader and I head off to the blacksmith. I didn't see this mentioned on anyone's C.V. ?
I must have missed it.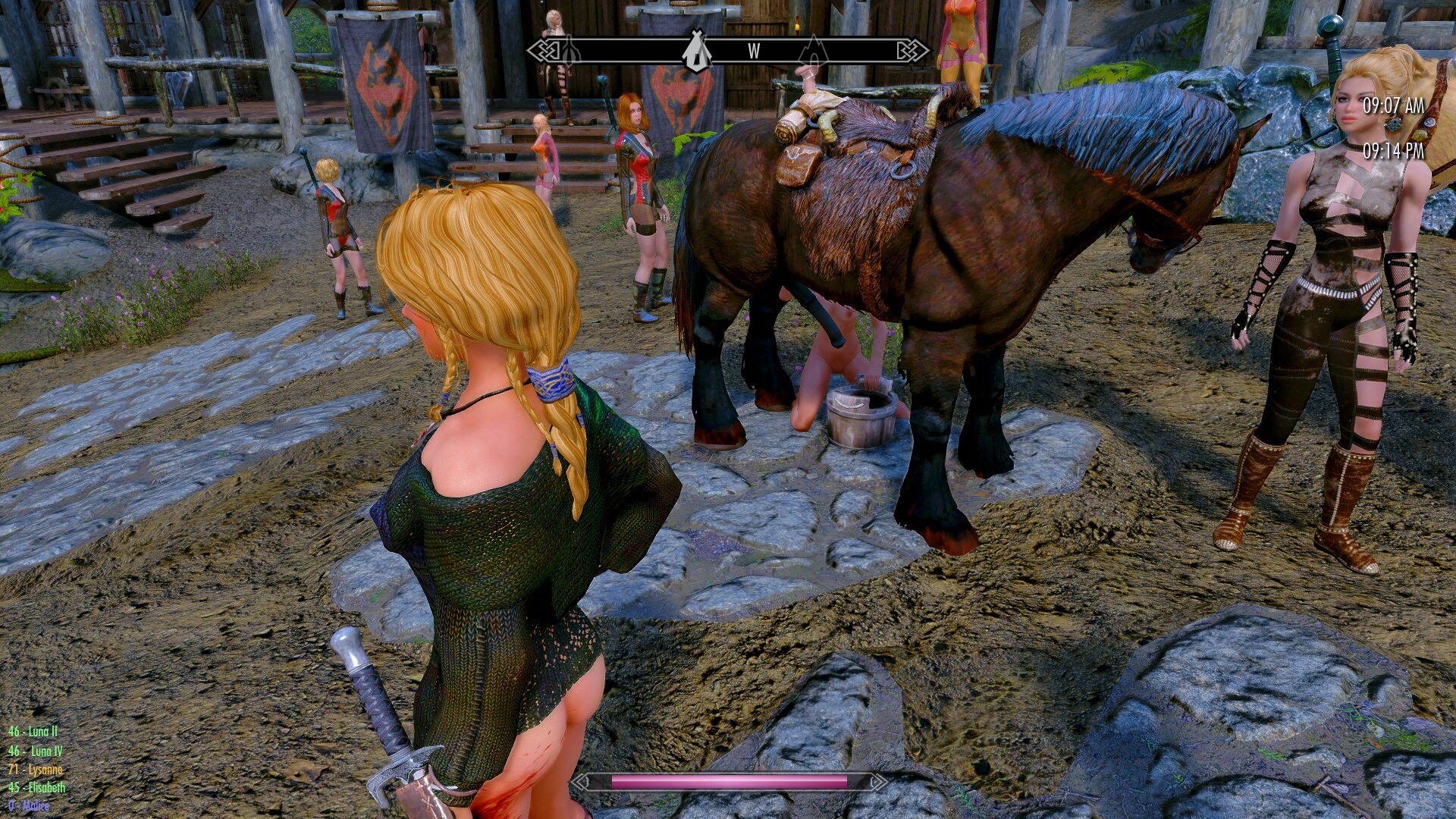 All of it.
Look at Coda Cabbagehead trying to look all cool and nonchalant with his foot on the step. It took him about twenty attempts to get his foot on there. ?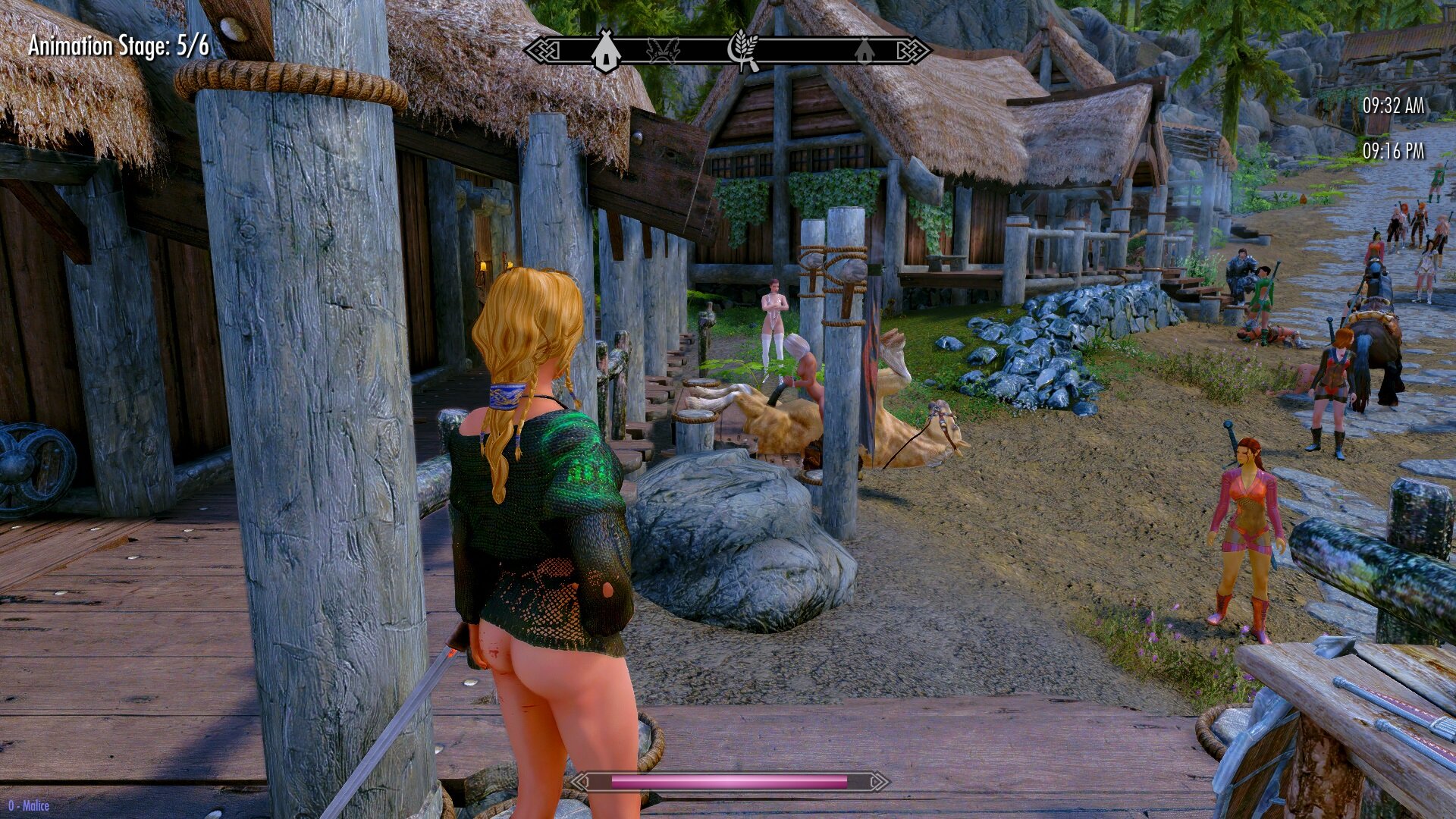 To be fair, there may be a reason for his foot trouble. I've recently upgraded him from orcish to ebonish and I may have got his shoe size wrong.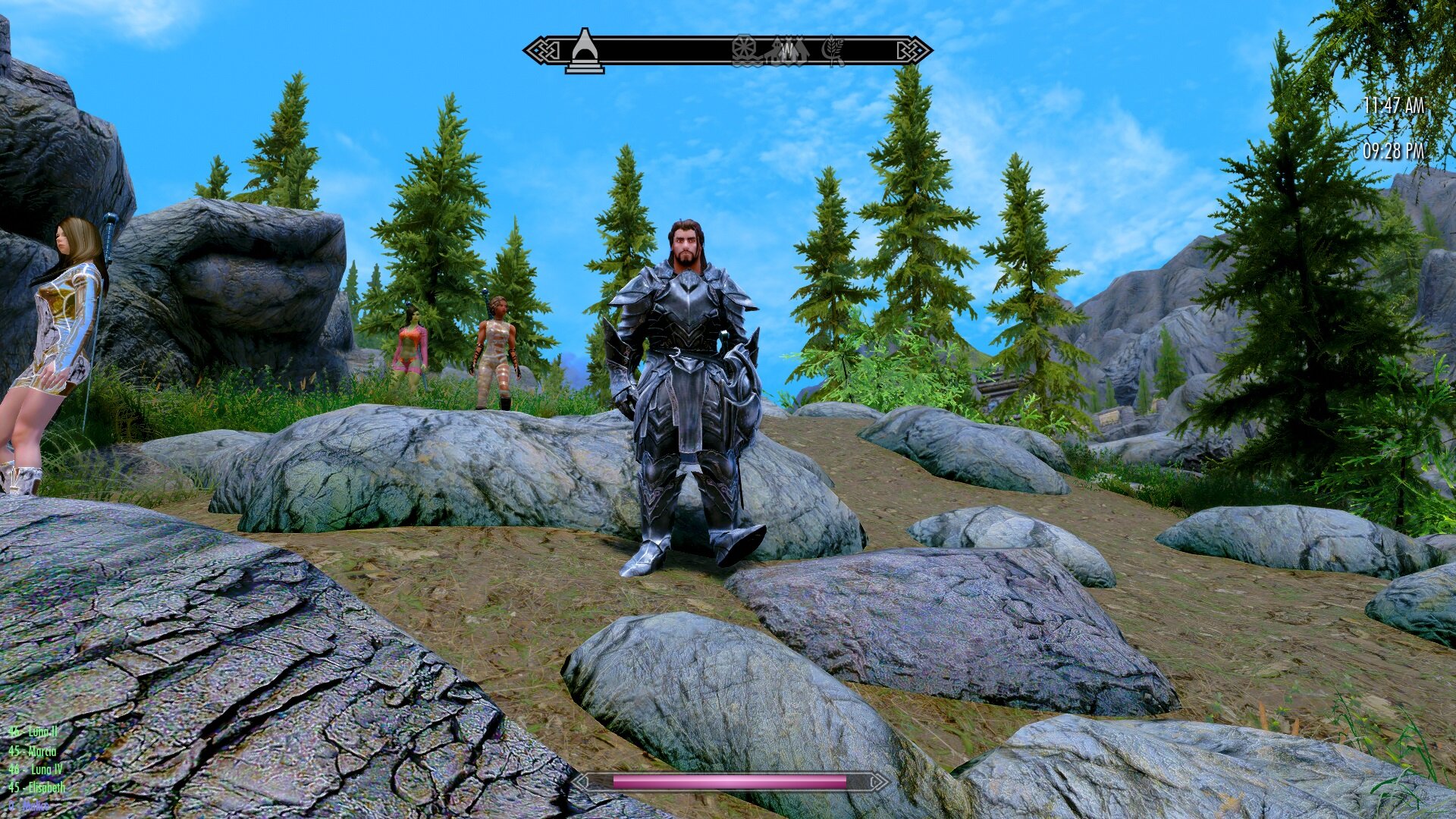 I thought 20 ingots was a lot for a pair of boots. ? We are at Karth River Henge, or whatever it's called, just about to descend on the little bandit camp by the water.
Easy, peasy, lemon squeezy.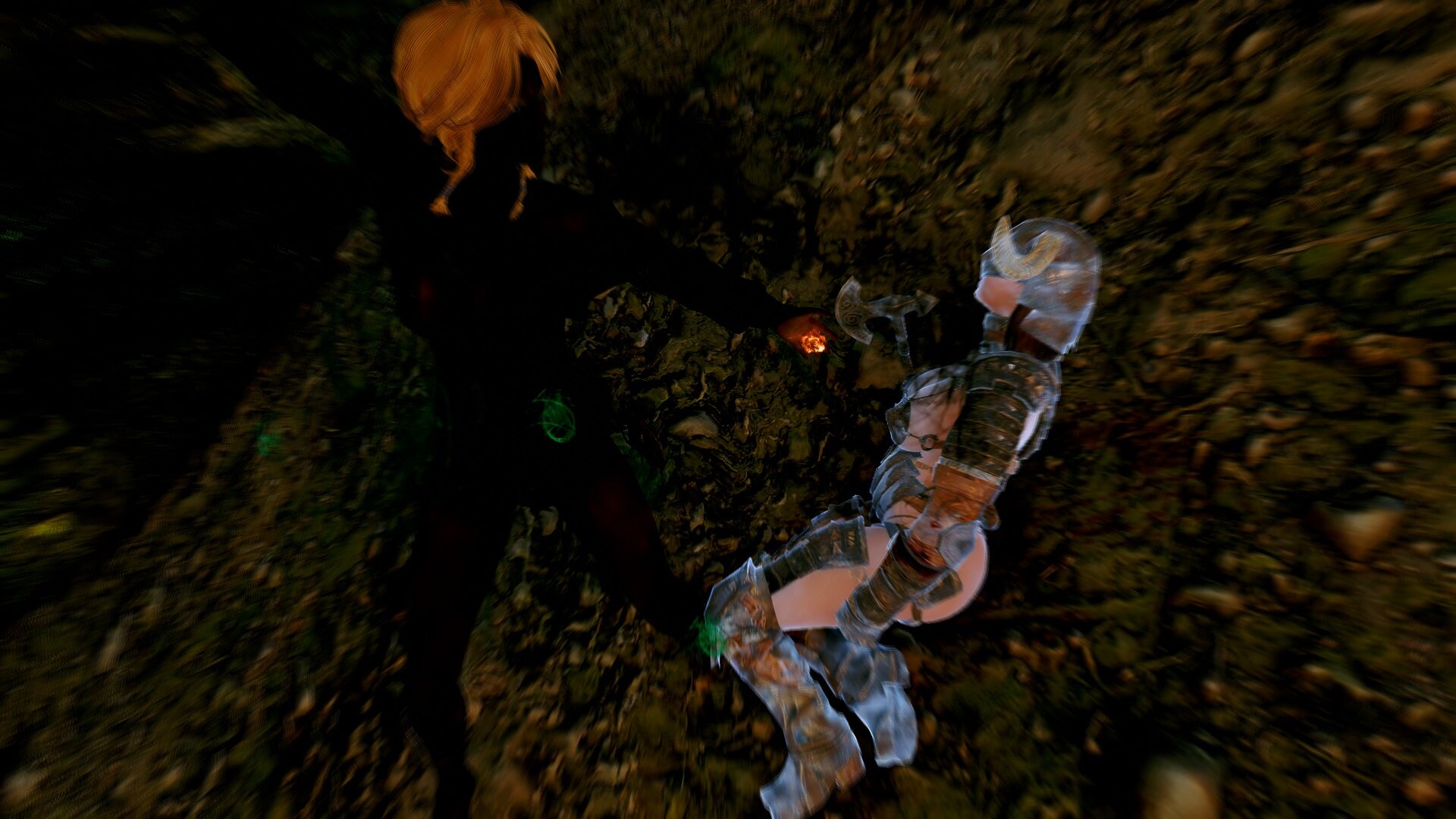 We found a Forgotten Skyrim dungeon so in we went.
Huge place but not a lot in there. Bandits but mostly too few, too weak and spaced out too far apart until near the end. Not long in I lost contact with all but one of my followers which livened it up a bit. ?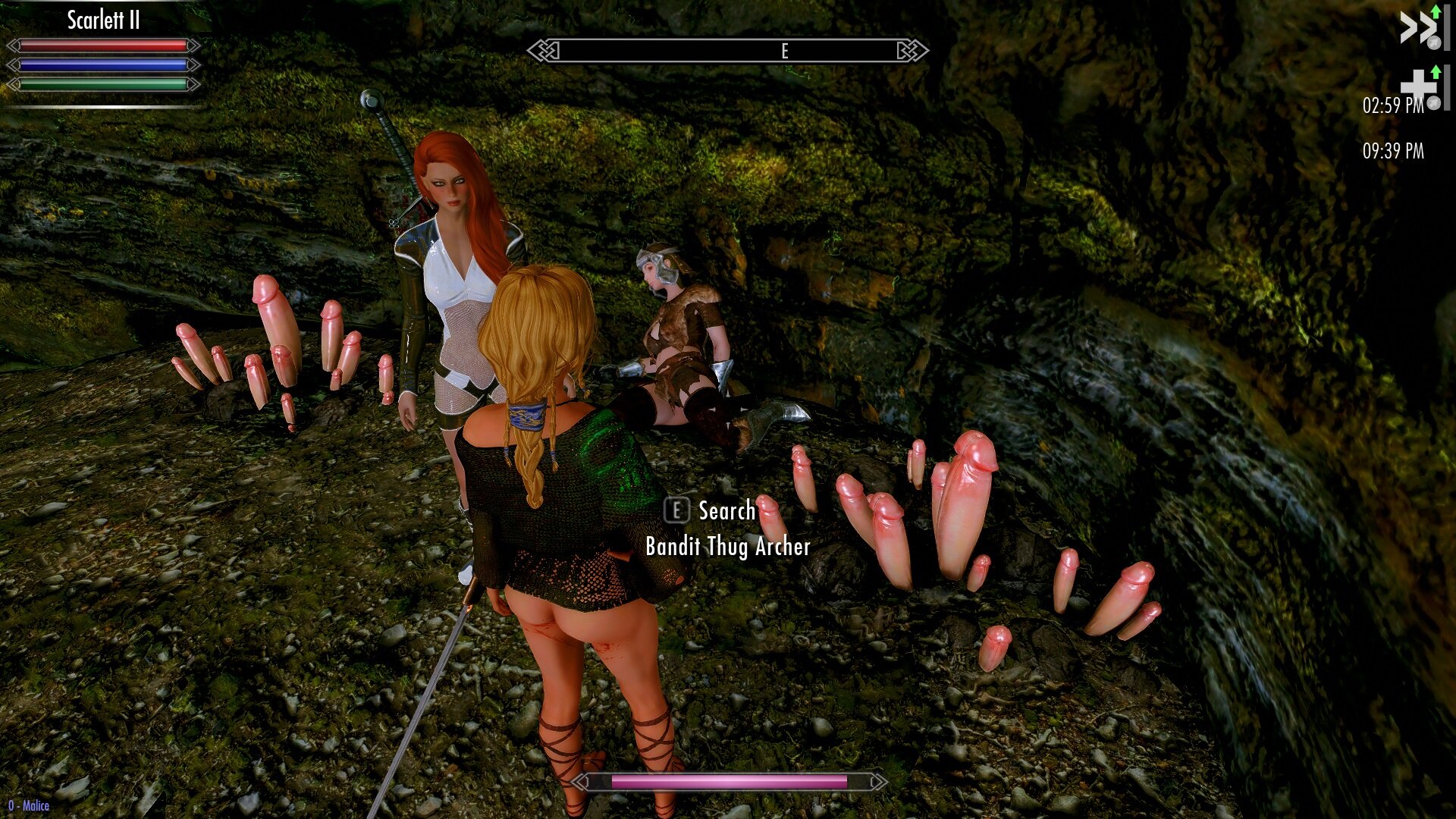 Scarlett the second and I were doing okay until we ran into a bunch of bandits and I got killed.
I issued the EFF "get your arses over here" command to get everyone back on track. That's the new gel, Alina on the left in green.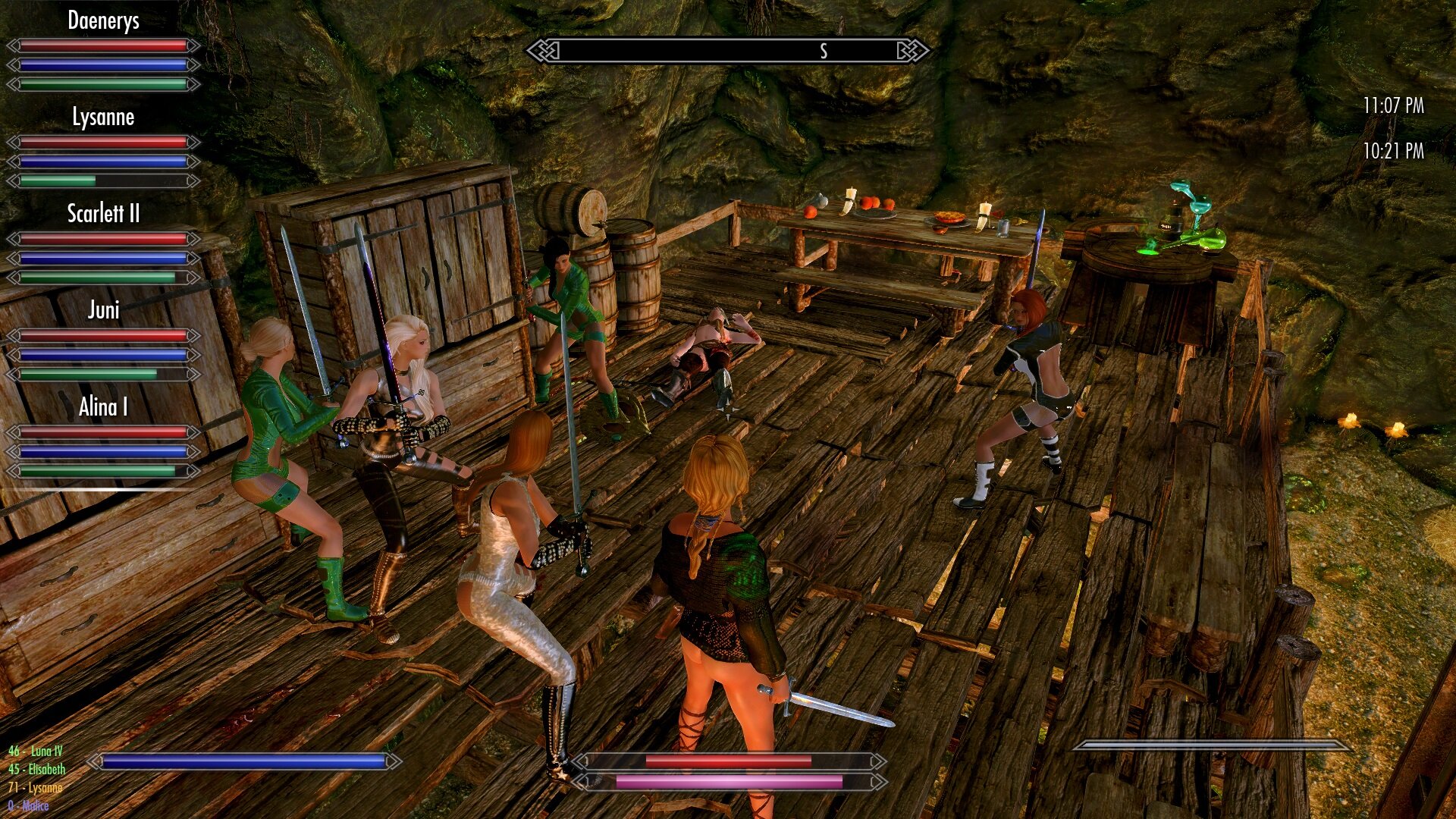 I'm now paranoid about losing them again.
Just checkin'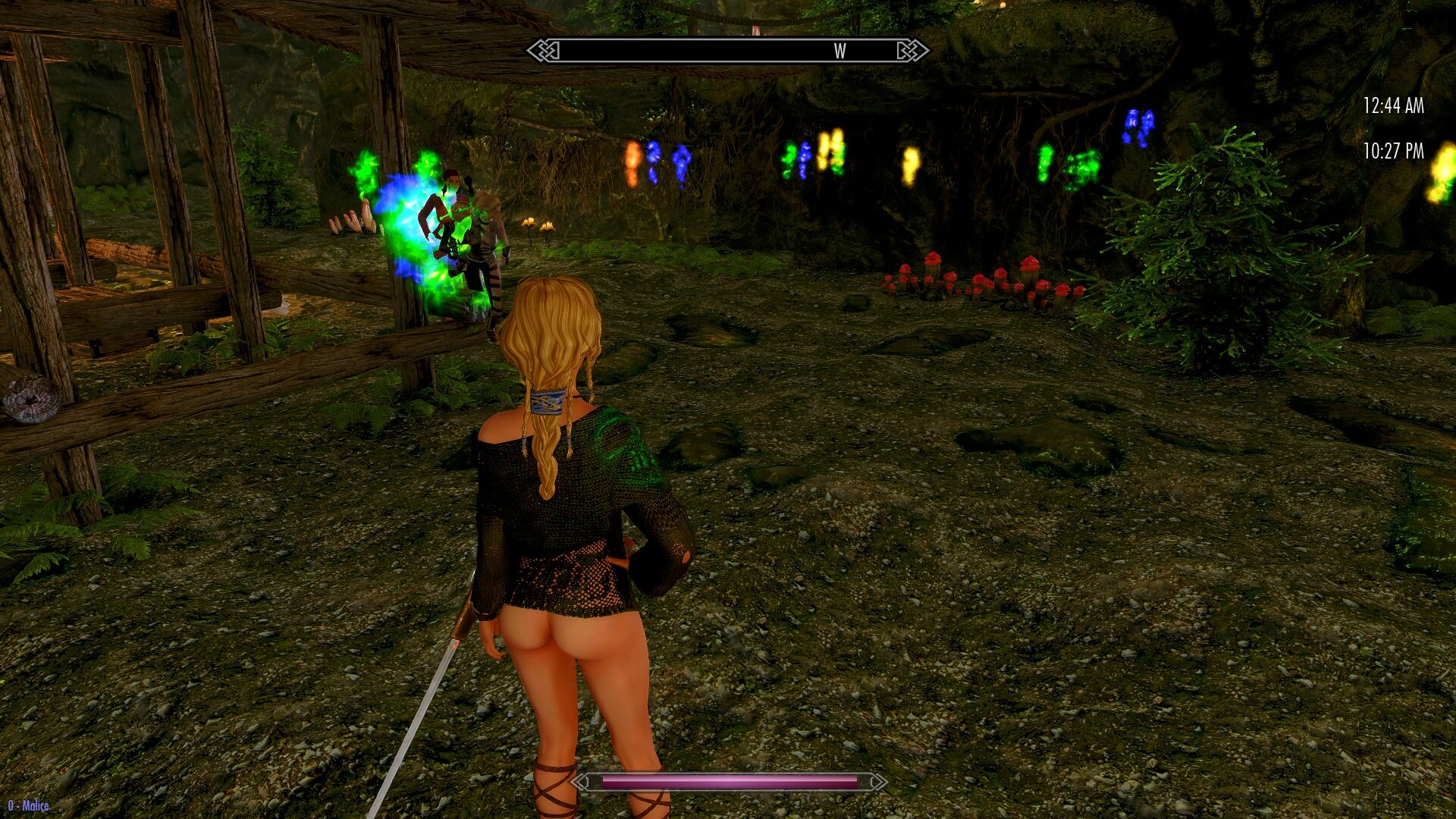 We bumped into Sinbad an HSO villain towards the end. How do they know I have Forgotten Skyrim installed? ?
Just at the exit and I'm thinking of having a makeover. I don't know if it is because of the HP head but all my PC presets look too smooth-faced these days.
Here's an old screenshot. Like an idiot I deleted this and many other presets by mistake. Part of the look is from the skin which I thought was the 'old' option of Mature Skin but I tried that at the start of this game and it didn't cut it.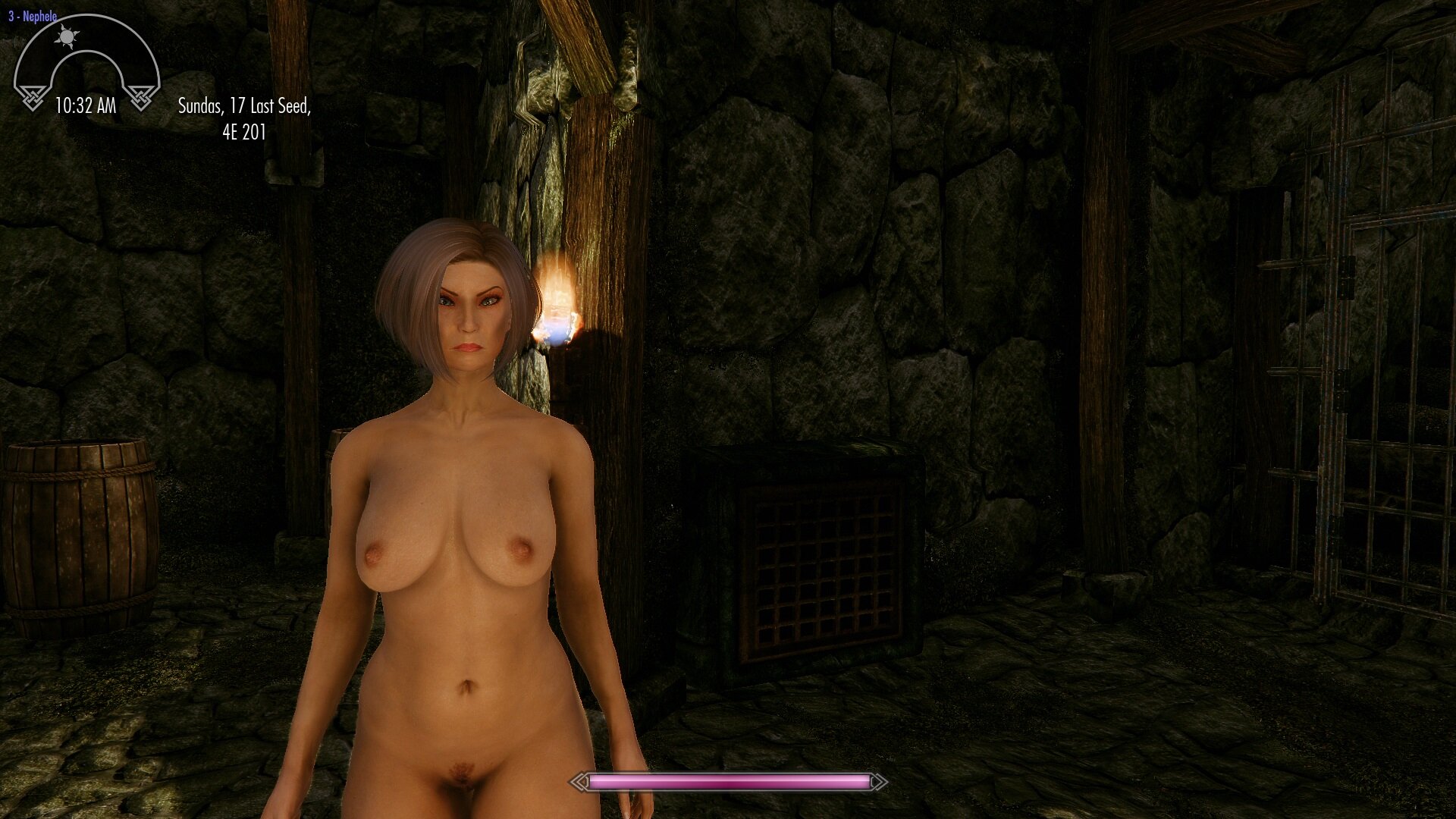 Here's two using more or less the same preset from now.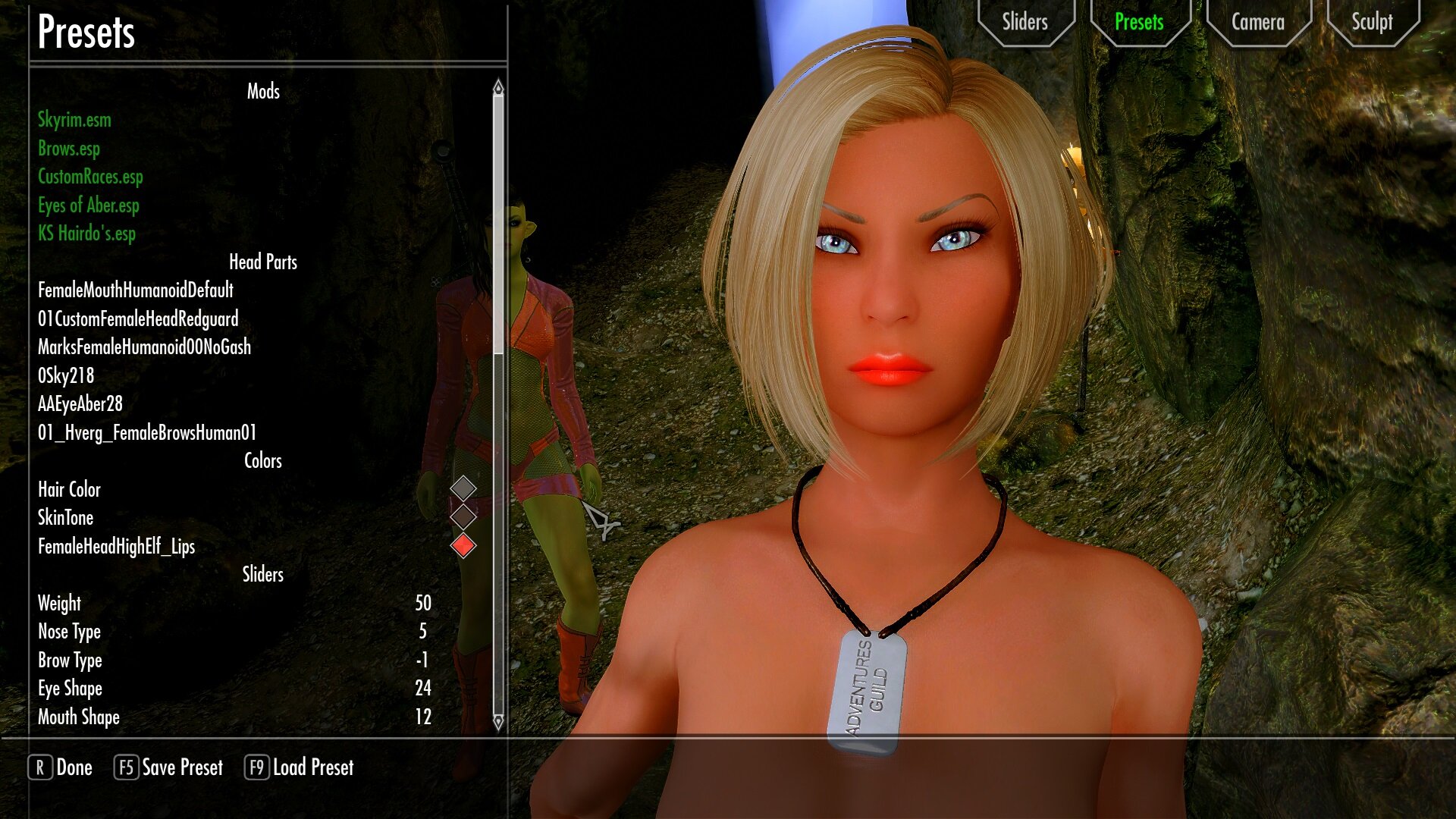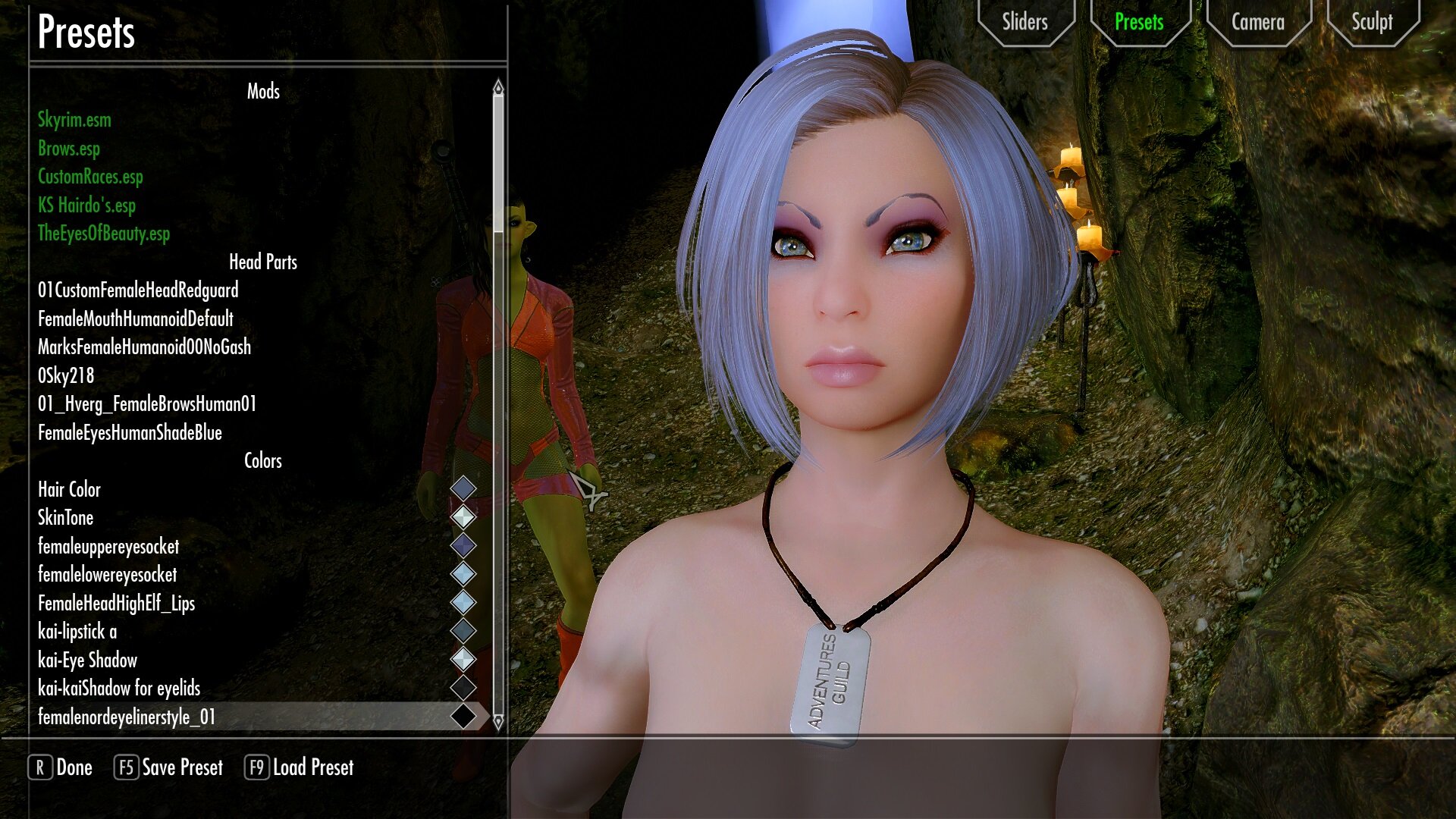 Here's a different preset but same story.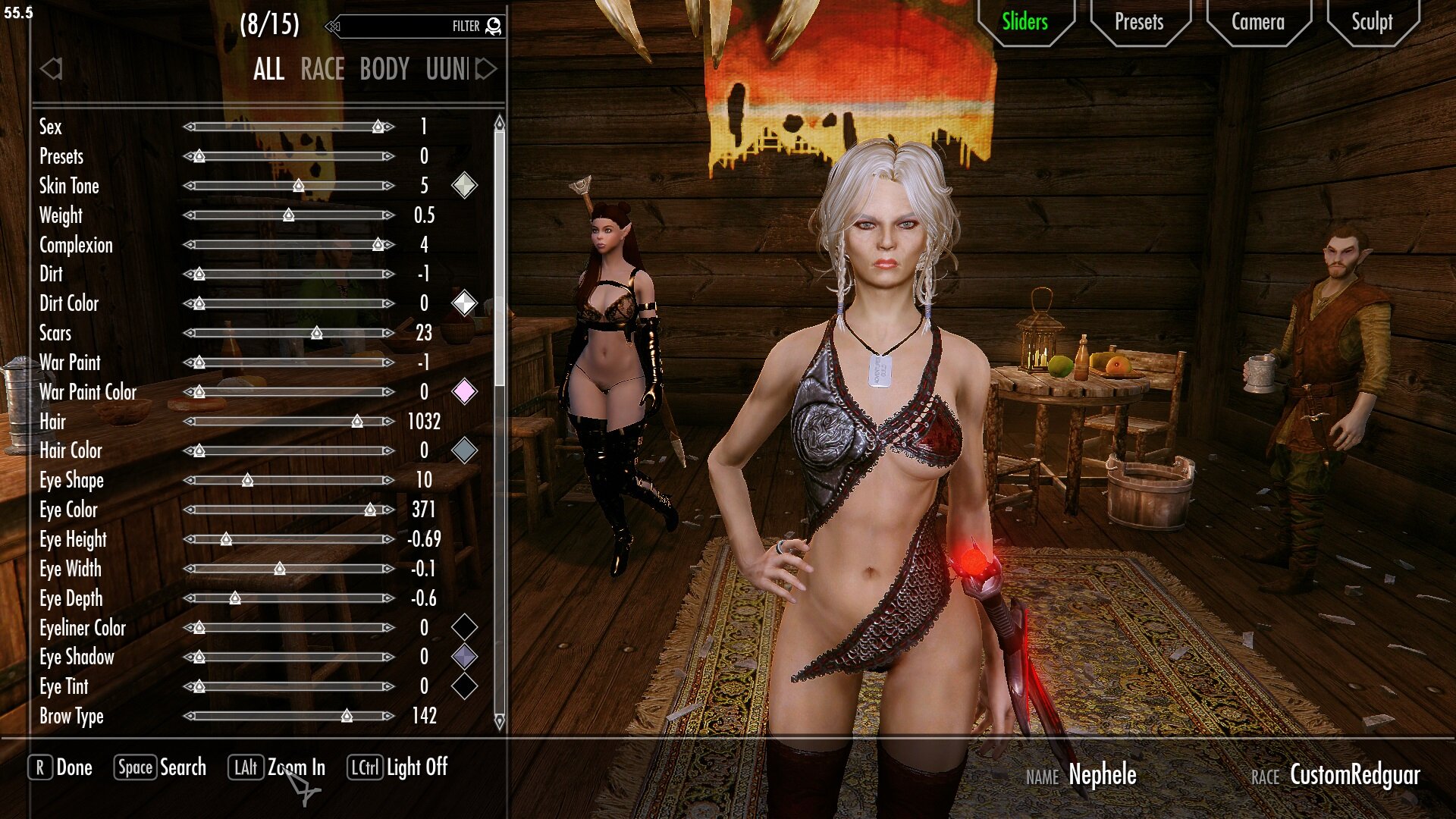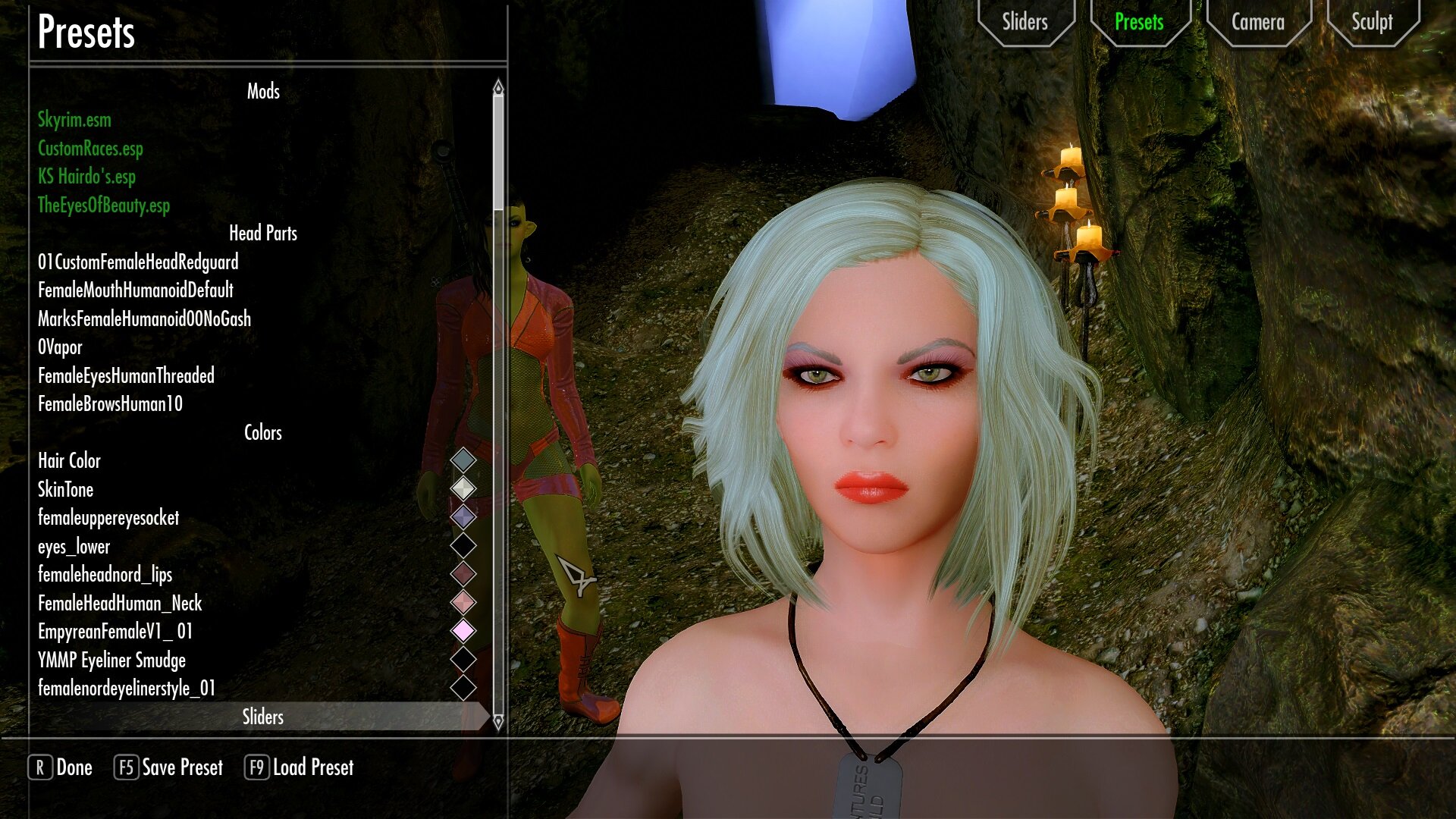 Anyway we came out of the dungeon and were attacked by werewolves. We didn't need it but we got help from some rieklings.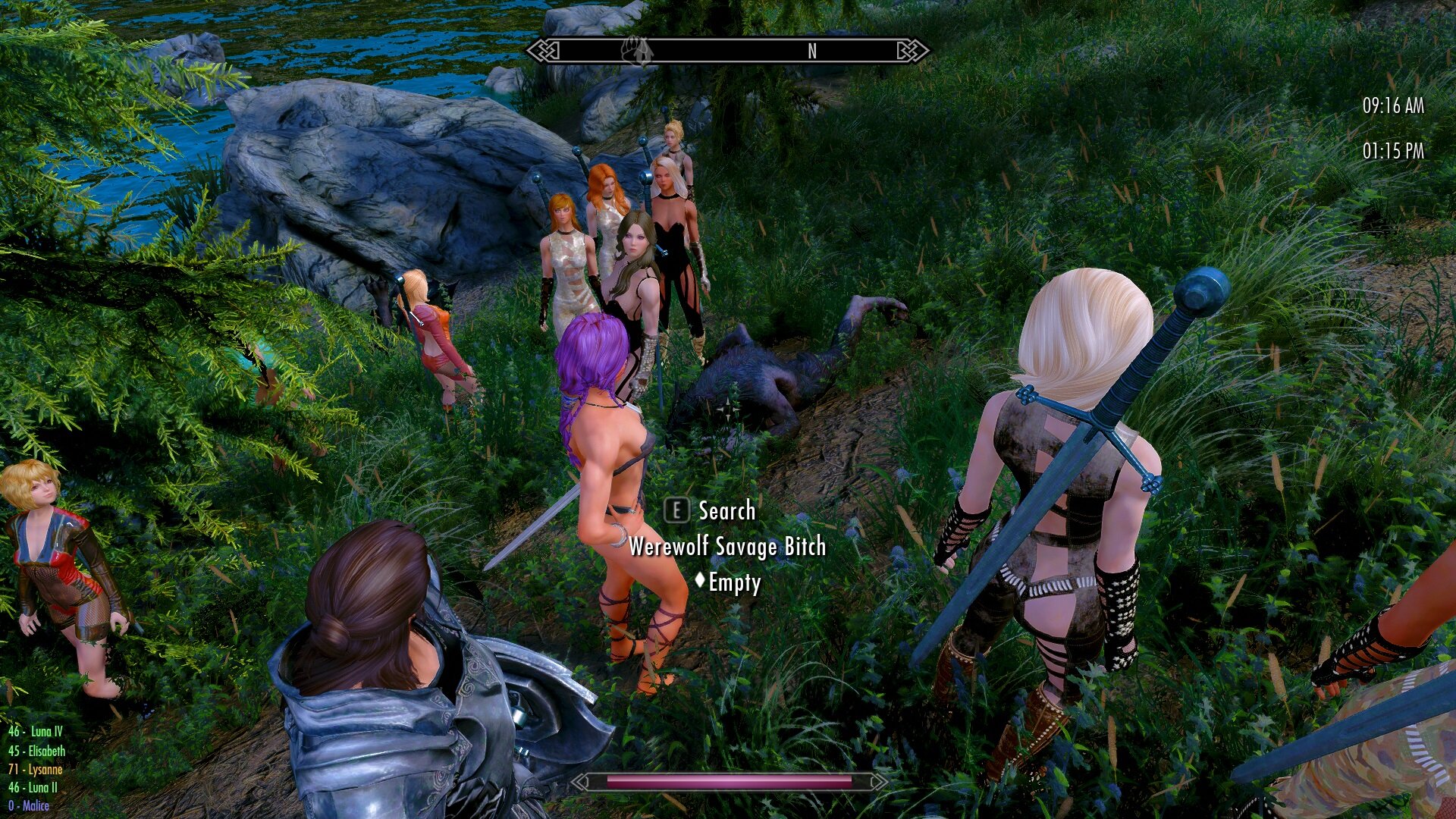 Shortly after the fight I went down with cramp but luckily the rieklings had a physio with them.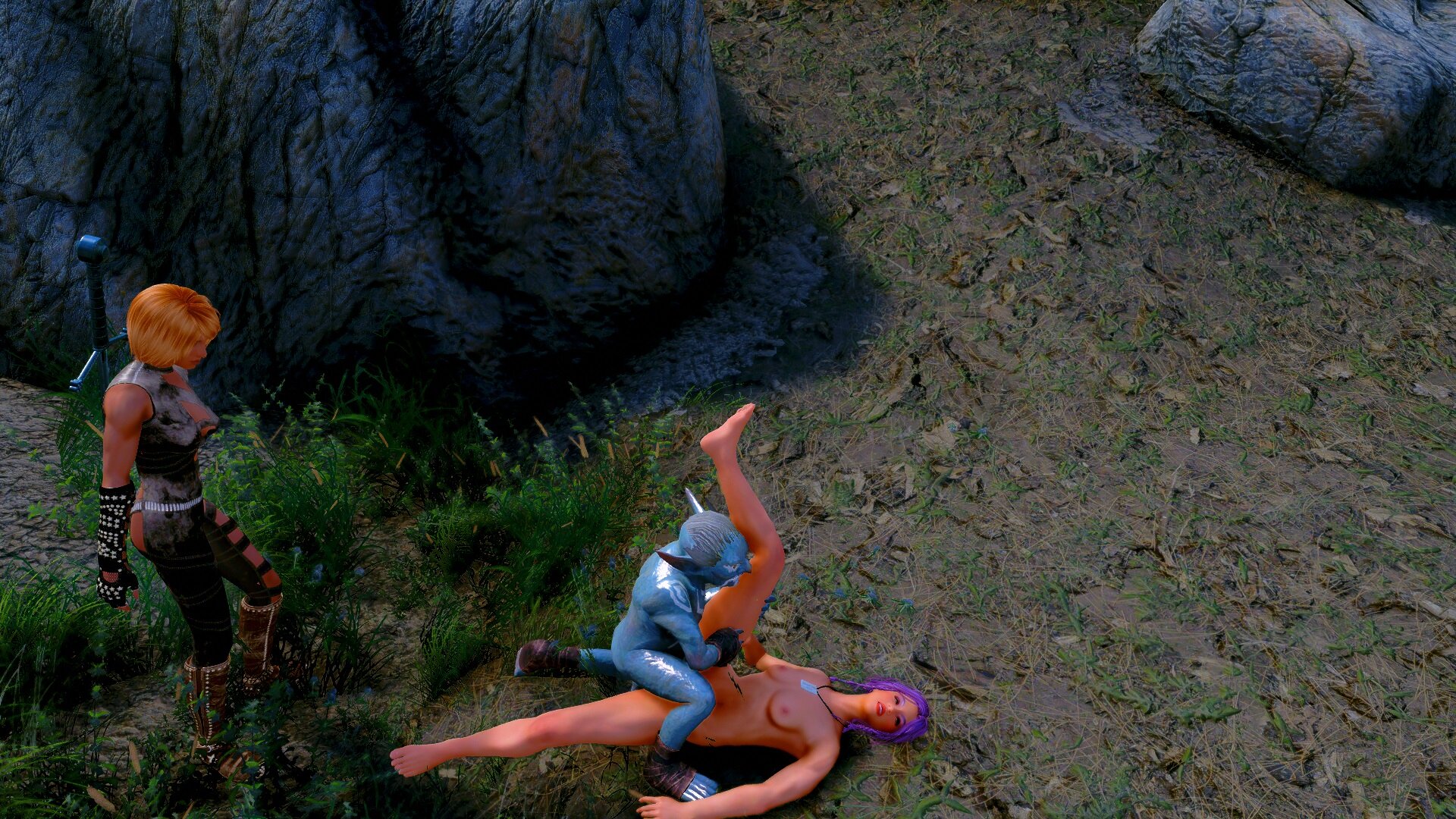 Best served with Cyrodilic slaughterchips?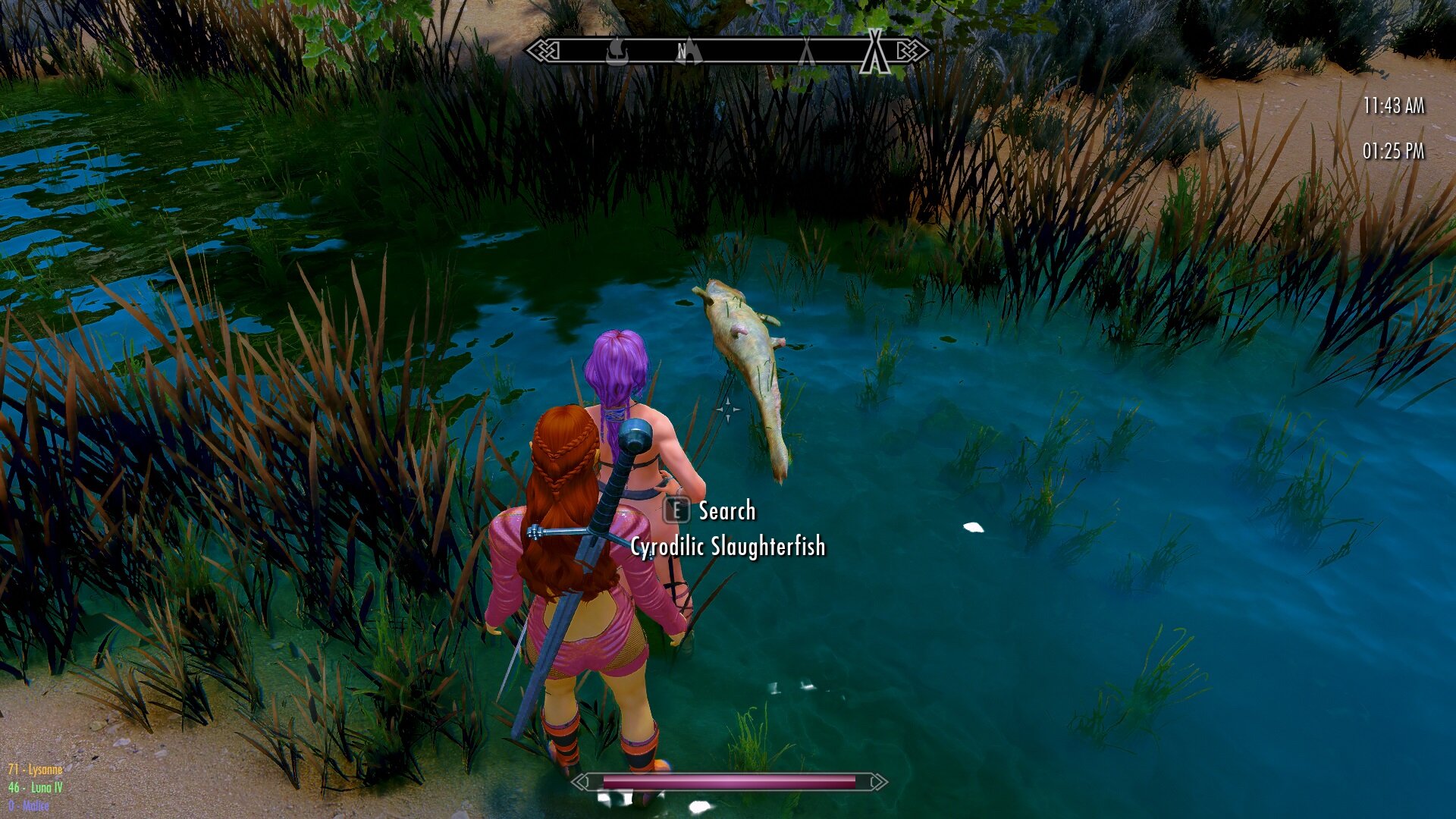 We found a Wisp Mother just standing there hovering. ?‍♂️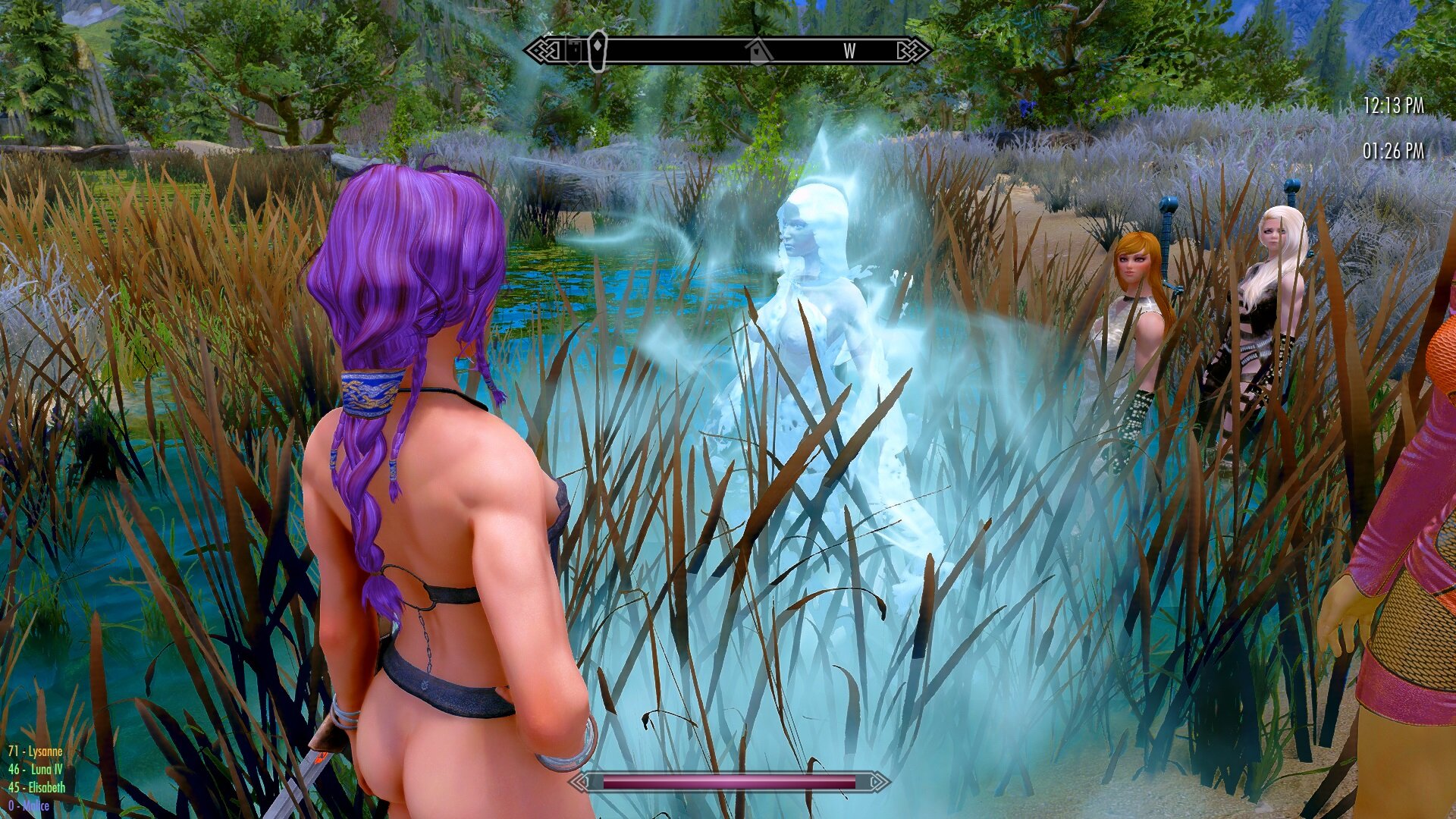 This camp turned out to be empty for some reason. Strange, it's usually full of bandits around here. That's the back door exit to Ft Snowhawk on the radar.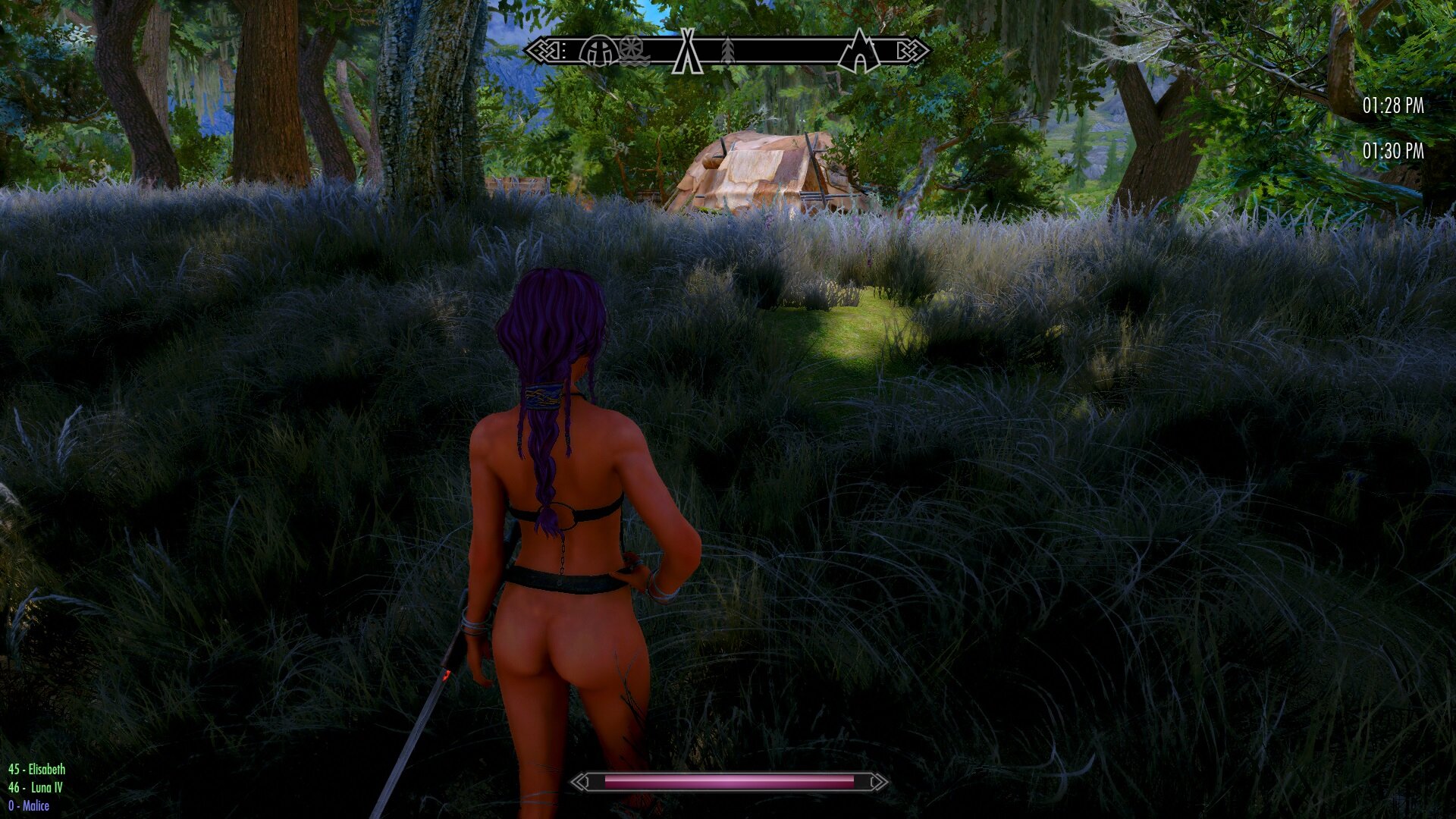 Did you spot it? It's been a while since I saw one of these.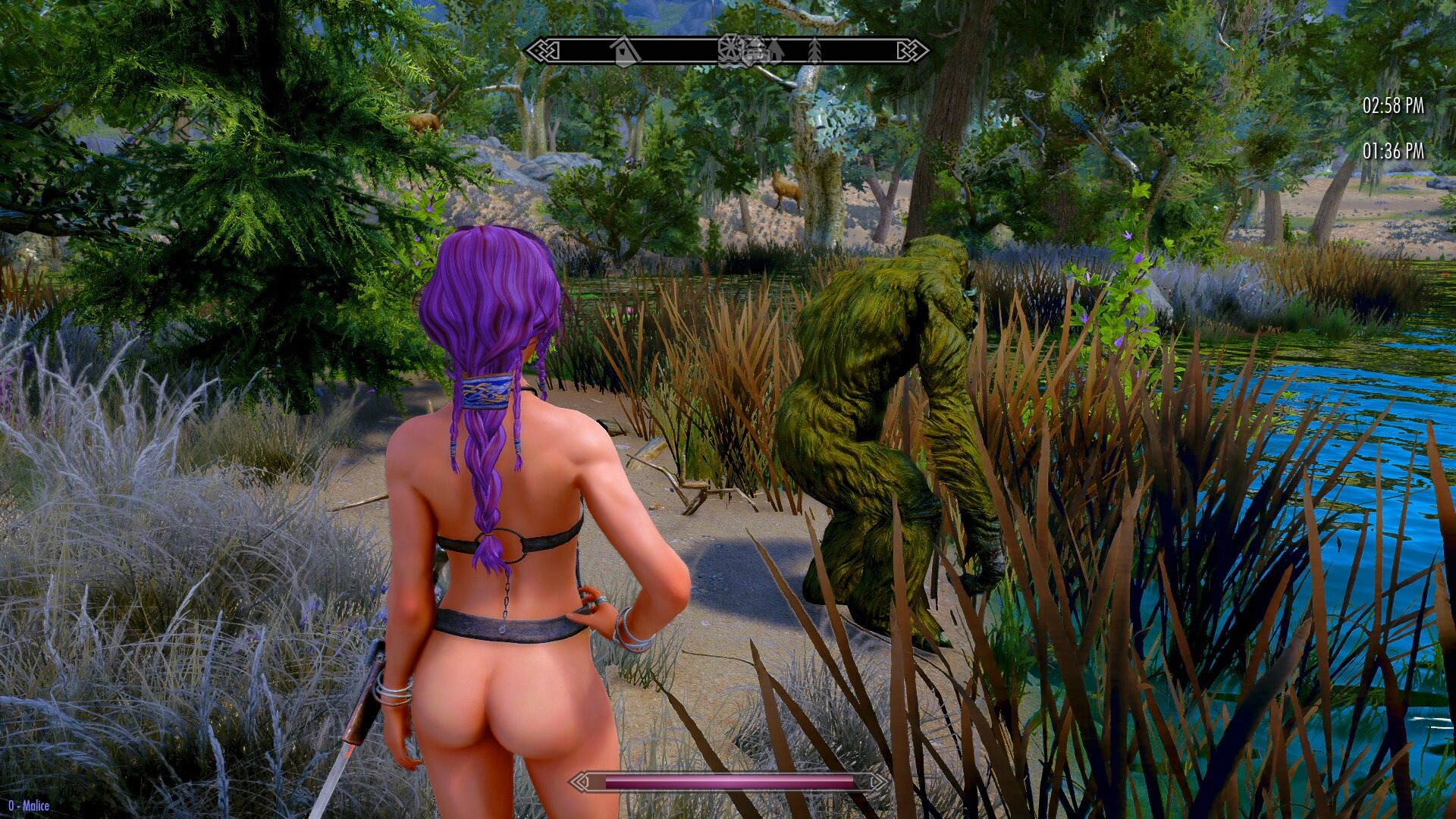 Swamp troll standing just to my right.
 
This is what it was looking at.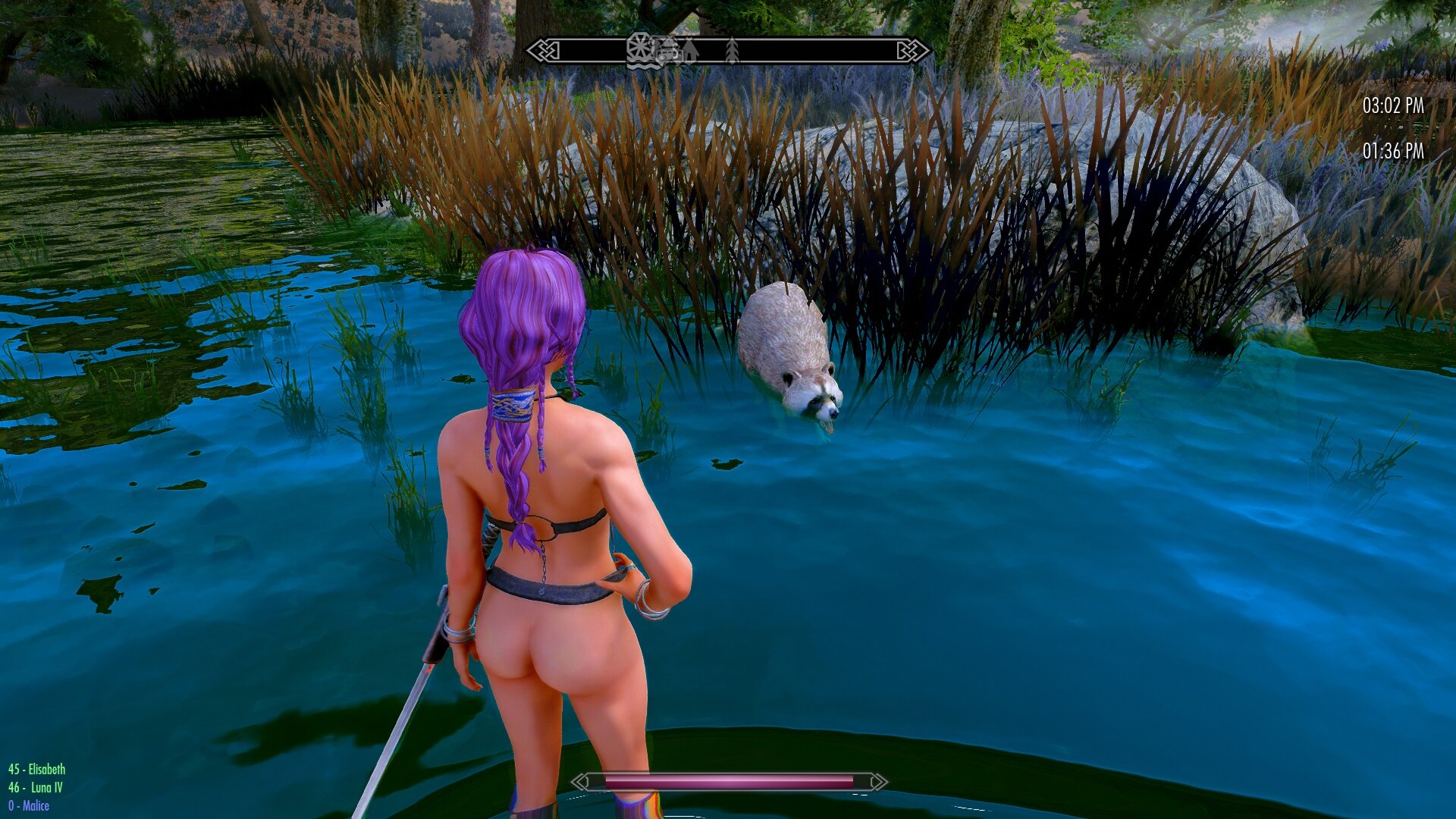 We moved round to the front of Fort Snowhawk (itsa neagle ?) ready for the appearance of the HSO villain. Instead everyone went haring down the road after someone or something. No way I'm going in the fort grounds on my own.
Usually what happens is that the rieklings spawn in the grounds of the fort while the necros are around where I'm standing and also dotted about the fort ramparts along with their skelly mates. Once the rieklings and the necros start fighting, the HSO villain spawns and all hell breaks loose. The necros also attack anything moving along the road.
The body on the road in front of me is a bodyguard and there was what looked like a merchant or noble way down the road there. Why my gels would attack that I don't know.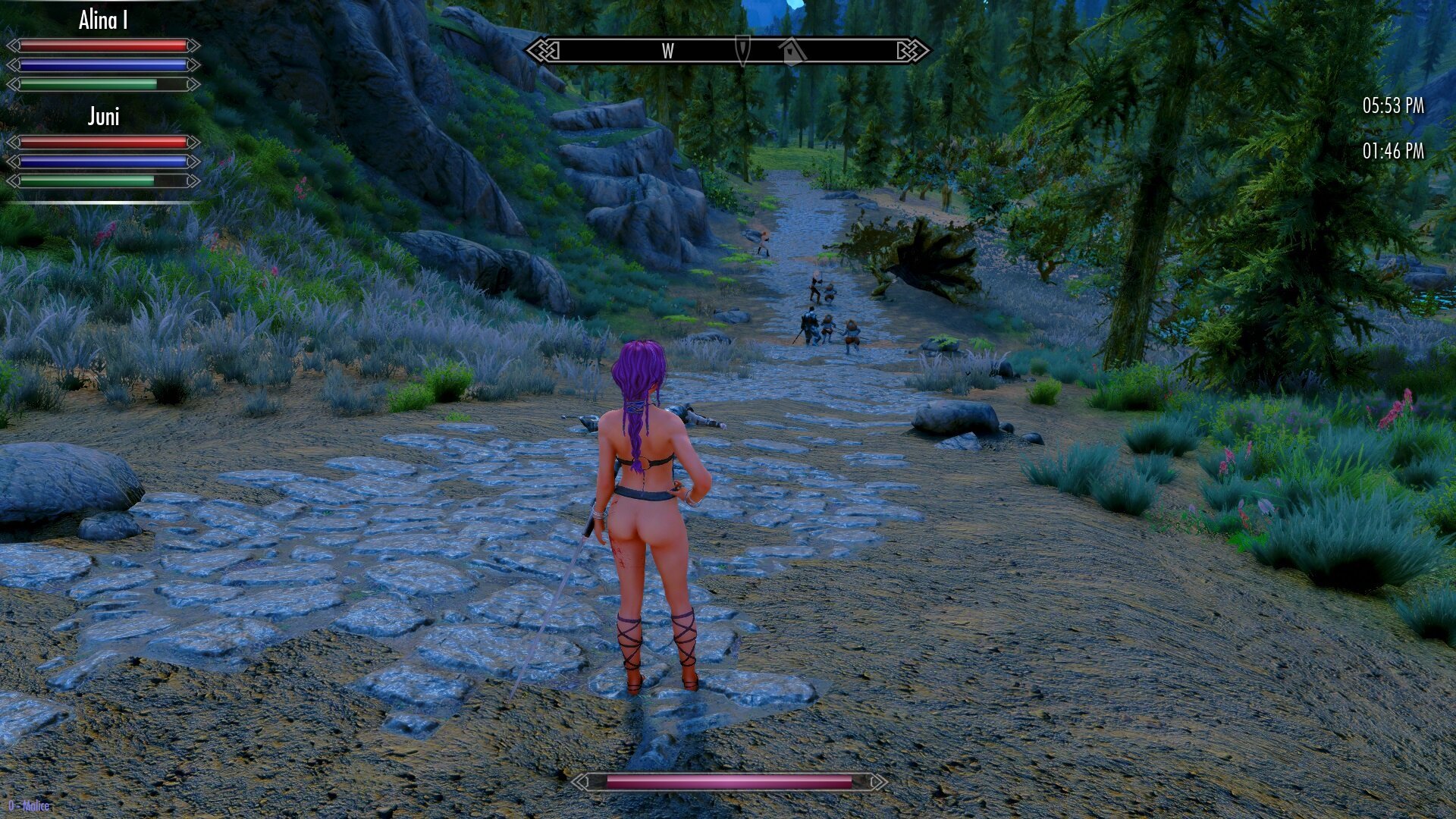 The plot thickens. Once I got my gels back we ventured through the gate and found the remains of an HSO something. There were some dead rieklings and necros as well.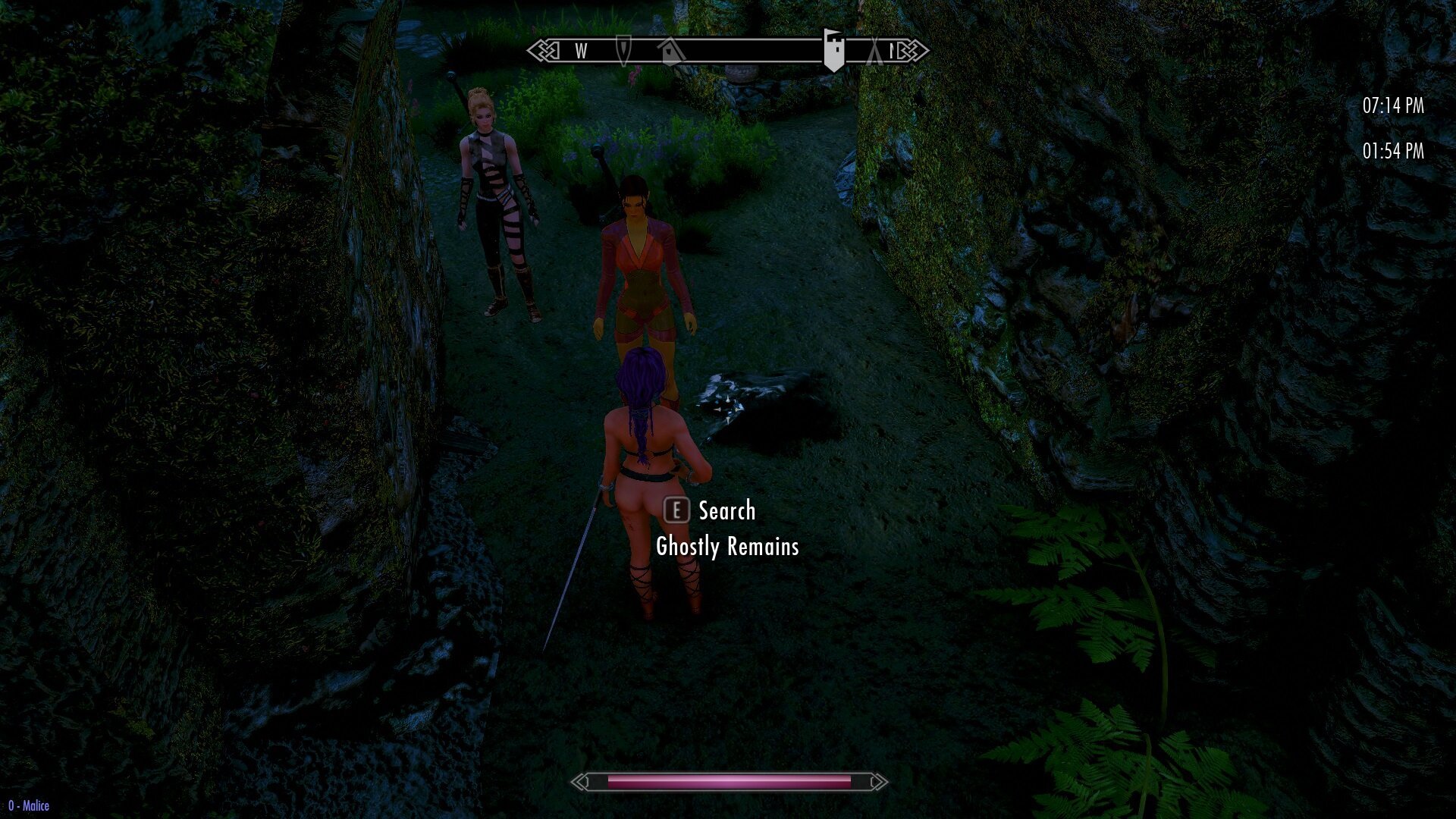 Going off what was dropped, I don't think it was the Flash Archer. The remains look different as well (I think). I'm thinking it may have been the Riekling Slayer though I've not seen him around here before. Ah well, another mystery.
After the fort we got pulled off course a bit and ended up here watching this fighting coming down the river bank towards us. That's Crabber's Shanty on the radar and Dead Man's Respite is off to our right.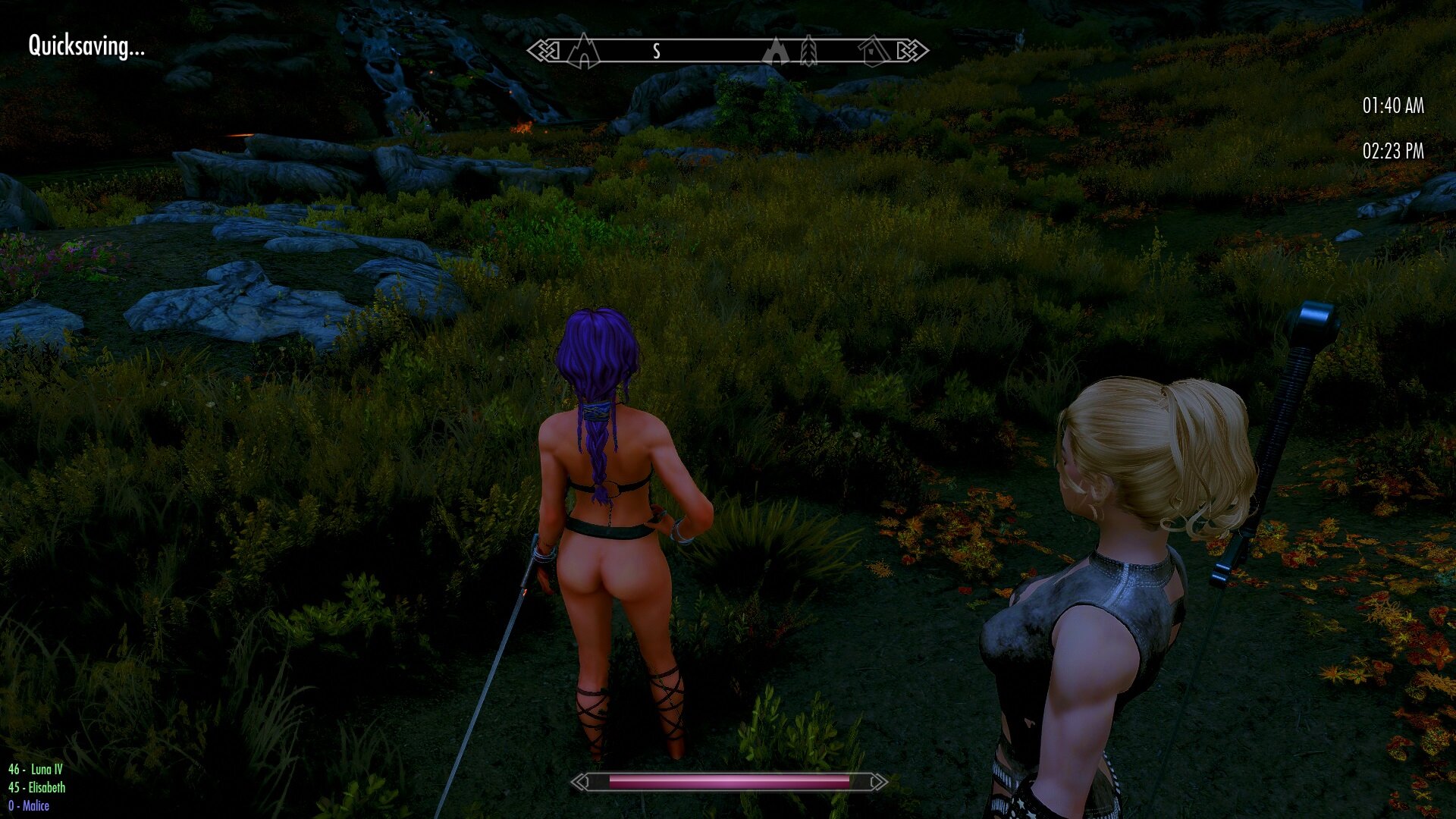 We killed a bandit who was doing the fire magic. A dead sabrecat floated down the river and there was at least one dead skeever. The Sacred Band girls were all dead but there's no way a single bandit mage would have taken them out. While I'm stood pondering this mystery, this ambles past us.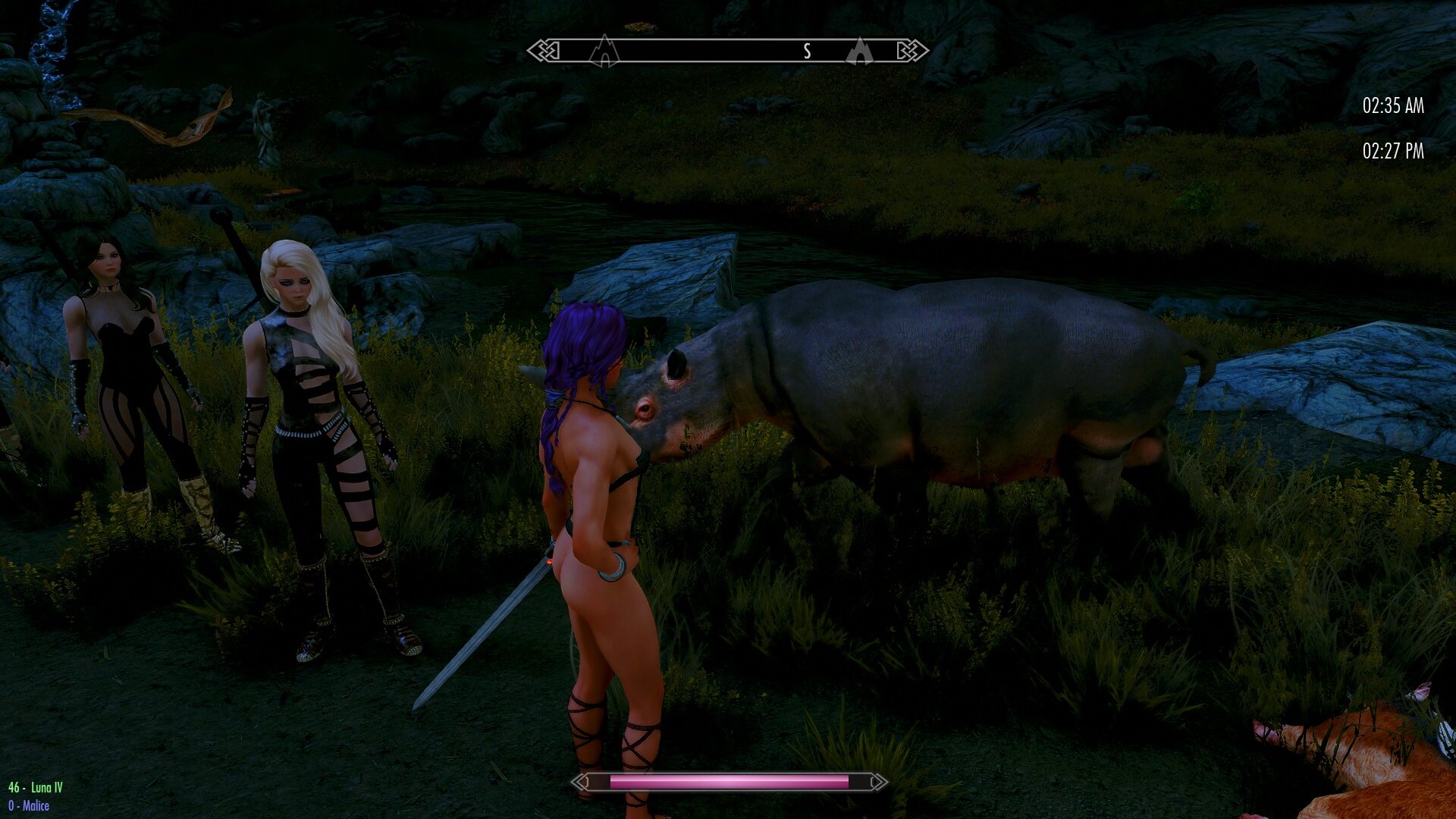 That's Valerie the vamp from Chipped Tooth Cave at far left, and Juni in the centre, she's a bit of a worrier, bless.
Our next stop is Dead Man's Respite.
Edited by Grey Cloud