[Short Story] Home Invaders Part 2
---
Mercy
Ah I was just about to come down there and bust your balls, but it seems you heard me after all.
Vlamara
Yes Master
Mercy
Yeah, so where is our breakfast then?
Vlamara
Still cooking Master
Mercy
Oh? And what is it your preparing for us, poison?
Vlamara
No Master, I am cooking what you requested. Mistress wanted bacon and cheese on toast with tomato as well with apple juice
Mercy
Stand here!
Mercy
What did I ask you to do?
Vlamara
Cook breakfast?
Mercy
Not what I meant and you know it. Now be careful Vlam, I may have just gotten laid but I'm in a ball busting mood understood?
What, did, I, ask you to do the next time I told you to make us breakfast ?
Vlamara
Pee into Mistress's cup
Mercy
And did you?
Vlamara
No Master
Mercy
Why the fuck not?
Vlamara
I can't pee with the cage on though Master
Mercy
Oh that is total bull shit Vlam and you know it. Those things allow you to still piss, trust me I've seen them on guys before.
Now, why did you not do as Your Master asked?
Vlamara
I did not wish to upset Mistress
Mercy
So you upset me indeed?
Vlamara
Yes, forgive Vlam she means well
Angela
MERCY I need help! One of the locks is busted!
Mercy
Your lucky I'm needed upstairs, get breakfast ready and do as I command!
Vlamara
Yes Master
Angela
MERCY!
Mercy
COMING!
Vlamara
Can't upset Mistress or Master but will one be upset.
Vlamara
But who?
Mercy
See this is why we need a Master Key!
Angela
Yeah yeah I know. I'm just glad you got it off
Mercy
Gonna call me your Hero next?
Angela
Maybe... so where is breakfast?
Mercy
Vlams taking her sweet time
Angela
Aw be nice to her for once, she tries her best
Mercy
And tortured you for Gods know how long in Oblivion remember?
Angela
That was before, this is now
Mercy
Speaking of the bitch, here she is.
Vlamara
Refreshments are served Master and Mistress
Angela
Thank you Vlam
Mercy
And what is it you've brought us?
Vlamara
Apple juice as requested Master
Angela
Ah yes, "Apple juice"
Mercy
Better be Apple juice, you can not trust this filthy Daedra
Vlamara
Yes Master, it is.
Angela
Mercy please
Mercy
Fine!
Vlamara
How may Vlam serve Mistress?
Angela
Well I was hoping you could tell me something Vlam
Vlamara
Yes Mistress?
Angela
Did Mercy tell you to pee into my cup?
Mercy
Yeah like I'd do that, I'm not 12 anymore
Vlamara
Uh..
Angela
Vlam?
Vlamara
Yes Mistress, she did
Angela
Ah I knew it!
Mercy
You'll regret that
Vlamara
Uh, Master forgive me
Angela
MERCY! Leave her, I'll deal with you later. Thank you Vlam for being honest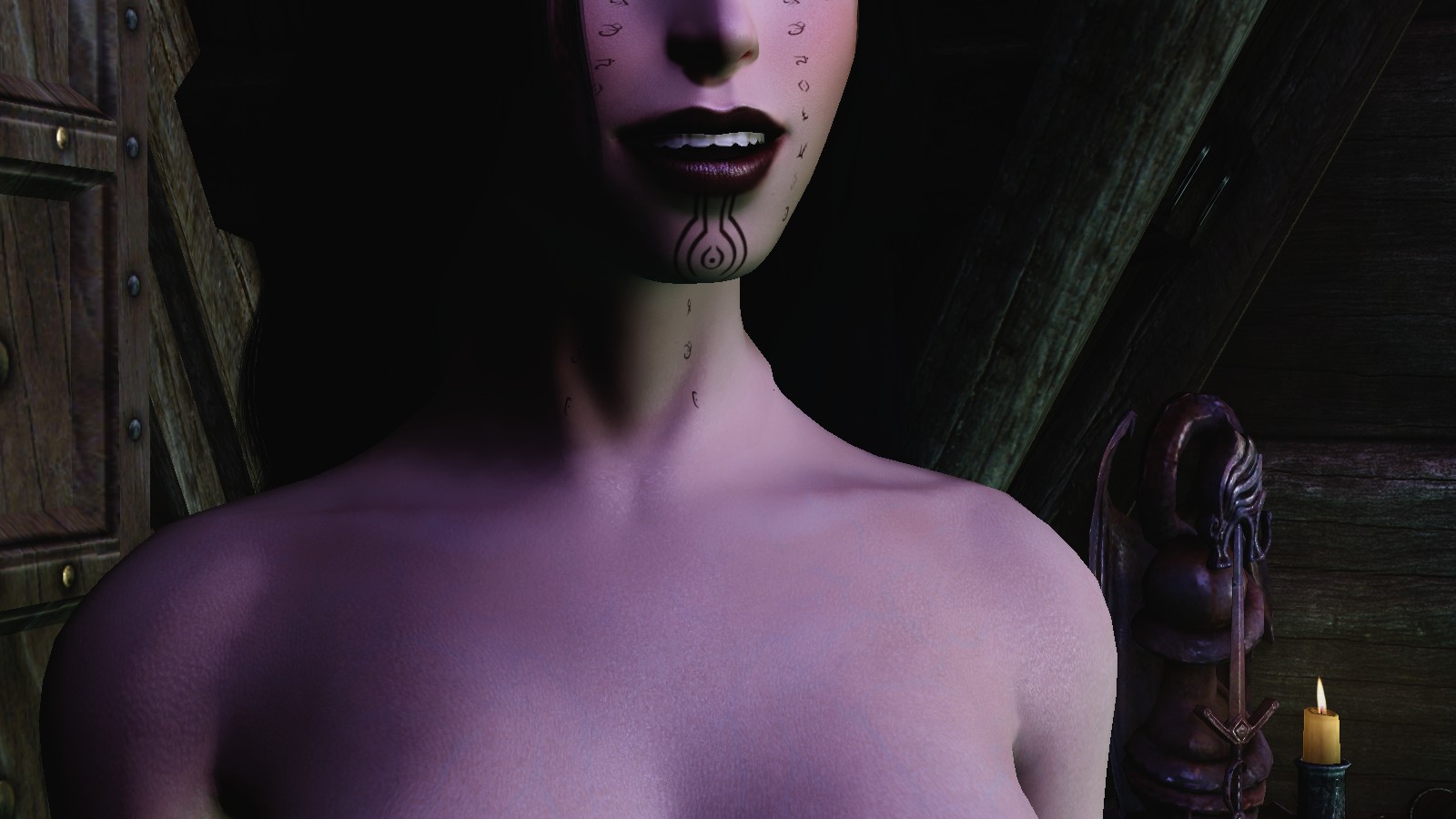 Mercy
Well did you atleast have the balls too?
Vlamara
No Master
Angela
After you Mercy
Mercy
I'm more of an apple juice kind of girl
Angela
Shut up! Drink it!
Fuck you
Vlamara
Vlam serves well?
Angela
Yes, you did well.
Mercy
Hmm, not bad, fresh?
Vlamara
Yes Master
Angela
We have fresh Apples?
Vlamara
In the Basement, yes
Angela
Oh, yes how could I forget?
Mercy
Because you never go into the basement remember?
Vlamara
Ylam likes the basement
Angela
Maybe Mercy would like it too?
Mercy
Fuck did I do?
Angela
You told Vlam to piss into my cup, Gods know what else your planning against me Sister
Mercy
Yeah, I also told Vlam to cum on your toast too
Vlamara
Uh, no no you did not
Angela
Vlam?
Mercy
Relax, I'm fucking with ya
Vlamara
Ylam does not cum without permission.
Angela
Mercy likes messing with people, me included. But.... Mercy that thing we talked about, I'm interested now if you are?
Mercy
Wanna play a game with us Vlam?
Vlamara
Yes Master and Mistress, Vlam would like to serve
Angela
It is simple, the three of us are gonna have sex.
Mercy
All while you wear that little cage
Vlamara
<Sad moan>
Angela
You'll get to please us though, you like that
Mercy
<Heavy breathing> That... was... AWESOME
Vlamara
Ylam enjoyed it too
Angela
<Heavy breathing Yeah, me three
Mercy
I so do love our games Sister
Angela
I know you do, that is why I play with you so much
Mercy
What now?
Angela
Not sure, I've got a little more in me, you?
Mercy
Always for you my love
Angela
What about making out?
Mercy
Hot but not fulfilling, oral?
Angela
You just went to town on my pussy the poor girl needs her rest
Mercy
What about you Vlam, got anything else in you?
Vlamara
Ylam is always happy to satisfy her Master
Angela
And me?
Mercy
Yeah, can you satisfy us both?
Vlamara
Ylam just satisfied you no?
Angela
Leave her be Mer'c, she needs her rest too
Mercy
That things still glowing, meaning she has more in her
Angela
Mercy come on, leave her alone
Mercy
You wanna eat my ass Vlam?
Vlamara
Yes Master if it pleases you and Mistress
Angela
No no enough okay time out, I've done enough for one day. Besides your meant to be still sleep and your meant to be locked up
Mercy
Well, you heard her. Back to your cage dog!
Vlamara
Ylam will go if Mistress wants?
Angela
No no stay, Mercy knock it off. Vlam stays till I say anything else, clear?
Mercy
Whatever
Vlamara
Yes Mistress but Ylam should return to cooking Mistress and Master
Angela
Okay, you can go on Vlam in a moment
Mercy
But serious piss on her food, she likes it
Angela
FUCK OFF! I'm hungry not horny!
Mercy
Wow someones cranking, hey Vlam come and wake her up
Vlamara
How can Vlam do this?
Angela
Okay now you can go check on breakfast Vlam, let us know when it is ready. Mercy I swear I will lock you in the basement and keep Vlam up here with me
Mercy
You gonna put a bag over my head then chain me to a wall all while only feed me leftovers?
Angela
So tempting yet you'd like that somehow.
Maybe I'll have Tyq'ra keep watch and beat you from time to time
Mercy
She is my Daedra, she serves me
Vlamara
Like Vlam does?
Angela
Vlam she serves us both but I am the one who made a deal with her meaning I own her more then you
Mercy
Want me to summon her and find out?
Vlamara
Vlam is not a fan of Tyq'ra
Angela
Neither will be Mercy when she takes care of her for me.
Mercy
Go fuck a horse!
Vlamara
That sounds painful
Angela
Mercy last chance, leave Vlam alone or else!
Mercy
Fine... go be her bitch
Vlamara
Ylam will go now
Angela
I'm serious you know, about the basement thing. You've been a bad girl
Mercy
Oh you have no idea, the thoughts that go on inside this head
Angela
Tell me then
Mercy
Well for one one I want to break that pretty face of yours
Angela
Really? Wanna break anything else?
Mercy
Your legs, so you can't run when I fuck the shit out of your ass
Angela
Yeah sounds like a real bad girl to me
Mercy
So lock me up and throw away the key
Angela
That would save me a ton of gold a week, plus Vlam does as she is told.
Mercy
Vlam sucks cock
Angela
And you don't?
Mercy
No that was an insult
Angela
How so?
Mercy
You know, like saying she is a cocksucker, and shit
Angela
Still not seeing it
Mercy
Nevermind, so we doing this or what?
Vlamara
Hmm?
Angela
After breakfast Mercy
Mercy
Sounds great, I look forward to it
Vlamara
MISTRESS YOUR QUILL HAS STOPPED!
Angela
Already? THANK YOU VLAM!
Mercy
DAMN!
Angela
What?
Mercy
Your ass!
Angela
Shut up!
Mercy
We should go though a weekly routine of how your gonna punish me
Angela
After breakfast honey, told you my pussy maybe satisfied but my belly is not
Mercy
Then you decide what to do with me?
Angela
Yes
Mercy
Well how ass fucked are we?
Angela
A moment of silence please
Mercy
And?
Angela
Still working it out
Mercy
NOW?
Angela
Oh well, it is not good at all
Mercy
I like the sounds of that
Angela
Mercy we are in the red, deep fucking red
Mercy
Vlam better clench your asshole, plenty of action coming your way soon
Angela
Mercy this is serious!
Mercy
So am I. I bet there are plenty of guys and girls willing to pay a lot of coin to fuck a real daedra with an actual cock
Angela
Can you just be serious for a moment, please
Mercy
I am, we can pay off our debts nice and easy
Vlamara
Is something wrong Mistress? Can Vlam help?
Angela
No Vlam, it is okay
Mercy
Quit lying to her
Angela
I'm being kind!
Vlamara
Vlam wants to help, how can she?
Mercy
Well I think--
Angela
NO! I told you no whoring
Mercy
Blah blah blah, how are we gonna pay then?
Angela
I'll... work something out
Mercy
How?
Vlamara
You could sell potions like last time?
Angela
We owe too much, we would need more coin to buy the ingredients to make the expensive ones
Mercy
How much coin do we have?
Vlamara
Hmm
Angela
How much you got on you?
Mercy
None you carry all the coin
Angela
I got nothing Mercy
Mercy
So, we're actually broke?
Angela
Yes
Mercy
Well it seems our only option is to whore our Vlam after all
Vlamara
I am happy to serve
Angela
No Mercy, we will find another way
Mercy
Fine, your ass is getting whored out then!
Angela
I'm sure we can work something out, no one needs to whore themselves out
Mercy
Well, anyone got any ideas?
Vlamara
Master, Mistress Breakfast is served!
Angela
We could rent out this place, you know make it a bed and breakfast or something, yeah that will work
Mercy
Don't you like have to have papers and shit to do that?
Angela
Uh, yeah but-
Mercy
I have a much better idea, one that does not involve us getting banged to Oblivion or have Vlam getting banged into Oblivion.
Angela
Alright, I'm listening