[Short Story] Awakening the Dead #4-6
---
Angela
So, what you thinking? Cowgirl? Doggy style? Missionary?
Mercy
Hardcore
Angela
Hardco--
Mercy
Yes, Hardcore sex
Angela
<Flips round reversing the roles> Meaning what?
Mercy
Well... rough sex what else?
Angela
How rough we talking?
Mercy
Pretty rough, no blood or broken bones but you might have a few bruises
Angela
I can live with that <Flips round reversing the roles again>
Mercy
I know you can
Angela
I love switching roles
Mercy
As do I Sister, so do I
Angela
So, tell me what you did to earn this position?
Mercy
You want a reason? Fine, I poisoned the local water well, I swapped some raisins with chicken shit, I--
Angela
Yikes... Come on, serious Mercy. Naughty stuff
Mercy
I fucked a Vampire Lord
Angela
So be it!
Mercy
Ah!
Angela
So... what am I doing?
Mercy
Just lay still, act dead
Angela
Dead?
Mercy
Yeah, dead
Angela
Your messed up
Mercy
Yes, yes I am 
Angela
This is weird
Mercy
Shut up, dead people do not speak
Angela
Yes they do, Ghosts speak, Zombies mumble and Draugr--
Mercy
I really wish we had ball gags here
Angela
Well we don't
Mercy
Seriously?
Angela
That was... different
Mercy
Good different or bad different?
Angela
It was okay, but I'm in no mood for it again anytime soon.
Mercy
I'll be sure to sneak in some actual paralyses potion into your drink next time. Make it more fun
Angela
Gods...
Mercy
You okay? Did I really freak you out?
Angela
No no I'm just thinking about yesterday
Mercy
About this house?
Angela
Yes, why do you want a house when we have a house?
Mercy
I want a real place to call our own, not that place
Angela
THAT is our home
Mercy
We stole it
Angela
We earned it
Mercy
By tricking Drelas?
Angela
Drelas murdered the previous owner and took over
Mercy
And your point?
Angela
We not only avenged what poor fool Drelas killed to get it. We earned it. The Jarl made it officially ours, we pay tax for Gods sake Mercy
Mercy
Still feels like we did not earn it
Angela
Oh! And we've earned this?
Mercy
I mean, no but still this place is bigger
Angela
Bigger is not always better
Mercy
Says you, you've never been a fan of Redguards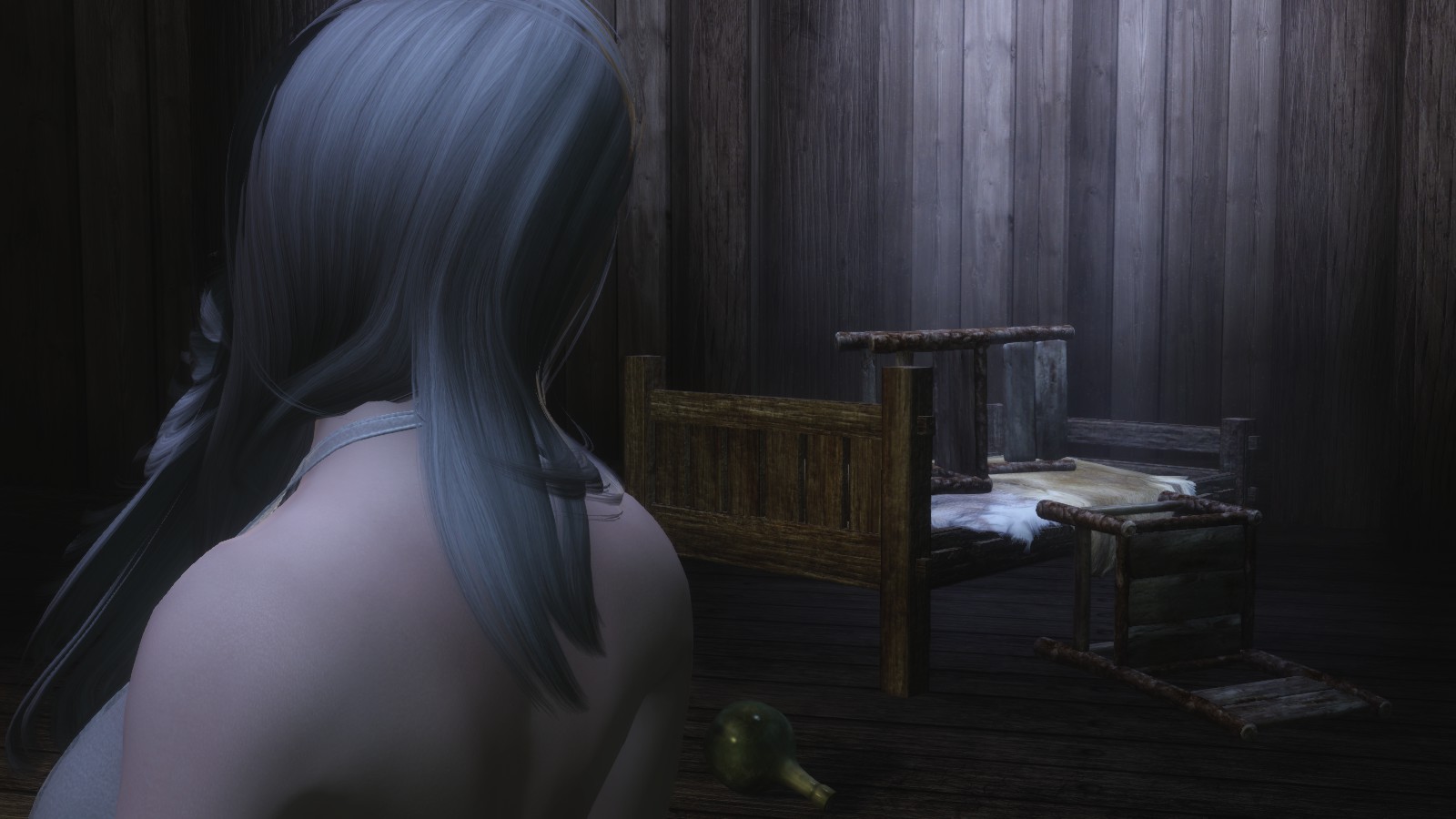 Angela
Mercy... shut up! That has nothing to do with cock size! A home is what you make it, home is where your Family live. We've been on the road for so long, I think we've forgotten what a home really feels like Mercy
Mercy
Hmm, fine fine
Angela
We can change the name when we get back, make it officially ours
Mercy
Still wont matter
Angela
It will, you'll see
Mercy
Our real home is long gone anyway
Angela
It is. But we have to try to make something of it
Mercy
I guess we should atleast try right?
Angela
Thank you
Mercy
Yeah yeah get me that sex dungeon and I'll be happy
Angela
I'll see what I can do
Mercy
Thank you
Angela
It can be where we keep Vlam when we are not using her
Mercy
Hmm, sounds good to me. I want the full dungeon experience
Angela
So it's settled. When we get back we will make it official
Mercy
Best way to make it official is to marry me you know you know?
Angela
Hmm, lets get though with our business here then if you prove you are my soul mate then I will accept
Mercy
So being in love with you, there for you and being the only person you can trust is not enough?
Oh and not to mention the only person who knows what you like down there
Angela
Sex is not everything in a relationship. You may love me, you may care for me but your heart is not mine yet
Mercy
No no no my heart is yours, and yours is mine
Angela
Mercy, you have to prove your my soul mate before Mara
Mercy
Mara, why the fuck do I have to do that?
Angela
 Prove to her that you are worry of my heart, then Lady Mara will allow us to get married and become one again
Mercy
Okay, again how do I do that?
Angela
That is between you and Lady Mara
Mercy
Great, so no hints?
Angela
Mara is the goddess of love. Prove your love to her for me
Mercy
So... all I need to do is what?
Angela
You do know how the Divines work yes?
Mercy
No, I worship the Daedra remember?
Angela
You do. You know what I know, so do not try that one.
Mercy
Damn you
Angela
Maybe Lady Mara will come to you in a dream, maybe she will send a follower to you or maybe, just maybe she will bless you straight away
Mercy
Okay, then how do you know if she does any of this?
Angela
I'll know, trust me
Mercy
Great... now I gotta make good with a Divine being
Mercy
How hard can that be?
Edited by Agent Tex