[S:S] Two Corpses in One Grave #5 - Final [Part 1 of 3 ]
---
Mileena Karlov
Alva, I have need of you once more
Alva
Anything you need Lady Mileena, it is yours.
Mileena Karlov
I want you to get all the surviving members of this town into the Guard Barracks and keep them there. That is the safest place for them while we deal with the true threat.
Alva
All of them?
Mileena Karlov
Every mortal in this town yes. We can not let the rest of this town die. Do whatever you must but keep them safe, do this and I'm sure Queen Isabella will reward you.
Alva
Yes my Lady. I will protect them with my life
Mileena Karlov
Once everyone is inside barricade the entrance. Let nothing in
Alva
Yes my Lady
Mileena Karlov
And try not to have too much fun with them
Alva
Understood
Mileena Karlov
You will get to have plenty of fun on the road.
Alva
Yes of course my lady
Mileena Karlov
Was there anything else?
Alva
No my Lady. And, let me say thank you one more time for forgiving me. I was a fool to, you know
Mileena Karlov
You have not been forgiven yet, that is not up to me that is up to our Queen. She will be the one to judge you, but fear not. I will share what has happened here and you will likey be excused from any punishment.
Alva
Thank you my lady
Mileena Karlov
Like I said, make sure every mortal gets inside. You miss one and it will reflect back on how well the Queen thinks of you.
Alva
I know, I'll get them safe. Good luck to you my lady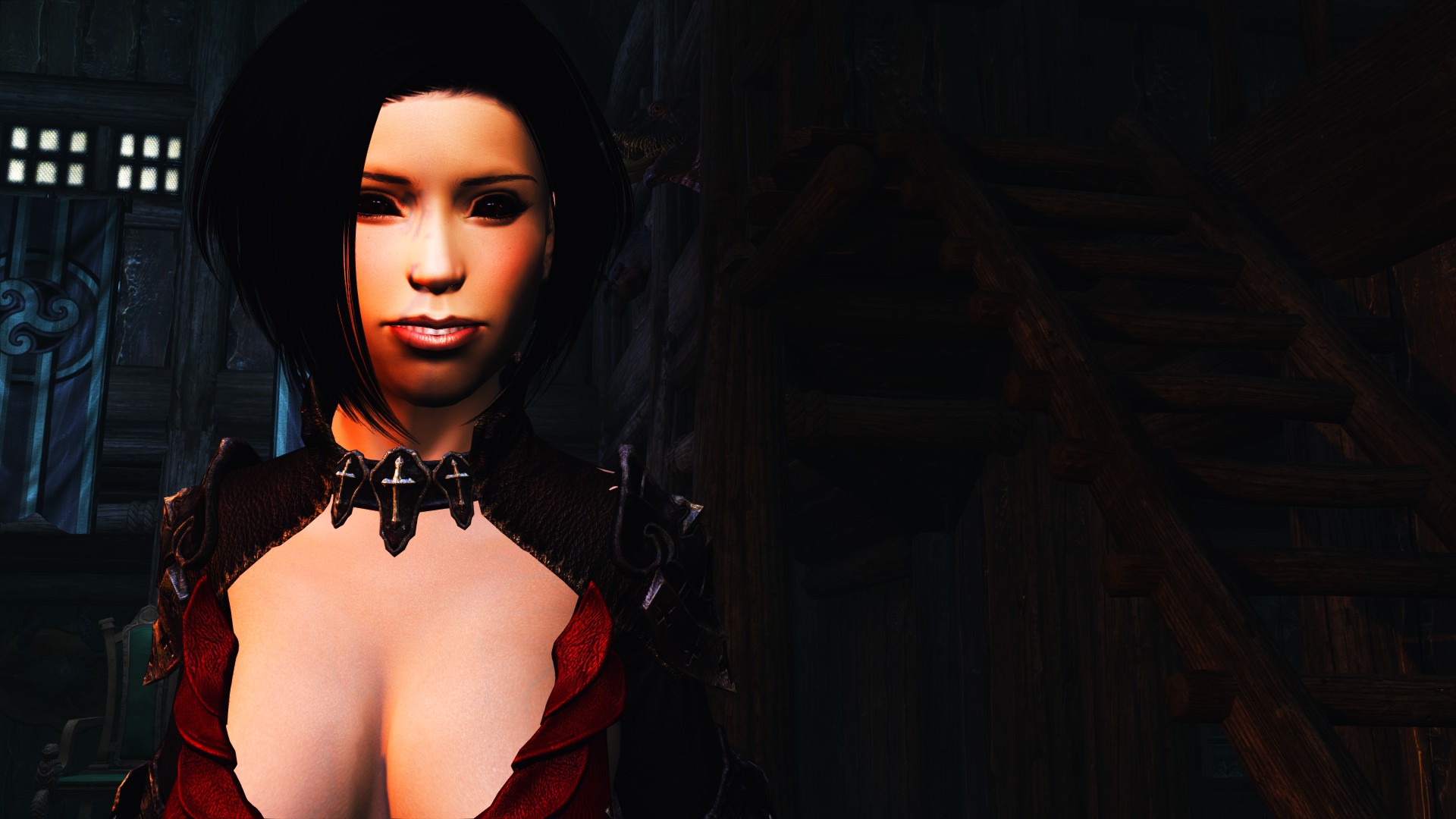 Mileena Karlov
And to you
Mercy
Don't worry yourself Mileena, Falion will know what to do he taught me everything I know, well almost everything I know but he was the best tutor I had at the college. Whatever the fuck is going on here, we will get to the bottom of it Mileena.
Mileena Karlov
I hope your right, because if not then you won't like what happens next
Mercy
Why? I've not done anything wrong to you
Mileena Karlov
Oh really? Because it would seem to me you've done plenty wrong here!
Mercy
Hey I came with you to help you with the Vampires, if not for me you'd be dead, well deader then you already are Mileena! And that Dremora was under my control when we left, you know this to be truth!
Mileena Karlov
I told you I had that situation under control!
Mercy
Sure you did, so why not complain when I used Necromatic Healing on you?
Mileena Karlov
Enough of this game Mercy
Mercy
You think this is some game to me? Angela means more to me then anything else on this damn plane of existence. If she is dead, I will... not, let her death for nothing!
Mileena Karlov
Hmm It's clear she means a lot to you, but still her blood is on your hands if she is dead then that is on you
Mercy
My blood is her blood, her blood is inside me. We are the same, I know very well what it could mean. So don't lecture me!
Mileena Karlov
I'm just... saying this because I like you, and I really don't like mortals or well anyone
Mercy
You... like me, as a person?
Mileena Karlov
Yes, look I was young too, many many centuries ago. I've done far worser things then this but still. I'm afraid I must do as my Queen commands.
Mercy
Meaning?
Mercy
Mileena?
Mileena Karlov
It means, Mercy
Mileena Karlov
I will be forced to bring you before her in chains. And you can answer her questions of why the town of Morthal fell, why it is that the humans hunt us, why we are what we are because of you! Do you understand?
Mercy
If it comes to it, then so be it.
But I need to know what happend to Angela
Mileena Karlov
Very well, there is your one warning
Mercy
So what is she like, this Queen of the undead?
Mileena Karlov
She is....
Mercy
Yes?
Mileena Karlov
She is beautiful beyond words, she cares deeply for both worlds. She can be as kind as a Saint or as ruthless as a Sinner. Take heed, she spared me from a dark fate. But charged me with another one, protecting your world from mine and so on.
Now, let us hurry to this mage
Angela
Please... have Mercy
Mercy
Falion! We have a serious fucking bad situation on our hands
Falion
Ah yes, a Necromancer and a Vampire barge into my home in the middle of the night. Seems to be thats a bad situation indeed.
Mercy
Not us you stupid fuck! The Vampires, the Daedra and all the shit going on!
Falion
Vampires? Daedra? What are you talking about?
Mercy
Wait... you don't know? The whole fucking city was under threat of a Vampire Lord and his horde of feral freaks, a horde we killed and stopped the leader but... then, something bad happened.
Falion
Then speak of what has happend? I have been busy with my experiments, I've not left my home in days. I had no idea any of this was going on while I was here
Mercy
So... uh, yeah a Vampire Lord wanted to enthrall the town, kill the Jarl and well as I said me and Mileena here stopped him. But when we returned to the Jarl, everyone had been killed. By... by my Dremora but not at my command. I swear!
Falion
Interesting
Mercy
When we were at the college you taught me everything I know about the Daedra, you said they could not break their bonds!
Falion
Hmm, yes that is correct but also not 100% correct.
Mercy
What?
Falion
You see Daedra are quiet strange creatures, summoning them is quite the chore and binding them to your command is no easy task at all. The lesser the Daedra the weaker it is, the Familiar, Scamps and Imps are all weak summoning.
But to summon a Dremora takes a lot more
Mercy
I know, I've heard this lecture before!
Falion
Let me finish Angela. Now, Dremora and the other stronger kinds are bound to your command, to do as you see fit but they always are looking for a way out and a way to break that bond. Say I summoned a Dremora, commanded him to stand right here, he would because I command it that is the whole point of the conjuration spell, but say he decided that he was in my way, say I needed to get something off a tall shelf behind him. He would not move unless I said to and say I told him to guard it well, he could simply say he is guarding that item and I can't have it. Daedra are very tricky creatures. This Dremora must have found a loop hole in your command
Mercy
I said to protect the Jarl, kill no one but Vampires. My... Sister was with him, and she is gone too!
Falion
Sister? Oh oh yes, of course you must be Mercy then, hmm fascinating. How is it you say she is gone bu you are here? Do you mean the Dremora took her, or do you mean that you can find her?
Mileena
<Growls>
Falion
Hmm
Mercy
Our situation has changed since we last spoke. She and I are now two different people with bodies. Not... what we had before. Look we can talk about this later
Falion
Your Dremora, is it still alive?
Mercy
No, it was killed by Aria Bal
Falion
Aria Bal is here as well?
Mercy
Yes, she is in Jarl's Longhouse. Most of the Guards have either fled or been killed. Few remain to defend it
Falion
From Vampires... or
Mercy
Another threat?
Falion
Perhaps
Mercy
But who, who would want this town dead? It was already basically dead!
Falion
What if someone else caught wind of this attack, and took advantage of it?
Mercy
You mean like there is another party in this?
Falion
The Vampires, the Daedra and now Bal.
What do all three have in common?
Mileena
Death
Falion
Death, yes. So it would seem a powerful force has set its eyes on Morthal, and now this is just the beginning. My guess, a Daedric Prince or Princes are behind all of this.
Mercy
Wait... wait no, you think Morthal is now the battle grounds for the Daedra? 
Falion
Perhaps
Mercy
It makes so much sense now
Falion
What does?
Mercy
Theirs a group of Vigilant's of Stendar coming this way. They are to pawns same as the Vampires were then. Mileena do you know what this means?
Mileena
That I have failed my mission and in so failed my Queen
Falion
Your Queen?
Mercy
She was sent here to protect the town from the Vampires.
Mileena
But now I too am just a pawn to be played. Tell me wizard which Daedric Prince do you think is behind this game?
Falion
Hmm, hard to say. Molag Bal for the Vampires, but till we know what other factions are at play we do not know all the cards on the table.
Mileena
I have walked this very earth for a very long time. Seen things you would not believe and lived more times then I can count. So I do not intend to return to the dust. Nor I will fall, I will not kneel and I will not cower. I am Mileena Karlov, and I am death!
Mercy
That was quite good Mileena
Mileena
You liked it? You have no idea how long I've wanted to say that
Falion
If we may get back to the point at hand?
Mercy
Right, what you got?
Falion
To defeat ones enemy, you must first learn ones enemy. Then to defeat them, you must put aside all doubts and face it the truth. We are all ones enemies in the end.
A quote for a quote
Mileena
Mine was better
Mercy
Vlam'ara
Now now, we're not yet
Angela
Master?
Vlam'ara
You still have an anus!
Angela
No, Master please not again
Vlam'ara
There, was that so hard?
Angela
No... Master
Mercy
Wait... somethings different here
Mileena Karlov
Yes, that is what I was just thinking
Mercy
Wait... where did all the dead bodies go?
Mileena Karlov
It would seem someone cleaned up
Mercy
Bal? Wait... then where did she go?
Mileena Karlov
Mercy be calm now, she is not our enemy here
Mercy
I still do not know what happend to Angela, I know the Daedra is behind this I feel it in my gut. And the one Daedra we saw attacking my Dremora was her, what if she is lying?
Yes, I bet thats it!
Mileena Karlov
Mercy stop!
Aria Bal
Someone say my name?
Mercy
What the fuck have you done with Angela? What have you done with all these bodies?
Aria Bal
What? I cleaned up, it was kind of depressing all those dead bodies around here, and I still have no idea who this Angela is?
Mercy
You had no right to move them!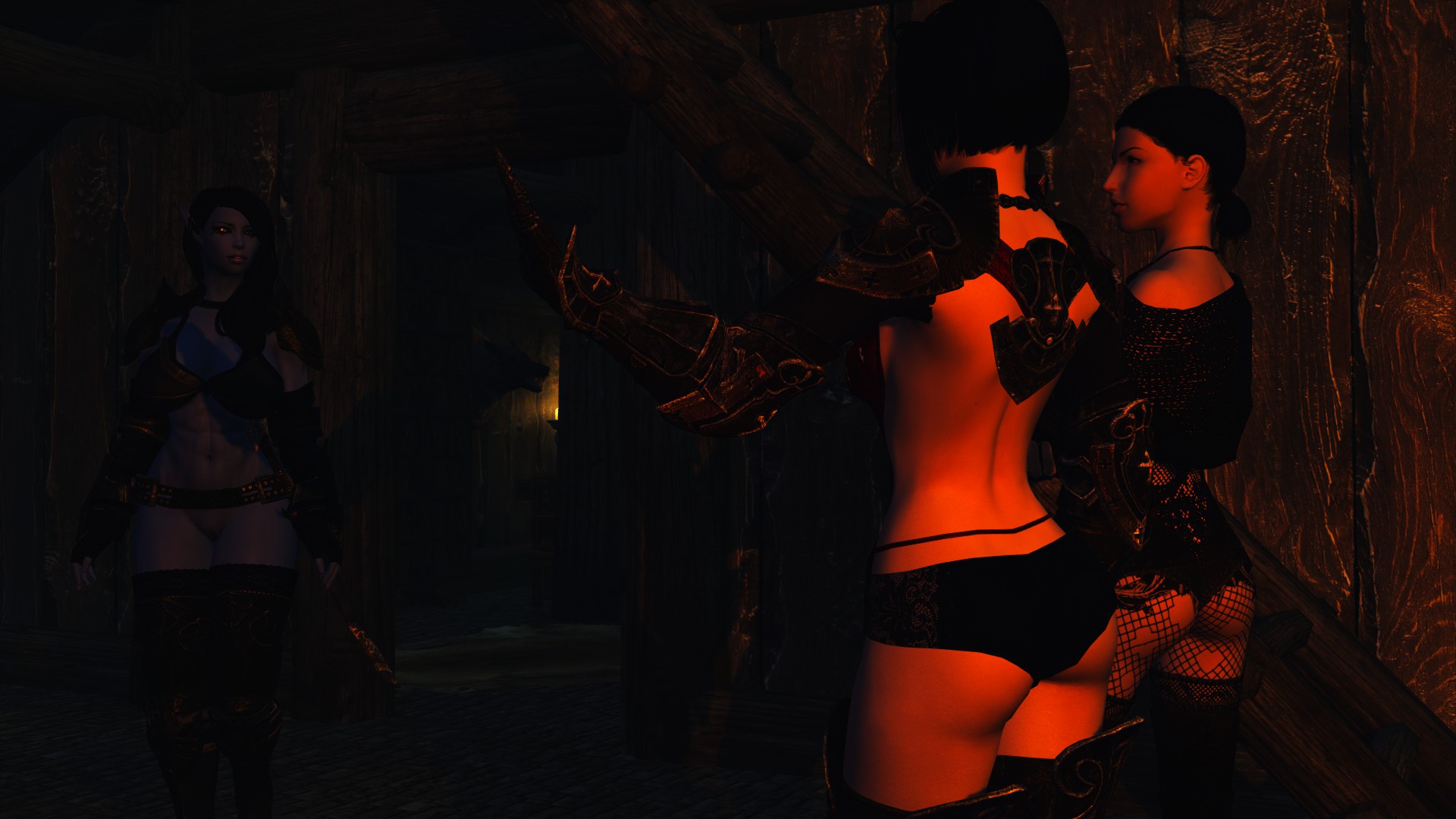 Aria Bal
I have the right as the person who avenged them!
Mercy
Your not a person! You are a Daedra from Oblivion you served Molag Bal. Your evil!
Aria Bal
Yikes... why so mean? Thought you liked me?
Mercy
<Grunts>
Aria Bal
So what is cracking Vampy?
Mileena
<Grunts> It would seem the Daedric Princes are hosting a battle ground here, for their own amusement. Though what Prince's are at work here we are unsure.
Mercy
We know Molag Bal is involved for sure, since your here and so was his little creations.
Mileena Karlov
Yes... thank you for that. Tell me Bal, what brought you here really? Why would the Jarl summon you for all people to aid her with a simple contract?
Aria Bal
Because I'm the best, she wanted the best and she got the best. Look whatever is going on here Vampy, it has nothing to do with me. I'd swear it on Goddess Phoenix herself
Mileena Karlov
Hmm, you are a own traitor to your kind. A hero to many of hers, this is not your style at all. Besides, the Queen admires and trusts you greatly. You have served our interests even if you did not know it before.
Aria Bal
She does... wait, what Queen do you mean? My Queen? Your Queen? Her Queen?
Mileena Karlov
No, my Queen. Eh! Enough of this. We need a plan!
Aria Bal
Look if the Daedric Princes are hosting a little Mortal Kombat tournament then it would seem I've been sucked into this too, as have you two and everyone else still breathing. They wanted us here for that very reason.
Mileena Karlov
You make a fair point, this whole thing was a trap to lure us in. But why us?
Aria Bal
I mean come on it's me we are talking about, why would they not want me here?
Mileena Karlov
Hmm and I am a well known Age Old Vampire. I have slain the followers of many Princes in my time. Many served Molag Bal, others served Dagon, some even served Mephala. This is not what I was especting at all.
Aria Bal
And what about you little Emo Girl?
Mercy
My Sister and I we're traveling though. We had no reason to be here till Angela offered to help with the Vampire infestation. Now I'm stuck here too
Aria Bal
And so you walked into the trap the same as we did. Dur!
So, this Angela she... like you?
Mileena Karlov
No. Shes a Agent of the Divines, and this one is an agent of the Daedra. Both are aspects of Good and Evil. Together they bring balance, but apart they.... you get the point?
This is Mercy, the evil one
Mercy
How did... wait... I'm not Evil!
Mileena Karlov
My Queen has been keeping an eye on you two for some time now. Did you think I would just randomly accept your help?
No, I know you Mercy.
Mercy
Well... shit, your like 10 times hotter now
Aria Bal
Agreed!
Mileena Karlov
You may relax, I have no desire to kill you. Nor does my Queen. Your life is safe
Aria Bal
So the Daedra, think they removed Angela for this very reason?
Mercy
No, if one of us was to be removed it would have been me. Angela is the one they want unless...
Aria Bal
They use you to get to her
Mileena Karlov
She also makes another fair point.
Aria Bal
See, I am good at this serious stuff.
Mercy
So, the three of us has been put into some whatever it was you called it. They want us to what, kill each other?
Aria Bal
That or they will send wave after wave at us to test us
Mercy
Outside sure is quiet, no ones come in after us
Aria Bal
Think everyone is dead?
Mercy
No, I sense living beings still. But your right, we must prepare for this.... whatever it is
Aria Bal
Agreed, and so you know fleeing is impossible.
Mercy
Why?
Aria Bal
Daedra will have the area of the town Guarded. Most of Skyrim won't know this is going on till we survive this.
Mileena Karlov
Meaning you get too close to Morthal and you die
Mercy
So, the Daedra have summoned a great many people to this Hold for a battle?
Aria Bal
My guess, more folk will show up who have no clue they are being drawn here
Mileena Karlov
I hope Nora stays out of this one.
Aria Bal
And as do I for Emily, and Seline. But... Gods we will know in time
Mercy
So, more challengers are likey coming?
Aria Bal
More then likey yes. It is just a matter of time 
Angela
"And in one hand I hold her nigh, her waiting lips are never dry, sway as we kiss sway as we kiss, come the morn she goes the taste of her remains and in my mind, I see us sway, sway as we kiss sway as we kiss"
Mehrunes Dagon
PATHETIC MORTAL! YOUR SOUL IS MINE!
Angela
"Sway as we kiss, sway as we kiss"
Mehrunes Dagon
SO PATHETIC! SO TINY!
Angela
"Sway as we kiss"
Angela
"Through storm and shine, cross land or sea. I run to her and together we, Sway as we kiss Sway as we kiss"
Angela
DAMN YOU DAGON!
Why won't you grant me death?
How MUCH LONGER MUST I SUFFER!
Angela
I KNOW YOU HEAR ME, SPEAK DAMN YOU. I DEMAND DEATH
Mehrunes Dagon
FOOL! NO ONE MAKES DEMANDS OF DAGON, THIS IS MY RELM!
Mehrunes Dagon
AND YOU.... LITTLE TINY MORTAL, SHALL STAY HERE FOREVER AND EVER
Mehrunes Dagon
A FATE, FAR WORSE THEN DEATH AHAHAHAHAHAHAHHAHAHAHAH
Mehrunes Dagon
HAHAHAHAHAHAHAH
Mehrunes Dagon
HAHAHAHAHAHAHAHAHAH
Angela
I... beg you, please...  Lord Dagon. End me! END ME! KILL ME!
Edited by Agent Tex