Welcome to LoversLab
Register now to gain access to all of our features. Once registered and logged in, you will be able to create topics, post replies to existing threads, give reputation to your fellow members, get your own private messenger, post status updates, manage your profile and so much more. If you already have an account,
login here
- otherwise
create an account
for free today!
Submitter
Dagren
View other files from this member
Latest Version:

1.4

Submitted: May 02 2015 06:40 AM
Last Updated: Mar 25 2017 08:26 AM
File Size: 45.45MB
Views: 111512
Downloads: 18,090
Requires: Recommended HDTHHeels / XPMSE / Waifu
Special Edition Compatible : No
Download Some stuff (aka Nyotengu catsuit)~and more 1.4





some
stuff
nyo
tengu
doa
dead
or
alive
catsuit
latex

203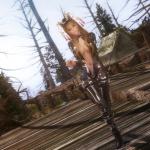 UPDATE'ING OLD SHIT BEWARE ( and adding something new slowly )
Some stuff, well for now only one but I plan to add more of my ports,mixes and conversions to this topic. So it will be easier for me to manage later. Let me know if you are interested in my little stuff.
I will have to think of a proper text formatting and make it more clearer.
There are also links for MEGA and Baidu if you dislike LL download system.
Nyotengu Catsuit ( UNPB Cleavage )
That one took me a while to fix because usually when you do armors for a personal usage you can skip lots of quality bars. Also I had a little problems with a textures but looks like I have managed to fix them.

Honoka bikini ( UNPB Cleavage)
A little something something I was working on in the spare time.

Ahri outfit ( SevenBase Cleavage)
It was a request I done long time ago, so I've decided to upload it here because it got buried deep within forum posts. ( screens are old too )

Kokoro DLC outfit ( SevenBase Bombshell)
Another request but by a friend, I've decided to share here. Nothing fancy.

If there are any bugs/clippings let me know.
Have fun.
1.0 - added Nyotengu catsuit
1.1 - fixes
1.2 - added Ahri outfit/ Kokoro DLC bikini
1.3 - added Honoka bikini
1.3.5 - nyo texture fix, new boots
1.4 - some mesh fix to honoka bikini + new colours also updated screenies ( some )
Screenshots
3,929

Total Files

164

Total Categories

1,302

Total Authors

69,437,465

Total Downloads
Nini Drachenfels WallTattoos Latest File

Nini Drachenfels

Latest Submitter
Some stuff (aka Nyotengu catsuit)~and more