About This File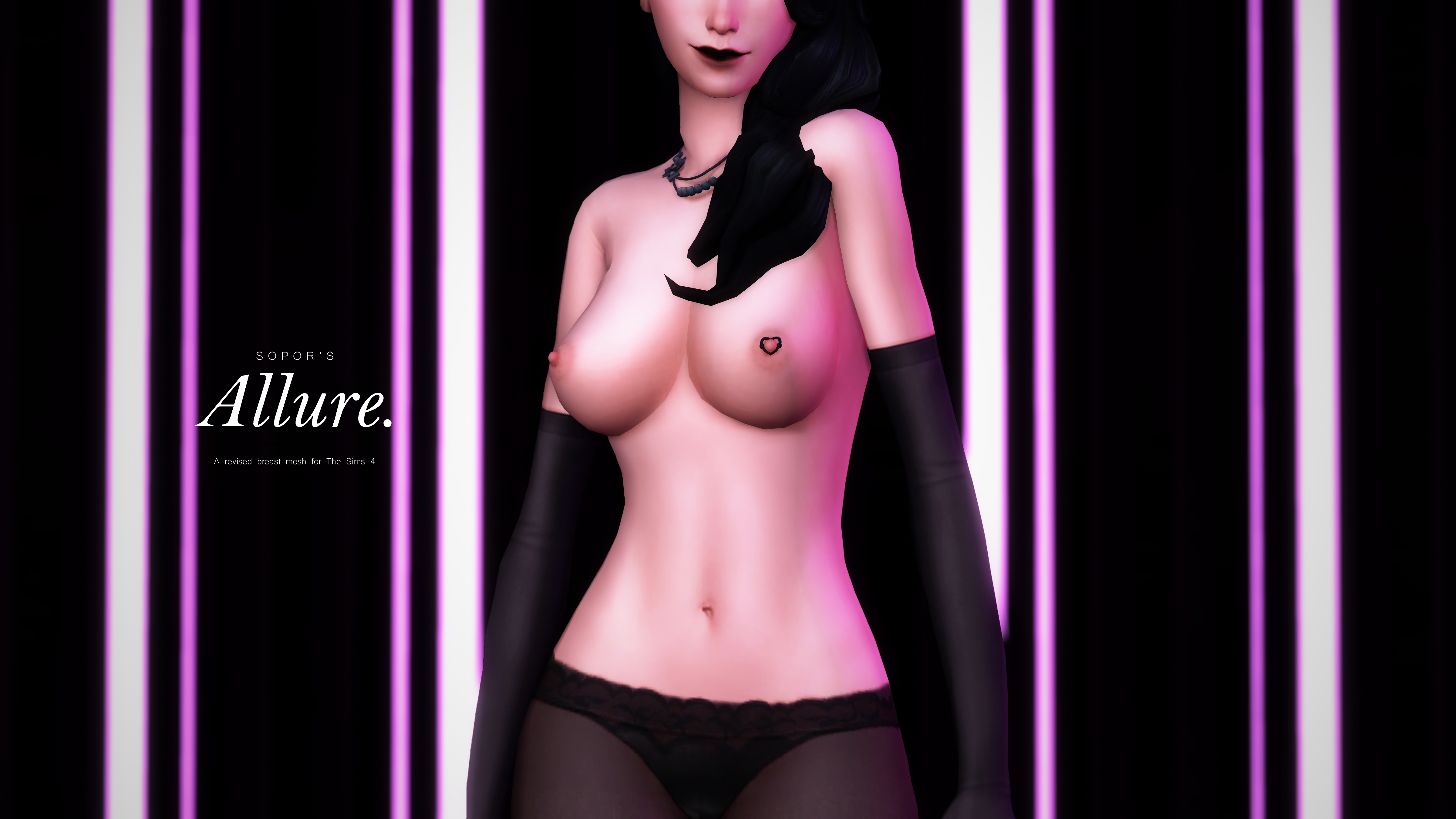 Allure
a revised breast mesh for The Sims 4
features:
reshaped breasts
increased breast resolution
nipple & (subtly puffy) areolae added to mesh
base game: 3172 tris
this: 3736 tris
---
Installation:
Unzip [Sopor] Allure.zip into your Mods folder.
Delete the files you don't wish to have.
Contents:
1. Core
S-AllureDR
the core mod itself, default replacement of the nude mesh top for females.
allows the mesh to appear in CAS.
S-AllureAcc
an accessory version of the mesh.
Required for Body Selector.
Found under Top / Swimsuits.
S-AllureSD_NippleBlush
nipple blushes for your sims, to give them proper pink nipples.
Occupies Acne.
S-AllureSD_SNipples
five nipple textures, in three opacities each.
Occupies Forehead Crease [FHC] / Mole, Left Cheek [MLC].
S-AllureSD_wgNipples
wild_guy's nipple details, modified to be 100% compatible with Allure.
Occupies Forehead Crease [FHC] / Mole, Left Cheek [MLC].
2. Extras
S-AllureSD_CleavageOverlays
cleavage skin details, 3 swatches.
Occupies Mole, Right Lip.
S-AllureNP [assorted files]
nipple piercings made for Allure. 3 designs, Bar, Heart & Ring, in Rose, Silver, Gold & Black.
Found under Head Accessories.
3. Overrides
S-AllureOR:
Halter Bikini
Bandeau Bikini
Lace Scalloped Bra
Valentine Bralette
Underwear Sexy, Top / EA default bra
Sports Bra
Corset Lingerie
Swimsuit, One Piece
Short Tank
Tight Tank, Tucked
default replacements for the listed in-game items to use Allure's shaping (no nipples).
Notes:
DR - Default Replacement
Acc - Accessory
SD - Skin Detail
NP - Nipple Piercing
OR - Override
What do the funny letters at the end of the SD packages mean?
They're which skin detail slot they occupy.
What's with the weird naming scheme?
---
IF YOU ARE USING WICKEDWHIMS 4 AND ABOVE

Under the Body Selector from the WW pie menu:
choose Sopor's Allure from Female Body Top
if you have the DR file installed, you may choose Native instead.
The mesh will not show up in CAS if you don't have the DR file installed.
PLEASE READ THIS SECTION BEFORE POSTING
If I don't address an issue you've posted about, it's likely due to the fact that it's already covered in these notes below.
Notes:
This is a default replacement.
Remember to have all other mods that replace the female nude top mesh removed to avoid conflicts.
An accessory version is also provided.
Mapped to cmar's nude mesh.
Meaning wild_guy's and others' details will work.
However, as Allure is built with an areola mesh of its own, it's really only meant to have one areola size.
If you use wild_guy's details, please get my modified version to ensure full compatibility.
Areolae bigger than those may not display correctly.
I recommend Heliotropic's Heavy Boobs slider/bone mod.
Remember, just the slider mod, [Helio] Heavy Boobs.package. The rest aren't needed.
Nipple piercings:
The piercings will show up above most clothes.
This cannot be fixed. Read this post for the explanation.
The guide below details modifying a sim's nude outfit, so whenever your sim undresses the piercings should show up properly.
The piercings are not compatible with any other breast meshes.
I do not have any intentions to make others' nipple piercings compatible with mine.
The ring nipple piercing will look stretched with bigger breasts.
This cannot be fixed either, due to game limitations.
Issues?
INCOMPATIBLE MODS:
[BB][Female]Top.package
MYOBI-eveV5-defaultnudetop.package
LUUMIA_DR_TIT-E_Medium.package
cmar_NippleTopFemale.package
[Helio] HB Nude Top.package
These all contain default replacements for the female nude top.
Slider mods like those in Heavy Boobs and EVOL_EVOLVED's Breast Augmentation are compatible.
Mesh won't show up in CAS!
Please read this post.
TURBODRIVER_WickedWhims_Tuning should be below S-AllureDR on the Mods list that shows at the start.
Things aren't showing up!
Allure, its accessories and its overrides only display on the highest level of detail, LOD0. Sim Quality may be set too low.
The skin details aren't compatible with this CC!
The skin detail slots that the included details use have all been listed above.
Read this post to find out how to change them yourself.
The nipple piercings aren't compatible with that CC!
The nipple piercings occupy both Lip Ring slots (Left & Right), currently not used by EA but other CC may use them.
They can be changed the same way as skin details, so read the post linked above.
My sim is wearing bottoms when they're supposed to be nude!
Some users have reported this and I'm not sure why it happens (I'd guess it's loading order like above).
They've fixed it by installing Hiroki's Better Body female bottoms.
---
Known issue(s):
If you have a slider mod installed that allows even larger breasts, very large and sagging breasts will look separated from the torso at certain angles.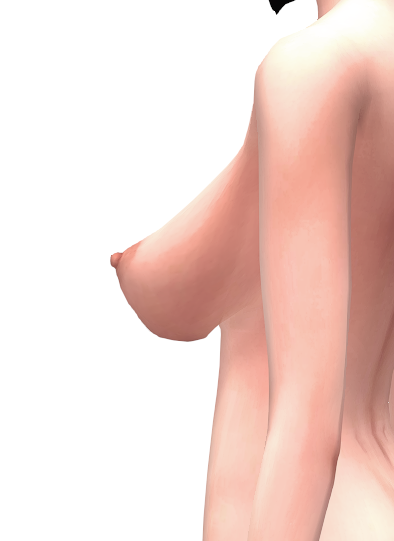 I am well aware of this. It unfortunately cannot be fixed.
Credits:
wild_guy for allowing me to modify his details.
Zheur, dumbaby & Drewsph77 for QA.
Please, tell me what you think. All feedback is appreciated.
Enjoy.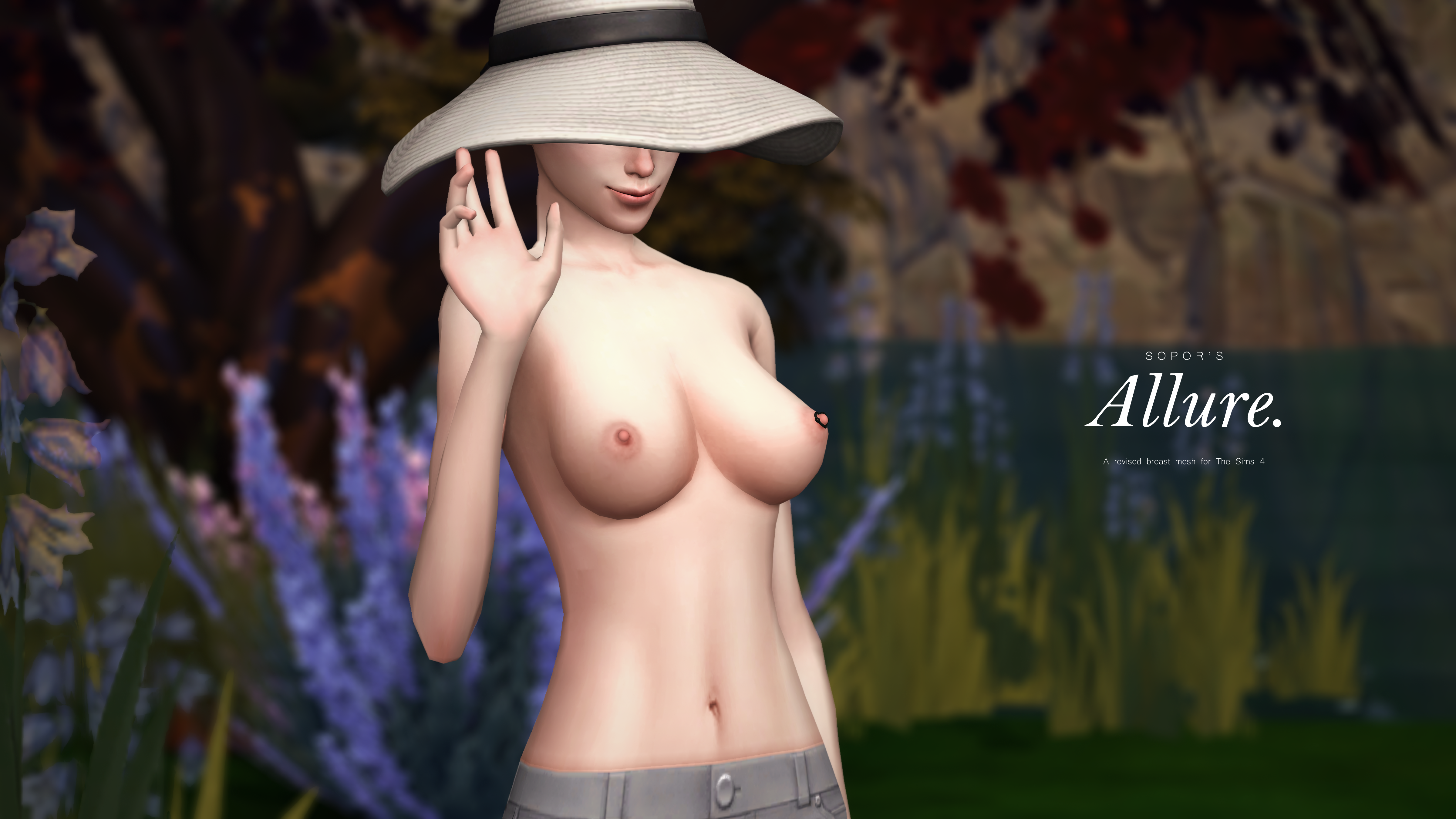 ---
What's New in Version
1.7.3
Released
- Fixed Body Selector icon.
- Added Override:
- Swimsuit, One Piece
---
Changes in 1.7.2:
- Added Allure to Body Selector.
---
Changes in 1.7.1:
- Issues with S-AllureSD_SNipplesFHC.package missing some textures rectified.
---
Changes in 1.7:
- Added new Nipples:
- 5 types in 3 opacities for a total of 15.
- Added Nipple Blushes:
- 7 swatches: 2 pink, 2 orange, 2 red, 1 ghost.
- Updated CAS thumbnails.
- Updated screenshots.