About This File
*** 01.Oct.2021 Version 0.5 : T-Shirt for the saggy titts body ***
*** 26.Sep.2021 Version 0.4 : Top for the saggy titts body (see video below) ***
This is a mod for Enlit3d's new games CAT and SR (the mod works for both games).
The mod provides 3 new body with bigger a little more saggy titts and heavier jiggle.
You will see the new titts only if the character is naked, if it has some clothes on it will show the standard body.
In future i will create special clothes for the Saggy Titt body...
Have a look to oher mods for Enlit's games: Overview of mods for Enlit's games
... items used in this video: body:  SXB_TittsSaggy, top: SXB_TittsSaggyTop, buttom: SXF_NormalFutaNoBallDangWithSkirt (from my Futa Pack mod)   
How to get the games:
Both of these games are currently in development by Enlit...
You can get the games via Enlit3d's patreon site here: Enlit3d Patreon
Installation:
Download the mod, unzip it and move the mod folder into the game folder ...\data.
It should look like this: ..\data\SurverX_BodyPack0_1
How to use the mod:
The new body has to be defined in the unitdata_.json file of the game. So e.g. to give Nera the bigger titts you have to edit the file ...\data}_base\unitdatas_.json and change the line "body_female" to "SXB_Titts".
The clothes for the body you can select via the dressing room:
Provided bodys (unique uid's):
- SXB_Titts            this is my "standard" titt model
- SXB_TittsBig       these are slightly bigger titts with more jiggel
- SXB_TittsSaggy   and these are my saggy titts with heavy jiggle
Provided clothes (unique uid's):
- SXB_TittsSaggyTop    this top only fits for the "TittsSaggy" body
- SXB_TittsSaggyTShirt    this TShirt only fits for the "TittsSaggy" body ***New***
... and have a look to my Skyrim mods: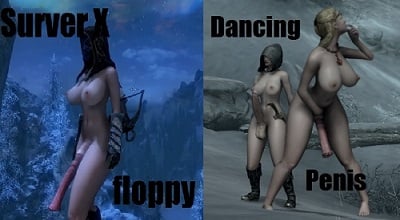 Edited by Surverx
new version
---
What's New in Version
0.5
Released
Changelog:
- V0.5 01.Oct.2021: T Shirt for the saggy titts body
- V0.4 26.Sep.2021: Top for the saggy titts body
- V0.3 17.Sep.2021: Error correction. With the SR game version 0.4 you can change the color of the penis and the body. You need this mod version if you want to change the color of my futas or bodys.
- V0.2: new models SXB_TittsBig and SXB_TittsSaggy
- V0.1: initial version