About This File
This is a mod for Enlit3d's Heroine Rescue Team (HRT) 
For how to get the game and how to use the mod see here : How to mod Enlit3d's HRT
Have a look to all the other mods for HRT: Overview of mods for Heroine Rescue Team
... and have a look to this forum were i post some very nice and funny HRT pictures ?: Showroom
Here we go, a shopping mall for all of my mods. Instead of using the console commands to get the items you can simple grap them with "nice" background music (thank's bOO;-). You will find all items under the statues. It works as a normal dungeon that you can visit "Surver X Modding Mall".
If you are not able to equip objects to a not standard body (item stays disabled) change temporary to the normal female one, equip and switch back. That is because items have to be assigned to a certain body type. Most items are assigned to the standard female body (you find the standard female body also in the mall).
You need the following Mods (sub mods) in place:
- "Armor Package": Armor
- "Monster Device": Monster
- "The complete Futa/Penis Package": Futa Pack
- "Body Package": Body
- "Futa Shirts" and "T-Shirts (two mods): Futa Shirts
- "Serious Gun": Gun
- "SurverX seduce moves for HRT": Seduce
If one of the sub mods is not in place you will get some warnings, but you can go on (you wont get the items that are missing).
... and have a look to my Skyrim mods: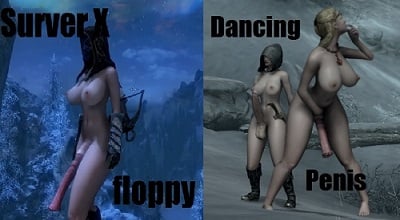 ---
What's New in Version
3.2
Released
new in Version 3.2:
- in the "Auxillary" section you find the 3 new seduce moves. To run them in parallel you new the "KLib game extension" mod for HRT