About This File
= RedAppleNet =

  
Supports Game Version 1.65.70.1020
= Mod Requirements = 
Get to Work
WickedWhims by TURBODRIVER
This mod adds Part-time Active Career in the cybersex company. You will spend your day having sexy conversations with clients in the chat rooms and on the phone and maybe even have personal video sessions. 
However, this company doesn't have the best reputation, so climbing career ladder will be virtually impossible. You might need to suck up to quite a sleazy boss to get the desired promotion. 
******
This is a short description of the mod and its features. It's up to you to discover all of its features.
Some installation steps are quite intricate so, please check out Important Notes or ChangeLog.
If you have any problems, please read the FAQ and if you still do not find the solution to your problem, message me on the Discord in RedAppleNet_channel.
******
The 'RedAppleNet' company is not as perfect as AEP, so you will have to deal with unfairness and quite a sleazy boss. It would be virtually impossible to complete your day with a golden reward without hard work and staying late.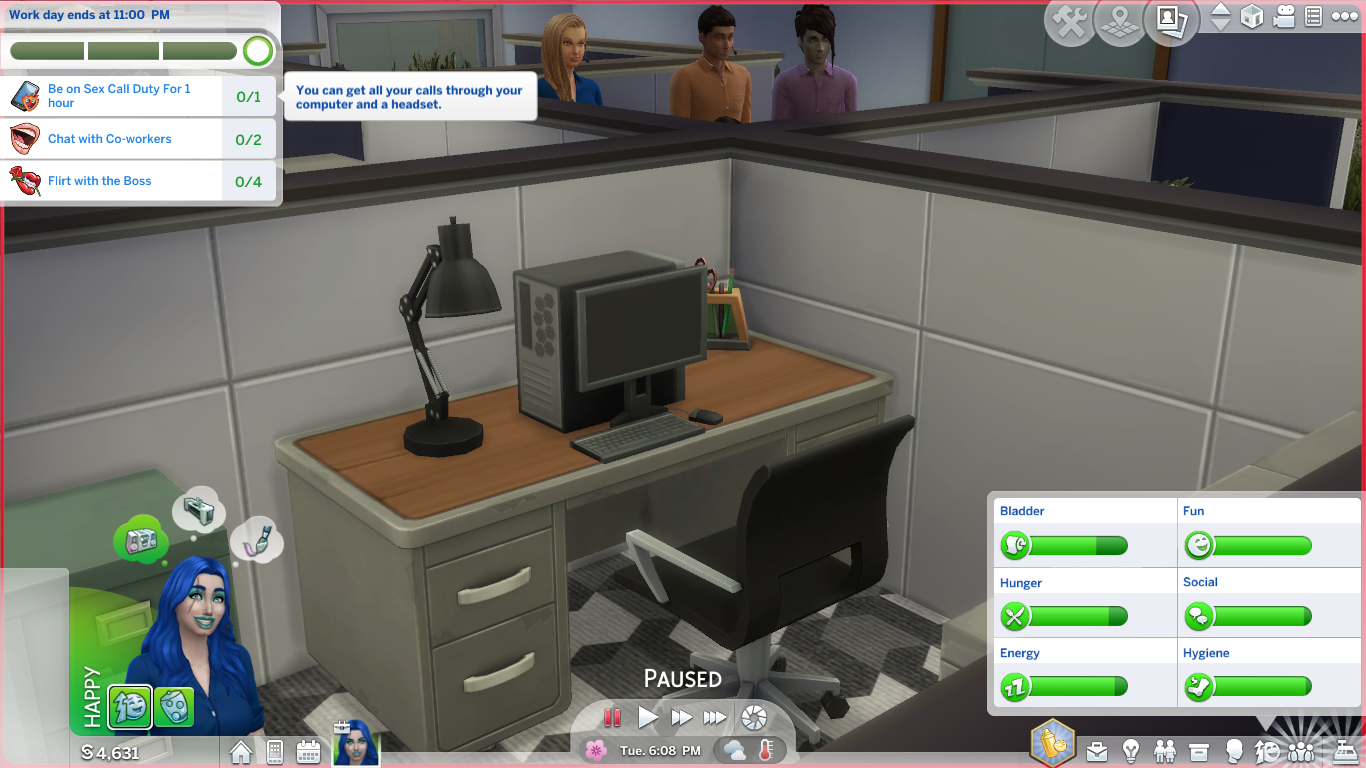 However, you can choose another way of getting what you want. You can try to seduce your Boss and earn promotion this way. For that, just follow the third chain in your workday tasks. 
Do not try to have sex with your Boss without an appropriate task! It won't affect your work progress!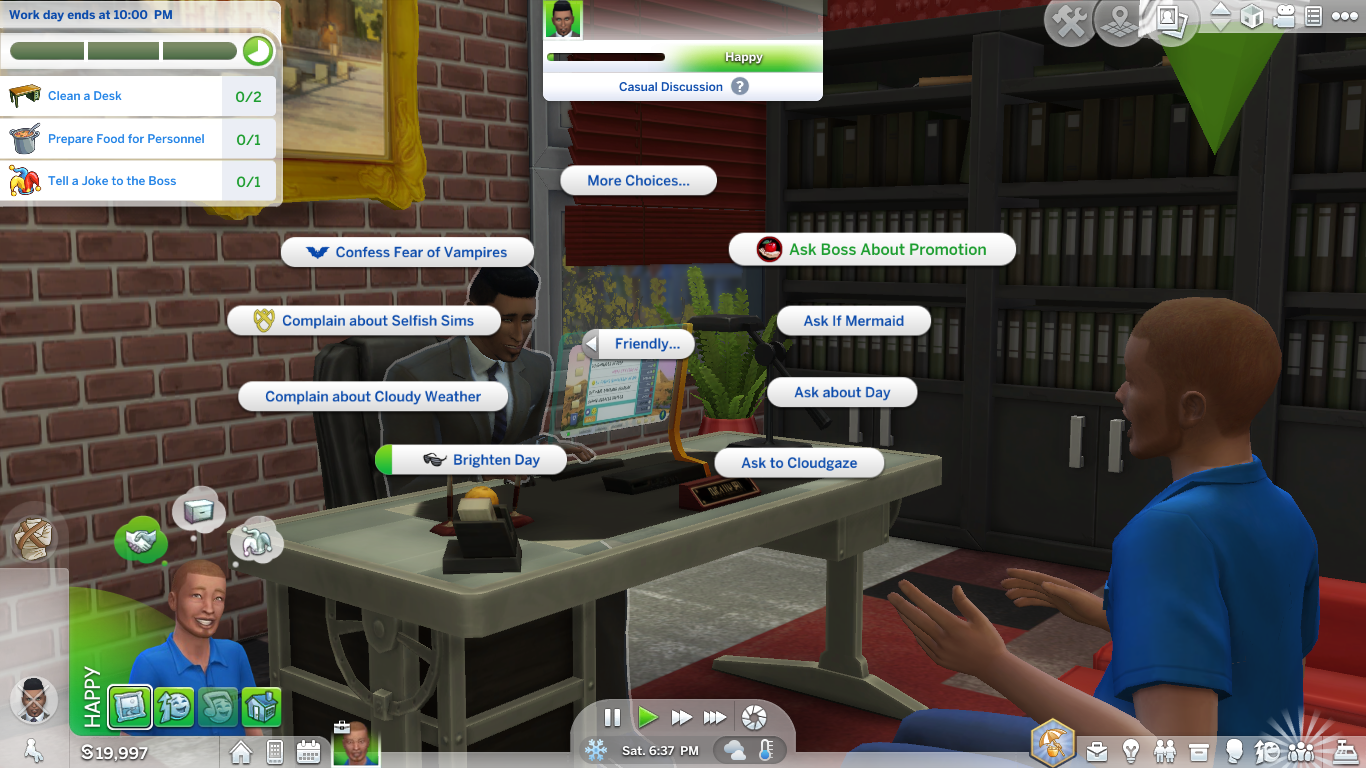 The career has three levels. And every level has its own custom interactions. They will be available to your Sim during the workday.
Most of them labeled by the RedAplleNet icon. There is a hint under most of the tasks during a workday which will let you know what interaction you need to perform to complete the task. 
This mod is in no way a realistic representation of reality. It's all my fantasy and fanfiction. 
******
Before starting the career, you need to put RedAppleNet venue in the world. You can download the Venue in download section or here. Just follow instalation instructions in the post. This mod overrides a few in-game CAS and Build items, but it shouldn't conflict with anything. If you use any other VenueLists, remove them and leave only KsuihuhVenueList.
 !!!IF YOU WANT TO BUILD A NEW VENUE!!!   
You can find all objects required in the venue requirements, BUT you need to use specific chairs since some NPCs are anchored to them! Put Boss's Chair in the boss's office and so on, otherwise they won't be able to perform their job. Also make sure that Video Chat operators have separate offices since they need privacy to do their job. And don't forget to put computer on the front desk for Receptionist!
******
= HOW TO INSTALL =
1. Download just one version of the mod.
2. Extract files from the .zip file.
3. Put .package file and .ts4script file into your Mods folder. To do this, go to Documents > Electronic Arts > The Sims 4 > Mods. 
DO NOT PUT THE .TS4SCRIPT FILE MORE THEN ONE FOLDER DEEP IN YOUR MODS FOLDER!!!
4. Make sure you have only one copy of Neia_Career_Commons.
5. Download RedAppleNetOffice Venue in the Download section and follow instalation insctruction in the post here  .
6. Make sure you have only one VenueList in your Mods folder. KsuihuhVenueList already contains all other existing venues of other moders I'm aware of: LittleMsSam's, Zerbu's, Basemental's, Coolspear's Multipark Venue and  itasan2's Get To College Mod. So If you use one of this mods delete their VenueList and keep just KsuihuhVenueList.
7. Make sure that Script Mods are enabled in your game. To do that go to your game setting, click Game Options, Other, and see if Script Mods are allowed.
******
!Check out the ChangeLog to learn what new features are added to new versions of the mod!
                           = Patreon Version =                             
RedAppleNet 1.1.9
Update- July 14, 2020
******
Become a Patron and get early access!

Visit my site! I upload different CC, Lots and Sims and other mods I create.
Join my Discord Server for help and conversation!
---
What's New in Version
1.1.4a
See changelog
Released
RedAppleNet 1.1.4a - July 14, 2020.
-Update-
Change Log
- Compatible with version of the game 1.64.84.1020
- Fixed missing interactions on some computers.
- Added 'Plan Career Outfit' Interaction to all Dressers/Mirrors. DO NOT CLICK ON OTHER CLOTHING CATEGORIES WHEN IN CAS!!!