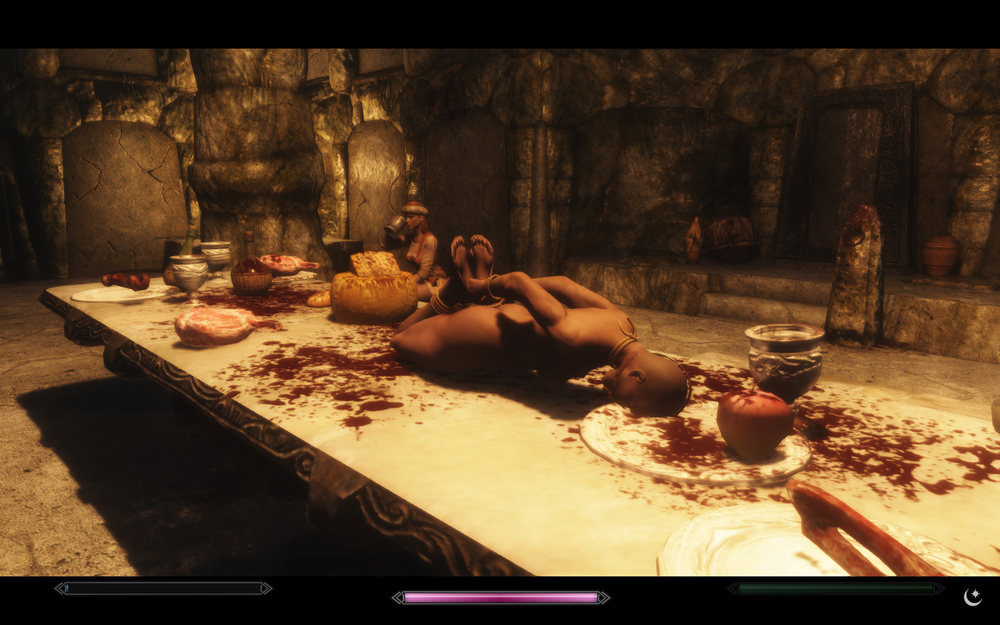 When I wanted to add a few easter egg scenes to SexLab Stories, one of the first scenes I had in mind was the ritualistic murder from 'True Detective' - the symbolism in the way it was stage would fit perfectly in Skyrim.
That and the fact that there are many references to H.P. Lovecraft in Skyrim overall. It would be fitting to add a reference to the 'King in Yellow' as well.
The problem is, the main option to add a corpse to Skyrim is to mark them as dead in the editor, which causes the body to collapse in a heap. Posing an NPC as a corpse requires some trickery.
1- Create a Corpse race - this includes:
- adding new head part
- adding a set of hands, feet and torse
- attach them all to a 'skin' armor and then to the race
2- Make copies of clothing, armor, props - and make them compatible with the new race
3- Make the Corpse race immobile, with no interaction to the Player (check race settings)
4- Create a new Voice Type and assign it to the race (to make it silent)
5- Remove the 'Actor type NPC' keywork from the race definition (to prevent corpses from saying Hello to the player)
6- Create a new AI package with 'Do Nothing' as an action and a forced idle with a long duration (3600 seconds for example)
- This will cause the NPC to pose itself into the idle position and ignore any interaction with the player
You can use this for Necromancer rituals, dream scenes, dead prisoners, and so on...