So Zahra was really busy shooting video after video with Daan, barely going out of the apartment building. The latest upload "Queen Zahra presents: Sensual delights" was way less popular than the last ones, so she felt a bit down, while Daan was working another one of his big promotions on his career track and was too busy to edit and upload. He even fixed his electrical panel and pipes in the kitchen, because power outages were a huge pain in the ass, but the kitchen still remained a nastiest part of his place.
One day Zahra found a crumbled tabloid sticking out of the garbage chute, that was broken once again. Curiously she picked it up and read the headline: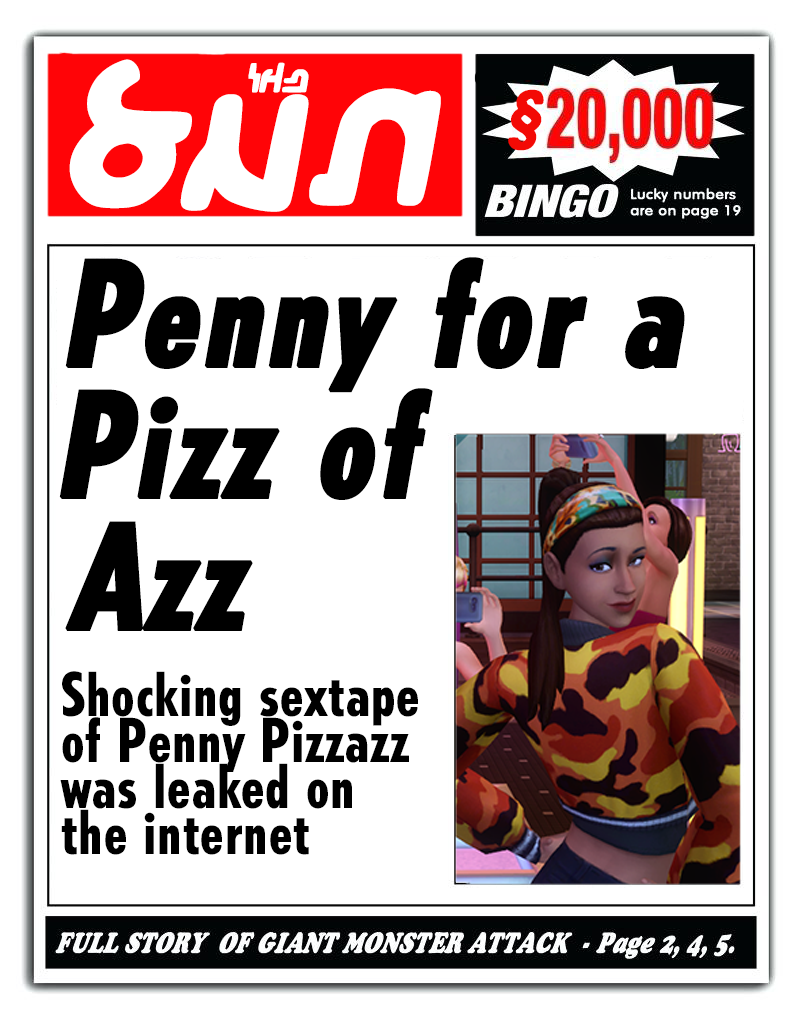 She read an article for the details and basically some creep created a website with a video of Penny and Daan's intercourse and some racy pictures of them behind the scenes. The article also mentioned that some people had suspected Penny had made videos for Adultworld previously as the second girl in a threesome videos, but it was hard to tell, since her face cropped out of the frame or blurred. The others conspired that it is just Penny's lookalike, whom they hired for videos to get some clout, since a lot of comments on the entries did mention that the mysterious girl heavily resembles Penny.
Shocked Zahra took the magazine and let herself into Daan's apartment with the key he gave her previously and demanded his attention. Daan was as surprised as she was and started instantly searching for a leaked video to see everything for himself. The sex tape website was called Pennyforyouthots.com and featured a video called "Penny Pizzazz Sex Tape 1: All the holes in one go". The description said: Daan Pluimstrijker likes girls who put out everything and Penny Pizzazz is one of them! And she enjoys it a ton, see for yourself. The video itself was an unedited reel of Penny and Daan where you could see both of their faces. Even more than that: there were bts pictures, that also showed Penny and Daan's faces.
Zahra didn't know that he was exposed too, but obviously papers never mentioned him, since he wasn't of any fame. Daan said that papers tried reaching out to him through his studio's simstagram account, but now that he knows what it was all about he doesn't want to contact them. It seemed like he has formed a damage mitigation plan in mind. He called Penny and asked her to come over and assured Zahra to not comment on the incident to anyone. He said that he would try to contact a creep via anonymous email and see if he says something about the source of this video. As Penny arrived, he consoled her and helped her write a statement.