Sigrun: Taste of Debauchery
---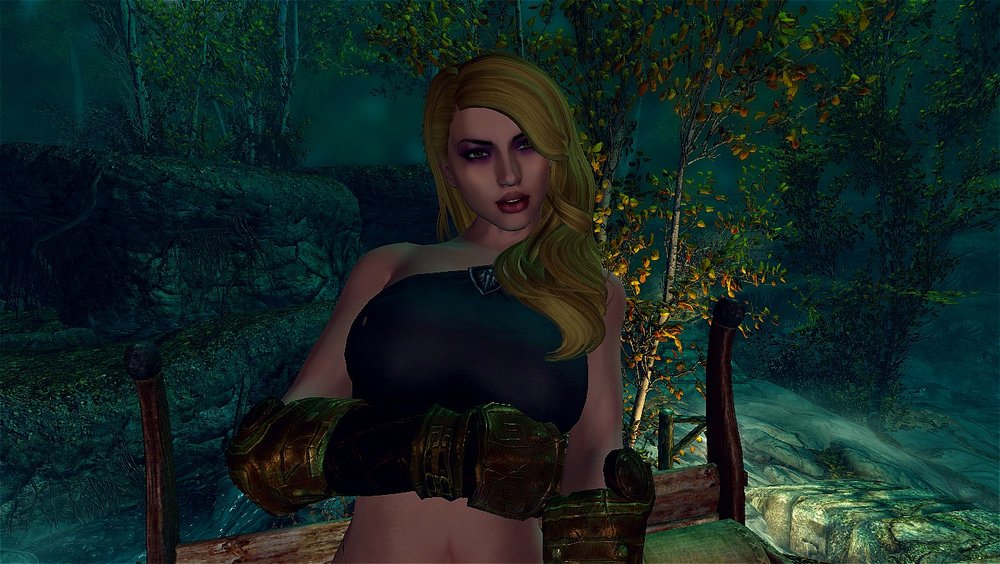 Hello!
This week is a short story with Sigrun! Some fights have broken out recently at a local bar and She's been asked to stop them. I hope you enjoy!

Sigrun: Taste of Debauchery

Sigrun: The Jarl was rather adamant that I talk with you urgently, Kleppr. What seems to be the problem?


Kleppr: This unruly patron keeps coming to my bar and stirring up trouble! He never stirs up the trouble himself. Always offers my patrons a drink and after they go stir crazy. They don't even remember they did it. Why it happened to Erik just last week!

Erik: That's right! A man in black robes offered me this family label and next thing I knew I was punching Kleppr right in the jaw!


Kleppr: It still hurts, Erik, it's coming out of your tab. The way I see it, the fellow is disturbing the peace with his spirits and damaging the reputation of this, here, inn! So can you help us, Miss Thane?


Sigrun: I might be able to think of something. Seems like this black robed man preys on patrons looking for a good drink. To catch him, I'll need the best table in the inn and an open tab.

A few hours later…


Sigrun (to herself): Ahh, why can't jobs be like this. Just get to sit back and drink till the work comes to me...shame about the drinks though. Even the top shelf liquor is watered down. No wonder the patrons go looking for harder stuff…


Black Robed Man: Well aren't you the prettiest thing in this bar…

Sigrun (to herself): Man, black robes, matches the description.

Sigrun: Well thank you Mr…?

Sam: Call me, Sam. And correct me if I'm wrong, but aren't you Sigrun Prima? A ranking offical of these parts? What are you doing at an inn like this?

Sigrun: You got me, Sam. I was looking for a place to relax and unwind. I like the atmosphere here, but the drinks here leave much to be desired.

Sam: I know what you mean! These drinks have no bite to em! Come with me, I'll show you real liquor.


Sam's Room


Sigrun: I've seen bottles like these before. You dragged me from my seat for common Mead?!

Sam: Sigrun! I'm insulted. My homebrew is not merely Nordic Mead! It's much more potent! Why, what you hold in your hands is enough to make you trade your clothes for a flower and you'd still think it's a good deal!


Sigrun: I'll believe it when I see it! Let's drink!

Sam: Bottoms up!

2ish...Bottles Later...


Sigrun: GET OUT OF MY WAY BAR STAFF! I don't need you to….tell me what I'm supposed to be doing!

Sam: Um….Sigrun, We were just about to leave…


Sigrun: SHUT UP SAM! I'll do what I want when I want! Besides, this HORKER is trying to kill my good feelings!

Sam: HAHA, what a girl! But we should really see our way out. I don't think we're welcome here anymore.

In Markarth...some time later...


Sam: Well here we are, what do you think?


Sigrun: It looks like a normal waterfall to me, Sam. Is this really the prettiest spot in all of Skyrim?

Sam: Beauty is a matter of perspective. It's certainly the prettiest from where I'm standing. But some people may need to take a closer look at it to see it's beauty.

Sigrun: You're saying we've got to…

Sam: JUMP!


Misty Grove


Sigrun (to herself): I've never seen a place like this in Markarth before, It's lovely. And this bed, I didn't even feel the impact of that jump. Wait, where's Sam?


Sigrun: SAM!?


Sanguine: I'm here. I've not been completely honest with you. I'm actually Sanguine, the Daedric Prince of Debauchery. Forgive my deception, but if mortals found out a Daedric Prince was among them, they'd lose their minds. And I'd rather not scare one as beautiful as you away, especially since I've already got you in bed.

Sigrun: I've never been propositioned by a Daedric Prince before. I must say, It's quite arousing…


In a motion as smooth as silk, Sigrun lets down her hair and removes her top.

True to his name, Sanguine was extremely passionate in his love making.
The romantic setting of the Misty Grove, making love under the light of the torchbugs was something Sigrun had dreamed about.

The Daedric Lord was insatiable.


But, In the end, even a Daedric Prince, runs out of stamina. They basked in the afterglow for a time until Sanguine stood up.

Sanguine:..by the Divines, I'm exhausted. Where did you learn to fuck like that, woman?

Sigrun: Do you want to know a secret? I really haven't been honest with you either. I'm actually the Sybil of Dibella.

Sanguine: Ahh, I knew something seemed off. You honor your Goddess in the bedroom. You didn't use your magic on me did you?

Sigrun: That's something you'll have to find out. I want to know something. Why did you come to Markarth?

Sanguine: To spread merriment, of course. With the city under Thalmor eyes, Markarth seemed too tense. It seemed like the ideal place to test my new brew and relieve some of that tension.

Sigrun: That's Sweet. But I have a favor to ask. Can you please leave for a while? The destruction caused by your drink is a bit much for us to handle, right now. I would never assume to tell a Daedric Prince, what to do. But just this once? Please?


Sanguine: I can hardly say no after the lovely time we just had. Besides, I've already found the most interesting person in the City. I'll take my merry-making elsewhere. Here, I want you to take this rose. As a reminder of this night. Farewell, Sigrun.

The Daedric Prince took one last look at Sigrun. Then with a wave of his hand, She was gone.

Bottom of the Waterfall


Splash! Sigrun splashed down in the water in a construct that must have been magical in origin. Upon looking around, she knew she was back in Markarth. She floated along the stream until the floating construct left her at the base of the City.
Sigrun (to herself): Well that's one night to remember. Wait do I only have this rose? Where are my clothes!?
Thanks for Reading! Leave a comment below if you enjoyed!