In my opinion, the best companion mod setup out there.
Mad Companionship Spells 2.5
by
madtaro
and
MCS Extension 1.15
by
r_basilico
Update 2/2/12: Updated translation of MCS extension to the latest version. If updating just copy over the old MCS extension.esp with the new esp.
EDIT 12/17/2012:
Attached the current version to the post to save any possible MediaFire DLing issues.
MCS Extension v1.15
· In "Common Configuration"
"Follower Skip Fallout Behavior" settings have been added
This setting "On" and companions in the Follow State will no longer stand talking with other NPCs
· Temporarily release the locked state of the MCS · AI ​​package
You can now control the AI ​​package to allow interference from other MOD
(See "Developers MOD" later on).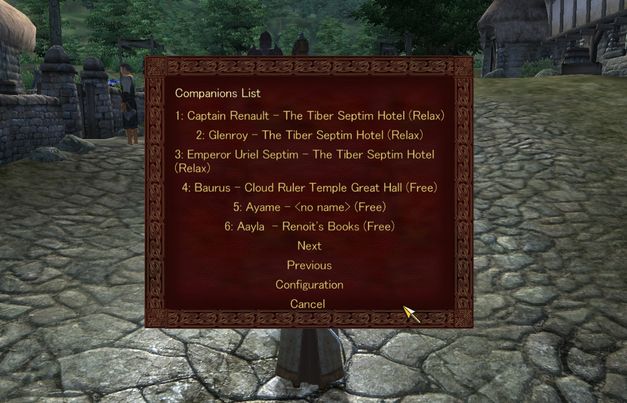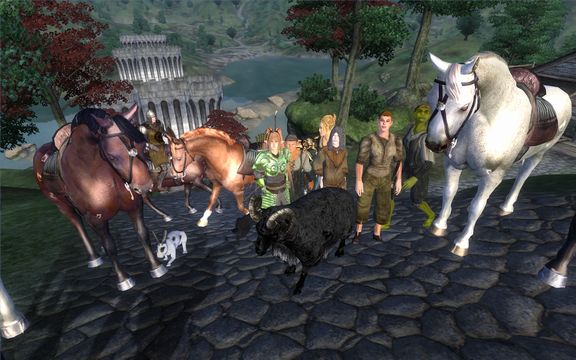 Similar to Toasters Share and Recruit, allows you to make any non hostile NPC or creature a companion. Allows up to 96 companions. Companions can be told to "Do Free" and they will go through their normal routines, but can still be summoned at a moments notice. MCS is all done through spells and a book added to your inventory, while MCS Extension adds dialog topics to recruited NPCs and adds further functionality... Less buggy than CSR and is Lovers and Estrus aware...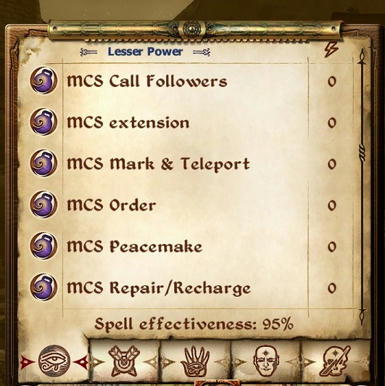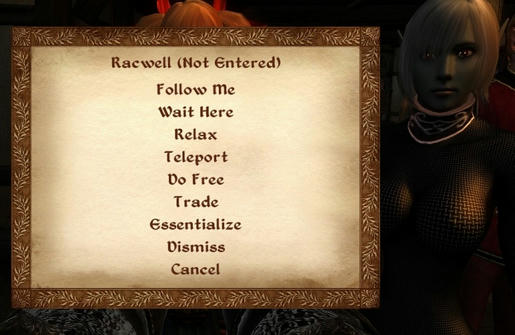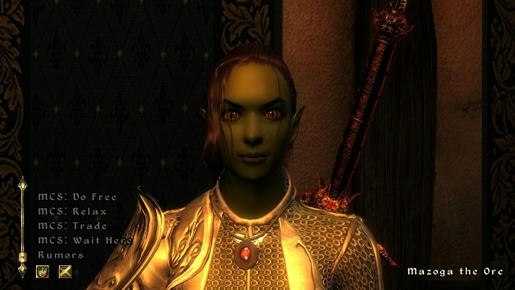 Download @ 4shared
Download @ mediafire
[spoiler=mediafire password]
loverslab
[/spoiler]

HumanTouchNPC 2.3a
by
r_basilico
Update 10/21/11. Updated translation of the newest release.

v2.3a
· 'Target Leader' is "only for the company already has started the battle"
Specification has been changed to work
(Until now we had started the fighting forces of the state in non-combat companions
The MOD had some cause for unexpected situations)

v2.3
State actors against death magic · "HumantouchNPC" When times are
Now involves only status
In · 'Target Leader' "his players" can now be set up
"The most recent attack against players shed" to target a uniform
Equipment can now be released at the amulet · 'Equip Swimming'
"Cloak Amulet type" Please use the equipment you might want to de-
The default setting is not clear because of the ini file, if necessary
"EquipSwimmingAmulet" Please change the value of
3 seconds to say thank you from the beginning in · 'Thankyou Healing' is
Was to prevent the processing of 'Natural Emotion After Combat'
(To avoid the phenomenon is stopped in the middle of saying thanks).
· Ini files in the "Show messages when triggered Hate" is
Off by default now (I know enough effect).
I will cleanup the change log translation later.

Thanks to mtl06 for the translated documentation, ini and work on the scripts!
This is a Companion enhancement mod. You can only adjust the settings on NPCs following you, but appears to work with any NPC follower, regardless of which mod they use. MCS, CSR, CM Partners, stand alone companions, even temporary vanilla followers.
There are videos demonstrating the Mod here:
http://www.nicovideo...atch/sm11596775
But requires registering to watch.
Features
Humantouch Spell;
● 'View Status' [Any Actor] Allows you to see the various Stats of any NPC. Works on any Actor, not just companions.
● 'Target Leader' [NPC / creature] Makes the player or designated companion to be the main target of enemy attacks.
● 'Unequip Weapon / Shield' [NPC only] Sets companions to remove sheild and weapons when not in combat.
● 'Line of Fire' [NPC / creature partially] Sets companions to move laterally and avoid accidentally hitting you or other companions in combat.
● 'Companion Healing' [NPC / creature] If the actor has enough magicka, it will give them a healing spell (3 levels based on available magicka) that they will use on you and other companions.
● 'Hate' [NPC / creature] Prevents them from being affected by the Hate spell if accidentally hit.
● 'Confiscate Bow/Staff' [NPC Only] This is an attempt to fix the notorious empty shooting bug that affects most companion mods. If the companion doesn't successfully fire the Bow/Staff they will be confiscated and returned after combat. Make sure they have a back up weapon.
The contents of a conversation topic ;
● 'Present For You' [NPC only] Allows you to give gifts to NPC's, which raises their Disposition. The amount raised is based on both the value of the item and if it is something they can use. Giving a set of Heavy Armor to a Warrior will net more than giving that same armor to a Mage. Works On all NPCs, not just companions.
● 'I HAVE GREETING' [NPC only] Fixes the "I HAVE NO GREETING" bug.
Other content (Settable in the .ini);
● 'Safe Landing' [NPC/Creature] Eliminates falling damage from companions. On by default.
● 'Nimble Movement' [NPC only] NPC's with a scale less than 1 also has their speed reduce in scale in Vanilla. This fixes that. Makes them equal in speed to 1.0 scale by default.
● 'Switch to SilverWeapon' [NPC only] If the companion is trying to use a non-enchanted weapon on an enemy that has "normal weapons resistance" this has them switch out to silver weapons.
● 'Pure Face' [NPC Women Only] Removes helmets/helms from enemy female NPC's.
● 'Barrage!' [NPC / creature]
● 'Who Killed?' [NPC / creature] Keeps a tally of kills by followers and displays a message on screen when a companion gets a kill. Does both by default, can have it do one or the other or off in the .ini.
● 'RecoilDisabled / StaggerDisabled' [NPC / creature] Disables companions recoiling and staggering when hit. Off by default.
● 'Equip Swimming' [NPC only] Remove heavy armor or all clothing from companions when swimming. It's off by default.
● 'Come here, Followers' [NPC / creature] Adds a spell that makes all active companions, regardless of Mod or vanilla, move to you.
● 'Equip Sleep' [NPC only] Removes armor/ shoes when companions sleep.
● 'Natural Emotion After Combat' [NPC only] Fixes the angry face after combat bug.
● 'Thankyou Healing' [NPC only] NPCs will thank you when you heal them. I've only seen it work with touch spells.
Settings Screen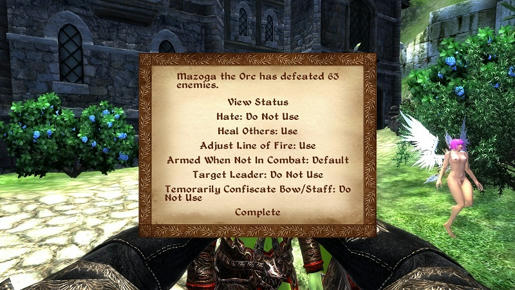 Status Screen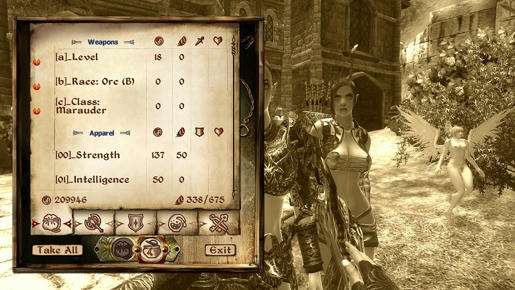 A non-companion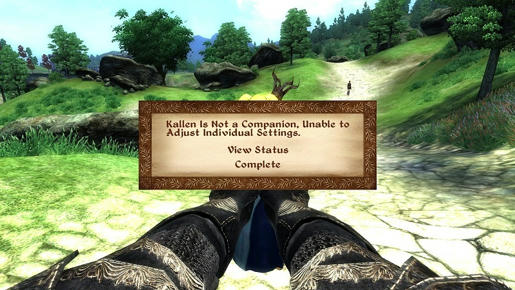 Hud Companions
Adds status bars for active companions health, fatigue, and magicka. Requires OBSE and Pluggy with HUD enabled.