Welcome to LoversLab
Register now to gain access to all of our features. Once registered and logged in, you will be able to create topics, post replies to existing threads, give reputation to your fellow members, get your own private messenger, post status updates, manage your profile and so much more. If you already have an account,
login here
- otherwise
create an account
for free today!
Submitter
asenasen
View other files from this member
Latest Version:

1.5

Submitted: Dec 17 2015 02:00 AM
Last Updated: Dec 20 2015 10:05 PM
File Size: 22.38MB
Views: 60768
Downloads: 7,980
Requires: XMPSE2 Skeleton, HDT High Heels
Download Slutty Christmas Mashup for 7B 1.5





7b
mashup
Christmas

101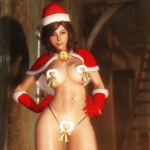 About the mod:
This is a (lewd) mashup of parts from various Christmas related outfits including:
+ The coat from Vindictus Santa Robe by jianeddie.
+ The collar & neck bell from f51 armor by fox6000.
+ gloves and boots from Vindictus Santa Robe by jianeddie.
+ Pasties from Santa Robe by SpeedBuster.
+ accessory bells from Kasumi Christmas Outfit by fizz.
Not that the coat clips horribly with certain poses, and I'm currently looking for a way to fix it.
The mashup was inspired by this post on SpeedBuster's blog: http://akaspb.blog.f...-entry-549.html
Updates:
v1.5: Coat is now fixed, and was broken off from the main outfit as an individual item. (using slot 44)
Check list:
Clipping-free guarantee: Semi-Check
Weight slider support: Check
Gives you dreams of a White Christmas: Definitely Check


Requirement(s):
XMPSE2 Skeleton
HDT High Heels (Set the custom height to around 10 - 15. Without this, the boots will sink to the ground)
Installation:
Just use any mod manager to install the armor.
Or manually, you can just drop everything into [Skyrim Directory]\Data
Obtaining Methods:
Option 1: Use this wonderful mod AddItemMenu: http://www.nexusmods…im/mods/64905/?
Option 2: Press "~" ingame to bring up console, type "help Slutty", and add the items
into your game.
Option 3: TesVedit, CreationKit, etc (not recommended)
Uninstallation:
Deactivate in mod manager
Or delete the following:
Data\meshes\Christmas Mashup
Data\textures\armor\SpeedBuster
Data\textures\clothes\Vindictus
Data\textures\fizz\doa5u\kasumi
Data\textures\fox011\f051
Slutty Christmas Mashup.esp
To-do list:
- Fix the coat-
Credits:
Crosscrusade DeMoNhUnTeR1986 Sevennity for the 7B Bombshell body.
jianeddie for the Vindictus Santa Robe.
fox6000 for the f51 armor.
SpeedBuster for the Santa Robe armor.
fizz for the Kasumi Christmas armor.
Disclaimer:
I'm not going to make a CBBE/Bodyslide conversion for this, but feel free to do so, as long as you
give proper credit to the above authors.
12/17/2015: Initial Release
12/17/2015: Update 1.5. Coat is now fixed
Screenshots
3,929

Total Files

164

Total Categories

1,302

Total Authors

69,437,522

Total Downloads
Nini Drachenfels WallTattoos Latest File

Nini Drachenfels

Latest Submitter
Slutty Christmas Mashup for 7B