About This File
RaceBodyMorph (NPC BodyMorph Randomizer) (Could use a better name, but meh...)
A simple BodyMorph plugin that I originally made for myself causing me to learn scripting in GECK.
Description:
Allows randomization of NPC body morphs based on minimum and maximum values for each bones that can be set for each race and gender via the MCM.
Use Ctrl+M to quickly access the Activation Menu.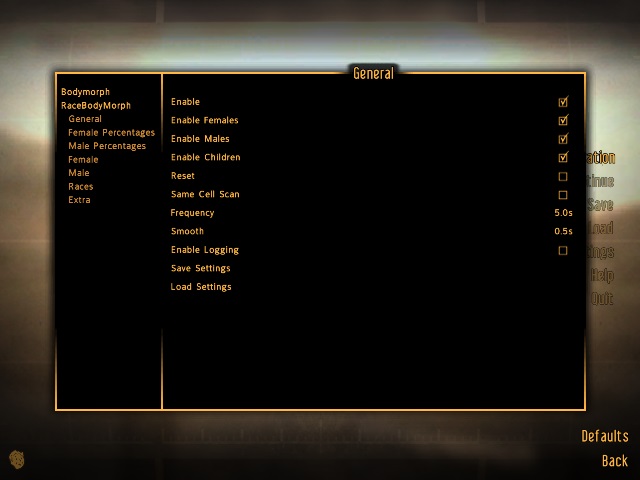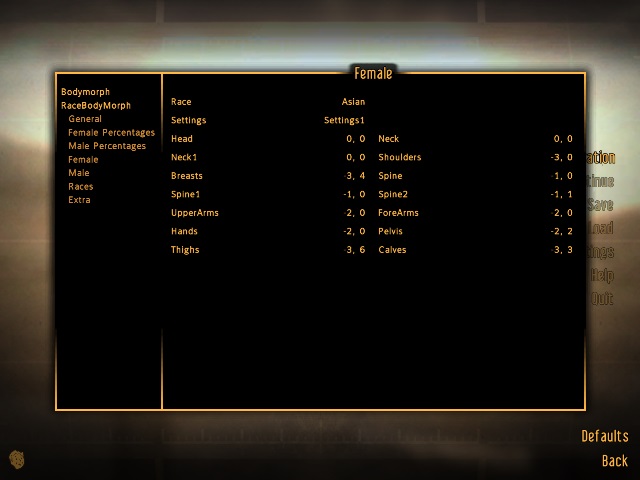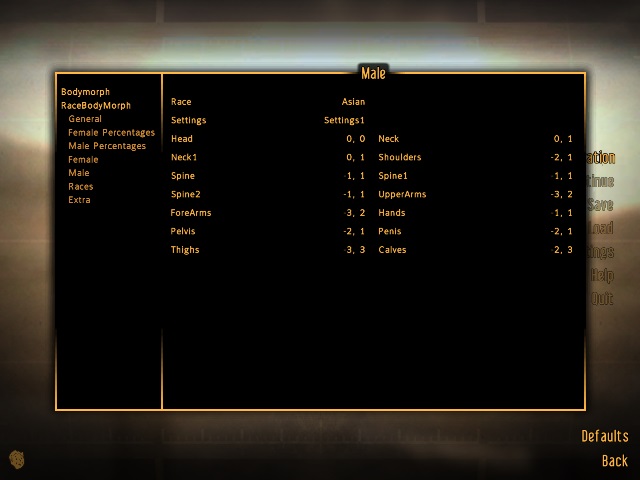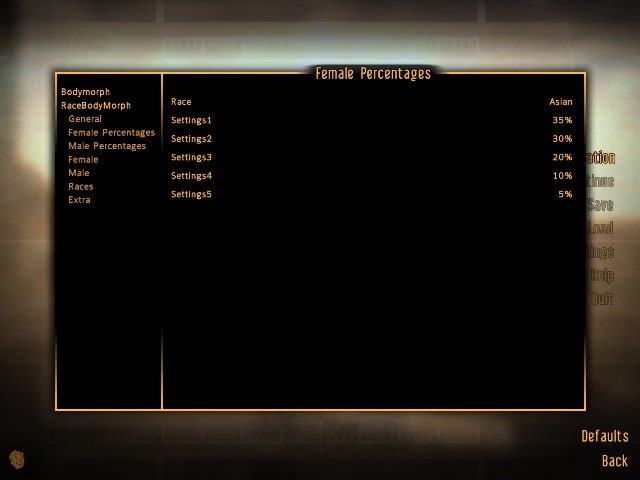 Requirements:
BodyMorph 1.1.0+, of course.
NVSE.
NVSE Extender (NX).
Mod Configuration Menu - Needed to activate and setup the plugin.
Weighted body, like T3F Body with BnB (look in Files section).
Weighted armors or clothing, like Bouncing Breasts Type 3 Armors.
Or T3FBBR BnB Body Replacer + Rough Outfit Conversions.
Notes:
There are alot of changes as of version 1.0.0 (January 3, 2016). To avoid issues from updating from an earlier version, it is advised to install it with a RaceBodyMorph-free save or better yet a BodyMorph-free save, to do so:
Disable/Uninstall BodyMorph and RaceBodyMorph from your load order, start game and save. Then install the latest version of BodyMorph and RaceBodyMorph.
Updating RaceBodyMorph or the core BodyMorph to a new version will deactivate the mod and reset all settings on load, so be sure to use the mod's Save/Load Settings function to save time.
Changelog:

- 1.0.2 (February 18, 2016)
Minor scanner tweaks and optimization.
- 1.0.1 (February 13, 2016)
Added 5 more settings, making a total of 10 settings.
Very minor fix in the Female Others preset.
Some internal MCM tweaks.
- 1.0.0 (January 3, 2016)
Increased required BodyMorph version to 1.1.0.
Rewritten code is more robust.
Each race per gender now has their own percentage weights on which settings will be used.
Use NX variables as flags instead of tokens. This completely frees the mod from the AddItem bug and equipment re-evaluation.
Dead Cleanup has been removed as it is now handled by the core.
Added Ctrl+M hotkey for quick access to Activation Menu.
- 090915
Merged both Female and Male settings into one MCM menu.
Now creates a settings ini in the Data/Config directory for editing slider limits to easily accommodate future changes to the core mod without updating.
Removed Parts settings.
- 080715
Added GetInSameCell check on the scanner instead of the previously removed GetInGrid.
Some minor script modifications.
- 080415
Removed GetInGrid check from the scanner.
Now uses a dummy armor for the AddItem bug workaround instead of leather armor that should prevent removal of NPCs' leather armor when resetted.
- 072015
Fixed dead cleanup not working.
Minor script modifications and optimizations.
- 071715
More foolproofing on the scanner.
- 071615
Minor modifications on the scanner.
Changed default scanner smoothness from 0.05 to 0.5.
Unsetted biped slots of tokens. Tokens shouldn't be equipped anymore.
- 071515
Rewritten and improved scanner script.
- 071215
Just minor logging changes.
- 070615
Added settings for toggling parts. (This will affect the Reset function, for example, disabling a part will prevent that part from being reset to 0)
Made the dead cleanup toggleable. (Default: Off)
Added 2 more slots for saving settings, making a total of 3 slots.
- 070415
Modified script for race determination. Will now check if a race name contains the name of a base race. For example, a custom race with the name "Custom Asian" will now be processed under the "Asian" category instead of "Others". This makes proper support for DLC races.
- 063015
Minor script changes.
- 062815
Added "Others" category for custom races.
Added settings for toggling races.
Added Save/Load Settings.
Refactored a lot of variables.
Replaced the misc token with an unplayable armor item to make it invisible from inventory.
- 062515
Added cleanup for bodymorph data of dead actors. This should keep the size of the nvse cosave file down.
- 062415
Finally fixed the unresponsive combat bug. It is caused by the AddItem function's bug that causes the weapons of the NPCs to become unusable.
Added some cleanup code.
- 062215
Will now ignore actors that are alerted, alarmed or in combat and actors that are within the same cell and are hostile towards the player.
- 032215
Reset function will now only reset actors that are enabled in the menu.
Fixed children not resetting. Forgot to remove a flag.
- 031915
Added Same Cell Scan.
Use ScaleUp and ScaleDown instead of ScaleAbs.
Forgot a bone in the reset script. Fixed.
- 031815
First release.
---
What's New in Version
1.0.2
Released
Minor scanner tweaks and optimization.