Maer 12 - Student of Magic
---
Maer doesn't feel like she fits in with the other students. Probably because none of them were ever a broken in sex slave who fucked half of Whiterun and Markath both. And who kind of misses it. Maybe they're stand offish because they think they're better than her, or maybe Maer has forgotten how to interact with equals.
In any case, the lectures are faschinating, and Maer eagerly laps up every word the masters speak.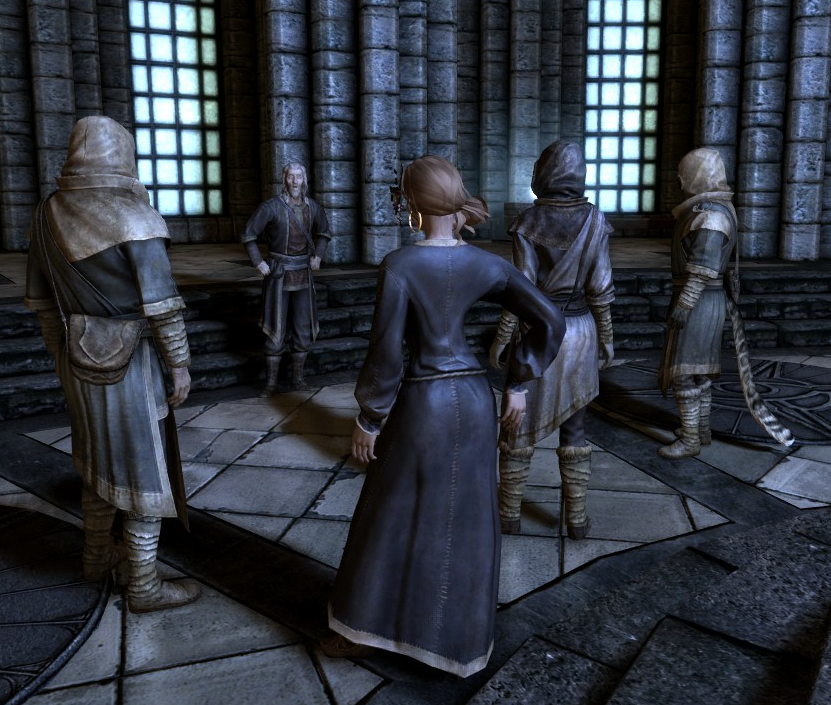 It doesn't take her long to discover that several of the masters are more than willing to give her additional private instruction in return for sexual favours. Maer doesn't hesitate, but throws herself at them one after the other starting with the arch-mage himself. It feels like a lesser form of whoring combined with a lesser form of submission, and Maer finds it... sufficient. It fills the hole she's feeling, at least a little bit.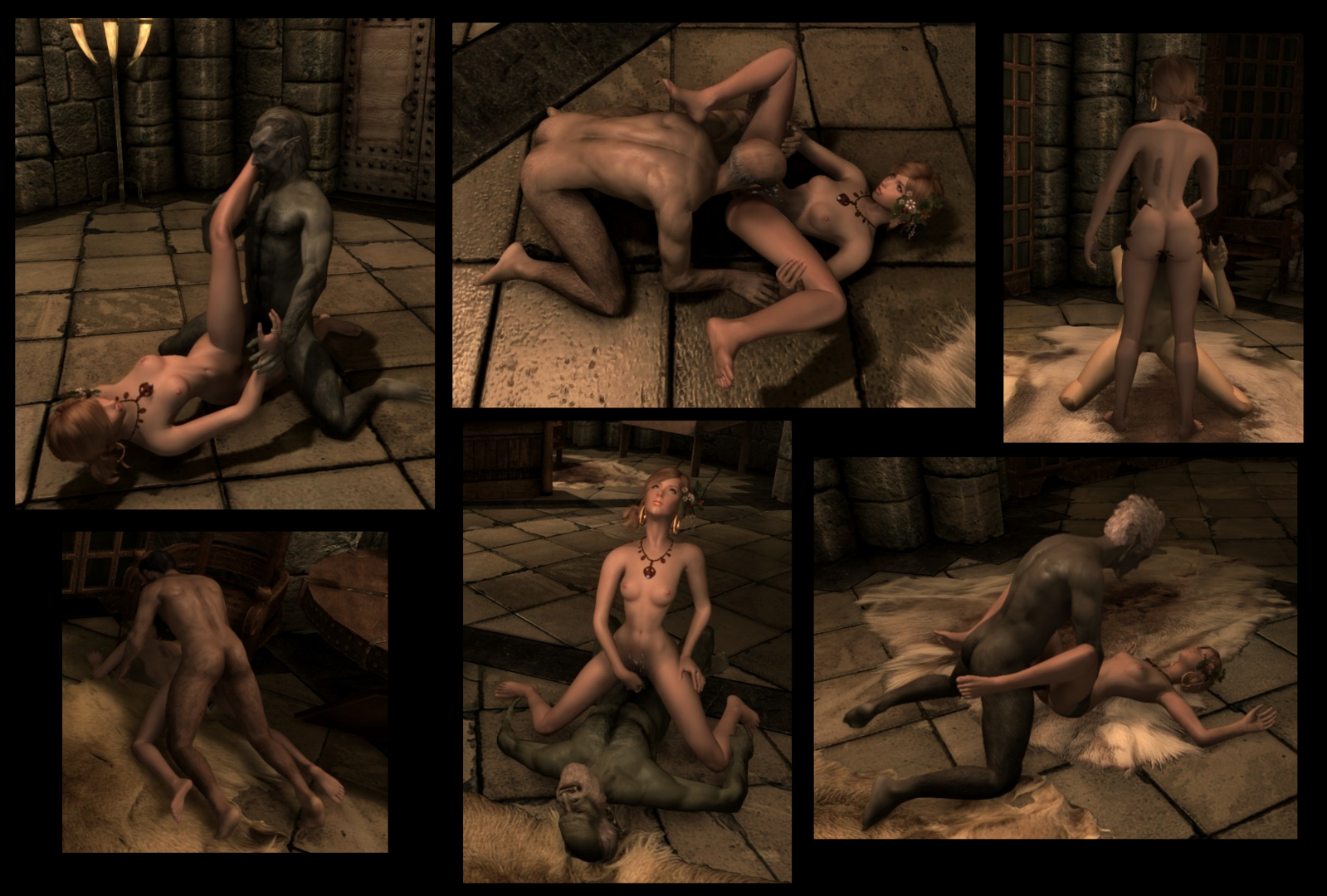 In fact it fills the hole too much, and Maer finds her head spinning and her focus waning from an excess of sexual pleasure. Maer resolves to fuck less and study more, but first she explores the College itself.
Pleasingly, Maer finds that she has access to a number of alchemical ingredients and an alchemy lab. This should help her make some money. Maybe she'll save up the 30,000 septims. It seems like the last instruction her Master gave her, and Maer finds that she still instinctually wants to obey him. What else would she do? How would she make decisions?
He told her to go to Winterhold, and he told her to pay off her debt so that what she'll do. Alternately, she could return and accept permanent and legally reinforced thralldom. When she thinks about it - and she thinks about it every moment she's not studying or spreading her legs - that option exerts a strange pull on her. The main thing that keeps her from going back is that she does in fact want to be a real mage. That and the thought of Leona gloating.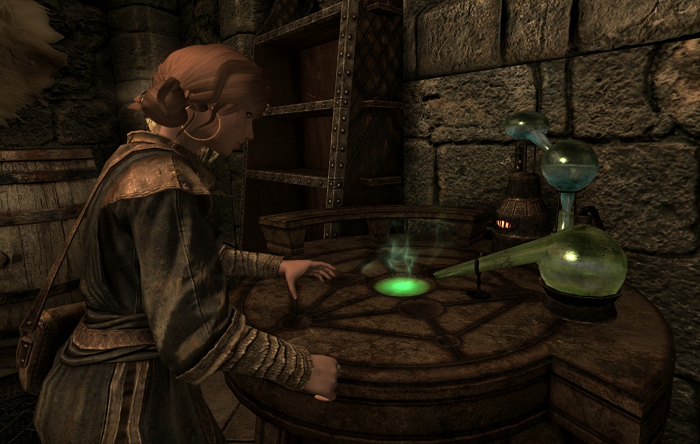 It doesn't take long before Maer is approached by one of the masters who - having apparently already heard what a slut Maer is from the other masters - wants her help with researching sexual magic. It's hard to say no to that in spite of her recent resolution.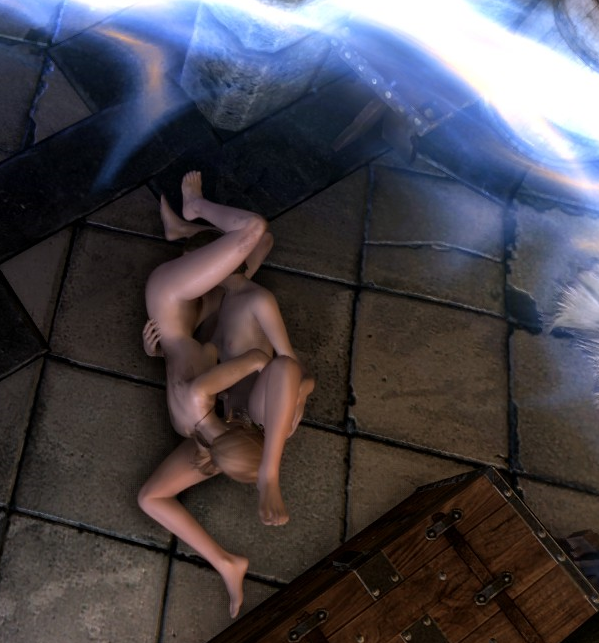 Maer returns to the town to sell the potions she made. It's a pretty solid profit. If she keeps it up, she should be able to raise the 30,000 in a month or so, allowing for reasonable expenses. That's not too bad.
She celebrates with a luxurious bath at the local inn. Once - in her previous life, before she set out to become an adventuress - Maer was pampered like that every day, but this is the first time since she waved goodbye to her old life. It feels good.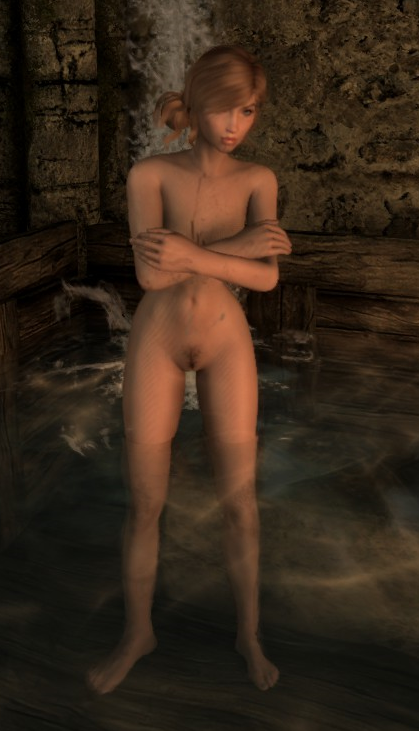 As she walks back to the College she's struck by a memory. Maer visited Winterhold before she met her Master. She tried to join the College but was turned away. Desperate and short of funds she'd turned to a bit of petty thievery to feed herself before she made her way back South. She thought she'd gotten away with it, but later - when she was camping with her Master (though he was her friend then) - thugs had been sent to attack her to teach her a lesson.
That was when her Master - her friend - had talked her into getting her clit-hood pierced "to remind you to keep your fingers to yourself." She'd agreed. It'd seemed like a fun (and very hot) game the two of them played. It was then she learned that she enjoyed others taking charge of her body and her sexuality. It was minor compared to what came later, but it was her Master who told her to get pierced, and she had obeyed willingly. Only now, today, walking those same streets did she realize how fateful the decision to steal a couple of bottles of mead had been.
She doesn't wear a piercing now, but Maer is suddenly intensely aware of her clitoris. She wanders back to the College, lost in thought.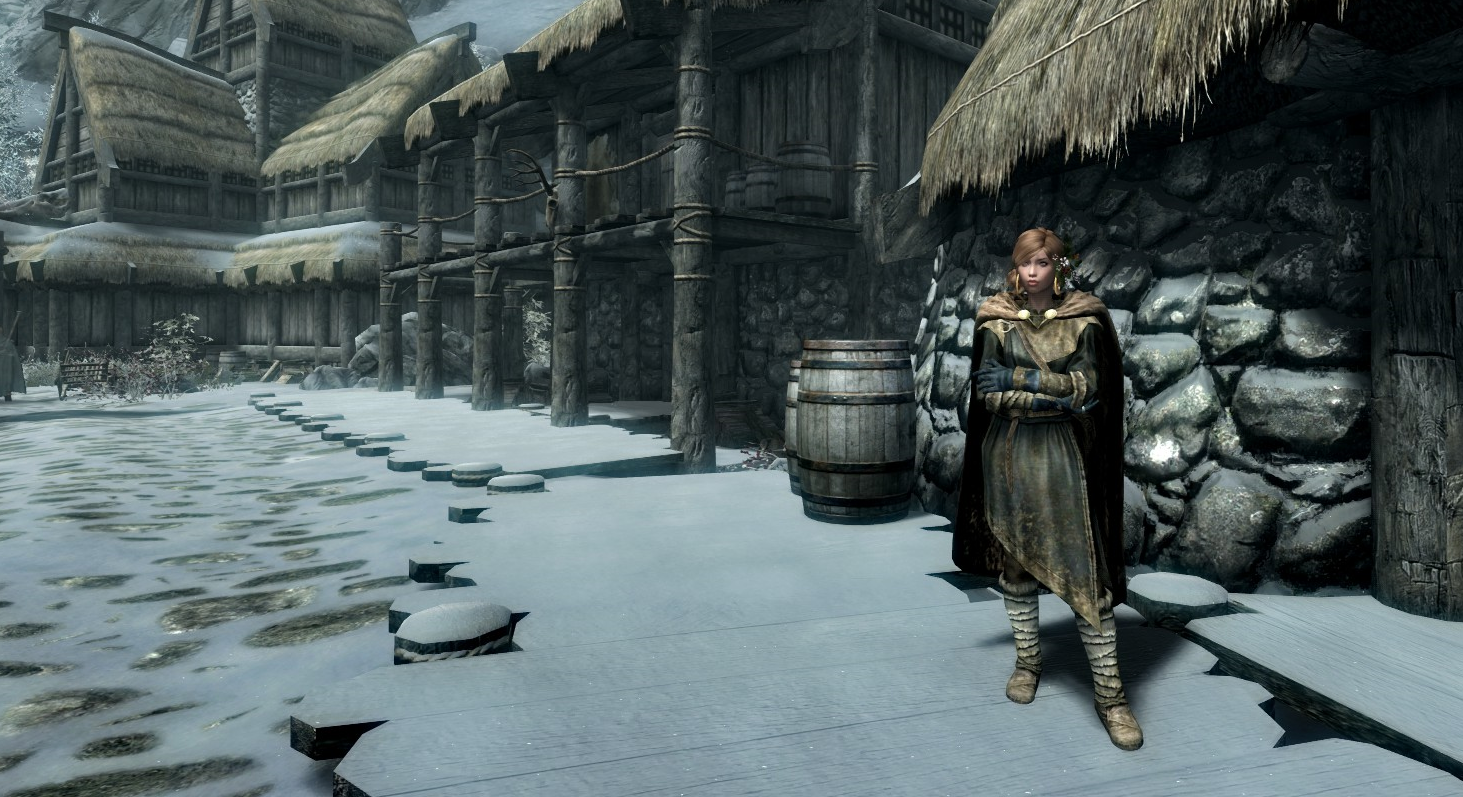 Back at the college, Maer ends up spending most of the money from the potions on magic texts. She had hoped she'd be able to get more powerful destruction spells, but none were available. Instead she focuses on healing and additional summoning spells. Maer does put away about 500 septims, along with the stuff she doesn't need in her day to day studies. She just needs another 29,500 or so.
Then she hits the book, adding a healing spell to her repertoire. Maer finds that studying magic has the same effect on her as channeling Magicka. It makes her horny. She spends several days doing nothing except studying, eating, drinking, sleeping... and masturbating. She's pretty content, and for the first time in a long long while Maer doesn't think about her Master, Lydia, or Leona at all. Well, except when she's drifting off to sleep and when she's masturbating (which is a fair bit because she's studying so much). She can feel the small sensitive hole where she was pierced and it brings up all sorts of associations. She remembers her Master smiling as he flicked the piercing, and she remembers how she yelped from the mixture of pleasure and pain.
Maer finds she gets off faster and more intensely when her mind wanders to the many ways her Master degraded and humiliated her.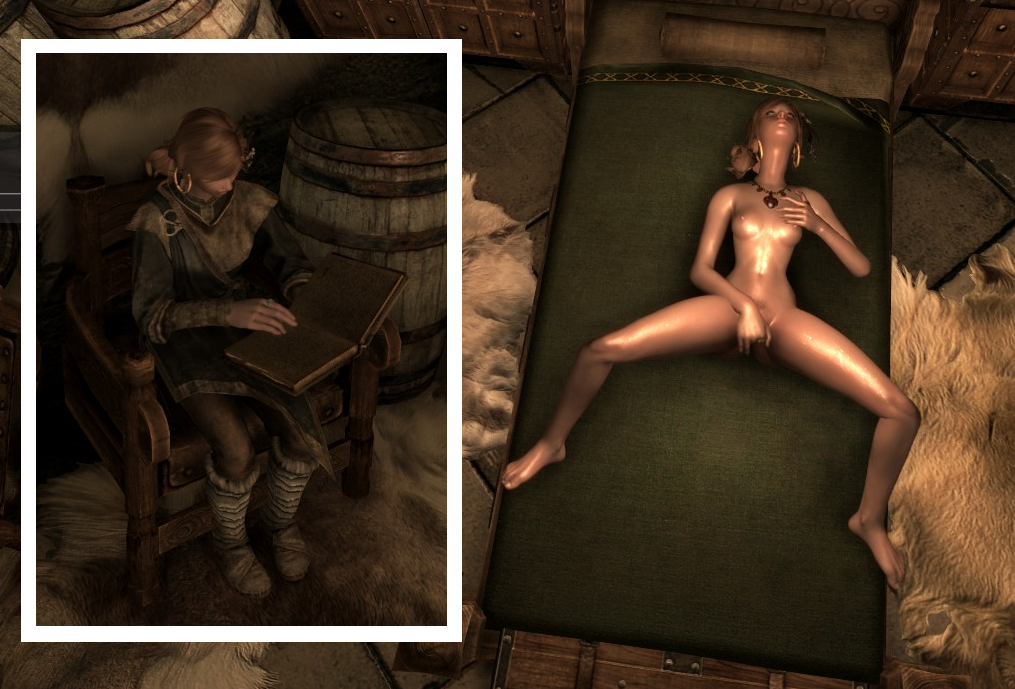 Maer and her fellow students head out on a field trip to some ruins.
"Don't do anything foolish," says master Tolfdir, the master in charge of the expedition.
Maer is excited. She's adventuring with her following students. Who knows what they'll find? Maybe she'll get to know them better. Maybe it's Maer who has been too stand-offish? She wonders if they know she's fucking the masters... and if they'll judge her for it. She's used to people thinking of her as the lowest type of slut - her Master made sure they had reason to - but now Maer finds she cares what the others might think of her.
Maer doesn't do anything stupid she doesn't think. She follows Tolfdir's instructions pretty closely. But somehow - through a series of events - she gets separated from the group and has to press through part of the ruins of her own.
Again she's excited. She's on her own. She has a handful of new spells she's learned since she came to the college. Her bag is full of potions. She can make it. Maer has several summoning spells at her disposal. Her strategy - should she come across anyone hostile - is to summon as many minions as possible and hang back. As each minion is destroyed - if it's not strong enough - she'll replace it. If worst comes to worst, she still has her ward spell to protect her and her flame spell to finish off anyone who gets too close.
It doesn't work at all.
Soon, she comes across two undead. They dispose of her summoned minions as if they're nothing. They're on her in mere moments, seemingly shrugging off the flame spell. They beat her into submission, tear off her clothes, and force themselves on her. Draugr, in spite of being undead, apparently still have sexual drives. She learned that in the Bleak Fall Barrows a long time ago.
Gasping, Maer crawls away. The way back is blocked. She has to get past the draugr.
Maybe she did enough damage, and she can vanquish them a second time?
No, not at all. They beat her and take her again. She crawls away, but she has to try again. And again. There's no other way, but each time, the outcome is the same.
She lies is battered and bruised beyond use. Exhausted, weakened from her injuries and the strain of multiple orgasms (the undead brought her to climax even though she tried to resist) Mear hears Lydia's voice in her head. "You're weak. You need a strong warrior to protect you."
"You're a slave," says her Master, "you can't make it on your own. You need someone to stop you from being foolish."
"You're a useless cunt." That's Leona. "The fact that you ever thought you weren't makes you a STUPID useless cunt."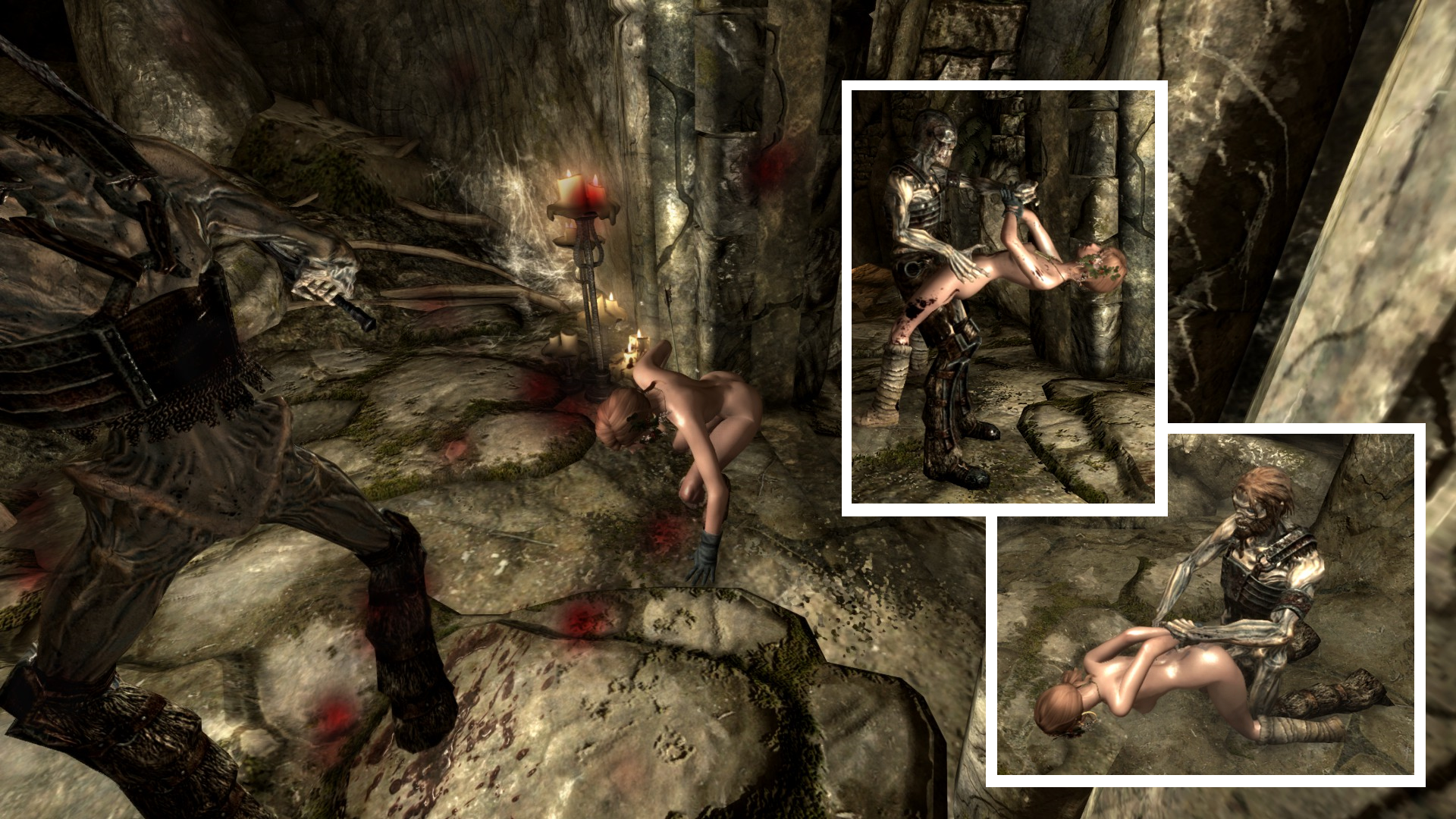 Maer barricades herself inside an abandoned chamber. Then she lets go and has a full on panic attack and meltdown. She wants to go home to her Master. She wants Lydia to mock her and fuck her and Leona to spit in her face and taunt her. She wants her collar back. She'd even take the gag if she had to. She wants to be spanked (in fact, she's pretty sure she's less able to concentrate if she isn't spanked regularly, how broken is that?). Maer doesn't want to be here, alone in a dark damp crypt full of undead. She wants to be safe.
But Maer is were she is, and in the end she gets it all out - fear, longing, tears, snot. With nothing else left to do, she takes stock of her situation.
She does have food and water for a number of days. She packed enough, just out of habit. She has a bedroll too. It wasn't careful planning, just habit, but she has it. And she has her notes for the Summon Flame Atronach spell. She thinks that maybe she can learn if she spends about 40 hours studying it. What else can she do? She can't think of anything.
Three nights she spends in that chamber. All she does is study, eat, drink, and pray to Dibella. And, of course, she masturbates because studying magic makes her so fucking horny - even in a dank and dirty dungeon surrounded by enemies. And when she touches herself, Maer thinks of her Master and degradation but also... but she also thinks of the things the draugr did to her... and what they'll do to her if they get another chance. She knows it's messed up, but she can't help it.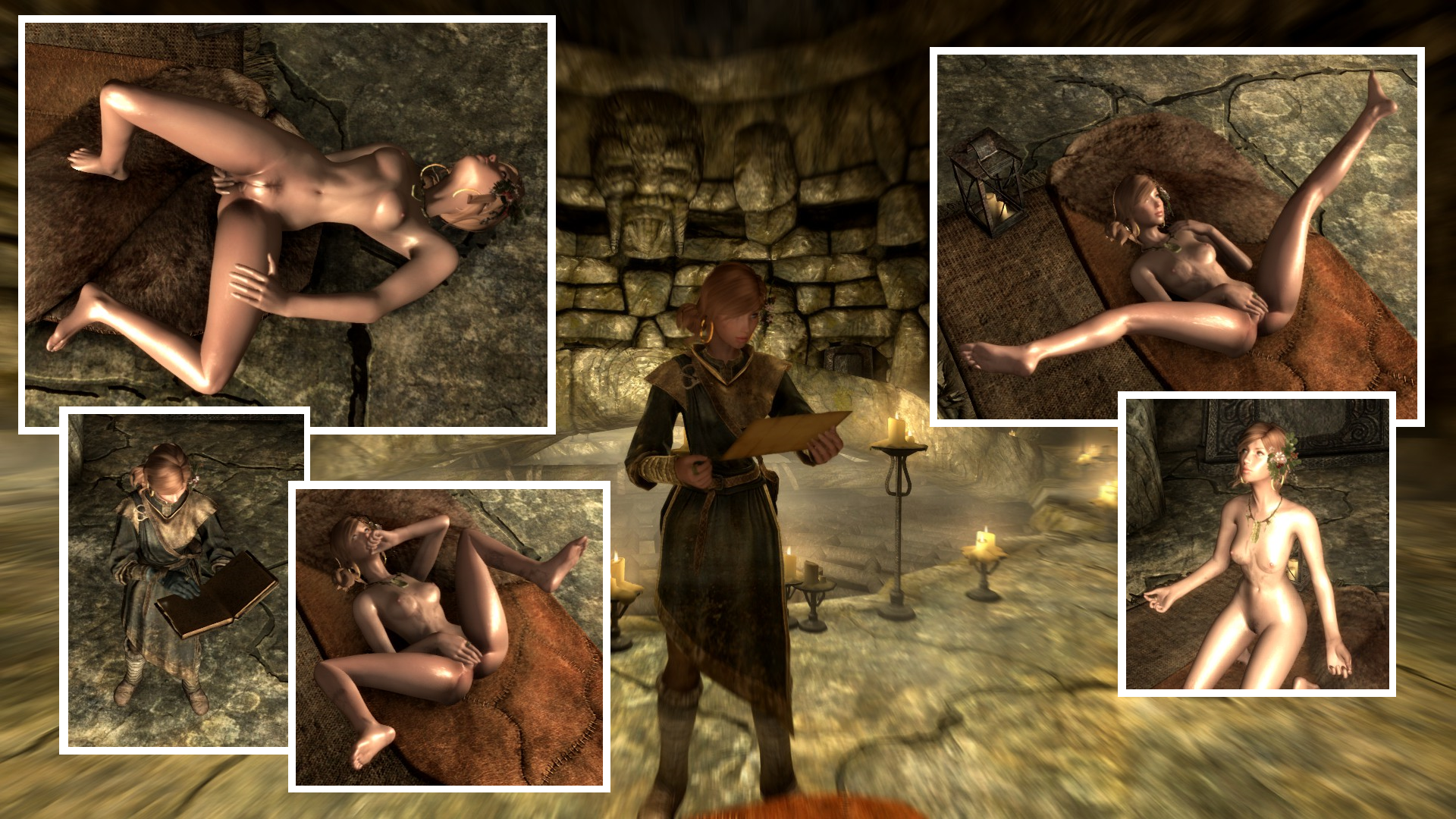 Swallowing hard to control her fear, Maer goes through the door once again. If this doesn't work, she has no idea how she'll ever leave this place.
But it works!
The Atronach takes care of the draugr. It's not easy or trivial, and she has to run and re-summon a couple of times. But it works.
There are other draugr, but she makes it past each one. Along the way, she picks up a reasonable amount of loot as well as a bow and a sword.
The last draugr is much more powerful than the others, and it's a hard fight. It takes everything Maer has. She's grievously wounded more than once. She burns through her entire supply of potions, but in the end - beaten and bruised - she makes it out alive! Maer is, of course, incredibly aroused from all the spells she's cast but she ignores it. She has to get to safety.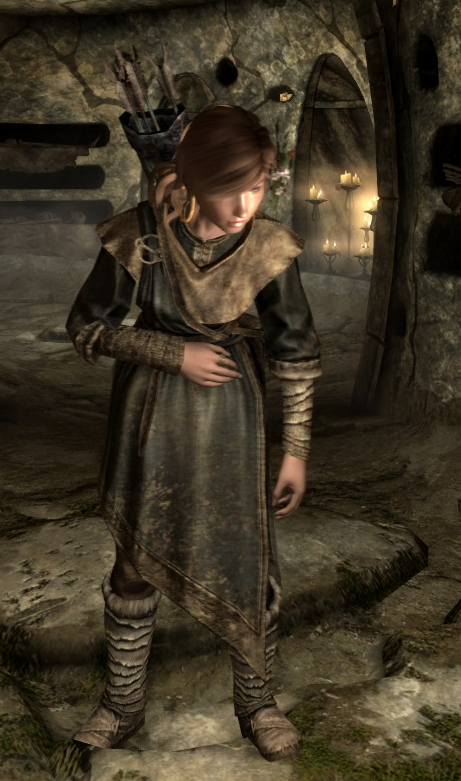 She's sleep deprived and out of water. It's the middle of the night. And it's a snowstorm. Maer runs back as fast as she can. She loses her bearing a few times, and runs into various hostile creatures too. Each time, she summons the atronach and just runs - hoping the summoned creature will buy her time to get away.
It works.
Then Maer hears rumbling. She feels a shaking in her bones.
A dragon!
There is no way Maer - even if she wasn't in her present state - could fight and win against a dragon by herself. Luckily, pure panicked dashing is enough to get away and finally finally she finds Winterhold.
She makes her way to the College. Almost sleepwalking she heads towards her quarters, but runs into Feralda - the master of destruction magic. Now that she's safe and warm, Maer's libido reasserts itself with a vengeance. It doesn't take more than a few seconds of conversation before Feralda and Maer are naked and fucking, filthy with dirt and blood though Maer is.
Feralda, it turns out, likes to be tied up when she fucks. Maer is too dazed from sleep deprivation and arousal to draw any conclusions from that.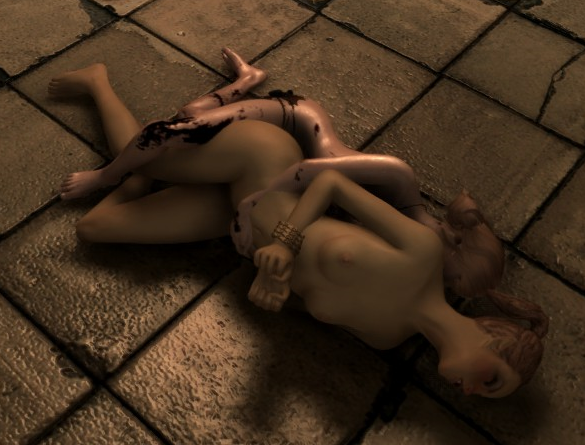 Even better than the sex, Feralda reveals that she has tome on ranged destruction magic that Maer can buy. Maybe this is the turning point? Maer is too tired to care much, but it's a nice thought.
She stumbles to her quarters. Just before she collapses into the bed, Maer goes to put some of her loot into her chest... and... most of the stuff in it is gone! Someone took the money she'd stashed! And her enchanted blue mage robes! And even her whoring clothes!
Fuck! This means... this means... what does it mean? She doesn't know what it means, but her sense of relief is punctured. She's too exhausted to care much right now, though. Maer passes out, sleeping well into the afternoon the next day, without having even a single dream.