Welcome to LoversLab
Register now to gain access to all of our features. Once registered and logged in, you will be able to create topics, post replies to existing threads, give reputation to your fellow members, get your own private messenger, post status updates, manage your profile and so much more. If you already have an account,
login here
- otherwise
create an account
for free today!
Submitter
Nimuraa
View other files from this member
Latest Version:

V1.90

Submitted: Apr 20 2017 04:28 PM
Last Updated: Jun 10 2017 06:35 AM
File Size: 16.3KB
Views: 52397
Downloads: 3,908
Special Edition Compatible : No
Download Absolute Necro V1.90





Necro
SexLab

282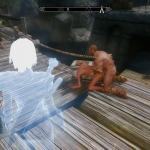 Absolute Necro
A mod that bring love in the afterlife ... sort of
What is it?
This is the rework of my mod. The original one was too cinematic oriented, and probably not fun to play.
The work is in progress, but I have something I want to share. The resurrection thru necro is now generic, and can be used outside the mod. This is the first thing I have worked on for the V2. So, I decide to share it.
Disclaimer: this is just the power part, you can test it easily, just die in fight, and it'll pop up, there is no explanation of how and why ... everything'll be revealed in the mod to come.
How to use:
easy die in fight. You have a skull in your inventory, use it, and you'll be noticed if someone hear your call, or if nobody is coming. The NPC which answer your call will follow you. Lead him to your body. You must repeat this one time to revive. After using the skull, if you don't want to be helped by the NPC that come, just say him "Booo", it'll flee.
Limitations:
- as a ghost, you may not be able to pass a door, or use anything. You should only try to find help with livings, so if you are in a dungeon full of undead …. Well to bad for you, try to find help outside.
- Necro power only come if you die from a fight, falling or drowning result in death
- There is no marker for your body (it's wanted) so be very careful to find it back: if you die in the wilderness, you may to go to the nearest town to seek help.
Bugs and other:
- There is a trigger area for your body, if your body move after your death, you may have to lead your saviour to the original position of your body
- I'm not sure it may work correctly is you have Defeat or DAYMOYL active (well I'm pretty sure that it wont work)
- When using the skull, you have a message that you can't wear the skull, don't consider it (I must find a way to get it away, anyone?)
- Currently the skull selects the closest NPC
Advices:
- Don't die attacking guards, even if you die in the process, they may still try to send you to jails
- As a ghost, NPC may try to attack you anyway if you directly go to them. Instead try to use the skull far from them.
- If you are about to die, try to move out from the place where your aggressors stay, it'll be easier for you to revive
- If you say "booo" he may try to attack you, even if you are a ghost. He may also try to attack your saviour
Requirements
Strong Requirement:
- SexLab V 1.62 (and all his requirements, including SKSE)
- ZaZ Animation Pack 6.11
- Fuz Ro Dho
Must have / Highly recommended
- SLAL
- FunyBizznes by Shashankie since there is a lot of Neco anims
Mods that are not compatible
- HDT hairs are not compatible
V1.90 : rework
- Evrything is new
- Necro power in a generic way
V1.03 : fixes
- Fix the falling Viren if SLAL FB Necro package is not installed (a default animation)
- Fix the control problem at the end of Episode 2. There is also a button in the Liroc Room near the enchanting workbench to fix the problem if you have it.
V1.01 : There is a button near the temple door to make Ernst appears
V1.01 : Fix Ernst won't appear bug
V1.00 : Initial release
-Episode 1
-Episode 2
Screenshots
4,014

Total Files

164

Total Categories

1,329

Total Authors

72,046,899

Total Downloads
Shout Like a Virgin Latest File

VirginMarie

Latest Submitter
Absolute Necro