Welcome to LoversLab
Register now to gain access to all of our features. Once registered and logged in, you will be able to create topics, post replies to existing threads, give reputation to your fellow members, get your own private messenger, post status updates, manage your profile and so much more. If you already have an account,
login here
- otherwise
create an account
for free today!
Submitter
Gone
View other files from this member
Latest Version:

1.0

Submitted: Aug 22 2013 08:26 PM
Last Updated: May 30 2014 08:00 AM
File Size: 44.7MB
Views: 941689
Downloads: 497,249
Requires: Check the Bestiality Animations "Requirements" section.
Download Bestiality Animations Pack 1.0





24 Votes
Bestiality
Skyrim
Creature
Monster
Animation
Sex
Animal

1449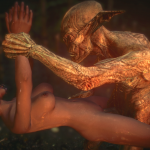 File Name
: Bestiality Animations Pack
File Submitter
:
Gone
File Submitted
: 22 Aug 2013
File Category
:
Animation
Requires
: Check the Bestiality Animations "Requirements" section.
Bestiality Animations Pack
-------------------------------------
This is, quite simply, multiple animations for various creatures and their corresponding human "mates" for some creature on human action in Skyrim. This pack supports 15 creatures and has 34 animations. This pack focuses on creatures in a dominant position toward humans.
Now that sexlab supports these animations, there is little reason to download the animations yourself! However, you still need the beasiality extras if you want creatures to have the right "equipment" for sex!
To effectively use the Bestiality Extras (which provide naughty bits for sex), check out this mod:
http://www.loverslab...res-v11-081113/
(Old thread: http://www.loverslab...ur-suggestions/ )Animation Previews:Creature and Animation List:
Requirements:
For the animations to not be air humping, you'll need:
Bestiality Extras
------------------------
An addon for the Bestiality Animation Pack that provides various creatures with some genitals that the animations were animated with, and thus everything should line up perfectly if you use these. This covers all the creatures in this pack except creatures already covered by other mods. See the above "requirements" section for models for Werewolves, Dogs, Wolves, Dragons and Horses.
To get these to work right in your game, check out this mod - Nude Creatures: http://www.loverslab...res-v11-081113/
There is another mod that has the same functionality as this one, but is frequently updated to accommodate new developments, called Creature Features. I recommend you install after this one, as of right now (5/30/14) that mod doesn't include all the creatures this one does. When it does, this mod will be obsolete. In the meantime, check out Nude Creatures (bold link above) to see which creatures are supported by which mod. Here's the link to Creature Features:
http://www.loverslab...features-52014/
Creatures List:
Reporting Problems and Troubleshooting
------------------------------------------------------------
If you encounter any bugs, message me. If you can't install the mod, please try a bit harder and read the description for this mod more carefully (look at the part that says you don't need to install the animations yourself, they are implemented in Sexlab!) Look at the various tutorials on this site. It's not that hard to figure out and it's probably a problem on your end, not mine. I'm apt to ignore messages that say "how do you install this".
Credits and Permissions
-----------------------------------
This mod was created to be as maximally useful as possible, which means that if people find it useful to modify or use parts of this mod in their own, then that is fine by me.
Feel free to use any part of this mod, in whole or in part, in any way you wish to, including modifying files in the mod or using files in this mod for your own mod. I would only ask that you tell people who originally made it (Gone) in your own mods credits sections, and if you're feeling generous, link to the original mod. Obviously I'm not going to lose any sleep if you don't, but I'd appreciate it.
Version 1.0: The major release. Probably not going to be any major updates but I'll fix bugs if they prop up.
See the progress in the original thread: http://www.loverslab.com/topic/19526-wip-bestiality-animations-post-your-suggestions/
4,007

Total Files

164

Total Categories

1,326

Total Authors

71,774,642

Total Downloads

Kregritt

Latest Submitter
Bestiality Animations Pack