Maer 15 - A Strange Realm
---
The portal opens.
"We got this far, I guess... we go in?" Maer isn't sure.
Brelyna nods.
Maer can tell she's scared. "Look, we've defeated dragons together. We may be naked, but we can still cast spells, right?"
Brelyna nods again, but this time she smiles. "That's right, we can do this. We'll find that girl."
Maer jumps.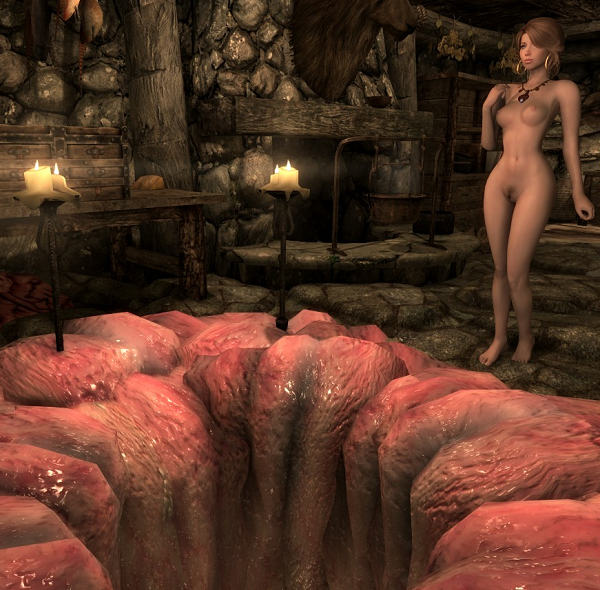 It's a long way down. The landing is soft... and moist.
"It's warm," says Brelyna stating the obvious. It's humid too. And it smells... intimate, somehow.
"What's the sound " asks Brelyna. They both listen. It sounds like moaning and screams, but not screams of pain. They're the sounds of unrestrained unthinking ecstasy, right on the border of pain.
"It sounds like... uh... I'm not sure. I guess we... start looking?"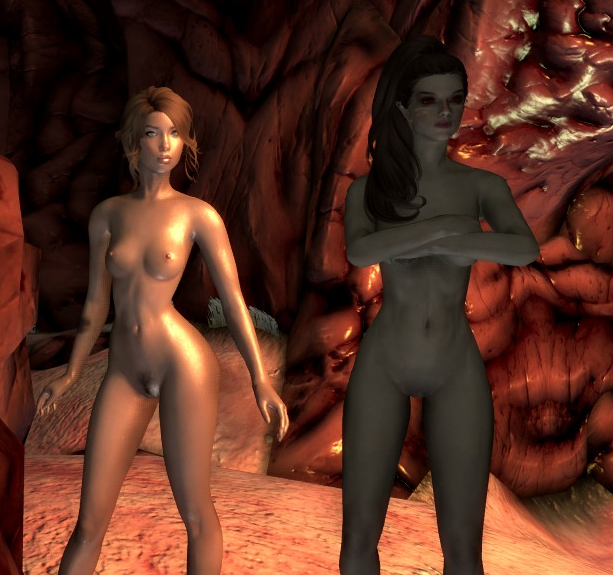 The two come across several sets of lashing dark tentacles. It's a close call, but they both manage avoid getting struck.
"They look nasty," says Maer. Right then, without warning, tentacles emerge from the soft spongy floor. Maer has no time to react, and the tentacles wrap around her arms, legs, and body, lifting her into the air. There's no way she can channel magicka like this
"Help me," she yells but Brelyna is in a similar predicament, struggling to free herself. Failing to free herself.
More tentacles emerge. On starts stroking her vagina. A long line of firm nodules strafe her clitoral area, her labia, and the opening between them. Maer moans with sexual pleasure as she struggles to get free. The tentacles pry her legs apart, pulling her knees up and back, exposing her genitals fully.
The stroking tentacle sort of wraps across the whole labia, covering every available square inch of skin. It's warm, firm, pulsating. The tentacle slides up and down, stimulating her swelling outer lips. At first the movements are slow and gentle and teasing, but they gradually grow in speed and firmness. Soon Maer adds her own gutteral moans and high-pitched orgasmic screams to the noise around her, as she is stimulated to climax after climax.
She is still writhing wildly. Not because she's trying to escape, but because she's lost control of her body altogether.
She's dripping. Maer is dripping wet - sweat, drool, tears, vaginal lubrication, even snot. At some point - she's not sure how long it's been going - the rubbing tentacle recedes for a moment and sprouts a large bulbous penis-like appendage.  It slams up into her, filling her vagina, sliding in and out. Her screams get shriller still as her body shakes and twists.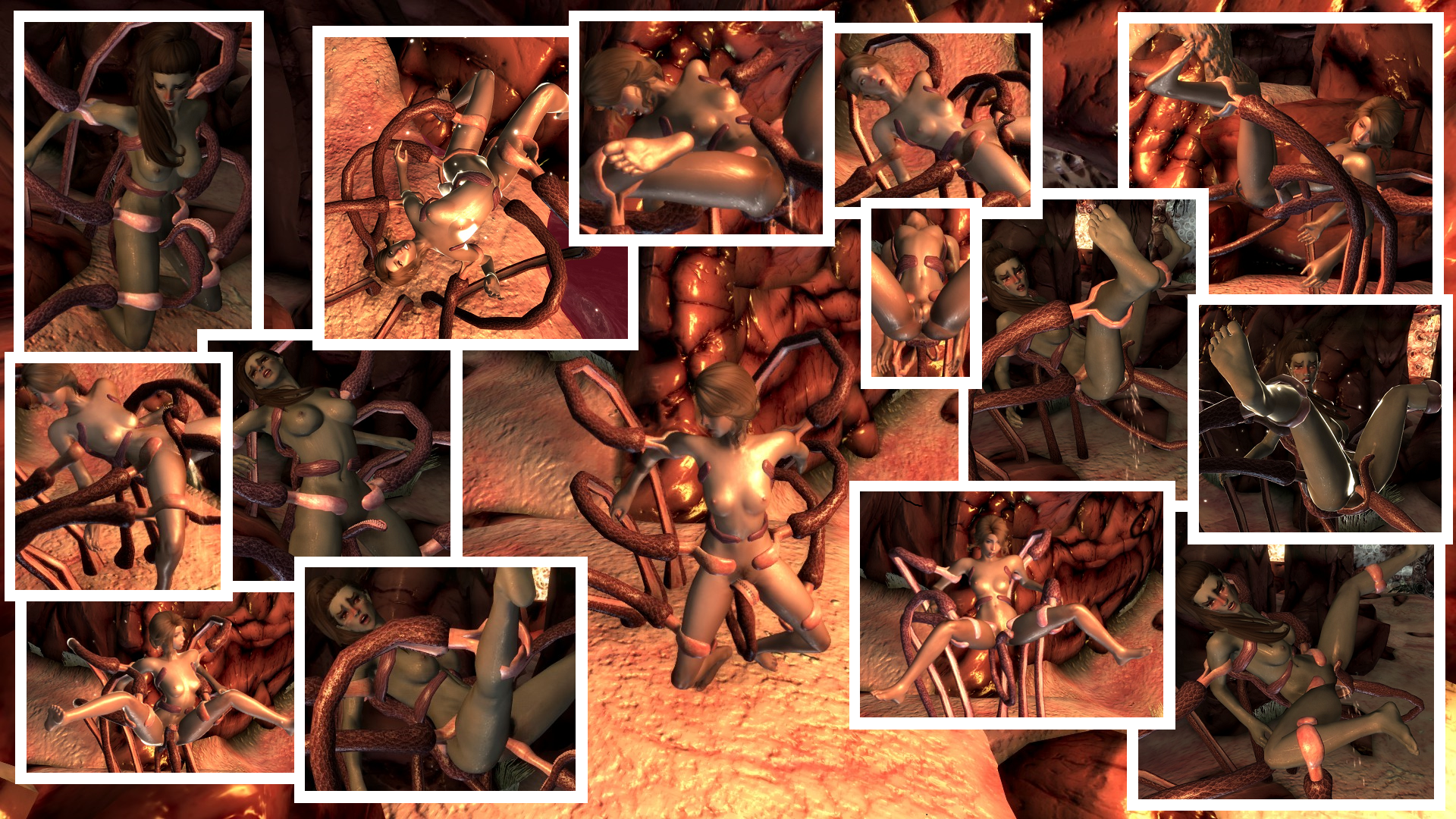 Maer comes to. She must have dozed off somehow, exhausted from the ordeal.
She's not free, though. Maer looks over and sees Brelyna's arms and legs held by some sort of tubes, forcing her to remain exposed. Maer's in the same state. The tentacles aren't done with them.
Smaller tentacles emerge. Two of them run textured appendages against the area around her clitoris. She feels sore and raw there, but the waves of pleasure drown out the pain.
A tentacle enters her vagina. This one is smaller, but it thrashes about, lashing her inside, stimulating every part of it. She's already screaming.
Another tentacle presses against her sphincter. She clenches it shut, but with every jostle and every loss of concentration it forces itself in, millimetre by millimetre. Inevitably she gives up. Maer loses track of time completely. She loses her voice. Again and again she climaxes, leaking, screaming - but almost no sound comes out of her mouth.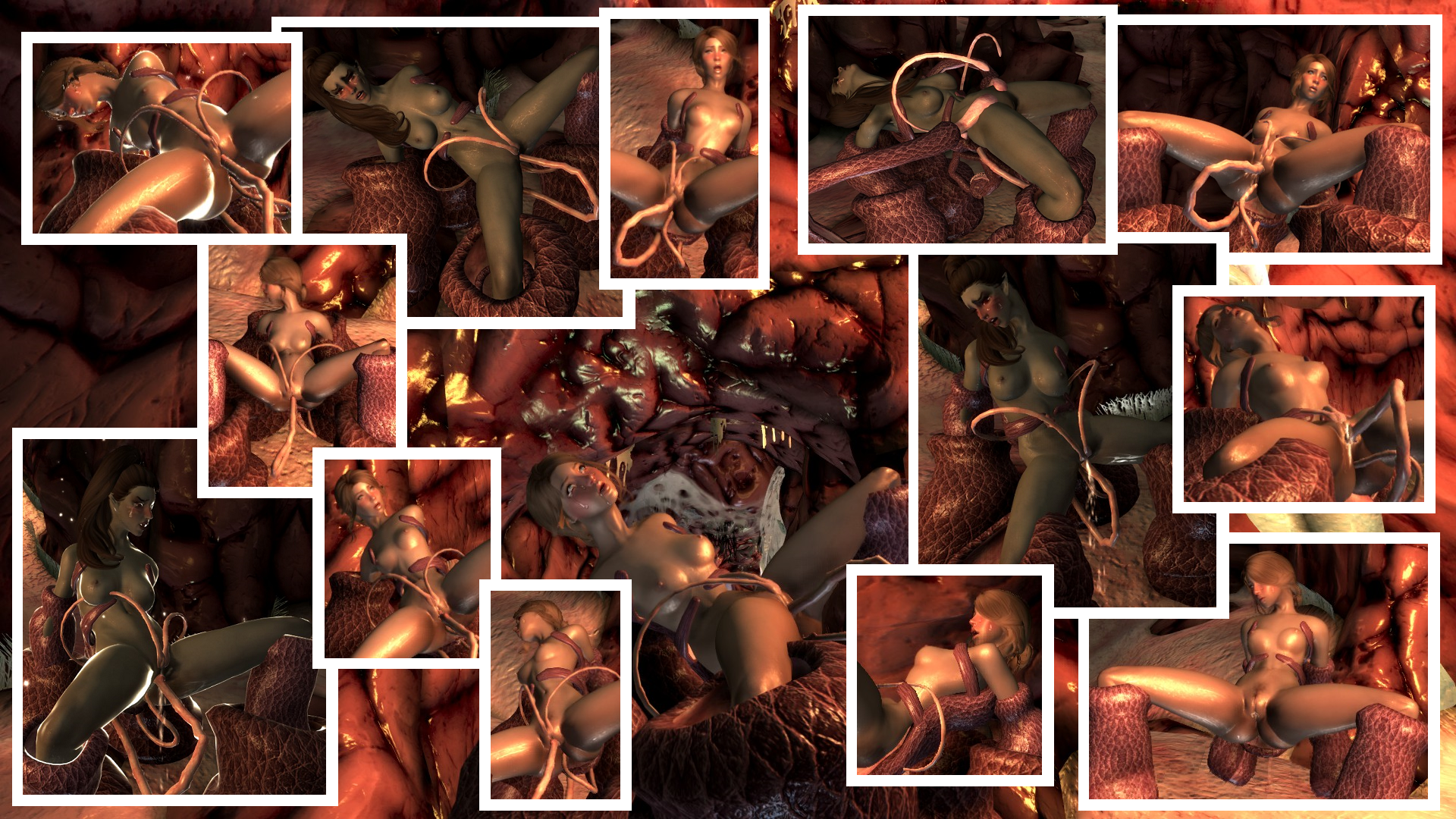 The tentacles must have stopped at some point.
Maer lies dazed on the ground. She's exhausted on a level she's never been before. Exhausted and achy and sore and drained. But also somehow... intensely satisfied?
She's not sure how long she lies there. She probably dozes off once or twice. But in the end, Maer gets up. What else is there to do?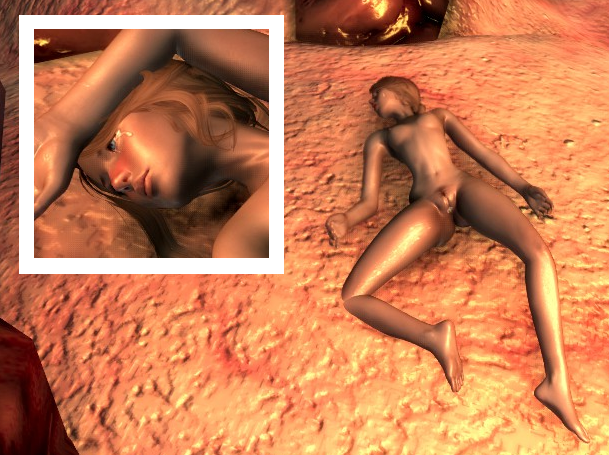 They don't talk much after that. There's not much to say, and neither of them have any voice left. So they press forward.
At some point they figure out that smearing themselves with mucous from some of the... things... growths... pouches (?)...  they find protects them from further attacks... or maybe they're sneaky enough... or maybe there aren't any more tentacles like that.
In any case, they're not attacked which is good. Maer isn't sure she can take another round like that.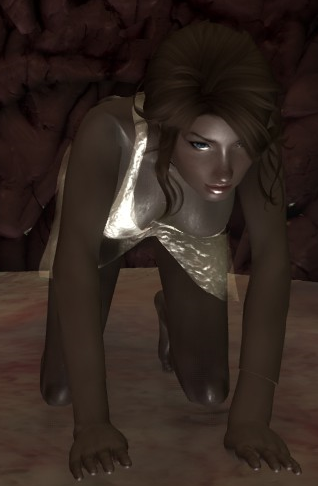 They find the missing apprentice and rescue her. There's a fight with some Daedra spawn (they think that's what it is), but two Flame Atronachs and some Fire Botls are enough, more or less.
"I'm going to... uh... go to bed early," Brelyna whispers once they're back at the college. She sounds exhausted, her voice hoarse and spent. The rescued apprentice is similarly going to go pass out somewhere, now that she's finally back to safety.
Maer wouldn't mind to sleep herself, even if it's still early. She's knackered. Every ounce of energy is spent, and with every step her body reminds her what she went through. But there's a development in some College business she's been involved with. The Archmage himself is there, as is the Altmer "advisor" (very unpleasant, that one; she hasn't fucked him either) and some strange mage from the Psijic Order or some such.
Much as Maer yearns to go sleep, she's loving it. This is what she imagined being an adventuress would be like.
The tentacles... the tentacles were... well really disturbing and they left her sore inside and out. But there's also a sort of post-coital bliss going on and for longer than she's ever experienced. And they did rescue that girl, so it was worth it.
But this business here, with important and powerful men discussing affairs of deep significance? And Maer is in the centre of it all? This is what she wanted when she left High Rock.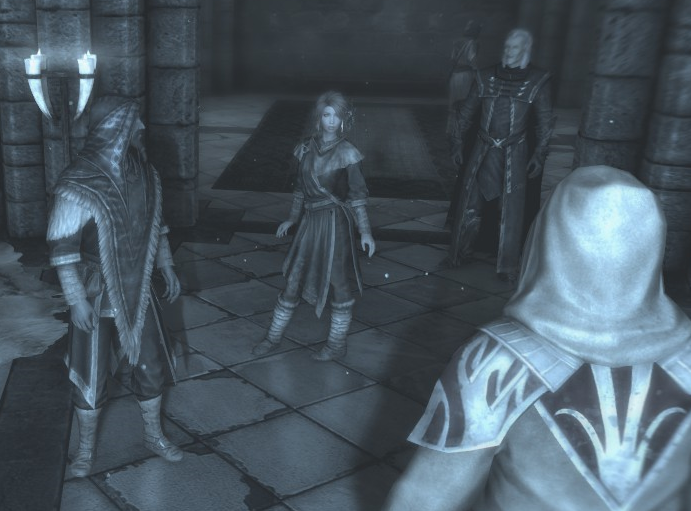 Weary, Maer makes her way towards the students' quarters.
"Maer?" It's Onmund. She tries to read his face. He'd been a bit pouty over being left out of the portal thing, but once they tell him about it he'll be happy to have missed out. If they tell him. She's not sure Brelyna wants to talk about it, and Maer doesn't have much to say either truth  be told. But Onmund seems normal enough.
"Someone's looking for you, they're in the courtyard."
Maer nods, saving her voice. Who could it be?
She goes outside with Onmund.
"Hello Maer. It's been a while."
It's Leona. She's smiling pleasantly, examining  her surroundings with interest.
"I've never been to the College before. It looks different than I imagined."
Oh no.
Oh no.
Oh no oh no oh no oh no oh no.
Maer freezes. She can feel her heart pounding. Her tongue is glued to her mouth. She hears a noise, like the hiss of a waterfall and it drowns out all other sound. She wants to run, but she can't move her feet. Instead, she just blinks. Once. Twice. Five times.
"... you alright Maer?" Onmund is speaking, though she only caught the tail end. The noise is subsiding a bit. "This is Leona... she says she knows you?"
Maer doesn't say anything. She still can't speak. Or move a muscle. She feels like a mouse facing down a snake on open ground.
After a moment Leona speaks, smiling sweetly. "We know each other well. We go way back. Isn't that right Maer?"
She nods, "uh... ye... yes," managing to force out a a single syllable. She almost lost her voice from screaming earlier, but even if she hadn't she'd still be tongue-tied.
"Well...?" Onmund is getting impatient at the silence. He doesn't understand what's going on. Maer doesn't know what to say, and Leona is just standing there obviously enjoying herself.
"Why... uh... why are you... why are you here," Maer asks (finally) in a thin whisper.
"He wants you to come back to Whiterun."
"He?" Onmund asks suspiciously, but neither of the women respond.
"But...but... he said... I... I don't have enough... it's not..."
"It's been a while. More than enough time, I should think." Then Leona smiles sweetly "but don't worry. He says there's something he wants to discuss with you. A proposal. And if you don't like it you can leave same as you came."
Maer swallows hard. "What... what's the proposal?"
Leona shrugs. "I don't know. But I'm catching a boat back to Windhelm when the tide turns. If you want to hear it you better run along and pack you things." 
So soon. That gives her maybe half an hour. Maer shifts her weight from foot to foot. What should she do? What should she do?
"He says he might go to the Jarl if you don't come."
That would be bad. 30,000 septims in unpaid debt would make her an outlaw for sure. Could it affect her ability to study at the college? She's pretty certain they have some sort of rule against outlaws as students. What should she do?
"What is going on here?" Onmund sounds angry. "Maer, who is this person telling you to go to Whiterun?"
"No one is telling Maer to do anything. My master, the Thane of Whiterun, has a proposal he'd like to put to Maer. So he's extending an invitation of hospitality. That is all."
Onmund's not sure what to say, so Leona continues, "he's a very influential man, you know, a good friend to have. If Maer manages to impress him, she might put in a good word for you with the Thane." She lets that hang for a bit before continuing. "And the Thane has the Jarl's ear. Just imagine how far a man could rise if he made the right connections."
"Oh is that so," says Onmund, impressed. He likes the sound of that. "You never told us you were friends with the Thane of Whiterun, Maer."
"If you like, I can help you pack," says Leona, turning away form Onmund. She puts her arm around Maer's shoulder like she's her friend. "I wouldn't mind seeing where you've been living while you were away from us."
Maer still doesn't know what to do.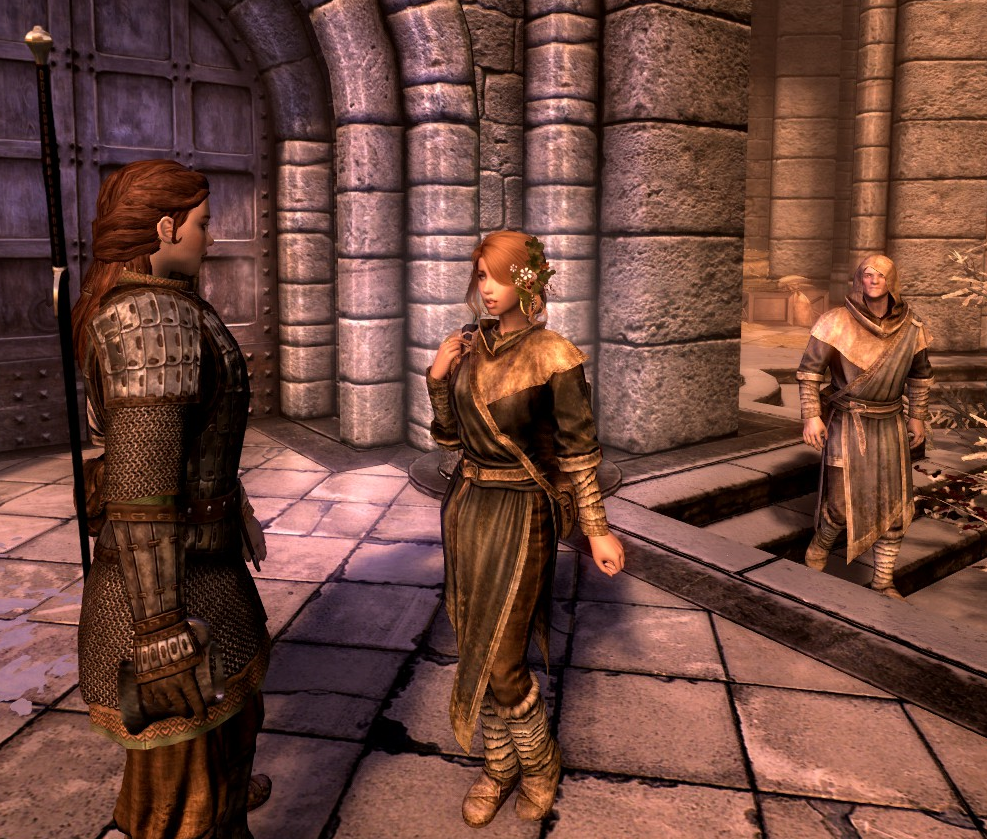 Maer contemplates her options.