Welcome to LoversLab
Register now to gain access to all of our features. Once registered and logged in, you will be able to create topics, post replies to existing threads, give reputation to your fellow members, get your own private messenger, post status updates, manage your profile and so much more. If you already have an account,
login here
- otherwise
create an account
for free today!
Submitter
Daiemonic
View other files from this member
Latest Version:

1.1

Submitted: Dec 12 2016 09:17 PM
Last Updated: Dec 16 2016 01:09 PM
File Size: 2.77MB
Views: 40409
Downloads: 6,539
Requires: XMPSE HDT Compatible Skeleton
Special Edition Compatible : No
Download Amiella Skirt CBBE HDT BodySlide (full physics) 1.1





CBBE
Armor
Clothing

107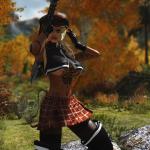 Amiella Skirt "HDT-PE BODYSLIDE"
For me this was a longstanding subject. A bodyslide version fully functional of the original "HDT Skirt Test" by "Anano", retaining the added physics. I want to credit also "HyperMixf" for combine Anano test skirts.
For the rest of the outfit you may also want "malfdawg" Amiella outfit (bodyslide), is the one I'm using in the captures.
I have tweaked the collisions so you can wear other HDT items/hair without messing the physics, the movement is smother and more realistic, the collisions with legs are better now, the skirt dont slip into the pelvis anymore while running forward.
Corrected also the weight paint so the strap don't slip through breast anymore, added weight paint on butt and belly.
Modified the .esp to enable weight sliders.
The bodyslide part was a pain, I had to add one by one 25 custom bones to the XMPSE skeleton.
Requeriments:
XMPSE HDT Compatible Skeleton
Installation:
Replace original file with "Amiella Skirt HDT Bodyslide (By Daiemonic).rar"
Bodyslide your skirt (Added Zap slider to remove straps)
Activate the .esp
In console type (or use AdditemMenu):
help HDT Skirt
player.additem ##000DCA 1
Profit
So finally here it is guys, let the magic begin

1.0 Initial version
1.1 Added Zap slider to remove straps
Screenshots
Amiella Skirt CBBE HDT BodySlide (full physics)