About This File
⚜️

Greetings to all who interested in my animations and who just found it!
I create long and looped animations, containing sound or visual effects and props. Also they're focused on romantic and teasing interactions, maledom, light bdsm, semi-forced sex. Basically my animations contain some kind of story that taken from my head or from your suggestions, so if you have an idea for animations that fits into the theme of my works, you can offer it here, it would be very helpful (especially if it'll have a detailed description, hehe).
Also you can support my works on Patreon, so I can spend more time to it! Thank you!
FAQ
 1. How to use this mod?
   1) Download WickedWhims and my Animation package.
   2) Place "WW_Kiki_Animations.package" to your Mods folder.
   3) Choose the desired location in the game and start the animation.
   PS: for climax animation you'll need to download Cum Mesh by Cherry Pie [Download here])
 2. Do I need to add props (books) to inventory?
   No, they join automatically to animations you play.
 3. Which specific desk/chair should I use?
   Desk - it's a table with one chair slot, this one:

   Animations on the desk can be played without a chair, but I make animations taking into account the presence of the chair, so it's better to have it there.
 4. I can't find the location:
   Toilet Stall - from "Discover University"
   Closet - from "Get Together"
   Hot Spring - from "Snowy Escape"

Location: DESK
Props: Homework book (Base Game)
  ANIMATIONS:
 Help with homework 1 - TEASING - MF/MM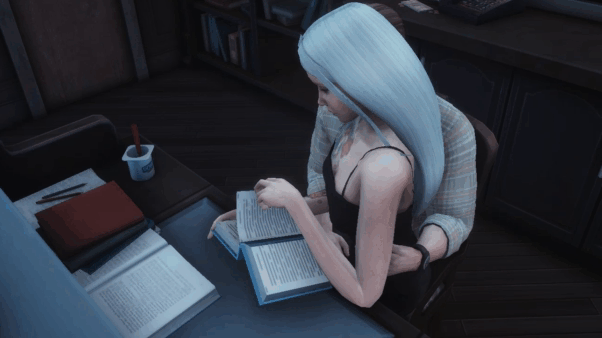 Help with homework 2 - TEASING - MF/MM
 Help with homework 2v2 - TEASING - MF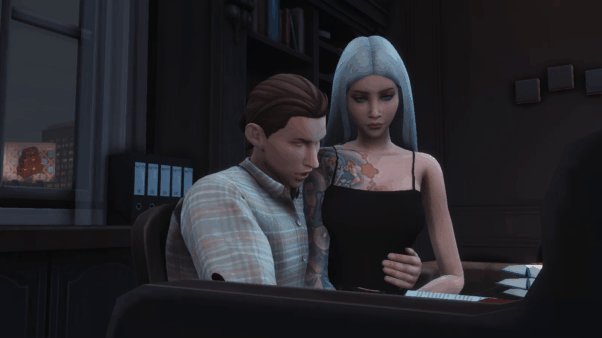 Help with homework - HANDJOB - MF (picture of WIP)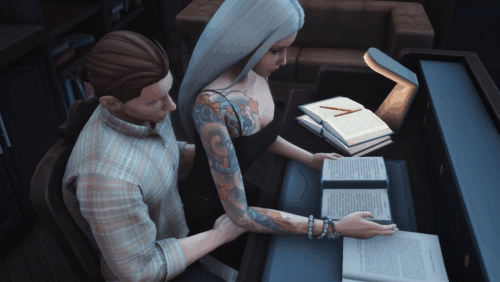 [HW] Reading on the desk - TEASING - MF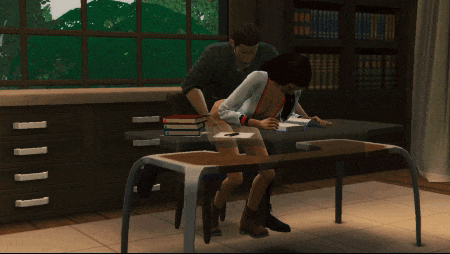 Checking Homework - TEASING - MF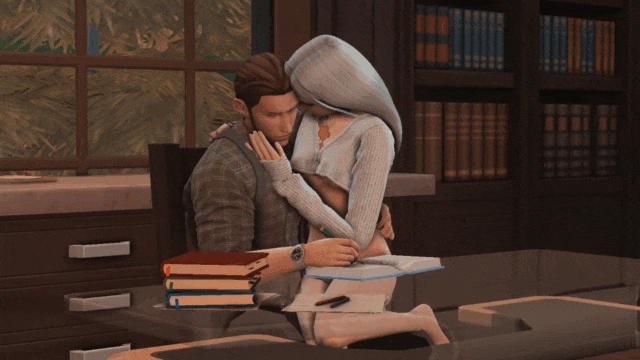 Making out on desk - TEASING - MF
 Making out on table (side) - TEASING - MF - Desk, Dining Table Short, Picnic Table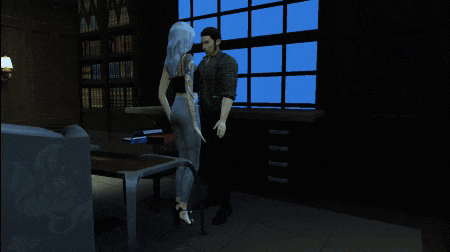 Making out (Vaginal stage) - VAGINAL - MF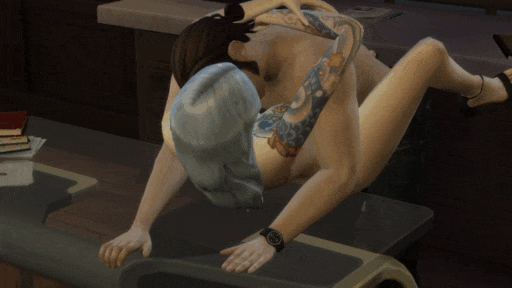 Don't be distracted - ORALJOB - MF/MM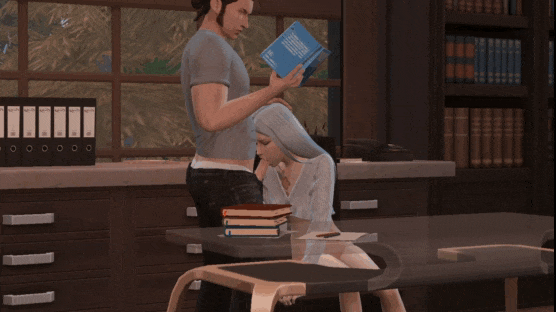 Cunilingus under the desk - ORALJOB - MF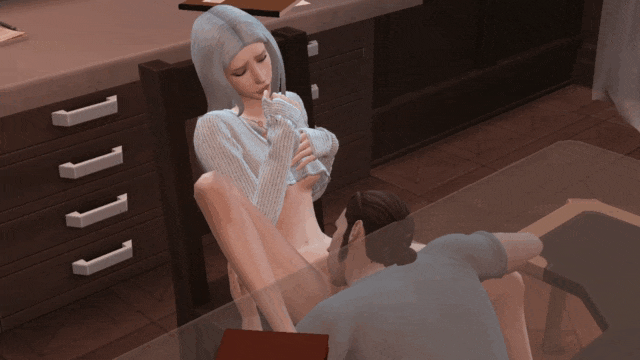 Try this spell (requires "Realm of Magic") - VAGINAL - ANAL - MF/MM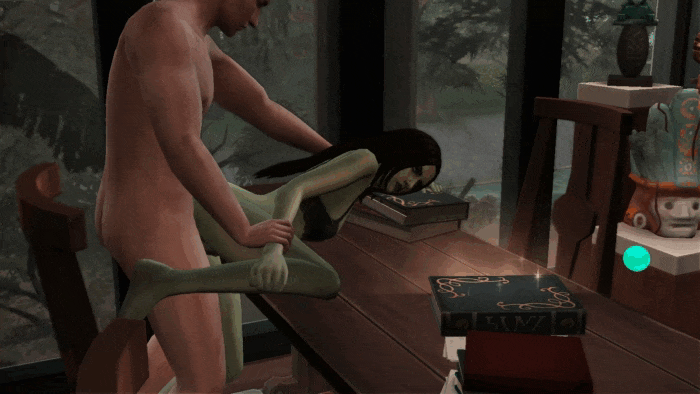 Bent over the table - VAGINAL - MF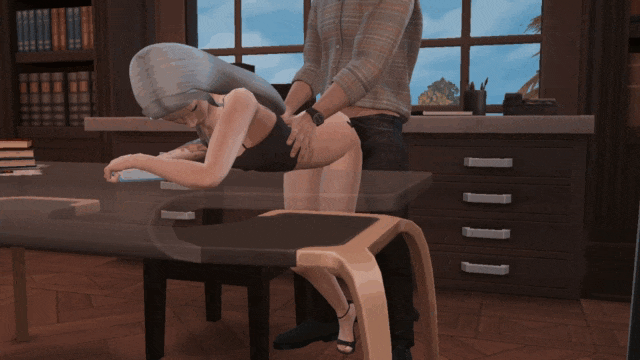 List by Category:
                     TEASING
Help with homework 1

 (

MF

/

MM

)

  

[Desk]  

📘

Help with homework 1v1 (MF)  [Desk]   📘

Help with homework 2

(

MF

/

MM

)

  

[Desk]  

 

📘

Help with homework 2v2

 

(

MF

) 

 

[Desk] 

 

📘

[HW] Teacher Behind (B+M/B+F)  [Desk]   📘

[HW] Reading on the desk

 

(

MF

)

  [Desk]  

 

📘

[HW] Checking Homework (MF)  [Desk]    📘✏️

Making out on desk (MF)  [Desk]   📘

Making out on table (side) (MF)  [Desk, Dining Table Short, Picnic Table] 

Watching TV

(

M

F

M

) 

[Sofa]

 

Watch TV - ST 1

(

MF

) 

[Sofa, Loveseat]

KISS (Watch TV - ST 2)

 

(

MF

) 

[Sofa, Loveseat, Ottoman]

 

Watch TV - ST 3

 

(

MF

) 

[Sofa, Loveseat]

Watch TV - ST 4

 

(

MF

) 

[Sofa, Loveseat]

Come sit on my lap

 

(

MF

)  

[Chair, Armchair, Loveseat, Sofa, Ottoman] 

Lap Sitting 

(

MF

) 

 

[Chair, Armchair, Loveseat, Sofa, Ottoman]

X spanking and fingering 

(

MF

) 

 

[Armchair, Loveseat, Sofa, Ottoman] 

Spank naughty girl

(

MF

) 

 

[Loveseat, Sofa, Ottoman, Single bed]  

Pet 

(

MF

) 

 

[Chair, Armchair, Loveseat, Sofa, Ottoman]

 

[VAMP] Sucking blood 

(

B+

M

/B+

F

) 

 

[Chair, Armchair, Loveseat, Sofa, Ottoman]

 

Passionate Rubbing 

(

MF

) 

 

[Loveseat, Sofa]

Sleeping next to each other 

(B+

M

/

F

+B/B+

M

) 

 

[Double bed]

 

Getting closer MFM st.1 

(

M

F

M

) 

 

[Double bed, Single bed]

 

She came at nigth 

(

MF

) 

 

[Double bed] 

Waking Her Up 

(

MF

) 

 

[Single bed]

Shy Girl 01 

(

MF

) 

 

[Double bed, Single bed]

Shy Girl 02 

(

MF

) 

 

[Double bed, Single bed, Loveseat, Sofa, Ottoman]

Kissing on towel 

(

MF

) 

 

[Floor, Towel]

  

Closet Kissing (B+M/B+F)  [Closet]

TABLE SIDE - Flirt (MF)  [Desk, Dining Table Short, Picnic Table]

Shaking Legs (MF/MM)  [Loveseat, Sofa, Ottoman]   -   New 

Hold In Arms 01 (MF/MM)  [Floor]   -   New 
                       HANDJOB
Fingering on bed 

(

MF

) 

 

[Double bed, Single bed]   

[Preview]

[VAMP] Sucking blood - arm 

(

MF

) 

 

[Chair, Armchair, Loveseat, Sofa, Ottoman]

BathTub - DoubleBJ

 

(

M

F

M

)  

[BathTub]
                     ORALJOB
Don't be distracted 

(

MF

/

MM

)  

[Desk]  

📘

Cunilingus under the desk

 

(

MF

) 

 

[Desk] 

Toilet Stall Oraljob

 

(

MF

/

MM

) 

 

[Toilet Stall]

- short version

Toilet Stall Oraljob (half-closed door)

 

(

MF

/

MM

) 

 

[Toilet Stall]   

[Previews]

Toilet Stall Oraljob (opened door)

 

(

MF

/

MM

) 

 

[Toilet Stall] 

TABLE SIDE - Cunilingus

 

(

MF

)

 

 

[Desk, Dining Table Short, Picnic Table]

CUNILINGUS Upside Down 

(

MF

)

 

 

[Floor, Toilet Stall]

DeepThroat - Pressed to Table I

 

(

MF

/

MM

)

 

 

[Desk, Dining Table Short]

  

 

-   New 

DeepThroat - Pressed to Table II

 

(

MF

/

MM

)

 

 

[Desk, Dining Table Short]

  

 

-   New 

HOT SPRING - Blowjob 01

 

(

MF

/

MM

) 

 

[Hot Spring]

  

 

-   New 

HOT SPRING - Blowjob 01

 

(

M

F

M

/

MMM

) 

 

[Hot Spring]

  

 

-   New 
                     VAGINAL
[WITCH] Try this spell

(

WITCH_MF

- requires "Realm of Magic") 

 

[Desk, Dining table]  

Cowgirl

(

MF

) 

 

[Lounge Chair]

Watch TV - ST 5

 

(

MF

) 

[Sofa, Loveseat, Ottoman]

 

Lying with a book_00

 

(

MF

) 

[Sofa, Loveseat, Ottoman]

  

 

 

📘

 - short version 

Lying with a book_01

 

(

MF

) 

[Sofa, Loveseat, Ottoman]

   

 

📘

Missionary - holding legs 

(

MF

) 

 

[Desk, Dining Table Short/Long]

  

Bent over the table 

(

MF

) 

 

[Desk, Dining table]  

📘

Making out (Vaginal stage)

 

(

MF

) 

 

[Desk] 

Reverse Sitting

 

(

MF

/

MM

) 

 

[Desk] 

Seated Forward Bend 

(

MF

)

 

 

[Desk, Dining Table Short/Long]

Missionary with pillow - slow 

(

MF

)

 

 

[Single Bed, Double Bed]

Missionary with pillow 

(

MF

)

 

 

[Single Bed, Double Bed]

Spoon 01 *cheek kiss* 

(

MF

)

 

 

[Single Bed, Double Bed]

Reverse Cowgirl 

(

MF

)  

[Chair, Armchair, Loveseat, Sofa, Ottoman] 

Riding on a chair 

(

MF

)  

[Chair, Desk]

Missionary - Holding In Arms 

(

MF

)

 

 

[Single Bed, Double Bed] 

Missionary - Just the Tip 

(

MF

)

 

 

[Single Bed, Double Bed] 

  -  New

Sharing_MFM 

(

M

F

M

)

 

 

[Double Bed] 

  -  New
                       ANAL
[WITCH] Try this spell

(

WITCH_

MF

/

MM 

- requires "Realm of Magic")

 

[Desk, Dining table]  
                     FOOTJOB
[WITCH] Caught by the Witch

 

(

WITCH_

MF

 

- requires "Realm of Magic"

) 

[Sofa, Loveseat]
                      CLIMAX
Cowgirl CLIMAX

(

MF

)

 

[Lounge Chair]

CLIMAX Missionary - Creampie

(

MF

)

 

[Desk, Dining Table Short/Long]  

 

Previous animation: "Missionary - holding legs"

[VAMP] Bite from behind - Creampie 

(

MF

)

 

[Double Bed]

Missionary with pillow CLIMAX (CumMesh) 

(

MF

)

 

 

[Single Bed, Double Bed] 

Watch TV - ST 6 - Climax

 

(

MF

) 

[Sofa, Loveseat, Ottoman]

 

 

 -  New 
    * M - male; F - female; B+(M or F) - both genders + prefered gender
 List by Tag:
 

Help with homework 1

 (

MF

/

MM

)

  

[Desk]  

📘

Help with homework 1v1 (MF)  [Desk]   📘

Help with homework 2

(

MF

/

MM

)

  

[Desk]  

 

📘

Help with homework 2v2

 

(

MF

) 

 

[Desk] 

 

📘

[HW] Teacher Behind (B+M/B+F)  [Desk]   📘

[HW] Reading on the desk

 

(

MF

)

  [Desk]  

 

📘

[HW] Checking Homework (MF)  [Desk]    📘✏️

Watching TV (MFM)  [Sofa] 

Making out on desk (MF)  [Desk]   📘

Making out on table (side) (MF)  [Desk, Dining Table Short, Picnic Table] 

Come sit on my lap (MF)  [Chair, Armchair, Loveseat, Sofa, Ottoman] 

Watch TV - ST 1

(

MF

) 

[Sofa, Loveseat]

Watch TV - ST 3

 

(

MF

) 

[Sofa, Loveseat]

She came at nigth 

(

MF

) 

 

[Double bed] 

Waking Her Up 

(

MF

) 

 

[Single bed]

TABLE SIDE - Flirt

 

(

MF

)

 

 

[Desk, Dining Table Short, Picnic Table]

Hold In Arms 01 

(

MF

/

MM

) 

 

[Floor]

 
                            SHY
Shy Girl 01 

(

MF

) 

 

[Double bed, Single bed]

Shy Girl 02 

(

MF

) 

 

[Double bed, Single bed, Loveseat, Sofa, Ottoman]

Cowgirl

(

MF

) 

 

[Lounge Chair]

Getting closer MFM st.1 

(

M

F

M

) 

 

[Double bed, Single bed]

Come sit on my lap

 

(

MF

)  

[Chair, Armchair, Loveseat, Sofa, Ottoman] 

Lap Sitting 

(

MF

) 

 

[Chair, Armchair, Loveseat, Sofa, Ottoman]

Fingering on bed 

(

MF

) 

 

[Double bed, Single bed]

Reverse Sitting

 

(

MF

/

MM

) 

 

[Desk] 

Lying with a book

 

(

MF

) 

[Sofa, Loveseat, Ottoman]

Missionary - Just the Tip 

(

MF

)

 

 

[Single Bed, Double Bed] 

Sharing_MFM 

(

M

F

M

)

 

 

[Double Bed] 
                       SITTING
                       KISSING
                        KNEELING
                       SPANKING
X spanking and fingering 

(

MF

) 

 

[Armchair, Loveseat, Sofa, Ottoman] 

Spank naughty girl

(

MF

) 

 

[Loveseat, Sofa, Ottoman, Single bed] 

 Bent over the table (MF)  [Desk, Dining table]  📘

Pet (MF)  [Chair, Armchair, Loveseat, Sofa, Ottoman]

CUNILINGUS Upside Down (MF)  [Floor, Toilet Stall]
                     MALEDOM
 [HW] Reading on the desk (MF)  [Desk]   📘

[WITCH] Try this spell (WITCH_MF - requires "Realm of Magic")  [Desk, Dining table]

Pet (MF)  [Chair, Armchair, Loveseat, Sofa, Ottoman]
                       SLEEPING
Sleeping next to each other 

(B+

M

/

F

+B/B+

M

) 

 

[Double bed]

 

She came at nigth 

(

MF

) 

 

[Double bed] 

Waking Her Up 

(

MF

) 

 

[Single bed]

Missionary - Holding In Arms 

(

MF

)

 

 

[Single Bed, Double Bed] 
                       FORCED
    * M - male; F - female; B+(M or F) - both genders + prefered gender
Edited by Kiki Chain
---
What's New in Version
2.15
See changelog
Released
=========⛓️ UPDATE ⛓️=========
2.15 (1 August 2022)
Added new animations:
Missionary - Holding Knees  -

 

VAGINAL

[VAMP] Feeding weak little vampire  -

 

TEASING

(quenches the vampire's thirst)

Hold In Arms 02  -

 

TEASING

Cowgirl x Smoking Man  -

 

VAGINAL 

-  Props (cigarette) included in mod

On All Fours  -

 

VAGINAL

RoughSpanking  -

 

TEASING

HOT SPRING - Blowjob 02 -

 

MFM/MMM  -

 

ORALJOB

HOT SPRING - MFM Blоwjob Climax (with CumMesh)  -

 

CLIMAX