About This File
Who doesn't? Right? 💦Lol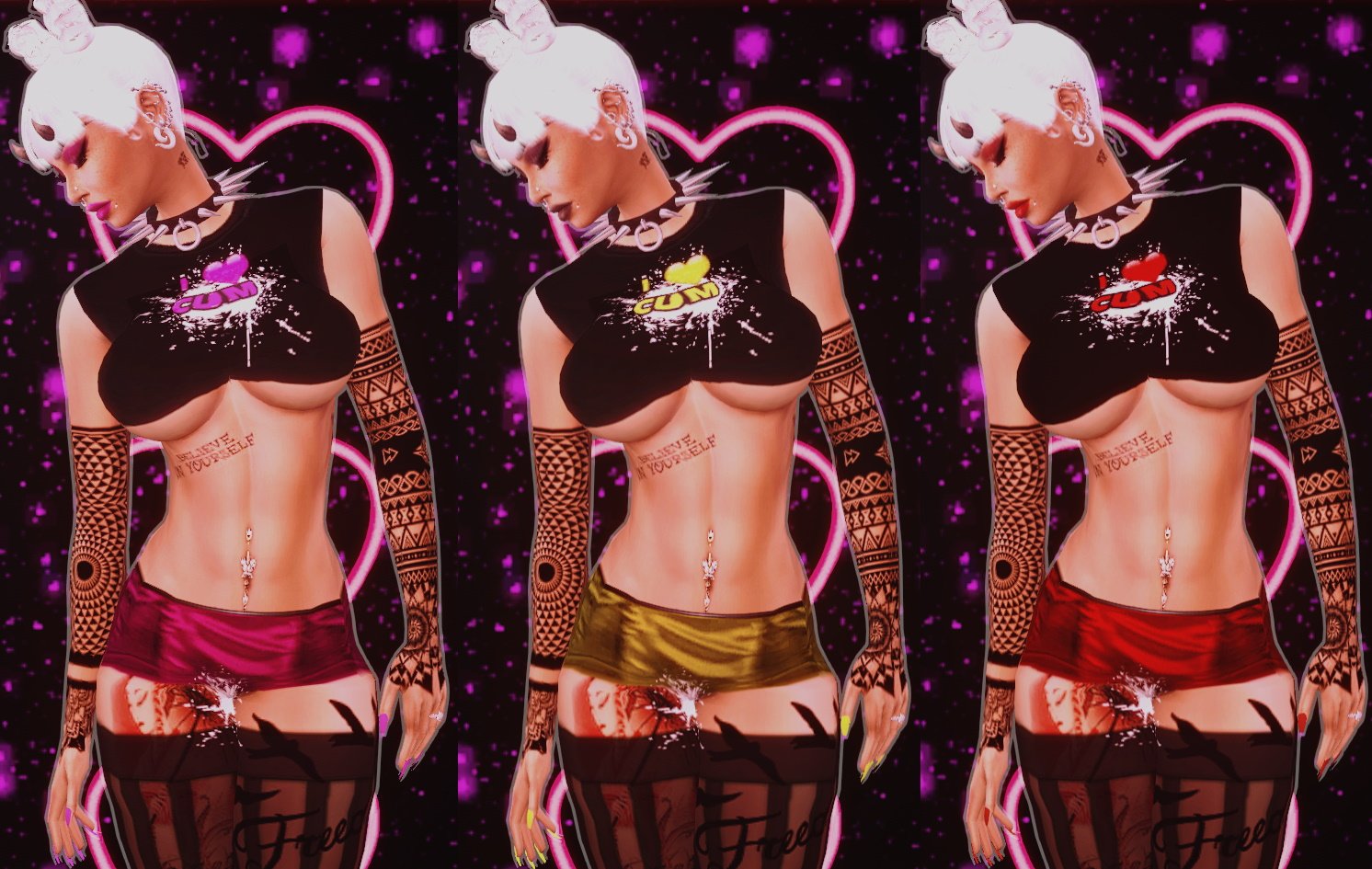 Enough said...I have a filthy mind and welp...the nastier the better in my game mwahaha
Same as my BB Skirts but...Full outfit with BB Bottom and Smooth Allure Breast mesh. Cum splotches on the skirt thing and puss puss cause who we kidding...it's not a skirt or shorts lmao...Splotches are perfect with accessories like stockings as you can see in the piccies...I will make these as separates tomorrow or next day...top only and bottom only so you can mix and match cause I didn't do all colors like in my BB Skirt upload few days ago.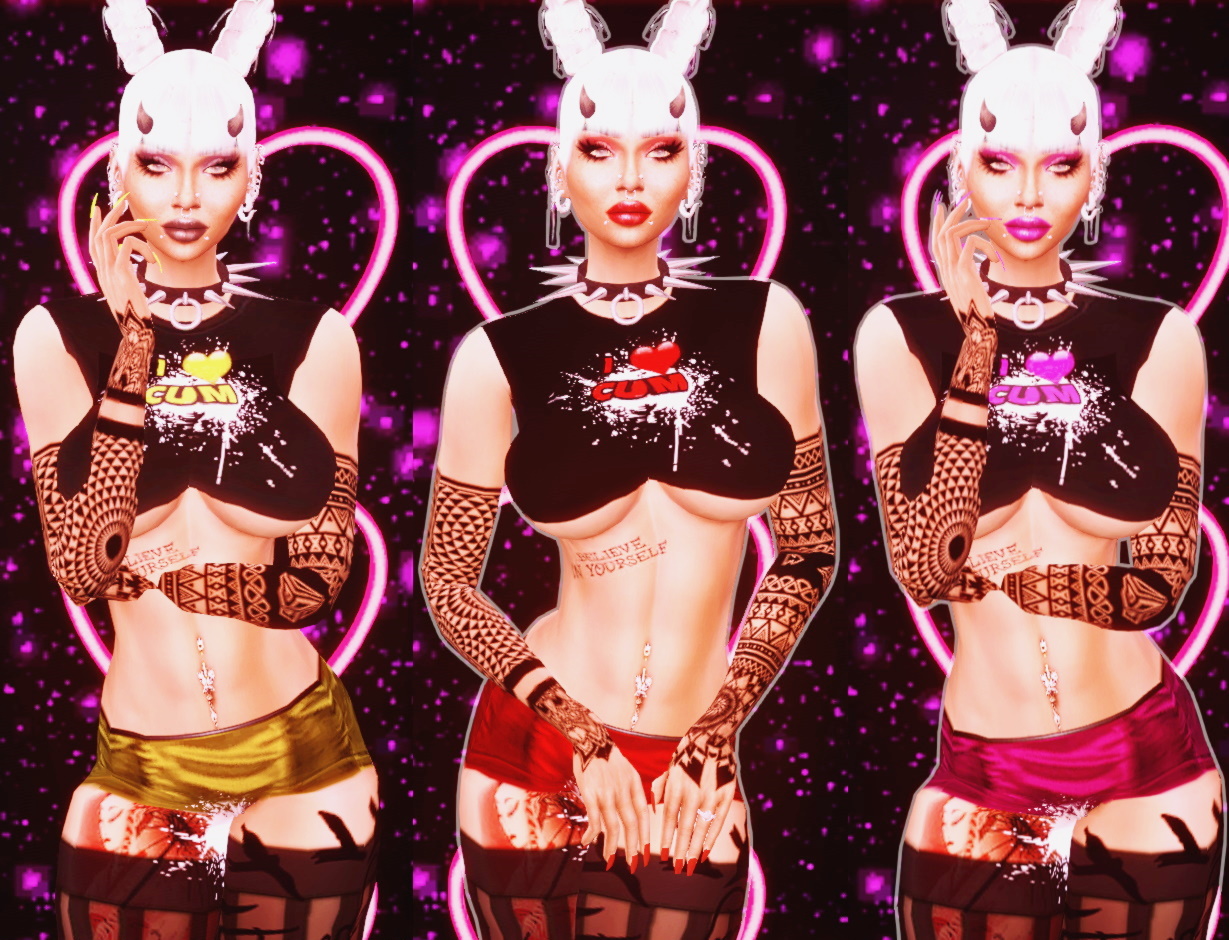 13 varieties...10 with "I ❤️ Cum" in different colors and color coordinated skirts, 1 with Cum Whore(2 versions) and another with "Cocksucker".  A bit mix n match in this file because I couldn't make my mind up.. so delete what you don't want lol. Definitely going to make these into separates for easier access and story telling ❣️
On the back of the shirt it says either Rent me for Cocksucker and Cumdumpster for I ❤️ Cum
I added to all categories except nude, no randoms and no opposite gender but ur futas can wear this and it is even hotter with a penis accessory haha 
Credit:
Myobi for whipping this mesh together for me cause I made a mess of mine >.<
Sopor for the actual Allure mesh that is making beautiful new meshes with Eve and BB
Hiroki for the BB Body 
Noir cause I love her smexy stockings in the pic
Make ups Obscurus and Me
Hair-Ebonix in one set of pics, I forget who other hair is by
Shorts/leggins by me
Accessories by Kiiji and Redhead(I don't honestly remember the rest)
Bonus:
Like I said above..
I was in doubt about some of the tops with the size and placement of the lettering so I left them in my file. Delete what you don't want ❤️ 
I slapped them onto a black skirt rather than different colors but here...it is a separate top and I will upload in a few days. Got some things going on in real that I need to take care of tomorrowz
Enjoy and....doesn't hurt to say "hi", I don't bite
~Risi~
This is in game at night time without HQ Cause that shit will crash my pc lol...But I do use Reshade and Ameobas preset in case you are wondering but even still my graphics are set at medium for lighting and objects and very high everything else but my graphics are still shitty on my pc and reshade definitely does not help >.>
Lipsticks used on first pic and this last pic are by me. I just haven't made them available yet because so much going on...I'm not ADHD but sometimes I feel like my mind runs a thousand miles an hour and I start working on something and before that is complete I start something else so...always have so many random packages in my game with my name on >.<
P.S. If you want this in the Pokie Nipple Allure Mesh then let me know and I will make it and release it later this week.
P.P.S. Surprised no one has released any cum splattered bedsheets yet ahaha 
---