LOOTTSSSS of pics and a bonus at the end

UPDATE : Been playing around a bit with different meshes, basically dropping the XL body overtop of other bodies in nifskope, with mixed results. Here's one that I like. Just a quick gif. I will probably post more of this, as well as some of the other armors I managed to mess with.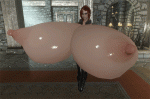 UPDATE 10/13/13: Figured out how to customize the HDT physics and I love the results. Realism can suck it!
UPDATE 11/23/13: I'm probably going to do another post soon but here's what I've been playing around with, putting multiple outfits together, I really like this one.
UPDATE: 12/13/13:
If anyone still cares about this blog and is wondering why there's no more posts don't worry I just haven't had the time. I have tons of pics to upload though, just give me a few days.