I tried to resist the urge to upgrade to Skyrim Anniversary Edition, I managed until this week. I am glad I can say everything went well.
For those who might be still wondering about the right move, here is my experience.
I started by uninstalling Skyrim SE but keeping MO2 as is.
Install/Update Skyrim AE from steam
Install CreationKit from Steam + Unofficial CK patch AE
Install SKSE SE
Install SSE Engine fixes part 2
So far so good, then inside MO2 (only mods from my mod list and needing an update for AE are listed)
Install USSEP, SSE Engine fixes part 1 and vanilla scripts optimizers
Install Adress library, UIExtensions, JContainers, PapyrusUtil, Papyrus Extender, PO3 Tweaks, ConsoleUtil, SkyUI
           If JContainer on Nexus is not updated, download from https://github.com/ryobg/JContainers/releases
Install CBPC (AE version is in the package), NOT HDT-SMP (not converted to AE) but Faster HDT-SMP (this one is converted to AE, so you need it for HDT-SMP to work!)
Install RaceMenu, NOT RaceMenu HH (outdated) but Heels fix (which is compatible with RaceMenu for AE), RaceCompatibility fixes, Bodyslide, CBPC, CBBE, 3BA, XPMSE, FNIS
Install SL AE, SOS+SOS AE (You need SOS AE!)
 Activate all other mods my perverted mind usually thinks of👹
Run and 💀
       RaceMenu error SKSE scripts version 65 expected 66 -> A mod is overwriting RaceMenu, for me it was: Marriage Mod - To Have And To Hold enhanced spouses
Deactivate and try again 😁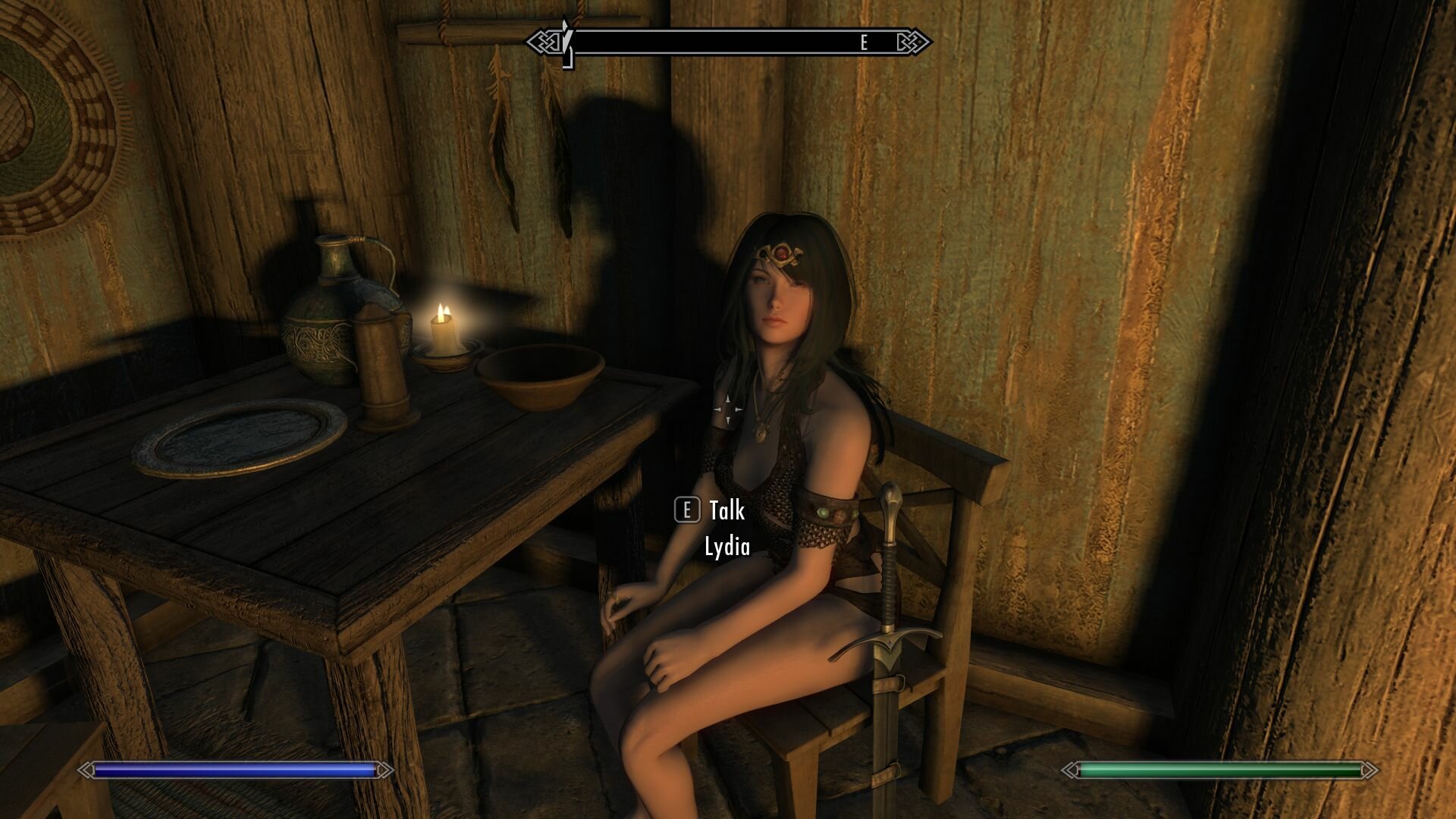 Hello Lydia, are you ready for slave bandit hunting?
So only 1 bug is not so bad, and yes Skyrim AE is faster to launch.
Now I wonder, what will happen when going back to modding?
Here is my mod list
*********************

+XP32 Maximum Skeleton Special Extended
+Amazing Follower Tweaks SE
+Immersive First Person View
+Lux
+Lux - Via
+Lux Orbis
+ENB Light
+Particle Patch for ENB
+ENB Helper SE 1.5 for SSE 1.5.97
+Obsidian Mountain Fogs 1.01
+Embers XD
+Water for ENB
+EVLaS
+Achievements Mods Enabler
+DAR animations
+EVG Conditional Idles
+DynamicAnimationReplacer v1.1.0 for SkyrimSE
+Mari's flora
+Vivid Landscapes - All in One - Special Edition
+Skyrim Flora Overhaul SE
+Veydogolt - Grass and Land Overhaul
+Bijin NPCs SE
+Beautiful Draugr CBBE Phys SE
+Prettier Falmer and Draug
+Natural Thalmor Skin - BOTOX
+Natural Dunmer Skin - BOTOX
+Botox For Skyrim SE
+Clara Follower
+Hot Chicks have Hot Sisters wip
+Sleep In Lingerie
+Auto Sleep For Me Now (ESP)
+Backsteppo French Maid SMP
+Lingerie Set CBBE Curvy
+Charming High Heels - Racemenu High Heels (CBBE 3BBB Bodyslide)
+Wonderland Lingerie
+FNIS_logs
+FNIS_output
+GSPoses SE
+Feminine Pickup Animation SE
+Two Handed Sword Animation
+Crawl on all Fours animation for SSE
+play ground
+Sexy Combat Animations (conversion and DAR version)
+MfgFix
+Facelight SE
+Don't Show Headgears
+Vanilla Weapon Replacer SSE
+BDs Armor and Clothes Replacer CBBE 3BBB
+Misc 3D replacer
+Rudy ENB Cathedral Weathers ADDONS and REQUiRED Files
+Veydosebrom Regions
+Cathedral Weathers MCM
+Cathedral - Weathers
+Realistic Water Two SE
+DoM voicepack
+Diary Of Mine
+pahe_lives_on 8.1.4
+PAH AYGAS
+PAH HSH
+Interactive B
+Dripping when aroused
+SexLab Solutions v
+SexLab Dialogues SE
+SL Attraction SE v
+SL Aroused Redux V
+SlaveTatsSE
+SLAL RohZima
+SLAL FunnyBizness 25
+Billyy's SLAL Animations 5.2
+SLAL Babo
+SLAL_SE
+Devious Devices SE
+ZaZ Animation Pack 8 plus
+SL AE
+Heretical Resources v1.51
+Schlongs of Skyrim SE AE
+Expressive Facial Animation -Female Edition-
+sexy idle Animation - Skyrim Special Edition
+FNIS Move SE 7.2
+Fores New Idles in Skyrim SE - FNIS SE
+Beyond Skyrim - Bruma SE
+SL For Vanilla Bandit Camps SE v
+More Bandit Encampments DFT
+More Bandit Camps - EtR Patch
+More Bandit Camps SSE
+Serana Dialogue Add-On SE
+CiceReal Placer
+Female Tullius - xVASynth Voice
+Female Tullius - Tullia CBBE
+Female Heimskr VASynth voice
+Female Heimskr - Heimla
+Ulfrica
+Lilly - A fully-voiced female courier replacer and follower
+Follower Commentary Overhaul SE - FCO SE
+Relationship Dialogue Overhaul - RDO SE
+Immersive Citizens - AI Overhaul
+FLL - Feminized Level Lists
+Womanized Leveled List for OBIS with Deadly Wenches
+OBIS SE - Organized Bandits In Skyrim Special Edition
+Deadly Wenches SE
+Immersive Wenches SE
+MBWS NPC Housecarl Replacer SSE - Default Body - CBBE Textures -
+Mercenaries Replacer
+My Home is Your Home
+Freckle Mania 2 Combo 4K
+Fair Skin Complexion for CBBE
+Vitruvia - skin texture overhaul for males SOS Light
+High Poly Head SE
+CBBE 3BA
+CBBE
+Enhanced Blood Textures
+Eyes package
+Hair packages
+Faster HDT-SMP
+CBPC and HDT-SMP
+RaceMenu and BodySlide
+Address Library Extensions and UI
+USSEP Vanilla scripts opt SSE Engine and MU KneeJoint
*DLC: Dawnguard
*DLC: Dragonborn
*DLC: HearthFires
*Creation Club: ccBGSSSE001-Fish
*Creation Club: ccBGSSSE025-AdvDSGS
*Creation Club: ccBGSSSE037-Curios
Here is my load order list:
***************************
Essential mods
==========
Skyrim.esm
Update.esm
Dawnguard.esm
HearthFires.esm
Dragonborn.esm
ccBGSSSE001-Fish.esm
ccBGSSSE037-Curios.esl
ccBGSSSE025-AdvDSGS.esm
Unofficial Skyrim Special Edition Patch.esp
Vanilla Script MicroOptimizations.esl
Vanilla Scripts Enhanced.esl
RaceCompatibility.esm
ApachiiHair.esm
HairPackage.esm (this my hair package compilation)
KSWigsSMP.esp
EyesPackage.esm (this my eye package compilation)
icepenguinworldmapclassic.esp
SkyUI_SE.esp
UIExtensions.esp
RaceCompatibilityUSKPOverride.esp
RaceMenu.esp
RaceMenuHH.esp
RaceMenuPlugin.esp
dD - Enhanced Blood Main.esp
CBBE.esp
RaceMenuMorphsCBBE.esp
3BBB.esp
SOSPhysicsManager.esp
SOSRaceMenu.esp
XPMSE.esp
High Poly Head.esm
12FemaleBrows.esp
FMS_FemaleMakeupSuite.esp
SFO_SkinFeatureOverlays.esp
FreckleMania2.esp
koralinas_freckles_moles.esp
My Home Is Your Home.esp
Replacer mods and more
================
MercenaryReplacer.esp
MBWSFollowersReplacer.esp
Immersive Wenches.esp
Deadly Wenches.esp
OBIS SE.esp
Womanized Obis with Wenches.esp
FeminizedLevelLists.esp
Relationship Dialogue Overhaul.esp
FCO - Follower Commentary Overhaul.esp
Seraphim - PrettyCourier.esp
FemaleUlfric.esp
VivaceHairPhysics.esp
FemaleHiemskr.esp
FemaleTullius.esp
CiceroFemaleConversion.esp
CiceroFemaleSE.esp
SeranaDialogAddon.esp
MoreBanditCamps.esp
EtR MBC Camp Patch (explore).esp
MoreBanditEncampmentsFALK.esp
Bruma Map Adjustment.esp
BS_DLC_patch.esp
BSAssets.esm
BSHeartland - Meshes.esp
BSHeartland.esm
SL essential mods and more
==================
FNIS.esp
FNISspells.esp
FNISSexyMove.esp
Schlongs of Skyrim - Core.esm
Schlongs of Skyrim.esp
SOS - Smurf Average Addon.esp
SOS - VectorPlexus Muscular Addon.esp
SOS - VectorPlexus Regular Addon.esp
SexLab.esm
Immersive Citizens - AI Overhaul.esp
Immersive Citizens - ELFXEnhancer patch.esp
SexSlavesForVanillaBandits.esp
ZaZAnimationPack.esm
Devious Devices - Assets.esm
Devious Devices - Contraptions.esm
Devious Devices - Expansion.esm
Devious Devices - Integration.esm
Devious Devices SE patch.esp
SexLabAroused.esm
BD Armor replacer.esp
SLAnimLoader.esp
SLAL_AnimationByBakaFactory.esp
SLALAnimObjBillyy.esp
SLALAnimObj.esp
RohZima_AnimObjects.esp
SlaveTats.esp
SexLab_Dialogues.esp
DW.esp
ITortureFramework.esm
Heretical Resources.esm
SexLab Attraction.esm
SexLab_Solutions.esp
PAH_HomeSweetHome.esp
PAH_AndYouGetASlave.esp
My Home Is Your Home (MHiYH 2plus) dialogue patch.esp
My Home Is Your Home dialogue patch.esp
Pahe_Dragonborn_fixes.esl
Pahe_Dwarven_Devious_suits.esp
pahe_lakeview_manor_cell.esp
paradise_halls.esm
paradise_halls_farengars_study.esl
paradise_halls_fellglow_slave_camp.esp
paradise_halls_SLExtension.esp
DiaryOfMine.esp
Unessential mods
============
RealisticWaterTwo - Resources.esm
RealisticWaterTwo.esp
Cathedral Weather Godrays.esp
Cathedral Weathers.esp
CathedralWeatherMCM.esp
Veydosebrom Regions.esp
DSHg - DragonPriest Masks.esp
DSHg - Hats.esp
DSHg - Helmets.esp
DSHg - Hoods.esp
DSHg - UpdateDB.esp
DSHg - UpdateDG.esp
Facelight.esp
play_ground.esp
_GSPoses.esp
[Myst]WonderlandLingerie.esp
CharmingHighHeels.esp
[COCO]Lingerie.esp
Bella Lingerie Set [SE].esp
Lady Jasmine.esp
Lingerie Set.esp
Minou Aradia Lingerie Dress.esp
Osare Underwear.esp
Panties [SE].esp
Ultimate Lingerie Collection 2.esp
VtawWardrobe5.esp
SleepForMeNow.esp
SIL_SleepForMeNow.esp
Sleep in Lingerie.esp
HotChicks have HotSisters.esp
Clara.esp
Botox SE - Immersive Wenches.esp
Botox SE.esp
Botox.esp
Natural Dunmer Skin.esp
Natural Thalmor Skin.esp
Bijin AIO.esp
Veydogolt.esp
Skyrim Flora Overhaul.esp
Prettier Draug.esp
Prettier Falmer.esp
BeautifulDraugr.esp
EVGConditionalIdles.esp
Water for ENB (Shades of Skyrim).esp
Water for ENB.esm
Embers XD.esp
Obsidian Mountain Fogs.esp
Particle Patch for ENB.esp
ENB Light.esp
Lux Orbis - Master plugin.esm
Lux Orbis - USSEP patch.esp
Lux Orbis.esp
Lux - Resources.esp
Lux Via - plugin.esp
Lux Via.esp
Lux - Master plugin.esm
Lux - No grass in caves patch.esp
Lux - RWT Patch.esp
Lux - USSEP patch.esp
Lux.esp
AmazingFollowerTweaks.esp
Edited by TrollAutokill