Welcome to LoversLab
Register now to gain access to all of our features. Once registered and logged in, you will be able to create topics, post replies to existing threads, give reputation to your fellow members, get your own private messenger, post status updates, manage your profile and so much more. If you already have an account,
login here
- otherwise
create an account
for free today!
Submitter preeum
View other files from this member
Latest Version:
Submitted: Sep 25 2014 05:00 PM
Last Updated: Sep 25 2014 05:11 PM
File Size: Unknown
Views: 87103
Downloads: 7,228





10 Votes
accessories
armor

227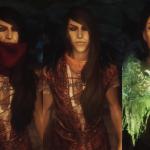 So this is an updated version from the one that was on the nexus. fixed some bugs/issues and added pieces for men
ACCESSORIZE FOR CBBE
ACCESSSORIZE FOR UNP
Also here's the Bodyslide info (now all fixed and working perfect!) for custom bodies.
ACCESSORIZE BODYSLIDE
For those wondering this mod won't be on the Nexus. I was told that things like accessories made from Dark Souls/Dragon age etc was not alowed, but seeing as I got many of the pieces from here, I thought it'd be OK to share.

If there are any problems please let me know!
Please check out my
flickr
for more shots of this mod!
Just to make this clear: these are not my meshes! I've taken pieces from games like Tera, Darks souls etc and have put the scarves/pauldrons into individual pieces so you can customize an outfit. I'm not claiming I built any of these--just isolated them into their own nif files and tweaked some textures. It's a small mod with a simple purpose: to add some variety to an outfit. Cheers and have fun!
NMM ready. To access open console (~) and type coc qasmoke. There's a chest in the corner with all the pieces.
Credit to asianboy345 for the Tera armor pieces
Credit to Zerofrost for the blood armor pauldron
Credit to XiNAVRO for all his conversions
Credit to Jackga for his many conversions
Credit to Caliente for CBBE body and Bodyslide.
Credit to AlienSlof for the awesome eyepatches.
Credit to jochan449 for aris pauldrons and slytra for the base suit.
Screenshots
ACCESSORIZE