Breaking news - Most wonderful news ever
---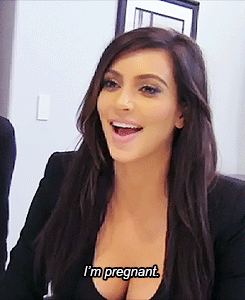 Yes, my dear friends, I'm pregnant! I was ovulating before my Prince started to impregnate me and when he did it (every day) - bingo! My Ivy got period yesterday morning and I didn't. We always have it on the same day. So, my Prince was so excited that he couldn't wait to see if I'm pregnant or not. He went to the drug store early in the morning today that works 24 hours a day and bought the pregnancy test. It showed positive result. We all screamed in joy and we couldn't stop kissing. Knowing that a new life started in my womb filled me with incredible joy and indescribable feeling. My Prince melted me; he knelled and showered my tummy with kisses and he "Daddy loves you, little baby" after each kiss. When my mom and dad arrived for morning coffee I decided to give them a little "hard time". I was sitting in Prince's lap and I looked them and said very seriously:
- Mooom …… daaaad …… I …… have to …. tell you …… something. I …..  I'm ……  (pause)
Mom (very worried): What is it, dear??? Say it, for goodness sake …….
I devilishly smiled, jumped on my feet and shouted: I AM PREGNANT!!!!
My parents were stunned. They thought I was joking. I showed them the pregnancy test and they started to cry being very happy and my mom showered my face with kisses. I told them that we have been working on the baby for a while, but we didn't want to tell them until it happens. My dad almost broke my spine how hard he hugged me and he constantly slapped my Prince's back saying: "That's my boy!" My mom also kissed him numerous times being very proud at him and she called Zdenka and told her the good news. We heard her screaming joyfully and saying: "We'll be there in a minute!" She and Fran arrived and they congratulated me and my Prince. They were very happy. My Fran made us all laugh when said he hopes our baby won't be ugly as my Prince and if it does, he'll pay for plastic surgery. This time he ran for my Ivy chased him wanted to throw him in the sea. Our moms promised all the help they can provide during my pregnancy. Then they went to villa for they have work to do. My Prince and Ivy called boss and his wife and our friends to tell them good news. We gonna have a feast tonight for close friends and family; celebration of my pregnancy. There will be another party in Sunday: my birthday in Monday. We'll celebrate it the day earlier because it is not working day.
Now, how did we spent our free time last seven days? Very fruitfully. Beside our morning and evening routines, swimming in the sea, we watched videos about (listen up very carefully, lol) first: having sex during the pregnancy. It is important to know such things for my Prince has big fat cock and we don't want him to hurt our baby during the sex when I will be in late phase. We also watched videos about nutrition in the pregnancy, various disorders and changes in body, behaving and similar things. We learned a lot of things. When not watching video materials we talked about our babies; what qualities we would love it to have, how it should look like, how to explain "two moms issue", what shall we buy and similar stuff. And we enjoyed in those conversations very much. Three nights in the row we talked about each of us; our shortcomings, strengths and what we can and should do to reduce the first and improve the second. My Ivy will be a second mom to my child and as such it can address to it as "mom" too. We agreed we want to know baby's gender when the time comes so we would know what to buy. As for the baby's name, mine will have two names too. If it will be a girl it will have Ivy's original name, not LL name and my mom's name. if it will be a boy, it will have Prince's original name and my dad's name. I made this decision because I love my angels and my parents very much and I want my children to bare their names. And last but not least: my Ivy and I doubtlessly agreed that Prince is central figure of our love triangle. He has the final word in all matters related to our marriage. He is the Head of the family; our King and we are his Queens.