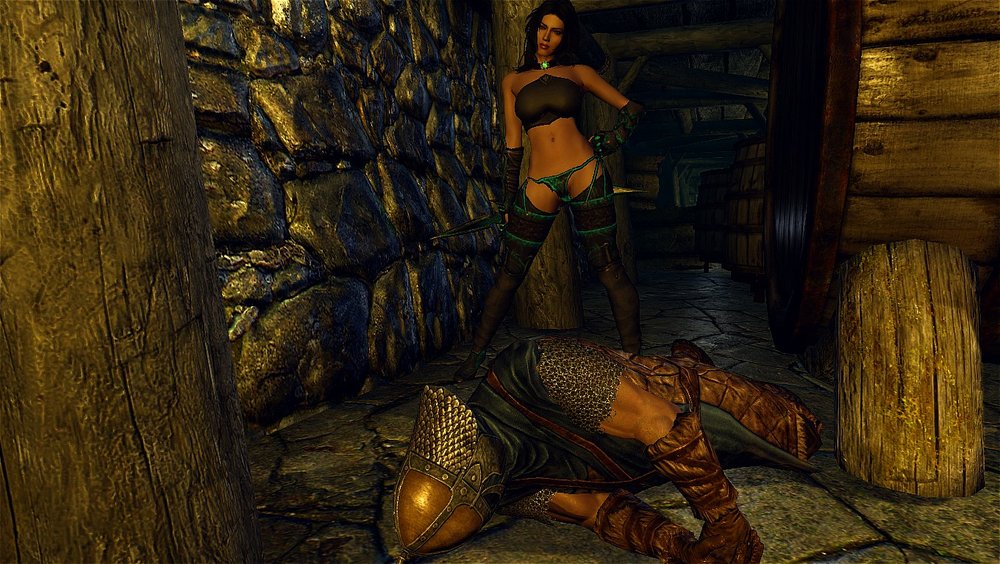 Hi Everyone!
Sorry this one took a bit longer than usual, It's been in planning for a while and I wanted to make sure I did it right. This story is going to build on quite a few of my entries so if you're a little lost, I'll list them below (in order).
Celena: Battle for Fort Greymoor
Divina: Fractured Reminiscence

This Council of Thanes story, will be a two part-er focusing on Felicia! Hope you enjoy your time with this crazy, sexy, and murderous chick!
Felicia: Council of Thanes
Nightgate Inn
Stormcloak Courier (to himself): Finally back to the old inn… Running messages for Ulfric seems like such a menial task, but it sure beats waiting in some regional camp.
Stormcloak Courier: To Talos, To Ulfric, To Skyrim!
Stormcloak Courier...And to you dear lady! May the Nine guard you and your kin!
Felicia: Well that's kind of you, Soldier. Do you have a place to stay tonight?
Stormcloak Courier: This barkeep takes good care of us soldiers. Beds by the hearth and mead by the barrel. The only thing that could make this place better is your stimulating company…
Felicia walked over to the basement steps
Felicia (seductively): A Soldier in need of stimulating company? Come downstairs and I'll give you what you really deserve.
Felicia disappeared into the basement
Barkeep: I'd hurry after her if I were you, soldier. I charged her top septim for the basement room. The bed is the Best in all of Skyrim.
Stormcloak Courier: I'll put that claim to the test tonight and tell you about it in the morning. Don't send anyone down regardless of what you hear...I'm quite the stallion with the ladies.
Basement Room
Stormcloak Courier: My Lady! I'm ready for you! Come to me!
Felicia: You may be ready for me, but I want to savor the chase a bit more. Let's play a game... if you find me, I'll ride your cock all night long. But if not, you spend the night alone, drowning in your sorrows.
Stormcloak Courier: You're a strange girl aren't you? Very well! I will prevail and we will make sweet love till early morning.
Felicia: I pray for your success…
With that, Felicia disappeared behind a large mead barrel.
The Stormcloak strode confidently to where his prey was hiding.
Stormcloak Courier: This isn't much of a hide and seek game I can tell you're right…
Stormcloak Courier (confused): Here?
**SLINK**
A sharp pain erupted in the courier's lower back.
Felicia: Looks like I win this round Mr. Stormcloak…
Stormcloak Courier (Pained): But...why?...
Felicia twists the knife.
Felicia: You're in a war remember? I can't even begin to tell you how many of my friends your meandering has killed.
The Stormcloak collapsed to the floor when Felicia pulled her knife out.
Felicia: Now to why I came here tonight. Hope he didn't bleed all over it.
Felicia (to herself): Overall, not a bad fit. I should be passable for a Stormcloak once I put the helmet on...Oh, and I probably shouldn't come back here for a while. I hid the body in the fermenting mead barrels. I'm not like those Namira wackos...
Windhelm Gates
Andaria (to herself): I can't believe the Jarl made me leave the day after my home was burgled to come to this miserable old city...I barely had anytime to piece this outfit together, much less a weapon.
Andaria looked at the city gates.
Andaria: Bleak, Cold, Dull, Lifeless…
Familiar Voice: Those aren't the words I'd use to describe this view.
Andaria turned.
Ergon: I'd choose words like, Red, Beautiful, Strong, Toned…
Andaria blushed and teased
Andaria: They told me your Jarl pushed you into the countryside and forced you to go nomadic to continue to serve the Stormcloaks. Tell me, do all Stormcloaks dress like Forsworn out in Markarth?
Andaria threw down her furs and hugged Ergon
Andaria: I'm glad you're here. I needed to see a familiar face.
Ergon: Me too. Especially after the nightmare I've lived through.
Windhelm
Andaria: I haven't seen you since I became Thane, what have you been doing? You know, besides the whole going native thing…
Ergon: Well, I led several successful raids on Thalmor supply routes through Markarth, had a run in with Imperial Thanes...erhm..rather one in particular...multiple times, and most recently, was captured by the Thalmor. That's the reason why I'm dressed this way.
Andaria: ERGON! I can't believe you let them catch you! Are you alright? How did you get out?
Ergon: Strangely enough, it was that one Imperial Thane who got me out. She went on a rampage and cleared out the fort, just to get me. The Elder Sage then found us and took me to the Windhelm Gates. We parted ways this morning.
Andaria: Well, your adventures sound much rougher than mine. Most recently, Marius from Morthal stole from my keep. I beat him in a fight, but then HAD to spend a few nights of passion with a silly elf pirate.
Ergon: You don't say..? What's this elf's name and crew?
Andaria: Oh Ergon, you're not going to kill him. He paid me well for it.
Ergon blinked in disbelief.
Ergon: Andi, you don't have to sell your body to…
Andaria: No, Shut up! You don't understand! I asked him too...look it's very complicated and I'm not nearly drunk enough to tell you the full tale. Where are we headed?
Ergon knocks on a seemingly random door in town.
Ergon: We're here. This is an old fisherman's home that Galmar repurposed for our meeting.
Andaria: Why can't we meet in the Palace? Ulfric that paranoid?
Ergon: He has every right to be worried, but I'll tell everyone inside. It's one of those stories I only want to repeat once…
Portia (drunkenly): Oh look, the latecomers finally arrive…. It's only been 3 days since the meeting was called...hic….what took you so long?
Ergon (politely): Portia Magnus! So great to see you again! I hope this drunken stupor isn't in preparation for the Elder Sage's arrival. He's not coming...
Portia: You're full of Shit, Ergon. That pious old leech is already upstairs doing the only thing he's good at...praying to idols.
Ergon: But I was with him this morning, he left me at the gate and walked the other direction…
Portia: That decrepit, detestable man has been here praying to Talos since before I arrived. Perhaps he can tell you what happened then.
Sometime Later
Galmar: Good You're all here..
Galmar: Ergon of Markarth
Galmar: Portia of Winterhold
Galmar: Andaria of Riften
Galmar: and wise Elder of Dawnstar…
Elder Sage: Galmar, will Princess Sable be joining us for this meeting?
Galmar: Not at this time, she's on assignment with one of our sources.
Galmar: There is much to say and even more to discuss. Let's begin this Council of Thanes.
Windhelm Jail
Stormcloak Jailor: Hey! What took you so long? When I told you to go upstairs and check on the interrogation session, I didn't mean that you should stay an watch. Some of us are at the end of our shift and have leave to use.
Female Stormcloak: I'm sorry, I had to use the bathroom this armor is harder to get out of then it looks.
Stormcloak Jailor: Do you need lessons on how to get out of your armor or is it your bedpan marksmanship that needs practice. Here you just move the bedpan closer and…
Stormcloak Jailor: ...ACK!
Felicia: I know how to use a bedpan, you Shit. Maybe if you weren't such an asshole, you wouldn't die in a puddle of your own making...great another body to hide…
Felicia: Well, I suppose this pile of hay will do the job, at least until I can find Marius. Luckily this fool let slip where he was…
Felicia: I just don't understand, why these fools always let their guard do…
Female Stormcloak: I'm sorry, Sargent! When I was checking on the interrogation like you asked me I ran into Lord Ulfric and...
Female Stormcloak:….wait...you're not…
The knife stole the air from her lungs before she could get out the next word.
Felicia: Very astute girl, now be good and die without a…
With her last breath the Stormcloak yelled out "INTRUDER" and died.
Felicia stripped out of the Stormcloak uniform
Felicia (to herself): Dumb girl, thought she was being a hero by calling her friends… I guess that does it for stealth.
Windhelm Barracks
Felicia: Not many guards on the way up, I guess that means…
Stormcloak Commander: Stop right there Criminal scum! You violated the law!
Felicia: You think your numbers will save you?
Black smoke fills the room.
Felicia: You're all dead...
Stormcloak Commander: Archers! Open Fire!
Arrows flew as Felicia disappears into the smoke.
A chorus of Stormcloak death screams echoed in the chamber before their bodies were enveloped by smoke. Each bearing slash marks.
A flicker in the smoke
Stormcloak Commander: Shoot her! Fire!
But again the arrows, hit nothing.
Stormcloak Commander: Where is she? Archer's fire at…
The smoke swirled behind the Commander and her archers…
Felicia: Fools, can't even touch me.
Felicia: If I had known these Stormcloaks were that weak, I wouldn't have bothered with stealth at all. That Bone guy in Whiterun put up a better fight…
"Interrogation" Room
Sable: Oh Marius, your so huge! Your mistress demands you keep moving!
*Marius POV*
Sable: Now, tell me about imperial supply lines….in Dawnstar...where will they go next?
Marius notices a familiar face behind his mistress.
Marius: Get down!
He pulls her close for a kiss...
...Causing her would be attacker to miss completely and crash into a pillar.
Marius: Well if it isn't Fail-icia. Did the Jarl finally pay for my release? Or is this a jail break?
Sable: Joooo fah! I'm not finished with my newest sex toy yet…
Marius: And I'm not done being your sex toy yet, Mistress. But it might be nice to go somewhere else. I've gotten bored of Windhelm in the 2 months since that elf scum dropped me off into your loving arms.
Felicia stared in amazement.
Marius: So Felicia? Are we getting out of here?
Thanks for Reading! It'll probably be another week or so before the next chapter, but I'll probably do a photo shoot in between the 2 chapters.