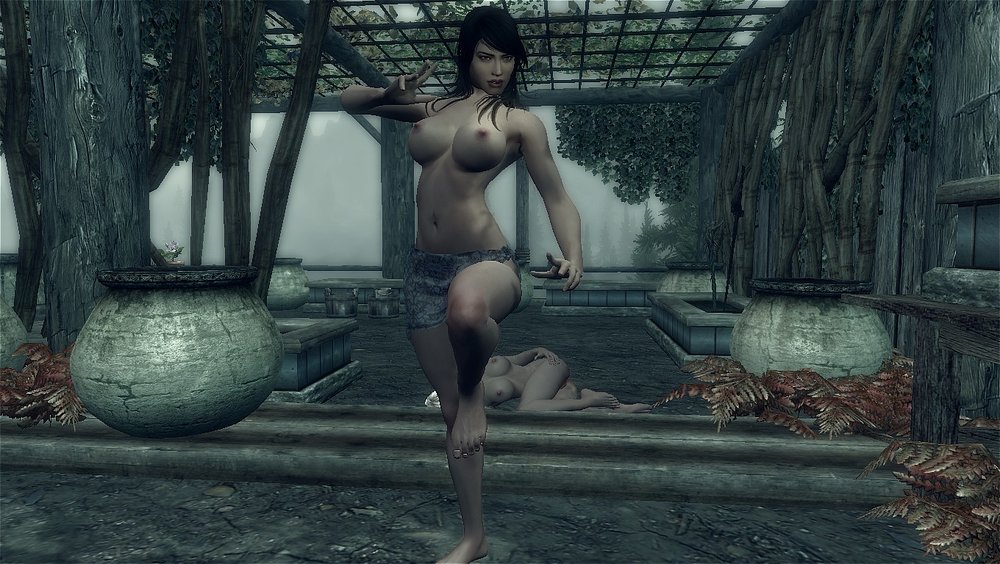 Hi There!
Once again, thanks for voting to help Mikayla make her choices.
Let's see how Mikayla finishes this story!
Mikayla: A Hunting Blade (Finale)

Khajiit: There she is, the white maned woman who stole Khajiit's claws…The offense alone is enough to merit death. But there is more to her tale: She broke into a Thalmor prison and murdered all of the elves. The Thalmor offer pay Khajiit very well.
Khajiit: Shame to kill such beauty, but Khajiit likes gold more than a dangerous woman…
Khajiit: Hhhhhhhiiiiiiissssssssssss
Mikayla: It's not polite to jump a woman while she's sleeping…
Khajiit: Who is this? Why do you get in Khajiit's path?
Mikayla: I'm only going to say this once, Cat Man. I am Mikayla of the Blades, leave now, and I'll let you live. Stay and this is the last contract you take.
Malkin: Khajiit's name is Malkin. Khajiit would like to see Mikayla try to stop his attempt. Khajiit is better armed, better armored, and more skilled.
Mikayla: Armed and Armored maybe...but we'll see about skill…
With that, Malkin dove at Mikayla with his claws hoping to skewer her.
Mikayla redirected the charge with a strong kick. She pivoted and followed up with another…
Malkin's reflexes allowed him to avoid Mikayla's attack and he slammed his shoulder into her, rocketing her into the garden.
Mikayla hit the ground hard
Mikayla (to herself): Not how I thought I'd be spending my morning. Hand to hand combat isn't really my strength, I need a sword…
Mikayla (to herself): That should work!
Mikayla: NRRGH!
Mikayla (to herself): I could never lift it! How did that woman do it?
Malkin: You struggle to lift the sword. Mikayla was never a match for Khajiit. Come face death! Khajiit does not like stabbing in the back.
Mikayla (angrily): LEARN ABOUT PRONOUNS!
She grabbed the only thing she could lift and hurled it as hard as she could at Malkin.
Mikayla wasn't sure what would happen when she threw the staff, she just knew that if she was to make it out of the situation alive, she needed more time to get her equipment in a nearby cache.
She was pleasantly surprised when the staff hit with such force to rocket the would be assassin into the side of the pool.
SPLASH!
Malkin (wheezing): A stick? How could a stick send Khajiit flying? Is Mikayla a mage?
In the pool behind Malkin, a Lurker exploded out of the staff. It eyed the Khajiit suspiciously.
The Lurker grasped Malkin and hoisted him into the air.
Malkin (terrified): LEt go of Khajiit! Khajiit is innocent of all crime!
Lurker: RAAAAAAAAAAAAAAOOOOOORRRR!
Mikayla just stood in awe of what was transpiring before her…
She soon darted to her stockpile and put on her boots
Mikayla (to herself): Gotta get a move on, maybe I can stop Mora from collecting on Celena… boots first, I'll put the rest on as I'm streaking to Whiterun...
Divina (to herself): That had to have been the strangest bedding I've ever had. Who knew tentacle beds could be SO comfortable. I'll have to let Hiromi know!
Khajiit: Help KHAJIIT! KHAJIIT IS INNOCENT OF CRIMES!
Divina (to herself): On second thought, I think it's better that she not know about that happened at her spa when she was away. This has been the strangest week ever…
Whiterun Sewers
Celena (to herself): I hate walking through these sewers, but I hate thieves. Training with Hito will have to wait, he'll find plenty of skeletons to fight while he's still looking for me in the catacombs. I have to get my sword back from that thing.
Celena: That sword you hold is not yours, give it back or I'll send you back to your master in pieces.
Mora: This one has taken a liking to this sword. You will have to defeat him for it.
Celena: Poor choice…
Celena and Mora squared with each other and clashed.
Celena (to herself): I didn't even have that robe for a day yet.
Mora: This one has disarmed and disrobed you…
The noise of a door slamming caused Mora to turn around.
Celena (to herself): Now's my chance
Celena turned and channeled a fear spell on the daedra…
Celena: STEAL MY SWORD AND CUT AWAY MY CLOTHES?
The daedra cowered in fear…
Celena: I am Celena. Master of the Blades and Thane of Whiterun, I am NEVER disarmed.
Celena: And now it's time, to go back to your master, Daedra.
She readied the killing blow…
But her blade never found flesh…
Mikayla (disarmingly): Hi Master! You look like you're in fine form!
Mora: Subject Mikayla, you save this one!
Celena (stunned): Mikayla! Why are you defending that thing? It attacked me.
Mikayla and Mora rose to their feet
Mikayla: It's a really long story from the mission you just sent me on. But this hunk of man meat is a researcher for Hermaeus Mora. He means you no harm, in fact, quite the opposite actually. Just look at his HUGE ASSET!
Celena (smiling): Oh Mikayla, that's not a man.
Mikayla (puzzled): YES, He is! Just look at him.
Celena (laughing): He doesn't even have a penis! Hold on…
Then Celena hit Mora with a bright spell
Mora: Subject Mikayla?
Mikayla (surprised): AHH! WHAT ARE YOU?
She pushed the creature away and stumbled to her back trying to get away from it.
Another spell hit the creature binding it to the ground.
Celena (chuckling): There's your HUGE ASSET, Mikayla… I can't wait to tell everyone about this… Alright Seeker, tell Hermaeus Mora he owes me a new robe.
Mora (shrill): This one cannot go back yet! This one has more data to collect!
Celena detonated the rune binding Mora to sewer causing it to disappear in a spectacular fashion.
Mikayla (dejected): I can't believe I had sex with a seeker…
Celena (jokingly): Don't feel bad, Mikayla. We all get desperate sometimes. Hermaeus Mora, Lord of Knowledge, knows extremely complex illusion spells. But you can usually see through it after the first time…
Mikayla (meekly): Twice…
Celena burst out in laughter
Mikayla (quietly): That's not nice :-(
Celena (laughing): You must have been so desperate….Come on...tell me about it on the way back to Nakahara. I want to know ALL the details.
Nakahara
Mikayla (Narrating): On the way back to Celena's place, I told her all about the mission. How I tracked Mora down in the Cave, Faced him in combat, screwed him and his tentacle monster on the well. I continued to tell her about tracking Mora to the pools in Falkreath. The other test subject, our second night of passion, and the crazy Cat Man I fought off the next morning. She was very amused.
Mikayla (Narrating): Celena was very interested in the staff I had collected from Mora. I gave it too her for study. I also told her to keep it away from water. Between laughing fits, Celena praised me for my actions at the pools. Defending the pool girl was the right thing to do. Celena even offered to let me stay in her house for the night. Typically, only masters are allowed to stay in Nakahara. Having not slept in 2 nights, I was not in a position to decline. I slept from when we arrived in Nakahara till…
KNOCK! KNOCK! KNOCK!
Celena: Mikayla! Come on! Let me in! I have that surprise for you!
Mikayla (to herself): This house is amazing, a little small, but cozy. I can see why the masters reserve it for themselves.

KNOCK KNOCK KNOCK!
Mikayla: I'm coming!
Mikayla opened the door but quickly covered herself
An attractive black haired man in bone armor entered the building.
Mikayla: Who...are you…?
Hitomaru (stammering): I...I'm...Hito...Hitomaru. Master Celena...told me to...go in to introduce...myself to you….I'm your new partner…
Mikayla: So good to meet you, I'm Mikayla, and you've seen more of me than you should have already. Go back outside and tell Celena, I'm going to kill her!
End
Thank you to everyone who took part in this story. I had a lot of fun seeing what you all would choose. We'll definitely try this format again in the future. For now, we're going to take a break from Mikayla and focus on another part of the story.

See you all next time!