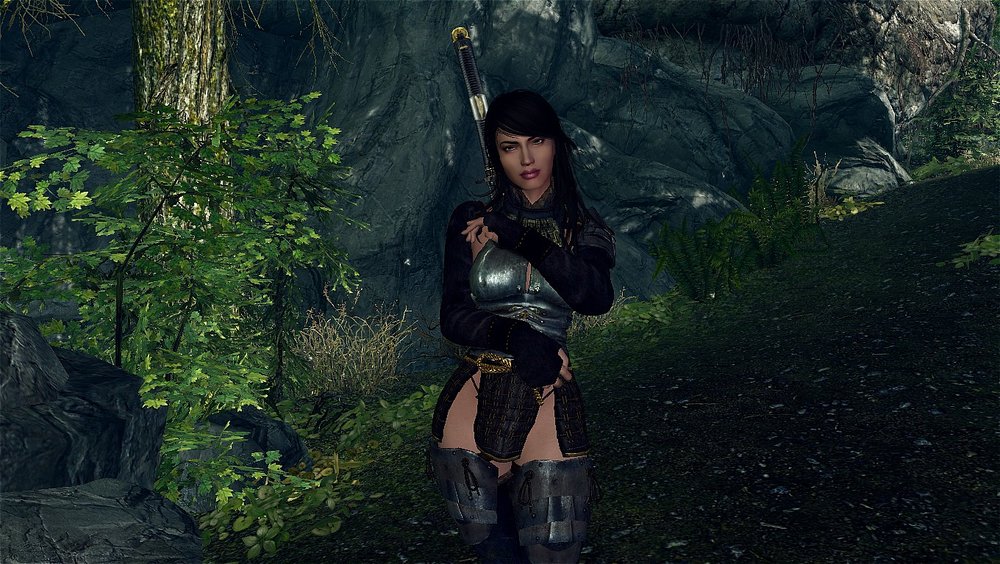 Welcome!
Thanks to everyone for participating in the last entry. The results of the voting are below.
A:2
B:5
So it looks like Mikayla isn't quite done with Mora yet. Looking forward to seeing which option you guys pick for the finale next week.
Mikayla: A Hunting Blade (Part 2)

Mikayla: After the scavenger hunt that was finding my armor, I came to the realization, I wasn't satisfied. While the tentacles were fun...they weren't enough.
Mikayla: I decided to track down this crazy green man for a second round or three
Mikayla: It was actually quite easy to follow him. He leaves a trail of tentacles wherever he goes.
Mikayla: I tracked him to this relaxing spot in Falkreath. He seems to be engaged with the Barkeep there.
Mikayla: Let's see what he does here! I wouldn't mind another go at him in the spa.
A Few Hours Later
Mikayla (to herself): Uh-oh, looks like the Barkeep got pissed...
Divina: Olive Guy, give back those claws! I took em from a patron who was being stupid with them, but, I've gotta give them back!
Mora: This one would like to see you take them from me.
Divina: You've asked for it...naked...muscle man!
Mikayla (to herself): Wow, I've never seen a woman in ebony armor be able to display that much acrobatics while she's fighting.
Mikayla (to herself): Mora's going on the offensive…
Mikayla (to herself): You've gotta get out of the way, girl. He's going too...
Divina: AHH!
Divina: If you think I'm done...you're sorely mistaken.
Mikayla (to herself): Huh? Mora's throwing the gloves away...this is just like back in the Blade's Cave…
Divina: Hey! Green Man! I'll give you all the consent you'll need…
Mikayla (to herself): Looks like Mora just got another data point. I've got just the idea for snagging him after he's done the barkeep.
Divina: Damn, Green Man! You sure know how to give a woman a ride. Is that all?
Mora: Interesting, like the previous subject, this one is not satisfied. Do you need more stimulation?
Divina: Hell yeah, I do!
Mora: Very Well.
A Green Blob encampasses Divina
Divina: What's this?
Divina: Ohh, yes….Ohhhhhh….YES….
Divina (breathing heavily): Don't stop….Don't….STOP!
Mora: Subjects seem to require more stimulation, perhaps this one's tools are not enough...distressing…
Mikayla (flirtatiously): Oh, I don't think it's a problem with your tools, Mora.
Mikayla (seductively): Maybe we just require...MORE, stimulation…
Mora: Who are you again?....Wait, you're that previous subject...Mika!
Mikayla (surprised): It's Mikayla…
Mikayla: This biggest problem isn't your tools. It's your technique.
Mora: This one has learned all about human anatomy, what could subject Mikayla teach him?
Mikayla (coyly): Oh, I have a few things in mind…
Mora: This position is highly illogical, what is this one supposed to accomplish here?
Mikayla: It's called eating out, Mora. AHHHnd under no circumstances are you to use your teeth! Use your tongue.
Mikayla: Oh! Gods! You're so much...better with your tongue...than those tentacles…
Mora: This one does not require stimulation, you are the subject, Mikayla.
Mikayla: I know, Mora. But orgasms aren't just physical for women, they're mental as well. I want to cum knowing you had a good time as well…
Mora: Mikayla, I'm going to penetrate you now… are you ready?
Mikayla: More than ready, my Green Friend.
After a few minutes with Mikayla doing most of the work...
Mora: You seem exhausted, Mikayla…
Mikayla (weakly): Don't...stop...keep…
Mora: This one has an idea…
Mora: Now, this one can do the work with his arms…
Mikayla (relieved): Now...you're thinking…
Mikayla (gleefully): YEESSS!
Mora: This one wishes to experiment with his hands…
Mikayla: Do what you want...just keep me cumming…
Mikayla kisses him deeply
Mora pulls away and starts fondling Mikayla's G-Spot causing her to convulse in pleasure…
Mora: Mikayla, are you enjoying yourself?
Mikayla: Very Much...Let's finish with a bang.
Mora: As you wish…
Mora and Mikayla fuck long into the early morning.
Mikayla: So, Mora. Did you learn anything from our experience?
Mora: This one has learned that subject Mikayla is an experienced partner in the sexual arts. While this one did not glean additional data for the study from the experience, it did learn more effective techniques in love making.
Mikayla: So what will you do now?
Mora: This one will head to Whiterun. Many women of action there. One in particular is skilled with both swords and magic.
Mikayla (whispers): Celena...
Mora: Farewell, Mikayla.
Mikayla (to herself): Wait, something's not quite right here.
Mikayla (to herself): Looks like that patron found his gauntlets and is seeking revenge on the barkeep.
Mikayla (to herself): She seems like a girl who can handle herself. But she's also a little indisposed at the moment.
Mikayla (to herself): I might be able to defend her with her weapons stashed nearby
Mikayla (to herself): But that would also leave Master Celena to face down Mora alone.
Mikayla (to herself): Celena's a deadly serious girl who doesn't like to lose. She might take the fight way too seriously.
Mikayla (to herself): I'm afraid of who might get hurt in that clash.
Mikayla: What should I do?
A: Save Divina
B: Save Celena
Please leave your choice in the comments below!