Gwynolda's Daily life(4/)
---
 Previous part: https://www.loverslab.com/blogs/entry/18183-gwynoldas-daily-life3/
Gwynolda's story
Act I
Gwynolda's Daily life
Chapter 4 
You will learn obedience..
Sinning
going against of the will of the Temple
Will Have consequences..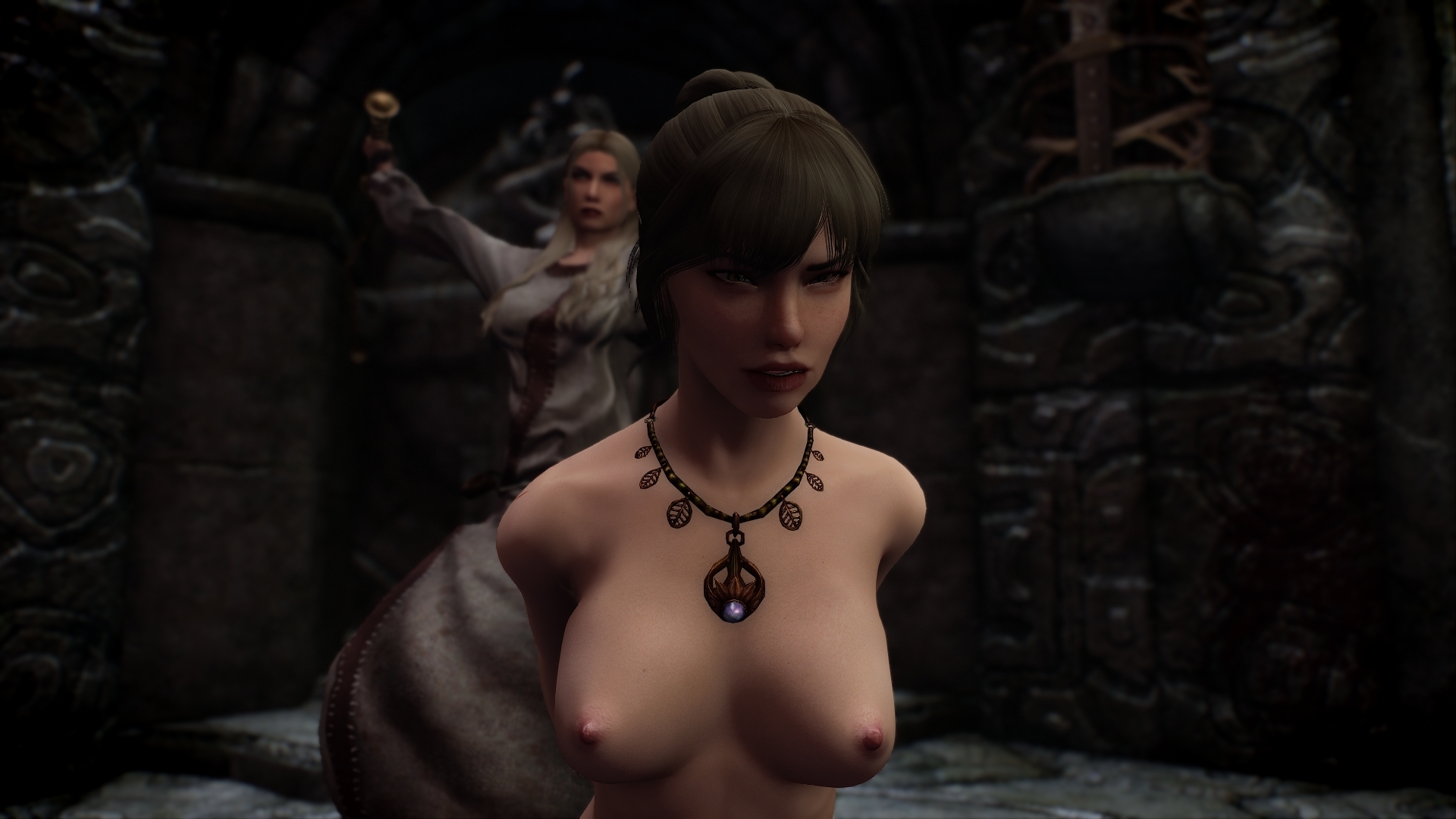 Where..
What's..
Going on?..
huh.. a bad dream or a bad memory.
Either way, I have to get up..
What a horrible start to the morning
Seems Jeanne is not here yet.
Out of all my memories
why are the worst
coming back now..?
Worst of the Temple's punishments..
I was punished.. few times before, but they never.. went that far as they did that time..
I was tied up
 Helpless.. powerless
It's about time to remind you Gwynolda, who you serve
As long as there is no Sybill of Lady Dibella.
Mother of the temple's word is law, and the sisters serve her..
You serve me, along with the rest
I do not tolerate disobedience
You learn obedience..
All because, I was doing Lady Dibella's tenets
Helping everyone, regardless the status..
My "sin" simply did not fall in line with the new political direction of the temple.
I told you many times, you're only allowed to use your healing magic on those who pay
Yet every time.. you denied it
Reachman or no, your magical abilities and healing are too valuable for us to waste.
I hope you understand it, now for your own sake.
Gwynolda..
Yes.. Mother Hamal
I should try distract myself
Seems, Jeanne left earlier and cooked, how nice of her
Memories are overwhelming
I was made as an example for others
From now, anyone who who disobeys.
Will be forbidden to leave the temple, until they repent
Will take the role of servant, until they repent
Will commit flagellation, until they repent.
After that, she sent me to repent.
To plead in front of Lady Dibella
I spent the entire night, crying in front of her
I should eat
Before I forget eating
But my memories, feelings of that day.. won't go away
I can't focus
I tried to heal my wounds
After I regained my composure,
As if Lady Dibella told me to do it
I was good with magic, but never great with healing, yet that day.
Something changed
My wounds.. deep wounds just disappeared as it was nothing to heal it
What would took days took minutes..
Maybe it's how it always worked
But I never had deep wounds before..
Maybe the pain helped to learn something after all 
After healing, I went to pray for Lady Dibella
Asking for guidance and blessing
Begging for help
And for forgiveness.. for my sins
The sin of Hate
Right food, I should try eat a bit.
It seems Jeanne, made some food before she left.
Distraction is difficult from the memories.
It's been a while, since I had a proper meal
I was forced to live in the servant's quarter
Only having bits to eat
I should get ready
One thing sure,
After being forced to do the servant's job
I had a lot time to think
On what I want
And what will be my goal
House of Dibella only answer for a few, but their knight's has right to investigate those who do not act as how Lady Dibella wishes
I want to be a knight of Lily
And punish them for their.. sins
I think training with the blade will be good enough to get off from my thoughts
Pain, Sadness, Bad memories
And Hate
May Lady Dibella forgives that
I cannot be hateful, after all like them.
Maybe one day, I might forgive them
But that day is not close yet
And before forgiveness, they have to repent.
May Lady Dibella judge them
You have been up quite early haven't you my dear?
Not talkative today?
It seems you are in a bad mood.
is everything alright Gwynolda?
If you keep being quiet, I'm afraid I cannot offer help my dear.
Just some bad dreams., maybe a bit of bad memories
Nothing you have to be worried.
Don't say that.
We will skip today's training til you feel better
It's alright Gwynolda, we all have those days..
End
Author notes
Hello everyone! 😊
This chapter was a hard one, took longer than I admit, it is also almost twice long as my normal chapter, I technicly count it as two chapter.
Now if it looks a bit confusing or weird in some parts, there is a reason.
I tried present a form of ptsd attack, at least in a way I feel about my own one 😵
Normally I don't do such thing, but I only had my own experience to take inspiration.
Outside that
I hope everyone enjoys it ^^ ❤️
Edited by Resdayn