I wanted to bring more content to Fo4's fetishism, so I did some.
This can be understood as the Fo4 version of kziitdxxxtoolset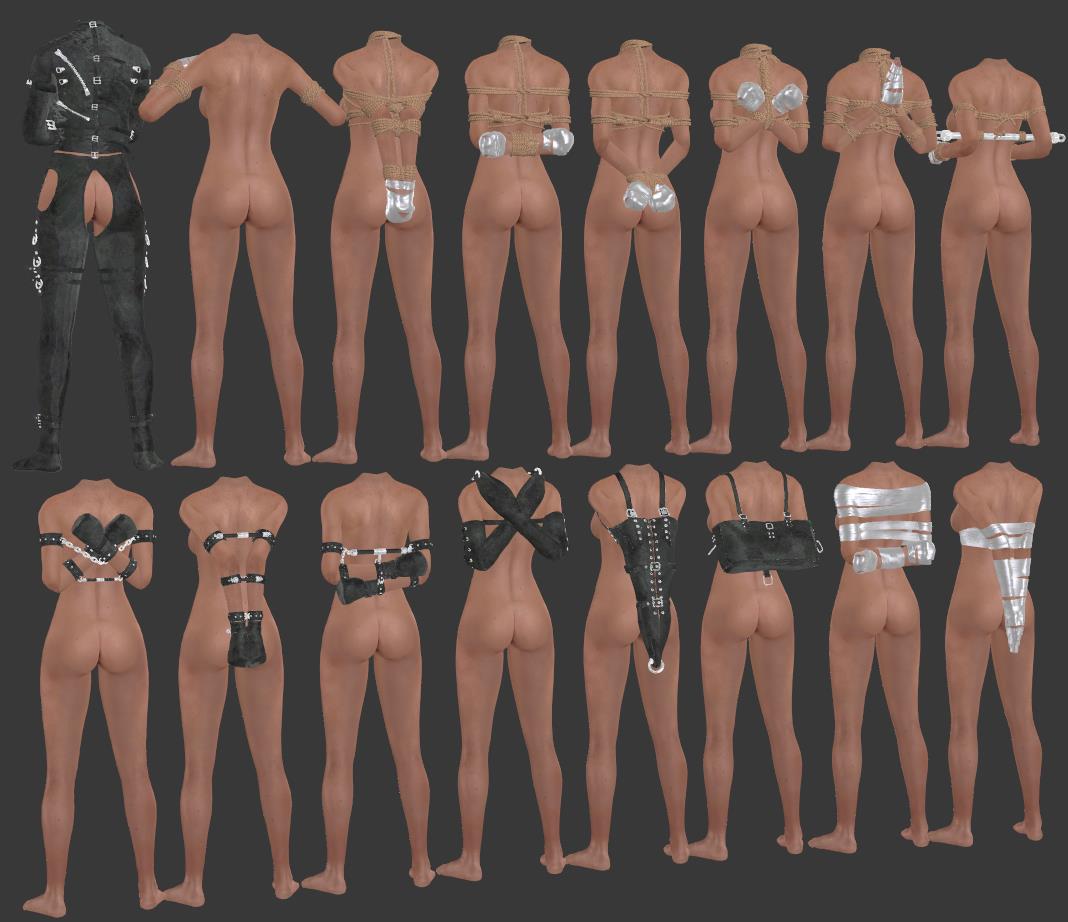 They are based on the latest FG. God knows how much work I have done to keep some ropes around my body straight under various preset conditions.
---------------------------------------------------------------------------------------------------------------------
I can only do simple 3D processing and animation processing, I don't have the ability to write code at all.
But I hope people don't just get some meshes, they can use it directly in the game.
So turning them into a "costume mod" with ESP is basically the first thing I thought about.
Well, because they have a special "shape", the only "reasonable mechanism" I can choose is DD and real handcuffs.
Now let's look at DD. with the help of some friends, I have obtained the processed script: there is no locking function, but I recently found a problem, because DD's "no fight" is the script of calling TD, and Vader666 told me yesterday that there are some problems. NPC will automatically return to their original location when they can't fight: I can only watch it Grandma Murphy put on my things and left for Concord.
At the same time, under the two mechanisms of DD inventory and rendering, I get a lot of freezing when saving.
It didn't look good, so I turned to the real handcuffs.
There seems to be nothing wrong with everything except one: pipboy doesn't hide automatically.
What I want to explain here is that what I do directly changes the character's t posture with a fixed posture. So they have no "animation" problem, and NPC will never get rid of "bound animation" because of other events. Because of the upgrade of BS, it allows the body to deform according to the sliders in the T position even in the non-T position.
And if you just make the character change her posture, her chest won't be tightened because you put on the rope
So it's ridiculous and unacceptable that pipboy can't hide under this kind of "permanent arm change" body.
I'm ready to end my crap, all in all
In the case of DD, pipboy can be hidden, but the save will be frozen, and NPC will leave home because of "no fight".
In the case of real handcuffs, nothing else is wrong, but pipboy is not hidden.
In the case of ordinary equipment, pipboy will not hide. Adding TD "nofight" to the equipment will still make Piper return to Diamond City.
Maybe I think too much? People don't care that in this appearance, the protagonist will have a floating pipboy and allow Piper to take out a hanging weapon with her "transparent hand" when fighting, and go back to her hometown when you give her a new gift.
The basic goal now is to expand it with real handcuffs.
At least it doesn't have a strange inventory and rendering mechanism. It freezes when the game is saved.
The resources of real handcuffs need the "broken" form of each device. It's no big deal. I'm interested instead.
Does rope or tape have anything to do with locks? It doesn't matter. It's just processing on meshes.
Now it's just a question of how to hide pipboy.
I know that there is a well-known mod that automatically hides pipboy. Is my last choice to make it an essential requirement.
-------------------
21:00 Beijing time
I'm a fool
I just need to provide a NiF file with no content to replace  PipboyLowPlayer.nif
It disappears in the third person, while the first person is unaffected.