Sian's Story part 2 - Hope Lies in Windhelm
Entry posted by jfraser ·
1,243 views
First thing I noticed when I got outside was a guy kind of stomping through the trees. I hastened to meet him, hoping he could answer some questions. Instead, the moment he saw me he yelled, "Skyrim is for the Nords!" (I didn't know what that meant until much later) and took a fucking swing at me with an axe that was taller than I was. I didn't know it at the time, but this would become the recurring theme of my life for the next…however many years. I've lost track, and even if I hadn't, the whole "length of time" question has become largely moot. More on that later.
Naturally I turned and ran. He was covered in metal armor (my brain processed this information as I ran – I didn't really have time to study it) so he couldn't keep up with me. I was just thanking my parents for making me take track in high school (our relay team took third in states) when I heard howling.
Fucking wolves? What the fuck? I took a sharp right and careened into the trees. I heard snarling and yelling behind me, so I glanced back to discover that the bumbling axeman had run right into the pack. You know those stories about man-eating wolves? They exist in Skyrim. He flailed at them and killed a couple, then went down under the rest, who busily tore into the parts of flesh that they could get to.
Jumping Jesus on a pogo stick. What kind of fucked up world is this?
I continued through the trees for maybe ten minutes and came upon a road. To my right I could make out a huge stone edifice – with several people wailing on each other with swords and axes and…bright lights of some kind. To my left lay what looked like a peaceful village. One of the easier choices I have had to make.
Turns out the town was Shor's Stone, which was one of the places that fucker Parman had told me to look for the person he wanted me to kill. It was a quiet town, kind of shabby. The only thing that really stood out to me were the naked people.
Not all of them. Just here and there, a naked woman with her hands manacled behind her back, another with free arms but an uncomfortable-looking ball gag. Naked men near the small mine up the hill. All of them wearing iron collars. It wasn't too hard to ascertain the meaning – wherever I was, slavery was alive and well. Just fucking perfect. To this world's credit, there didn't seem to be any racial boundaries. The slaves were of all hues and shades. So, I guess that's something. Many more women than men, though.
It didn't take a lot of inquiry to find Parman's target, and it took less time than that to realize I wouldn't have been able to kill her even had I wanted to. Some people are just clearly badass. Lysha is one of them. I don't know if I could take her even now.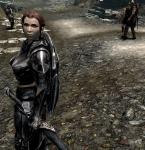 I explained what happened and was gratified when she didn't scoff and tell me to go away. Instead, she came up with a plausible reason.
"The words for 'demon' and 'student' are very similar. That's probably why the ritual didn't work."
"Fantastic - displaced in time and space because of a typo. But why me?"
She shrugged. "It is hard to say. You need to speak to someone with more arcane knowledge than I. I know of a man named Pare who might be able to help. You can find him in Candlehearth Hall in Windhelm. But first...well, you aren't going to make it very far dressed in those strange clothes. Here, I have an extra set of armor you can have. And a sword wouldn't be amiss."
I thanked her and promptly cut myself on the sword, which led to a lesson in the basics of swinging a sword. She also filled me in on current events, though none of it made a lot of sense. A civil war, white gold something or other, storm troopers or something. I wasn't really listening – I just wanted to get to Windhelm so I could get home. It was like being stuck in one of those stupid fantasy books my brother was always reading. Fuck you, Tolkien!
Don't feed the bastards – they'll just want more.
~ Sian
New mods this chapter:
Devious Devices: Assets
Devious Devices: Integration
Devious Devices: For the Masses II
Hydra Slavegirls
OBIS
Populated Cities Towns Villages
Populated Forts Towers Places
Populated Lands Roads Paths