Entry posted by DocClox ·
569 views
I'm getting my ass kicked by object mods right now, so I'm going to make some notes and see if I can figure something out.
Basically, I made two boring cylindrical metal rods to attach to the back of the arms on the StumpZ armor. No sign of them. So I tried attaching them at a workbench rather than programmatically when they engage with the wall: got a CTD. Worked out why that was happening, but they still don't show up when attached.
So, finally, I made them into two armor items just to see if they showed up as non-omods. Turns out one of them does and one doesn't. So I figure check bad materials, biped slot mismatches, that sort of thing. Won't tell  me why the omods aren't attaching, but at least I know they'd be visible if they did.
reason they might not be attaching? I;m using AttachModToInventoryItem which may be a little flaky. I know that attaching from inside an objectref's script will work, so maybe the thing to do is have the stumpz register to receive the wearer's OnSit events. That way I'm already inside the omod, and I don't need to spam events round all actors or furniture to find out who should be listening.
I had to mess around a bit with the biped slots to equip those rods as garments. One happy side effect is that my girl got her head back.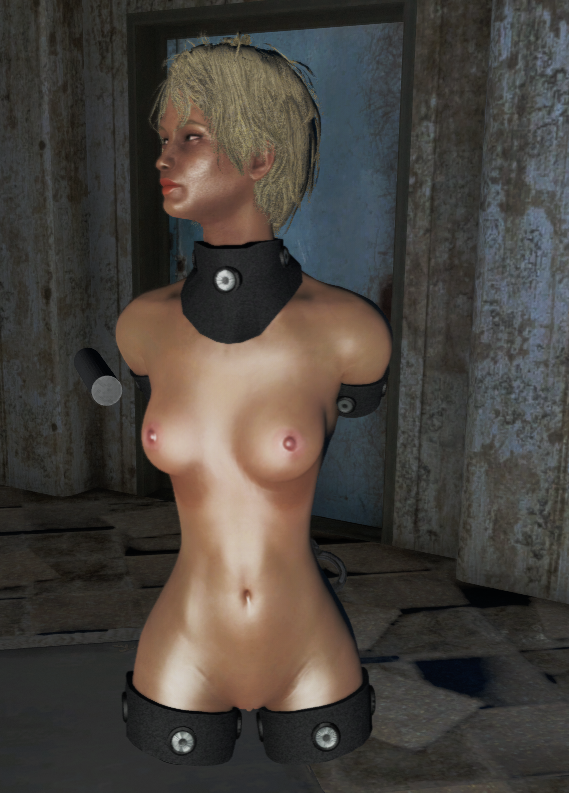 Turns out that the neck Stump makes a decent collar, and with a little more height could pass for a posture collar, while still having the attach points if I want to lock her into something. I still want to be able to do head decapitation, optionally replaced with brains in jars, flowerpots, robobrain heads, miniguns and the like, but I could maybe better implement those as hats.
(As a sidebar, I've been re-reading Baron and Rude's Nexus comics. They had a world of Heads, amputated heads kept alive by some sort of life support. It turned out that not having a body awakened the brain's latent TK powers, so the heads all flew around telekinetically, sometimes with a pair of equally disembodied hands. It occurs to me that I could make a pretty decent Head rig this way. But I digress...)
You can also see the one working restraint bar in the screeny. Not being able to do "tcl" is proving a major pain at the moment, but I managed to grab this shot before she turned around to face me again.
As you can see, the alignment is off. I'd hoped that the add-ons would take their position from the connect points in the nif, and I spent some time setting them up to be exact.... but that's clearly not the case.
On the other hand, I set up six invisible floating cubes to be anchors for custom bones to weight the restraints against. That looks like it's welded to the right shoulder cube perfectly. I guess one way to test that is to un-zap the cubes and see. If that does turn out to be the case, there's an argument for separating out the socket meshes and using them to host the custom bones. That way the sockets move with the bodyslide preset, but the connection should remain exact. Also means I'll go from six custom bones to 25 of them, but that might be worthwhile.
OK. That's all I can think of for now, and I need my sleep. Hopefully some of this will make sense in the morning.
[edit]
Thought I'd get in half an hour's actual play before bed. All of sudden my amputee girl has two restraints. I guess the 3D needed time to update after I fixed the underlying bug.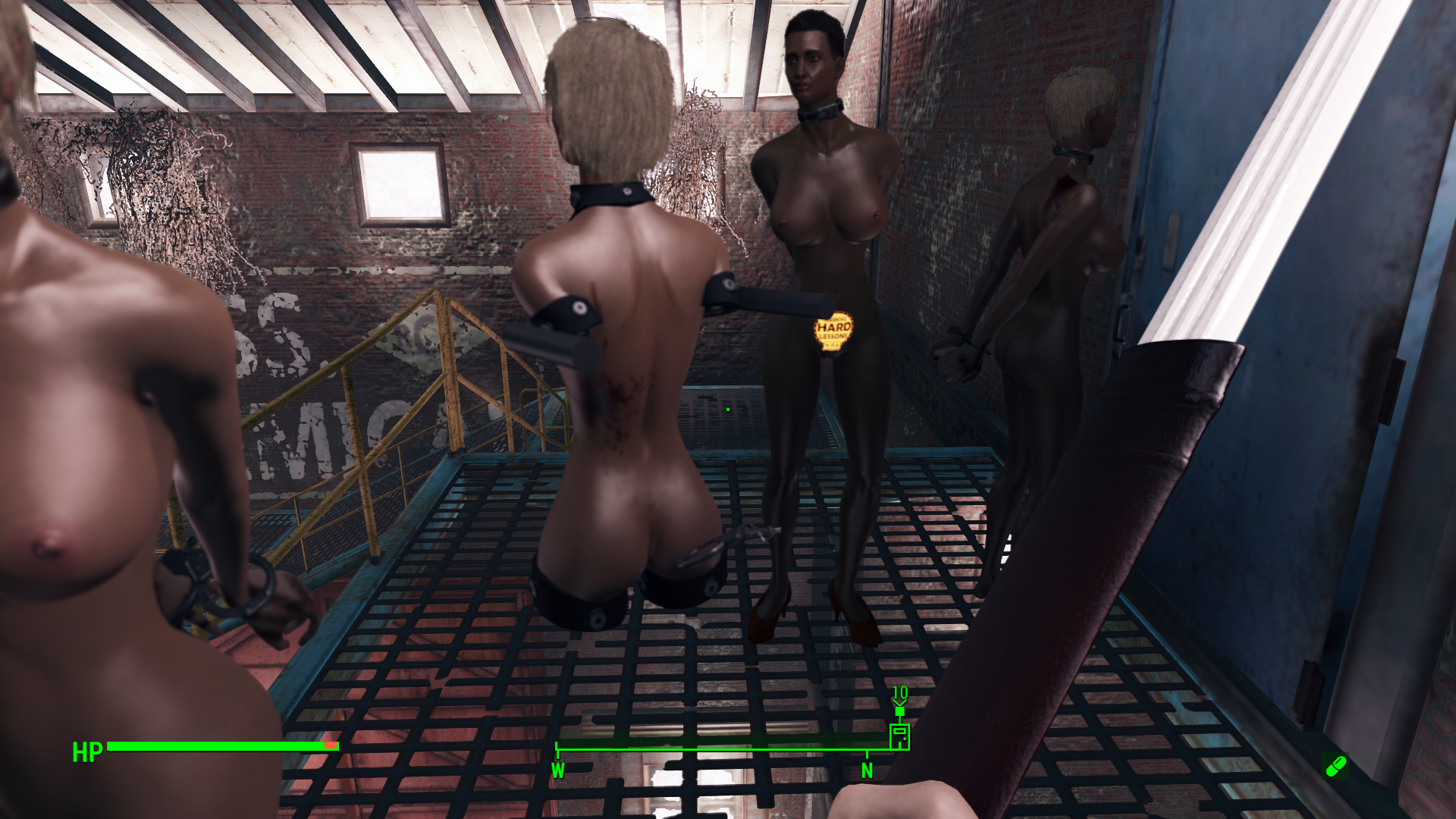 It's a small victory, but at times like this, I'll take what I can get.